Even though Vegas has enough entertainment for visitors to spend days enjoying the city, Sin City is actually a great gateway to some of the best attractions the Southwest has to offer.
Thanks to its location close to Utah, Arizona, and California, all of the best day trips from Las Vegas offer a huge variety in landscape and flavor.
From deserted parks to ghost towns and some of the best national parks in the entire region, taking a Vegas day trip or two is one of the best ways to make the most out of your vacation.
Below is a list of 21 of the best day trips from Las Vegas you can take, ranging from national parks to road trips through extraterrestrial highways and just about everything in between!
21 Best Day Trips from Las Vegas
1. Grand Canyon, Arizona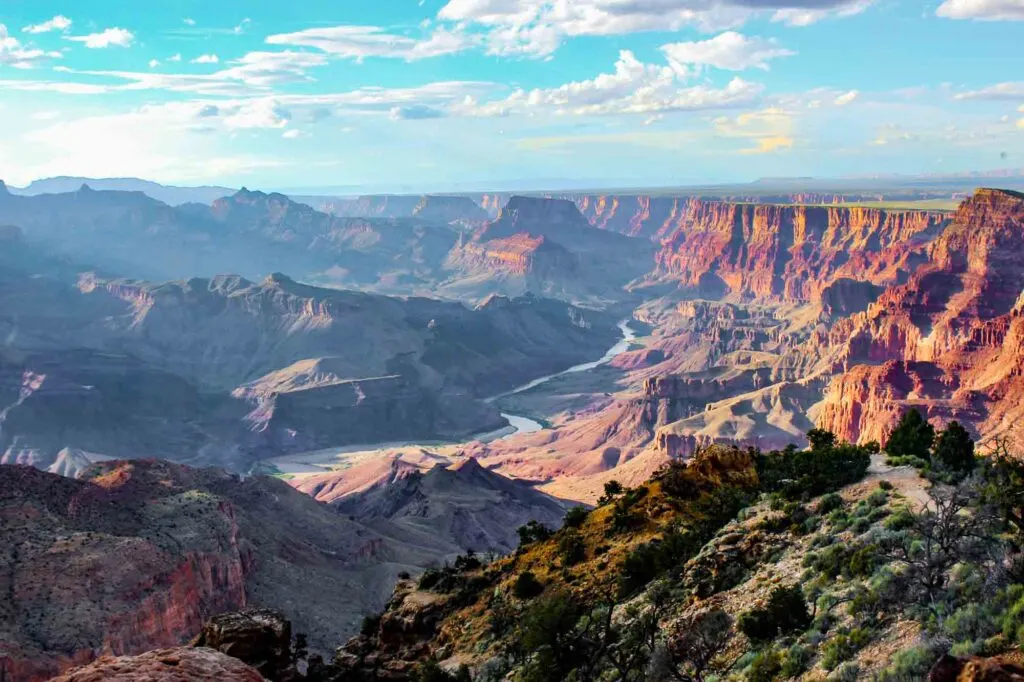 A visit to the Grand Canyon is a quintessential day trip from Las Vegas.
Carved out by the passing of the Colorado River over the centuries, The Grand Canyon is likely the most iconic landmark in the United States.
Getting to see it from up close is a mind-boggling experience, especially when you consider it is also one of the seven natural wonders of the world.
The canyon is so big that there are multiple points from where to explore it. While most visitors prefer to meet the canyon for the first time from its South Rim, it is located over 270 miles from Vegas.
The North Rim, which promises higher-level trails and more solitude, is about the same distance from the city.
If you are not in the mood to drive the whole distance, though, the West Rim is a great option as well and much closer to Vegas. Here, you'll also get chances to discover some incredible hiking trails and get great views of the Colorado River.
Read next: Arizona Road Trip
2. Boulder City, Nevada
Boulder City is 30 miles from Las Vegas, but it actually feels as though it's decades away!
Founded in 1931 as a post to lodge the builders of Hoover Dam, this city brims with quaint cafes, classic buildings, charming shops, Art Deco vibes, and loads of history.
Take a walk downtown and check out the iconic Boulder Dam Hotel and a bowling alley that was built in 1940. More than 400 well-preserved structures constructed during the city's glory days are still standing today.
The Hoover Dam Museum and the Nevada State Railroad Museum will tell you all about the city's early days and how prosperity arrived in town with the Hoover Dam project and the railroad.
For nature-filled adventures, head to Lake Mead National Recreation Area, Black Canyon, and the Colorado River.
3. Hoover Dam, Nevada and Arizona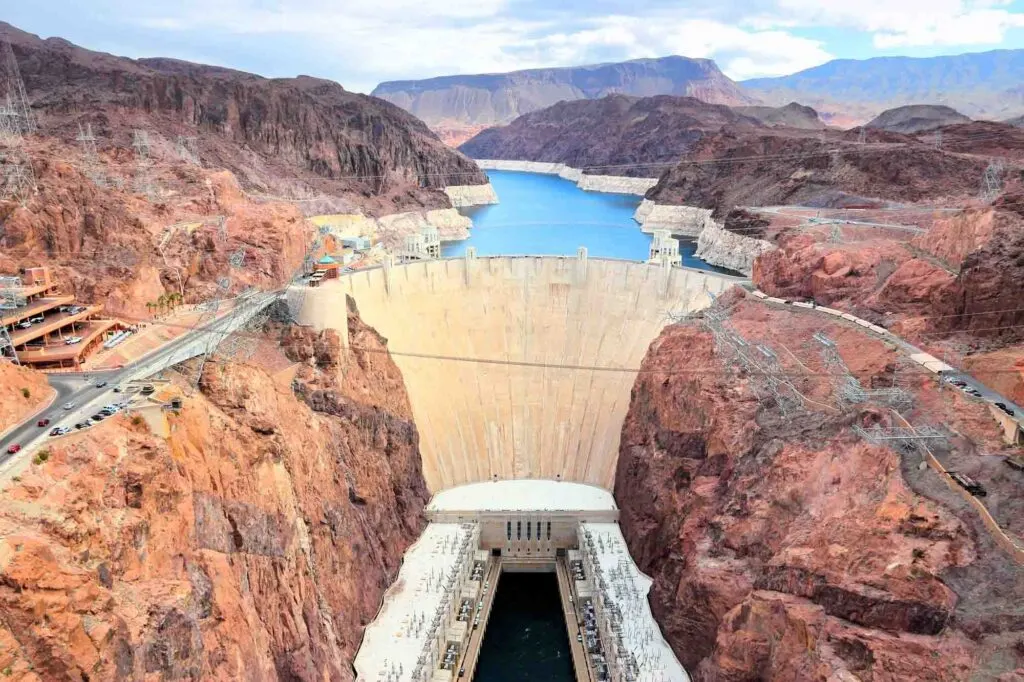 Hoover Dam is ranked as one of the seven engineering wonders of the modern world.
This engineering marvel was built during the Great Depression at 725 above the Black Canyon's floor. Its creation in turn resulted in the forming of Lake Mead, the largest reservoir in the United States.
Visiting Hoover Dam is very easy, making it one of the most popular day trips from Las Vegas.
On top of that, it is a great opportunity to discover one of the country's biggest engineering projects while also getting the chance to see incredible views of Lake Mead, the Black Canyon, and the Colorado River.
4. Zion National Park, Utah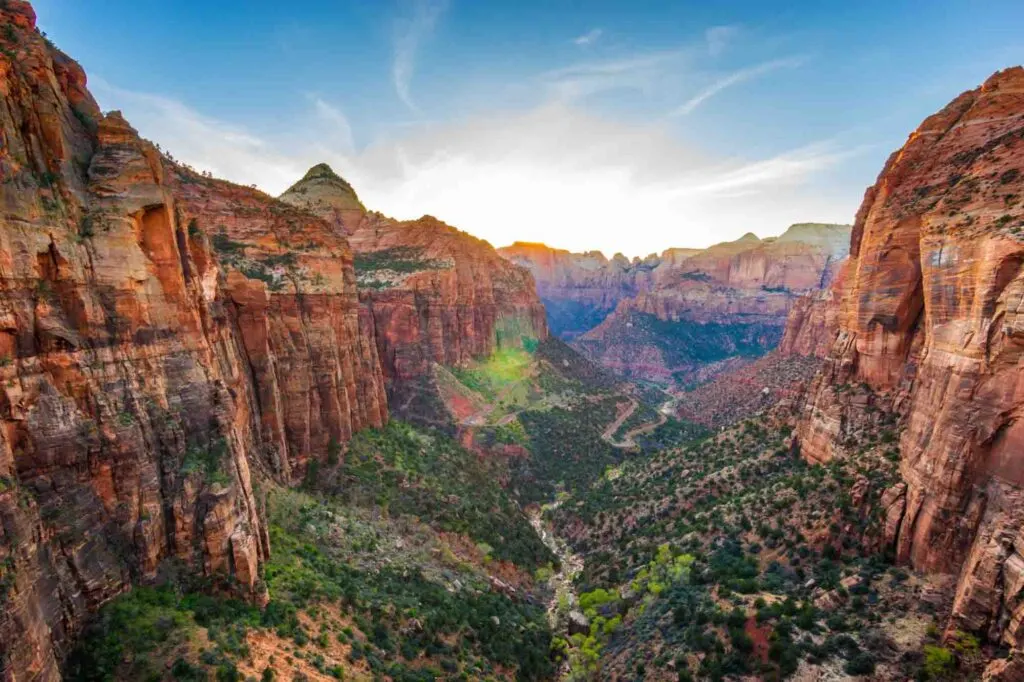 Zion National Park is one of the smaller parks of the Big Five National Parks in Utah, but what it lacks in size, it makes up for in beauty.
Think dramatic cliffs, hidden grottos, and lush hanging gardens to get an idea of the extraordinary landscapes you'll find during your visit. An advantage here is that Zion's size makes it possible for you to explore the park in a single day, which makes it a perfect day trip from Las Vegas.
After driving the 159 miles to get there, be sure to check out the Zion Human History Museum, where you'll have a chance to learn about the Pauite people who once lived there. Next, spend the day hiking a few trails, most of which are pretty short and easy.
The Emerald Pool Trail, Riverside Walk, the Canyon Overlook Trail, and The Watchman are must-do trails to get the best vistas in the park.
If you're in for a bigger challenge, Angel's Landing Trail will take you over sandstone ledges and across crystal-clear streams.
If, on the other hand, you're not in the mood for hiking, you can admire Zion National Park from the comfort of your car by driving the 54-mile Zion Canyon Scenic Drive.
Still, if you want to go full in, go on a Utah National Parks road trip departing from Las Vegas, after all, it is one of the best national parks near Vegas! You won't regret it.
5. Bryce Canyon National Park, Utah
Bryce Canyon is located 262 miles from Vegas, but thanks to its small size, it's a great option for a day trip from Las Vegas if you start out early in the morning.
The kings of the show at Bryce Canyon are hoodoos, which are red rock spires that point to the sky. The good thing is that they are scattered all over the place, making it easy to admire them from up close no matter where you stand.
The Queen's Garden to Navajo Loop trail is your best option to explore the best of Bryce Canyon. Along the hike, you'll be passing through rock tunnels and hiking under the shade of pine forests while catching the most splendorous vistas of the majestic hoodoos that make Bryce Canyon what it is.
You can also take Highway 12 all the way to Rainbow Viewpoint and back if you wish to explore without breaking a sweat!
6. Valley of Fire State Park, Nevada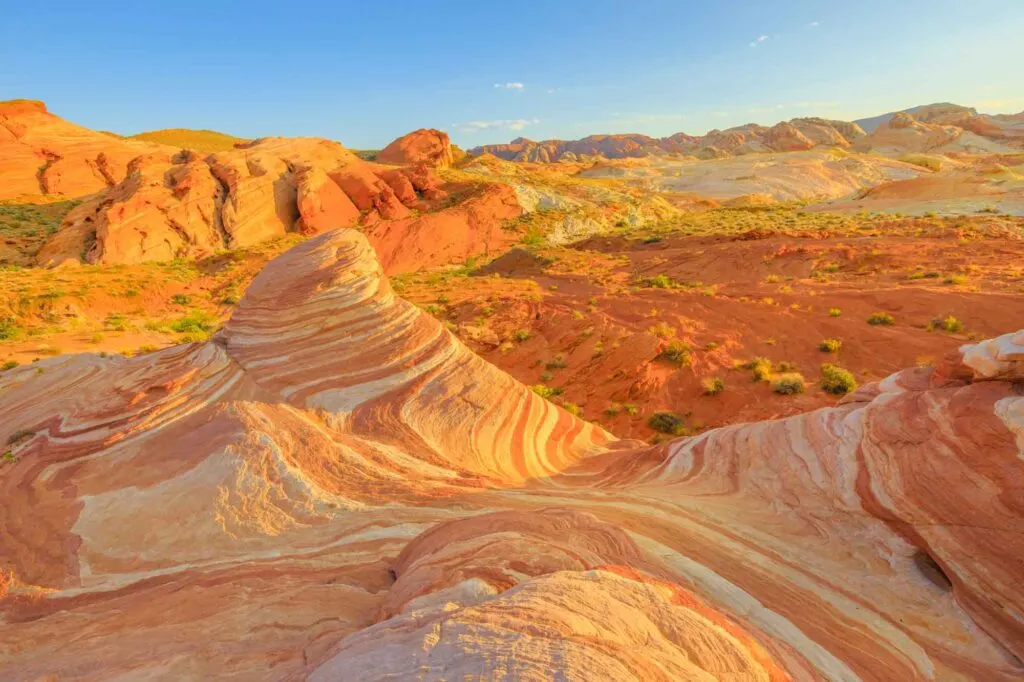 Being less than an hour from The Strip, Valley of Fire State Park is one of the easiest day trips from Las Vegas to take if you want to explore Nevada's desert.
As soon as you arrive, you'll feel as if you had traveled to Mars. The red rock sandstone formations, petrified trees, ancient petroglyphs, and other quirky features make Valley of Fire a truly mesmerizing place.
The sun shimmering on the different shades of reds, oranges, and pinks on the landscape makes the whole place look like it's on fire, which pretty much explains the name.
Hiking in Valley of Fire is a special experience, with trails for beginners and advanced levels available. It does get pretty hot, though, so be sure to bring plenty of water, which means more than you think you'll need.
If you'd prefer to catch some fabulous vistas from the comfort of your car, you can take a drive down the Mouse's Tank Road in order to hit most of the main viewpoints of the park in a short time.
Valley of Fire is definitely one of the best places to visit near Las Vegas by car!
7. St George, Utah
St. George is a city in Utah located 120 miles from Las Vegas. Whether you're the outdoorsy type, a history aficionado, or a religious enthusiast, you'll find plenty of ways to keep you entertained for a day here.
Most people visit St. George as a gateway to Zion National Park, but there are actually many incredible places for nature lovers around the city.
Check out the Gunlock Falls, hike up the mind-blowing Candy Cliffs, explore Snow Canyon, ride an ATV at Sand Hollow Sand Dunes, see hoodoos at Cedar Breaks, and admire people's creativity by taking a look at the painted rocks at Aspiration Trail. You can take a rock painted by you and place it there for future viewers, by the way!
History buffs will enjoy Brigham Young's summer house, St. George Tabernacle, and St. George Temple, which is an iconic white religious building built by the Mormons in Utah.
If you're into arts and culture, St. George has plenty of that, too! All over town, you'll find local art galleries dotting the streets. Make sure you also check out the Tuacahn Amphitheater, an outside theatre where you can catch a play or show surrounded by red rock hills
Read next: American Southwest Road Trip
8. Seven Magic Mountains, Nevada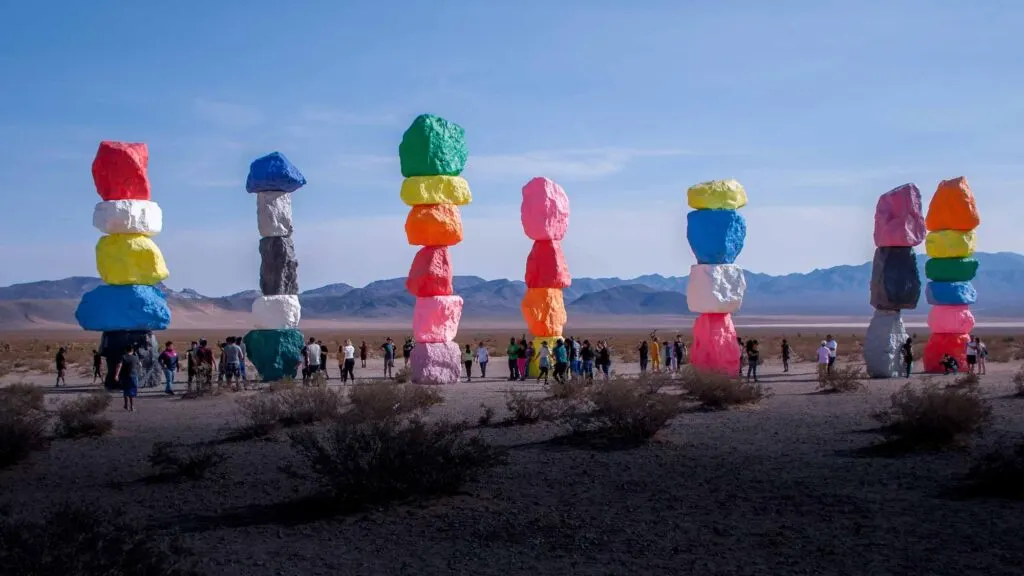 Seven Magic Mountains is a large-scale piece of art in the middle of the desert. Thanks to the fact that it's only about 10 miles from the city, it makes for a very easy Vegas day trip.
This creative expression by Swiss artist Ugo Rondinone consists of seven towers made up of colorful stacked boulders in the middle of the desert and backdropped by four mountain ranges, creating a unique contrast of vibrant colors against desert tones.
9. Los Angeles, California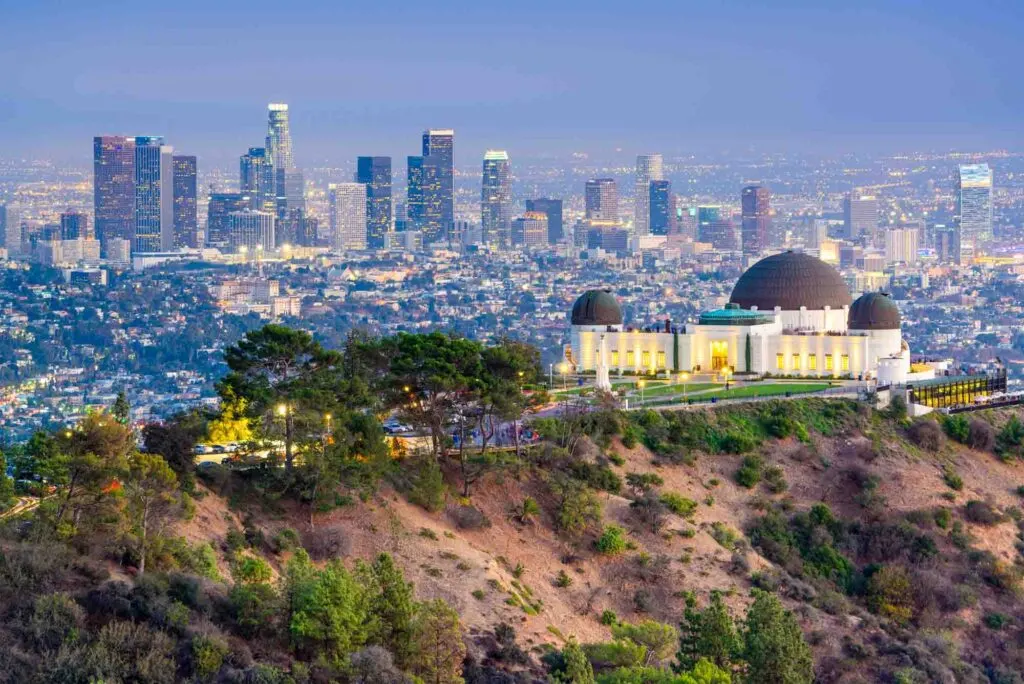 Los Angeles is an exciting city that deserves a vacation in and of itself, but it is close enough to Las Vegas for it to make a great add-on to your Nevada trip in order to experience a little bit of what the city has to offer.
The distance from city to city is 270 miles, so your best bet is to start off really early in the morning in order to squeeze in as many highlights as you can.
Stroll or drive around Beverly Hills and Rodeo Drive, visit the Paramount Studios and the Greek Theatre, chill at Griffith Park, see the Hollywood Sign from the Griffith Observatory, and spend a few hours relaxing at Santa Monica Pier and Beach.
10. Lake Mead Recreational Area, Nevada
If you want to include some water sports in your Vegas vacation, Lake Mead National Recreational Area has you covered.
Spanning 1.5 million acres, this is the largest recreation area in the United States and the first one to be designated as such. It features stunning mountains, deep canyons, and two extremely idyllic lakes.
Lake Mead Recreational Area has nine wilderness zones where you can explore gorgeous natural landscapes and enjoy just about any water sport you can think of, including swimming, fishing, and boating.
While you're there, you can also check out Hoover Dam, an artificial dam that actually created the lake upon its construction!
11. Mount Charleston, Nevada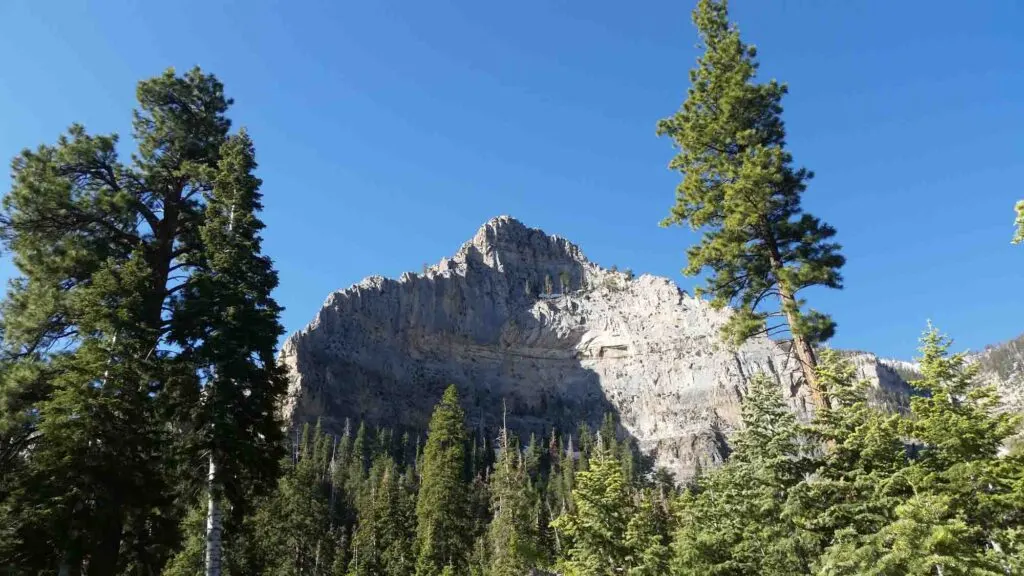 Rising 11,908 feet high, Mount Charleston is the fifth tallest peak in Nevada. Hiking to the summit of Mount Charleston is quite a feat that requires a certain level, because of the high elevation gain, especially along the first four miles.
If you consider yourself an experienced hiker, summiting Mount Charleston is extremely rewarding, both due to the views you'll get to see along the way and at the top.
The hike is 17.2 miles out and back with a pretty steep elevation gain, so make sure you're prepared for the challenge.
If you're not into hiking, you can still enjoy Mount Charleston as a Vegas day trip as you can drive up the Spring Mountains Scenic Drive, also known as the Mount Charleston Loop.
The drive will take you up into the Spring Mountains along forty-one miles of paved road, guaranteeing gorgeous vistas every mile of the way.
12. Mojave Desert ATV Tour
If you want to experience as much of the desert as possible in a day, one of the best ways to do so is by taking a day trip from Las Vegas to the Mojave Desert on an ATV Tour.
Here is our favorite ATV tour to be hired departing from Las Vegas for you to travel through rugged desert terrain while you bask in the sights and sounds of the area, including the picturesque mountain views that surround the region!
Click here to check availability
13. Area 51 (Extraterrestrial Highway), Nevada
Area 51 is one of the most enigmatic places in Nevada, so much so that visitors aren't even allowed to go near it.
It was once a secret military base that has sparked many theories that feel straight out of a sci-fi movie. Even the government didn't admit for a while that Area 51 was real!
While Area 51 is out of bounds, the Extraterrestrial Highway around it has long been one of the favorite scenic drives in the state and a pretty great Vegas day trip to take if UFOs, aliens, and all things paranormal are your thing.
Along the road, you'll find plenty of space-inspired exhibitions, desert scenery like no other, UFO-themed restaurants, alien-themed wall art, and all sorts of other whacky attractions!
14. Death Valley National Park, California
Even though Death Valley National Park is actually in California, it makes for a pretty great day trip from Las Vegas if you're willing to start the day early.
Here, you'll find plenty of strange rock formations, colorful mountains, sand dunes, and multicolored canyons, making the name of the park not very accurate!
Popular activities in Death Valley include hiking on enthralling hills of borax, sliding along sand dunes, driving down Artist's Drive to look for colorful mountains, and standing on Badwater Basin, the lowest point in the United States.
15. Eldorado Canyon, Nevada
Eldorado Canyon is the place where the most famous gold mine in southern Nevada once operated.
Here, you can take an above and under tour of the old Techatticup Millsite mine, explore the ghost town of Nelson, and check out the sites where various Hollywood movies and TV series have been filmed.
The region is not without its dose of history. Originally populated by the Paiute, it was later occupied by the Spaniards who arrived there hoping to find some gold.
After some time, they realized that silver was all they would find and abandoned the place. Many years later, the Techatticup Millsite mine was put to work, bringing some prosperity to the region.
On the other hand, the area also earned a bad reputation due to the fact that robbers and army deserters used to hide there.
With those days left behind and the mine permanently shut down, the area has served as a filming set for several movies, including Breakdown, 3,000 Miles to Graceland, Surviving the Apocalypse, First Platoon, and Brain Games.
16. Joshua Tree National Park, California
Joshua Tree National Park sits at the point where the Colorado and Mojave deserts meet. Each one has a magic of its own, and Joshua Tree is a fantastic place to experience its full splendor.
The combination of both ecosystems results in a unique landscape that will make you feel as if you have stepped into another world.
Being 187 miles from Vegas and extremely vast, you can make an early start from the city in order to have time to take on some hikes in Joshua Tree and do a few scenic drives along the park in order to get a pretty good introduction to it. Splendid desert scenery and sights of lots of Joshua Trees are a guarantee, of course!
17. Sedona, Arizona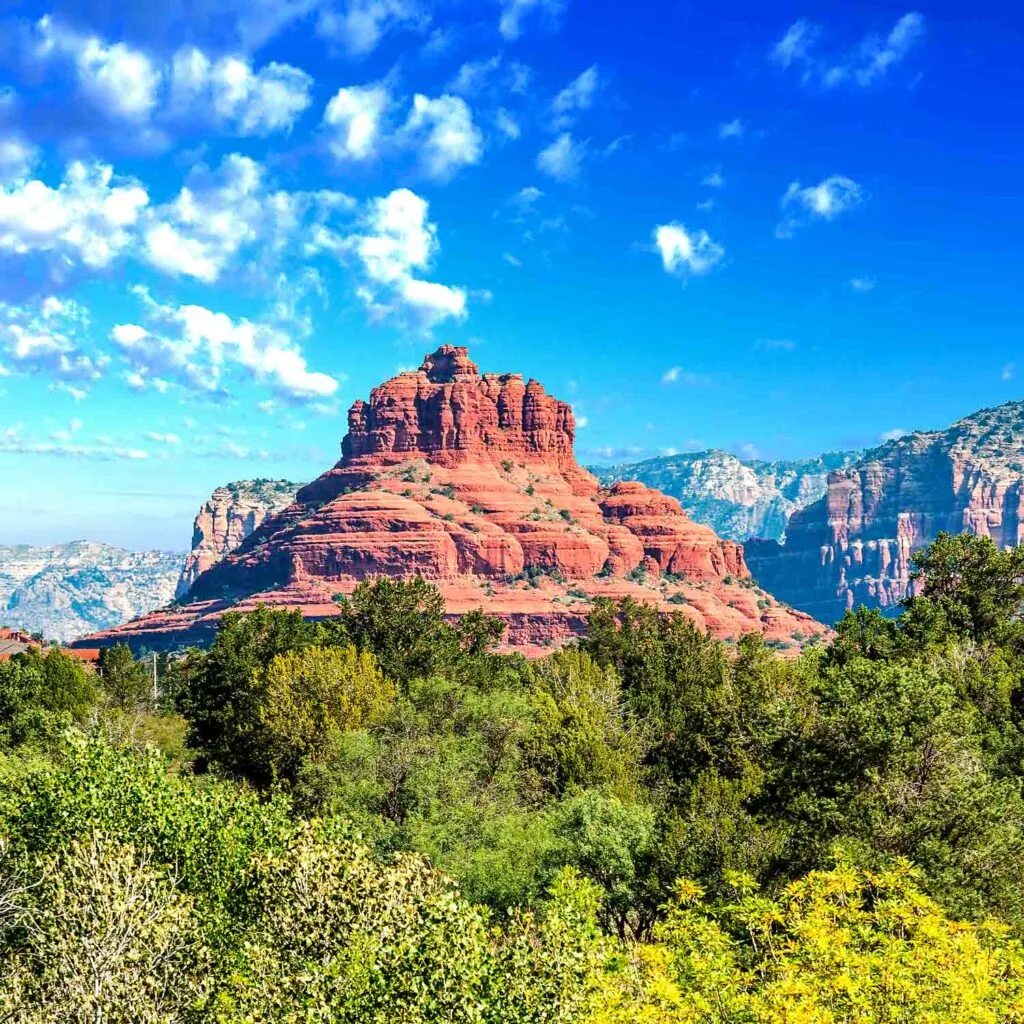 About 280 miles separate Sedona from Las Vegas, but they are different as day and night. Sedona is known for its New Age Vibes, spiritual connections, and emerging artistic community.
Needless to say that Sedona is one of the best places to visit in the Southwest.
A day trip to Sedona is soothing and refreshing. You'll have tons of options for spiritual readings, healing spas, and vibe-elevating rituals. You'll also find great food and fantastic wine, so it just about makes for a perfect day outing.
As to adventures, this city in the middle of the desert is surrounded by red rock hiss, slot canyons, and pine forests, so it's not lacking in outdoor fun.
A few highly recommended attractions besides the famous Red Rock include walking the scenic flat path at Jordan Historical Park, birdwatching at the Sedona Wetlands Preserve, and visiting Jerome State Historic Park.
Read next: RV Parks in Sedona
18. Dixie National Forest, Utah
A 180-mile drive from Las Vegas will take you to Dixie National Forest, the largest national forest in Utah. Spanning almost 2 million acres, this splendid forest is nestled between Zion National Park and Bryce Canyon National Park.
Although it is often overlooked by visitors headed for encounters with its famous neighbors, Dixie National Forest deserves to be included in any Southwest bucket list.
With miles of gorgeous scenic drives and hikes, the blue waters of Lake Navajo, and mesmerizing Mammoth Cave – a lava tube you can actually enter and explore – Dixie certainly doesn't fall short in terms of natural experiences.
Be prepared to see some unique rock structures and even hoodoos mingled with forest trees!
19. Red Rock Canyon, Nevada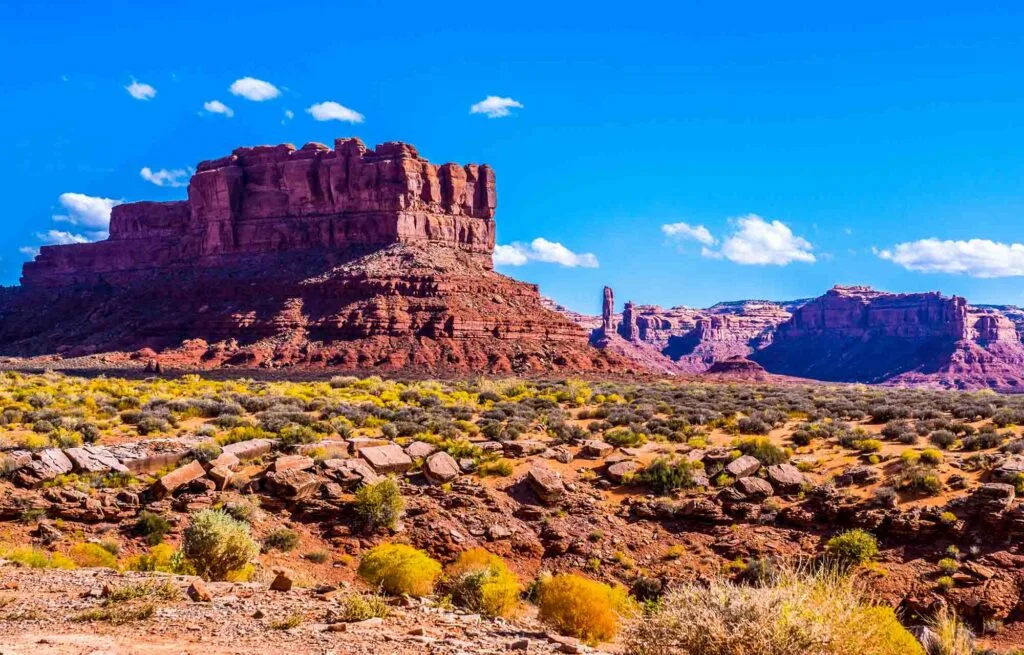 Red Rock Canyon offers a marvelous excuse to escape the city for a few hours, making it one of the must-do day trips from Las Vegas for pretty much everyone visiting the city.
A short 16-mile drive will take you into a world of red rock formations, waterfalls, petroglyphs, gorgeous wildlife, and stunning desert vistas.
You can choose from 26 different trails to explore and get personal with the unique landscape the park has to offer, but if you're not in the mood for sweating it out, you can also take the scenic Red Rock Canyon Drive to hit most of the highlights at Red Rock Canyon.
20. Antelope Canyon and Horseshoe Bend, Arizona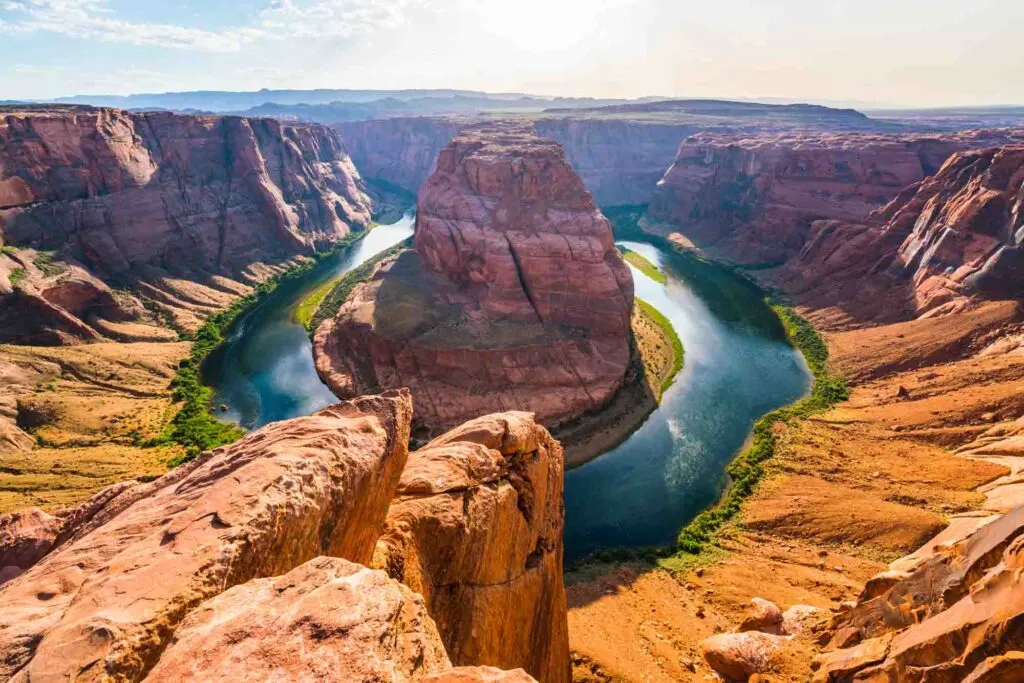 Housed inside the Lake Powell Navajo Tribal Park, Antelope Canyon is located 280 miles from Las Vegas but well worth the trip. Antelope Canyon's walls are decorated with swirls of color that intensify as sunlight seeps in, which creates a mesmerizing and unforgettable sight straight out of a painting.
The hike that leads to the canyon is pretty gentle, but plan your time because you'll want to stop often to take pictures. If you have time, check out the adjoining, much lesser-visited Lower Antelope Canyon, which is just as magnificent, but with narrower passages and higher walls.
While you're in the area, be sure to also check out Horseshoe Bend, which is only 8 miles from Antelope Canyon. Its name comes from its shape, which resembles a perfect horseshoe. The views of the Colorado River and the desert below are quite dramatic and extremely photogenic.
21. Laughlin, Nevada
Located just 90 miles southeast of The Strip, Laughlin is yet another fantastic day trip from Las Vegas.
This friendly riverside town has countless attractions, and the best way to go out and look for them is to take a walk along Laughlin's Riverwalk, which overlooks the Colorado River. Here, you'll pass an exciting array of casinos, restaurants, bars, shops, and museums.
Non-gaming highlights in town include the Laughlin Car Museum at the Riverside Resort & Casino, where you'll find an impressive classic car collection of four-wheeled beauties. Laughlin Labyrinths stone mazes, Grapevine Canyon, and Davis Dam are other recommended places for you to visit.
Wrapping Up on the Best Las Vegas Day Trips
Are you planning on taking any day trips from Las Vegas in order to explore other landmarks in Southwest USA? Please tell us which ones on this list you're doing in the comment section below!