A landlocked Central Texas city may not be the first place that comes to mind when you think of seaside getaways, but beaches in San Antonio are not only existent but completely stunning!
While the ocean is several hours away, San Antonio is lucky enough to be surrounded by an abundance of other bodies of water like crystal-clear lakes, rivers, and natural springs.
We're giving you the lowdown on all the best water features to seek out in and around the city.
From secluded, sprawling shores to plunging pools, there are destinations on this list for adrenaline junkies, relaxation seekers, standard beach lovers, and everyone in between.
Keep reading for all that crucial know-before-you-go information, including how to get to these spots, how busy they are, what to do, and more!
Best Beaches in San Antonio (+ Nearby!)
Believe it or not, there are beaches in San Antonio! If you haven't been introduced to this side of the Central Texas landscape, allow us to do the honors.
Here are 14 of our favorite shores around the city or just a short trip away. Enjoy!
1. Guadalupe River State Park Beach
Stretching for four miles along the banks of the grand Guadalupe River, this waterfront spot is the go-to destination in Texas for tubing and paddling.
The strong current makes for miles of leisurely floating paired with scenic vistas on all sides. It's a unique (and super fun) way to see more of the Central Texas landscape.
There are 13 miles of hike and bike trails to explore on land, some of which also allow for horseback riders if you want the full Southern experience.
Entrance costs $7 for adults and is free for kids 13 and younger.
2. Comal Park Beach
An hour outside of San Antonio, travelers in the know can be greeted by beautiful blue waters and sandy beaches.
Comal Park rests on the south shore of Canyon Lake, and it's one of the best beaches near San Antonio for swimming. The area is well-maintained year-round and super safe.
Aside from the long stretch of waterfront real estate perfect for lounging, you can play a game of beach volleyball, enjoy a picnic, or go boating.
This may all sound too good to be true, and, of course, Comal Park draws its fair share of visitors, especially during the summer months. Furthermore, there isn't much shade along the lakefront.
We recommend showing up early in the day with umbrellas in hand so you can stake out a spot near the water.
The park is open March-October, and entry costs $10 per non-county vehicle.
3. Overlook Park Beach
Bring your binoculars for this one! Overlook Park Beach is known for its wildlife and birdwatching. Your own furry friends are allowed to join in on the fun, as long as they're on a leash.
There is a short 0.6-mile loop to walk, as well as a rocky beach with shockingly clear and cool water.
As its name suggests, one of the highlights of Overlook Park Beach is a hike along a dam that offers sweeping views of Canyon Lake and the Guadalupe River.
The park is open all year round, and the entrance is free!
4. Canyon Park Beach
At the north shore of one of Texas' deepest and clearest lakes, you'll find a family-friendly destination with a little something for everyone.
As one of the closest beaches in San Antonio, Canyon Park has a shallow stretch perfect for young ones, as well as deeper areas for kayaking and canoeing.
There are also tons of water sports to choose from–wakeboarding, jet skiing, paddle boarding, kayaking, and tubing…oh my! There's even the ultra-unique experience of paramotoring (Google it, trust us).
The lake is easily accessible, but the shore is made up of pebbles instead of white sand, so you may want to bring water shoes.
Entrance costs $5 per vehicle.
5. North Park Beach
Sitting in the white sand isn't for everyone, so North Park Beach is there to scratch the itch of adventure seekers and adrenaline junkies.
While it may sound strange for Central Texas, this spot is known for its excellent scuba diving!
Not only does North Park Beach have incredibly clear, refreshing waters, but there are also sunken ships and other fascinating finds to discover beneath the surface.
If one day isn't enough, there are 19 primitive campsites complete with picnic tables, fire pits, and gorgeous lake views.
The beach is open on weekends only from April-September, and doesn't break the bank! Just pay a small entrance fee or $12 for overnight stays.
6. Potters Creek Park Beach
While other Canyon Lake destinations can draw significant crowds, Potters Creek tends to be on the quieter side.
Off the lake, you can hike, bike, and picnic. On the water, boat, fish, and swim to your heart's content. The bottom of the lake in this spot is covered in gorgeous shells, so be sure to bring some goggles!
The park offers both tent and RV campsites, which enjoy lakefront views and frequent visits from the local deer.
Whether you stay one night or several, you're sure to get lots of quality outdoor time, peace, and quiet.
7. Wimberley Blue Hole Park Beach
We've covered some of the more classic beaches in San Antonio, but this one will make you feel as though you've left Texas entirely, even though it's just an hour outside of downtown.
With lush forests overhead and beautiful waters sprawling out under the shade, the appropriately named Wimberley Blue Hole is a paradisiacal hideout for hot summer days.
The swimming area is spring-fed, so the water temperature hovers just below a refreshing 70 degrees Fahrenheit year-round.
Rope swings and jumping platforms keep things exciting for the adventure seekers, while the shallow area is perfect for young kids.
There are also 6.5 miles of trails, basketball and beach volleyball courts, playgrounds, and an amphitheater.
During the high season, which runs May-September, you should make a reservation in advance to swim. Tickets are $12 for adults and $6 for youth under 13, and you can choose between the 9 AM-1 PM or 2-6 PM timeslot.
The rest of the park's facilities are free!
Read next: San Antonio with Kids
8. Jacob's Well Beach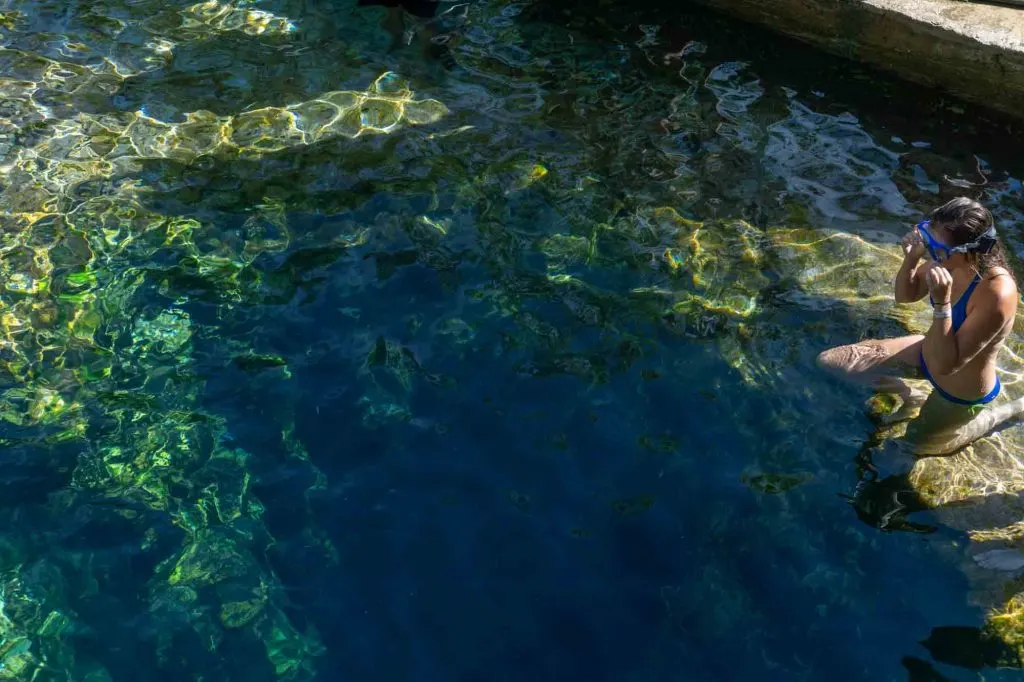 Just over an hour outside of San Antonio is an enchanting hideout tucked away within the limestone cliffs and rolling hills of the Central Texas landscape.
This stunning phenomenon is the second-largest fully submerged cave in Texas. It's fed by water that runs through an extensive underground system, keeping the swimming hole a cool 68 degrees Fahrenheit all year long.
Thrill-seekers can cliff dive into Jacob's Well, while those looking for a more relaxing experience can sunbathe on the rocky "beach" or bring a picnic lunch.
The swimming hole is only open May-September, and you must make an online reservation in advance to secure a two-hour time slot.
Otherwise, the rest of the natural area has no entrance fee and is open to the public year-round.
You can hike on your own, but free guided morning tours are also available on the second and fourth Saturday of every month by request.
9. Mustang Island State Park
Located 2 ½ hours from San Antonio, Mustang Island State Park is an incredibly diverse area home to an almost overwhelming number of activities to fill your schedule with.
The five miles of shoreline are perfect for sunbathing and beachcombing. Because it's a barrier island, the powdery sand can hold fossils, stunning shells, and other treasures from the sea!
It's one of the best state parks near San Antonio for birdwatching, with hundreds of species to be spotted.
For a bit of action on your vacation, try one of the many watersports, like windsurfing, kiteboarding, or parasailing, or take things a bit slower on one of the island's extensive paddling trails.
Unlike many beaches in Texas, they even offer beachfront, drive-up camping, where you can host your very own campfire and fall asleep to the sound of the waves.
Guests looking for a little more comfort can opt for sites with water and electricity located a short walk from the shore.
10. Jamaica Beach
If San Antonio beaches still aren't ticking all your boxes, head over to Galveston! This seaside city is just four hours away, yet brings with it a whole new array of sights, sounds, and experiences.
Although it resides on Galveston Island, Jamaica Beach is actually its own city, born out of an area that once functioned as a weekend fishing getaway.
There are many ways to enjoy the water, from canal and beachfront spots to a lovely public pool that you can access for only $5 per day.
With adorable pastel stilt houses, powdery sand, and some peace and quiet away from Galveston's busier strip, Jamaica Island is a little-known but must-visit beach destination!
11. North Beach
The ultra-popular North Beach is home to several of Corpus Christi's biggest attractions, located about 2 hours from San Antonio.
It features the Texas State Aquarium as well as the USS Lexington, a World War II aircraft carrier that now functions as a museum.
For food, check out Fajitaville, a colorful explosion of eating, drinking, and entertainment right on the beach.
Each of the complex's three stories has its own theme–a beach bar, a family-friendly grill, and a more upscale dining experience. There's even a functional seaside Ferris wheel!
When the days heat up, you can stick to the sand or stroll along the three-mile beach walk to explore boutiques and souvenir shops, or perhaps even spot some wildlife.
12. Port Aransas
As Galveston, South Padre Island, and Corpus Christi fill up with crowds, there are often still quieter spots to be found along the six-mile stretch of Port Aransas beach.
This is one of the longer drives on the list–about 3 hours outside of San Antonio–, but if you want a slightly more tranquil vacation, it pays off.
Cars are allowed on the beach, so you can stock your trunk with drinks and snacks, then use it as shade throughout the day. Guests are also free to pitch tents and build campfires, making overnight stays an excellent option.
The waters are excellent for surfing, paddling, and swimming alike, and on land, you can explore the small city via a golf cart.
13. Padre Island National Seashore
Welcome to one of the best national parks in Texas, home to some of the most pristine natural scenery the state has to offer.
Padre is actually the world's largest undeveloped barrier island, breaking up the Gulf of Mexico and Laguna Madre, one of the few hypersaline lagoons in the world (its waters are saltier than the ocean).
That means you have double the unique activities–lakeside and seaside! From boating and birdwatching to surfing some of the best breaks in the state, you'll be hard-pressed to narrow down your itinerary.
As one of the best beach towns in Texas, Padre Island boasts an abundance of plant and animal life, including Kemp's ridley sea turtles, the rarest and most endangered sea turtle species.
In the summers, keep an eye out for early morning hatchling releases if you want a truly unforgettable up close and personal wildlife experience.
Padre Island is just 2 ½ hours away from San Antonio, and with so much to do, you might as well make it a weekend trip!
14. Rockport Beach
Widely considered to be one of the cleanest beaches in San Antonio and even the state, Rockport is the epitome of a family-friendly seaside getaway.
It's 2 ½ hours outside of San Antonio, but the calm, pristine waters and silky sand make it well worth the drive.
In fact, it remains shallow as far as 100 feet off the beach, so it's a great place to look out for wildlife like crabs, water birds, and even dolphins!
On land, there is a short walk and cycle path, as well as a strip of shops, galleries, and restaurants parallel to the beach.
Once a month, you can check out the Rockport Market Days, a small festival during which local vendors offer food, drinks, and handmade artwork. It's a great event for the whole family in South Texas!
San Antonio Travel Resources
Whether you're spending a weekend in the city or a whole week, you might want to take a look at the guides we wrote here on the blog, including complete guides on where to stay and day trips in Texas.
If you're looking for more things to do in San Antonio, especially outdoors, you might consider going hiking in San Antonio as there are incredible parks worth checking out.
Did you enjoy this article about the best beaches in San Antonio, Texas? Then share it with a friend who might enjoy it too!
Latest posts by Katelyn van Sligtenhorst
(see all)