Visiting Savannah, Georgia, soon and looking for the best things to do in Savannah? Here's a list of our favorite activities in this charming southern city.
The charming town of Savannah is known as the hostess city of the south.
Its friendly southern charm and graceful picturesque scenery boast a diversity of things to do and experience to enjoy as you wander the streets by foot or horse-drawn carriage.
Savannah is much more than its picture-perfect streets lined with oaks draped in Spanish moss and southern cooking.
Savannah enjoys a beautiful coastal landscape and beautifully preserved historical architecture that re-enacts the stories of days gone by.
Savannah is a place that needs to be seen and enjoyed by visiting Jones Street, named the most appealing street in the United States, to experience the cuisine of the south.
The historical museums and the parks may even enthrall you with some real-life ghost stories to get your heart pumping, and why not enjoy a leisurely carriage ride while enjoying the sights and beauty of the romantic Forsyth Park?
Wondering what to do in Savannah? Read on!
25 Best Things To Do In Savannah
Savannah is not shy about the things it has to offer, including a pedestrian-friendly environment that is easily enjoyed by the whole family; it's no wonder Savannah has you wanting to come back to experience more of her charm.
1. Stroll River Street Of Savannah's Waterfront
Stroll down the side of cobblestone streets and take in the architecture of old historic cotton warehouse buildings mixed with the vibe of fresh-style structures.
Savannah's waterfront, River Street, is a buzzing promenade of shops, galleries, restaurants, pubs, and hotels that are sure to give your eyes plenty to feast on.
Enjoy a saunter along the river, taking in the breathtaking views and sunsets, or enjoy a cruise on one of the majestic riverboats as they float down the mighty Savannah River while you enjoy some music and dancing, or take in the spectacular views from the open-top deck of the boat.
2. Take Part In A Scavenger Hunt – One Of The Best Things To Do In Savannah
A fun way for you to experience the antebellum architecture and mesmerizing parks that Savannah takes pride in preserving than immersing yourself in its centuries of history.
Join in on a scavenger hunt and tour the city by visiting historical landmarks, solving challenges, and learning about the past that has come to define this quaint southern town.
There are several self-guided scavenger hunts that you can do 365 days a year that is fun and interactive for the whole group and family.
Turn Savannah into a life-sized board game and explore the city in a fun, adventurous way.
Click here to book your scavenger hunt adventure
3. Experience Forsyth Park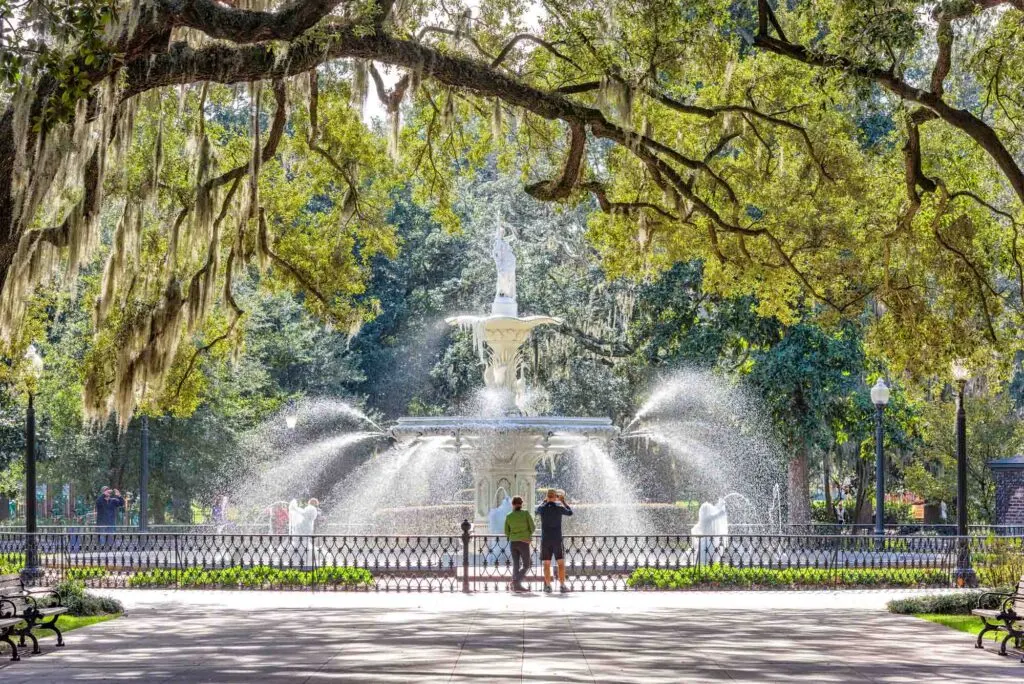 Built in 1840, Forsyth Park covers 30 acres of land that give a reprieve for tourists viewing Savannah on foot.
The park can be found in the Historic District along Gaston Street, hosts a large monument to the confederate dead, and is one of the largest in the state.
Visit the Fragrance garden to marvel at the displays of plants with texture and fragrances that were intended to appeal to people with sight limitations.
Take a meander down the walkways covered by oaks with their typical southern-covered Spanish moss to the Forsyth Fountain, this is the most photographed fountain in Savannah, and you can't help but let the romantic out as you take in its whimsical echoing of the Parisian fountains at Place de la Concorde in Paris.
Read next: Experiencing Fall in Georgia
4. Hop On Hop Off Trolley Tour – One Of The Funniest Things To Do In Savannah
A hop on hop off trolley tour is a great way to see the city. You can get on and off the trolley as many times as you like at any of the stops, or you can stay on for the entire tour or just a portion of it.
The tours are typically narrated, so you can learn about the history and culture of the city as you go.
There are different hop on hop off trolley tours, and they're a great way to see a new city without having to do all the research yourself. You can usually purchase tickets for a single day or a longer period.
5. Explore Wormsloe Plantation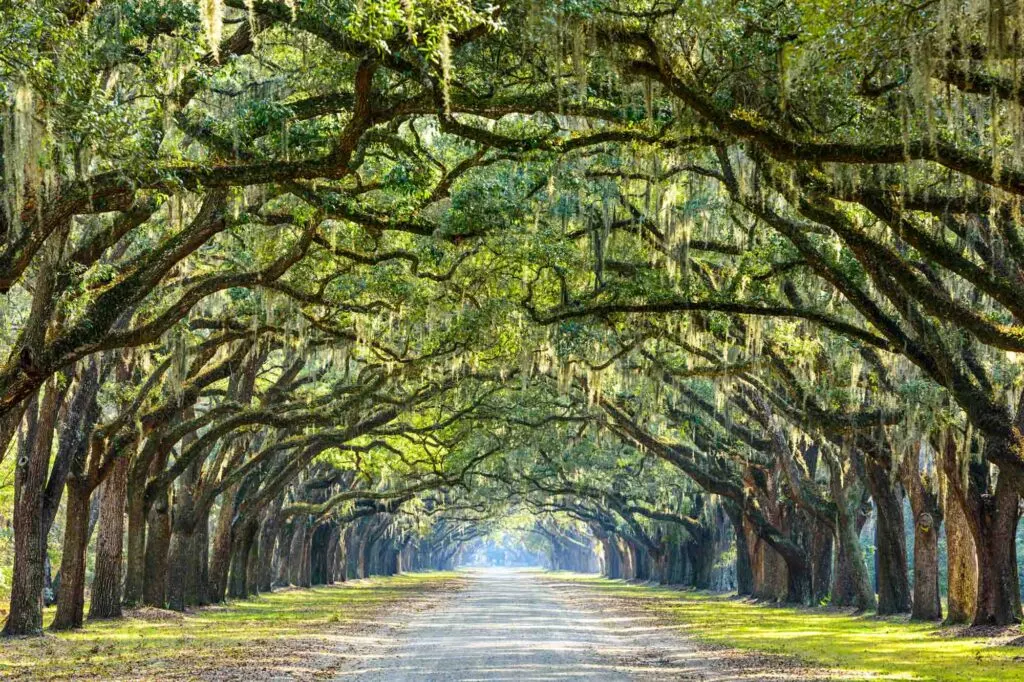 Drive down the oak canopy-covered avenue of the Wormsloe Historic Site.
The 1 1/2 mile-long avenue leads you to a large estate established by Noble Jones, one of the colonial founders of Georgia.
Watch short historical films at the visitor's center before exploring the 822 acres of Wormsloe Plantation.
Discover the ruins of Jones' tabby-built house, the oldest structure in Savannah, before choosing a guided or self-guided tour of any one of the trails that extend for 2.3 miles across the property through woods and paths that run along the edge of the forest, giving you spectacular views of Hope Island.
Located at 7601 Skidaway Road, it is a short 15-minute drive away from the Historic District but worth the time to be transported back to an era long gone.
6. Explore The City Market – One Of The Best Things To Do In Savannah
Savannah City Market is a great place to find locally made items, artisanal goods, delicious food, jewelry, art, and more.
The market wakes up and opens to the public from 10 am to 6 pm every day, and admission is free.
Starting at the corner of Jefferson and West St. Julian street, the market stretches a full city block east and west.
The City Market has been in operation since 1755, making it one of the oldest markets in the United States.
It originally served as a place where farmers could sell their produce, but it has since grown to more than 150 vendors, so there's no shortage of options.
Suppose you're looking for a unique souvenir or just want to explore some of Savannah's local businesses.
In that case, the City Market is where you will find a wide variety of artisanal goods, including pottery, clothing, and home decor.
You can find produce, meat, seafood, baked goods, jams and jellies, and much more, and if you're looking for something tasty for lunch or dinner, then this is the place to enjoy a foodie-tour and experience mouthwatering, hearty, feel-good Southern cuisine.
7. Take In St John The Baptist Cathedral
St John the Baptist Cathedral is not only inspiringly beautiful with its French gothic-styled architecture and impressive spires.
Still, the story of the Cathedral is also one of resilience and perseverance as it overcame many tragedies that inspired the people of Georgia to show their sense of community.
This Roman Catholic Cathedral, found in the Historic district of Savannah on Lafayette Square 222 east Harris street, is the biggest church in Savannah and was established in 1839 and named minor Basilica in 2020 and seats the Roman Catholic Diocese of Savannah.
Stepping through the doors of St John the Baptist Cathedral, you are mesmerized by the sheer beauty and grandeur of the vaulted ceiling and majestic organ with 2,308 pipes.
You are enveloped with a sense of greatness as you take in the design of rich Persian rugs, impeccable Austrian stained glass, and clean Italian marble.
8. See The Sights At Tybee Island
The Savannah area is known for its rich history, beautiful architecture, and lush vegetation. One of the most popular tourist destinations in Georgia is Tybee Island.
This small barrier island is located just 18 miles east of downtown Savannah and offers visitors a wide variety of activities.
Tybee Island is a wonderful family-friendly place to visit if you're looking for a relaxing beach vacation.
The island has a three-mile-long beach that is perfect for swimming, sunbathing, and fishing.
Maybe you are more on the adventurous side; then you can also go kayaking or paddle-boarding on the river that runs through the island.
Visitors can also explore the nearby Tybee Island Light Station, one of the oldest lighthouses in America, and the nearby Marine Science center.
9. Ride In A Horse-Drawn Carriage
Reminisce about a time before cars and mechanical beasts drove us around and take it down a gear and enjoy a ride in a horse-drawn carriage.
You can enjoy it as you listen to the beat of the horses' hoofs, clip-clop along cobbled streets, and the gentle sway of the carriage as your guide takes you through Savannah on a quintessential tour.
Make sure to book a carriage for that perfect romantic afternoon ride as you cuddle close to each other or for an educational tour of Savannah that the whole family is bound to enjoy as you get swept back to a time when things went slower and times were simpler.
Read next: Romantic Getaways in Georgia
Best Things To See In Savannah
Savannah, Georgia, is a beautiful city that offers plenty of activities for tourists.
From its historic district to its monuments and museums, there's something for everyone to see in Savannah.
10. Visit Juliet Gordon Low's Birthplace
Born in Savannah, Georgia, on October 31, 1860, Juliette Gordon Low was an American socialite that founded the Girl Scouts of the USA. Now a museum, her birth house is open to the public for tours.
If you're ever in Savannah, be sure to visit Juliette Gordon Low Birthplace, where you will learn about her childhood, education, and early career.
You will also have the opportunity to see some of her personal belongings and hear stories about her life and how she influenced girls and women all over the world.
Located in Savannah's Historic District on the corners of Bull Street and Oglethorpe Avenue, this museum is one for the girls to enjoy, and don't forget to stop at the gift shop for some girl scout cookies.
11. Visit Fort Pulaski National Monument
Fort Pulaski National Monument is a must-see for history buffs.
Built in the early 1800s, Fort Pulaski, a US national monument, is a Civil War fort located on Cockspur Island in Georgia.
Fort Pulaski was the scene of a key Civil War battle, where its impressive masonry construction of a 7 ½ foot solid brick wall protected the fort against the siege.
Captured by Union forces in 1862 when they made use of experimental artillery that shattered the walls.
Today Fort Pulaski is a popular spot for picnicking, birdwatching, and fishing, offering stunning views of the Savannah River, just a 20-minute drive east of Savannah.
12. Dine Out At Olde Pink House – One Of The Best Things To Do In Savannah
Built in 1777 by James Habersham Jr., this house got its name due to a pure fact of inferior quality.
The bricks were originally red, and the house was plastered white, the bleeding of the brick's color turned the house pink, and it has remained in pink hues ever since.
Now the Olde Pink House is a classic Southern restaurant and Tavern that has been serving up traditional dishes in a relaxed atmosphere.
The stunning Georgian mansion is located in the heart of the historic district on Abercorn street. Make sure to get a booking as this is one of the most popular restaurants in the city.
13. Stroll The Owens-Thomas House And Slave Quarters
The Owens-Thomas House is one of the best examples of a Regency-styled home in Savannah, Georgia.
The house was built in 1819 for Richard Richardson and his wife. This mansion tells the intricate connection between the most and least prevailing people in Savannah.
This 19th-century mansion located on Abercorn Street in the Historic District of Savannah will be an interesting visit for anyone who enjoys art, architecture, and history.
14. Catch A Live Show At Savannah Theater
The Savannah Theater is one of America's oldest, continually operating and most iconic theaters.
The theater has been hosting live shows since 1818 and is now home to a variety of productions, including musicals, comedy shows, and more.
Located on Chippewa Square in Savannah, you may get more than you paid for when visiting the theater.
You may catch a glimpse of three ghosts; after all, it is said that the theatre is haunted by three spirits that have not moved on yet.
15. Visit The Andrew Low House
The Andrew Low House is a National Historic Landmark and one of the best examples of Italianate architecture in the United States.
The three-story brick mansion was built in 1849 by noted Savannah architect John Sartain for businessman and philanthropist Andrew Low.
Less than a block away for St John The Baptist Cathedral, this historic home boasts antiques from the 19th century, silver pieces, and exquisite ornate ironwork passed down to Andrew Low's son, William, and if you are asking whether Juliette Gordon low was related?
She was Andrew Lows Daughter in law that added some extra history to this national landmark.
16. Visit Savannah History Museum – One Of The Best Things To Do In Savannah
The Savannah History Museum is a must-see for anyone interested in the city's history. The museum is one of the largest history museums in Georgia.
The museum is located in Tri-centennial Park on Martin Luther King Boulevard.
The museum houses a collection of more than 10,000 artifacts that tell the story of Savannah from its pre-colonial days traveling through the American Revolution and civil war.
This is the perfect start to getting to know Savannah and her history from exhibits highlighting historical figures that lived in and made Savannah.
17. Visit William Scarbrough House
William Scarbrough became president of the Savannah Steamship Company in 1818, which saw the launching of SS Savannah, the first-ever steamship that crossed the Atlantic ocean.
His mansion was built in 1819 in regency-Greek-styled architecture by the architect and builder William Jay.
Unfortunately, the ship was not the success they expected, and Scarbrough became insolvent at the age of 44, losing everything he owned.
In 1878 the house was sold to the Board of Education, which turned it into a street school for African-American children until 1962.
In 1972 the Historic Savannah Foundation designated the house a National Historic Landmark.
The house was acquired by Ships of the Sea Museum in 1995, and they finalized the restorations on the roof in 1997 as per the graphics of architect William Jay.
Today it is open to the public and features ship models, such as the SS Savannah, paintings, and relics that reflect Savannah's maritime legacy.
18. Watch The Firing Canons At Old Fort Jackson – One Of The Best Things To Do In Savannah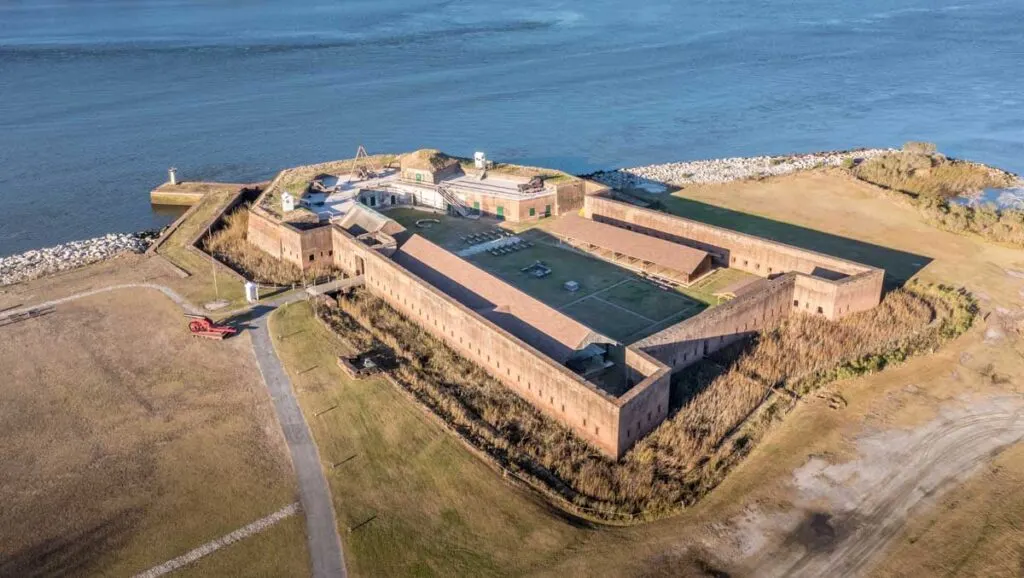 Fort James Jackson, lovingly known as Old Fort Jackson, is one of the most popular tourist attractions in Savannah, Georgia.
Construction took four years, between 1808 and 1812, to protect Savannah from incoming attacks from the sea.
It was surrounded by a beautiful moat, which is now perfect for picnicking or just relaxing in the sun.
The fort is a historical landmark and has been featured in many movies and television shows.
The fort is a great example of pre-Civil War era architecture, and every day at noon, you can witness a re-enactment of the firing of cannons at Old Fort Jackson.
Best Attractions To Visit In Savannah
Savannah is not short of attractions to see and experience.
From bone-chilling ghost adventures to experiencing the delicious treats and feeling part of Savannah's history, she has a lot to share with you and awaits her arms open.
19. Visit Graveface And Curiosities
A spooky and unique attraction in Savannah is Graveface and Curiosities. The attraction features a collection of macabre artifacts, from vinyl to serial killer oddities.
If you're into weird and quirky objects, then it's worth stopping by this unique little store on 40th street in Savannah.
20. Sit-On Forrest Gump's Bench – Famous Savannah Attraction
If you've ever watched the movie Forrest Gump, then you'll want to make sure to sit on his bench, which was made famous by the film Forrest Gump, while you're in Savannah.
The bench is located in Chippewa Square and makes for great photo ops.
This famous landmark was used in the 1994 film and has been a popular spot for tourists ever since, so enjoy a break on the bench, and who knows, you might even meet a new friend while you're there!
21. Go Ghost-Hunting At Sorrel-Weed House
Savannah is renowned for its ghost stories, and the Sorrel-weed House on West Harris street is probably one of the most haunted places you will find in the city.
This house is sure to give you a few chills, so if you're feeling brave enough, join a tour and go on a ghost hunt at night and see if you can spot any of the resident ghosts!
22. Seek The Waving Girl At River Street Marketsd
The waving girl of River Street Market is a local legend and one of Savannah's most iconic landmarks.
According to the legend, Florence Martus, the daughter of a Sergeant stationed at Fort Pulaski, fell in love with a sailor setting sail who promised to return.
She was known to the locals as the waving girl as she waved at ships that passed by on the river.
Today, you can still see her waving at the market on River Street; find her for a photo op.
Read next: Christmas in Savannah
23. Eat Ice Cream At Leopold's
Leopold's Ice Cream is a Savannah institution found in the Historic District on Broughton Street and has been serving delicious ice cream since 1919.
Stop by for a refreshing sweet treat, and make sure to try their famous signature flavors, peach or blackberry ice cream, while you're in town!
24. Creep Out At Bonaventure Cemetery
Bonaventure Cemetery can be said to be one of the most beautiful and, at the same time, creepy cemeteries in Savannah.
Home to many famous graves, including that of poet Conrad Aiken, Georgia's first governor Edward Telfair, and silent actress Edythe Chapman, this cemetery is a popular tourist attraction.
Take a stroll through the cemetery located on Bonaventure Road and enjoy the peace and quiet of this gorgeous spot; with its Spanish moss-draped trees and Gothic architecture, it's no wonder it's a popular spot for filmmakers and photographers.
25. Sweeten Your Tooth At Savannah's Candy Kitchen
We left the best for last; no trip to Savannah would be complete without indulging in some of the city's famous candy!
Savannah's Candy Kitchen is a confectionery lover's paradise and a local favorite.
Offering everything from handcrafted chocolates to fresh pralines, indulging your sweet tooth has never been so delicious with this array of a delectable selection of handmade candy.
This popular shop can be found on the famous River Street by the waterfront or West and Julian Street near the City Market.
More Things To Do In Savannah, Georgia
Check out the Telfair Museum, the oldest public art museum in the South.
Tour the Mercer-Williams House, Johnny Mercer's grandfather's house.
Peep inside Tiffani Taylor Gallery, one of the best art galleries in Savannah.
Check out Davenport House and its gardens.
Final Words On Things To Do In Savannah, Georgia
Savannah is not shy about showing off her many different sides. Rich in history and legends, this city has plenty for the whole family to enjoy and experience.
From history, ghost stories, live entertainment, and beach fun, this town has enough locations to keep you busy for your escape in this extraordinarily quaint southern gem of a town.
Did you enjoy reading about the best things to do in Savannah? Then share this article with your friends on social media!