Several of the best small towns in America make the perfect getaway. The great thing is you can find a town perfectly suited to your needs.
Are you looking for an outdoor adventure? Scenic mountain ranges? A retreat for spiritual well-being? A snowy town resembling a postcard? A coastal town with a renowned art scene? Do you want it? America's got it.
When visiting some of the best small towns in America, you will find reasonable Prices and a more intimate experience.
These small-town destinations are perfect for those who do not seek the chaos of big cities but still want adventure and fun.
22 Best Small Towns In America
Here are some of America's best small towns in no particular order.
1. Carmel-By-The-Sea, California
Suppose your interests lie within the world of arts, literature, music, culture, history, and theatre. In that case, this is the town for you.
Carmel-by-The-Sea is a feast for all of your senses, and it is hands-down one of the most beautiful places in the USA. It is located 53 miles from San Jose and boasts artistic, historical, and natural beauty.
A coastal town with beautiful forestry, European-style influence, and a Mediterranean climate, it is also known as the number one "dog-friendly" town in the USA.
Ocean Avenue boasts a plethora of family-owned boutique stores, as well as high-end designer brands.
If shopping does not appeal to you, visit any of the 100 art galleries in the downtown vicinity, spend an afternoon wine tasting on a food tour, or visit historical monuments such as the Mission San Carlos Borromeo de Carmelo.
Check out the annual Sand Castle Contest if you're there in September. As far as the best small towns in America go, Carmel-by-the-sea should be near the top of your list.
2. Spearfish, South Dakota
Just 120 miles outside of Badlands National Park, Spearfish is an outdoor and adventure seekers' dream awaits.
Especially if your interests include fishing, wildlife, and craft beer, this small town is named after Spearfish Creek, which runs through the city.
The waters offer a diverse range of freshwater fish waiting to be hooked. The nature trails are full of picturesque mountain views and waterfalls.
The 20 miles of scenic Spearfish Canyon can be explored on foot, bike, or by car.
After all the adventuring, stop in at one of the local pubs for some comfort food and local craft beer.
This town is also famous for where the final scene of the 1990 movie "Dances With Wolves" was filmed.
3. Sedona, Arizona
Are you feeling the need to hit the reset button? Just travel 100 miles out of Phoenix Sedona, Arizona.
This small town, also known as "Red Rock Country," is perfect for geology enthusiasts and those needing mindfulness and spiritual retreat.
Many people travel to one of the four vortex sites in Sedona for energy and healing purposes.
If the vortex is not for you, you can realign yourself with 360-degree open-air tour buses, star-gazing, hot-air ballooning, wine tasting, hiking, biking, and fishing (try the Oak Creek Canyon).
Indulging in classic South Western cuisine is sure to be a "spiritual" experience.
4. Breckenridge, Colorado
This snowy little mountain town is the thing of classic postcards. Breckenridge Ski Resort is the perfect wintertime getaway for the entire family.
For avid skiers, this is one of the best small towns in the USA. But don't think you must be a ski enthusiast to enjoy this quaint town.
A mystery walking tour through this former mining town explores Breckenridge's gold mining history and its darker, more interesting past.
Scavenger hunts have been designed as a touring aid and activity to ensure tourists take in all the authenticity of this mountain town at their own pace.
During warmer months, skiing and snowboarding are replaced by hiking and mountain biking.
If walking down the historic main street, take in the preserved historic buildings from as far back as 1895. Beer lovers should visit this small town during Oktoberfest.
5. Hot Springs, Arkansas
Fifty-five miles southwest of Little Rock, nestled in the Ouachita Mountains, is the small resort Town of Hot Springs.
Aptly named, this town is home to several natural hot springs which are believed to have healing properties.
No wonder this has become known as a "spa" town. This forest town has many hiking trails, The Josephine Tussaud Wax Museum, eight well-preserved historic bathhouse buildings (Bathhouse Row), and crystal mines.
If you are there in the summer, you may be lucky to witness the unique "World Championship Running Of The Tubs" race.
6. Gatlinburg, Tennessee
Gatlinburg should be added to your travel list if you enjoy Autumn and camping. There are 800 hiking trails in the iconic Great Smoky Mountains National Park.
This town also has the only ski resort in the Tennessee area. Adrenaline junkies can go ziplining and white water rafting or spend the day at the award-winning theme park, Anakeesta.
Other unique attractions include The Hollywood Star Cars Museum and Ripley's Aquarium Of The Smokies.
Your fun day can be topped off on a sweet note by visiting one of the many pancake houses. All this diversity is just 39 miles southeast of Knoxville.
7. Bisbee, Arizona
Quirky and history have come together in this colorful small American town 92 miles southeast of Tucson.
One such quirk is a three-day city-wide costume event known as "Pirates Of The High Desert."
Residents and tourists dress up as pirates or mermaids and have fun-filled activities such as contests and pub crawls.
This alone is indicative of the vibrant atmosphere in this small town. Bisbee is no stranger to diversity.
It hosts the annual Sidepony Express Music Fest and Mariachi Festival.
Visitors can enjoy guided Jeep tours around the Lavender Pit Mining Overlook, renowned ghost tours with the spook factor and historical accuracy, numerous art galleries, weekend farmers markets, fine dining, and authentic Mexican cuisine.
8. Homer, Alaska
Reconnect with nature in the "Halibut Fishing Capital Of The World."
Avid fishermen can enjoy world-renowned fishing surrounded by scenic mountain views.
Those with an appetite for adventure might find themselves overwhelmed by the many options: kayaking, horseback riding, spearfishing, hiking, helicopter tours, and kite surfing.
Homer is also where the majority of America's bear population resides. If you have been intrigued by the idea of "bear viewing," this is the place to do it.
The classic log cabin lodgings add another level of authenticity to your visit.
And when you hear a growling (from your tummy, not a bear), you can rest easy knowing that Homer is known for having some of the best restaurants in Alaska.
9. Georgetown, South Carolina
Quintessentially quaint and rich in history. At some angles, this waterfront town seems frozen in time, with its streets lined with old oak trees and classic seaside architecture.
It's the 3rd oldest town in the beautiful state of South Carolina and is 61 miles outside of Charleston.
The fact that this town is popular as a choice for destination weddings speaks volumes of its aesthetic beauty.
In keeping with the historical factor, Georgetown has many charming antique shops for visitors.
Tourists can enjoy boat tours, lighthouse cruises, and classic inland attractions such as Haborwalk.
And you can be sure to indulge in foods fresh from the sea and chock full of southern charm, making Georgetown one of America's best small towns.
10. Sanibel Island, Florida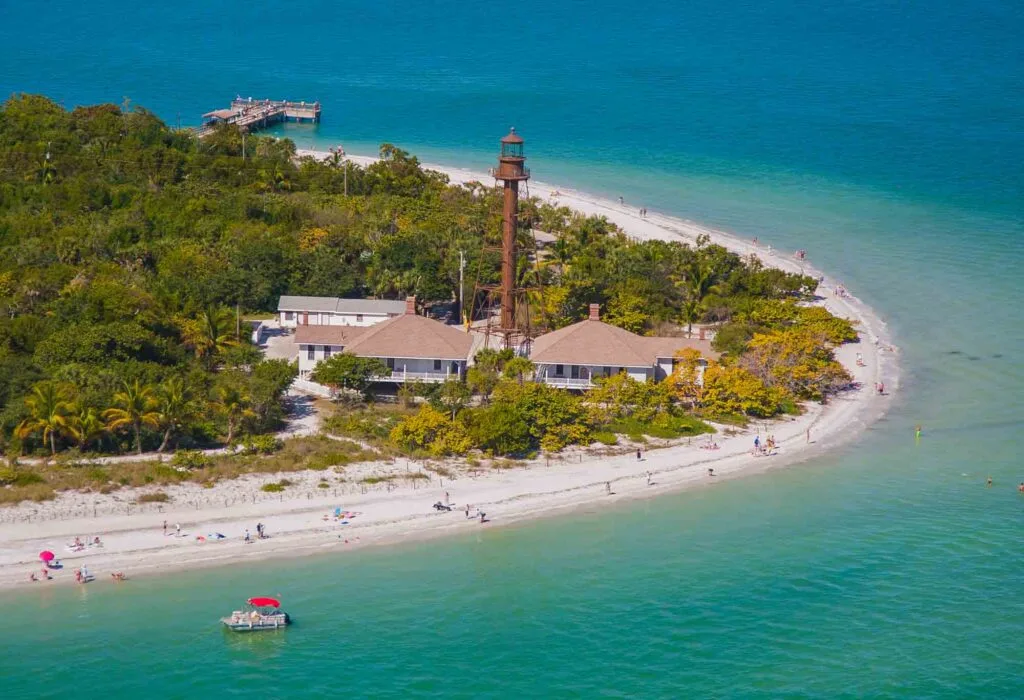 It is not only one of the best small towns in Florida but also one of the most incredible small towns in America! How adorable is that?
Those looking for warm weather, tranquil environments, and beautiful beaches need to look no further.
Sanibel is well known for its abundance of beautiful pastel shades of seashells. As a resort getaway, everything you need to keep you relaxed, entertained, and well-nourished can be found on the island.
From golf to bird watching (check out the J.N Ding Darling National Wildlife Refuge), water-based activities, shopping, and botanical gardens to the Sanibel Lighthouse.
The tropical environment is ideal for just lounging and relaxing. Not all vacations need to be crammed full of activities.
Dining on Fresh seafood and cocktails while overlooking the beach is sometimes all the vacation you need. Sanibel is located 107 miles from Tampa.
11. Skaneateles, New York
Considered the "Jewel" of The Finger Lakes, this hidden gem of a small town (61 miles from Rochester) perfectly combines small-town charm and exquisite affluence.
If you love the holidays, visiting this Christmas town in the wintertime will be a treat! The annual Dickens Christmas Celebration takes place from just after Thanksgiving until Christmas.
The wide variety of boutique stores, restaurants, and pubs will expose you to unique cuisines. Skaneateles is home to the popular attraction Anyela's Vineyards.
During the last week in July, visitors will get to experience the Antique and Classic Boat show. Tourists will have their breaths taken away by the clarity of Skaneateles Lake and the natural beauty of its surrounding areas.
Skaneateles is like something out of a movie and what most tourists imagine when imagining "the best small town in America."
12. Meredith, New Hampshire
For a small town, Meredith is throwing some heavy punches. Located 92 miles from Boston, this small US town is considered a major resort town.
Swimming, shopping, boating, wine tasting, fine dining, hiking, mini golf, a drive-in theatre…oh, and the largest arcade in the WORLD.
While the attractions may seem relatively modern, Meredith is steeped in history, and visitors can visit the Main Street Museum to learn and appreciate how this small town came to be.
Visitors can also take a 2-hour scenic railroad ride near Lake Winnipesaukee.
Passengers even have the option to rent out a private car on the train. With so much to do, this is an ideal place for a family vacation.
13. Bar Harbor, Maine
The US small town where Martha Stewart spends her summers must be doing something right.
This resort town on Mount Desert Island (48 miles from Bangor) has somewhat limited access (one road and two ferry routes), which makes it more appealing.
Being the "gateway" to Acadia National Park means that Bar Harbor itself has quite a variety of natural beauty to show off.
Soft beaches and granite cliffs make for picturesque mountain trails.
It's like a secret garden. With a literal rich history, former residents included some of the wealthiest Americans in history (Astor, Rockefeller, and Vanderbilt).
Lobster lovers should have this small town on their bucket list.
14. Provincetown, Massachusetts
This small coastal resort town is a popular holiday destination in the LGBTQ+ community.
Rest and relaxation on the many beaches, freedom of expression, arts and culture, unparalleled entertainment, whale watching, hiking trails, and not mention the food!
You can indulge in classic seafood, Portuguese dishes, and eclectic fusions.
The festivals and carnivals (PRIDE, Single Women's Weekend, Holly Folly, Women's Week, Fan Fair, and Mr. New England Leather) hosted by this welcoming little town are inclusive and celebrate people from all walks of life. It is undoubtedly one of the reasons for its appeal.
15. Santa Claus, Indiana
Feel like getting into the Christmas spirit a little early? When it comes to family-friendly and festive, you can't beat Santa Claus.
Sixty-five miles from Louisville, this Christmas town does a stellar job at keeping the magic alive year-round.
Other themed attractions include; the Christmas Lake Golf course, Lake Rudolph Campground, Frosty's Fun Centre, Santa's Candy Castle, and historic Holiday World and Splashin' Safari (the world's first-ever theme park).
This small town does not have fine dining options, but the vast selection of casual dining won't leave you feeling unfulfilled.
US small towns like Santa Claus put an emphasis on fun. Friendly, modest, and affordable, Santa Claus is one of the best small towns in America that has earned its spot on the "nice" list.
16. Leavenworth, Washington
Travel just 78 miles out of Seattle, and you may feel like you've crossed into an entirely different continent.
The charm of Leavenworth is owed to the Bavarian-style village and Alpine-style architecture.
So quaint and charming, this small town looks almost like the set design for a Christmas musical.
This town's beauty is not just reserved for the snowy months. Spring sees fresh blooms of flowers adorning hiking trails.
Other attractions include affordable and impressive wine tastings, white water rafting, sleigh rides, reindeer farms, The Nutcracker museum, horseback riding, The Christmas Lighting Festival, boutique shopping, and authentic German cuisine.
17. Dahlonega, Georgia
Welcome to the home of the first major gold rush in America. It is located on the foothills of the Blue Ridge Mountains with an array of mountain vistas, streams, and waterfalls.
This small American town appeals to both outdoor trail fanatics and wine connoisseurs.
Known as the "heart" of Georgia Wine Country, places like Canvas and Cork combine the love and appreciation of fine wine and art.
For a unique shopping experience, visitors can browse through antique shops such as Dipsy Doodle Antiques or Cranberry Corner.
The closest major and beautiful city is none other than Atlanta, which is 58 miles away.
18. Nashville, Indiana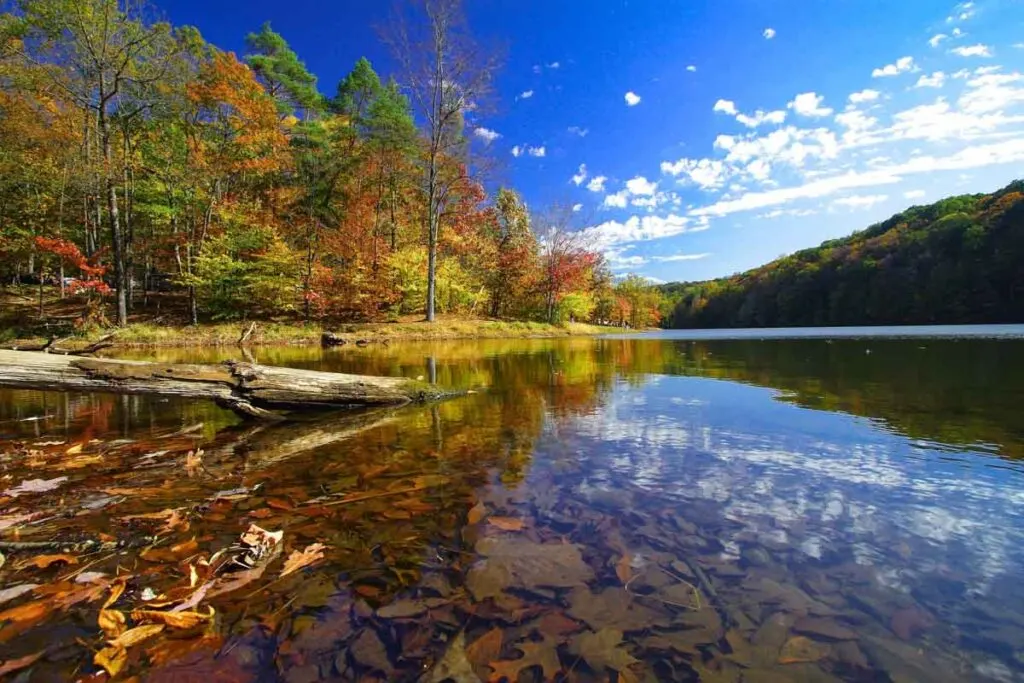 In 2020 this small US town had a population of 1256. In 2010 it was just 800. Does it get more intimate than that? Nashville is known as Brown County's art colony of the Midwest.
The small-town setting has made it a favorite romantic getaway for many couples.
Outdoorsy people partake in leisurely hiking and backpacking trails, zip lining, kayaking, and horseback riding.
Keen on an authentic small-town experience? Head to Mike's Music and Dance Barn every Monday and Saturday for lively line dancing. Nashville is 39 miles outside of Indianapolis.
19. Dodge City, Kansas
Get the heck outta dodge! You might not want to when you experience the old-world feeling of the Wild West that this town has to offer.
Dodge City pays homage to the influence the Old West, as a wild frontier, had on American culture.
From cowboys to cowgirls, dirt track racing, The Dodge City's Farmers Market, and Long Branch Lagoon Water Park.
The western theme runs strong through these attractions, even if they are fairly modern.
Historical and cultural sites include The Carnegie Center for the Arts, Second Avenue Art Guild, and the Long Beach Saloon.
20. Saugatuck, Michigan
Carefully curated culture and recreation in a beautifully manicured landscape. (Hello, award-winning beaches!) This quaint little metropolis has it all.
Arts, culture, nature, adventure, culinary delights, and open-mindedness. Saugatuck is another holiday destination that has embraced and has been embraced by the LGBTQ+ community.
What better way to relax than knowing you are among friends and allies? Suppose you're not lazing on the beaches.
In that case, you can climb aboard The Star of Saugatuck (an authentic 51-ton sternwheeler paddleboat operating and entertaining visitors since 1978) for a 90-minute cruise on the Kalamazoo.
Or take in the culture at Armstrong DeGraaf International Fine Art, Button Gallery, Water Street Gallery, or Roan and Black.
21. Valentine, Nebraska
You will not be disturbed by the city life two hundred forty-two miles from Lincoln, Nebraska.
Despite its somewhat romantic and flowery name, this small town is the ideal location for experienced adventure and outdoor travelers.
The most notable adventure attractions are; The Niobrara River, The start of the Improved Cowboy Trail, Smith Falls (the highest waterfall in Nebraska), Fort Falls cascades, Samuel R. McKelvie National Forest, Fort Niobrara National Wildlife Refuge, and Valentine National Wildlife Refuge.
Adventures can partake in canoeing, hiking, hunting, fishing, tubing, camping, and kayaking (to name a few). Valentine is one of the best small towns in America for thrill seekers.
22. Truth or Consequences, New Mexico
If the name alone doesn't intrigue you, the geothermal mineral water might.
This small, unassuming town is 140 miles from Albuquerque and is home to the largest body of water in the state.
In addition to the hiking and birdwatching, it is the mild winters and natural springs that attract visitors to this small town. A popular attraction is The Healing Waters Trail.
The appeal of this town lies in its low-key, slow-paced nature and honest nature. It's a great place to reconnect with nature and yourself without any fluff or pretense.
More US Small Towns Worth Checking Out
Jim Thorpe, Pennsylvania – a tiny town with incredible museums for history buffs.
Marfa, Texas – an art hub in the Middle of Nowhere this small town in Texas has lots of Donald Judd's influence.
Whitefish, Montana – an incredible winter getaway near Glacier National Park.
Harpers Ferry, West Virginia – a small town with lots of buildings from the 19th century and Civil War sites.
Magnolia Springs, Alabama – a small town in the south tucked away on the Magnolia River.
Eureka Springs, Arkansas – this small town in the Ozark Mountains is famous for beautiful Victorian buildings.
Did you enjoy reading this article about America's best small towns? Then share it on your social media!