Dreaming of an epic USA road trip? You're in the right place! Here are the best road trips in the USA that should be on every traveler's bucket list.
We often feel we need to fly over to the Swiss Alps to enjoy nature-induced enlightenment, but this article is here to assure you that the incredible road trips in America are enough for your spiritual fulfillment.
Some of the best US road trips have been talked about over and over, but we want to show you what others road trips in the USA are there that are also worth the time.
Whether you're looking for inspiration for your American road trip or just want to daydream, here are the best USA road trips of all time. Ready?
Tips For Your USA Road Trip
Before going on any road trip in America, there are a few things you should take care of in advance to avoid future hassles. Here are our tips for a great American road trip:
Plan ahead: consider what kind of USA road trip you want to take, and pack accordingly. For instance, think of packing hiking gear if you're visiting a US national park, swimwear if you're visiting one of the many beaches in the US, and so on.
Compare car rental prices: we use Discover Cars to compare rental car prices among the many rental companies, and we are satisfied with the deals we have found so far. It's easy to book, and they offer free cancelation. Click here to rent a car.
Consider renting a campervan: if you're the adventurous type, consider renting a campervan to hit the road. These rentals include a refrigerator, sink, and stove. What's not to love? Click here to rent a campervan.
24 Best USA Road Trips
Here are the top-ranked USA road trips that should be on everyone's USA bucket list. They are divided into regions to improve your browsing experience.
American Road Trips in the Pacific Area
Here are some of the best West Coast road trips!
1. California's Pacific Coast Highway (Highway 1) – One of the most famous USA road trips
Location: California
Distance: 480 miles
When it comes to spectacular California road trips, it's pretty hard to beat Highway 1, also known as Pacific Coast Highway and Route 1.
Boasting mile after mile of spectacular views of the Pacific Ocean and a seemingly endless array of stops to make along the way, driving this incredibly California road trip is guaranteed to provide some of the best experiences the entire state has to offer.
With so many amazing stops worth making along the route, it'd be impossible to name them all in one go, but we'll list a few of our favorites you absolutely need to map out.
First, visit the Golden Gate Bridge (our favorite bridge in the US), Fisherman's Wharf, Glass Beach, and Alcatraz in bustling San Francisco, which you can cross off right from the start of your coastal road trip.
Next, there's San Jose, a city in central California that has a little bit of everything ranging from historical sites to modern-day era tech.
Half Moon Bay is also a place worth visiting in California in order to enjoy its small beach town vibes and nature.
Santa Cruz is another non-negotiable. While visiting, you'll feel as though you've traveled back in time to America in the 70s. Still, a visit to Santa Cruz Beach Boardwalk is a must!
Further along, you'll find Monterey, where you can learn all about the area's underwater world by visiting its aquarium and various museums.
For all sorts of fairytale scenery, head to Carmel-by-the-Sea next, where you'll be treated to cobblestone streets lined by storybook-like cottages.
Carmel actually marks the starting point of one of the most beautiful areas of this California scenic drive: Big Sur.
The Big Sur road trip is a shorter trip, but you'll be in for a real treat when it comes to nature and rugged coastal scenery! The Big Sur alone is a pretty enjoyable American road trip, actually.
After marveling your way through Big Sur, check out the magical Hearst Castle, explore the charming Morro Bay and Pismo Beach on the central coast, watch seals playing around in San Seamon, and visit the Danish-style town of Solvang (make sure you try a few of its Denmark-inspired treats!).
Finish off your road trip along the Pacific Coast Highway with a bang at ritzy Santa Barbara or picturesque Malibu, both of which provide access to some of the most beautiful beaches in southern California!
Highway 1 doesn't extend to San Diego, but you can always add this stop to your USA road trip.
2. Olympic Peninsula Loop – an insane road trip in America
Location: Washington
Distance: 330 miles
Encircling Olympic National Park, one of the most visited national parks, there isn't an overtly lousy place to start this 330-mile drive filled with forested hills and natural sandpits.
But, most people that have experienced this natural wonder of a drive will agree that you should start the Olympic Peninsula Loop in Seattle at the junction of US Highway 101 with 104.
Take a quick detour to Port Townsend immediately after the checkered flags signal your start. This stop of less than 10 square miles serves your trip with some sophistication with its Victorian architecture, art galleries, and wine bars.
Between Seattle and rounding the southern end of the loop to close it back north on the 101, be sure to take your time at the Dungeness Spit, one of the world's longest natural pits.
You should get your novelty badge by driving past Neah Bay, Washington State's westernmost point reachable by car.
Few road trips in America can claim you a badge of driving to one of the country's edges.
Walking your hiking boots in one of America's largest temperate rainforests, Hoh Rain Forest, is also one of this route's favorite activities.
3. Avenue of the Giants – a short but enjoyable American road trip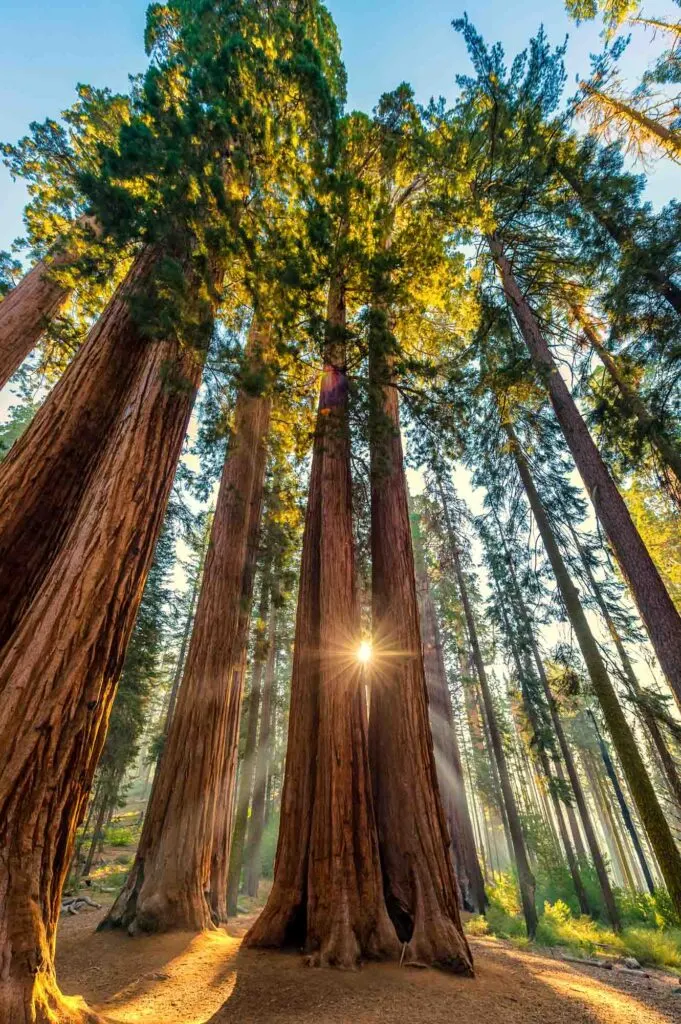 Location: California
Distance: 32 miles
Impressively large "rows" of coastal redwoods are what the name of this 31-mile drive refers to, and it sure is great driving on the shoulders of giants. (The gateway to that eye roll was right there; nothing could be done.)
The only unfortunate part of this whole ordeal is that these redwoods actually grow in groves with sections separated by other flora and small towns.
Our giants are not BFG-giant, but their giant trunks, broad leaves, and towering stature shading the highway are still wondrous for most city slickers to consider this another best US road trip.
The Avenue of the Giants is generally flat roads which makes sense that it starts in Myers Flat.
But there are many opportunities for quick foot adventure up the numerous trailheads before you end your magical adventure at Scotia, the road's northern entrance.
To give your breaking neck a… break, do stop and see the rich, sorrel plant carpet of the Grieg-French-Bell Grove forest.
The misleadingly named Eel River is another lovely pause with the jawless and eel-like Pacific lamprey that spawns in spring in this river and can grow to 30 inches.
4. Anchorage to Fairbanks Loop (via Wrangell-St Elias NP)
Location: Alaska
Distance: 180 miles
Since it's a loop, you can work your way from the south or north side.
But, let's show favoritism here and have you go north in the direction of Fairbanks via America's largest national park, Wrangell-St. Elias National Park and Reserve.
What's so special about this route? Come on now; it's over 13 million acres filled with the anticipation of one of North America's largest active volcanoes (Mount Wrangell) and the longest interior valley glaciers (Nabesna Glacier).
You'll start your circuit in the skiing city of Anchorage and travel up Glenn Highway, part of Alaska 1, to Glennallen.
That's around 180 miles of glacial views, towering mountains, Alaskan wildlife, and way more than the start of this trip has a right to present.
Start your trip on the right foot by walking the splendid grounds of Anchorage Museum for artworks and an interactive science center, and visit the planetarium to brush up on which stars to look out for during your trip.
Once you make your way again, you can change things by jumping on an ATV or helicopter tour and aerial viewing of Glacier View.
Continue driving Glenn Highway, where you finish skirting the park at its Slana Ranger Station.
From here, you take the To Tok Cutoff, change tracks at Tok, and take the Alaska 2 Highway to Fairbanks.
To complete the 880-mile circuit, you take Alaska 3 back down toward Anchorage.
Throughout your journey, there are museums, hiking routes, viewing points of the Alaskan country, the Husky Homestead, waterfalls, and way more than is reasonably mentionable, seemingly packed at every bend of the trip.
5. Big Island Loop – an American road trip in paradise
Location: Hawaii
Distance: 300 miles
In every direction you look, Hawaii's Big Island drive has something to hold your awed gaze.
The Big Island Loop answers our shared pain of choosing between the many vistas each corner of the idyllic island has to offer.
The Big Island Loop will be, without a dought, one of the best US road trips you take in your life as its distance is short and sweet.
Experiencing it firsthand will make enduring this onslaught of unapologetic puns almost worth it.
With an easily navigable infrastructure of two main roads, the south-stretching Highway 11 and the north-winding Highway 19, people in the loop agree to start this Big Island route at Kailua-Kona and drive south.
Because of the plentiful coastal seascapes, your decayed dinosaur or sun-powered traverse will have you constantly choking from flies getting lost down your throat.
Grab a bag of fresh coffee from the Kona Coffee Living History Farm a little outside Captain Cook before exiting Kailua-Kona.
Hawaii Volcanoes National Park is also a highly-rated stop on this beloved USA road trip.
It's a pit stop where you can get the latest news on how close the area is to suffering a burp from Mauna Kea, don't hold your breath as the volcano last erupted over four thousand years ago.
Since you'll now be well-acquainted with volcanic knowledge, it's only natural to dig your toes into the black sands of Punalu'u Beach Park, one of the best beaches on the Big Island.
All this eye candy is crammed in a distance of fewer than 300 miles, so enjoy every moment because it only comes along as much as you go around.
6. Road to Hana
Location: Hawaii
Distance: 65 miles
The 65-mile road to Hana gives you views of jaw-dropping rainforests, fresh botanical gardens, untarnished coastal views, beautiful beaches, water pools, and much more than the admission ticket is worth.
Running along Maui's east coast, this route takes you from Kahului to Nahiku in most Hawaiian fashion–slow and steady so you can enjoy the ocean air and breathtaking views along one of the best US road trips for eloping.
Spend some time marveling at amazing windsurfers tempting nature at Hookipa Beach Park. The unruly waves and wind are known to attract many top-ranked kite surfers.
After your beach picnic, you'll need to wash off the lingering salt and sand, and a swim near Twin Falls should do just the trick.
Best US Road Trips in the West
7. Utah's Mighty 5
Location: Utah
Distance: at least 386 miles
Many things make this Utah National Parks Road Trip a must on any avid traveler's bucket list!
Maybe it's the dramatic red rock landscapes that will make you feel like you're walking on Mars, the whacky-looking rock formations that pierce the sky, the unparalleled hiking opportunities, and the adventures through the desert.
One of the reasons why this Utah national park road trip is among the best US road trips is that you can visit some of the best national parks in America.
Your trip will take you to Zion, one of the most exciting national parks near Las Vegas.
It is also among US' most visited parks, and rightly so because this gem of a park is a wonderland of soaring cream and red-toned cliffs, a congregation of desert wildlife like no other, hanging gardens, striking rock formations, hidden grottos, and lush meadows above mesa tops.
Then, Bryce Canyon will greet you with a sea of striking red rock hoodoos—a beautiful view from your car.
The nearby Capitol Reef is Utah's most underrated park, but trust us when we tell you, you'll be in for a real treat.
You will find dramatic landscapes of rugged canyons, cliffs, and striking rock formations.
The next stop on your US road trip is Arches, an iconic landmark in Utah with many photo-worthy arches.
The final stop of your Utah road trip is Canyonlands, which offers sweeping canyon views that seem to last forever, Mars-like landscapes, and striking red rock formations that look as though they pierce the skies.
8. Reno to West Wendover (Cowboy Corridor)
Location: Nevada
Distance: 400 miles
If there is one road that speaks loud about American Western heritage, it's the Cowboy Corridor that travels from Reno to West Wendover.
This amazing Nevada road trip is all about highlighting the American West and the way locals have proudly preserved their traditions throughout the decades.
Start your journey in the cool artsy city of Reno before heading toward Winnemucca.
Your first stop will be at Unionville, a mining ghost town that, like many that remain in Nevada, provides a testimony to the silver boom that took place decades ago.
What makes Unionville special is that Mark Twain lived there for a couple of years, having arrived there as part of the silver fever. His cabin is still standing, and you can take a peek inside it!
Next on the itinerary is Winnemucca, dubbed "the friendliest town in Nevada," for a good reason.
People here are known for being very warm-hearted, so you can expect to feel welcomed and find good lodging and dining options.
Whether you're in the mood for gaming or outdoor adventure, Winnemucca will deliver.
The top attractions are the Humboldt Museum, Nixon Park, and the Winnemucca Sand Dunes—must-visit places in Nevada.
Next on our itinerary is Elko. When you get there, you'll know that you're at the heart of the American West as the town brims with Western tradition.
Start with a visit to J.M. Capriola, the oldest rancher and cowboy gear store in America, where they proudly craft the most beautiful saddles.
Then, check out the Northeastern Nevada Museum. Unlike other mining towns that were abandoned in Nevada, Elko survived and is still thriving, mainly because it developed a ranching tradition parallel to the mining jaunt.
While in the area, be sure to drive up the Lamoille Canyon Scenic Byway, a 12-mile paved road up the Ruby Mountains that will have your jaw dropping with the most beautiful vistas of the so-called "American Swiss Alps."
The final stop of this Nevada road trip is West Wendover, a cool city that combines Western tradition with bustling nightlife.
Unlike its sister city on the Utah side, gaming is allowed on this side of the border. In fact, the most photographed attraction here is the giant Wendover Will, a cowboy that welcomes arriving visitors to the Frontier Casino.
This 63-ft tall buddy was created by Pat Denner, the author of the Vegas Vic in Las Vegas.
9. Going-to-the-Sun Road
Location: Montana
Distance: 50 miles
Going-to-the-Sun Road is one of the more famous USA road trips in America. This secluded 50-mile highway winds through Montana's mountainous Glacier National Park up to 6,000 feet above sea level.
The drive starts a little outside Glacier National Park's west entrance, West Glacier, and journeys the park over the Continental Divide to end in St. Mary. Since its 1933 opening, the road was always intended to be a tourist draw.
Being such a worthwhile drive, you'll have equally-dazzled company along the twisting slopes.
You're advised to take your time and use the pullouts and viewpoints to marvel at the diving cliffsides, intoxicating greenery, picturesque lakes, waterfalls, cedar forests, and much more.
This American road trip might be shorter than the other trips, but it might require the most planning regarding fuel and checking the entrance/ exit and route status throughout the year.
There are other things to see and do if you're not one to be satisfied with only the sight of mountain goats, bighorn sheep, and other natural wildlife.
For the photographers in our families that want all the angles of the glacier, drive to Jackson Glacier Overlook, which sits between Logan Pass and St. Mary.
If you have something against bighorn sheep and mountain goats, stop at the Logan Pass, Many Glacier, or St. Mary for a more varied wildlife picture.
You can also take some time and fit in your hiking shoes by visiting Lake McDonald Valley.
Although it's a shame that this stop is no longer home to massive glaciers, it is now a residence for many spectacular hiking trails, thriving wildlife, inviting lake views, and unique chalets.
10. Beartooth Highway
Location: Montana and Wyoming
Distance: 68 miles
The 68-mile Beartooth Highway might, in a more literal sense, take your breath away as it ladders to an elevation of 5,000 feet.
Glacier-sculpted cirques, wildflowers, alpine lakes, and lodgepole forests feed your eyes throughout your stretch of this road trip in the USA from Red Lodge to Cooke City Silver Gate.
This US Highway 212 trek is the perfect way into Yellowstone National Park, but the park and the alpine views aren't the only things out for your gasps.
Start your trip the only way by grubbing into cornmeal pancakes at Café Regis, where you can get the latest scoop from the locals.
Once off, don't let bickering little voices drive you crazy; that's a job for Crazy Creek Falls.
There are many crystalline lakes to throw your nerves a fly-fishing line, but the pristine waters of Beartooth Lake are accessible and abundant with fish ready to catch your drift.
11. Trail Ridge Road
Location: Colorado
Distance: 48 miles
Covering 48 miles between the town of Estes Park and Grand Lake, the Trail Ridge Road may be short, but it's one of the best Colorado road trips to take if you're keen to get super personal with Rocky Mountain National Park.
As Colorado's highest paved road, this stunning route covers 48 miles between the towns of Estes Park and Grand Lake, eleven of which are set on alpine tundra above treeline and provide sweeping views of the Rocky Mountains in every direction.
Along the way, you'll get access to some of the most beautiful viewpoints in Rocky Mountain National Park (one of the most beautiful places in Colorado), get plenty of chances to park your car and go on a few hikes, and traverse various landscapes, including aspen forests, lush mountain meadows, subalpine forests, and alpine tundra.
Moreover, this road trip in Colorado provides plenty of chances to spot wildlife – watch out for moose grazing roadside and elk if you visit during the fall months!
Do note that Trail Ridge Road is usually only open between late May and mid-October due to weather conditions.
During the summer months, carpets of colorful wildflowers cover the landscape, while the fall months provide dreamy fall foliage.
Either season is excellent for this road trip, but you may want to plan dates according to your interests, especially if you're planning to hike in the Rocky Mountain National Park, which is hands down one of the best things to do in Colorado.
12. Trail of the Ancients Scenic Byways
Location: Utah, Colorado, New Mexico, and Arizona
Distance: 480 miles
Trail of the Ancients Scenic Byways allows you many opportunities to let your Indian Jones fantasies run wild across snow-topped mountains, green valleys, and red rock scenes as you run to make this one of your best US road trips.
There are several archeological, cultural, and historical sites to color your trip and almost zero snake pits that you might get trapped inside.
The many adventures on this 480-mile route are divided between the 116-mile Colorado and 364-mile Utah legs (with a short stretch in New Mexico and Arizona).
The drive doesn't have designated start and end markers, but most fedora-wearing and whip-wielding travelers prefer to loop the drive starting in Cortez, Colorado, and drive east to Mesa Verde National Park on US Route 160.
Although you depart from anywhere, of course, like Santa Fe and Albuquerque.
At some point in your journey, make your way through the remote canyon region of the Chaco Culture National Historical Park, considered the heart of the trip.
Once you've uncovered and "liberated" the secrets of the Ancestral Puebloans, let the byway drive you through the lonely country and sandstone buttes from the monument to protected ruins and museums.
All the monuments are significant, but you'll want to designate enough time to see the many rooms and circular, square, and D-shaped towers of the Hovenweep National Monument.
Along Highway 95, see Butler Wash and Mule Canyon Indian ruins, which will give you some time to move your legs on a short hike to make a quick expedition to Butler Wash's cliff dwelling tucked slightly out of sight.
Read next: The Ultimate 10-Day American Southwest Road Trip
Best US Road Trips in the South
These are the best road trips in the Southeast USA.
13. Blue Ridge Parkway
Location: Virginia and North Carolina
Distance: 469 miles
Blue Ridge Parkway's circular 469 miles has its northern entrance and exit in this USA road trip's cultural hub, Charlottesville, Virginia.
Home to one of only eleven cultural UNESCO World Heritage Sites in America, Charlottesville sees you off on a southern-drawl pace and welcomes you back at the drop of a hat.
The winding parkway has been one of our country's must-ride routes since its 1935 opening, firmly making it one of the best US road trips.
The road trip's green plateaus, rocky ridges, and the Appalachian Mountains' gentle-hilled meadows land a point for the journey over the destination matchup.
Even the speed limit hardly reaches over 45 mph, directing you casually through stutter-inducing mountain vistas.
Between Shenandoah National Park from northern Virginia's Rockfish Gap and Smoky Mountains Nation Park at Cherokee, you're sure to glimpse some deer, black bears, or other animals leisurely going about the plentiful and season-dependent flora.
The road trip might not be sprawling, but you can get an idea of the wonders on offer through just a few of the possible stops that you can make.
Stretch your legs on a walking tour of the quaint Henry River Mill Village that now includes a cinematic depiction of District 12 in the Hunger Games film franchise in its rich lore.
Stretch your lungs with fresh air and a short hike in Great Smoky Mountain National Park in North Carolina/Tennessee. Remember to capture a memory at Clingman Dome, Tennessee's accredited highest peak.
Stretch and prepare your neck for your chiropractor by whetting your geological gaze at the tall limestone arch at Natural Bridge.
Taubman Museum of Art in Roanoke and the Mile High Swinging Bridge overlooking Grandfather Mountain are some other stops that'll make your road trip one always to remember.
14. Texas Hill Country Road Trip
Location: Texas
Distance: at least 150 miles
Wine lovers, assemble! This road trip in Texas is for anyone who loves picturesque landscapes and a cool glass of red or white.
If you're looking for beautiful places to visit near Austin, the Texas Hill Country Wine Trail is easily accessible using the bigger city as your base.
Start your adventure 45 minutes outside of Austin at the Hamilton Pool (temporarily closed for repairs), a stunning natural pool that looks like it belongs south of the border, a bit like one of Mexico's gorgeous cenotes.
Once you're all tuckered out, it's time to keep heading west.
No road trip in Texas Hill Country would be complete without a stop in Fredericksburg, a German enclave that is now home to some of central Texas' trendiest boutique stores and most exquisite vineyards.
Besides, Fredericksburg TX is one of the most romantic getaways in the United States.
In fact, we've got you covered with our list of things to do in Fredericksburg, which includes everything from peach picking to country music jams (did anyone say country songs about Texas?) to bluebonnets.
It's also the perfect place to stop at one of their excellent tasting rooms. After all, Fredericksburg is in the heart of the Texas Wine Country.
Then, aim south towards San Antonio and make your way to Landa Falls, where you'll get to participate in a time-honored Texas tradition–river tubing.
With memories of vineyards dancing in your head and maybe a glass of that new wine by your side, drift down the Comal River and soak in the slow Southern life.
Hands down, this is one of the best road trips in the United States!
15. Natchez Trace Parkway
Location: Tennesse, Alabama, and Mississippi
Distance: 444 miles
Natchez Trace Parkway's 444 miles stretch three beautiful states tracing the same route bison would follow north for their salt licks.
Please educate the USA road trip-loving community if there's any better way to cruise from Mississippi's Natchez to Nashville in Tennessee.
The beauty and nod to simpler times of the rural southeast are great to posture you for a more kicked-back vacation.
Make your way through the hallowed grounds of RCA Studio B, which should remind you of the contributors to making Nashville the capital of country music.
Although the Country Music Hall of Fame and Museum is great fun for the whole family, the studio has a leg-up on a variety of sorts.
It once had the sliding feet of Elvis Presley recording "Now or Never," so go the day you get there because the following day might be too late—wink.
Who doesn't love some guuuud fixin of southern barbeque to whup their tastebuds into shape? Bless your heart; the complaint line is down to the left. Visit the Pig Out Inn Bbq for good wood-fired bbq served over the counter.
Another must-see for the military and history buffs is the Vicksburg National Military Park to see the USS Cairo, one of the few remaining first American ironclad warships.
16. Miami to Key West
Location: Florida
Distance: 159 miles
The route from Miami to Key West is one of the most mesmerizing road trips in Florida.
This scenic drive will take you from bustling Miami to the splendid Florida Keys, all while offering you secluded beaches, palm trees, historical sites, and fabulous state parks throughout.
You will literally find something worth seeing every mile of the way as you drive south along this part of the Sunshine State.
Begin your adventure in Miami, where you can enjoy its renowned beaches, restaurants, and shopping scene.
Pssst: Don't miss out on Miami Beach while here.
If you're yearning for some outdoor adventure, you can head to Oleta River State Park for hiking, biking, kayaking, or detaching in the Everglades to search for alligators.
Whatever you decide, we recommend staying in town for at least two or three nights so you can enjoy the city and its natural surroundings.
Once you start driving south on Highway 1, you'll find numerous attractions on the way, so you'll have plenty of reasons to make stops to stretch your legs out as you make your way from the mainland to the Keys.
You'll drive past beautiful beaches and unique state parks like the underwater John Pennekamp Coral Reef State Park, Bahia Honda State Park, Rain Barrel Artisan Village, Dolphin Research Center, Turtle Hospital, and plenty more!
Pssst: Take the 2.5-hour ferry to Dry Tortugas National Park and experience some of Key West's best beaches! (And one of the best national parks in Florida!)
Read next: 27 Best Places to Visit in Florida
17. Kentucky Bourbon Trail – a USA road trip to help a friend
Location: Kentucky
The 230 to 250-mile Kentucky Bourbon Trail is for the more spirited road trippers in our midst. With its official start in Louisville, your non-driving companion toast your generous sacrifice with an Old Fashioned.
The route welcome center is at Frazier History Museum, where you can enjoy some fine exhibits and performances before setting sail.
Plus, the eight-or-so distilleries around Louisville are a perfect start if you're planning on chartering to all 42 on this trail.
Don't worry; some of the other distilleries are 70 to 100 miles apart, which should open a window of regret for any passengers that became too hearty earlier.
The Evan Williams Experience stands out of the first four as it gives a history of bourbon and Louisville.
You can spice things up with a mixology class at Maker's Mark Distillery, a National Historic Landmark. If the bourbon is talking, this is the only drive worthy of being called the best US road trip.
Best US Road Trips in the East
Here are some of the best East Coast road trips!
18. Route 100 Vermont
Location: Vermont
Distance: 216 miles
Vermont's Route 100 drives you 216 miles of falling and rising hills, forests, charming villages, and perfectly manicured countryside and farms—in short, many beautiful places to visit in Vermont.
If you start in Stamford, you'll be driving to the deep glacial lake of Lake Memphremagog and the northward Newport.
The estimated 30 to 85-foot waterfalls of Moss Glen will become a welcomed snap of nature as you'll probably be stopping mostly at places like Vermont Ski and Snowboard Museum or Mad River Glass Gallery.
This is another road trip in the USA that's short but packs a mighty punch every time you drive it.
Read next: 19 Best Cabins in Vermont
19. Acadia National Park Loop – a short but enjoyable USA road trip
Location: Maine
Distance: 27 miles
The 27-mile Park Loop Road bends around the east part of Mount Desert Island and joins Acadia's shimmering lakes, rocky cliffs, mountains, and Atlantic Ocean coastline panoramic views.
You can easily access some of the park's best destinations: Sieur de Mohns, Otter Point, Jordan Pond, Cadillac Mountain, and Sand Beach.
There's never a dull moment when you drive Park Loop Road as dusk, and dawn can see an increase in wildlife merrily crossing this section of one of the best US road trip roads.
Start your drive at the Hulls Cove Visitor Center before moving 3-miles south on Paradise Hill Road to start the loop.
The Sieur de Mohns start is a one-way driving direction, so check signs to avoid any "You shall not pass!" moments.
Also, make time to go on a hike or two in Acadia. It's well worth the trip.
Hands down, this is one of the best short road trips in North America!
20. Kancamagus Highway
Location: New Hampshire
Distance: 34.5 miles
Set your wheels on one of New England's most famous drives, the 34-mile east-west Kancamagus Highway.
Thousands of motorists visit this New Hampshire mountain gap yearly for its lush trees and many attractions.
In fall, sunrise-colored trees stoically salute your passage over the relatively flat and snaky road.
Locally known by many names, route 112 or "The Kanc" is one of the most memorable road-tripping routes you can take throughout the year, with the White Mountain Nation Forest the path goes through showing off the most in Fall.
People usually prefer driving the route from Route 16's intersection in Conway to relax their way to its Lincoln end, where it goes across I93 to connect to Route 3.
Take advantage of the short half-mile hike to the small waterfall in Sabbaday Falls with your leashed and happy doggo.
From July through September, Russell-Colbath Historic Site offers a photo-album-worthy memory at the quint and famous small house built around 1832 by Thomas Russell, a sawmill operator.
Best Cross-Country Road Trips in America
21. Route 66 – the most famous USA road trip
Location: California, Arizona, New Mexico, Texas, Oklahoma, Kansas, Missouri, and Illinois
Distance: at least 2,400 miles
You can't go much wrong traveling east or westward over Route 66's historical 2,400-mile span between Chicago and Santa Monica.
Route 66 hardly needs a talk-up as its inviting depiction of America's road transportation evolution makes it one of the best US road trips and the country's most celebrated stretches of asphalt.
Family-owned and run diners and perpetual-diamond-in-the-rough motels line the "Mother Road" dubbed highway.
There are forgotten towns and vibrant neon signs hailing your drive to some novelty stop to showy roadside attractions like the Cadillac Ranch or the Blue Whale of Catoosa to keep the entire trip interesting for individuals, couples, groups, or families.
Besides looking forward to the meditative sandy sea of the Mojave Desert and Arizona's volcanic hills, there are ample stops and attractions to keep your eyes from losing focus during your drive.
Not everyone is cut out for the sheer volume of kitschy attractions they'll drive past on this authentically American road trip.
That's why making time to visit the free museum in Gateway Arch National Park and view the famed Gateway Arch can make all the difference.
If you've hankered for westerns and the secrets of a ghost town, stop to let some tumbleweed roll past in Oatman, one of the best places to visit in Arizona.
Of course, you can only say you've correctly started or ended your trip if you have photographic evidence of the bustling Santa Monica Pier.
Read next: The Ultimate 10-Day Arizona Road Trip Itinerary
22. Route 10
Location: California, Arizona, New Mexico, Texas, Louisiana, Mississippi, Alabama, and Florida
Distance: 2,460 miles
Driving from the Pacific coast to the Atlantic coast along the I-10 is a movie of a trip with all the right filming locations.
Your drive will take you through the searing Southern Californian deserts, the plains, and valleys of Texas Hill Country, and past the white sandy beaches of the Florida Panhandle.
You must grab tacos at Riverside's Tio's Tacos and enjoy its colorful and authentic Mexican setting with multicolored mosaics, unique artwork, and exciting sculptures.
The famous Cabazon Dinosaurs also make for a fun roadside attraction that might draw momentary awe from the dinophiles in your caravan.
The aircraft boneyard, Pima Air and Space Museum, is also one to see for everyone with grounded dreams that once seemed impervious to time.
If you think these few mentioned spells are all this route has in store, then that's the sign that you need to experience it for yourself, as it could become one of your best US road trips.
23. Interstate 90 – one of the longest USA road trips for your bucket list
Location: Washington, Idaho, Montana, Wyoming, South Dakota, Minnesota, Wisconsin, Illinois, Indiana, Ohio, Pennsylvania, New York, and Massachusetts
Distance: 3,000 miles
To reign as America's longest interstate, I-90 spans 3,000 miles between Seattle and Boston to hold a title no other USA road trip has.
Driving this scenic drive in the US will see you bridging Montana's Great Divide and through Old West towns that have more stories to tell than you have time to hear them being told.
You should start this excellent asphalt trek at Snoqualmie Falls because there's something in these waters as they've done time in Hollywood, as seen in Twin Peaks.
On your way through Seattle, step into a time capsule and visit Pike Place, the original farmer's market.
Idaho's beautiful town of Coeur d'Alene has water sports to help you properly unwind. Walking downtown, you can also see some art galleries along Sherman Avenue.
Before leaving Coeur d'Alene, you can also see some alpacas at the Seven Stars ranch.
The South Dakotan town of Deadwood is another familiar-sounding stop, as it featured heavily in the 2004 western series, Deadwood.
The entire town is brimming with stories that you might be able to relive during warmer months, where you can participate in panning for gold at the Broken Boot Gold Mine or watch some gunslingers reenact a Maine Street shootout.
24. Lincoln Highway
Location: California, Nevada, Utah, Wyoming, Colorado, Nebraska, Iowa, Illinois, Indiana, Ohio, West Virginia, Pennsylvania, New Jersey, and New York
Distance: 3,389 miles
The Lincoln Highway covers an astonishing 3,278 miles from New York City to San Francisco, meaning numerous noteworthy stops exist to make this part of the best US road trips.
You drive out of the bustling Times Square, a vision of the future where people walk freely, to New Jersey's Brunswick to see churches and mansions that trace their history back to the 1700s.
Coming from the north on the highway, see that you make time for the Valley Forge National Historical Park to learn of the past this site commemorates.
To appease your tiny overlords, take them to Philly's Franklin Square for carousel rides and golf that are appropriately sized for them.
You also can only cross the thresholds of Pittsburg by setting foot inside the Andy Warhol Museum, which is a little off the highway.
What's pop art without Andy Warhol, and what's a road trip in the USA without Lincoln Highway?
It continues like this with other Lincoln-themed stops, like Lincoln Theatre in Ohio and over the Sierra Nevada, to signal your conquest of the highway as you rejoice in your good driving into California.
You can visit Donner Pass to visit the little that remains of the original road.
Final Words on USA Road Trips
That's it for the best USA road trips. We hope this article about the best road trips in the USA will inspire you to hit the road and learn more about America.
So don't forget to plan ahead and rent a car in advance. Click here to rent a car. This will make your USA road trip more enjoyable since you won't have to worry about finding a vehicle last minute.
Also, if you know an epic road trip in the US that was not listed in this article, feel free to drop their details below to inspire other readers.
Did you enjoy reading about the best USA road trips? Then share this article on your social media!
Latest posts by Roaming the USA
(see all)