Ready for an epic Florida road trip? Here are the best road trips in Florida for all tastes in interests.
Even though most people visit Florida in search of a relaxing beach escape, there's so much more to The Sunshine State than meets the eye.
If you truly want to get to know Florida beyond its usual tourist sites, there's no better way to do that than by hitting the road. Thanks to the state's immense size, options are plenty, and no matter your interests, you're guaranteed to find a route to suit your needs.
From hopping from a tropical island to the next, searching for crystal-clear springs, or spending a few days chasing waterfalls, here are 16 of the most incredible road trips in Florida you need to place on your bucket list!
Don't miss out! Click here to rent a camper van!
16 Incredible Road Trips in Florida
1. Blue Spring State Park to Weeki Wachee Spring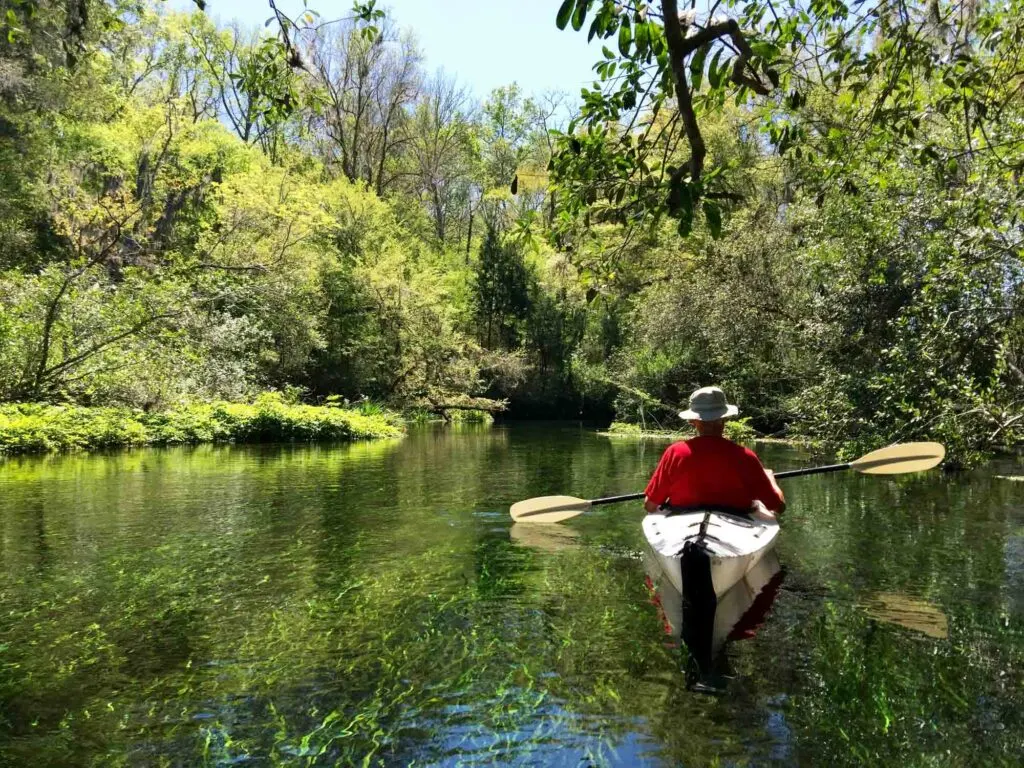 Route: Blue Springs -> Gainesville -> Ginnie Springs -> Ichetucknee Springs -> Otter Springs -> Alexander Springs -> Devil's Millhopper State Park -> High Springs -> Rainbow Springs -> Crystal River -> Weeki Wachee
Distance: 111 miles
A road trip dedicated to seeing Florida's crystal blue springs? Yes, please!
This incredible Florida road trip will take you from Blue Springs State Park all the way to Crystal River, complete with stops at other unique hot springs along the way.
Start in Blue Springs State Park, where you can swim, snorkel, and dive to your heart's content in its year-round 72 degrees water. If you do this route during the winter, you can also hop on a kayak and go in search of manatees, who love to hang out here due to the water's pleasant temperatures.
Next, head to Gainesville, a perfect gateway to visiting numerous crystalline springs. Ginnie Springs, Ichetucknee Springs, Otter Springs, and Alexander Springs are just a few options, each one as beautiful as the next. You can also drive 9 miles to Devil's Millhopper State Park, a fantastic spot with a tremendous 120-feet sinkhole that houses a miniature rainforest!
The next stop on the itinerary is High Springs, home to 5 refreshing springs that bubble to the surface. Afterward, continue to Rainbow Springs, where you'll discover some incredibly clear water amidst lush vegetation that will make you feel like you're inside a tropical paradise.
Last but not least is Weeki Wachee State Park, where you can catch a live mermaid show that has made it a famous attraction for decades!
2. Miami to Key West
Route: Miami -> Coral Gables -> Homestead -> Key Largo -> Islamorada -> Big Pine Key -> Key West
Distance: 159 miles
The route from Miami to Key West is one of the most mesmerizing road trips in Florida.
This scenic drive will take you from bustling Miami to the splendid Florida Keys, all while offering you sunny beaches, palm trees, historical sites, and fabulous state parks throughout.
You will literally find something worth seeing every mile of the way as you drive south along this part of the Sunshine State.
Begin your adventure in Miami, where you can enjoy its renowned beaches, restaurants, and shopping scene.
Pssst: Don't miss out on Miami Beach while here.
If you're yearning for some outdoor adventure, you can head to Oleta River State Park for hiking, biking, kayaking, or detaching to the Everglades to search for alligators.
Whatever you decide, we recommend staying in town for at least two or three nights so you can enjoy the city and its natural surroundings.
Once you start driving south on Highway 1, you'll find numerous attractions on the way, so you'll have plenty of reasons to make stops to stretch your legs out as you make your way from the mainland to the Keys.
You'll drive past beautiful beaches and unique state parks like the underwater John Pennekamp Coral Reef State Park, Bahia Honda State Park, Rain Barrel Artisan Village, Dolphin Research Center, Turtle Hospital, and plenty more!
Pssst: Take the 2.5-hour ferry to Dry Tortugas, a Florida national park (one of the best places to visit in Florida) and experience some of Key West's best beaches!
3. Tampa to Jacksonville through Orlando
Route: Tampa -> Orlando -> Titusville -> Jacksonville
Distance: 226 miles
Want to experience the Sunshine State's brewery scene? Driving from Tampa to Jacksonville is one of the best road trips in Florida to take for beer lovers, especially if you know where to look!
Start in the Tampa Bay area, which boasts a beer scene like no other. In fact, Tampa is home to the highest-rated brewery in Florida, the Cigar City Brewing. Cycle Brewing and the Green Bench Brewing Company are other breweries worth your while.
After Tampa, drive towards Orlando, where you'll find a lovely brewery called Crooked Can. While here, you can actually walk around the building with a beer in hand before arriving at an outdoor patio to enjoy lunch.
Orange Blossom Brewing Co. is another famous Orlando brewery, as they are the makers of most of the ales served at theme parks.
Titusville is another unique stop on your Brewery tour, where the Playalinda Brewing Company offers two distinctly different beer experiences: The Hardware Store, a 100-year-old renovated hardware store, and the Brix Project, a brew-pub set in a renovated lumberyard.
Finish the road trip in Jacksonville, another brewery heaven in the Sunshine State. A very popular brewery here is the Wicked Barley Brewing Company, which houses a fantastic collection of beers and hosts small events throughout the year, including holiday brunches, Hawaiian-style luaus, and fish fries.
Pssst: You might want to check out Jacksonville Beach and Fernandina Beach while in the area because these are some of the best beach towns in Florida!
4. Tampa to Naples
Route: Tampa -> St. Pete's Beach -> Sarasota -> Siesta Key -> Venice Beach -> Punta Gorda -> Fort Myers -> Naples
Distance: 167 miles
This road trip from Tampa to Naples is a fantastic idea if you aim to get to know the Gulf part of the Sunshine State (and if you're a beach lover, of course!).
You might be surprised to find out that this area is not only just about beaches and water fun, but it actually has a ton of cultural offerings as well!
After exploring Tampa, a non-negotiable stop is St. Pete's Beach, which is considered one of the most beautiful beaches in the country.
From St Pete's, you can access Egmont Key State Park, a wildlife refuge famed for its premium snorkeling, perfect for marine life sightings.
Other stops worth making along the way include Sarasota for arts and history and Siesta Key for splendid beaches. Venice Beach, Caspersen Beach, and Punta Gorda are also worth your while for some serious fun under the sun.
Another popular stop worth making is Fort Myers, where you can visit Ostego Bay and hit a few trails at the Matanzas Pass Preserve.
Nearby Mound House showcases archaeological exhibits, so be sure to stop there if you want to learn more about the area's ancient history before ending your road trip in Naples.
5. Tallahassee to Pensacola
Route: Tallahassee -> Chattahoochee -> Marianna -> Defuniak Springs -> Pensacola
Distance: 196 miles
The drive from Tallahassee to Pensacola in the uppermost part of the state is one of the best road trips in Florida for all things history and tradition.
The first stop on your route is Chattahoochee. Nestled on the high cliffs overlooking the Apalachicola River, this charming small Florida city harbors more history than you imagine.
A stroll through its historic streets will tell you about its ancient Indian fortresses, Confederate warships, and the mental hospital which first put it on the map.
The next stop is the small town of Marianna, which is home to many gorgeous preserved historic architecture built in the mid-1800s.
This quaint town is also the gateway to two stunning parks: Florida Caverns State Park and Blue Springs Recreational Park in case you're feeling up for a nature-filled detour.
DeFuniak Springs is next on the itinerary. This small town is somewhat of a hidden gem in Florida, where you'll find hundreds of Victorian-era houses and buildings surrounding a perfectly round lake (one of the only two of its kind in the world!).
From DeFuniak Springs, you can slowly make your way to Pensacola. Along the road, you'll find plenty of beautiful beaches to make a stop at in case you're in the mood.
Once at Pensacola, take in the city by visiting its many attractions, with must-sees including the Naval Air Station, the Pensacola Museum of Art, and the historic Saenger Theater.
6. Chipley to Rainbow Springs State Park
Route: Chipley -> Bristol -> Camp Branch Conservation Area -> Gainesville
Distance: 269 miles
Florida has several striking waterfalls, many of which were formed by sinkholes, so they can mostly be seen from the top-down rather than the other way around! If you're keen to explore this unique natural phenomenon, this is one of the best road trips in Florida to take to do just that.
Start your drive in Chipley Falling Waters State Park, where the highest waterfalls in Florida crash from a height of 73 feet. Then, move on to nearby Bristol for a peek at the falls in Torreya State Park, which fall right into the Apalachicola River.
Next, drive to the falls at Disappearing Creek in Camp Branch Conservation Area, formed by the Suwannee River. Then, take in Big Shoals State Park, where you can raft down the river before heading 8 miles south to Falling Creek Falls.
For some severe geological goodness, head to Devil's Millhopper Geological State Park, where you'll find waterfalls created by a series of sinkholes!
Cap off your Florida waterfall road trip at Rainbow Springs State Park in Dunnellon, where you'll be able to see six falls as well as swim, snorkel, and kayak for the ultimate way to end one of the most beautiful Florida road trips.
7. Punta Gorda To Pine Island
Route: Punta Gorda -> Cayo Siesta -> Sarasota -> St. Pete's Beach -> Tampa -> Pine Island
Distance: 34 miles
Although the drive from Punta Gorda to Pine Island is pretty short (great for a day trip), there is a lot to see on the way.
Starting at beautiful Punta Gorda, you can stroll through the city and learn about the local ecosystems at the Peace River Wildlife Center and the Charlotte Harbor & Environmental Center.
In addition to that, you can also head out on a hike through the wilderness trails at the Alligator Creek Preserve.
Head North to Cayo Siesta for some serious beach fun before driving on to Sarasota, where you can relish its perfect mix of culture, arts, sunny beaches, shopping, dining, and thriving nightlife.
The next stop is St. Pete's Beach, dubbed one of the most beautiful beaches in the United States, thanks to its clear blue water.
Here, you'll find the Egmont Key State Park, a wildlife refuge where you can practice some fantastic snorkeling and maybe even swim alongside some of the dolphins that live here!
Head to Tampa, where you can stay for two or three days to see some of the main highlights, like The Salvador Dali Museum, the Manatee Viewing Center, Florida Aquarium, ZooTampa, Busch Gardens, and Adventure Island.
Finally, cross the Matlacha Pass to arrive at Pine Island, the biggest island on the Gulf coast of Florida.
This laid-back town amidst mangroves is perfect for fishing, kayaking, and canoeing, but mostly for getting a good dose of rest and relaxation. Be aware that there is no beach on the island, though!
8. Canaveral National Seashore to Cocoa Beach
Route: Canaveral National Seashore -> Merritt Island -> Cocoa Beach
Distance: 38 miles
Although short, this is one of the best road trips in Florida to take if you want to combine adventures out in nature, beach fun, and science.
Begin your drive at Canaveral National Seashore, where you can relish a day at the family-friendly Apollo Beach. Playalinda Beach on the south side of the beach park is another option if you're looking for a more secluded beach to swim, sunbathe, and chill.
Next stop on the agenda is Merritt Island, home to the NASA Kennedy Space Center and the US Astronaut Hall of Fame.
Plus, you can also enjoy some swell fishing, look for manatees on the Indian River and hike through the Merritt Island National Wildlife if you're the outdoorsy type.
Your final destination will be Cocoa Beach, located a mere 9 miles from Merritt Island. Ranked as one of Florida's top 10 beaches, this stretch of 70 miles of beautiful sand is fabulous for gentle surfing, fishing, swimming, or just reveling under the sun.
9. Sanibel Island To Ft. Myers Beach And Lovers Key
Route: Sanibel Island -> Fort Myers -> Lovers Key
Distance: 24 miles
One of the best short road trips in Florida, this stunning route will have you making your way from pretty Sanibel Island through Ft. Myers and down to Lovers Key.
Lying placidly under the sun at the spot where the Caloosahatchee River joins the Gulf of Mexico, Sanibel and Captiva Island offer a peaceful haven where you can relax, find loads of seashells at Bowman's Beach, stroll to the famous lighthouse, and take a break from fast-food chains.
If you're in the mood for some close encounters with nature, Sanibel has several wildlife refuges, with J.N. "Ding Darling National Wildlife Refuge being the largest one of them.
Once you cross the causeway, head to downtown Ft. Myers, where you'll find historic buildings, quaint shops, and trendy restaurants before moving on to Lovers Key State Park, a 2-mile stretch of beaches and mangroves.
Relax on the shore, hop on a kayak or boat in search of manatees and birds. If you pay attention, you might even catch sight of dolphins in the crystal-clear blue ocean!
10. Amelia Island to Miami
Route: Amelia Island -> St. Augustine -> Crescent Beach -> Flagler Beach -> Daytona Beach -> Merritt Island -> West Palm Beach -> Boca Raton -> Deerfield Beach -> Ft. Lauderdale -> Miami
Distance: 385 miles
A road trip down the Pacific Coast of Florida might very well be the eastern equivalent of driving down the entire Pacific Coast Highway, with stunning attractions and vistas dotting every mile of the way.
Amelia Island is considered the most beautiful island in Florida, while St. Augustine has incredible historic buildings and castles. Some are even said to be haunted, which is not surprising, considering that it is the oldest city in the United States!
Going further south, you'll find one pretty beach after another, each with its own unique flavor. Crescent Beach, Flagler Beach, and Daytona Beach are worth checking out, and don't forget to spare some beach time for visiting the NASA Kennedy Space Center on Merritt Island!
West Palm Beach, Boca Raton, Deerfield Beach, and Ft. Lauderdale are also recommended stops in the SoFlo area before finally reaching South Beach in Miami.
Don't miss out! Click here to rent a camper van!
11. Naples to Everglades
Route: Naples -> Everglades National Park
Distance: 37 miles
This relatively short drive from Naples to the Everglades will have you moving from luxurious art galleries and shops to pure wilderness in no time.
While in Naples, take in the Naples Botanical Gardens and the Naples Zoo before moving on to the art galleries, boutiques, and restaurants on fancy 5th Avenue.
Once you're done enjoying the city, grab your car keys and join the Tamiami Trail. This road will take you from east to west through the main points of the northern part of the Everglades National Park, traversing lush forests, mangroves, estuaries, pineland, and wetlands.
You can quickly return to Naples or move on to the beaches in south Florida, like Fort Lauderdale or Miami areas for the night, but camping is also an option if you want to experience the silence that covers the Everglades as the night falls.
12. Jacksonville to Jupiter
Route: Jacksonville -> St. Augustine -> Melbourne -> Vero Beach -> Port St. Lucie -> Júpiter
Distance: 269 miles
If you want an adventure that involves lots of hiking, this is one of the best road trips in Florida for just that!
As you drive south along Florida's eastern coast, take your time to stretch your legs by hiking some of the numerous trails the Sunshine State has to offer.
Jacksonville, your first stop, is hiking heaven, with lots of lovely trails available. The Jacksonville Arboretum and Gardens and the Castaway Indian Preserve have plenty of options to choose from.
Moving southward towards historic St. Augustine, you can choose from Anastasia State Park and Moses Creek Conservation Area.
Melbourne has some premium hiking trails by the Indian River Lagoon along Florida's Space Coast, including the Okeechobee Road Path and the Trans-Florida Railroad Trail.
At the same time, the McKee Botanical Garden offers the chance to hike while getting to know some of the city's main highlights.
Next is Port St. Lucia, which boasts easy access to some stunning beaches and fabulous parks for hiking like the Savannas Preserve and St. Lucie Inlet Preserve.
If you're in for a final hike when you arrive in Jupiter, the Jonathan Dickinson White Trail Loop is a favorite, because most of the walk follows a sandy trail that passes by picturesque dunes.
13. St Augustine to West Palm Beach area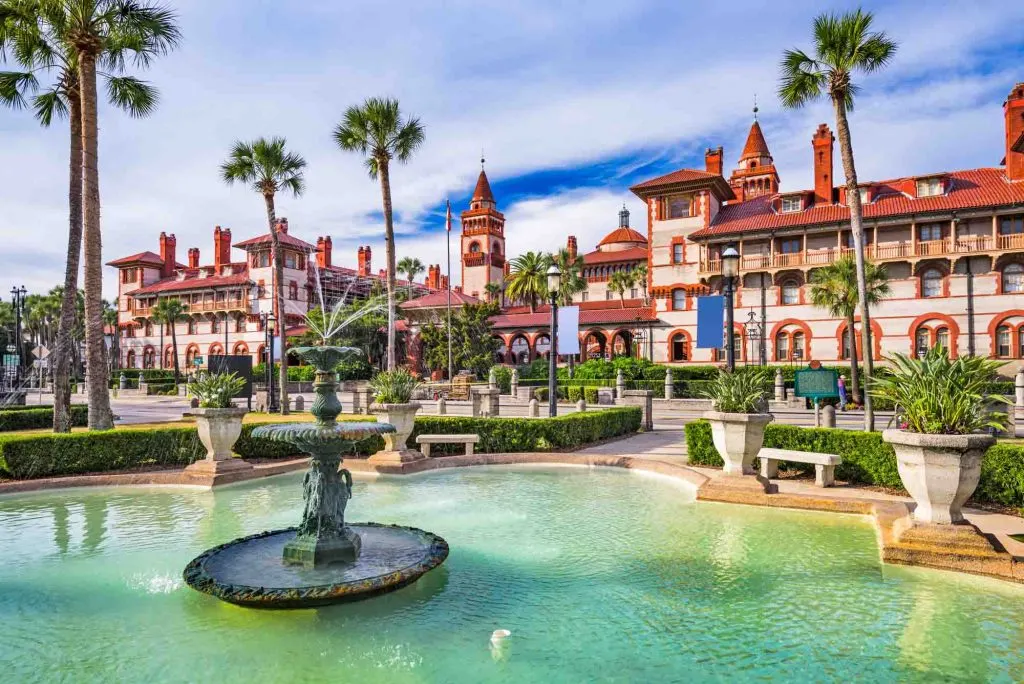 Route: St. Augustine -> Daytona -> Merritt Island -> Cocoa Beach -> Vero Beach -> Wellington
Distance: 248 miles
You wouldn't expect to find castles in The Sunshine State except at Disney World, but you'd be surprised to know there are plenty of them all over and this unique Florida road trip will take you to some of the best ones.
St. Augustine is the castle capital of Florida, which marks the start of this fabulous Florida road trip.
Here, you can see Castle Warden, which was turned into the first Ripley's Believe It Or Not. Villa Zorayda is a replica of the Alhambra Palace in Spain, which you can explore to your heart's content.
Next is Castle Otto, which is privately owned so there are no tours available, but it's still a pretty sweet sight to behold from the outside.
Last but not least is the historic Castillo de San Marcos, which was built as a Spanish fortress of war way back in time.
Next, take a break from castle-searching by hitting a few beaches scattered along the way.
A few ones worth hitting include Daytona Beach, Merritt Island, Cocoa Beach, and Vero Beach, all of which make great options for spending a night or two before hitting the road for more castle adventures.
Your next destination is Wellington in the West Palm Beach Area. Here, you'll find a stunning medieval castle hidden in the forest that was built to resemble the Lohort Castle in Ireland. It's privately owned and well protected, so permission is needed if you want to explore it.
Bonus castle location: Coral Castle, which was built using 1,000 tons of coral rock and now boasts beautiful elaborate gardens. This gem is located in Homestead, so you'd have to drive 106 extra miles to reach it.
14. Tampa to Cocoa Beach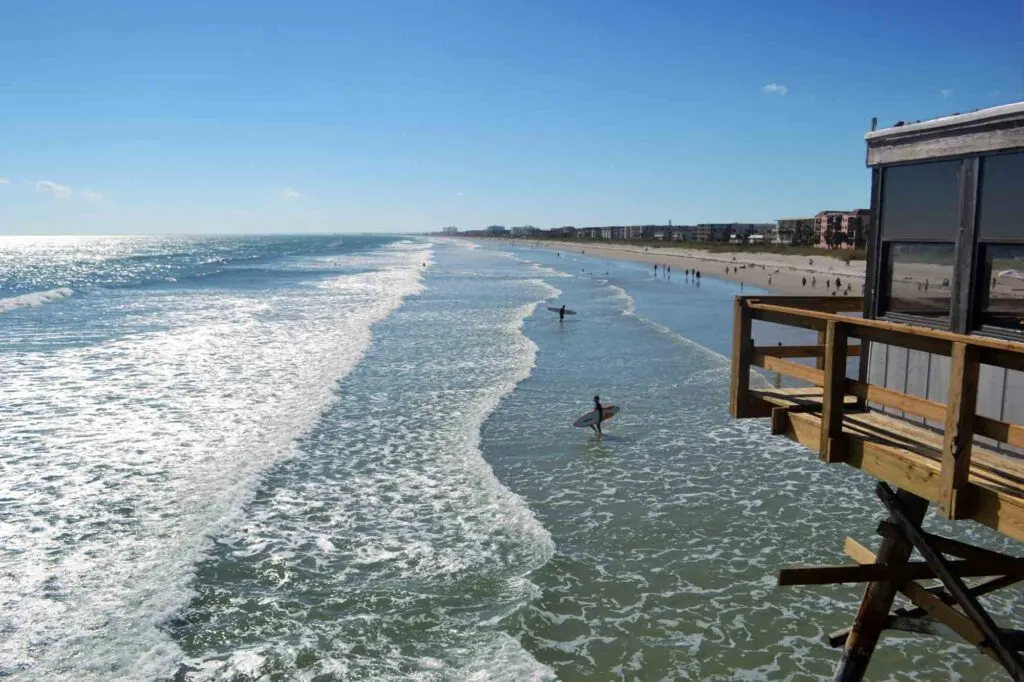 Route: Tampa -> Lakeland -> Orlando -> Cocoa Beach
Distance: 135 miles
The drive from Tampa to Cocoa Beach crosses the state from west to east, which gives you the fantastic opportunity to get to know the best of central Florida.
This region of the state has a ton to offer visitors, including beautiful nature, quaint towns, and of course, theme parks galore!
Start in Tampa, where you can soak up its rich emerging culture, theme parks, and the lively gastronomic scene before moving on to Lakeland, a city surrounded by 38 lakes – yes, the name is not coincidental!
Spend two or three days in the Orlando area so you can enjoy Walt Disney World or Universal Studios (perfect for Harry Potter fans) before moving on to enjoy adventures in the outdoors.
As a recommendation, we suggest stopping at Rock Springs, a crystal-clear blue water spring surrounded by trees. You can swim and tube to your heart's content or opt to hike at this beautiful oasis-like destination.
For some beach fun, Cocoa Beach is one of the best closest beaches to Orlando, especially if you're traveling with kids. The beach strip is vast, the Atlantic views are spectacular, and you can even try some surfing early in the morning while here!
15. Falling Waters State Park to Big Talbot Island State Park
Route: Falling Waters -> Marianna -> Tallahassee -> Jacksonville -> Big Talbot Island
Distance: 277 miles
Carrying you along the Florida-Georgia border, this Florida road trip will take you from Falling Waters State Park on the Florida Panhandle to Big Talbot Island in the northeast part of the state.
This is one of the best road trips in Florida to take if what you're after is to explore North Florida's lush green landscapes and charming towns.
Begin this Florida road trip at Falling Waters State Park, where you can gawk at the largest waterfall in the state. Here, you can also see tons of native and migrating butterflies, swim in a lake, hike some gently sloping trails, or spend the night at one of their campsites.
Next, head east towards Marianna, a quaint small city dubbed "The City of Southern Charm" that serves as an access to Florida Cavern State Park, which houses the only dry caves in the state.
From there, take the road eastward to Tallahassee and drive further east to Jacksonville, where you'll find attractions like beaches, gardens, parks, museums, and art galleries.
Finally, you'll reach Little Talbot Island, which boasts a five-mile stretch of pristine shoreline nestled in sea forest. Here, you'll get to explore nature at its finest and discover tons of wildlife and hiking trails, or opt to go on a shelling adventure!
16. Tampa to St Augustine
Route: Tampa -> Orlando -> Cassadaga -> St. Augustine
Distance: 191 miles
Haunted spots are not the first things that come to mind when you think of Florida, but the Sunshine State has tons of them. This is one of the most exciting road trips in Florida to take if you're a fan of the paranormal.
Start in Tampa, where you can explore the Tampa Theater downtown, near Ybor City, and the Capitol Theater in Clearwater, both of which are said to harbor ghosts. In order to get the whole experience, we recommend booking a guided tour.
Afterward, head to Lake Eola for Central Florida's biggest mystery: a small brown terrier has been spotted running on the east side before vanishing into thin air!
Your next stop for all things ghastly is Cassadaga, where you can check out the Helen Cassadaga Cemetery and the Cassadaga Hotel before taking the final leg of the journey to St. Augustine, where haunted places abound.
Have you ever driven any of these incredible road trips in Florida? If so, we'd love to hear all about your favorite spots and attractions, so tell us all about your experience in the comment section below!