Visiting the Green Mountains State or looking for a getaway near home? Then you'll want to stay in one of these incredible cabins in Vermont!
Vermont is one of the most beautiful places to visit in the United States for a reason.
There are so many accommodation options when it comes to visiting the state too, but you can have the best experience by staying in cabins in Vermont.
From beautiful lakeside cottages to mountain cabin rentals by the lake to homes with beautiful hill views, you really can't go wrong with any of these Vermont cabin rentals.
Whether you're traveling in a large group or you're looking for accommodation for a romantic getaway, this post has got you covered.
Vermont is known for its fall foliage and epic mountains, and it's so easy to experience nature firsthand by staying in a cabin. Some of these are even located right near trails. Let the adventure begin!
Editors' Picks: The Best Cabins in Vermont
First up is this Romantic Retreat with a Hot Tub. It's located in the mountains but is only a short drive from Warren and Rochester.
This fantastic retreat has ski and snowshoe trails right next to it, so you can roll out of bed and explore.
With 850 square feet, this home can host about five guests a night. There are all the essential rooms like bedrooms and bathrooms, but the best thing about this cozy cabin is the home theater which comes stocked with a few hundred movies. What more could you ask for?
The private log home is one of the most breathtaking Vermont cabin homes to rent that's just shy of 2000 square feet.
The interior of this private cabin feels like a traditional log cabin with comfortable seating, quirky decor, and a giant fireplace that serves as the home's centerpiece.
It's in a prime location right near Jay Peak Resort, a spot in Vermont known for its excellent skiing.
If you're not a skier, you can go on one of the walking trails or snowshoe right outside of the house.
Fun additions to the home include a jacuzzi tub, sleeper sofas, and even a gas grill, which is perfect for a barbecue in the warmer months. Who doesn't love outdoor grills, right?
This is more of a modern cabin home that's excellent for a vacation in Vermont. The cottage can host six guests at a time, and its main feature is the cathedral ceiling which lends itself to an open floor plan.
The interior is very cozy and welcoming. The home is located right in Woodford, Vermont, by the lake, so outdoor activities are abundant. Because it's in Woodford, it's also near both Brattleboro and Bennington!
Amenities include a heater, parking, television, indoor fireplace, and of course, internet. Many past guests have loved this accommodation because of its location and true beauty.
The Green Mountains cabin is a fantastic place to stay when visiting Vermont for up to six people.
The owner runs a handful of cabins in the area on around 200 acres of land! While the house is small, it's very charming and features a great deck with outdoor seating.
The cabin is located in Brookfield and is near Rock of Ages, Norwich University, and Knight's Spider Web Farm.
It's also near a few covered bridges, which Vermont is famous for, like the Northfield Falls Covered Bridge.
Right near Okemo is this stunning lakefront home! It has a super modern yet rustic ambiance to it, with exposed brick in the living room and classic outdoor decor throughout like old snowshoes.
This lakefront home can host seven people at a time. The house is incredible because of its location; a short drive will get guests to Killington or Woodstock, and there are tons to do in the area like fishing, kayaking, skiing, or even snowmobiling.
This rustic chalet is an ideal large home for those visiting Wilmington, Vermont!
Thirteen guests can stay there at a time throughout the four bedrooms. The house has been recently updated in certain rooms and the area it's in is very private.
What makes this accommodation so unique is that it's located right on a golf course.
In the winter, you can ski or snowshoe right onto the course. There are also extensive snowmobile trails nearby that can be accessed through the golf course.
One of the most beautiful cabins in Vermont is this lovely lakeside home! It's in Lunenburg, right near St. Johnsbury and Lyndon.
There are tons of great places to visit in the area, including Weeks State Park, the Wilder-Holten House, and even the Burke Mountain Ski Area.
This incredible cabin can host eight guests at a time over four bedrooms. The main features of the home are the fully equipped kitchen and the outdoor patio, both of which are large.
Plus, it's right near the water, where you can swim or boat.
A quaint chalet in the woods, this romantic getaway is one of the best cabins in Vermont.
It's located in Mount Holly and can host up to five guests at a time, but is also great for a couples getaway. The area is very secluded and looks like a winter wonderland in the snow.
The home has lots of amenities like a heater, television, washer and dryer, and internet.
So, you'll be in a private space but can still stay connected. There's a master bedroom with a queen bed, futon, and two twin beds in the home.
For an authentic log cabin stay, head to the log cabin with mountain views in North Ferrisburgh!
It can host about eight guests at a time and is relatively secluded, so it's great for a family vacation in Vermont.
Besides, this cabin is only two miles from Lake Champlain where you and your family can enjoy many outdoor activities.
There are three bedrooms, four bathrooms, a kitchen, living room, and even an ample patio with lots of outdoor seating.
The best part of the home is the giant living room with high ceilings and tons of furniture and natural lighting through the windows. It's the perfect spot for a family game or movie night!
Oh, if you're booking it for your summer vacation, be sure to do it well in advance as it is the peak season due to its proximity to Lake Champlain.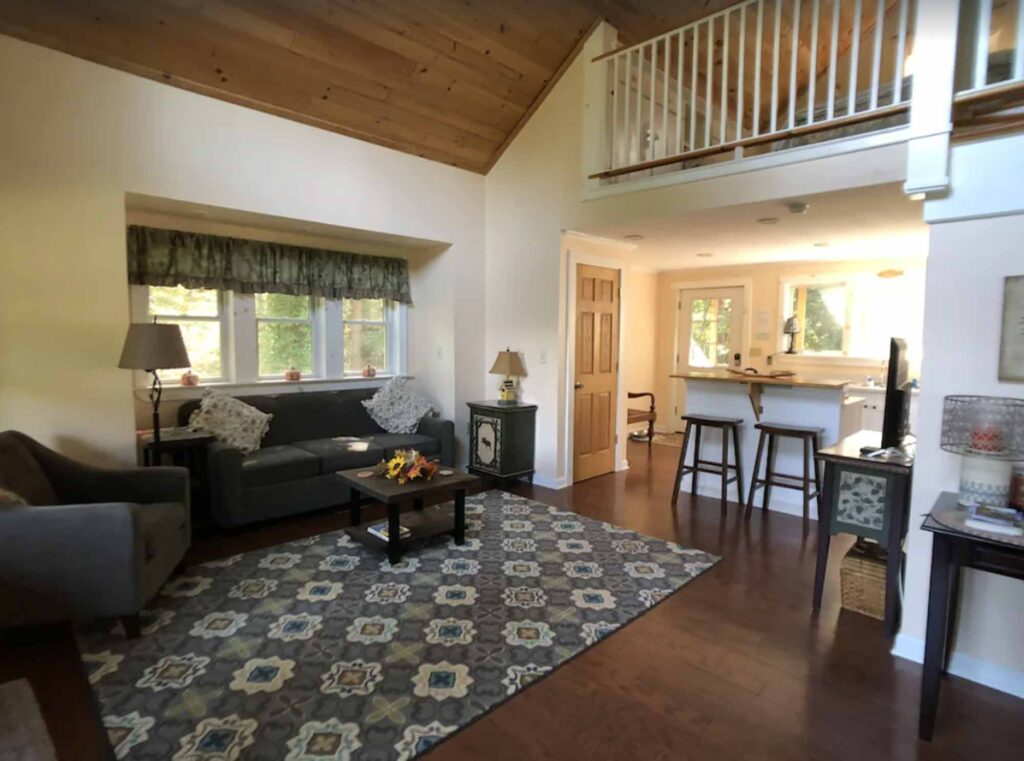 The romantic private Vermont cottage is perfect for a getaway in Vermont, no matter the time of year.
It's smaller at about 750 square feet but can host four guests at a time. It looks like an authentic cabin in the woods as it's private and even features a patio with outdoor furniture.
It's located in southern Vermont in North Bennington, which is an area filled with history.
Be sure to stop by places like the Bennington Battle Monument and Park McCullough House to learn more about the area during your visit.
The home features air conditioning, a flat-screen tv, a heater, parking, and internet.
This quaint cottage is one of the most romantic cabins in Vermont! It's located in Londonderry, right near Manchester and Dorset.
It's the perfect place to stay for those on a couples retreat, as it's small but romantic with great outdoor views—perfect place to enjoy your morning coffee.
The cottage is by some epic outdoor Vermont destinations, including Magic Mountain Ski Resort, Lowell Lake State Park, Jamaica State Park, and Bell Mountain Dam.
The home is situated right near a little lake and truly looks like something out of a fairytale with stone steps!
If you're looking for epic cabins in Vermont with lots of space, then the country house with a meadow is for you.
It's located on ten acres of land just waiting to be explored by a guest like you. This beautiful home can host about five people at a time, so it's great for a family vacation.
The home is located in Morristown, right near Mount Mansfield and Stowe, some of the most popular places to visit in the state.
The interior of the house has a very log cabin feel despite not looking like one from the outside.
It has quirky decor throughout, including little touches that make it feel like a home.
One of the most genuinely unique rental cabins in Vermont is this private and artistic log cabin.
Not only it's a pet-friendly cabin, but it looks like something out of a fairytale! In fact, part of the house looks as if it's held up by trees, and it's truly enchanting.
The cabin has stunning views of the mountains from the outdoor patio, where you can sip your morning cup of Joe.
Seven guests can stay there at a time, but it would also be an excellent place for a couple's getaway.
This home is located in West Pawlet, not far from Lake Saint Catherine.
This lakeside cottage is in a prime location, next to both Okemo and Killington.
As one of the best cabins in Vermont, it has a truly cozy and comfortable interior, perfect for a vacation any time of year. Plus, it can host five guests at a time.
The cottage is near many fun things to do, including biking on the nearby road or boating from the private dock.
A short drive can also bring guests to tons of classic Vermont pastimes, like horseback riding or skiing.
With great amenities like a washer and dryer, heater, and internet, you can't go wrong with staying here.
Located near Ludlow and Okemo, this cozy hideaway is perfect for a romantic getaway in Vermont's nature.
It's somewhat of a hidden gem, as it's been recently renovated and is surrounded by fun outdoor activities like snow tubing and ice skating.
The home features a kitchen, deck with outdoor lighting, living room, bathroom, and two bedrooms.
There's also a hot tub, fireplace, heater, washer and dryer, and television. The home is pretty secluded, so you'll have privacy during your getaway at the cozy Ludlow hideaway.
A family-friendly log cabin is a perfect place to vacation, no matter the size of your family.
It's pretty large at around 2000 square feet and features three bedrooms, three bathrooms, a kitchen, living room, and deck space.
This is a quintessential log cabin that looks like it was plucked straight from the movies. Amenities are abundant, including a hot tub, fireplace, garage, heater, and more.
It's located in Tinmouth, a short drive from Manchester, Rutland, and Killington.
Because of its close proximity to other towns, it's a perfect home base for visitors who want to explore more of Vermont.
This large modern slopeside chalet is one of the best cabins in Vermont to rent in winter!
It's one of the largest Vermont cabins on this list, just shy of 3000 square feet. Fourteen people can stay there at a time without feeling cramped.
The chalet has easy access to the ski trails (you can ski in and ski out!), bike trails, and snowmobile trails.
Plus, there's ample garage space, large cathedral ceilings, and tons of natural light that can come in from the many windows. Any ski bum would love to stay at this accommodation.
With a five-minute drive to Jay Peak Resort, this is one of the most incredible rentals in Vermont that you should consider booking.
It's a large cabin and can host about fourteen people each night, making it perfect for a friend or family getaway to the slopes.
Amenities include a swimming pool, washer and dryer, parking, a heater, and even a fireplace.
Oh, and it's a dog-friendly cabin. Past guests rave about how relaxing the accommodation was yet still was so close to great outdoor activities.
If you're traveling with a big group, consider staying at this village cabin. With 2000 square feet, it's pretty significant, across five bedrooms, three bathrooms, a kitchen, living room, and patio.
This is one of the best cabins for rent in VT, located in the Northeast Kingdom, one of the most beautiful parts of the state.
It's by East Burke and feels like a true nature getaway with high ceilings, large windows, and easy access to the Kingdom Trails.
With great amenities like a fireplace and washer and dryer, you can't go wrong with this accommodation.
Final Thoughts on Vermont Cabin Rentals
From elegant cabins to tiny cottage rentals and everything in between, Vermont is an incredible state with some of the coziest places to stay!
Many of the cabins above have great features and amenities to enjoy with your dear ones: gas fireplace, picnic table, wood stove, outdoor grill, equipped kitchens, and private decks where you can sip some hot chocolate.
Whether you're staying near Mount Snow, in a house cabin near Lake Raponda, or in a rustic log cabin by Lake Champlain (which is one of the best places to visit in Vermont), we hope this article will help you choose the perfect place!
Did you enjoy reading about these cozy Vermont rental cabins? Then share it with a friend who might enjoy it too!