Planning a trip to the Golden State? Then you'll want to read our list of the best places to visit in California!
California offers a huge repertoire of fantastic destinations. Captivating cities, picturesque vineyards, looming snow-capped peaks, vast deserts, and beautiful Pacific coastlines are just a few of the landscapes you'll find in the Golden State, making it one of the most diverse destinations in the world.
If you're currently plotting a visit to California or you're a local keen to explore your own backyard, chances are you're having a bit of trouble narrowing down where to go and what to see.
Seriously, we get you! With so many unique places to check out, how can you actually make a decision if you don't have several years to spare?!
While it's virtually impossible to list every single one of the destinations in the Golden State worth visiting, we decided to create a shortlist of the best places to visit in California you absolutely cannot miss. You know, the type everyone has to see at least once in their life.
23 Places to Visit in California That You Can't Miss
Here are our favorite places to visit in California in no particular order because we honestly love all of them!
Best Cities to Visit in California
1. San Diego
Set just north of the Mexican border, San Diego is the epitome of California's laid-back surfer culture and balmy weather.
With gorgeous year-round weather, beautiful beaches (Mission Beach, Coronado Island, and La Jolla Shores are musts), stylish cafes, fantastic museums, and wonderful architecture that shows off the city's rich Spanish heritage, visiting San Diego is a true treat if what you're after is a relaxing city escape.
With places like Balboa Park and San Diego Zoo, this beach town is the perfect destination to enjoy the warm Californian weather while sightseeing. After all, San Diego is one of the best warm winter vacations in the US!
Whether you're spending a week or one day in San Diego, know that this is a city in California that you need to visit at least once!
2. Santa Barbara
With Mediterranean-like vibes brimming in every corner of town, Santa Barbara is a quaint coastal town in California perfect for those looking for a relaxing beach vacation with a bit of glitz added into the mix.
With Spanish-Moorish architecture to feast your eyes with, surrounding wine regions, hiking trails galore, gorgeous beaches, and high-end shopping and cuisine options, Santa Barbara is a wonderful getaway regardless of your travel style or budget.
3. San Francisco
Thanks to its compact size, exploring the colorful streets of San Francisco and all the emblematic sights that come with it on foot is a breeze.
San Francisco's hilly setting is home to a plethora of diverse neighborhoods, making virtually any place on the city a great spot to bask in views of the bay below (all with San Fran's iconic gorgeous Victorian architecture keeping you company, of course!)
Aside from strolling for hours on end, San Francisco's entertainment scene is something everyone needs to experience at least once, with Union Square taking the win when it comes to great theaters and museums.
Beyond that, you can easily take a trip to Alcatraz Island and its famous federal prison (now a museum).
4. Los Angeles
We are pretty sure LA doesn't need an introduction, but we'll try, anyway! Being the second-largest city in the entire country, the City of Angels is, undoubtedly, one of the best places to visit in California regardless of the type of adventure you're after.
This wonderful city offers an array of beaches that range from party locations like Venice Beach to family-friendly shores, some of the best amusement parks in the world, and restaurants suited for all budgets, ranging from cheap eateries to lavish hotspots where running into celebrities on a night out is pretty much the norm.
In Los Angeles, you can take in the city landscape but also the skies. Head over to Griffith Observatory located on Mount Hollywood within Griffith Park—you can have an incredible view overlooking LA.
5. Santa Cruz
As far as bohemian cities go, Santa Cruz takes the cake. Commonly dubbed the 'Surf City', life here usually happens around the city's coasts, and you'll be able to notice its youthful vibe every step you take along the shores.
Aside from its glorious beaches, Santa Cruz's colorful downtown is also home to an array of entertainment, including great eateries, shops, and lines of bars you can hop around in.
As if that weren't enough to convince you to explore Santa Cruz's incredibly laid-back scene, the city is also a great hop off point to some of the best places to visit in California for all things nature, such as the Big Basin Redwood State Park or the Natural Bridges State Beach, both of which provide gorgeous scenery.
6. Pasadena
Rumor has it that most people who say they're from LA are actually from Pasadena.
Being one of the largest cities in Los Angeles County, Pasadena may be a bit overlooked compared to its larger neighbor, but this city is a joy to stroll through and one of the best places in California to visit for all things sports, arts, and science.
Two events put Pasadena on the map, so if you're able to, try planning your trip around them! The most famous one is the annual Rose Bowl football game, which pretty much claims most of the city's visitors.
The Tournament of Roses Parade, an annual event where creative floats made of greenery and flowers are put on display, is also worth checking out!
7. Palm Springs
Nicknamed the heart of the California Desert, Palm Springs is a city in the Sonoran Desert that can only be described as "quirky".
From trendy coffee shops to art-filled galleries, retro-chic boutique shops, and vibes as artsy as they can get, Palm Springs is one of the best places to visit in California if an insanely photogenic vacay is what you're after.
Aside from the joy of exploring its picture-perfect streets, Palm Springs is also a wonderful spot to base yourself in to explore the desert further afield.
With some of the most sought-after California destinations to visit set just a stone's throw away, Palm Springs is a wonderful gateway to places like Joshua Tree National Park and colorful Salvation Mountain.
8. Monterey
Monterey mixes SoCal's laid-back soul with Northern California's sophisticated lifestyle, so if you're looking to get the best of both worlds, heading here is probably your best bet!
World-renowned for its wealth of marine life (whale-watching is pretty much a year-round activity here), Monterey boasts a small-town atmosphere and incredible natural beauty everywhere you turn.
Teeming with picturesque seaside neighborhoods, stunning beaches, and a vast array of things to do (make sure you visit the Monterey Bay Aquarium, the historic Fisherman's Wharf with its gift shops, and Cannery Row!), you'll have a pretty hard time getting bored while exploring this gem of a destination in California, even if you tried!
9. Santa Monica
Being almost completely encircled by Los Angeles, Santa Monica is a relaxed coastal city that provides a wonderful respite from the bustle and hustle.
Originally crafted as a resort town, today, Santa Monica brims with welcoming vibes, fashionable shops, art galleries, street murals galore, and a wide variety of beachfront restaurants and bars.
Aside from that, Santa Monica is also a wonderful family-friendly escape from the city, with the iconic Ferris Wheel towering over the Santa Monica Pier, a traditional amusement park, and lots of fun in the sun activities on the menu, including swimming, beach volleyball, paddle boarding, and more!
10. San Luis Obispo
Hidden in the slopes of the Santa Lucia Mountains, San Luis Obispo is one of the best places to go in California if you're looking for a mix of nightlife, nature, and beaches.
Popularly dubbed the "Happiest City in America", San Luis Obispo is a quaint college town known for its fun-loving vibes and wonderful day trips.
Moreover, even though the town is landlocked, it's set just a short drive away from some of the best beaches on the Central Coast, including Avila Beach, which is famous for its activities (think kayaking, paddleboarding, etc) and Pismo Beach, a popular spot for surfing enthusiasts.
Best National Parks and State Parks in California
11. Joshua Tree National Park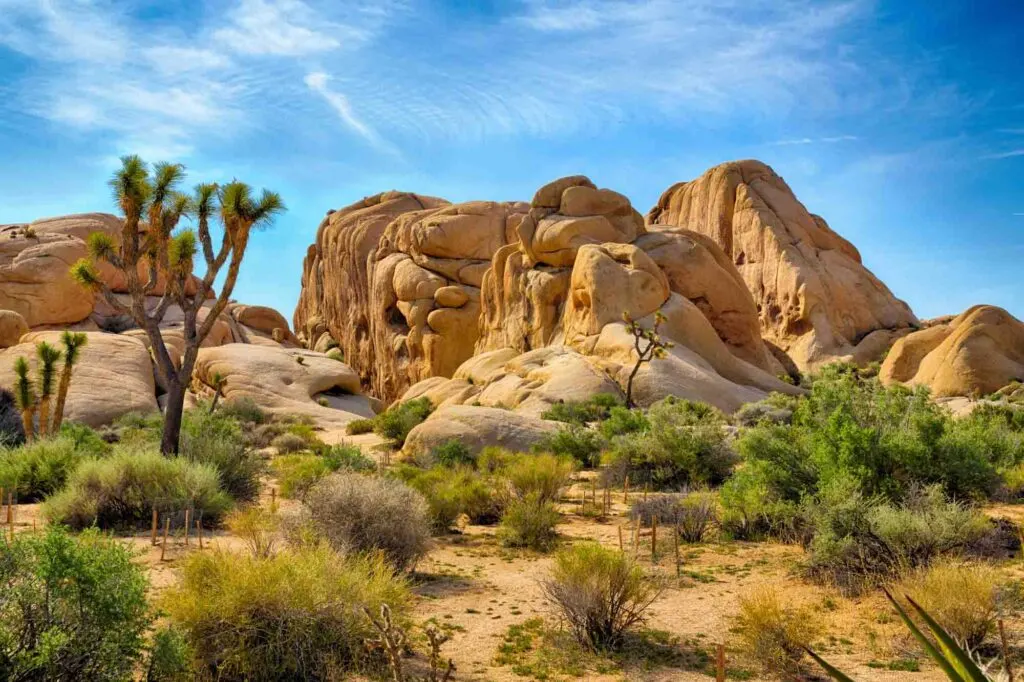 The Golden State's deserts are something special, and Joshua Tree National Park is one of the best places in California to visit to uncover the state's captivating desert magic.
Sitting exactly on the spot where the Colorado and Mojave deserts meet, this striking national park is a combination of two entirely different ecosystems that, blended together, create a peculiar-looking landscape that looks straight from an entirely different planet.
Aside from taking in the gorgeous desert views, Joshua Tree National Park is also a haven for adventure lovers, with biking, camping, horseback riding, and rock climbing being some of the activities on the menu.
Of course, hiking in Joshua Tree National Park is a no-brainer!
The park is also listed as Sky Dark Territory, making stargazing here a real treat!
12. Redwood National and State Parks
Sprawling over 130,000 acres of forest, Redwood National and State Parks is one of the most incredible places to visit in California, especially if you wouldn't exactly mind feeling as though you're walking in an enchanted forest from a storybook.
What makes Redwood National Park so special is the fact that it's home to cirques of centuries-old redwood forests.
Redwoods are the tallest trees in the world (they can reach heights of 300 feet!), making a visit to this park a must in your California bucket list in order to fully witness one of the state's most iconic natural wonders.
Oh, and here's a little fun fact for ya in case the above didn't convince you to visit this gem of a national park: Hyperion, the tallest tree in the world, proudly calls Redwood its home!
Pssst: While here, be sure to check out the nearby Fern Canyon, where Hollywood movies have been filmed, like Jurassic Park and Transformers.
13. Channel Islands National Park
Commonly dubbed the Galapagos of North America, Channel Islands National Park is still a bit of a secret in the national park system thanks to its location off the coast of California, making it the perfect escape for those looking to get away from the hustle of the mainland.
Channel Islands is made up of five remote islands sitting in the Pacific Ocean.
Picture dramatic rock cliffs, wildlife encounters you can't find anywhere else, and expansive ocean vistas to get a pretty good idea of what a visit to this isolated national park is all about!
14. Death Valley National Park
Despite its somewhat grim name, Death Valley is one of the most vibrant places to visit in California.
At first glance, Death Valley may look like a desolate desert, but once you dive a little deeper, you'll discover a universe of bizarre rock formations, miles of shifting sand dunes, golden badlands, meandering canyons, and looming mountains sprayed in every shade of the rainbow.
Also, North America's lowest point, Badwater Basin, has a depth of 282 feet below sea level—another item you can check off of your USA bucket list.
Aside from its natural wonders, Death Valley also happens to be a bit of a historical jewel, with lots of abandoned mines and ghost towns to explore that provide a window into life in the area through the centuries.
15. Sequoia and Kings Canyon National Park
Tucked in the slopes of the Sierra Nevadas, Sequoia National is home to cirques of impressive sequoia trees (the largest trees in the world), creating a fascinating view of humongous natural canopies backdropped by looming mountains dusted in snow.
While the experience of walking amid groves of giant sequoias is magical enough to pay this unique destination in California, Sequoia National Park has a ton more to offer.
As a bonus, the park is also home to Mount Whitney, the highest peak in the continental USA, one of the deepest canyons in North America, and striking views of the Great Western Divide mountain range.
16. Yosemite National Park
Yosemite National Park is one of the most iconic natural sites on the West Coast, making it a must in your California itinerary.
Tucked in the western side of the Sierra Nevada mountain range, Yosemite is home to a myriad of beautiful landscapes, including lush forests, towering waterfalls (Yosemite Falls, anyone?), sky-high peaks, sweeping canyons, idyllic lakes, and dramatic granite domes.
Some of the best things to do in Yosemite National Park are hiking, wildlife watching, camping, and taking in the park's beauty, especially from Glacier Point!
Pssst: Save money by purchasing the America the Beautiful Pass (US's national park pass)!
17. McWay Falls
Picture this: a dreamy 80-foot waterfall crashing town into a pristine beach hidden in an enchanting cove.
While the description paints a pretty good picture of the fantastic scenery McWay Falls provides, the only way to truly magnify their beauty is by seeing them with your own eyes!
McWay Falls is located on Julia Pfeiffer Burns State Park, which is a stop on a Big Sur road trip, another bucket list-worthy California experience.
When you visit the falls, make sure you also spend some time exploring the rest of the park, as it contains a plethora of hiking trails, stunning ocean views, and even historical gems such as a shipwreck!
Other incredible Places in California You Shouldn't Miss
18. Napa Valley
Picture-perfect vineyards dotting golden hills, quaint boutique hotels, soothing spas you can unwind in with a glass of wine in hand, and farm-to-table restaurants lining the streets. That's Napa Valley in a nutshell, one of the most romantic getaways in the US.
Wine-tasting is, of course, the prime thing to do here. With such a wide range of wonderful estates to choose from, a trip to Napa, and neighboring Sonoma County, guarantees a grape-filled vacay no matter where you decide to go for a wine tasting session.
If you really want a recommendation from me, though, a great choice if you're a newbie is Beringer, Inglenook if you don't mind splurging a bit for a special occasion, and Chateau Montelena if a picture-perfect estate is what you're after!
19. Big Sur and Hearst Castle
Big Sur is more of an experience than a place. A Big Sur trip isn't only one of the most scenic road trips in the entire world, but it's also dotted by some of the finest road trips in California, making it an awe-inspiring drive to take to tackle a ton of incredible destinations in one go.
With dramatic views of a dramatic coastline to the west and sky-high mountain peaks to the east, this 90-mile long highway can easily be driven as a day trip.
With that said, though, dedicating at least a few days to it is recommended in order to have enough time to take in the gorgeous views and to spend time out of the car exploring all the amazing destinations along the way.
From the allure of McWay Falls to the eye candy of the town of Carmel and the surreal-looking purple sand of Pfeiffer Beach, there are a ton of incredible stops to make on a Big Sur road trip.
A must on your itinerary is Hearst Castle, a historical landmark of California located in the town of San Simeon that dates back to the early 18th century, and was built by William Randolph Hearst.
The castle is home to sprawling gardens and beautiful rooms containing rare artworks and antiques from every corner of the world and period of time, making it a gem when it comes to both architectural and historical worth.
20. Lake Tahoe
Think California is all about coasts and deserts? Lake Tahoe is living proof of how diverse the Golden State can get.
If you're feeling keen to explore Cali's alpine lake, this alluring place is the ideal spot to get started with!
Towered by dreamy snow-capped peaks, Lake Tahoe is one of the largest lakes in the United States.
Its crystal-clear waters that shimmer from sapphire blues to emerald tones and white sand beaches could easily have you confusing the spectacular scenery for one on a Caribbean island if it weren't for the views of the Sierra mountains looming in the distance.
During the winter months, Lake Tahoe becomes a mecca for snow sports, including skiing, snowboarding, ice skating, snowshoeing, and even hiking in search of winter wonderlands (make sure you do the Emerald Lake hike in South Lake Tahoe for some seriously epic views of the frozen lake on Emerald Bay!).
Come summer, Lake Tahoe becomes a prime destination for outdoor activities, including hiking, canoeing, kayaking, sunbathing, mountain biking, and more!
21. Mammoth Lakes
If you're looking for a hidden gem, Mammoth Lakes is one of the best places to visit in California if nature and solitude are what you're after.
Providing more than 300 miles of hiking trails expanding over different landscapes, hiking around this gorgeous alpine town is guaranteed not to bore.
Think tranquil meadows, idyllic lakes (there are almost a hundred of them here!), pine forests, high-mountain desert, and mountain peaks soaring over the landscapes to get a pretty good picture of how diverse here the trails can get!
22. Pacific Coast Highway
With so many incredible places in California to visit, a road trip to tackle as many of them in one go makes a ton of sense.
The Pacific Coast Highway is one of the most scenic drives in California, and what better way to get deep and personal with the Golden State than by feeling the thrill of the open road by driving down its dramatically beautiful coast!
Starting in San Francisco and finishing in San Diego, this stunning drive will have you passing some of the most incredible destinations in California.
While it's possible to complete the drive in a day, the only way to truly get to experience the magic of this highway is by dedicating several days (or weeks!) to it in order to stop and truly take in the beauty of each place, especially when you consider how vastly diverse California can get.
While we could write an entire post on all the must-see stops, a few of the activities you can't miss out on during the drive include visiting all the urban wineries at Santa Barbara, gawking at the beautiful scenery of Big Sur, strolling down the quaint streets of Carmel, driving under the shades of ancient trees at Humboldt Redwoods State Park, and eating fresh oysters in Half Moon Bay.
23. Santa Catalina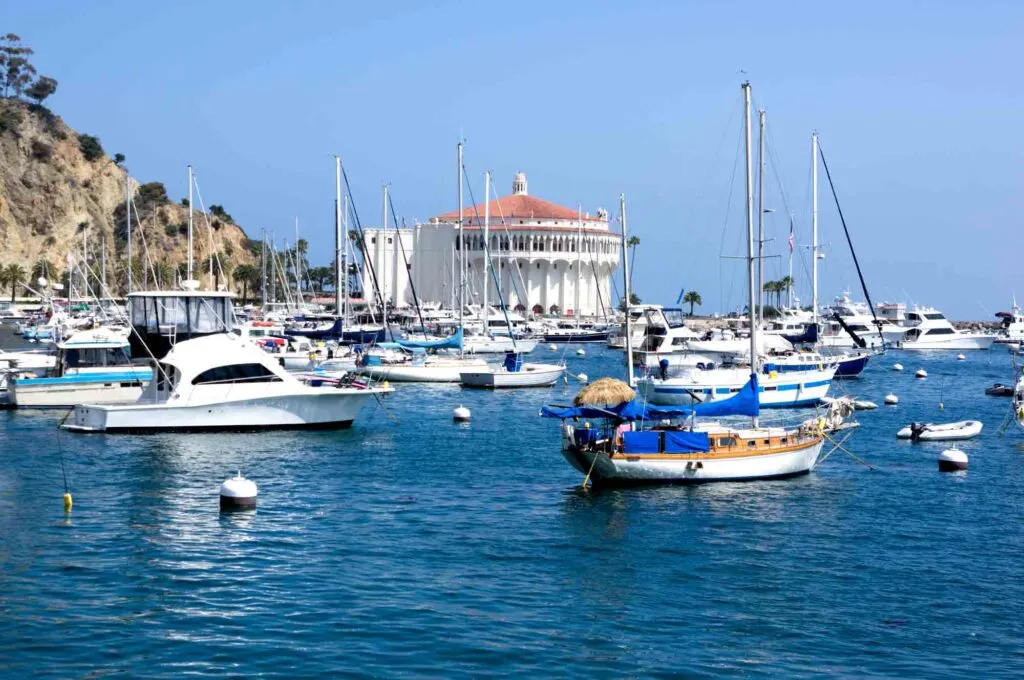 Hiding in plain sight, Santa Catalina Island is one of the most incredible places to visit in California if you want to take a… vacation from your vacation.
Set just a couple of dozen miles off the coast of southern California, getting to this gem of a place is a breeze and a wonderful day trip if what you're looking for is to escape the bustle and hustle of Los Angeles, if just for a while!
Think white-sand beaches, warm crystal-clear waters, seafood as fresh as it can get, and island-brewed beer to get a pretty good idea of the peaceful respite Catalina (as it's more commonly known) provides.
As if that weren't enough, the island is also a mecca for watersports, historical sights, and underwater adventures (snorkeling here is an absolute dream!)
Best Vacation Spots in California
We hope this list of the best places to go in California helped you plan the perfect itinerary for your visit!
Even though the list of incredible destinations in the Golden State is endless, these spots are an excellent way to get a taste of the diverse landscapes and scenery that sprawl the state!
Did you enjoy reading about these vacation spots in California? Then share it with a friend who might also like it. Help us spread the word!