Stunning scenery, a mild climate, countless beautiful beaches stretching over an 8,400-mile shoreline, and the "easy living, laid back" lifestyle of dozens of the beach towns in Florida are just a few reasons why millions of visitors flock here every year.
To all that, add dozens of world-class theme parks, a marine-rich ocean on both sides of the peninsula, and a varied bird and wildlife population, and you are spoilt for choice of which place to visit for a beach vacation.
Below we list just a few small towns in Florida by the beach to whet your appetite and help you choose.
Charming Beach Towns in Florida
Anna Maria Island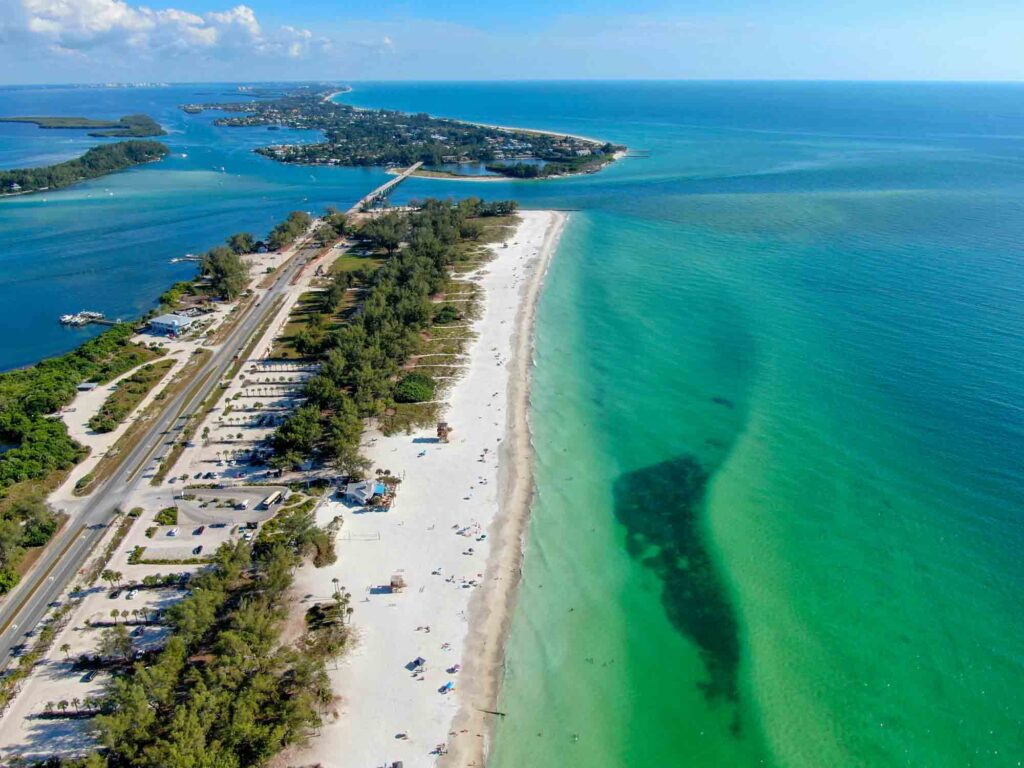 Journeying south, we come to the barrier island of Anna Maria. If sunshine and miles of soft, white, sandy beaches and an aquamarine ocean are your thing, then Anna Maria Island is the place for you.
White sandy beaches await for you. Some of the places you won't want to miss are Bradenton Beach and Holmes Beach.
Apart from all the usual beach activities, you could also go on a nature trail, book a snorkeling or dolphin-spotting ride, fishing charter, Jet Ski, kayak, or learn to parasail.
With the island being less than two miles wide, all the amenities are within a few minutes' walk. Cute shops, interesting craft markets, beach bars, eateries, and excellent vacation rentals are all close to wherever you are.
Stunning sunrises and sunsets are daily occurrences here, without you having to move an inch. Like so many small beach towns in Florida, this island has everything for everybody.
Fernandina Beach
One of the prettiest Florida beach towns, Fernandina Beach on Amelia Island is simply a treasure to behold.
Situated on an estuary on the Atlantic Ocean, it offers miles of secluded beaches and estuarine tidal marshes, teeming with sea and birdlife as well as wild horses found on Cumberland Island.
Recreation choices are endless. Swimming, surfing, fishing, kayaking, and paddleboarding in open water or the estuary, while beachcombing for shells and shark teeth keeps the kids entertained for hours. Still, Fernandina also offers some excellent beaches for couples.
Several state parks offer scenic hiking trails, with no shortage of top-class golf courses. Go on a sunset cruise exploring the tidal marshes of the estuary.
Alternatively, take to the air on a power glider and appreciate the beauty of this place from above—a truly magnificent experience.
History buffs will have a blast with all there is to learn about the "Isle of 8 Flags" in historic downtown Fernandina Beach.
Various hotels and rentals offer excellent accommodation, two steps from the beach, while fresh locally-caught shrimp and other seafood are served by the available eateries.
Read next: Best Cabins in Florida
Daytona Beach
Already famous for the iconic Daytona 500 NASCAR Race, held annually in February, Daytona Beach is another jewel along Florida's Atlantic coast that is perfect for a family vacation.
Miles of open beaches for all water activities, while the Halifax River is a gem all on its own.
Offering miles of nature trails, picnic spots, dozens of fishing piers, and boat ramps to explore the wildlife and view this magnificent lagoon. No better way of doing this than from a Kayak.
Various parks offer fun activities for people of all ages. Go-karts, waterslides, excellent picnic spots, and children's playgrounds, while numerous golf courses dot the city's outskirts.
Lodging and all styles of accommodation, shopping and eating venues are endless.
Cocoa Beach
It's hard to believe so much entertainment and recreational activities can be crammed into such a small area like Cocoa Beach, which is one of the closest beaches to Orlando.
These long stretches of beaches on the east coast are perfect for the whole family, and one of the best surfing spots found anywhere.
The proud surfing and beach culture becomes evident when you visit Ron Job Surf Shop…the world's largest surf shop!
For grand views of Cocoa Beach, take a walk along the famous Pier, jutting 800 feet into the Atlantic, passing boutiques, shops and eateries serving mouth-watering local specialties.
Or kayak on the shore-facing side through mangrove-fringed creeks, viewing dolphins, manatees, and countless bird species in the region surrounding Cocoa Beach.
On top of all this, there is a skate park and a dinosaur museum in Cocoa Beach, and if none of all this appeals to you, Cape Canaveral is a few minutes drive away, where you could…well, spend weeks and still not see everything!
Vero Beach
Continuing south along the Atlantic coastline, Vero Beach offers the ambiance of a small beachside town, with all the comforts and amenities of a big beach city, but without the high-rise buildings and heavy traffic.
Enjoy miles of superb beaches perfect for swimming, surfing, boating, and fishing, while numerous nature parks offer great picnicking, hiking, and camping in amongst nature.
The Pelican Island Wildlife Refuge is a must-see with scenic hikes amongst the bird and wildlife of the wetlands, or you can take a night tour and watch baby turtles take their first steps to the ocean at the Archie Carr Wildlife Refuge.
Several fascinating museums, galleries, and theatres take care of the cultural vultures.
At the same time, various house rentals, hotels, and resorts offer high-quality accommodation, excellent golf courses, and various other recreational activities.
Delray Beach
Nestled in between West Palm Beach and Fort Lauderdale is the quaint town of Delray Beach.
Wonderful soft golden sand beach in the middle of the town, is the perfect spot to swim, surf, or just chill, while several nature parks, such as the Sandoway and Wakodahatchee allows you to view and interact with sharks, gators, turtles, snakes, and numerous bird species—a paradise for a nature lover.
Art galleries and museums are dotted all over the town, with no shortage of accommodation and eating venues to suit all tastes and pockets. All in all, Delray Beach is a hidden gem that rates highly among all other beach towns in Florida.
Key Biscayne
Key Biscayne is an Island Paradise offering so many activities and facilities in such close proximity, barely 15 minutes from downtown Miami.
Certainly one of the most conveniently situated Florida beach towns. There are plenty of eateries, long beaches, mangroves, and tropical forests teeming with birdlife, with two large parks alongside the ocean offering picnic and kids' amusement areas, with carousel and peacock shelter.
Besides, you're just a stone throw's away from one of the best national parks in Florida.
A stunning golf course on the north section of Key Biscayne is an excellent attraction, while scuba diving on Neptune Memorial Reef a few miles offshore is a most memorable experience.
A wide variety of fish makes Key Biscayne a popular destination for shore and offshore anglers.
Shore fish include snook, jacks, bonefish and the acrobatic tarpon, while mahi-mahi, cobia, barracuda and sailfish can be caught offshore from the several charter boats operating from the island.
Islamorada
Moving on the south-bound Overseas Highway, which must be the closest thing to the Stairway to Heaven, we come to a village community encompassing six Florida Keys.
Surrounded completely by crystal blue water, the entire area is a snorkeler's and scuba diver's paradise.
If you can tear yourself away from the water, the History of Diving Museum is a must-see.
Not to be missed is also the Theater of the Sea, where you can view and interact with dolphins and sea lions.
Other attractions include the Hurricane Museum to remind ourselves of the power of nature, while scuba diving, sports fishing, and dolphin viewing tours can be chartered all along Islamorada. Various hotels and eateries dot the entire set of islands.
Key West
Reaching the very end of the highway, Key West is crammed with so many fascinating features and attractions.
Despite being heavily developed, there remains more than sufficient space for nature and recreation. Apart from the various beaches to swim and sunbathe, there are tons of things to do here.
On the tip of the Key, the Fort Zachary Taylor State Park features a pre-Civil War Fortress, a beach, and a nature trail.
Other interesting sites of Key West include the Harry Truman House Museum, the Hemmingway Museum, the Historic Lighthouse, and a small but fascinating aquarium showcasing the local sea life. And then we have the southernmost point of continental America.
Hotels, bars, and restaurants are wall-to-wall here, catering for every style and palate.
Seaside
Moving across to northwest Florida overlooking the Gulf of Mexico is the small town of Seaside.
Known for its unique style of pavilions and pastel-colored houses, Seaside retains the ambiance and charm of "old Florida" while still offering the modern amenities we all demand from a vacation destination.
Miles of pristine beaches that cater for all water activities, with numerous golf courses, eateries, shops and lodging styles, most of which being on the water's edge.
Several parks offer great hiking, biking, camping, and beautiful scenery with beach access, like the Grayton Beach State Park.
Booking well in advance is essential. Pilcher Park on Choctawhatchee Bay offers excellent fishing, kayaking, and a beautiful setting, especially at sunset—a photographer's dream.
For such a small beach town in Florida, Seaside provides the perfect destination for an enjoyable and relaxing family vacation.
Saint George Island
Situated opposite the Apalachicola River, The 20 mile-long Saint George Island is a favorite destination for beach lovers, bird watchers, and anglers.
Miles of white sand beaches overlooking the Gulf of Mexico offer sunbathing, swimming, fantastic kayaking, and fishing while two state parks on either end of the island offer scenic hiking trails and camping.
The marshy northern bay-facing side is home to numerous wading birds and angling fish. At the same time, the south-facing beachside, barely three hundred yards away, is a magnet for turtles and various nesting seabirds during summer.
Various types of lodging are available, making this one of the most idyllic beach towns in Florida for a truly relaxing vacation. There's even a small airport for those who travel in style.
Cedar Key
Further south but still off the west coast of Florida, Cedar Key is a real gem off the beaten path, perfect for a family getaway.
A group of small islands offers beautiful scenery, plenty of quaint bars with live music, and shops and restaurants serving delicious local seafood. This island town also boasts a wealth of bird and marine life.
If you're into fishing, bring your gear and head straight to the Cedar Key Pier, from where numerous big fish are caught regularly all year round.
Charter companies offer boating or kayaking trips around the islands, where dolphins and manatee are often spotted. Stunning sunrises and sunsets can be viewed from virtually anywhere.
Young children are well-catered for by the several parks almost on the water's edge, while the State Park offers an excellent nature trail through island, estuary and mangrove habitat.
The Historical Museum showcases the rich local history and rare Civil War artifacts.
Tarpon Springs
Oh My! What a wonderful historic town for a beach vacation! The Historic Sponge Docks with fantastic Greek eateries is testimony to the early Greek sponge divers who settled here and have left their mark.
Plenty of sandy beaches and bayous to swim, kayak, fish, see dolphins and manatees, as well as miles of nature trails, playgrounds and picnic areas are provided in several scenic nature parks.
The Cultural Center and Safford House Museum showcases the town's historical background, while the St Nicholas Greek Orthodox Cathedral, with its Grecian marble altar, ornate wall and ceiling frescos and colorful stained glass windows, is not to be missed.
Tarpon Springs is a charming and friendly beach town in Florida, small in size but rich in culture, history, and serene natural beauty.
Siesta Key
Just below Anna Maria, is another magical place with miles of beautiful, white, velvet-soft sand beaches conveniently located close to numerous cafes and shops. The Azure waters at Siesta Key Beach are mostly calm and shallow, perfect for young children.
Do not go there without visiting the Big Water Fish Market for a fantastic array of local seafood and hundreds of delicious delights. Just arrive hungry!
At sunset on a Sunday, bring some drinks and snacks and gather at the Siesta Key Drum Circle for a unique experience of beach, song, and dance to set your senses alight. You'll never forget this sunset.
Boca Grande
About 30 miles south of Siesta Key is the small village of Boca Grande on Gasparilla Island.
Yet another idyllic island with brilliant beaches with clear blue-green waters, ideal for sunbathing, swimming and snorkelling, with many public access points.
Fishing off the shore or kayak among the mangroves is pretty productive for tarpon and snook as well as various other fish caught from charter boats.
Great views of the island can be had from the top of the lighthouse, and they have even managed to squeeze in a golf course on this tiny island.
Several hotels and rentals offer excellent accommodation, while a few restaurants serve a wide array of dishes.
As with almost all the small beach towns in Florida, sunsets from here are spectacular.
Sanibel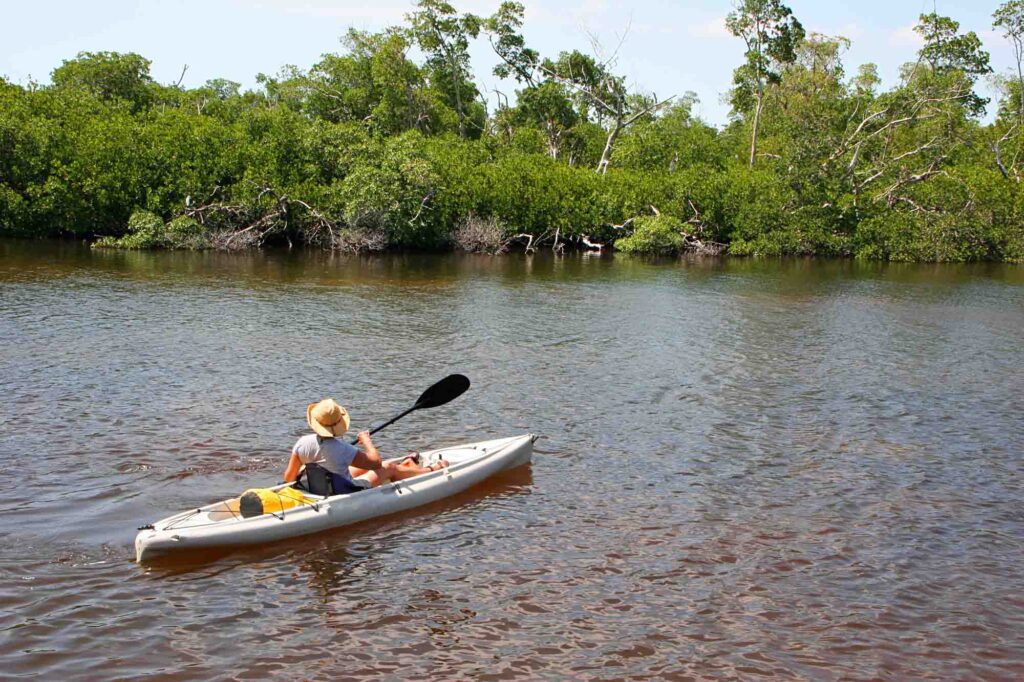 A few miles south of Boca Grande, Sanibel Island is known for the large numbers of colorful shells washed ashore and miles of beaches to swim, fish, or do nothing but laze in the sun.
Great fishing for tarpon, king mackerel, snook, grouper, and redfish can be had from the shore or kayaks and from the various charter boats.
The shore-facing side of the island is home to the JN Ding Darling National Wildlife Refuge, where you could embark on a sunset cruise or kayak, viewing dolphins, pelicans, herons, and countless other bird species. If you're lucky, you may even spot a manatee in Sanibel Island.
As with all small beach towns in Florida, various lodging joins and resorts offer excellent accommodation with plenty of shops and eateries.
Captiva Island
Crossing a short bridge from Sanibel Island, takes you to Captiva Island. This is another narrow strip of paradise, with a beach stretching for five miles, with the southern facing side being lapped by the bluest waters you'll ever see.
Swimming, kayaking, shell collecting (no live shells), taking long strolls, or just soaking in the sun, all in close proximity to the various eateries, beach resorts, and other accommodation joints, make Captiva Island the perfect family vacation destination.
Several artificial reefs and wrecks around Captiva Island attract an abundance of marine life, drawing snorkelers and scuba divers for a unique experience, while numerous species of gamefish offer some of the finest fishing in Florida.
Fort Myers Beach, Estero Island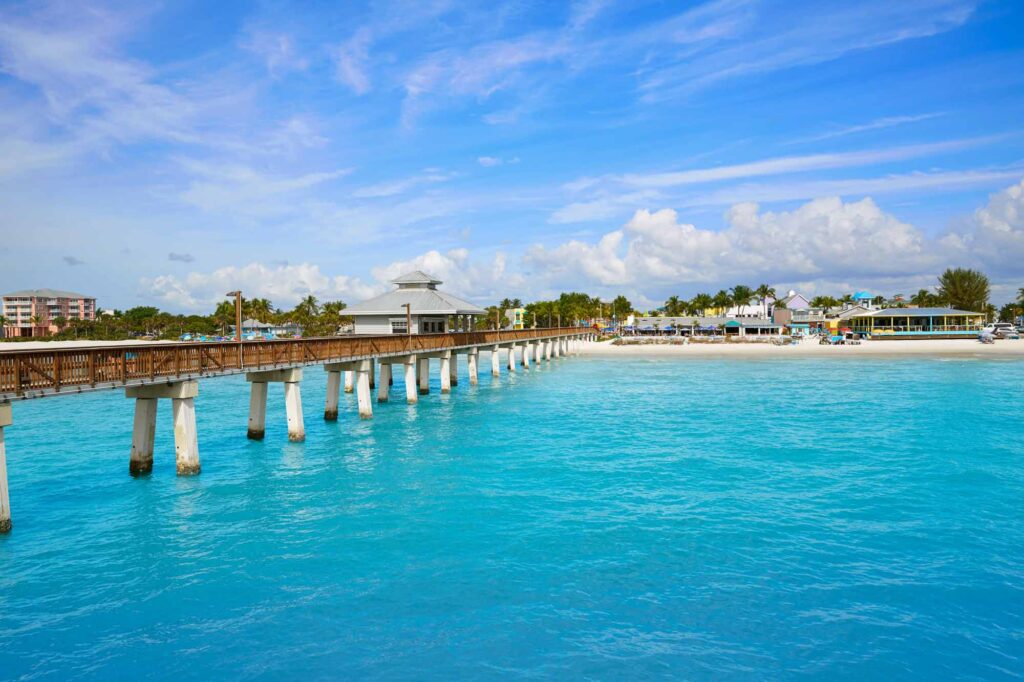 Fort Myers Beach boasts seven miles of continuous beach to stretch out and soak in the sun, take in the beautiful scenery, and feel the laid-back island life.
Take a refreshing dip or a long stroll on the sand and the pier during the day, and in the evening, sit on the sand and let the dusk engulf you as the sun sets across the Gulf of Mexico. Pure magical!
Not precisely a snorkelling paradise, but great for kayaking. Great island views can be seen on the west side while the east-facing side is a labyrinth of fascinating mangrove-fringed tidal creeks. The pier on the main FM Beach is a popular fishing spot.
Hundreds of eateries and bars close by, offer great food choices and night entertainment—all in all, a fantastic beach town in Florida.
Florida Beach Towns
Florida has miles of beach towns for you to discover. Be sure to make your beach town experience more special and shop at local markets, eat delicious seafood in family-owned venues, and enjoy all the Gulf Coast (and East Coast) have to offer.
We assure you these coastal towns in Florida won't disappoint you!