Here are the best beaches in Maui to enjoy the Hawaiian summer vibes!
Commonly dubbed the Valley Isle due to its unique geography, Maui is made up of four different islands that, put together, create a mecca for beaches so beautiful you'll have to blink several times to make sure they're even real!
Home to miles upon miles of pristine coastline, Maui definitely doesn't slack when it comes to providing picture-perfect beaches.
From popular chic resorts where white sand reigns supreme to black sand beaches tucked away inside lush valleys, finding a picturesque beach isn't exactly a challenge when traveling the island.
If you're currently planning a trip to Maui, chances are one of your aims is to check out as many paradise-like shores as possible.
With so many to choose from, picking out where to go can feel a bit daunting, so we decided to round up a list of the absolute best and prettiest beaches in Maui that you definitely cannot miss out on!
Tips for Visiting Maui Beaches
All of Maui's beaches are considered public land, which means you can visit them at ease any time you please (yes, even if there are homes or resorts built along!).
Read every single sign posted at the beach when you arrive – they're placed there for a reason! These signs can indicate if swimming is safe, alert visitors of dangerous shore breaks and strong currents, or indicate if there's any wildlife around you should be careful of.
Always wear a reef-safe sunscreen that doesn't contain harmful chemicals like oxybenzone or octinoxate. The marine life and coral living under Hawaii's waters can very easily be harmed by chemicals commonly found in most sunscreens, so it's incredibly important to play our part in their conservation – starting by not bringing anything that may harm them into the ocean.
Check out the Hawaii Beach Safety site constantly for any updates on conditions and hazards to be aware of.
Remember that waves can be unpredictable, so always keep your eyes on the ocean. If you're not a super strong swimmer or are traveling with children, we recommend heading to Maui beaches known for their tranquil waters or staying on the shore if visiting ones where wave height and strength are more inconsistent.
Each Maui beach is different, and some may boast amenities or not. Research every single beach before your visit to see what you need to bring along with you – some may have restaurants and bars on-site, while others may have no toilets at all!
23 Best Beaches in Maui
1. Hamoa Beach
Located on the winding Road to Hana, Hamoa Beach is a striking crescent-shaped beach made up of soft sand and crystal-clear waters, making it a must-do stop for anyone driving this incredibly scenic drive!
While this beautiful beach is family-friendly, the tide at Hamoa Beach can change pretty drastically, so make sure you keep this in mind if you're not a super comfortable swimmer or are traveling with kids, as there is no lifeguard on duty here.
Read next: 3 Days in Oahu
2. Ka'anapali Beach
Boasting three miles of silky white sand and turquoise water, it's easy to see why Ka'anapali Beach was chosen as Hawaii's first resort and later on used as a model for others around the world.
As you can imagine, it's not a surprise that Ka'anapali is one of the best beaches in Hawaii!
Here, you'll find plenty of amenities, including several hotels and condominium villages, as well as a world-class open-air shopping center, a museum, Hawaiian-inspired entertainment, and two golf courses.
For the ultimate heart-pumping adventure, book yourself a zip lining tour, where you'll get your adrenaline levels up while getting to see a birds-eye view of one of the best beaches in Maui.
For a classic Ka'anapali experience, make sure you linger at Kaanapali Beach till sunset when its cliff diving ceremony is held at Black Rock, its northernmost cliff. Every day, a cliff diver lights torches over Black Rock and jumps from it!
3. Kapalua Beach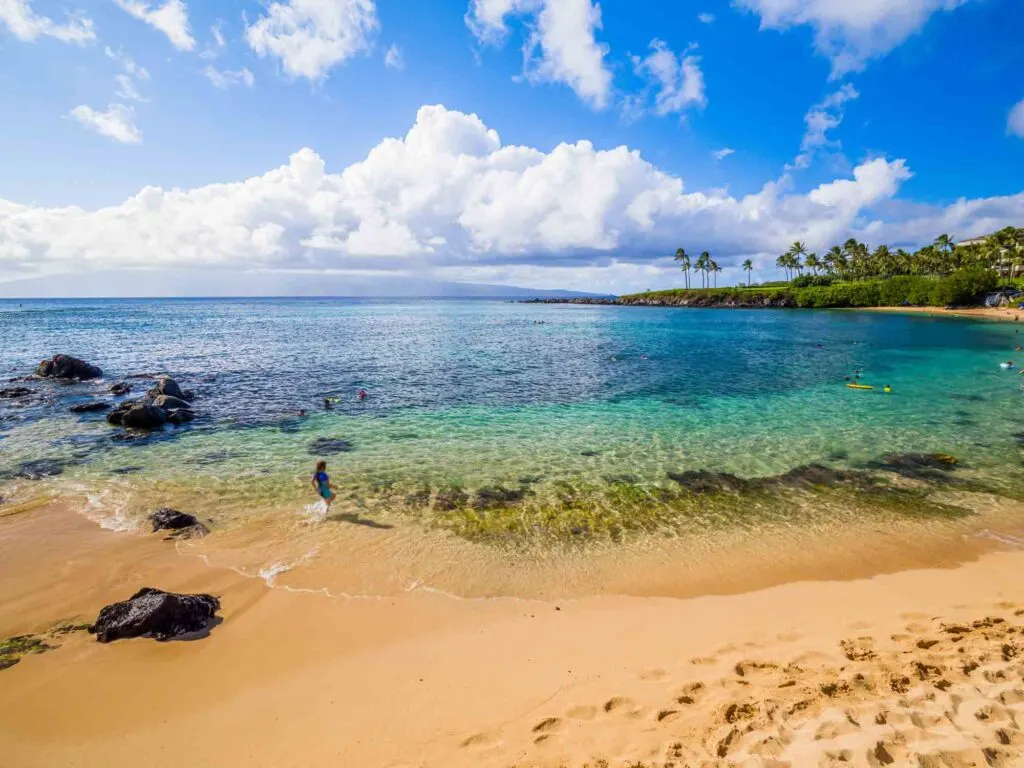 Back in 90s, Kapalua Bay was named America's Best Beach. While the title is now held by another location, it still remains one of the best beaches in Maui and hands-down one of the best places to visit in Hawaii.
Put in simple words, Kapalua Bay is quite likely the epitome of a quintessential Hawaiian beach, with soft golden sand lined by palm trees and water as blue as it can get.
Snorkeling is a dreamy experience to have here, with water clear and calm enough for swimmers to spend hours underwater looking for coral, colorful fish, and sea turtles who love hanging out near the shore.
4. Honokalani Beach
Black sand beaches are almost unique to Hawaii, and Honokalani Beach is quite likely one of the most beautiful of them all.
Located inside the dreamy Wainapanapa State Park just three miles away from Hana, this glorious beach is nestled inside a cove, surrounded by lush greenery and blue waters that provide a pretty interesting combination of colors we guarantee you've never seen before!
Aside from admiring the contrast of colors that nature is capable of, there's plenty more to do in and around Honokalani Beach during your visit.
Make sure you linger a while longer to explore the rest of Wainapanapa State Park, where you'll get to explore lava caves and tubes, see blow holes in action, admire stone arches, and even get the chance to see the largest temple ruins in Hawaii.
5. Hoʻokipa Beach
Known for being home to some of the greatest windsurfing in the world, Ho'okipa Beach is one of the best beaches in Maui and a must-see on the North Shore side.
While this beach is a mecca for windsurfers keen to test their skills, its large surf has also become an attraction for curious gazers.
During the winter months, waves have been known to get as large as 30 feet, creating an insane spectacle as they crash onto the shore of Ho'okipa.
Moreover, this beach is also famous for its friendly inhabitants – Hawaiian green sea turtles (honus). Large groups of them can frequently be spotted here, either popping up from under the water or lounging on the shores, especially at sunset time!
6. Napili Beach
As far as Maui beaches go, Napili is the most visited of them all. Even though it can get quite packed, that still doesn't take away any of its beauty.
Home to a golden white sandy shore and dreamy blue water, Napili Bay is a must on anyone's Hawaii itinerary if a day spent relaxing under the sun and swimming in calm waters is what they're after.
Moreover, Napili is also a popular snorkeling spot thanks to its clear shore and colorful coral under the surface.
7. Kaihalulu Beach
Red tones may not be the first thing that pops to mind when you picture a beach, but that's exactly what makes Kaihalulu the special place it is!
Commonly nicknamed "Red Sand Beach," Kaihalulu is a secret cove with rusty red lava cinder cliffs and sand contrasted against deep blue waters, creating a pretty dramatic coastline unique to the islands.
8. Wailea Beach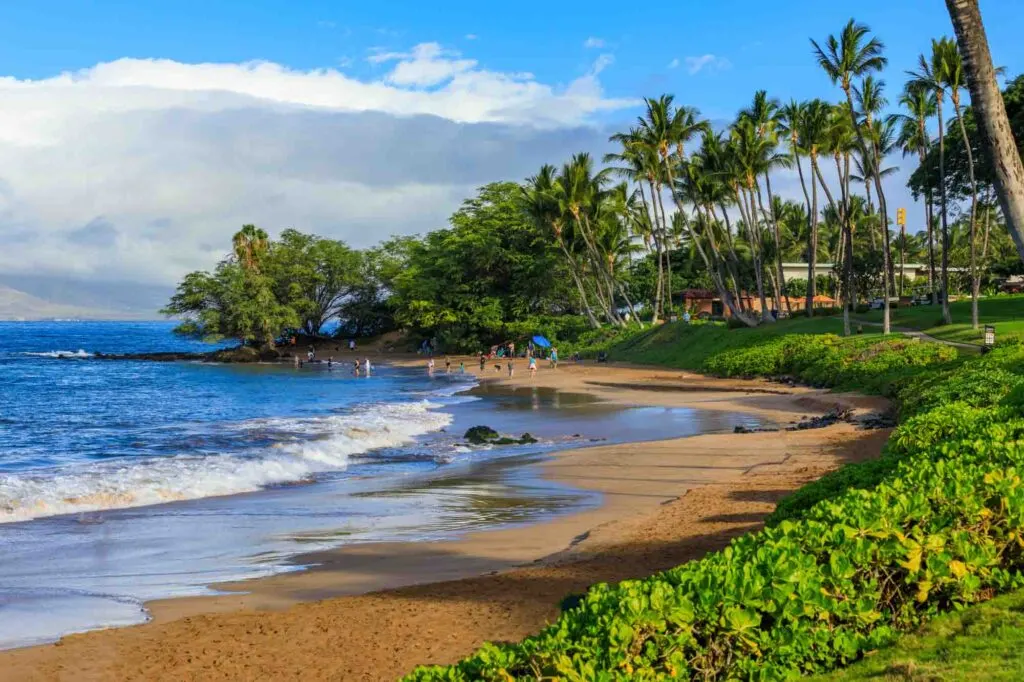 Looking for that chic resort feel? Wailea Beach is commonly listed as one of the best beaches in the entire world, especially for those looking for a day spent amid amenities and a luxurious vibe.
Wailea Beach is part of two of the most famous resorts in Maui, which pretty much means it doesn't lack in facilities, with cabanas available for rent for a day spent sunbathing with a cocktail or two in hand!
Moreover, there are plenty of activities on Wailea's menu, with snorkeling, boogie boarding, and body surfing being just a few of them.
If you're visiting during the winter months, make sure you keep an eye out for migrating whales, as Wailea is known for being a prime spot to catch glimpses of them!
9. One'uli Beach
Oneuli means "dark sands," which is a pretty apt description of what this beach in Maui is all about.
Known for its dusty grey sand created by ground lava, One'uli Beach is a great alternative to the black sand beach at Waianapanapa State Park if a bit more solitude is what you're after.
Even though it's just as beautiful, One'uli is still not as frequented as Honokalani, making it a great retreat that's still close to the main resort areas.
Snorkeling here is pretty fascinating when the water is calm during the winter months in the mornings, so make sure to bring your gear along if you visit Oneuli Beach during this time of the year.
10. Mai Poina Beach Park
Set in the heart of North Kihei, Mai Poina is one of the best beaches in Maui to visit for a relaxing morning (afternoons here can get super windy, so it's not an ideal spot to spend time later during the day).
Long walks are a favorite activity for locals and tourists alike who visit Mai Poina, and its grassy park provides a perfect respite for a picnic.
Stand up paddling is a popular activity to try here during the mornings, and when the afternoon winds arrive, windsurfing takes over!
11. Palauea Beach
More commonly known to locals as White Rock Beach, Palauea Beach is a pretty uncrowded beach where you're more likely to see locals than outside visitors, making it one of the best beaches in Maui if a residential feel is what you're after.
Snorkeling at Palauea is pretty interesting, especially if you head over to the rocky outcroppings at the end of the beach. Swimming is excellent thanks to its calm waters, making it a pretty great beach to visit if you're traveling with kids!
12. Baldwin Beach
Located on Maui's North Shore, Baldwin Beach Park is a gorgeous long white sand beach that's loved by locals in the area!
Here, you can expect to encounter crowds, especially on weekends, but thanks to its large size, finding a quiet spot is a pretty easy feat.
Baldwin Beach is one of the best beaches in Maui to visit if you're traveling with small kids as the water here is calm, and there are two protected swimming areas that offer tranquil pools even babies can swim in (one of them is actually called Baby Beach!).
As an insider tip, if you walk past the cove along the sea wall, you'll find a hidden clothing-optional beach.
13. Kahekili Beach Park
Known for being the lesser-commercialized sister to the more popular beach of Ka'anapali, Kahekili is a wonderful Maui beach to visit if you're looking to stray away from that resort feel but still want to have ample amenities and facilities.
Moreover, because the reef comes right up to the shore at Kahekili, snorkeling here is as easy as it gets, making it one of the best beaches in Maui for first-timers keen to spot different species of fish and even green sea turtles.
During the winter, migrating whale sightings are common from Kahekeli.
14. Kama'ole I, II, and III Beaches
Tucked away in Kihei, Kama'ole Beach Park is made up of three beautiful beaches perfect for a worry-free day spent under the sun thanks to their ample facilities and accessibility.
Because the park consists of three beaches that are only separated by rocky points, Kama'ole is also a great place to head to if a long walk on the coast is your idea of time well spent (and it definitely is at Kamaole Beaches!).
Each beach is pretty similar but can be differentiated for its activities. While one is great for snorkeling, the other one is wonderful for boogie boarding, and the third is known for its facilities.
Take your pick depending on your interests, or spend the day hopping around to experience all three!
15. Pāʻia Secret Beach
Clothing? Totally optional!
Located between Baldwin Beach and Paia Bay on Hana Road, Secret Beach is famed for one thing: nudity.
Paia Secret Beach is a go-to mostly for Maui locals who prefer to, well, let it all hang out!
16. Kanaha Beach
Love watersports? Kanaha Beach is one of the best Maui beaches for just that!
Boasting a two-mile sandy beach backdropped by awe-inspiring views of the West Maui Mountains, Kanaha Beach isn't considered ideal for sunbathing due to airport noises (it's located right next to it), but it's world-renowned for its fabulous kiteboarding and windsurfing opportunities!
17. Spreckelsville Beach
More frequently visited by fishermen and windsurfers, Spreckelsville Beach is a two-mile stretch of beach located between Baby Beach and Kanaha Beach.
It's also a popular spot for aviation buffs due to its close proximity to the airport, which makes it a great place to catch close sights of planes!
While this beach isn't ideal for a relaxing day spent sunbathing, it does have some interesting features nonetheless, including a few tidepools.
18. Ulua Beach
Located amid two rocky points, Ulua Beach is one of the best beaches in Maui, especially for those staying in the Wailea resort area who are looking for a quieter alternative to the more popular Mokapu Beach. It's also a favorite spot for divers, with introductory scuba lessons being offered here in case you want to get your license!
If you're not keen to dive, snorkeling is considered prime here, especially during the mornings when the water is usually calm and spotting colorful coral and fish is a breeze (Ulua actually means "crevalle fish" in Hawaiian!).
Pro tip: If Ulua Beach is jam-packed, head over to Polo Beach.
19. Hana Bay Beach Park
Considered the heart and soul of the town of Hana, Hana Bay is a stretch of dark sand beach that was created as a result of eroded lava that was washed ashore slowly over time.
While most beaches around Hana are considered more pristine and undeveloped, Hana Bay is the perfect go-to if you're visiting with children or simply want a beach with lots of amenities.
Here, you'll find tons of picnic facilities, pavilions, gear rentals, and food stands.
Because it's protected by a pier, Hana Bay is pretty sheltered from the winds, making it great for peaceful swimming.
The pier itself is an attraction on its own, as it offers splendid views of Hana town and provides access to a trail that heads up to Ka'uiki Hill, which stands right at the end of the bay.
20. Launiupoko Beach Park
Shaded by coconut trees and boasting an oceanfront lawn, Launiupoko Beach Park is a favorite for locals and visitors alike.
This beach is a perfect setting to host a beachside picnic or barbeque with glorious views of the ocean and the Kaho'olaw and Lana'i islands in the distance!
The beach consists of soft sand, and the water is perfect for swimming, especially past the low reef when its visibility improves. Moreover, there are three incredible surf breaks, making it a go-to for longboard surfers. Between January and March, whales are pretty easy to spot pretty close to the shore!
21. Keawakapu Beach
Set at the end of the South Kihei Road, Keawakapu Beach is a sandy stretch of beach that's great for swimming, sunbathing, boogie boarding, and walking.
While there is plenty of development at Keawakapu, it is still kept a distance from the beach, which means you'll get tons of peace and quiet during your visit while still having the option to head to a restaurant at any point throughout the day.
Plus, here's a little secret that many visitors to Keawakapu don't know: Back in the 60s, car bodies were dumped offshore, and today, they act as artificial reefs!
If you'd like a unique scuba diving location in Hawaii, this is quite likely it, especially if you're also an antique car aficionado!
22. Makena Beach
As the largest beach in South Maui, Makena Beach is commonly called "Big Beach" by locals and tourists alike.
Boasting 1.5 miles of golden sand that sometimes stretches a hundred feet in width, finding yourself a quiet spot at the seemingly endless shore of Makena Beach is not exactly an arduous task despite its bustling popularity.
While on this South Maui beach, you'll get the chance to snorkel in search of lively marine life, host a picnic under the shade of trees, grab a bite in the food trucks, or swim at ease in its waters when the tide is low.
23. Koki Beach Park
Famous for being the place where most local children in Hana learn to surf, Koki Beach Park in East Maui is a dark red sand beach that dots Hana Highway, the famous Road to Hana.
This beach is a popular spot to host a picnic under the shade of Ironwood trees as well as a famous surfing hub.
While here, you'll get the chance to bask under the sun with fabulous views of Ālau, a small cone-shaped island that is also a sanctuary for 'iwa birds.
Hawaiian legend has it that Koki Beach is where Pele, the volcano goddess, fought her last battle with the goddess of the ocean (Namakaokaha'i) before her spirit traveled to Kilauea, which means it's also an important heritage place for Hawaiian culture.
As a warning, Koki Beach Park is not recommended for swimming due to high waves and rip tides. If you want to swim, you can later head over to Hamoa Beach, which is located less than a mile away.
Final Words on the Best Maui Beaches
We hope this guide to the best beaches in Maui inspired you to plan the perfect beach-hopping itinerary around the Valley Isle!
Despite its relatively small size, Maui brims with glorious beaches, all of which boast their own unique features and activities, which pretty much means you're guaranteed to find a beach to suit your interests regardless of your travel style!
Have you ever been to any of these Maui beaches? If so, which one was your favorite and why?
We'd love to know if you have any other recommendations on other fabulous beaches in Maui to visit, so feel free to drop them in the comment section down below!