If you don't have a Texas bucket list yet, this great list of things to do in Texas will definitely give you incredible ideas!
You might know Texas as the land of barbecue, honky-tonks, and cowboys, but with over 268,000 square miles, Texas is an oasis full of so much more.
Whether you're on the hunt for world-class museums, trying your hand at fine dining, or want to explore some unique natural landscapes, Texas has it all.
It's a great place to spend time, and each time you visit will be filled with different experiences that keep you coming back to the great state of Texas.
Oh, and don't worry, the reputation about the barbecue, honky-tonks, and cowboys still hold true, so you can get some good ole' Texas fun in as well!
33 Fun Things to Do in Texas
Here are some of the best things to do in Texas during your next visit:
1. Escape to the Oasis of the San Antonio River Walk
Hidden in the center of the action is a 15-mile urban waterway that provides visitors and locals an escape under the city.
The San Antonio River Walk, or Paseo del Rio, can be explored by foot or enjoyed via a boat tour; your mode of transportation is up to you, but don't skip this if you're in San Antonio!
Since it's so central to the action of San Antonio Downtown, it fits seamlessly in with a day of shopping, dining out, and admiring historical landmarks like the Alamo.
It's wonderful for those days where you don't want to choose between big city amenities and relaxing in nature.
Read next: Weekend in San Antonio
2. Take a Dip in the Emerald Green Hamilton Pool
If you are wondering what to do in Texas, you'll want to check out Hamilton Pool in Dripping Springs, a vibrant swimming hole formed by a cascading waterfall.
In 1990, the Travis County Commissioner's Court dedicated this area as a preserve, and it has been one of the best places to visit in Texas ever since.
As of recently, swimming in the pool is closed due to falling rocks, but it's a beautiful place to explore and get close to nature.
Even without the swimming, you'll love enjoying the view, snapping some pictures, and soaking in a moment of peacefulness.
There is a short hike down to the pools, so be sure to wear sturdy shoes when you visit.
3. Be Enchanted by Enchanted Rock
For thousands of years, people have been drawn to the size and beauty of this giant pink granite dome that shoots 425ft into the air.
Archaeological evidence shows that humans were visiting this rock up to 12,000 years ago.
Additionally, the local Tonkawa, Apache, and Comanche tribe folklore credits this rock formation for magical and spiritual powers.
Perhaps you'll feel some of the same spiritual connection to this breathtaking natural wonder during your visit; there's only one way to find out!
You can hike, picnic, and even stargaze in the Enchanted Rock State Natural area, either way it is an epic weekend getaway in Texas.
There are many hiking trails in this area, but the Summit Trail will take you to the top of the dome to enjoy 360-degree views.
4. Chase the Bluebonnets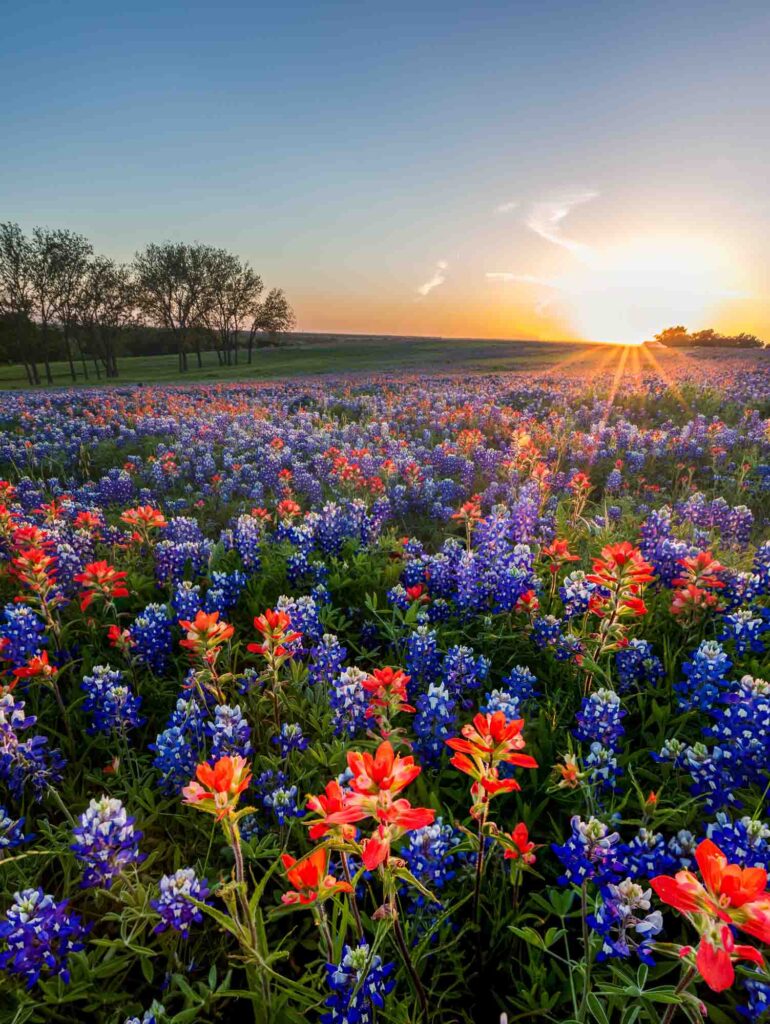 As you drive through Texas, you may notice beautiful blue flowers lining the road in some areas; these blue flowers are the Texas Bluebonnets, and when you know where to find them, they'll take your breath away.
The best place to find the idyllic view you'll love is near the Ennis Bluebonnet Trails, where the Bluebonnets seem to go on for miles.
They're nestled in with stunning greenery and cozy barns, and the perfect picture is just a click away!
Bluebonnets can be found in different shades and are even sometimes white. Chasing Bluebonnets is hands-down one of the best things to do in Texas!
Read next: Most Romantic Getaways in Texas
5. "Wine" Less in the Texas Hill Country
You might actually be "wining" more here with all the different wineries and vast range of wines, but you'll definitely be whining less!
Texas Hill Country features over 50 wineries with different flavor profiles and personalities; there's something for every wine lover.
Move over, Napa, Texas Hill Country is here. After one day spent enjoying these Texas-charmed wineries, you'll be planning your next visit to Texas.
There are also wine tours throughout the year that foster a strong sense of community and offer visitors unique experiences.
6. Witness a "Live" Waterfall at Gorman Falls
Most waterfalls get smaller over time, but Gorman Falls gets bigger due to a high concentration of Carbon Dioxide in the water.
As minerals dissolve, a rock called Travertine forms and makes the falls even bigger.
Over 600 million years, Gorman Falls has grown to 650 ft. wide and 60 ft. tall, and visitors flock to the area to see it.
The Trail to Gorman Falls is 3 miles total and will take you through a desert landscape before you reach the falls. Be sure to start early and bring plenty of water with you.
Read next: Texas Sayings and Quotes
7. Explore Guadalupe Mountains National Park
Covering 86,416 acres, the Guadalupe Mountains is a national park in Texas that shows off some of West Texas' best natural features.
The Guadalupe Mountain Range rises 3,000 ft. above the desert landscape that surrounds them.
Home to El-Capitan, a 1,000 ft. Limestone Cliff, and New Guadalupe Peak, the highest peak in Texas, this range is meant to be admired.
You can explore one of the many hiking trails in the Guadalupe Mountains National Park and take a longer backpacking trip, so it's a great spot for all those who love the outdoors.
If you like to enjoy nature from the comfort of the AC, there are scenic drive routes that can be explored by cars.
8. Find Serenity at the Dallas Arboretum and Botanical Garden
Visitors are often shocked when they discover the beauty of the Dallas Arboretum and Botanical Garden, which is tucked away just a few minutes from downtown Dallas.
This 66-acre escape is filled with 19 different gardens and a number of dining options.
Make sure to take a look at the events calendar before you visit as there are many events held here throughout the year that make the experience that much cooler!
One of the most popular events is Dallas Blooms, the largest floral festival in the Southwest. There's even a children's adventure garden that aims to build a strong connection between nature and the youth of today.
9. Travel Through the Fort Worth Botanical Garden
The oldest major botanical garden in Texas has been captivating visitors with unique exhibits and beautiful gardens since 1934.
Today, the Fort Worth Botanical Garden has 25 specialty gardens like the tropical conservatory, Japanese gardens, and public perennial garden.
To increase research capabilities and funding opportunities, the FWBG partners with the Botanical Research Institute of Texas.
Together, these organizations are on a mission to create one of the leading public gardens in America. See it for yourself, and don't forget to stop and smell the roses.
Pssst: Fort Worth Zoo and Fort Worth Stockyard are 100% worth checking out!
Read next: Best Places to Visit in the Southwest, USA
10. Blast off at the Space Center Houston
This leading science and space exploration center in Houston gives people from all over the opportunity to get a glimpse into what life is like in space, how space stations operate, and more!
The exhibits are interactive and interesting for all ages, so it's a great place for kids to visit as well.
The SpaceX Falcon 9 Rocket now has its own exhibit where visitors can walk beneath one of the vessel boosters and learn how it's helping make space more accessible.
The Space Center Houston is one of the best things to do in Texas if you're looking for an experience that's out of this world.
Read next: Weekend in Houston
11. Bust a Move at Gruene's Dance Hall
This 6,000 sq. ft. Dance Hall is the oldest continually operating dance hall in Texas (established in the 19th century) and is notorious for hosting up-and-coming musicians on its small stage.
When you step foot inside, you'll feel as if you have traveled back in time to an old-fashioned honky-tonk.
You never know who you might see on stage and what they might become in the music industry, so plan on settling in, enjoying some music, and busting a move!
The ambiance is preserved by the original pieces of décor, tin roof, and classic odes to country music, making it one of the most incredible things to do in Texas.
Don't forget your cowboy hat and your dancing shoes if you want the whole experience.
12. Gawk at the Stunning Palo Duro Canyon State Park
Calling all outdoor enthusiasts to Palo Duro Canyon State Park! The second-largest canyon in the United States doesn't get as much credit as the Grand Canyon, but it really should.
You can explore the canyon via foot, car, bicycle, or even horseback. With over 30 miles of trails to enjoy, you're sure to find your own slice of Heaven.
It's an excellent spot for bird watching and geocaching as well, and, during the summer, you can even enjoy an outdoor musical in the park.
Next time you want to explore a giant hole in the earth, skip the Grand Canyon and head to Palo Duro Canyon in Texas.
13. Soak in the Swimming Hole at Krause Springs
The family-owned property that's home to Krause Springs draws in swaths of visitors every year to enjoy the 32 natural springs, some of which flow into a large artificial swimming hole.
If you want to spend a few days enjoying the refreshing water, you can set up camp at one of the primitive camping spots on the property or call ahead to book one of the 24 sites that have water and electric hookups.
There's a waterfall area at the swimming hole where the springs flow into the pool below; this is a great spot to snap a picture or pretend you're on the beaches of Hawaii.
Visiting the Krause Springs is definitely one of the best things to do in Texas!
Read next: 28 Texas Facts That You Need to Know
14. Cool Off in Jacob's Well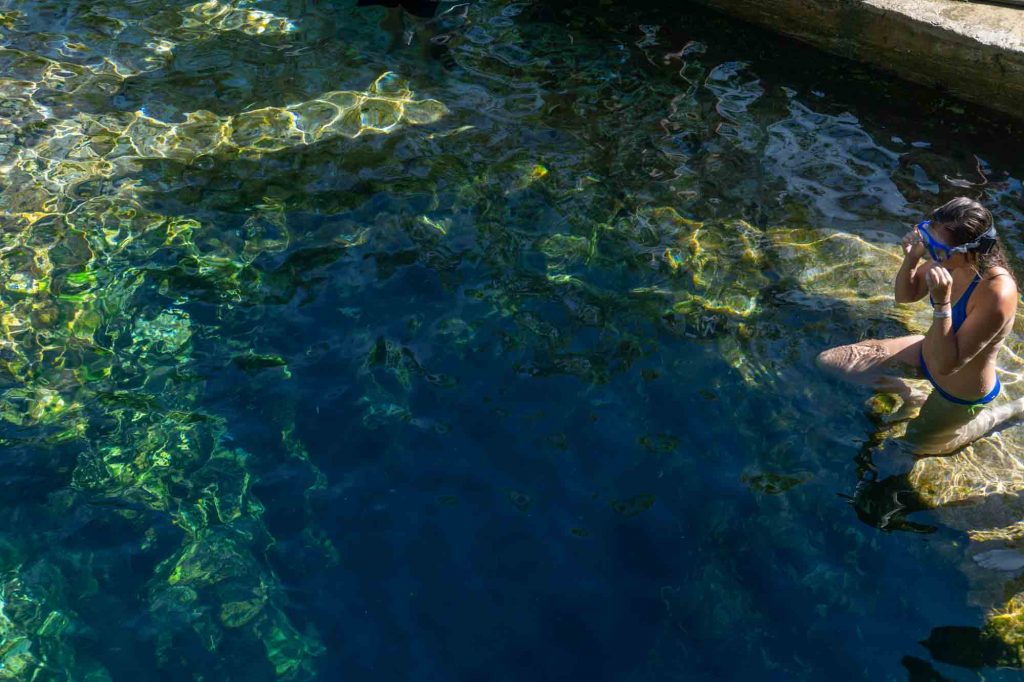 Located in Wimberley, TX., Jacob's Well is a popular swimming hole that provides a much-needed respite from those hot summer days, making it one of the best things to do in Texas.
The area is open for swimming from May – October. Still, in the fall, winter, and spring, the Hays County Parks Department prohibits swimming from allowing the natural ecosystem to rebuild and revitalize.
If you're visiting outside the summer months, you can explore the area and enjoy the view.
You just won't be able to dive in, no matter how refreshing it may look. If you're hoping to swim during the summer, you'll need advanced reservations.
Pro tip: don't be late for your reservation time slot, or you'll have less time to swim.
15. Pay Tribute to JFK at the Sixth Floor Museum
The tragic end of JFK happened at Dealy Plaza in Dallas, TX. While there is no way to change history, the Sixth Floor Museum seeks to honor the legacy of JFK and chronicle the events leading up to his death.
Visitors can peruse the exhibits to get a glimpse into his life and his final moments.
A visit to the Sixth Floor Museum is both shocking and humbling, but there's no better place to gain an understanding of the events that happened on that fateful day since it stands at eh very spot that Lee Harvey Oswald shot the president.
This is a piece of American History that you can't miss when visiting the Dallas area. Be sure to include a stop here when you're planning what to do in Texas.
Read next: Weekend in Dallas
16. Be Inspired by the Dallas Murals
Over the last decade or so, the art scene in Dallas has exploded, especially the street art scene.
All over the city, visitors can enjoy unique works of art that are larger than life.
These Dallas murals have become popular spots to take Instagram pictures and are filled with vibrant colors and meaningful quotes.
If you're looking to get inspired in Dallas, all you have to do is look around. With the street art scene at its peak, you're never too far from a Mural when you visit Dallas.
17. Get Your Kicks on Route 66
This iconic highway that passes through multiple states in the US showcases 186 miles of pure Texas energy as it passes through the Lone Star State.
Not only is this a major attraction throughout the country, but it's also one of our favorite Texas attractions.
Crank up the music, put your foot on the gas, and enjoy the sights each new stretch of road brings.
You'll love getting gas from the Phillips 66 Gas Station in McLean, TX., one of the first gas stations in the state.
Make sure to snap a "Leaning Tower of Pisa"-style photo with the leaning Britton USA water tower near Groom, TX.
18. Take a Tour of the Texas State Capitol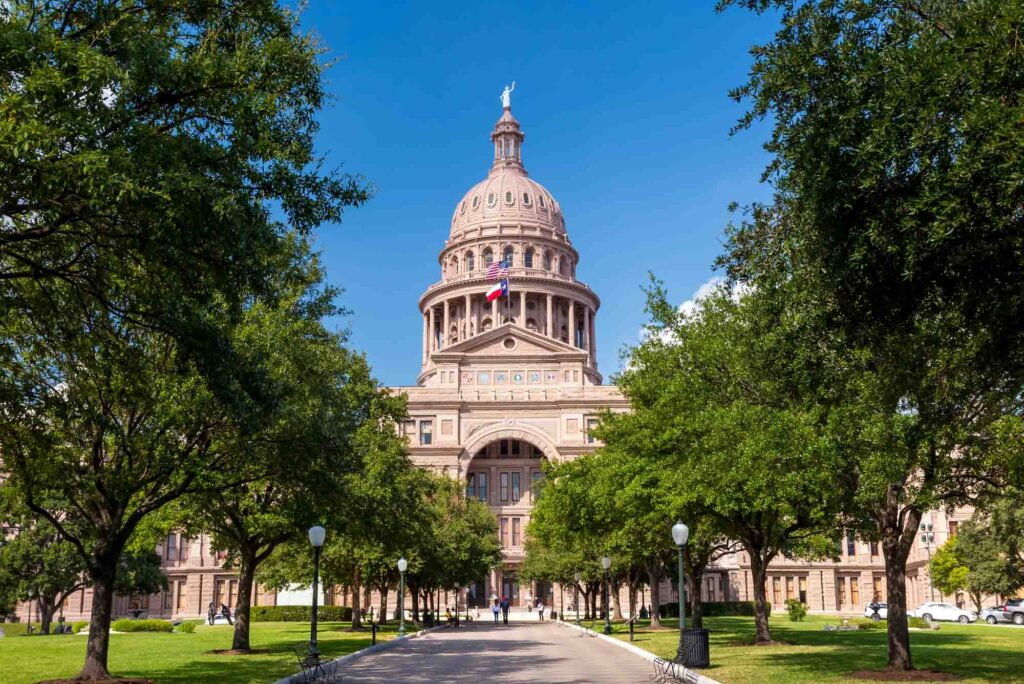 When planning your vacation and deciding what to do in Texas, visiting a government building might not make it to the top of your list.
While that's understandable, the Texas State Capitol in Austin isn't like other government buildings.
It is surrounded by beautiful grounds, has detailed architecture that will surprise you, and boasts some pretty great places to grab a bite to eat.
You can even book a tour of the Capitol Building to learn more about the history of Texas and how it operates today.
Pssst: Don't miss the Mexican free-tailed bats from April to October at the Congress Bridge Bats!
19. Splish Splash on Lake Travis
Whether you're native to Texas or visiting from out of town, Lake Travis is a popular place to enjoy watersports, boat tours, and a floating obstacle course.
There's so much to do that you'll never get bored, and you'll never want to leave.
If you're looking for more adventure, Lake Travis has a zipline so you can enjoy the view from above while and lay on a private beach afterward.
For those that get tired of this Texas lake (if that's possible!) but still want to cool off on a hot day, head over to the Volente Beach Resort and Waterpark.
With no shortage of ways to cool you off, the Lake Travis Area is one of the best Texas attractions for your summer vacation.
20. Find Your Thrill at Schlitterbahn
With two locations in the state, there's double the fun at this epic Texas waterpark! With its iconic name and crazy water rides, Schlitterbahn has made a splash and become one of the best things to do in Texas.
It has rides fit for all ages and thrill levels, including a water coaster and lazy river, so your perfect waterpark day is never out of reach.
Whether you have a kid trying to have some fun or you're reliving your childhood memories, Schlitterbahn is the perfect spot to post up during the hot summer months.
21. Appreciate the History of The Alamo
Oh, the history these walls have seen. To fully appreciate Texas history, US history, and world history, you need to make a stop at The Alamo.
This Spanish Mission was once a live battleground, and bullet holes from the 1836 battle can still be seen today.
Not only is this a free-standing piece of history, but it has been turned into a magnificent museum that honors all that happened within the walls of The Alamo, as such, it is a must-visit place in the US.
With multiple exhibits, hands-on experiences that showcase life in the 1800s, and more, The Alamo is a wealth of information that you can't miss.
22. Visit the Underworld at Natural Bridge Caverns
It's truly mind-boggling that single drops of water have formed some of the most unreal natural formations of our time; the Natural Bridge Caverns in San Antonio, TX, showcase the passage of time and the power of nature.
Guests can enjoy guided tours that range from walking tours to tours where special gear is needed and getting down and dirty is expected.
Once you have admired the caverns, head back above ground to mine for gems, conquer an adventure course, and get lost in a maze. Nature combined with family fun makes this one of the best things to do in Texas!
23. Discover New Art at the Dallas Museum of Art
As one of the largest art museums in the country, the Dallas Museum of Art is one of the best Texas attractions for art lovers.
Showcasing work from local artists and artists from all over the globe, the range of exhibits will have you in awe the entire time you're there.
To make things even better, the Dallas Museum of Art is constantly adding new art and refreshing exhibits, so each time you visit, you'll fall in love with a new work of art.
They also offer a ton of classes and workshops, so make sure to take a look at their calendar before your visit.
24. Embrace the Odd at Terlingua
This quirky small town in West Texas is home to about 300 permanent residents but brings in huge numbers of tourists who want to admire this odd community surrounded by natural wonders.
On your visit, explore this small town in Texas, chat with the locals, and book a guided river tour to get the full experience.
If it's not too hot, make the trek to the nearby Boquillas Hot Spring and have a relaxing soak.
This is especially adored by hikers who spent a day or two enjoying the area on foot and need a warm soak for their tired muscles.
25. Jet Off to the Tropics of South Padre Island
You don't have to hop on a plane to feel like you're cruising through the tropics; South Padre Island is just a day's drive from major cities in Texas.
What began as a popular spring break destination has turned into a highly sought-after vacation spot in Texas for families from all over North America.
Head out onto the water for extreme sportfishing or dolphin watching or spend a day relaxing on the beach.
Whether you want to go, go, go or sit, sit, sit, South Padre Island takes the cake for having some of the best things to do in Texas!
26. Release Your Inner Adventurer at Big Bend National Park
If you're wondering about the best things to do in Texas, this is an absolute chart-topper.
The Park has labeled itself as a "1,100 square mile playground and classroom," and that couldn't be more spot on.
When you visit, you'll get to experience the vast difference between rivers, deserts, and mountain landscapes, and enjoy each one to the fullest.
The world is at your fingertips at Big Bend National Park; whether you choose to spend the day hiking, swimming, going to the visitor center to learn more about the park, or simply observing, Big Bend will be the reason you fall in love with Texas.
Our favorite Texas trails? Santa Elena Canyon, Lost Mine, and Window View!
27. Enjoy Big Food, Big Rides, and Big Fun at the Texas State Fair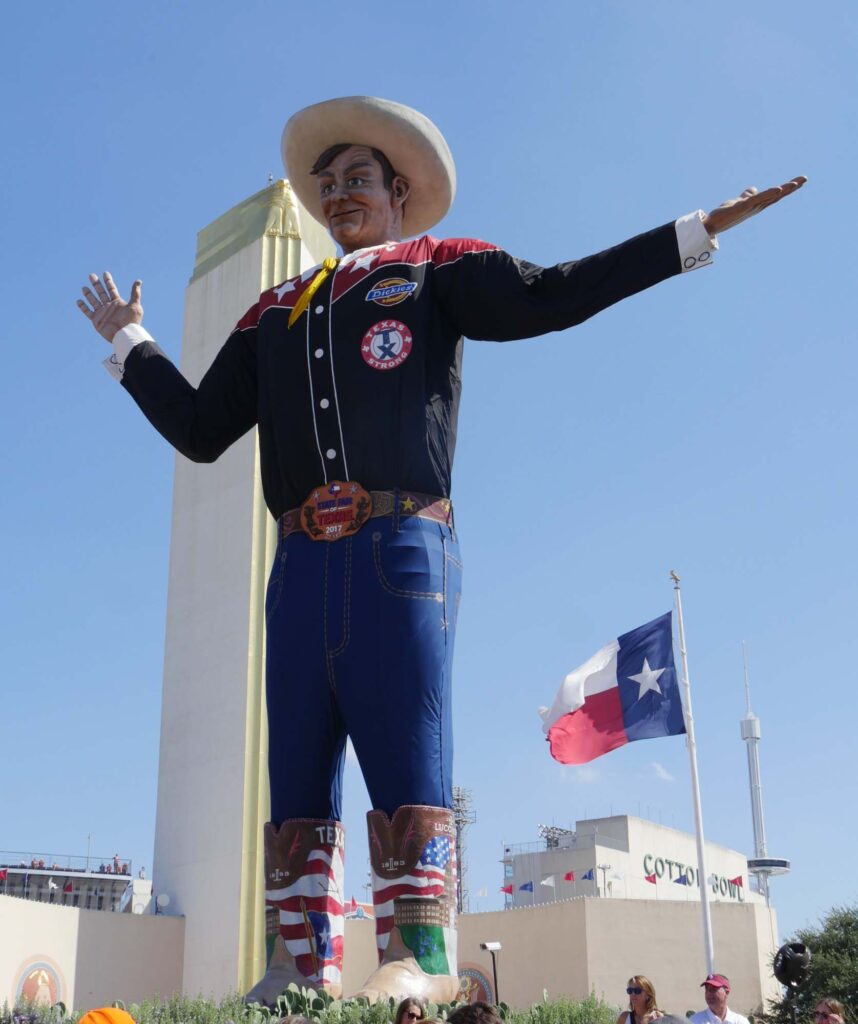 They say everything is bigger in Texas, and it might just be the Texas State Fair that started that trend.
With 24 days packed with all the fried food you could want, rides that will make your head spin, and events that will have you counting down the days until next year, the Texas State Fair is one of the best things to do in Texas if you're visiting during September or October.
If you have any trouble finding the 277-acres of fun, just look for the 55-foot tall cowboy that greets you at the fair gates!
28. Row Through the Cypress Trees of Caddo Lake State Park
When you visit Caddo Lake State Park on your Texas road trip, it's hard to believe that the giant bald Cypress Trees and winding bayou landscape are in Texas, but this is an East Texas gem that is worth a visit!
This is a great spot for fishing, canoeing, boating, and hiking, but just make sure you're well versed in alligator safety before you go.
To get the full Caddo Lake experience, book one of the 46 campsites so you can enjoy the interesting scenery in no hurry.
If you want to learn more about how this spot came to be, join one of the ranger programs to hear from the experts.
29. Roll Up Your Sleeves for Central Texas BBQ
Texas BBQ began with Central Texas BBQ, which is a technique that uses a dry rub and smokes the meat at a low temperature for a long time.
This BBQ will melt in your mouth and keep you coming back for more. There are many places to find great BBQ in Texas, but Central Texas BBQ in Pearland, TX has been using this technique since 1969.
You can't go wrong with their perfectly prepared meats and homemade sides. Just make sure you show up hungry!
30. Find Fall Colors at Lost Maples State Park
You don't have to travel all the way to New England to experience the stunning oranges, reds, and yellows of autumn.
Visiting Lost Maples, a state park near San Antonio, is one of the best things to do in Texas during the fall.
Drawing over 30,000 visitors in November, this park is popular for a reason. Be warned, you'll need to buy a day pass ahead of time if you want to visit during the fall.
The season is so busy that you'll get turned away without one. Once you have your day pass, lace up your hiking boots, charge your camera, and go jump in some leaves!
31. Fly Over the Water at Pleasure Pier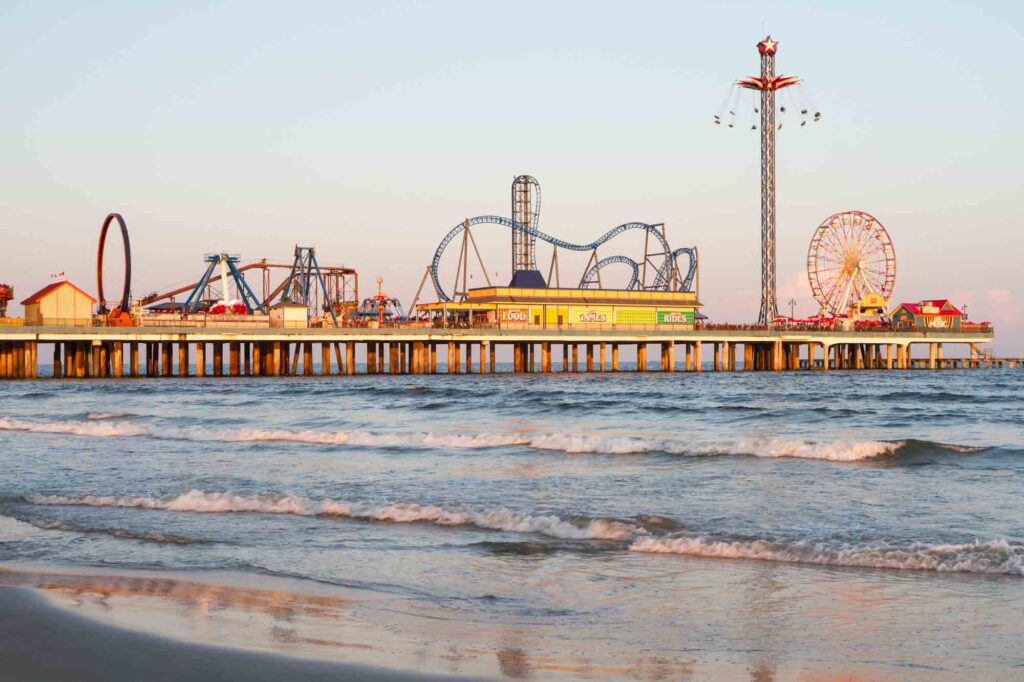 People flock to the beaches of Galveston because the water is warm and the sunshine is plentiful, but one added bonus is Pleasure Pier.
This waterfront theme park will make your perfect beach day even better. You can hop on the Texas Star Flyer or test your bravery with the Iron Shark Rollercoaster, all while enjoying the sound of the waves rolling in!
There are plenty of games to play and fair-style food to eat when you get hungry.
If you're tired of normal beach days and want one that you'll never forget, Pleasure Pier is waiting for you!
Want more exciting things to do in Galveston? Head over to Moody Gardens, one of the most popular tourist attractions in this beach town that is a huge complex with an amusement park, aquarium, and more!
32. Day Trip to the Painted Churches of Texas
Scattered around Texas, there are churches that look like nothing special from the outside but are artistic masterpieces on the inside.
These churches date back to when Czech and German immigrants arrived in Texas in the late 1800s and early 1900s.
If you're a churchgoer, you can attend a service at one of the many painted churches, or if church isn't your thing, you can simply admire the beauty inside each of them.
There are maps of where all the painted churches are, so make a day out of it! Visit one or visit them all, but visiting the painted churches is one of the best things to do in Texas.
33. Become Royalty at Castle Falkenstein
While this castle is styled in fairytale fashion and resembles the iconic castles of Bavaria, it's actually right here in Texas. In 1995, a businessman named Mr. Young and his wife visited Europe to tour the great castles that call Europe home. T
hey were so impressed by one of the castles that they flew home and spent the next decade building a castle in Texas.
Today, the castle is available for private events and weddings, as well as daily room rentals.
Yes, you read that right, you can spend a night in the castle and feel like royalty!
Final Thoughts on What to Do in Texas: Texas is Bigger AND Better
Are you convinced to plan your next trip to Texas? The only right answer here is, "yes."
If you're looking for unique experiences, delicious food, and incredible memories, then Texas is just what you need.
These are some of the best things to do in Texas, but there's probably even more! Texas is an underrated gem, so go discover before more people do.
If you plan it right, you can make it to a few of these places in one trip, making it all the more worthwhile to head on down to Texas!
Did you enjoy this article about the best things to do in Texas? Then share it with a friend who might enjoy it too!