Planning an Arizona road trip but not sure where to start? If you're currently on the plotting stages of a road trip through the Grand Canyon State, chances are you're feeling pretty overwhelmed trying to decide what to see and what to do.
If you only have 10 days to dedicate to your road trip in Arizona, fitting everything in might feel like a challenge, but if you're willing to put your heart into it, you'll definitely be able to cover a ton of ground in that time!
From the sparkly-looking landscapes of Petrified Forest National Park to the sweeping views of Sedona's desert magic and the mighty Grand Canyon, this road trip in Arizona will have you seeing a ton of the state, including its biggest highlights and bucket list-worthy attractions!
Best Time for an Arizona Road Trip
Spring and fall are hands down the best seasons for an Arizona road trip. Both seasons offer pleasant temperatures all over the state, so either option will do the trick.
Crowd-wise, the months of March, April, October, and November tend to be low-season.
March and May are lovely months to visit in terms of temperature and because Arizona gets carpeted by blooms during that time.
Come May, the number of visitors starts to rise, but crowds are still relatively small.
As a tip, we recommend avoiding planning your Arizona road trip during the summer months.
Not only do significant sights get incredibly crowded (and prices rise), but if you visit during this time, expect to share the views with vast hoards of people.
Plus, June to August is considered the rainy season, which does bring some relief from the heat but can limit activities.
You might want to consider the America the Beautiful Pass if you plan on visiting 3 or more national parks within 12 months. This national park pass saves you money on entrance fees, including Saguaro and Petrified Forest, mentioned in this itinerary. Click here to buy your pass!
10-Day Arizona Road Trip
Pssst: Before you start your road trip, you might want to rent a camper van to get the ultimate road trip experience! Click here to rent a camper van!
Here's your 10-day itinerary to discover Arizona:
Day 1: Tucson and Saguaro National Park
As one of Arizona's most emblematic cities, Tucson is the best place to begin road tripping through the Grand Canyon State.
Because it sits in the middle of the Sonoran Desert, Tucson boasts a quaint desert town charm that makes the city's vibes feel super unique.
Aside from that, it's also a cultural hub with quite a few historical landmarks, museums, art galleries, restaurants, and golf courses galore.
A few spots worth visiting on the first day of your Arizona road trip include the Arizona-Sonora Desert Museum, which features fantastic desert flora and fauna, as well as the Franklin Auto Museum, which has more than 20 antique automobiles.
Other great attractions worth checking out are the Mini Time Machine Museum of Miniatures, the Tucson Desert Art Museum, and the Arizona History Museum.
If you're into aircraft, visit the Pima Air and Space Museum, and if you're a cinema buff, pop by the former old western movie sets at Old Tucson Studios.
After getting your fill of Tucson, you can officially begin your road trip in Arizona by heading to Saguaro National Park. (Passes here.)
This unique place is home to giant saguaro cacti – the only ones found in the wild in the United States!
These species of cacti are nicknamed the "Kings of the Sonoran Desert," and you'll find tons of perfectly-preserved saguaro forests all over the park.
Some of them tower up to 50 feet and can live up to 200 years!
Saguaro National Park is divided into Saguaro National Park East (Rincon Mountain District) and Saguaro National Park West (Tucson Mountain District).
Read next: Best RV Park in Sedona
Tucson just happens to be located in the middle of both parts, which makes it very easy to drive to either side of the park.
During your first day at Saguaro, we recommend driving from Tucson to Saguaro National Park West, a short 16-mile road where you'll get the opportunity to take in views of the beautiful desert landscape.
Once you're set inside the park, you can give the King Canyon/Cloud Mine Loop a try. This hike is famed for being one of the best trails in the park, thanks to the gorgeous scenery that will keep you company along its 2.4 miles.
A few of the things you'll get to see include looming cacti, stunning red rock formations, and even a hidden mine shaft if you know where to look!
Once you complete the loop, hop back on your car and drive the Bajada Loop Drive, a 6-mile long road that will allow you to see lots of concentrations of saguaros.
Midway through the drive, you can park your car at the Signal Hill Trailhead.
This hike is only 0.3 miles, but it's dotted with stunning petroglyphs from the Hohokam people that will give you a pretty good picture of what life was like in the desert thousands of years ago.
As a tip, Saguaro National Park is a splendid place for amazing sunsets, so make sure you linger around for that.
For the ultimate spot to bid the day goodbye, head to the Hugh Norris Trail, where you'll get to see a fabulous light show of golden glows and towering saguaros.
Distance between Tucson and Saguaro National Park East: 15.9 miles
Where to Stay in Tucson
Day 2: Saguaro National Park and Drive to Holbrook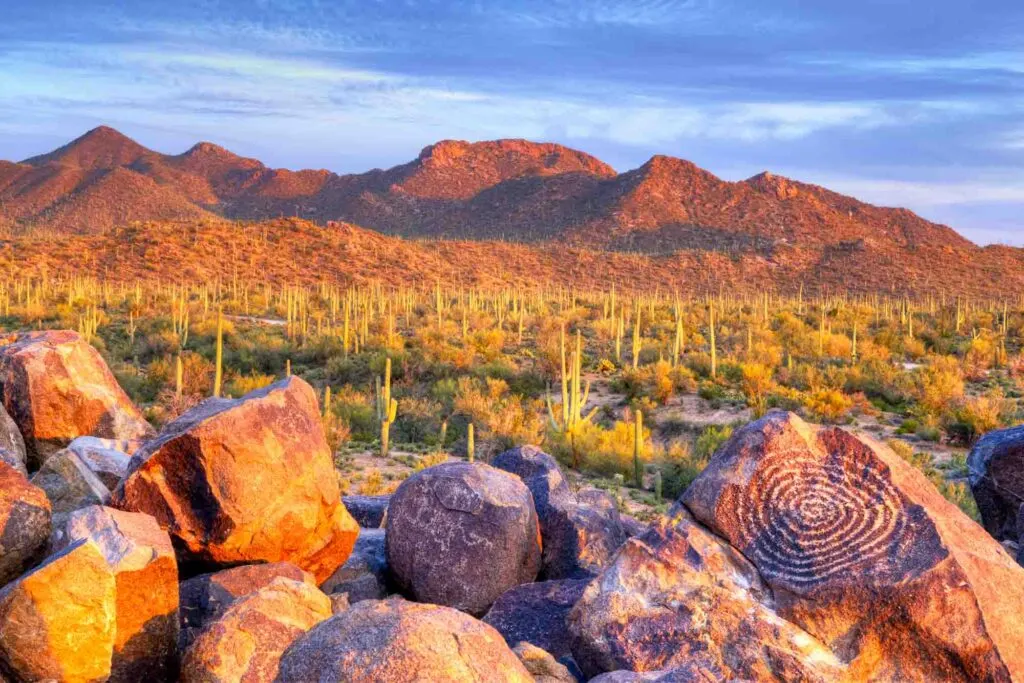 The second day of your Arizona road trip will be all about taking in the beauty of Saguaro National Park East before resuming your journey to Holbrook.
Start the day by hiking the relatively easy 3.7 mile Mica View Loop Trail, where you'll see lots of lovely wildflowers and friendly birds.
Then, you can rest your legs with a gorgeous scenic drive along Cactus Forest, where you'll get to the Javelina Rock Overlook, where you'll spot gigantic cacti.
After lunch, head north to Holbrook. This drive will take you across the most beautiful desert landscapes you can imagine, some of which can get quite remote and otherwordly-looking, so make sure you set time aside to take in the views!
Depending on what time you arrive at Holbrook, you might still have some time to do some sightseeing before dinner.
This charming town is a strange combination of the Wild West and Route 66-style Americana roadside kitsch.
Holbrook started out as a town of railroaders, cattlemen, and outlaws. Today, it is a city full of Native American culture, Hispanic roots, and pioneers from all walks of life.
You won't have much time left to explore, but do make sure to check out the Bucket of Blood Saloon and the Blevins House, both of which provide a glimpse into the town's ruthless past.
Distance between Saguaro National Park and Holbrook: 237 miles
Where to Stay in Holbrook
Day 3: Petrified Forest National Park
As its name suggests, Petrified National Forest (passes here) is home to trees that were dragged millions of years ago when severe floods hit the area.
These trees were subsequently buried by silica-rich ash produced by a myriad of volcanic eruptions during that period of time. The water eventually crystallized the silica, which turned them into shiny quartz.
Nowadays, the logs exposed over time can be seen again, making the landscape seem like a rainbow of glittering colors that give the park's main attraction, The Painted Desert, its name.
The park is not too big, so it can be explored in less than a day. The easiest way to get the most out of your visit in a short time is by hopping on your car and driving the park's scenic road.
If you'd instead get a closer look at the sights, there are many hiking trails available that will make you feel as though you're walking on a completely different (and super sparkly) planet!
The main highlights of Petrified Forest can be ticked off in a few hours.
After you're done taking them in, hop back on your car and head towards the next destination in your Arizona road trip itinerary: Monument Valley.
Prepare for a somewhat long drive, but the views along the way make it absolutely worth it!
Where to Stay in Holbrook
Day 4: Monument Valley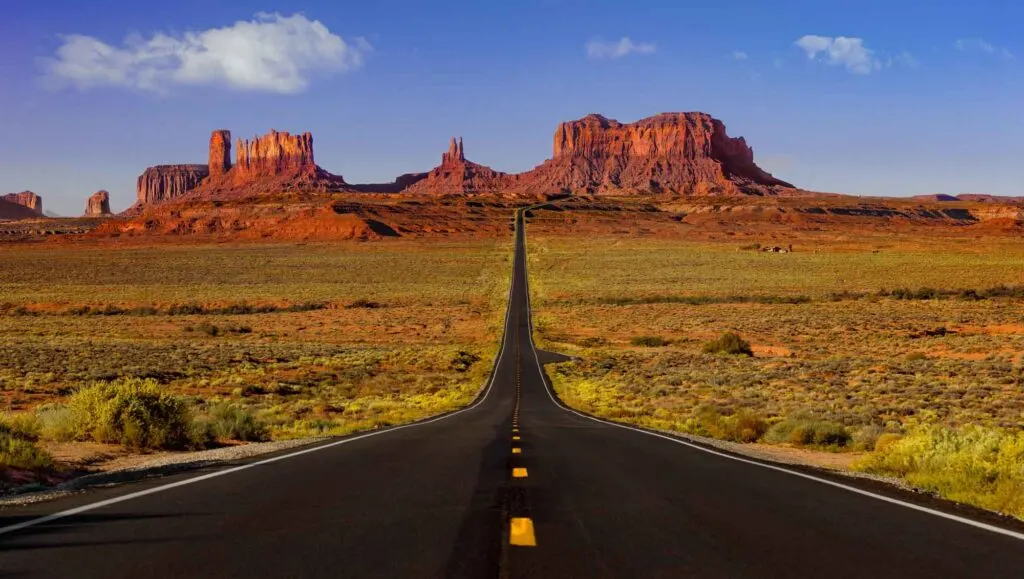 Day four will be spent entirely at Monument Valley, one of the best places to visit in Arizona. Yep, it may seem like a lot of time, but there really is a ton to see and do here!
In fact, we recommend spending the night in a cabin to get the whole desert experience before continuing onwards on your Arizona road trip.
To start the adventure, drive the 17-mile Valley Drive Loop, which will have you seeing some of the highlights of Monument Valley.
Aside from that, other cool things to do in the Monument Valley region include checking out the Forrest Gump Point, watching the sunset over the Mittens, detouring to Valley of the Gods, and taking a guided tour through the Navajo Country, which includes sunset photography tours, petroglyph sightings, and other off-the-beaten-path adventures.
Be aware that attractions inside Navajo country can only be visited with a guide, so it's best to make reservations ahead of your visit.
Where to Stay near Monument Valley
Day 5 and 6: Horseshoe Bend, Antelope Canyon, and Lake Powell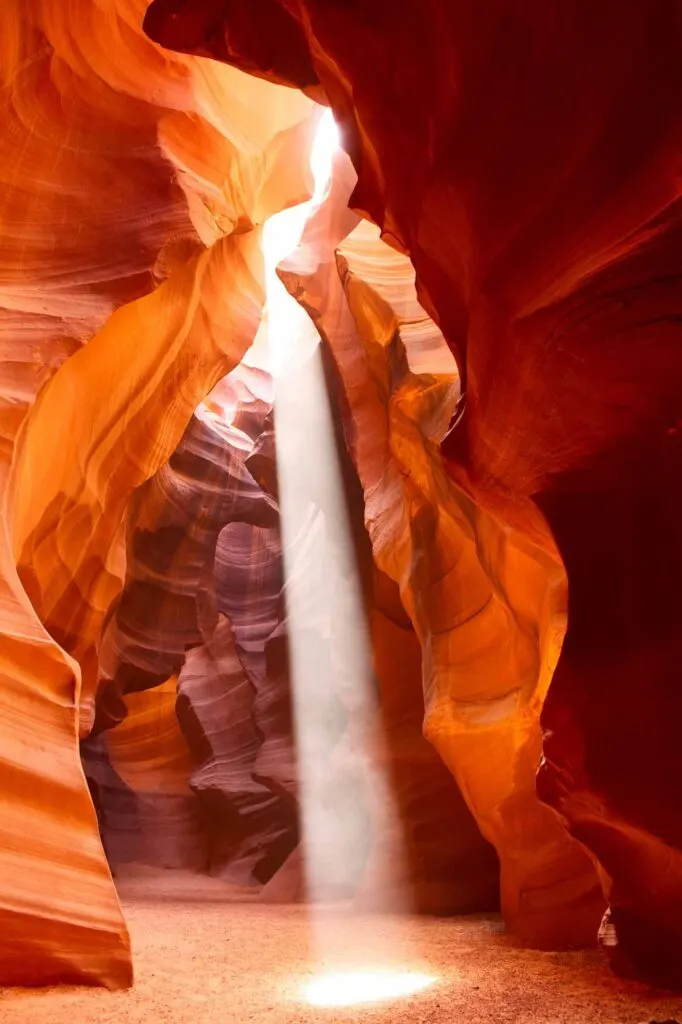 Hit the road early to arrive as early as possible at Antelope Canyon, one of the most striking slot canyons in Arizona and the entire world, for that matter!
Antelope Canyon consists of two different canyons, the Upper and Lower Antelope.
Upper Antelope Canyon is more popular because it's more photogenic, thanks to its sunlight beams, high canyon walls, and falling sands.
Lower Antelope Canyon is also incredibly stunning, but it is a lot narrower, so you'll have to squeeze through some parts and climb a few ladders, making the hike more entertaining.
We recommend doing both hikes to get the most out of your visit to the Antelope Canyon!
Read next: Best Places to Visit in the US
In the evening, you can stop at Horseshoe Bend to watch a spectacular sunset.
This perfect meander shaped like a horseshoe drawn by the Colorado River requires a short, easy hike, but it is well worth the small effort.
Afterward, you can spend the night in one of the different options the nearby city of Page offers.
Day 6 is a bit different from the rest, as it will take you to Lake Powell, which provides a totally different landscape to what you've gotten used to on your road trip in Arizona so far.
Set inside Glen Canyon, Lake Powell is a gorgeous lake unlike anything else you've seen before. Sun rays stream through the canyon's rock formations, providing a pretty dramatic setting for Lake Powell!
This is an excellent spot for water sports, including water skiing, wakeboarding, tubing, and fishing, so take your pick!
Hiking one of the easy-to-moderate trails is another popular outdoor activity, and you might even spot some wildlife along the way if you keep your eyes open.
We recommend spending sunset here to bid the day goodbye. There are several campsites on-site as well as houseboats for rent where you can spend a truly memorable night in.
If you prefer, though, you can start driving towards Tusayan, a friendly village in the Kaibab Forest located only one mile away from the entrance to the Grand Canyon, which is your next stop on your Arizona road trip.
Where to Stay in Page
Day 7 and 8: Grand Canyon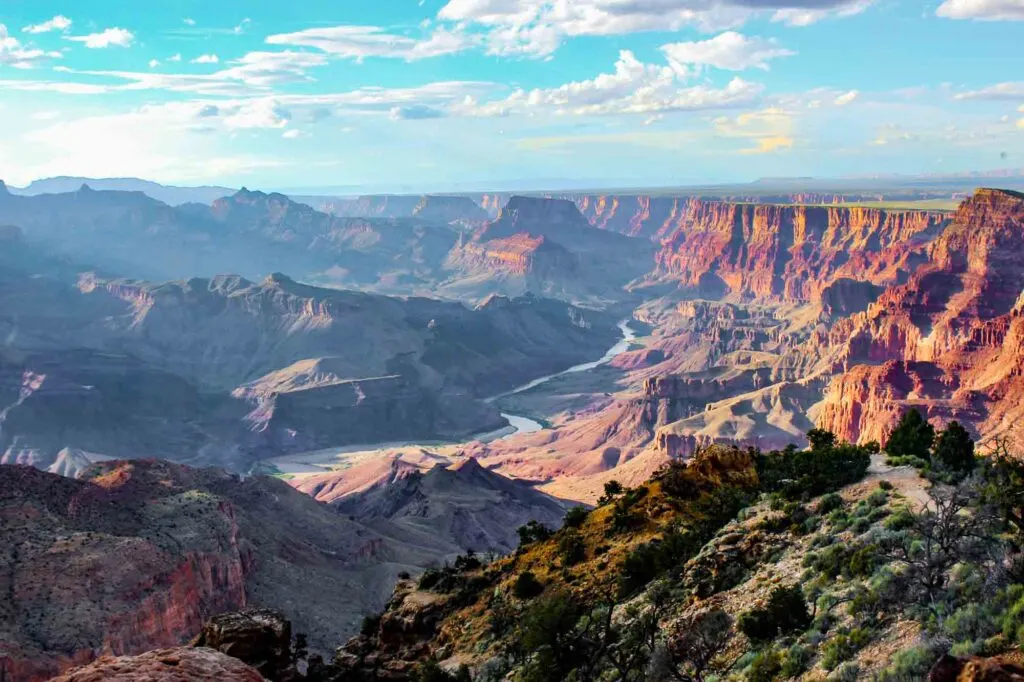 The Grand Canyon is one of the most emblematic sights in the United States and a Natural Wonder of the World, so it is an absolute must on any Arizona road trip.
Being over 200 miles long, at least two days are necessary to explore it fully (in fact, a lifetime would probably not be enough to explore the Grand Canyon thoroughly, but two days is enough to get a pretty good idea of what this majestic destination is all about!)
Because the Grand Canyon is located at a pretty high altitude, day 7 will be all about taking things slow to acclimatize before moving on to more challenging hikes.
An excellent option for this is traversing the Rim Trail, which combines a bit of hiking, some biking, and a shuttle. You can also hike it, but you won't be able to do it in a short time, so we recommend doing the former!
The Rim Trail is a wonderful introduction to the Grand Canyon because it will take you through the dramatic changes in landscapes it boasts as you make your way through the rim.
When you get to the Grand Canyon, rent a bike at the visitor center (South Rim) and drive on the greenway trail all the way to Yaki Point.
Along the way, you'll have plenty of excuses to stop for a bit to catch your breath at plenty of viewpoints.
Drop your bike off at the visitor center and head out on foot to Mather Point, which is only about five minutes away. This is the most popular lookout point in Grand Canyon, as you can see in all directions!
From here, you'll have to hike for about 2.5 miles along the rim, a beautiful trail that will take you to a shuttle stop.
The shuttle will take you to Hermit Road, but there are plenty of stops worth making along the way, including Trailview Point, The Abyss, and Hopi Point.
Shuttles run every few minutes, so you can get on and off at any of these points and hop back in on the next shuttle.
Once at Hermits Rest, admire the structure and head back to Hopi Point in time for sunset – it's one of the most awe-inspiring spots in the Grand Canyon to see the sun go down!
On day 8, you'll get the chance to tackle one of the best trails in the Grand Canyon: the South Kaibab Trail.
This is a 7.1-mile trail (one way), but what makes it great is that you can customize it as there are plenty of turnaround points. We recommend aiming to get to Skeleton Point and turning back there (3 miles in).
After conquering the South Kaibab Trail, it's time to relax your legs and do some scenic driving in order to check out other viewpoints of the canyon.
It's a 22-mile drive that will have you stopping at some of the most famous lookout points in the canyon, including Moran Point, Grandview Point, and Desert View.
If possible, try timing this drive to get to Mather Point for sunset – the colors of the canyon pop as the sun's rays dip, which creates a truly fantastic spectacle you're not bound to forget any time soon!
Ps: Attractions in the North Rim include North Kaibab Trail and Ribbon Falls.
Where to Stay at Grand Canyon
Day 9: Barringer Crater and Sedona
Next on your Arizona road trip is a stop at Barringer Crater, the best-preserved meteor impact site in the entire world.
Set a mere 37 miles away from the city of Flagstaff, this crater measures over 4,000 feet in diameter and has a depth of 560 feet!
Aside from getting awe-struck by the size and beauty of Barringer Crater, the drive to get to it is an adventure in itself as well.
Along the way, you'll find plenty of activities, including an immersive 4D experience room, a discovery center, and several guided tours to help you learn more about the meteorite that impacted Earth some 50,000 years ago.
After seeing a meteor crater with your own eyes, it's time to continue onwards to one of the most exciting destinations on your 10-Day Arizona road trip: Sedona!
This beautiful region in the middle of the Arizona desert is all about red rock canyons, towering walls, beautiful pine forests, and a quirky-looking rock formation that makes you feel you've landed on Mars.
Think sky-high desert spires, river canyons that look from another planet, and endless rock formations to get a pretty good idea of what this incredible place is all about in terms of natural scenery.
The cool thing about Sedona is that it isn't short of things to do. You can spend the day hiking the Soldier Pass Trail, Apache Trail, or any incredible Red Rock State Park trails.
Also, you can photograph the sunset at Cathedral Rock, hike around Bell Rock, or opt to dedicate the next few hours to explore the town, where you'll find art galleries, museums, and New Age spas.
Where to Stay in Sedona
Day 10: Phoenix
After spending over a week on what feels like an off-grid adventure, it's time to head back to the city!
Phoenix is the state capital and the last stop on your 10-Day Arizona itinerary, but you'll be in for an additional adventure before arriving.
Here's a secret: Don't just drive the Interstate directly up to Phoenix. Instead, treat the drive as a sort of mini road trip, as there are tons of stops worth making along the highway.
Your first stop should be Montezuma Castle National Monument, where you can learn about Native American history.
Just a short distance up the road, you'll find two additional attractions where you'll get to learn all about the incredible engineering works of the Montezuma people.
Mogollon Rim is near the largest ponderosa pine forest in the US! The Superstition Mountains are east of town and boast a ton of desert flora and fauna.
Once you make it to Phoenix, you'll be in for a real treat.
The capital of the Grand Canyon State is home to an enormous selection of cultural attractions, fantastic shopping, delicious cuisine, bustling nightlife, and swanky golf resorts.
Phoenix also has an exciting array of adventures such as hot-balloon flights, jeep drives across the desert, and great hiking trails, like the one to Camelback Mountain.
Moreover, Phoenix is an important cultural hub in the West. You can enjoy a wide variety of museums and activities during your visit.
For a deep insight into American Indian history, visit the Heard Museum, and for all things art, the Phoenix Museum is sure to please.
To end your Arizona road trip with a bang, you can also see a Broadway show at the Modern Dodge Theatre or enjoy a ballet performance at the Orpheum Theater.
Where to Stay in Phoenix
Summary of Your Arizona Road Trip
Be sure to bookmark this page for future reference.
Day 1: Tucson and Saguaro National Park
Day 2: Saguaro National Park and Drive to Holbrook
Day 3: Petrified Forest National Park
Day 4: Monument Valley
Day 5 and 6: Horseshoe Bend, Antelope Canyon, and Lake Powell
Day 7 and 8: Grand Canyon
Day 9: Barringer Crater and Sedona
Day 10: Phoenix
Other Attractions in Arizona
If you have plenty of time to extend your Arizona road trip, we recommend checking out these popular spots:
Canyon de Chelly
Spider Rock
Jerome, an old mining town
White Mountains
Tortilla Flat
Apache Junction
Tombstone, the town where Wyatt Earp and Doc Holliday once live
Wrapping Up on Your Road Trip in Arizona
We hope this itinerary helped you plan the perfect road trip in Arizona.
Even though ten days is barely enough to uncover the magic of the Grand Canyon State, it's enough time to see its most astonishing highlights!
Are you currently preparing for an Arizona road trip?
If so, we'd love to know if you're following this itinerary, so let us know all about your plans in the comment section below!
Latest posts by John Oakley
(see all)