Looking for the most visited national parks in America? You're in the right place! Here's a list of the 18 most popular national parks on American soil.
There's no doubt that the US can pride itself on having so many areas of unsurpassed natural beauty, so if you are looking for the most visited national parks in the country, including a few best-kept secrets – look no further!
Each national park on this list includes helpful information such as 2021 park visitation numbers, the park's location, and details concerning its most outstanding features.
So, we've got you covered whether you want to visit prolific parks like Yellowstone or the Smokies or peculiar parks like Joshua Tree or Hot Springs.
Whether you are a wildlife enthusiast, a rock climber, or someone interested in astronomy, there is something for everyone on this list.
18 Most Visited National Parks
Here are the most visited national parks in the United States as per 2021 numbers. Have you been to any of these popular national parks? Let us know in the comments.
Pssst: if you're visiting 3 or more national parks in a 12-month period, you might want to check out the America the Beautiful Pass. This national park pass can save you some serious money in entry fees. Here's our America the Beautiful Pass review.
1. Great Smoky Mountains National Park – The Most Popular National Park in the US
Location: North Carolina and Tennessee
Visits: 14.16 million
More affectionately known as the Smokies, the Great Smoky Mountains National Parks stretch over an impressive 522,000 acres.
With its stunning vistas and opportunities to spot wildlife, it's no wonder it boasts the highest national park visitor number – and by a large margin!
In fact, since 1944, the Smokies have dominated visitor numbers.
This is a testament to the fact that this national park offers something for everyone: whether you want to take a Sunday drive, get some exercise among the 800 miles or more of scenic trails, or have a camping adventure.
The park is also home to around 1500 black bears and over 1500 flowering plants.
So, it is a botanist's dream as well as that of a child with dreams of seeing Baloo (even though Baloo is technically a sloth bear)!
Read next: 13 Best East Coast National Parks Ranked
2. Zion National Park
Location: Utah
Visits: 5.04 million
Zion National Park, Utah's first national park and one of the closest national parks to Las Vegas, is truly a spectacle to behold.
The Narrows and Angels Landing are the most popular hikes, which offer a view of Zion Canyon not for the fainthearted – and especially not for those afraid of heights! The drop from the top is a staggering 1,500 feet.
The canyon is famous for rock climbing, river trips, and its famously narrow hiking trails.
However, don't limit yourself to the most popular routes, as many others offer much more secluded and peaceful time in nature.
It doesn't surprise us that this is one of the most visited national parks!
Read next: Utah National Parks Road Trip
3. Yellowstone National Park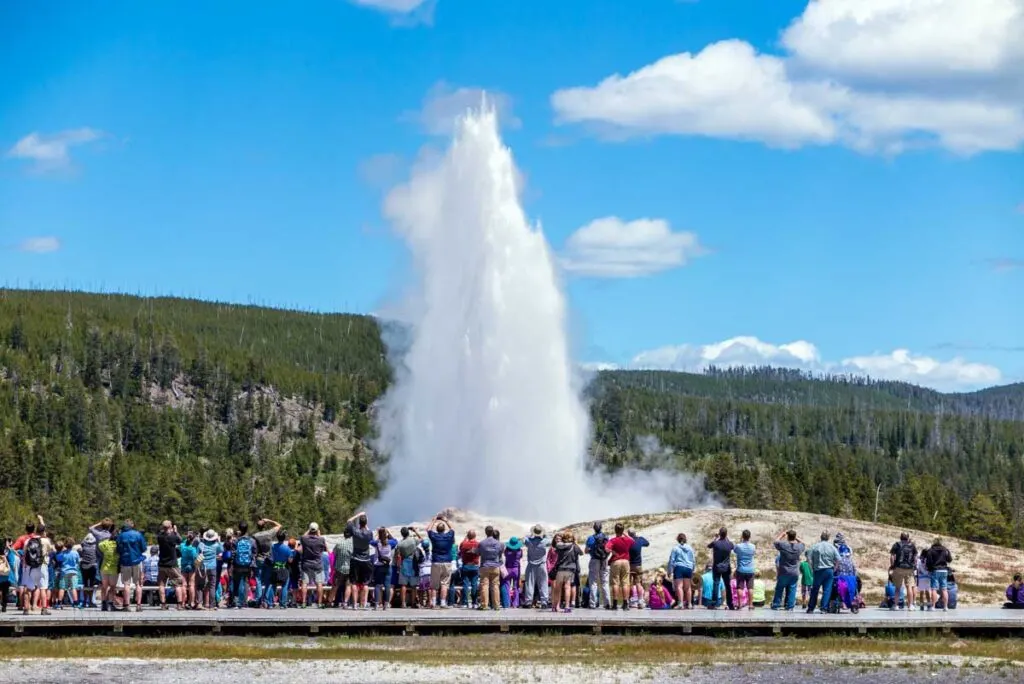 Location: Wyoming, Montana, and Idaho
Visits: 4.86 million
In 1872, the first national park was formed, and thus the legend of Yellowstone National Park was born.
Yellowstone is incomparable in the fact that it contains around half of the world's active geysers. It's also huge, encompassing around 2.2 million acres.
It is also host to the Yellowstone Supervolcano, which has shaped the land around it uniquely, creating geysers, hot springs, mud pots, lakes, and canyons.
If you'd like to explore this natural wonderland, 900 miles of hiking trails are available to do just that!
One of the many sights not to miss along these hiking trails is the Grand Prismatic Hot Spring, which is gorgeous but would be deadly to swim in.
Over 10,000 geothermal features, including the Old Faithful Geyser, are spread across the park, so it is possible to avoid crowds.
4. Grand Canyon National Park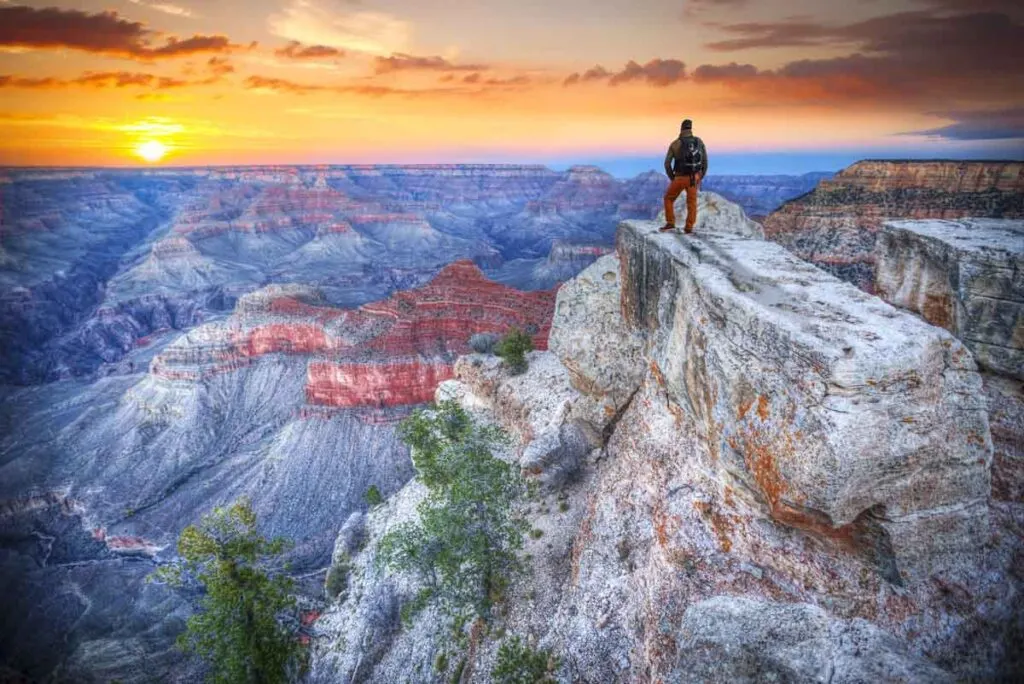 Location: Arizona
Visits: 4.53 million
Since the Grand Canyon is one of the world's seven natural wonders, it is foreseeable that this would be one of the busiest national parks in the country.
Besides hiking, the Grand Canyon is famous for boating and rafting on the Colorado River, especially during the summer months, but in winter months, snowshoeing and cross-country skiing are very popular.
The Grand Canyon has a myriad of outdoor activities to offer as a UNESCO World Heritage Site.
From a zip line to the 24-mile rim-to-rim hike, there is something for the adventure-seeker in everybody.
The canyon follows the river for 277 miles, and you might be lucky enough to spot elk or condors along the way.
There are also around 1,000 estimated hidden caves. However, only 335 caves have been found, and only one, the Cave of the Domes on the Horseshoe Mesa, is open to the public.
5. Rocky Mountain National Park
Rocky Mountain National Park is a place of unparalleled beauty. At over 265,000 acres, you can find peace in nature on its 300 miles or more of hiking trails.
Trail Ridge Road is also available for leisurely rides on the "highway to the sky" with an elevation gain of 11,500 feet!
This incredible place in Colorado is home to 150 alpine and sub-alpine lakes and 60 mountain peaks above 12,000 feet.
The highest peak, Longs Peak, stands tall at a spectacular 14,259 feet. There is also abundant wildlife, like elk, moose, and bighorn sheep.
6. Acadia National Park
Location: Maine
Visits: 4.07 million
Situated along the seashore, Acadia boasts stunning vistas and is known as the "Crown Jewel of the North Atlantic Coast."
There are 158 miles of hiking trails to indulge in at Acadia National Park, where fun is to be had by all.
Biking, swimming, stargazing, camping, and horseback riding are all popular activities. You can also visit Bass Harbor Head Lighthouse Station on Mount Desert Island or watch the sunrise from Cadillac Mountain.
The nearby Bar Harbor is a good place for staying over if you are not keen on camping at Acadia.
7. Grand Teton National Park
Location: Wyoming
Visits: 3.89 million
Grand Teton is very close to Yellowstone, but don't miss out on Grand Teton because of its more renowned cousin.
Grand Teton National Park is magnificent in its own right and much less overcrowded.
At 310,000 acres, Grand Teton is known for its hiking, climbing, backcountry exploring, and mountaineering prospects.
Opportunities to spot wildlife like bison, moose and elk are also aplenty.
If you want to go to Hidden Falls, you can take a boat ride across Jenny Lake. You can also take a raft tour of the Snake River or enjoy the landscapes of Jackson Hole valley and Teton Range.
Phelps Lake is also one of the best places for swimming in the area.
8. Yosemite National Park
California's first national park was Yosemite, and the reason for protecting this 748,000-acre expanse is immediately apparent when seeing it for the first time.
Famous landmarks like El Capitan immediately grab your eye, and a drive on Tioga Road will prove to be one of the most fantastic of your life.
Yosemite Falls is one of the world's tallest waterfalls at 2,425 feet, and Yosemite Valley is a sight not to be missed.
Giant sequoia trees dot the landscape, and you can use the Merced River for swimming or river rafting.
Read next: 27 Best Western and West Coast National Parks
9. Indiana Dunes National Park
Location: Indiana
Visits: 3.18 million
This lakeshore national park has more biodiversity than almost all other national parks.
Situated along 15 miles of the Lake Michigan shoreline, Indiana Dunes comprises 15,000 acres of pure delight.
Indiana Dunes is perfect for you, whether you are a birder in search of that one species you've never been so lucky to see or a hiker searching for a varied walk.
Steep dune hikes, swamps, wetlands, and prairies all await you at Indiana's most popular national park.
10. Glacier National Park
Location: Montana
Visits: 3.08 million
Bordering Canada, Glacier National Park is a UNESCO World Heritage Site jointly managed with Canada, which has the adjoining Waterton Lakes National Park.
Glacier National Park features one of the most breathtaking road trips in the US: the Going-to-the-Sun Road, featured in The Shining. Also, Logan Pass offers panoramic views.
Twenty-five active glaciers can currently be found in the park, but climate change endangers the park's namesake.
There are over 700 miles of trails in Glacier National Park where you can explore the glaciers as well as pristine lakes, waterfalls, and alpine plateaus.
11. Joshua Tree National Park
Location: California
Visits: 3.06 million
Joshua Tree is made up of two different deserts, namely the Mojave and Colorado Deserts. The national park's namesake is not, in fact, a tree; they are succulents of the Yucca genus.
The park is famous as a destination for LA celebrities and also as a place to visit when going to Coachella.
In addition, hiking in Joshua Tree and rock climbing are popular in the desert, which also contains archaeological sites and is host to an annual music festival.
This all causes it to be one of the most visited national parks.
12. Olympic National Park
Location: Washington
Visits: 2.72 million
The Hoh Rainforest looks like something from a fantasy movie and is the only rainforest in the contiguous US, so it makes sense that Olympic National Park is actually one of the most visited national parks.
With a vast expanse of almost a million acres and striking mountain ranges, Olympic National Park has Hoh Rainforest and much more to offer.
Multiple distinctly different ecosystems are available to visit.
You can explore tide pools on the 70 miles of coastline, kayak on Lake Crescent, look for otters, and see the 2.6-mile-long Blue Glacier.
Also, North Cascades, one of the least visited national parks, is only 190 miles away.
13. Cuyahoga Valley National Park
Location: Ohio
Visits: 2.58 million
Cuyahoga's 33,000 acres were set aside to form a national park in 2000.
Decades earlier, in 1969, a fire in the river began because of toxic waste dumping in the Cuyahoga River.
The Environmental Protection Agency was born out of this incident, and the river was rehabilitated.
Now, the river is popular for canoeing and kayaking and is home to over forty fish species. In addition, hiking and biking are popular pursuits in Cuyahoga.
Another lovely amusement to indulge in is the Cuyahoga Valley Scenic Railroad, which offers the chance to see much of the park.
14. Hot Springs National Park
Location: Arkansas
Visits: 2.16 million
This national park in Arkansas is not your typical hiking-biking-climbing adventure. In fact, Hot Springs National Park is the only national park in the US that protects springs of this nature.
Some forested hikes exist, but the park's primary focus is the ancient thermal spring.
Take a stroll down Bathhouse Row, which was declared a National Historic Landmark District in 1987.
This consists of eight lavish bathhouses built between 1892 and 1923. The National Park is the smallest of all national parks, at a mere 5,550 acres.
15. Bryce Canyon National Park
Location: Utah
Visits: 2.1 million
Bryce Canyon National Park is a collection of strangely beautiful hoodoos which form natural amphitheaters and is not actually a canyon.
Nevertheless, the park is the location of an annual astronomy festival because the stargazing from Bryce Canton is spectacular.
As a result, Bryce Canyon is one of the most visited national parks.
There are stunning views from Sunrise Point and Sunset Point – I'll let you guess when to visit those!
Some hiking trails lead through the hoodoos, but if you want to see the hoodoos from above, you can follow the 18-mile stretch of Southern Scenic Drive.
16. Arches National Park
Location: Utah
Visits: 1.81 million
Arches National Park boasts the world's largest concentration of sandstone arches, including the Delicate Arch and around 2000 others.
In fact, Delicate Arch is such an attraction that it features on Utah license plates. These attractions make Arches one of the most popular national parks in the US.
Many of the top arches can be seen from the road at Arches National Park, but there are a variety of splendid hiking trails to provide access to arches not visible from your car.
17. New River Gorge National Park
Location: West Virginia
Visits: 1.68 million
The New River Gorge National Park is the newest national park, having been designated as such in December 2020.
The park extends over 7,000 acres of sheer natural glory and hosts hikers, river rafters, and hunters alike.
The park is also home to the New River Gorge Bridge, the third highest bridge in the US.
So it is no wonder that the park, despite its status as a newcomer, is among the most visited national parks.
18. Mount Rainier National Park
Location: Washington
Visits: 1.67 million
Mount Rainier, the last entry on this list, is one of the most visited national parks, owing in large part to its namesake, which can be seen from miles away.
Mount Rainier, a glacier-capped stratovolcano, stands 14,410 feet above sea level and is the most glaciated peak in the contiguous US.
The endless hiking opportunities, from beginner to training-for-Everest levels, make it a great place for outdoor enthusiasts.
There are stunning wildflowers if you come at the right time of year, and if you are lazy to hike, you can drive to the 6,400-foot elevation of Sunrise Point.
Additionally, Summit House is a good option for lunch or dinner if you want to enjoy a meal overlooking the mountains. Reflection Lake is another sight not to be missed!
More of the Most Visited National Parks
Shenandoah National Park – 1.59 million
Capitol Reef National Park – 1.41 million
Hawaii Volcanoes National Park – 1.26 million
Badlands National Park – 1.22 million
Death Valley National Park – 1.15 million
Gateway Arch National Park – 1.14 million
Saguaro National Park – 1.08 million
Sequoia National Park – 1.06 million
Everglades National Park – 942 thousand
Also worth noting that Blue Ridge Parkway and Golden Gate National Recreation Area, both managed by the National Park Service, had over 10 million visits each.
The Gateway National Recreation Area received 9.1 million, Lake Mead National Recreation Area 7.6 million, George Washington Memorial Parkway 6.8 million, Natchez Trace Parkway 6.4 million, and Lincoln Memorial 5.8 million.
Most Popular National Parks Map
Here's an interactive and free map of all the most visited national parks mentioned in this article. You can open it on your smartphone or desktop. Click here to open the map.
Final Words For The Most Famous National Parks
The United States has some of the prettiest and most popular national parks in North America, let alone in the world.
These famous national parks account for many and many square miles of incredible landscapes, human history, and countless plant species.
If you have a bucket list goal of visiting all the American national parks, why not begin with the most popular US national parks?
Anyway, we hope you enjoyed reading about the most visited national parks in America (managed by the NPS).
Did you like this article about the most popular national parks? Then share it on your social media!
27 Most Visited National Parks
Great Smoky Mountains National Park
Zion National Park
Yellowstone National Park
Grand Canyon National Park
Rocky Mountain National Park
Acadia National Park
Grand Teton National Park
Yosemite National Park
Indiana Dunes National Park
Glacier National Park
Joshua Tree National Park
Olympic National Park
Cuyahoga Valley National Park
Hot Springs National Park
Bryce Canyon National Park
Arches National Park
New River Gorge National Park
Mount Rainier National Park
Shenandoah National Park
Capitol Reef National Park
Hawaii Volcanoes National Park
Badlands National Park
Death Valley National Park
Gateway Arch National Park
aguaro National Park
Sequoia National Park
Everglades National Park