Looking for epic road trips in Colorado? We've got you covered with this guide!
Even though hiking and outdoor experiences are what have given Colorado its status as one of the best destinations in the world for adventure lovers, another great way to experience the Centennial State in its full glory is by driving through it.
Because the state is so vast and boasts pretty much any landscape you can think of, the absolute best way to fully get to know it is by grabbing your car keys, rolling the windows down, and heading on a road trip of a lifetime.
From drives on alpine tundra to highways dotted by ghost towns and canyons so deep you'll wonder if they're real, there's no shortage of incredible history, natural scenery, and beautiful places in Colorado.
If you're keen to explore deeper, here are some of the best Colorado road trips you need to add to your bucket list in order to experience the best it has to offer!
14 Best Colorado Road Trips
Pssst: Before you start your road trip, you might want to rent a camper van to get the ultimate road trip experience! Click here to rent a camper van!
1. Trail Ridge Road
Covering 48 miles between the town of Estes Park and Grand Lake, the Trail Ridge Road may be short, but it's one of the best Colorado road trips to take if you're keen to get super personal with Rocky Mountain National Park.
As Colorado's highest paved road, this stunning route covers 48 miles between the towns of Estes Park and Grand Lake, eleven of which are set on alpine tundra above treeline and provide sweeping views of the Rocky Mountains in every direction.
Along the way, you'll get access to some of the most beautiful viewpoints in Rocky Mountain National Park, get plenty of chances to park your car and go on a few hikes, and traverse various landscapes, including aspen forests, lush mountain meadows, subalpine forests, and alpine tundra.
Moreover, this road trip in Colorado provides plenty of chances to spot wildlife – watch out for moose grazing roadside and elk if you visit during the fall months!
Do note that Trail Ridge Road is usually only open between late May and mid-October due to weather conditions.
During the summer months, carpets of colorful wildflowers cover the landscape, while the fall months provide dreamy fall foliage.
Either season is excellent for this road trip, but you may want to plan dates according to your interests, especially if you're planning to hike in the Rocky Mountain National Park, which is hands down one of the best things to do in Colorado.
2. Pikes Peak Highway
Want to conquer a fourteener in Colorado but can't be bothered to actually hike it? The Pikes Peak Highway will allow you to sit atop Pikes Peak, one of Colorado's mightiest peaks and most treasured landmarks, all without having to break a sweat at all!
Also dubbed America's Mountain due to its unraveled beauty, Pikes Peak is the highest mountain on the southern Front Range of the Rocky Mountains and possibly the most iconic 14er in the entire state. Mount Meeker, a 13,911-foot peak that can also be seen from various points throughout the drive.
Just outside of Colorado Springs, you'll find the entrance to the Pikes Peak Highway. The highway not only allows you to reach the summit in a relatively short time, but it also provides wonderful scenery the entire way up, including three beautiful lakes, tons of picnic areas, and several hiking trails so you can still get that A+ star for actually hiking on Pikes Peak!
Moreover, make sure you check out Santa's Village at the foot of the mountain, a vintage amusement park where you'll find unique rides, a Ferris Wheel, tons of food options, and other fun activities meant to spread the Christmas spirit all year long.
Read next: Best Places to Visit in the United States
3. Million Dollar Highway
As part of the alluring San Juan Skyway, the Million Dollar Highway loops 233 miles across some of the most beautiful alpine towns in the state, making it one of the best road trips in Colorado to get close and personal with its gorgeous mountains towns.
While the drive itself can be completed in just under two hours, there's no better way to experience this scenic drive than by making multiple overnight stops at some of the towns and villages you'll stumble across the way.
A few of the can't miss stops along the Million Dollar Highway include Ouray (western mining town-style buildings and a hot springs pool), Telluride, Durango, and Ridgeway, all of which are considered some of the most beautiful mountains towns in Colorado and provide opportunities aplenty for hiking, mountain biking, and more.
Aside from exploring in and around the highway's main towns, make sure you also check out Animas Forks, a ghost town filled with frail wooden buildings that tell the story of what was once a thriving mining outpost.
If you're an outdoor enthusiast, plan a stop at San Juan National Forest for hiking and possibly camping.
This forest encompasses a whopping 1.8 million acres of various terrains, including high-desert plateaus of Mesa Verde National Park and mountains (don't miss the Sun Temple and Cliff Palace, archeological sites, and cliff dwellings of the Ancestral Pueblo people).
Mesa Verde National Park also features plenty of hiking trails to get close and personal with the landscape—this is one of the best places to visit in Colorado.
4. Mount Evans Scenic Byway
As the highest paved road in North America, the Mount Evans Scenic Byway will take you on a twisting ride up to the clouds and into the summit of Mount Evans, one of Colorado's most striking fourteeners.
Throughout this Colorado road trip, you'll be treated to breathtaking views of alpine lakes, bristlecone pine forests, massive granite walls, and mountains views so good you'll have to pinch yourself to make sure you aren't dreaming!
Mountain goats and bighorn sheep are regular guests of this drive, so keep your eyes peeled for them.
Your trip will start at the historic town of Idaho Springs, where you can learn all about the area's mining past by visiting mines and museums.
Moreover, the town is also known for its Indian Springs Resort, which is a great place to relax your muscles before you summit Mount Evans.
As you leave Idaho Springs and drive into Mount Evans, you'll be greeted by groves of pine trees before being exposed to spectacular views of glacier-cut valleys and endless peaks as altitude rises.
Note that this road is only open from late May through early October due to weather conditions.
Read next: Secluded Cabins in Colorado
5. Dinosaur Diamond Scenic Byway
Dinosaurs once roamed northwestern Colorado, and marks of their footsteps can be seen every mile of the way at this unique Colorado road trip: The Dinosaur Diamond Scenic Byway.
As if following the steps of these grand titans wasn't enough reason to drive this road, the scenic road is also dotted by incredible natural scenery. It features the Colorado National Monument (Rim Rock Drive), colorful canyons, parts of the Colorado river perfect for float trips, and even a section of the state's wine country.
Moreover, this road trip also gives visitors a wonderful opportunity to learn more about the Fremont Indians, who have called the area their home for over 11,000 years.
Throughout the drive, you'll be able to get a glimpse into their life through petroglyphs and pictographs at numerous destinations.
These places include Canyon Pintado, Rangley, and the Dinosaur National Monument, where you'll get to see a myriad of dinosaur fossils as well as ancient petroglyphs by taking the Tour of Tilted Rocks.
For a super quirky stop to bring your inner paleontologist out, be sure to spend at least a few hours at the town of Dinosaur (yes, that's its actual name!).
Here, you'll find numerous fossil excavation zones, streets lined by dinosaur sculptures, and eateries whose dishes are named after dinos!
6. Peak to Peak Scenic Byway
Taking drivers through unmatched vistas of the Continental Divide and Longs Peak, the Peak to Peak Scenic Byway is one of the most beautiful Colorado road trips.
This is especially true for those keen to explore the Front Range region, catch views of some of the mightiest peaks in the state, travel through mining ghost towns, and even get a glimpse of Colorado's Victorian era.
Starting in the town of Estes Park and ending in Black Hawk, The Peak to Peak Scenic Byway isn't only one of Colorado's most scenic drives, but it also happens to be one of the oldest ones.
As you weave your way through the byway, you'll also be greeted with tons of recreational opportunities inside the adjacent Rocky Mountain National Park.
Moreover, you'll also stumble across several historical treasures, including various mining ghost towns like Hesse and Apex, towns like Central City and Black Hawk where casinos and legends reign supreme, and even a Victorian-era opera house in the middle of the country!
As a tip, this is one of the best Colorado road trips to take during the fall. The yellow, red, and orange hues of aspens and pines make the scenery even dreamier than any other time of the year, so make sure you place it at the top of your autumn travel bucket list.
7. Flat Tops Trail Scenic Byway
Winding through verdant river valleys before bypassing the gorgeous Flat Tops Wilderness and up through two of Colorado's less-traveled passes, the Flat Tops Trail Scenic Byway is filled with mountain goodness galore.
This is also one of the lesser-traveled roads in Colorado, making it perfect for those who prefer getting off-the-beaten-path while road tripping.
Starting in the town of Yampa, you'll get the opportunity to see the longest free-flowing river in Colorado before journeying into the Flat Tops Wilderness Area.
Depending on how much time you have, you can look at Flat Tops from the 10,342-foot Ripple Creek Pass or actually get in to explore its extremely scenic open land, which contains beautiful lakes, looming volcanic cliffs, subalpine terrain, and even alpine tundra!
To finish the road trip with a bang, make sure you also make a pit stop at the ranching town of Meeker.
Alternatively, you can also extend your road trip beyond the byway to get a dose of history by visiting a battle site at Milk Creek, where the Utes and the U.S Army fought for the land.
As a fun fact, the beauty of the scenery through the valleys of the Flat Tops Wilderness area is what inspired the United States government to preserve large-scape wilderness areas across the country!
8. Guanella Pass Scenic Byway
Connecting the towns of Georgetown and Grant, this scenic byway will allow you to explore one of the best-preserved silver mining towns in the state before venturing into pure alpine tundra.
Further on, you'll descend into a wonderland of stunning golden aspen and pines, all with beautiful mountain views of soaring peaks like Mount Bierstadt, keeping you company along the way.
Not only is this one of the best road trips in Colorado to get acquainted with the Rocky Mountains, but it also provides opportunities aplenty to spot wildlife (bighorn sheep and beavers love it here).
Moreover, there are plenty of historical towns sprinkled all over the highway, including Georgetown, where you'll find some of the most important landmarks in the history of the area, including the Georgetown Loop Railroad, the Hotel de Paris, Hamill House, and the Energy Museum.
9. Gold Belt Tour Scenic Byway
Back in the early 1890s, the mining towns around Pikes Peak saw the greatest gold boom in the entire fascinating history of Colorado.
This fascinating Colorado road trip will not only take you on a trip back through time to some of the most historic towns in the state, but it will also give you the chance to go back even further and see two important fossil areas from millions of years ago.
On top of that, you can also catch stunning views of Pikes Peak, traverse miles of high-country landscapes, and cross the mighty Royal Gorge.
Begin your amazing road trip of the Gold Belt at the town of Florissant and head over to the Florissant Fossil Beds National Monument, where you'll get to see perfectly-preserved fossils of redwoods, palms, and even insects that date back to 34 million years ago!
Next, visit the towns of Cripple Creek and Victor, both of which saw some of the most important gold-mining activities in the area. While here, check out a few of the old mines in the area, some of which still have active operations!
If you're into backcountry adventures, make sure you take the Phantom Canyon Road. This detour will have you twisting your way through green-dotted canyon walls over what was once a powerhouse railroad that connected some of the most important districts for mining: Cripple Creek, Cañon City, and Florence.
10. Cache la Poudre-North Park
Once used by settlers to link the northern plains of Colorado with the Green River settlement in Utah, this amazing Colorado road trip starts in Fort Collins and takes drivers all the way up to the rugged Cache la Poudre River Canyon.
As you skirt your way up the winding road, you'll be treated to gorgeous views of the Cache la Poudre's rapids, get to see bighorn sheep perched on the rocky hills, cross open pastures, and meadows, and traverse the forested dream that is Cameron Pass.
As if glorious mountain peaks and views and interesting geological features weren't enough, this drive will also give you the chance to have some of the most unbeatable wildlife encounters in the state.
Coyotes are a common sight among the grasslands, moose and elk love grazing riverside, and tons of bird species love frolicking around at the Arapaho National Wildlife Refuge, a must-do stop along the way for all things wildlife and nature!
11. Independence Pass
Traveling through the Continental Divide between Leadville and Aspen, the Independence Pass will have you twisting your way through aspen groves.
Not only that but it will also allow you to visit ghost towns, traverse the Roaring Fork River, pass Twin Lakes, get close and personal with alpine tundra above treeline, and catch glorious views of Mount Elbert (Colorado's highest peak and the second-highest mountain in the contiguous United States).
While this incredible high mountain pass may be short, it certainly doesn't lack when it comes to stunning scenery and incredible recreational opportunities.
Along the way, you'll get tons of opportunities to park your car and go on a hike, no matter your level of experience.
The Grottos trail is perfect for those traveling with families and provides access to interesting rock formations, a waterfall, and even an ice cave! If you're up for a challenge, check out the Lost Man Trail instead, which features a dreamy alpine haven of meadows and lakes.
Another must-do stop is Independence, a historic ghost town that was once a thriving mining locale. You'll get to catch a glimpse into its past by visiting abandoned mining cabins, the General Store, and the Farewell Stamp Mill during your visit.
End your journey in Estes Park, where you can explore the famous Stanley Hotel, the same hotel that inspired Stephen King's "The Shining."
Note that Independence Pass is only open from May through October and closes the year's remaining months due to weather conditions.
12. South Rim Road (Black Canyon of the Gunnison)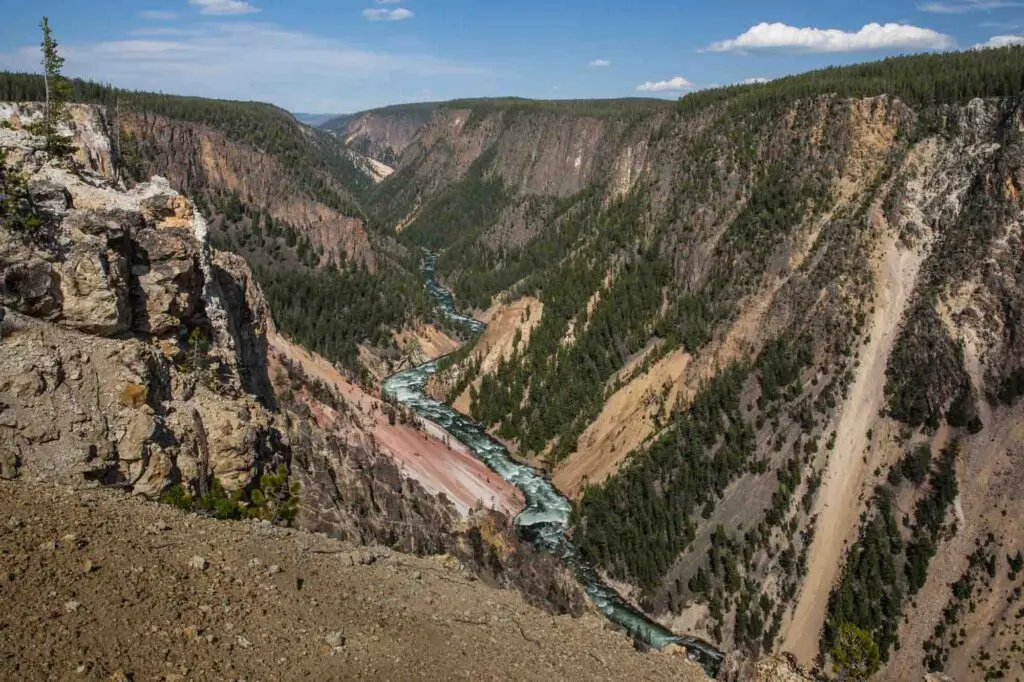 Explore the most stunning canyon in Colorado by driving all around its rim. Commonly dubbed the "Grand Canyon of the Rockies," Black Canyon is a canyon that drops over 3,000 feet down into the ground, making the entire landscape look as dramatic (and mysterious) as it can get.
Because part of its gorge rarely sees any light (it gets a total of 33 minutes of direct sunlight a day), the canyon is shrouded in shadows the rest of the time, making its name a pretty literal one.
The views here are as dramatic as ever, and there's no better way to explore Black Canyon than by "road tripping" 7 miles around it via the South Rim Road.
Along the way, you'll get the chance to stop at twelve viewpoints that provide panoramic vistas of the canyon and the Gunnison River, each one more striking than the last.
13. Skyline Drive
If you're not afraid of heights, the 2.6-mile Skyline Drive is guaranteed to please.
Following the top of a razorback ridge that overlooks Cañon City, this short (but extremely heart-pumping) road steeps uphill and downhill and provides the most alluring views of the Arkansas River Valley.
Although brief, Skyline Drive isn't short of unique opportunities to stop and take in the incredible scenery.
If you're into hiking, make sure you park your car and check out the Hogback Open Space Recreation Area, where you'll find tons of trails, including the Old Skyline Drive Trail, which will take you higher onto the razorback ridge.
Moreover, there are also plenty of paleontological remains, including sets of ankylosaurus prints right at the entrance!
Keep in mind that this drive isn't for the faint of heart. The road is extremely narrow, and there are no guardrails, only steep cliffs around. Moreover, it's a one-way road, meaning you can't turn back!
14. Boreas Pass Road
Taking you from the town of Como in Park Country all the way to Breckenridge, this high-alpine road is guaranteed to make it into your list of the best Colorado road trips you've ever taken, especially if a summer adventure in the mountains is what you're after.
As you make your way through Colorado's central Rocky Mountains, this route will have you crossing the Continental Divide right at the origins of two of the most beautiful rivers in the state: Blue River and South Platte River.
Moreover, even though this drive is somewhat short at just 22 miles, we recommend taking your time in order to take in the beauty of the landscapes it provides fully.
Along the way, you'll find plenty of hiking and biking opportunities as well as several campsites perfect to overnight in if you wouldn't mind spending a night or two under the stars.
We hope this list of the best Colorado road trips inspired you to leave the house and start exploring!
Whether you're planning a visit to the Centennial State or are a local keen to explore more of your backyard, these amazing road trips in Colorado provide endless opportunities not only to experience some of the most insanely beautiful landscapes the state has to offer but also to make several stops in order to get close and personal with its nature, history, and unparalleled outdoor activities.
Best Road Trips in Colorado
Which of these Colorado road trips spark your interest the most? We'd love to know which one you're most excited to drive, so let us know all about your plans in the comment section below!
Latest posts by William Taylor
(see all)