Nevada is world-famous for its casinos, neon signs, and exciting lavishness. Yes, Las Vegas attracts millions of visitors, but there's a whole lot more to explore in the Silver State.
From stunning natural parks to splendorous scenic drives, historical sites, museums, and kitsch highlights, there is a lot to explore beyond Sin City.
There is actually so much to do and see in Nevada, that you might be a bit overwhelmed trying to craft an itinerary.
Here's a list of the 26 best things to do in Nevada, whether you are yearning for some slot machines and glam, historical sights, natural spots, weird attractions, or a healthy mix of everything.
26 Things to Do in Nevada
1. Visit Hoover Dam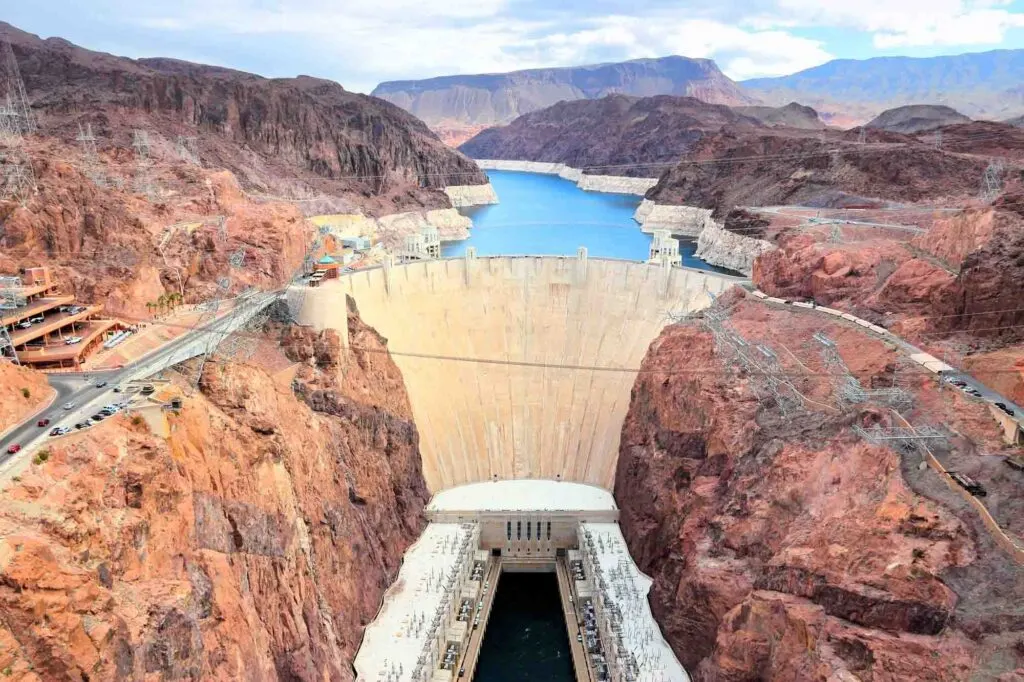 Set on the Nevada-Arizona border, Hoover Dam is considered one of the seven engineering wonders of the modern world.
This huge concrete structure spans 1,244 feet across Black Canyon and the Colorado River, reaching 726 feet above the canyon floor.
Built during the Great Depression with 6.6 million tons of concrete, it, in turn, created the United States' largest water reservoir: Lake Mead, a lake in charge of generating enough electricity for California, Arizona, and Nevada!
A visit to Hoover Dam is not all about marvel structures, though.
The highest arch dam in the US is also one of the best spots to catch some splendid vistas of Lake Mead and the Colorado River, see the unique sculptures of the Winged Figures of the Republic, as well as the art deco Native American motifs that decorate the dam's towers.
Oh, Hoover Dam is one of the most popular day trips from Las Vegas, by the way.
2. Nevada State Museum
The Nevada State Museum in Carson City, the state capital, is one of the best things to do in Nevada for history lovers as it's a great place to learn about the region's history and culture.
Set in a gorgeous 70,000-square-foot building, the museum allows visitors to meet Nevada's state fossil, an Ichthyosaur Shonisaurus Popularis, enter a stalactite cave, watch a simulated atomic explosion, and listen to holographic figures talk about Nevada's heroic miners.
3. Go on a Road Trip
The Silver State is king when it comes to diversity and hopping in the car and going on a road trip is a must on any Nevada bucket list.
The Nevada road trip options are seemingly endless for taking in incredible desert views, ghost towns, quirky art, and natural spots.
The Red Rock Scenic Byway will lead you to unique red rock formations jutting from the desert landscape. Or, drive from Reno to Topaz Lake, a road popularly known as the Lake Tahoe circuit for some stunning alpine beauty.
The Loneliest Road will take you to remote areas, vast desert plateaus, and a few ghost towns! From Vegas, you can take a quick drive to the Valley of Fire for a bit of hot natural beauty, or the Free-Range Art Highway to take in kitsch southwestern art.
4. Fly Geyser
Ever think you could find a geyser in the desert? Fly Geyser is one of the most unusual things to do in Nevada!
This otherworldly-looking geyser sits inside Fly Ranch, on the edge of the Black Rock desert. Although Fly Ranch is private property, you can hire a tour to enter the premises.
Created in 1964 by a geothermic energy company as part of an effort to make the desert terrain useful for agriculture, this artificial geyser is unique because of its multi-colored tones acquired by algae growing on calcium carbide.
The 5-feet high water and vapor jets have formed several travertine terraces and about 40 pools over time.
5. Photograph the Fountains of Bellagio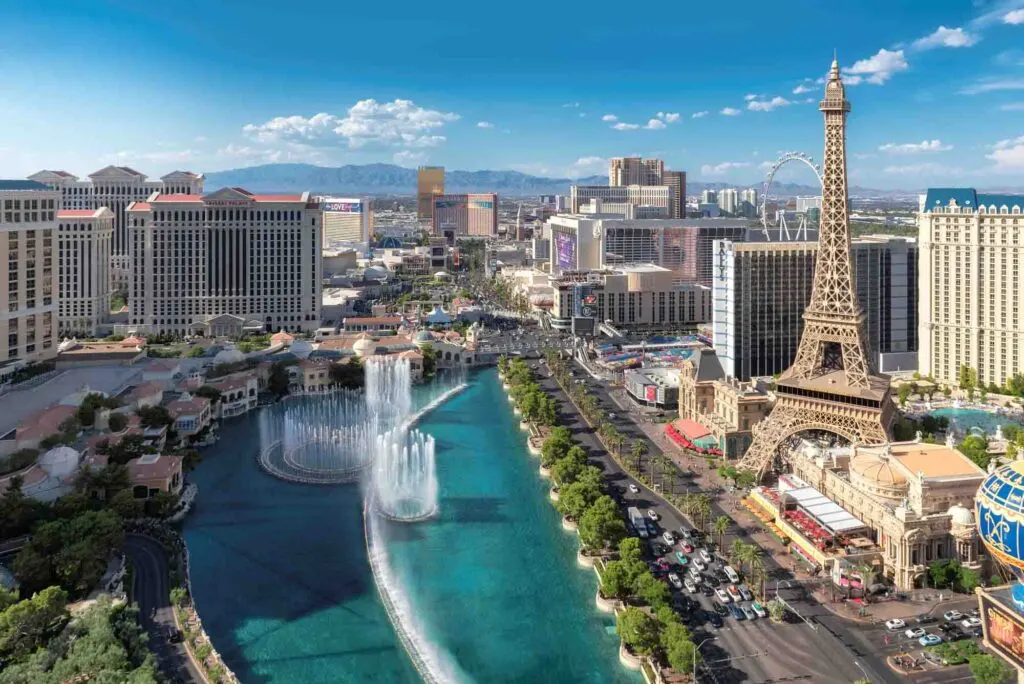 The iconic Fountains at the Bellagio Resort have seduced millions of visitors in Las Vegas. These 200-foot-tall fountains are synced to music, creating a truly magical experience.
The show consists of music playing while the water from the 1,200 fountains seems to dance in tune with the musical notes.
About 30 different melodies play during this mesmerizingly beautiful performance, so you can enjoy it for a few minutes or several hours.
Read next: Las Vegas Quotes & Clever Las Vegas Instagram Captions
6. Seven Magic Mountains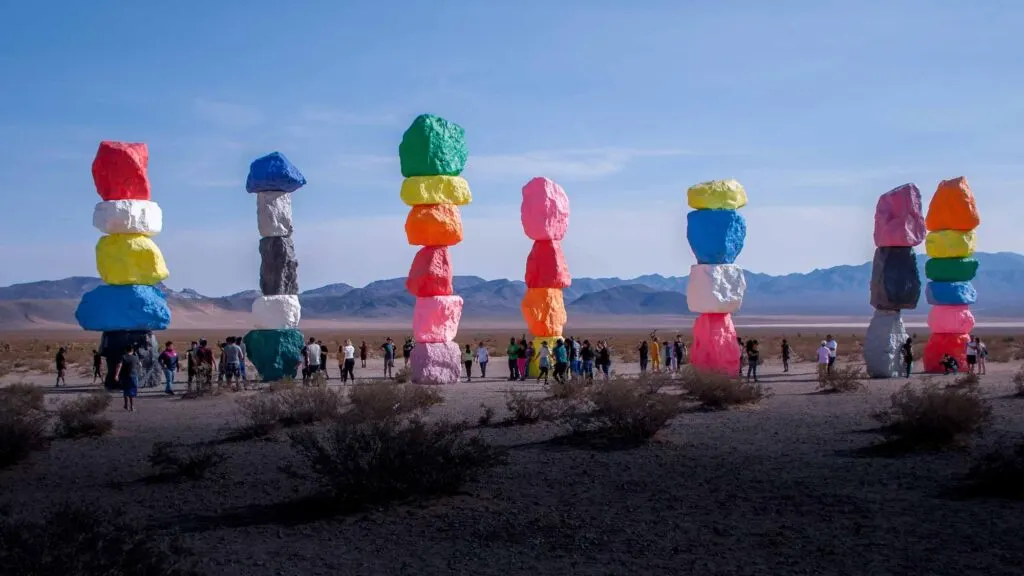 Swiss artist Ugo Rondinone's Seven Magic Mountains is a large-scale piece of art located about ten miles south of Las Vegas.
Seven towers of colorful, stacked boulders stand in the middle of the desert, by the road, amidst Sheep Mountain and the McCullough, Bird Spring, and Goodsprings mountain ranges.
This creative expression of human presence in the Mojave stands 30 feet high and is an absolute must on any Nevada bucket list, especially for those keen to take an iconic photo!
7. Neon Boneyard
Founded in 1996, The Neon Museum has an exhibit that could only exist in Las Vegas.
What used to be a place for storing neon signs no longer in use has been turned into the lively Neon Museum, where more than 200 iconic signs are preserved, restored, and displayed.
Take a guided tour and see how many of these signs you can recognize, even if you are visiting Vegas for the first time.
Chances are you have seen the Caesars Palace, the Golden Nugget, Moulin Rouge Hotel, Stardust, and Desert Inn glowing signs in a movie or TV show.
All of the restored signs in the collection are significant to the culture of the city, as each one holds a story of times gone by, starting with the world-famous "Welcome to Fabulous Las Vegas".
8. Black Rock Hot Springs
Black Rock Hot Springs is a geothermal oasis in the middle of the desert.
This fabulous blue pool of natural hot spring water, which sits 80 miles north of Gerlach, can only be accessed by crossing the Playa, a dry lakebed used by Indians and pioneers when traveling through the area many years ago!
On your way to this desert warm-water haven, look for the pointed black rock formation on the horizon. The hot springs sit directly beneath this age-old landmark in the US.
9. Valley of Fire State Park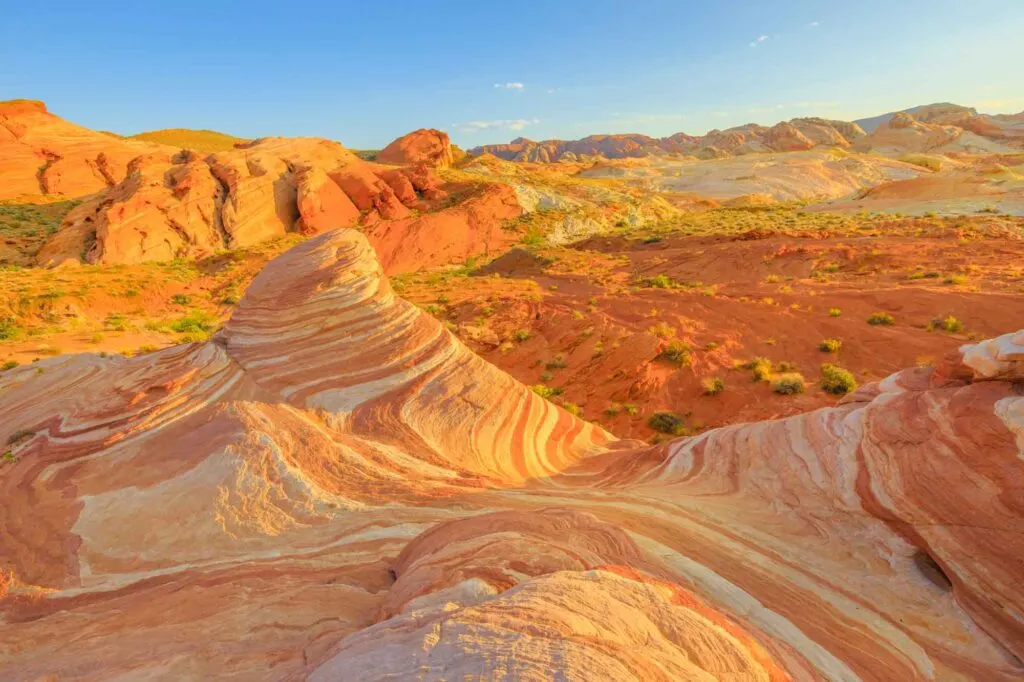 About 50 miles northeast of Las Vegas, Valley of Fire State Park consists of a desert landscape dotted with red rock formations made of Aztec sandstone.
Besides, it is one of the best places to visit near Las Vegas by car.
During the day, sunlight cast on these rocks makes them seem as if they're on fire, which pretty much explains the name given to the park.
Valley of Fire is one of the best things to do in Nevada for those keen to try out some hiking in the desert, with trails available for all levels.
White Domes Hike, Rainbow Vista, and Beehives are great to start. Park highlights include the Fire Wave and Pink Canyon, both of which provide scenery that looks straight out of Mars.
10. Rhyolite Ghost Town
Located close to Death Valley (one of the best national parks near Las Vegas), Rhyolite is one of the best things to do in Nevada if ghost towns are your jam.
The town was founded in 1904 as one of several mining camps that sprang up after gold was discovered in the surrounding hills when thousands of gold-seekers and developers flocked to the Bullfrog Mining District—the infamous Gold Rush Era.
Many of them decided to settle in Rhyolite, which made the town flourish into a modern small city, with 18 grocery stores, 50 saloons, 19 lodging buildings, 6 barber shops, 4 bakeries, 8 doctors, and 3 railroads.
They even had a casino on the hill!
Sadly, the boom ended when the gold ran out, and people started leaving until the town died out.
Today, you can still see the ruins of a few buildings, including the casino. The Goldwell open-air museum at the town entrance is fantastic, showcasing a rock labyrinth, the Last Supper concrete statues, and a few metal sculptures.
The Tom Kelly bottle house, a wagon, and a whacky multi-colored tile sofa round out the surreal scene.
Needless to say, Rhyolite is one of the best places to visit in Nevada.
11. Mount Charleston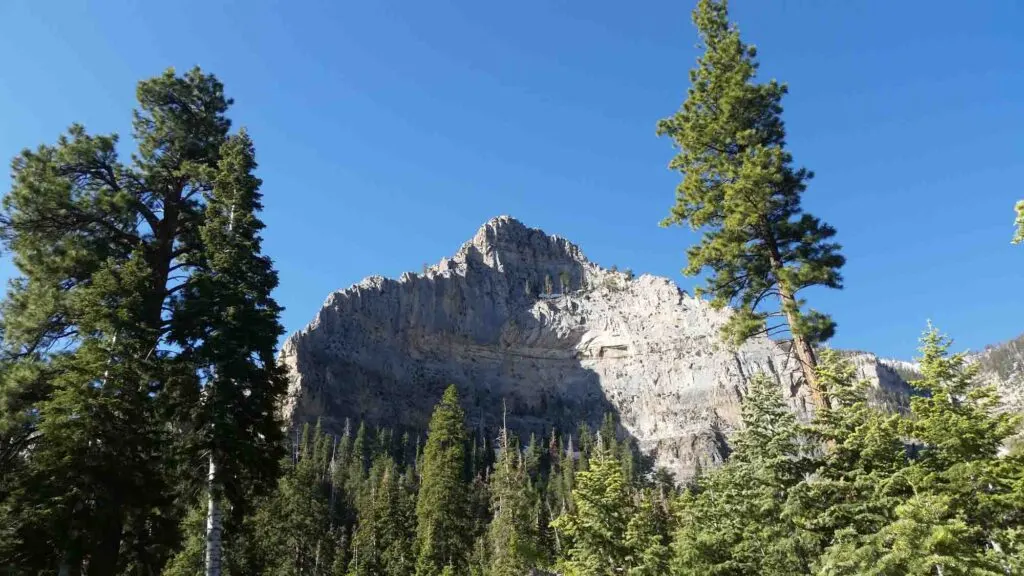 Mount Charleston is located about an hour from Las Vegas in the Spring Mountain Range.
The 17.2-mile out and back hike has an elevation gain of 4,819 feet. If you have the condition to rough it out, summiting Mount Charleston is a must on your Nevada bucket list.
The hike up to the summit is the toughest one in the area, which is understandable because it is the fifth highest peak in the state.
The beauty of the trail and the many viewpoints provide insane vistas of the mountain ranges and the valley.
The first four miles are the most difficult ones because most of the elevation takes place at this point. So, if you manage to make it there, the rest of the way is easier to tackle.
On the way to the summit, you'll get to see the damage from the huge Carpenter One fire, as well as the wrecked military airplane remains of a 1955 crash where 14 people died.
12. Tonopah Historic Mining Park
The Tonopah Historic Mining Park in Nevada is a historical site that will allow you to learn about mining, local history, and the lives of people that gave Nevada the surname "The Silver State".
Just to give you an idea, the mines of Tonopah produced more than five million tons of silver, which would be valued at $1,200,000,000 or more at today's market prices!
Unlike other mining towns, this quaint village that sits between Las Vegas and Reno is still inhabited by around 2,000 people today.
Sure, that's a lot less than the 10,000 that lived here during the mining boom, before the mines pleated out during the 1920s, but it is still undoubtedly alive.
From here, you can visit the mining park, where you can enter a 1,000 feet deep vertical mine shaft, explore some house ruins, old cars, and the Desert Queen mine 1902 storage bin in the shape of the state of Nevada!
The Big Bill Murphy statue honors a miner that died while rescuing his co-workers during a fire.
Tonopah is also the home of the infamous Clown Motel, said to be one of the scariest sites in the world.
It sits beside the Old Miners Cemetery, just down the street from the Mizpah Hotel, another place said to be incredibly haunted.
13. Cathedral Gorge State Park
Located close to the towns of Pioche and Caliente, Cathedral Gorge is a real gem full of stunning slot canyons, hoodoos, spires, and other otherworldly natural wonders.
Once completely submerged underwater, this natural sanctuary is a photographer's haven and a hiker's dreamland.
Popular activities at Cathedral Gorge State Park are camping, picnics, stargazing, and wildlife watching.
Keep your eyes open for black-tailed jackrabbits, bobcats, cottontail rabbits, mule deer, and kangaroo rats. At night, coyotes and kit foxes can be seen roaming around.
14. Sand Harbor
Sand Harbor is a beach park by Lake Tahoe, the largest alpine lake in North America.
Sitting atop the Sierra Nevada mountain range, its white-sand beaches, crystal-clear water, and unique rock formations make Sand Harbor a water lover's paradise.
Swimming, scuba diving, boating, kayaking, fishing, and sunbathing are the most popular activities.
Picnic areas amid cedars and pines are also available, contrasting perfectly with the sand and water to complete a perfect day in a majestic setting.
15. Great Basin National Park
Set on the eastern border of Nevada right by Utah, Great Basin National Park is one of the most diverse destinations in the state.
With groves of ancient bristlecone pines that can live up to 4,000 years, lakes, streams, limestone caves, splendid views of the Lehman Rock Glacier, and a wide array of wildlife, Great Basin National Park is a huge playground for adventure seekers.
Hiking here is dreamy, with trails that can take you up to mountain peaks or down to alluring caves. If you are a star and cosmos lover, you can also camp here.
Great Basin's remote location makes it one of the darkest places in the US, which practically guarantees fantastic stargazing.
16. National Automobile Museum
National Automobile Museum, which showcases the Harrah Collection, is a top attraction in Reno and one of the best things to do in Nevada for car aficionados.
The museum has 200 incredible cars displayed in four galleries, which separate the four-wheeled beauties by the year they were built – the 1890s to 1900s, 1910s to 1930s, 1930s to 1950s, 1950 onward, including race cars, each with a theme street and shop setting.
The collection includes Jonh Wayne's 1953 Chevrolet Corvette, Frank Sinatra's 1961 Guia, John F. Kennedy's Lincoln Continental, Elvis Presley's 1973 Cadillac Eldorado, and the Mercury Eight used by James Dean in Rebel Without a Cause, among other classics.
17. Pyramid Lake
Pyramid Lake is a beautiful desert lake located within the Pyramid Lake Paiute Tribe Reservation.
The water in the lake flows in through the Truckee River, which carries it 121 miles from Lake Tahoe in the Sierra Nevada mountain range.
Top activities in Pyramid Lake are fishing, swimming, boating, bird watching, photography, and camping.
Be sure to check out Pyramid Lake Paiute Tribe Museum and Visitor Center, as well as the Anaho Island National Wildlife Refuge, where you'll find American White Pelicans, California Gulls, Snowy Egrets, Caspian Terns, and Great Blue Herons, among other feathered species.
18. Lamoille Canyon
Nestled amidst the Ruby Mountain lays Lamoille Canyon, and the best way to explore this striking natural gem in Elko country is by taking the Lamoille Canyon Scenic Byway.
This spectacular byway winds around the mountain floor and climbs 8,000 feet through the glacier-carved, with plenty of viewpoints and stops to see wildflowers, wildlife, beaver lakes, and waterfalls along the way.
Look out for mountain goats, bighorn sheep, and birds perched in the rocky outcrops along the mountain face!
Summer activities include prime fishing and spectacular hiking while snowshoeing and heli-skiing are very popular during the winter.
19. Burning Man
Many people think Burning Man is an annual music and arts festival, but it is much more than that.
Dedicated to anti-consumerism and self-expression, the Burning Man art festival, which attracts around 70,000 people each year, is more of a social experiment.
People gather for nine days in a community intended to be temporarily self-sufficient, a kind of surreal counterculture party in the desert which traditionally culminates with the burning of a large wooden sculpture of a man.
20. Akhob
Hidden in the middle of the sensory overload of slot machines, neon signs, and shows of the Vegas Strip, on the top floor of the Louis Vuitton Maison City Center to be exact, you'll find Akhob.
Put simply, it is an exclusive appointment-only James Turrell experience of pure light and color designed to soothe your senses and help you find your center amidst striking color displays.
Akhon literally means "pure water" in ancient Egyptian, so the name goes well with the ocular therapeutic effects you enjoy at the site.
Believe it or not, this attraction is free. Just make sure to make an appointment with plenty of anticipation to make sure you snag a spot!
21. Lion Habitat Ranch
Henderson's Lion Habitat Ranch in Nevada, as the name implies, is a ranch that was turned into a sanctuary for wild lions, a safe place where they are protected and can live for the rest of their lives.
The lion sanctuary has been open since 1989. This is an amazing place where you can see the kings of the jungle interact with their pride in a safe habitat that is kind of similar to their natural one in Africa's grasslands.
The only exception to the lion rule is Ozzie the Giraffe, who can also be seen roaming around the area!
22. Lehman Caves Tour
Set inside Great Basin National Park, the Lehman Caves were formed over millions of years.
Water seeping through the bedrock has resulted in the sculpting of the cave floors, walls, and ceilings with fabulous formations.
Although the caves were discovered by Native Americans centuries ago, Absalon Lehman was the first person to bring tourists to the area in the year 1885.
He guided the first tour for visitors, which explains the name of this Nevada highlight.
23. Red Rock Canyon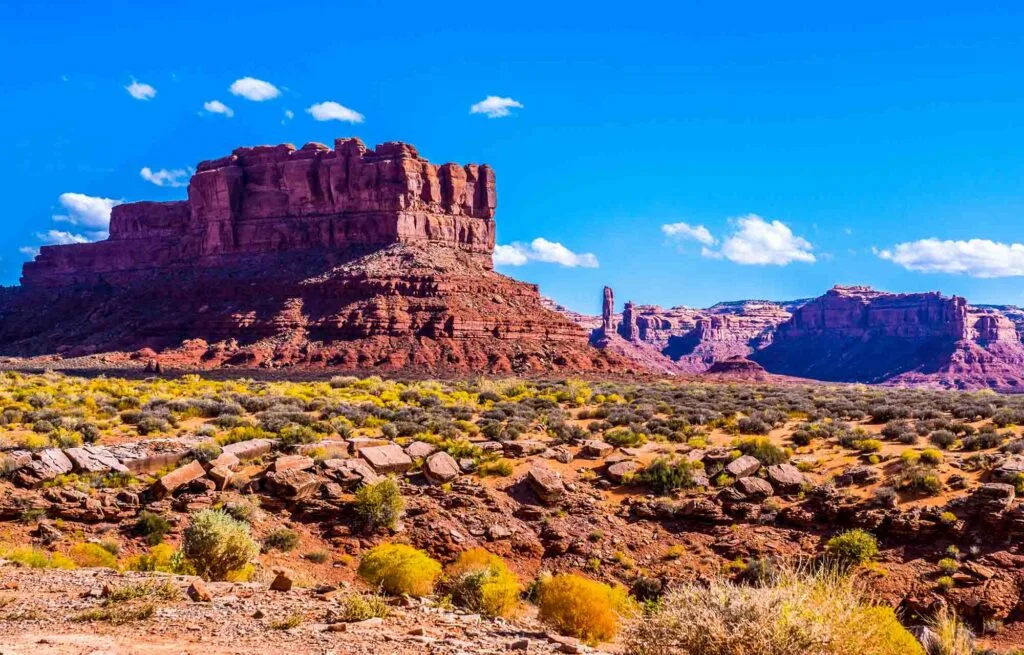 You'll absolutely love Red Rock Canyon if you're game for some striking desert views and quirky terrain.
A mere 15 miles from Las Vegas, Red Rock Canyon is famous for the unique red rock formations that dot the exceptional landscape which seems like it belongs to another planet.
Red Rock is a paradise for those looking for outdoor activities.
Here you can go hiking, rock climbing, horseback riding, and mountain biking, which are all some of the best things to do in Nevada.
It has many trails that feature spectacular vistas and splendid photo ops. High Point Overlook, Calico Hills, and Red Rock Overlook are must-stops for spectacular views.
24. High Roller
Hovering proudly at the heart of the Las Vegas Strip is the High Roller, the largest observation wheel in the US.
With a height of 550 feet, the huge Ferris wheel has 28 transparent pods that can take up to 40 people to the sky for a bird's eye view of lively Las Vegas.
You can ride the High Roller during the day or at night.
Some pods have an open bar, while the rest of them allow you to introduce drinks sold at the bar in the reception area.
25. Lake Mead National Recreational Area
America's first and largest national recreation area is home to striking mountains, stunning canyons, a rolling valley, and two majestic lakes within its 1.5 million acres (Lake Mohave and Lake Mead).
Here, you can go swimming, boating, fishing, kayaking, hiking, cycling, and camping amidst stunning landscapes and crystal-clear waters, making it one of the best things to do in Nevada for an outdoorsy day.
Designated as a national area after Hoover Dam was built and Lake Mead was created as the largest artificial water reservoir in the country, Lake Mead National Recreation Area has nine wilderness zones where you can enjoy plenty of natural goodness.
26. Lost City Museum
If you're a history buff or you simply want to learn about the ancestral Puebloans, the first permanent residents of the state, Lost City Museum is a must on your Nevada bucket list.
Here, you'll be able to get a glimpse of how the ancient tribe lived from 200 B.C. to 1200 A.D. You'll also find tools, pottery, jewelry, baskets, and other artifacts on display.
The Lost City Museum was built to preserve an important archaeological site discovered by workers who were building the Hoover Dam.
They soon realized the fascinating relics would soon be forever submerged in the water when Lake Mead was filled unless they did something. So, they reconstructed the site, with desert gardens and pithouses included, and that's how the museum was born!