Planning a Colorado vacation? Here're the coolest and best things to do in Colorado, our dear Centennial State!
Colorado is a dream when it comes to all things mountains, gorgeous scenery, and unbeatable outdoor activities.
Looming snow-capped peaks, exciting cities, gorgeous alpine lakes, quaint mountain locales, and a wide array of national and state parks boasting otherworldly-looking landscapes are just a few of the staples this magical state has to offer.
Put in simple words, the Centennial State is a cirque of gorgeousness, and even though we could write an entire book about everything there is to do here, we decided to round up the list with the 26 best things to do in Colorado that you can't miss!
26 Things to Do in Colorado
Here're our favorite things to do in the Centennial State!
1. Hike in Rocky Mountain National Park
Home to five glaciers, a whopping 156 alpine lakes, unique wildlife, and striking mountain peaks, Rocky Mountain National Park is probably the most iconic spot for quintessential Colorado scenery.
No trip to the Centennial State is ever complete without checking out a few of its natural wonders!
With over 110 trails on its menu, hiking in Rocky Mountain National Park is the ultimate way to explore this gem.
Because the park is home to more than a hundred 11,000+ feet peaks and some of the tallest mountains in North America, narrowing down the best trails is a pretty difficult feat.
Still, among the best ones to start tackling are Emerald Lake, Bear Lake, Longs Peak, Sky Pond, and Mount Ida (to name just a few!).
2. Ski in Vail and Nearby Mountain Towns
Vail is, of course, a prime ski resort town and one of the most beautiful places in Colorado. It really does have it all with its vast well-tended ski terrain and fancy downtown area, reminiscent of many European locations.
Whether you are really into skiing or you want to try out this fantastic winter sport, Vail has a trail for you among its seven legendary Back Bowls covered in snow.
You can also access other popular ski resorts in less than an hour, which are Breckenridge, Keystone, Arapahoe Basin, Aspen, Steamboat, and Winter Park. After conquering the mountains, you can enjoy world-class restaurants and shops in these towns and villages.
3. Drive the Peak to Peak Scenic Byway
The Peak to Peak Scenic Byway is one of the most beautiful drives through the state of Colorado, a definite must-do when you visit Rocky Mountain National Park and the Front Range.
This 55-mile route offers you unmatched views of the Continental Divide. Starting in Estes Park, this unique ride will give you gorgeous, breathtaking vistas mile after mile.
Pssst: The Mount Evans Scenic Byway is also worth the drive. It's the highest paved road in the United States, reaching over 14,130 feet.
4. Take in the Garden of Gods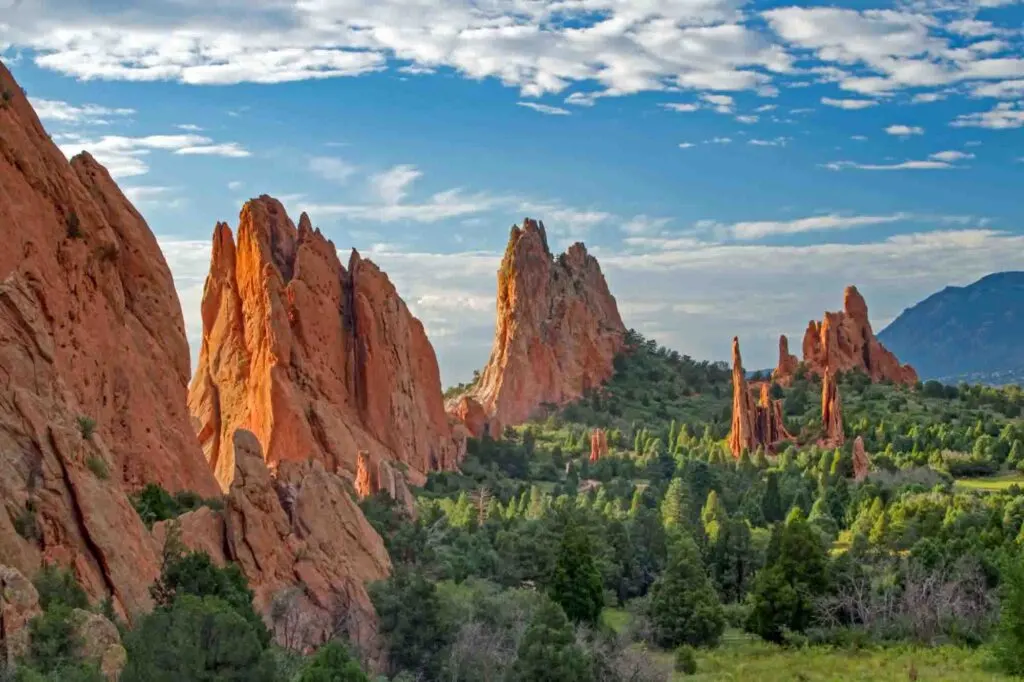 Towering sandstone rock formations backdropped by brilliant blue skies and Pikes Peak, a snow-capped peak – that's Garden of the Gods in a nutshell.
As a registered National Landmark near Colorado Springs, this picture-perfect destination was first named Red Rock Corral back in colonial times. The name was later changed to something more fitting to truly represent its beauty!
Numerous hiking trails curve through the park, providing hikes for every skill level, ranging from simple strolls, wheelchair-accessible trails, and more challenging hikes for those in search of a challenge.
Moreover, other fun activities to take part in during your time here include horseback riding tours, rock climbing, camping, scenic driving, and jeep tours!
Read next: Secluded Cabins in Colorado
5. Take in a Concert at Red Rocks Amphitheatre
Red Rocks Park is known mainly for its iconic amphitheater that is formed by giant sandstone outcroppings that shaped its walls.
Many a memorable concert has taken place here (Fun fact: The first-ever concert from a nationally-known musician at Red Rocks took place in 1911 when opera singer Mary Garden performed her set of solos, which included "Ave Maria.")
Over the years, the Beatles, Jethro Tull, John Denver, Jimi Hendrix, U2, Radiohead, Daft Punk, and many others have performed in this unique scenario.
As remarkable as the amphitheater is, if you think of Red Rocks only as an excellent place to see a concert, think again!
The park is located in a unique transitional zone where the Great Plains meet the Rocky Mountains at 6,450 feet above sea level.
Around you are 738 acres of geological wonders, spectacular vistas, deer, dinosaur bones, pines, and prairie, where tons of recreational options are available, such as hiking, biking, shopping, dining, and yes, taking in some concerts, to name a few.
Read Next: Best Day Trips from Denver
6. Explore Mesa Verde National Park
As far as national parks in the United States go, Mesa Verde is probably the most unique.
Rather than being a place focused on nature, this park houses architectural and anthropological wonders, giving visitors a chance to walk around Cliff Palace, Ancestral Pueblo people's cliff ruins.
Even though no one knows exactly what caused the civilization to collapse, today, you can hike a few of the trails at Mesa Verde National Park, where you'll get access to a window into the past.
While hiking through canyons, mesa tops, ridges, and overlooks of cliff dwellings and excavated mesa-top villages, you'll get to glimpse into 700 years of Ancestral Pueblo history.
Moreover, you can also book yourself a seasonal Cliff Dwelling Tour in order to visit a few cliff dwellings!
7. Hike in Great Sand Dunes National Park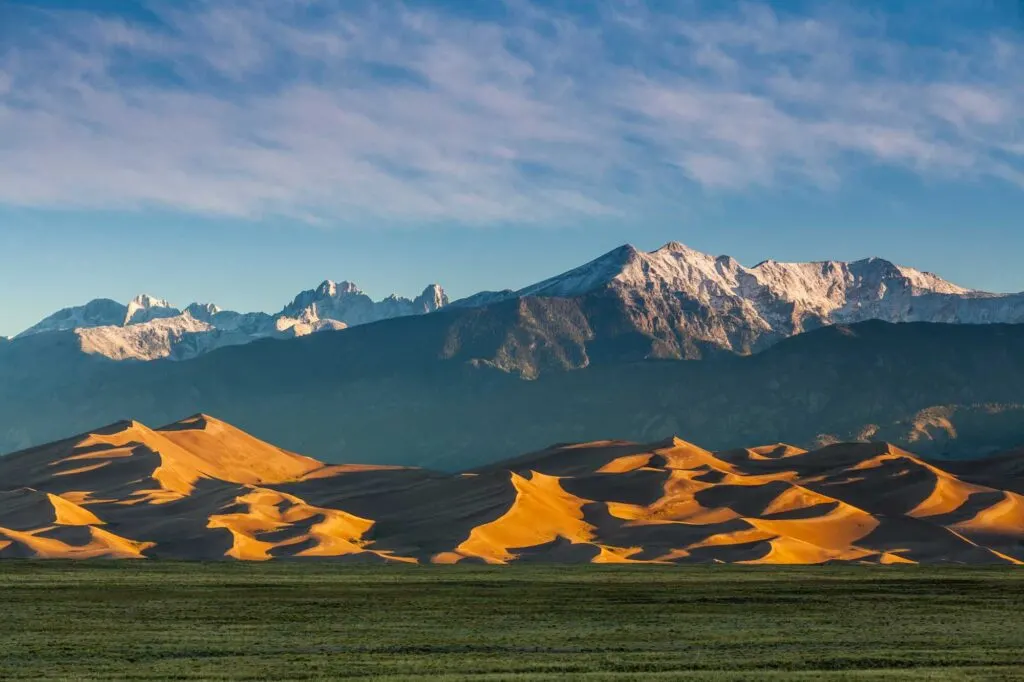 This may come as a shock, but the tallest dunes in the North American continent are found in Colorado!
Even though mountain scenery is the first thing that comes to mind when we think of the Centennial State, places like this are proof of how varied the landscape can get.
Imagine a landscape lined by towering dunes (some of which can reach heights of over 700 feet) backdropped by spectacular views of snow-capped mountains, and you've got yourself a scene you're very unlikely to find anywhere else in the world.
Hiking is a top activity here, and even though Colorado may be home to thousands of trails, none of them are quite like the ones you'll find at Great Sand Dunes.
Set over the sand, most hikes at this national park will have you conquering, well… dunes, and stunning views!
Moreover, two other super fun activities to try while here are sandboarding and sand sledding, both of which guarantee a dose of adrenaline combined with laughter.
8. Walk the Colorado Trail
If you are into adventures and hiking, the Colorado Trail is a dream for people like you. This long-distance trail has become one of the premier trails in the United States, famous among hikers, bikers, horseback riders, and backpackers worldwide for a good reason.
The 567 miles of trail that run between Denver and Durango will take you through some of the most splendid scenery in the Colorado Rockies while encountering the high mountain lakes and towering peaks of six wilderness areas and eight mountain ranges as you hike up to an altitude of almost 90,000 vertical feet.
9. Sleep Under the Stars
Ever dream of sleeping under the stars in the middle of pure rugged nature, just like the pioneers did over a century ago?
Black Canyon of the Gunnison National Park will give you exactly that experience, exposing you to some of the oldest rocks, steepest cliffs, and steepest spires in the United States.
All of this in a setting large enough to be overwhelming but also uncrowded enough to give you a feeling of closeness with the past.
Over time, the Gunnison River sculpted this wilderness of rock, water, and sky, making this gem of a park. Two campgrounds are available, one on each rim, for you to sleep under the stars.
10. Photograph the Hanging Lake
Hanging Lake is a gorgeous hike in Glenwood Canyon, just 7 miles east of Glenwood Springs, on the White River National Forest that will take you along the Colorado River while giving you picture-perfect vistas of the Red Rock Canyon.
The 1.2-mile trail is short but steep, rigorous, but very much worth the effort of hiking along, climbing over boulder fields, and sometimes muddy footpaths that thankfully provide charming wooden bridges and handrails when needed.
Once at the lake, you'll be stunned by the stunning scenario and probably won't tire of photographing the beautiful pristine lake and its surroundings.
Pro Tip: If you're willing to make an extra effort, follow the sign to Spouting Rock for more pic-worthy spots, including the falls and the hanging fern gardens around them.
11. Take the Telluride Mountain Village Gondola
Telluride, a lovely mining town, and Mountain Village are linked by a spectacular, 13-minute ride on a free gondola built to keep cars off the road and improve air quality in the region.
The gondola transports approximately 2.8 million skiers, snowboarders, mountain bikers, hikers, festival-goers, and commuters per year.
The gondola, also known as the "G" by the locals, is not only a free (literally!) ride. It will also provide you with fabulous expansive vistas of the San Juan Mountains, the mesas surrounding Aspen, the glimmering sun-struck waterfalls, and a bird's eye view of both towns.
If you're lucky to ride it on a clear day, you'll be able to get a glimpse of the La Sal Range in Utah!
You can hop on the gondola in Mountain Village or Telluride and ride to the midway point – Station St. Sophia – where you can access hiking, biking, and ski trails and then continue to the other side.
12. Take in the Colorado National Monument
Colorado National Monument is one of the most magnificent locations of the American West and one of the best places to visit in Colorado for a super quintessential experience.
Rising high above the Colorado River Valley, there's no better way to explore this gem of a place than by driving the Rim Rock Drive.
As you make your way through this scenic road, you'll stumble across six sheer-walled canyons that encompass towering monoliths dramatic cliffs. If you're lucky, you may get to spot unique wildlife, including bighorn sheep and soaring eagles.
13. Marvel at the Dinosaur National Monument
If you have kids who love dinosaurs – and that includes your inner child – a visit to Dinosaur National Monument is entirely worth it.
The location in northwest Colorado near the Utah border is a bit remote, but the collection of bones is impressive, and the Carnegie Dinosaur Quarry is really cool.
Approximately 1,500 bones from the time dinosaurs roamed here remain embedded in a rock wall!
Today, the mountains, desert, rivers, and canyons harbor all kinds of life, while petroglyphs give a peek of earlier cultures. Several scenic drives run through the park on both paved and four-wheel-drive roads.
To top it all, homesteaders and outlaws found refuge here, so Dinosaur is fantastic whether you are into science, history, nature, adventure, and stories.
14. Visit Denver Botanic Gardens
Denver Botanic Gardens is an oasis in the heart of the bustling city of Denver.
Featuring the largest North American collection of plants from cold temperate climates worldwide, it also harbors seven gardens that include plants from Colorado and its neighbors.
The park is home to a conservatory, several theme gardens, and a sunken amphitheater, where you might even catch a concert if you visit during the summer.
15. Hike Mount Evans
Mount Evans is one of Colorado's Fourteeners. If you're in the mood for a super awesome but not too challenging hike, Mt. Evans has a road that takes you to a trail that is only a few hundred feet from the summit.
The vistas from this point are jaw-dropping, and you're likely to see Bighorn Sheep and Mountain Goats. Keep your eyes open to spot some wildlife too.
16. Tour a Colorado Brewery
Colorado boasts a whooping 400 established breweries and produces more beer per capita than any other state in the US.
While the art of crafting beer was certainly not invented in Colorado, the Centennial State has made a very respectable name in those matters, and you can try locally made lagers and ales in almost any town and city.
The first microbrewery in the state was born in Boulder in 1979 when two CU professors arranged to get a brewing license and opened the Boulder Beer Company, which is still thriving to this day.
17. Get Into Winter Sports in Breckenridge
Breckenridge is simply dreamy if you are an outdoorsy type and love winter sports.
Founded in 1800 during the Gold Rush, this ski town has managed to preserve its pioneer ambiance in the middle of its stunning natural scenery despite its resort sophistication.
With an average of 300 inches of snow and 2965 acres of well-tended skiing terrain, and five towering peaks, Breckenridge indeed has won its place in all the ski destinations lists.
What makes it unique is that the winter sports season lasts from November to April, so you can take America's highest lift to practice your favorite activities well into spring.
These include skiing, snowshoeing, dog sledding, fat biking, sleigh rides, and snowshoeing. Hiking, fine dining, wining and shopping are available all year long, of course.
18. Visit Durango and Silverton Narrow Gauge Railroad and Museum
The Durango & Silverton Railroad and Narrow Gauge Railroad and Museum – also known as D&SNGRR Museum – is a great site to learn about railroad and mining history in the area, especially the D&RGW line.
Created in 1998, it displays artifacts donated by many families and old railroad workers for history buffs, railroad aficionados, and visitors, in general, to get a glimpse into the fascinating world of railroading.
19. Take in Maroon Bells from Maroon Lake
Maroon Bells is widely regarded for being one of the most photographed of Colorado scenery, but here's a little secret: no matter how beautiful the place might look on images, nothing compares to seeing it with your own eyes!
Much like any quintessential Rocky Mountain destination, Maroon Bells is dotted with idyllic lakes, cirques of aspens, and gorgeous scenery all over.
What makes this place stand out from the crowds, though, are the two twin peaks that tower high above it: North Maroon Peak and South Maroon Peak, two striking bell-shaped fourteeners that look as impressive as ever when reflected on the lakes!
20. Go for a Walk at Riverwalk in Estes Park
A walk through Estes Park is an enchanting experience you can't miss. Think wandering in a quaint mountain town, going in and out of shops while you listen to the soothing sounds of the Big Thompson River. Estes Park's Riverwalk is an absolute delight for visitors and locals alike.
The Estes Park Riverwalk is about a mile long, beginning at the parking structure and ending in Performance Park, where you can soak your feet in the river and check out the amphitheater and a climbing wall.
Along the way, you'll encounter wall art and mural-covered utility boxes painted by local artists, mom & pop shops, restaurants, cafes, and some little bronze pika statues in odd places as you stroll along. Try to spot as many as you can!
21. Learn About the America West at Museum of the Mountain West
The Museum of the Mountain West is a must, especially if you ever wondered what it was like to live in the days of the Ingall family in Little House on the Prairie.
This museum is a recreated town full of historic buildings and objects preserved from the years of the Mountain West, including a quaint drugstore, saloon, dry goods store, and post office, all reminiscent of life as it was a century ago.
Some of the buildings at this unique museum were transported from other locations. That is the case of the German Lutheran Church built in 1913, the school from 1890, and the 1882 Denver & Rio Grande Railroad section house.
22. Have a Good Time at the Denver Museum of Nature & Science
The Denver Museum of Nature & Science is a great way to learn about the natural history of the Rocky Mountain region as that of Colorado, but also about the Earth and the whole universe.
It houses more than one million objects, including natural history and anthropological materials, a pretty rich collection of exhibits for science buffs.
One of its must-see attractions for visitors of all ages is an animated T-Rex. Get as close to it as you dare!
23. Wonder at Bishop Castle
Where there's a will, there's a way, right? Bishop Castle is a testament that the saying is true. Located in Rye, Colorado, this castle was built by one man alone.
When he was 15 years old, Jim Bishop decided he would build himself a castle, and he has been doing it for the last 60 years.
You'll feel like you've traveled in time and space as soon as you catch sight of this castle that features the whole works, including wrought-iron bridges, spires, an elegant ballroom, stained glass windows, and even a fire-breathing dragon!
24. Relax in a Hot Spring at Strawberry Parks Hot Springs
Can you imagine yourself relaxing in hot mineral waters while gentle snow collects in the surrounding forested area? Well, you can actually do precisely that at Strawberry Parks Hot Springs on the outskirts of Steamboat Springs.
Sitting right by Hot Springs Creek, this splendid location harbors some of the most fantastic mineral springs in the world.
The blending of natural beauty with the unique masonry of the hot pools makes for a memorable and fabulous experience.
25. Learn About the US' West Heritage at Tread of Pioneers Museum
The Tread of Pioneers Museum in Steamboat Springs offers an excellent opportunity to learn about the United States' Western heritage and to get a fascinating insight into the events and people that turned what was once a rugged wild frontier outpost into the enchanting Rocky Mountain resort and sought-after destination.
The main attraction at Tread of Pioneers is a Queen Anne-style Victorian home with furnishings and decor from the early 1900s.
Inside, you can see exhibits that tell the story of Native Americans and the town development regarding pioneer settlement, mining, agriculture, and skiing. You'll even learn about a local outlaw named Harry Tracy!
26. Visit the Molly Brown House Museum
Located in Denver, the Molly Brown House Museum is set in the house that once belonged to Margaret Brown, a wealthy American philanthropist and activist.
She was nicknamed "The Unsinkable Molly Brown" because she was a survivor of the sinking of the Titanic!
The museum gives a good insight into what this courageous woman's life was about, as well as a taste of Victorian Denver architecture.
Final Thoughts on What to Do in Colorado
The Centennial State is filled with scenic beauty and incredible towns, from Pikes Peak and Cliff Palace to Colorado Springs and Glenwood Springs.
Whether you're into horseback riding, hiking, skiing, or snow tubing, there is something here for every type of traveler. Happy travels!
Did you enjoy reading about these things to do in Colorado? Then share it on your social media!