Here are some of the most beautiful scenic drives in California that you won't want to miss!
The Golden State is a haven for wonderful scenic routes, especially for those looking for a little variety in the landscape in their itinerary.
These California scenic drives have no shortage of incredible scenery, from looming mountains to expansive deserts, rugged coastlines, and other-worldly-looking landscapes.
If you're currently on the lookout for the best scenic drives in California, we've put together a list of 21 of the most amazing ones to take, ranging from short Sunday jaunts to multi-day adventures guaranteed to show you the best the state has to offer!
21 Outstanding Scenic Drives in California
Here are our favorite California scenic drives in no particular order. Still, you might also want to learn more about these road trips in California to ignite your wanderlust! Drive safe!
1. Highway 395 (Sierra Nevada Mountains)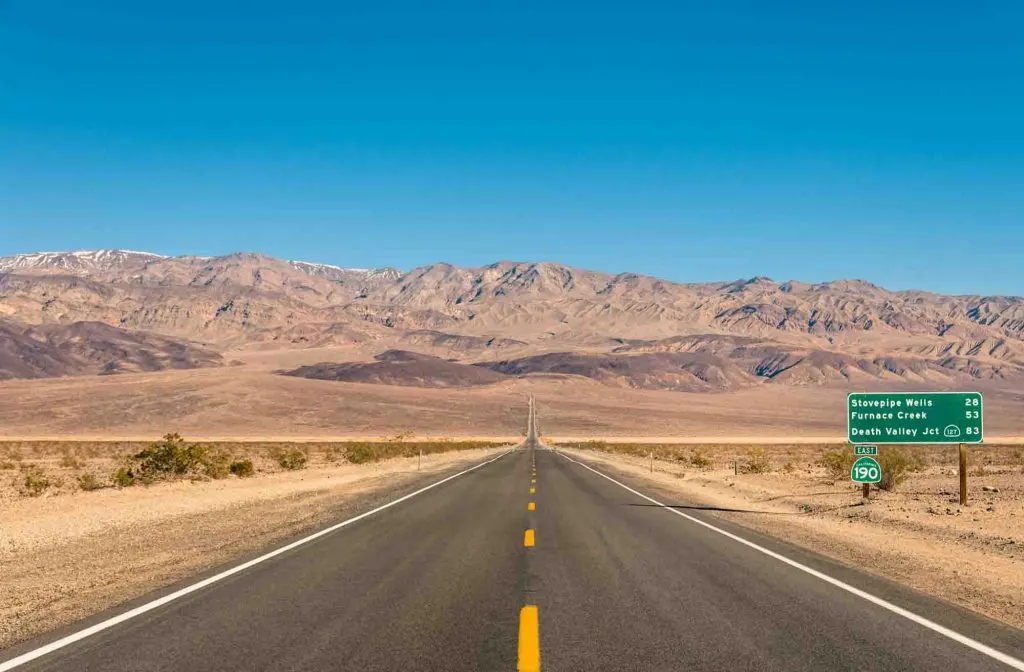 Running at the bottom of the Sierra Nevada Mountains, Highway 395 is one of the most scenic drives in California if a multi-day adventure is what you're after.
As you make your way from Los Angeles to Lake Tahoe, you'll get the chance to hit some of the most popular destinations in the state in one go, as well as stumble across several hidden gems and small towns that will make you feel as though you've been transported into old western California.
A few of the highlights of this drive include the alien-like Mono Lake near Lee Vining, the Devil's Postpile, Bristlecone Pine Forest, and a ghost town named Bodie.
Aside from the beautiful views all over, this 450-mile long drive will get you pretty close to some of the most sought-after national parks in Cali, including Death Valley and Joshua Tree, so make sure you plan for a few detours!
Read next: Best Things to Do in California
2. Pacific Coast Highway 1: San Francisco to Los Angeles
Driving route: Start in San Francisco -> San Jose -> Half Moon Bay -> Santa Cruz -> Monterey -> Carmel -> Big Sur -> San Simeon -> Morro Bay-> Solvang -> Santa Barbara -> end at Malibu.
As far as iconic California road trips go, the Pacific Coast Highway from San Francisco to Los Angeles may just be the most striking of them all.
Boasting miles of gorgeous coastal scenery, this incredible coastal drive in California, which is an extended version of a Big Sur road trip, is dotted by a vast array of stops worth making along the way.
While it'd be practically impossible to list them all, a few of the can't-miss ones include San Francisco for iconic sights, San Jose for the old and new, Santa Cruz for small-town vibes, Monterey for all things marine life, Carmel-by-the-Sea for quaint fairytale scenery, and so much more!
If you have more time, drive south to Huntington Beach, Laguna Beach, and Dana Point in Orange County—you won't regret it!
3. Volcanic Legacy Scenic Highway
Driving route: Start in Mt Shasta -> I-5 south to Dunsmuir -> Highway 89 southeast -> Highway 89 south to Old Station -> Highway 44 southeast to Susanville -> Highway 36 west through Lake Almanor -> Highway 89 north to end at Lassen National Park.
Aside from traversing eons worth of volcanic eruptions through the route's unique geological features, this drive will also give you the chance to explore the lesser-visited Lassen Volcano National Park.
You will also travel along the Cascade Mountain Range past numerous volcanoes, get to see stunning views of Mount Shasta, gawk at the 129-foot McArthur-Burney Falls Memorial State Park's waterfalls, and even explore over 500 lava tube caves at Lava Beds National Monument.
This drive actually continues onward into Oregon all the way up to Crater Lake, so if you have enough time to spare, you may want to travel further north to explore even more volcanic goodness!
4. The Rim of the World Byway: Los Angeles to Big Bear
Driving route: This road trip starts in Los Angeles and ends at Big Bear.
The Rim of the World Byway is not only one of the best California road trips but also a great way to explore the region in SoCal that is known as the Inland Empire.
Home to looming mountains, gorgeous lakes, and excellent lookout points, stunning views are guaranteed every mile of the way.
The star of this drive is Bear Lake—a year-round alpine lake tucked away in the heart of the San Bernardino National Forest.
If you're driving during the summer, you'll get the chance to practice water sports and hike around the lake, while winters will give you the chance to enjoy snow sports, including skiing, snowmobiling, tubing, sledding, and more!
Tip: Make sure you make a stop at the Keller Peak Fire Lookout, which was once California's first line of defense against fires and now provides wonderful views of the San Bernardino Valley.
5. Yosemite National Park & Tioga Pass
Stretching along the length of Yosemite National Park, the Yosemite Valley, & Tioga Pass, or Highway 120, is one of the most scenic drives in California, especially if you're keen to experience the state's most beloved national park from an entirely different angle.
This drive will take you all the way up to the highest pass in the state before dropping into the Eastern Sierra.
Wonderful views are guaranteed every mile of the way, with a few highlights, including the iconic granite cliffs of Yosemite, tons of alpine lakes, and redwood groves towering all over.
A few of the must-do stops include Olmsted Point to see two of Yosemite's granite cliffs up close (Clouds Rest and Half-Dome) and Tuolumne Meadows for beautiful hiking trails along the river.
At the very end of the road, you'll stumble across Mono Lake, a striking alpine lake that looks as though it belongs on an entirely different planet!
6. Lake Tahoe Scenic Loop
Driving route: Start in South Lake Tahoe -> west on Highway 50 to Tahoe Valley -> north on Highway 89 to Tahoe City -> east and south on Highway 28 through Kings Beach, Incline Village and Sand Harbor -> south and west on Highway 50 to end at South Lake Tahoe.
While most visitors to Lake Tahoe choose to hang out on either the northern or southern side of the lake, the Lake Tahoe Scenic Loop will give you the opportunity to see and experience absolutely everything this stunning alpine destination in California has to offer.
As you loop 72 miles of the way, you'll get to slow tour one of the most beautiful lakes in the entire world.
Along the way, you'll get the chance to explore some of the towns sprinkled around the lake, check out some of the best lookout points of the lake, stop at various beaches (Zephyr Cove and Sand Harbor are musts), and even get to hike a few trails, including the Emerald Lake hike, which boasts amazing views of the only island on the lake.
7. Skyline Boulevard (Highway 35)
Driving route: This California scenic drive starts at Highway 280 and Highway 92 in San Mateo -> West on Highway 92 to the crest -> south on Skyline Boulevard -> end at Summit Road in Santa Cruz.
Skyling Boulevard is the perfect Sunday drive if you live or are visiting San Francisco or a nice mountain detour if you're doing a longer road trip through California.
As you transit through lovely oak and redwood forest, you'll get the chance to hike one of the many trails on offer (the Windy Hill Open Space is a must), stop at the classic Alice's restaurant for some nosh, or visit Henry Cowell State Park for amazing trails amid towering redwoods!
8. Sequoia and Kings Canyon National Parks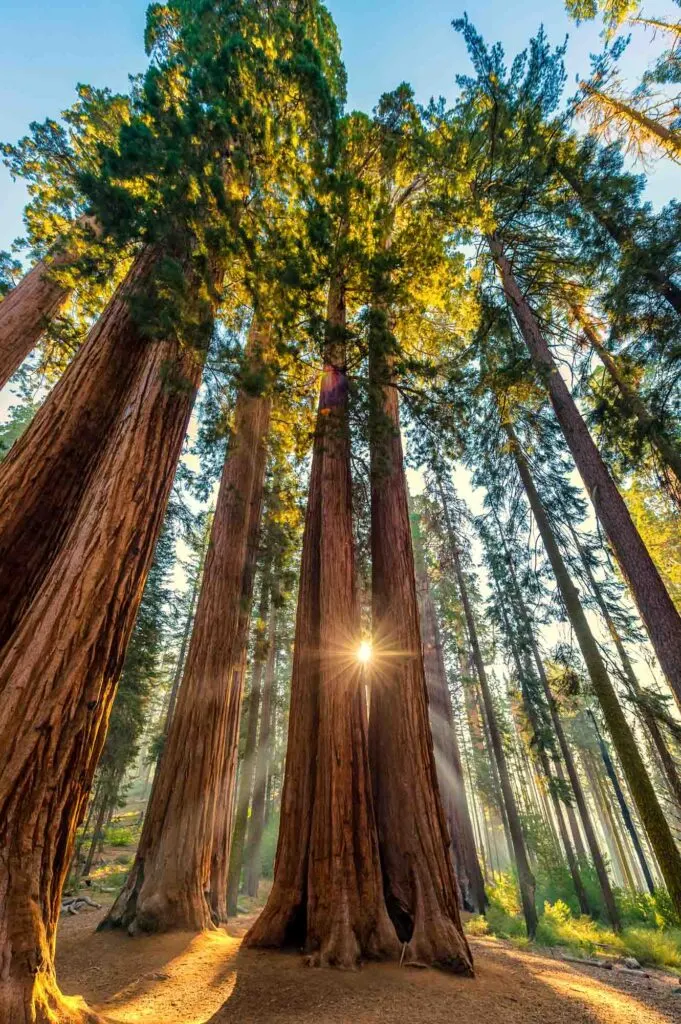 Driving route: Start in Fresno > Sequoia National Park > Kings Canyon National Park > Ends in Fresno.
Did you know two of California's best national parks are located right next to one another? If enchanting forests and adventures amid towering trees and canyons sound like your jam, this scenic derive is guaranteed to please.
Starting and ending in Fresno, this scenic drive will have you exploring Sequoia National Park, which homes the giant sequoias and the largest tree in the world.
A few must-do stops while in Sequoia are the Moro Rock, the General Sherman Tree (the largest single-stemmed tree on the planet), Tunnel Log, and the Giant Forest Museum.
King's Canyon National Park, which is located right beside Sequoia, is the next leg of the trip.
Despite its closeness to Sequoia, the landscape here is completely different, with huge mountains, deep canyons, expansive caverns, and rugged foothills being the stars of the show.
Make sure you map out the General Grant Tree, Roaring River Falls, Road's End, and Boyden Cavern!
9. Newton B. Fruity Scenic Byway in Prairie Creek
Driving route: Exit Highway 101 on exit 765 or exit 753 six miles north of Orick or four miles south of Klamath.
Named after the man who dedicated 40 years of his life to preserving redwood forests, Newton B.
Drury Scenic Parkway is a short but extremely beautiful drive located inside the Praire Creek State Park, making it one of the most scenic drives in California for those who love adventures in the forest.
Along its 10 miles, you'll get to drive past thousands of towering old-growth redwoods with plenty of opportunities to stop and wander amidst these soaring giants.
Be on the lookout for the numerous trailheads that dot the road, including Big Tree and Ah Pah, and for the herds of wild Roosevelt Elk that roam the park!
10. Palms to Pines Scenic Byway
Driving route: Start this scenic drive at the San Jacinto Mountains Visitor Center -> south on the Pines to Palms Byway (Highway 74) to Mountain Center -> north on Highway 243 to end at Banning.
The Palms to Pines Scenic Byway is a beautiful option for a day outing if you happen to the visiting the Greater Palm Springs area.
Along this insanely pretty drive from Palm Springs, you'll get to drive 67 miles, all of which are dotted by beautiful scenery, plenty of overlooks, wonderful hikes, and an abundance of attractions.
Greater Palm Springs is known for its beautiful scenery and warm weather, but this unique drive will show you a completely different side of the area as the vegetation changes from desert flora to high mountain wilderness.
Top choices for stops are the Santa Rosa and San Jacinto National Monument, Coachella Valley Viewpoint, Cahuilla Tewanet Vista Point, Paradise Valley, Lake Hemet, Mountain Center, Idyllwild, Indian Vista Scenic Overlook, and Banning, where you can take the freeway back to Palm Springs.
11. Silverado Trail Through Napa Valley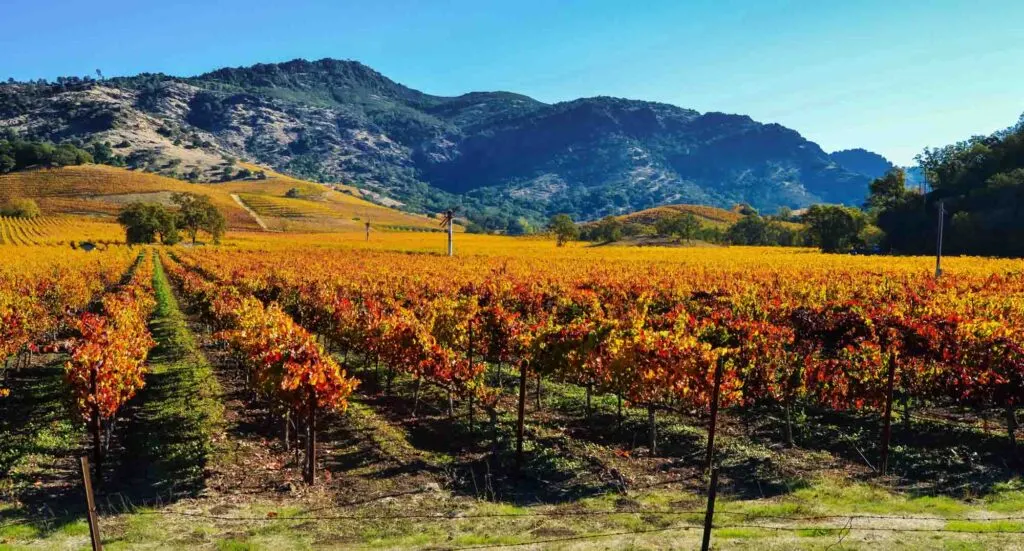 Driving route: Go north on California 29 through the city of Napa to Trancas Street; turn right, drive less than 2 miles, then turn left on the Silverado Trail.
As one of California's most loved wine regions, Napa Valley is a haven for all things wine, scrumptious food, and beautiful scenery all over.
Accessed mostly through Highway 29, Silverado Trail is a more leisurely alternative to the heavy tourist traffic that runs down the valley from Calistoga to Napa.
Established in 1852, when floods swamped the valley's main road, this road hugs the eastern flank of the valley, with almost no traffic lights to impede the flow of traffic.
This quieter back road offers stunning glimpses of the valley while it curves along the foothills, offering spectacular views of rolling vineyards and mountains in the distance.
You can also visit Napa River Ecological Reserve, a rare public access point to the river that provides a window into what life in Napa looked like 150 years ago.
Look out for oaks, California bays, and willows, plus some of the 150 bird species that have been identified here!
12. Angeles Crest Scenic Byway
Driving route: Start in Pasadena -> north on I-210 to La Cañada Flintridge -> northeast on Angeles Crest Byway (Highway 2) driving through the Angeles National Forest, Big Pines, and Wrightwood -> finish at Mountain Top Junction.
Only minutes from Los Angeles, you'll find the Angeles Crest Highway, which offers you an insanely scenic and secluded escape that proves that wilderness and natural beauty can be found only minutes away from one of the country's busiest cities.
Rising from approximately 1,500 feet at La Canada and ascending to 7,900 feet at its highest point in Dawson Saddle, this is one of the most scenic drives in Southern California.
You can stop at the Mt. Wilson observatory from the byway and catch some gorgeous views of the Los Angeles Basin on clear days.
You'll also find plenty of trailheads and camping areas in the forest, which makes for a perfect day outing or an overnight getaway to escape the bustle of the city!
13. Santa Monica to Point Mugu
Driving route: Start in Santa Monica -> Highway 1 north through Malibu and Sycamore Cove Beach -> end at Point Mugu.
It's not exactly a secret that Highway 1 (or the Pacific Coast Highway) is one of the most scenic drives in California.
If you don't have time to drive its full length, the stretch that spans from the Santa Monica Pier to Point Mugu in Malibu is a great drive to take to experience one of the most beautiful parts of the highway.
Mile after mile, you'll be treated to stunning coastal vistas and beaches galore. A few must-do stops along the way include Will Rogers State Beach, Topanga Beach, Duke's Malibu, Nobu Malibu, and the Malibu Pier with its famous Malibu Farm Cafe, Point Dume, Zuma Beach, El Matador Beach, Leo Carrillo State Beach, finally Point Mugu State Park.
Point Magu marks the end of the drive. While here, you'll get to explore 14,000 acres of nature, with over 60 miles of hiking trails for all levels of experience to choose from if you want to park your car and stretch your legs after driving.
You can also climb over the enormous sand dunes set close to the highway, explore rocky bluffs, see two river canyons and even get to spot migrating whales passing by if you visit in late winter and spring!
14. Highway 89 to Markleeville & Monitor Pass
Driving route: Start at the Tahoe Valley Y intersection -> South on Highway 50 to Meyers -> south and east on Highway 89 through Alpine Village and Markleeville -> end at Monitor Pass.
Known for its rapid climb up 3,200 feet to the top of Monitor Pass, Highway 89 is an uphill drive that descends rapidly on the way back.
Starting at its junction with Highway 395, this stretch of Highway 89 is 9.5 miles to the Monitor Pass along the eastern face of the Sierra Nevada Mountains.
While it's considered somewhat of a challenging ride, it offers fantastic views of sagebrush groves that give way to pines and aspens as you go higher, where you'll be able to catch breathtaking scenery before heading back down to the small town of Markleeville.
Note that Highway 89 is closed during the winter due to weather conditions.
15. California County Route 22 through Anza-Borrego Desert State Park
Driving route: Starts and ends at Anza-Borrego State Park.
Also known as the Borrego-Salton Sea Way, the magic of this drive is that it will have you exploring the desert magic of Anza-Borrego State Park, the largest state park in California and one that is not as frequently visited as the rest!
California County Route 22 is all about carpets of colorful wildflowers, fabulous vistas, glorious natural wonders, and various hidden gems you won't find anywhere else in the state, including natural palm oases and cacti-studded hills!
16. Death Valley National Park to Joshua Tree
Driving route: Start in Lone Pine -> Highway 190 to Furnace Creek -> Badwater Road south to Shoshone ->> Highway 127 south to Baker -> Kelbaker Road through Mojave National Reserve -> Amboy Road south -> end at Joshua Tree.
This wonderful scenic drive through the Mojave Desert is all about contrasts. Boasting desert landscapes, sand dunes galore, humongous craters, historic mining towns, and whacky art, there's no shortage of interesting things to see every mile of the way.
Once you make it to Death Valley, take a hike to Golden Canyon or Sidewinder Canyon, and check out the Mesquite Dunes, preferably at dawn for a splendid sunrise.
Additionally, you can also drive the Artist's Loop, which is another incredibly scenic California drive that will have you winding your way through colorful mountains!
In Joshua Tree, you'll be spoiled for choice as to what to do. Choose from hiking, scenic driving, mountain climbing, bouldering, horseback riding, and camping!
17. San Diego to Anza Borrego
Driving route: Start at San Diego/Santee ->> Route 67 to Ramona -> Highway 78 to Santa Ysabel -> south on 79 to Julian -> east on Highway 78 -> end at Borrego Springs.
This is one of the best California scenic drives to take for amazing desert landscapes, panoramic views, and interesting geology.
Along the way, you'll also get to experience one of the quirkiest places to visit in California: Galleta Meadows, a desert estate land that features over 130 enormous metal sculptures depicting different creatures ranging from insects, prehistoric animals, and fantastical beats – see how many you can spot or make a day out of exploring the entire area to find as many as you can!
18. Highway 49 Gold Country
Driving route: Start in Sonora -> Highway 49 north to Angels Camp -> Highway 4 to Calaveras Big Trees -> Highway 49 north to Placerville, Grass Valley, Nevada City and Bassets -> Gold Lake Highway -> end at Gold Lake.
Also known as the Gold Chain Highway, this scenic California drive is all about taking a road trip back in time to the Gold Rush era.
Along the way, you'll get to pass numerous mining towns reminiscent of the 1850s, when eager Americans rushed to the West hoping to pan some gold.
Moreover, you'll also get to peek at some glorious panoramic vistas of the Sierra Nevada Foothills, explore ghost towns, visit historical museums, and hike through several state parks.
Simply put, this is one of the most scenic drives in California to take if you want a mix of beautiful nature with a dose of history!
19. Ojai to Ventacopa
Driving route: Start in Ojai -> north on Highway 33 -> end at Ventacopa.
Although short, this 50-mile long drive makes for a great weekend escape. While in Ojai, you can hike to the Rose Valley Falls Trails in the outskirts, visit local art galleries, get a dose of culture at the Ojai Valley Museum of History and Art, and tour the Ojai Olive Oil's Farm.
As you make your way from Ojai to Ventacopa, you'll get to drive the twisty road through Padre National Forest, where you'll get to experience an alpine forest before reaching the Carrizo Plain.
As a tip, this drive is also a good option as a detour when traveling between Santa Maria and Santa Barbara.
20. The Redwood Highway
Driving route: Start in San Francisco -> Highway 101 all the way through Healdsburg, Ukiah, Leggett and Eureka -> Highway 1/101 to Crescent City -> end at Jedediah State Park.
As its name may clue you in, the Redwood Highway is all about driving from one redwood grove to another.
Right from the start, you'll get to see two beautiful groves, Muir Woods and Armstrong, and the scenery only gets more exciting the remaining 180 miles of the way.
Once you arrive at Legget, you will pass tons of groves, including those at Richardson Grove State Park at Garberville, Humboldt Redwood State Park, Avenue of the Giants in Phillipsville, and Prairie Creek Redwoods State Park in Berry Glenn.
Moreover, driving this road will also give you the chance to hike through a fern-filled canyon, spot elk grazing, and even drive your car through a tree trunk at Chandelier Tree!
21. Pacific Coast Highway 1: San Francisco to Fort Bragg
Driving route: Start in San Francisco -> Highway 101 to Marin City -> Highway 1 west to Muir Beach -> Highway 1 north through Sonoma County, Jenner, Point Arena and Mendocino -> end at Fort Bragg.
Northern Highway 1 is one of the most scenic drives in Northern California, especially if you're keen to explore the state's less-traveled north.
Parting from San Francisco, you'll be treated to 225 miles of mountains that separate Cali's countryside from its beautiful coastline, passing through quaint coastal villages along the way as well as several state parks and historical sites worth lingering a while in.
Top-notch stops in this scenic drive include the quirky surf town of Bolinas, the Drakes Bay lighthouse in Point Reyes, historic Fort Ross, Salt Point State with its cool sandstone formations, and Van Damme State Park, where you'll get the chance to hike through a beautiful fern forest.
Scenic Routes in California
Which of these scenic drives in California are you most excited to drive first? We'd love to know which scenic route in California sparked your interest the most, so let us know all about your plans in the comment section below!