As one of the largest and most diverse states in the United States, Nevada has some pretty spectacular road trips.
With so much to see in the Silver State, the best way to cover as much ground as possible is by picking out a highway and driving your way through the state.
No matter which road you end up choosing, you're pretty much guaranteed spectacular views and tons of activities, ranging from adventures up in the mountains to hikes in the desert, historic ghost town exploring, and just about everything else you can think of.
Below is a list of the best road trips in Nevada to take. No matter your travel style and interests, the Silver State is guaranteed to have at least a few routes to suit your needs!
Don't miss out! Click here to rent a camper van!
12 Best Nevada Road Trips
1. Reno to Black Rock Desert (Burner Byway)
Distance: 205 miles
Stops: Pyramid Lake, Gerlach, Black Rock Desert, Guru Road
The route from Reno to the Black Rock Desert is commonly known as the Burner Byway because it is the road 70,000 Burners take every year when heading to the annual Burning Man.
Even though the wildest arts festival in the world springs up as a temporary city every August, the artsy, mystical, and community spirit stays around all year long.
Start out in Reno, a hip town with a cool artistic vibe. Vintage shops, funky costume shops, and antique stores, combined with the Nevada Museum of Arts, wall murals, and Burning Man sculptures planted all over town will set you in the perfect mood for the ride ahead.
The first stop on your trip is Pyramid Lake, a crowd-free tribal-owned natural gem surrounded by spectacular scenery and unique red rock formations, including the Mother Rock.
Pop into the Pyramid Lake Paiute Tribe Museum & Visitor Center to learn more about the history of this sacred place where you can swim, fish for trout, and camp.
Once you get your fill of the lake, head to Gerlach, an eclectic town full of quirky art expressions. Here, you'll find several attractions including the Planet X Pottery, a solar-powered gallery full of unique paintings and pottery, and an open-air museum made of knick-knacks reminiscent of times gone by.
The final destination for Burners is the Black Rock Desert Playa, a huge sprawling area where they set up their fabled temporary city. It's set inside the Black Desert, which has tons of highlights you can explore year-round, including hot springs, incredible rock formations, and wildlife sightings galore.
2. Reno to West Wendover (Cowboy Corridor)
Distance: 400 miles
Stops: Unionville, Winnemucca, Elko, Lamoille Canyon, West Wendover
If there is one road that speaks loud about American Western heritage, it's the Cowboy Corridor that travels from Reno to West Wendover. This amazing Nevada road trip is all about highlighting the American West and the way locals have proudly preserved their traditions throughout the decades.
Start your journey in the cool artsy city of Reno before heading towards Winnemucca. Your first stop will be at Unionville, a mining ghost town that, like many that remain in Nevada, provides a testimony to the silver boom that took place decades ago.
What makes Unionville special is that Mark Twain lived there for a couple of years, having arrived there as part of the silver fever. His cabin is still standing and you can take a peek inside it!
Next on the itinerary is Winnemucca, dubbed "the friendliest town in Nevada" for good reason. People here are known for being very warm-hearted, so you can expect to feel welcomed and to find good lodging and dining options.
Whether you're in the mood for gaming or outdoor adventure, Winnemucca will deliver. Top attractions are the Humboldt Museum, Nixon Park, and the Winnemucca Sand Dunes.
Next on our itinerary is Elko. When you get there, you'll know that you're at the heart of the American West as the town brims with Western tradition. Start with a visit to J.M. Capriola, the oldest rancher and cowboy gear store in America, where they proudly craft the most beautiful saddles.
Then, check out the Northeastern Nevada Museum. Unlike other mining towns that were abandoned in Nevada, Elko survived and is still thriving, mainly because it developed a ranching tradition parallel to the mining jaunt.
While in the area, be sure to drive up the Lamoille Canyon Scenic Byway, a 12-mile paved road up the Ruby Mountains that will have your jaw dropping with the most beautiful vistas of the so-called "American Swiss Alps".
The final stop of this Nevada road trip is West Wendover, a cool city that combines Western tradition with a bustling nightlife. Unlike its sister city on the Utah side, gaming is allowed on this side of the border.
In fact, the most photographed attraction here is the giant Wendover Will, a cowboy that welcomes arriving visitors to the Frontier Casino. This 63-ft tall buddy was created by Pat Denner, the author of the Vegas Vic in Las Vegas.
3. Las Vegas to Mining Towns (Death Valley Rally)
Distance: 11 miles
Stops: Spring Mountain Ranch, Death Valley National Park
A road trip from Las Vegas to Death Valley National Park is about contrasts and extremes, but it is well worth the trip since it is one of the best national parks near Vegas.
You'll be stepping on the lowest point in North America at 279 feet below sea level and then going up to the fifth highest peak in Nevada, which is Mt. Charleston.
You'll also be going from bustling, ritzy Las Vegas to abandoned ghost towns, and everything you can imagine in between.
The first place you'll get to visit is Spring Mountain Ranch State Park, which is nestled inside the Red Rock Canyon Conservation Area and beautifully backdropped by the Spring Mountains. Here, you'll enjoy the Red Canyon vistas sans the crowds and explore the six springs that make the region so special.
As soon as you arrive at Death Valley National Park, you'll notice that, despite its name, the place is alive and kicking.
Pop in at the Furnace Creek Visitor Center, then take your pick from the many hiking trails available. Highlights at the park include Artist's Palette, Badwater Basin, Golden Canyon, and Mesquite Flat Sand Dunes.
A must-see side attraction while in the Death Valley area is the Amargosa Operahouse, a restored building turned into a US landmark by Broadway actress Marta Becket. If you time it right, you might even be able to catch a show there!
Death Valley area is definitely one of the best places to visit near Las Vegas by car!
4. Alamo to Tonopah (Extraterrestrial Highway)
Distance: 150 miles
Stops: Rachel, Black Mailbox
Dubbed the Extraterrestrial Highway because of all the mystery and rumors about UFO sightings that abound, Highway 375 is one of the quirkiest Nevada road trips out there.
Whether you are an ET fan looking to see some otherworldly beings or simply find yourself in search of another desert adventure, a road trip along this road is sure to please.
We can't guarantee you'll find UFOs and creatures from other galaxies, but we can assure you'll see a lot of desert scenery, Joshua Trees, and space-related attractions and sights.
Alamo is the place where you'll embark on this adventure. To start the road trip, head to the Nevada Test and Training Range, which harbors the infamous Area 51 military location. This is the (once) secret testing site where all the rumors about UFOs and paranormal activity began.
Keep your eyes open for the alien-themed attractions you'll find as you drive through the open desert. A must-do stop on this route is the town of Rachel, the only town on the way.
This is where you'll find the Little A'Le'Inn, which offers lodging and great alien-themed food. Moreover, you'll also find plenty of other fun attractions, including the Alien Research Center, a shop with tons of themed souvenirs, and the famous Black Mailbox, where you can leave letters and gifts for aliens.
After getting your fill of extraterrestrial vibes, hit the road and head to Tonopah, where you can look for different types of eerie and somewhat ghastly creatures.
This ghost town is famous for housing the Mizpah Hotel, said to be the most haunted hotel in the USA. Abandoned Tonopah Historic Mining Park and the Old Tonopah Cemetery contribute to the peculiar aura of this former prosperous mining town.
Read next: Best Places to Visit in Nevada
5. Las Vegas to Reno (Free-Range Art Highway)
Distance: 480 miles
Stops: Rhyolite, Goldwell, Goldfield, Tonopah
The Free-Range Art Highway from Las Vegas to Reno is one of the coolest road trips in Nevada. This route is full of roadside quirky art and ghost towns, making it a super unique road to take that brims with Nevada's old-time vibes.
The ideal way to start on the adventure is to visit the Neon Museum in Vegas, Southern Nevada, where you'll find a bunch of retired iconic neon signs.
From there, head to Rhyolite, a ghost town that used to harbor more than 5,000 residents but was abandoned over 100 years ago. The only things that remind us of its former glory are the remains of a few buildings, including a casino.
Make sure to stop at Goldwell Open Air Museum, close to the town entrance, where you'll find the strangest exhibits! Sculptures of a ghostly life-sized Last Supper, a giant miner, a colorful tile sofa, and a stone maze are some of the odd things you can expect to see during your time in Rhyolite Ghost Town.
Next on the agenda is the International Car Forest of the Last Church, a bizarre display of human expression. Located in Goldfield, yet another ghost mining town in Nevada, it houses over 40 hand-painted cars and buses.
Some of the decorated vehicles are carefully stacked, while others have their noses buried in the ground. You'll surely be asking yourself why they are there, and the only answer is because… it's Nevada.
Close your adventure with a Reno mural tour to see the 120 works of street art painted across this city in Central Nevada, not without stopping in Tonopah to check out the haunted Mizpah Hotel.
Don't miss out! Click here to rent a camper van!
6. Las Vegas to Ely (Great Basin Highway)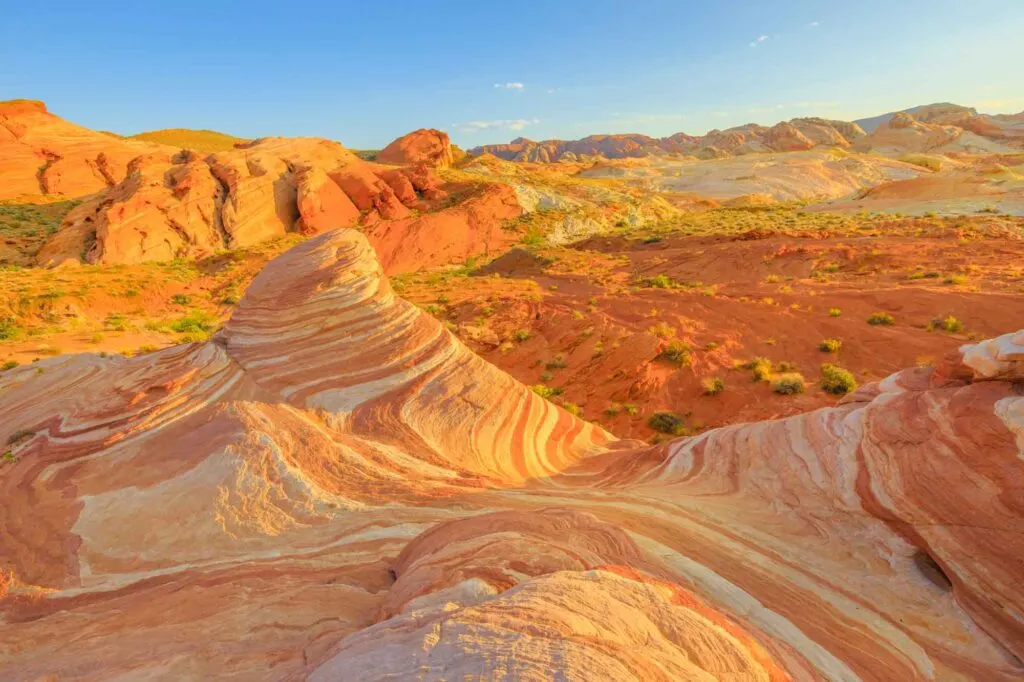 Distance: 255 miles
Stops: Valley of Fire, Moapa Valley, Caliente, Kershaw-Ryan State Park, Cathedral Gorge State Park, Pioche, Baker, Great Basin National Park
Like many road trips in Nevada, the Great Basin Highway provides a taste of the very best that the state has to offer. This gorgeous route along the US Highway 93 from Las Vegas to Great Basin National Parks packs mountain ranges, stunning parks, open desert, and historical sites into a single road trip.
Start out early in Vegas and head to Valley of Fire, where you'll want to spend several hours hiking amidst the red rock formations that resemble a huge bonfire when the sunlight rests upon them.
Then, go on to the Moapa Valley, where you can't miss the Lost City Museum for a chance to get a close look at a myriad of artifacts recovered from prehistoric archaeological sites.
On this scenic drive, you can stop at Caliente for a bite to eat or, depending on the time you have available, for lodging.
This pretty former resort town is a gateway to three parks that are perfect for those who want to explore a few hidden gems in Nevada.
Barnes Canyon is great for biking aficionados, Kershaw-Ryan State Park offers hikers spectacular trails and views, while Cathedral Gorge State Park is a dream for outdoor enthusiasts.
Pioche is where mining for silver in Nevada began, with Francois L.A. Pioche getting lucky and striking silver in the surrounding hills.
The town boomed and then puttered out, but today, it's the liveliest ghost town in the state. It is rich with history and with a few friendly residents who remain here willing to tell you all about it.
The final stop before getting to Great Basin National Park is Baker, which is a very small town that basically serves as a gateway and provision center for visitors to the park.
Great Basin National Park is home to alpine lakes, mountain peaks, ancient bristlecone pine forests, and the astounding Lehman Caves, all overlooking the Great Basin Desert in Northern Nevada.
7. Reno to Topaz Lake (Lake Tahoe Loop)
Distance: 102 miles
Stops: Reno, Lake Tahoe, Topaz Lake
Nicknamed the "Jewel of the Sierra Nevadas", Lake Tahoe is a massive alpine lake dotted by incredible nature and striking cities and towns.
Starting in the city of Reno, begin driving towards Lake Tahoe. Once you get there, you can loop 72 miles over the lake. This drive will have you exploring both the California and the Nevada sides of Lake Tahoe, all while giving you the chance to make plenty of stops in order to fully take in the lake and its surroundings.
A few must-do stops include Emerald Bay State Park, where you can see the only island on the lake and a beach so beautiful it will make you feel as though you're somewhere in the Caribbean. Kings Beach, Zephyr Cove, and Sand Harbor State Park are other amazing stops to make along the lake.
Of course, the lake isn't the only highlight of the road. This Nevada road trip will also give you the chance to explore towns and cities, including art-filled Reno at the very start as well as Virginia City's Western vibes and Carson City's historical charm.
After you get your fill of Lake Tahoe (if that's even possible!), you can go to a quieter lake in the middle of the desert. Despite its closeness to Lake Tahoe, Topaz provides an extremely different landscape!
Moreover, Lake Topaz is close to Toiyabe and Eldorado National Forests, making it a great place to explore some of the best Nevada has to offer in terms of nature in case you're in the mood for a few additional stops to add to this road trip in Nevada.
8. Carson City to Baker (Loneliest Road in America)
Distance: 300 miles
Stops: Austin, Eureka
Known as the Loneliest Road in America, Road 50 was actually nicknamed that way because of its 300-mile stretch in Nevada.
During this stretch of road, drivers will get to feel as though they were transported into an Apocapictic world, mostly because seeing other cars over the highway is pretty rare!
The first town in the itinerary is Austin, a place that looks like a western movie set. Plus, the town's surroundings also have plenty of natural attractions worth checking out.
Toquima Cave, the Stokes Castle, Spencer Hot Springs, the Pony Express National Historic Trail, and the Hickson Petroglyph Recreation Area are just a few examples of the variety of things to do while in Austin.
Next on the agenda is Eureka, a former mining town kept alive by the people who live there. Eureka is known as "the friendliest town on the Loneliest Road", so be assured you'll be treated warmly while visiting.
Here, you'll find plenty of 19th-century buildings that will make you feel like you traveled back in time. The Eureka Courthouse, Jackson House Hotel, Eureka Opera House, Carson Mansion, and Eureka Sentinel Museum are just a few examples of attractions worth seeing in Eureka.
Next on is Baker, a town that is known as the gateway to Great Basin National Park. From here, you'll get to explore one of the most diverse parks in the United States.
9. Las Vegas to Valley of Fire State Park (Neon to Nature)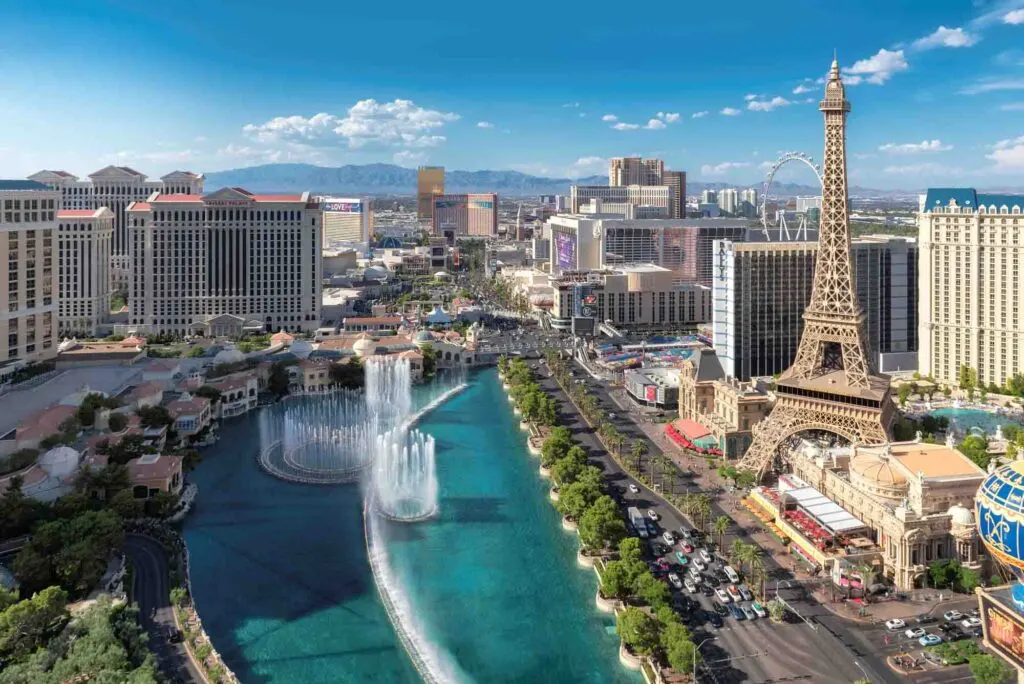 Distance: 46 miles
If you get the urge to escape the neon lights and slot machines of Las Vegas for a while, this is one of the best Nevada road trips to take, especially if you don't want to stray too far away from The Strip.
Set only 46 miles away from Vegas, Valley of Fire offers gorgeous desert scenery, striking rock formations, and tons of wildlife sightings. The park got its name because of its landscape, which looks as though it's on fire when the sun's rays touch the red rocks!
When you get to Valley of Fire, don't get out of the car and continue the road trip from here by driving the Valley of Fire State Park Scenic Byway.
This road will take you to see some of the best highlights of the park, including Arch Rock, Piano Rock, Mouses's Tank, Rainbow Vista, and other popular points.
If you're in the mood for a hike, however, there are plenty of trails that are considered easy enough and the perfect way to get introduced to desert hiking.
10. Elko Day Trips to Lamoille, Wells, and Jarbidge (Rubies Route)
Distance: 32 miles (Lamoille Canyon) 50 miles (Wells) 101 miles (Jarbidge)
The northeastern part of Nevada is a wonderful region that deserves a road trip of its own. One of the things that makes this Nevada road trip so special is the fact that locals are extremely proud of their western heritage and they're usually very keen to share it with visitors.
Elko is also the perfect starting point for visiting three gems in the Ruby Mountain range area: Lamoille, Wells, and Jarbidge, all of which come accompanied by lush mountain views and cowboy vibes.
From Elko, drive to the town of Lamoille, where you can take the 12-mile Lamoille Canyon Scenic Byway. Be prepared for splendorous vistas of the Ruby Mountain snow-capped peaks and trailheads, which will lead you to the area's various alpine lakes.
Don't miss the Glacier Overlook, which shows the full splendor of this canyon that was carved out by a glacier thousands of years ago.
Another option for a day outing from Elko is a 50-mile trip to the town of Wells. Besides offering the opportunity for gaming and playing golf, Wells is surrounded by several natural wonders, like the Bishop Creek Hotspring and Angel Lake.
Last but not least in the Rubies Route is Jarbidge, a former gold-mining town that is known as the most remote town in the Lower 48.
Here, you'll find yourself surrounded by towering mountains, see tree-studded rock formations, and walk amid many historical buildings that will transport you back in time. Make sure you check out the Jarbridge Jail, too!
11. Las Vegas to Spencer Hot Springs
Distance: 322 miles
Stops: Beatty, Rhyolite, Indian Springs, Tonopah
This glorious Vegas road trip will take you all the way to Spencer Hot springs, one of the best hot springs in the state.
Even though the drive to the springs itself would take just over four hours to complete, there are plenty of stops worth making before reaching them, so plan a full day in order to make the most out of the drive.
The first stop along the way is Beatty, where you can visit the wacky Goldwell Open Air Museum before heading over to nearby Rhyolite, a former mining town that is now one of Nevada's most popular ghost towns.
If you're up for a nature-filled stop, you can also make a stop at Indian Springs, where you can take a hike up to a series of waterfalls.
Next is Tonopah, a former mining town that is known all over Nevada for being home to several haunted spots, including the Mizpah Hotel and the Old Cemetery.
Tonopah also homes the Clown Motel, which is just as creepy as it sounds! Aside from getting spooked, a must-see in Tonopah is the Tonopah Historic Mining Park, where you'll get to explore mines and learn all about this peculiar town's history.
As a note, this drive can definitely be done as a Vegas day trip, but if you want to see everything, it might be worth spending the night at Tonopah in order to be able to travel without getting stressed. You can actually book a room at the Mizpah hotel if you dare!
12. Las Vegas to Laughlin via Seven Magic Mountains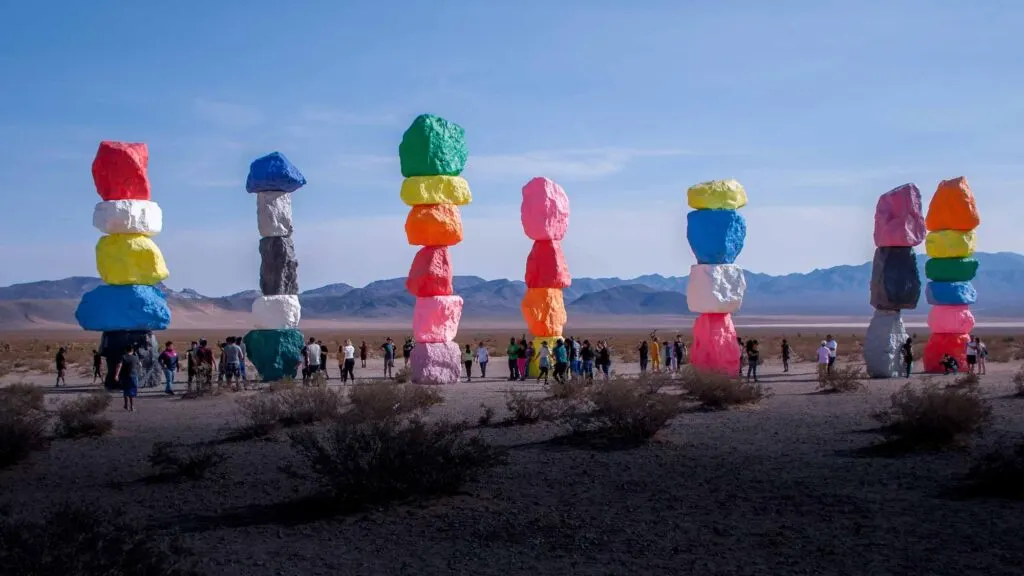 Distance: 96 miles
Stops: Seven Magic Mountains, Boulder City, Henderson
Travel from Las Vegas to Laughlin for a unique road trip filled with a bit of art, quaint towns, and stunning nature.
Start this Nevada road trip off by driving from Las Vegas to the roadside Seven Magic Mountains.
This artwork is made up of seven towers of colorful, humongous stacked boulders sitting in the middle of the desert, creating a striking scenery you'd only expect to find in Nevada.
Then move on to Boulder City, which was originally set up to house the builders of the Hoover Dam over a decade ago. Today, Boulder is full of quaint cafes, historic buildings, and charming shops.
Artsy vibes and historic attractions like the Nevada State Railroad Museum, the Boulder Dam Hotel, and the Hoover Dam Museum are just a few of the highlights you can see during your visit.
If you're itching for some time in nature, Lake Mead National Recreation Area and Black Canyon are two perfect detours to take from Boulder City.
Henderson is another city on the way that is rich with history and natural goodness.
The Clark County Museum and the petroglyph site at Sloan Canyon National Conservation Area will give you information on the area's history from prehistoric times to the city's foundation and early days. For outdoor adventures, you can visit the Lion Habitat Ranch sanctuary to see some big cats!
Next on the schedule is Laughlin, a town that offers visitors similar entertainment to what you'll find in Las Vegas in a much smaller scale, including casinos, a great nightlife, and a splendid dining scene. Make sure you check out the Laughlin Car Museum, too!
Latest posts by William Taylor
(see all)