Have you ever wondered what some of the most beautiful states in the USA are? Many people dream of going to the USA to get the full American experience. Others are lucky to be born in such a great country.
Let's face it, every state has its pros and cons. However, there is no denying that the states in the USA mentioned below have beauty in spades. The following post will highlight that beauty in all its glory.
Wondering why you should visit these places? I mean, who doesn't love national parks, nature, landmarks, and national monuments? That's right. You get that and more in these places.
Without further ado, let's talk about the most beautiful states in the USA.
26 Most Beautiful US States
Here are the most beautiful US states ranked. Tell us your top 5 beautiful states in the comments!
26. Rhode Island
Rhode Island may be the tiniest state in America. However, it sure packs a punch when it comes to its scenic beauty.
Due to the tens of thousands of miles of Rhode Island shoreline, it is no wonder it has been nicknamed the Ocean State.
For example, the Narragansett Bay Beaches have long stretches of fine, white sand that beckon anyone looking at them.
The Mohegan bluffs are an impressive three-mile stretch of coastal cliffs and a daunting 200-foot drop straight into the ocean.
This island has around 150 beautiful birds that stop in the fall, making it excellent for birders.
Worth Mentioning In Rhode Island:
The Ocean Drive in Newport
The Breakers
Cliff Walk
Providence
Narragansett Bay Beaches
Colt State Park
25. Georgia
Georgia is incredibly the largest state east of the famous Mississippi, and when they say the south has a lot to offer, they aren't kidding.
Amicalola Falls, the largest waterfall in Georgia, reaches 729 feet tall, making it an incredible experience and a must on your USA bucket list.
The green forestry surrounding it makes this one of the most beautiful falls in the USA.
Georgia offers not only unique natural features but also splendid mountain landscapes and beautiful cities. What's not to love?
Worth Mentioning In Georgia:
The Callaway Gardens
Blue Ridge Scenic Railway
Cumberland Island National Seashore
Oksana National Wildlife Refuge
24. Texas
For anyone out there who is claiming Texas is only good for BBQ and country music, we have another thing coming: the incredible scenery throughout Lone Star State.
There's so much more to the state than it gets credit for!
It's no secret that Texas is massive, and with that land comes a wide range of cities to explore, natural beauty to observe, and amazing food to eat.
Places like the waterfall at Hamilton Pool Preserve, Big Bend, bluebonnet fields, many state parks, and incredible beaches, make Texas one of the most beautiful states in the US.
Worth Mentioning In Texas:
23. Idaho
Combining glacial lakes, lunar-like landscapes, and a taste of the American West, Idaho tops the charts as one of the most beautiful states in the US.
In the state's southern region, close to Twin Falls, the majestic Snake River cuts through ancient basalt lava flows and leaves a remarkable impression.
Formed by the river, the Snake River Canyon is the boundary between Idaho and Oregon and is an incredible spectacle to witness.
Another one of the most beautiful phenomena in the state's natural attractions is Shoshone Falls.
Towering over 200 feet, this waterfall produces a stunning show of rushing water. The natural basalt splendor of Shoshone Falls can be seen from many vantage points.
Worth Mentioning In Idaho:
The Centennial Waterfront Park
Craters of the Moon National Monument
Sawtooth National Recreation Area
Shoshone Falls
Bruneau Dunes State Park
Sun Valley
22. South Carolina
South Carolina is one of the most beautiful states in the US, and it lies alongside the Atlantic Ocean, neatly tucked between Georgia and North Carolina.
With cities like Charleston and Myrtle Beach, South Carolina offers a mix of history and nature fulfilling all tastes.
Beyond the southern charm, this beautiful state has otherworldly beaches, gardens, islands, and state parks. In other words, a must-visit place in the US!
Worth Mentioning In South Carolina:
Charleston's Historic District
Mount Pleasant
Congaree National Park
Hilton Head Island
Myrtle Beach
21. West Virginia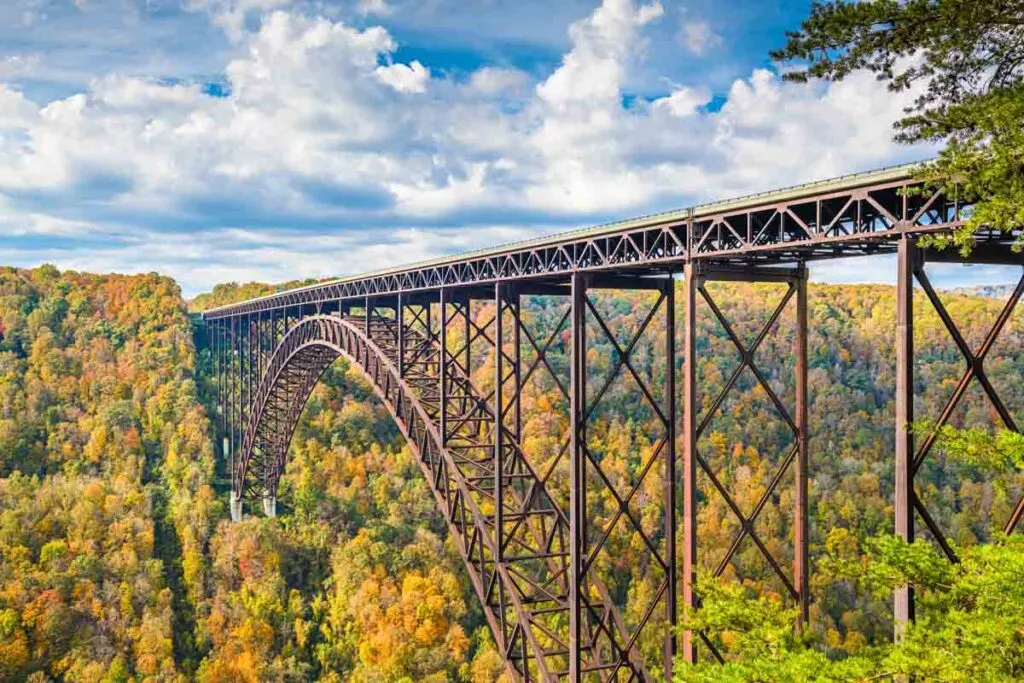 There is something incredibly magical about West Virginia. You are guaranteed to get an experience like no other.
Seneca Rocks, one of West Virginia's most magnificent and identifiable natural attractions, are the centerpiece of a fantastic state park.
Another terrific destination if you love the outdoors is Hawks Nest State Park. There is a lot of beautiful landscapes on display.
Yet, the New River Gorge, one of the most beautiful bridges in the US, as well as the reflecting waters below it, probably offer a far more breathtaking view.
Worth Mentioning In West Virginia:
Berkeley Springs State Park
Appalachian Trail
New River Gorge
Blackwater Falls State Park
20. New York
While New York City is the state's most popular tourist destination, upstate New York offers year-round vacation opportunities.
In summer vacations, you can enjoy the many gorgeous lakes, stunning mountains, and charming small towns.
In the winter vacations, visit the ski resorts and luxury hotels that make great getaways.
Further out, the state boasts Niagara Falls, one of the prettiest natural wonders in America.
Worth Mentioning In New York:
Lake Placid
Letchworth State Park
Niagara Falls
Central Park
Finger Lakes
Thousand Islands
The Catskills
19. New Mexico
New Mexico isn't dupped the land of enchantment for no reason. It is a state gifted with ever-changing colors at sunset and more. However, there are tons more it charms travelers with.
There are many places in New Mexico with landscapes more reminiscent of a Star Wars movie than what most people would expect from the high desert.
The barren badlands are so breathtaking that you wouldn't think they are situated in the Bisti Badlands Wilderness. The otherworldly landscapes of this park bring to mind surreal scenery worth experiencing firsthand.
With strong influences of Hispanic culture and Native American, New Mexico offers a multitude of unique attractions not only in large cities but also in the smaller hubs.
Worth Mentioning In New Mexico:
White Sands National Park
Albuquerque
Carlsbad Caverns National Park
Santa Fe
Petroglyph National Monument
Taos Pueblo
Chaco Culture National Historical Park
18. Wisconsin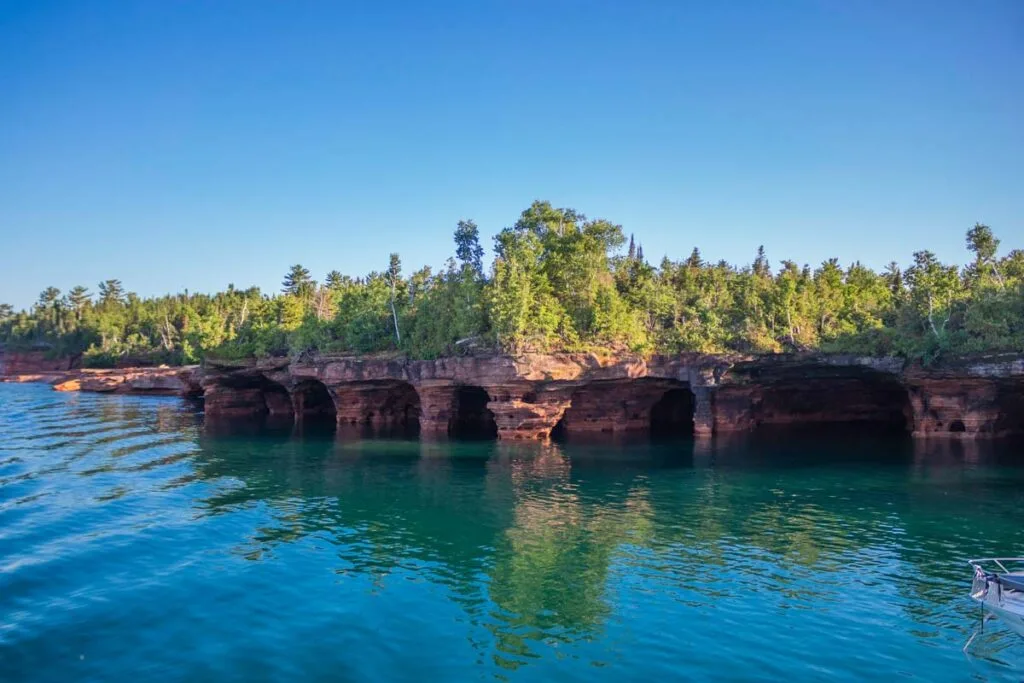 The Badger State offers diverse landscapes and attractions that are a delight to explore.
Wisconsin has some truly amazing natural spots, including beautiful waterfalls, incredible state parks, and the Dells of the Wisconsin River.
These places together make Wisconsin one of the most beautiful states in the US.
Worth Mentioning In Wisconsin:
Holy Hill
Oshkosh
The Harley-Davidson Museum
Apostle Islands Sea Caves
Madison
17. Tennessee
Tennessee has stunning natural scenery, making it one of the prettiest states in America.
As a state with many natural wonders, Tennessee houses the Twin Arches, which make up an incredible natural bridge.
Ruby Falls, the tallest underground waterfall in the US, has drawn thousands of tourists through the years.
Not only that, but Tennessee has an incredible music scene worth checking out.
Worth Mentioning In Tennessee:
Cade's Cove
Old Mill
Dollywood
Country Music Hall of Fame and Museum
Grand Ole Opry
Great Smoky Mountains National Park
16. North Carolina
When it comes to North Carolina, it simply doesn't matter whether you are down by the coast or in the bright, green hills. North Carolina is undoubtedly one of the most beautiful states.
This state has stunning mountain scenery and charm when it comes to its islands.
One of those is the Bald Head Island. If you are a traveler looking to get away from the hustle and bustle of the city, this island is great as the pace is nice and slow.
If you're hunting for one of the most scenic roads in the USA, look no further because the Blue Ridge Parkway runs through North Carolina.
Blue Ridge Parkway is stunning all year long, but during the fall vacations, the hills surrounding it turn red, yellow, and orange.
Worthy Mentions In North Carolina:
The largest artificial white water park
The 300-plus foot monolith is the Chimney Rock
Great Smoky Mountains National Park
Blue Ridge Mountains
15. Maine
This state is one of the best looking for picturesque scenery and rocky coastline. Not only that, but it has unparalleled landscapes. Here's why many can't get enough of Maine.
For starters, Acadia is an incredible park boasting Cadillac Mountain, lots of square miles of pristine beauty, and amazing views.
It's no wonder this national park is bringing it when it comes to what seems like never-ending wildlife and pristine waters.
This is due to it being the only national park in the whole of New England. Park hoop road has dozens of scenic overlooks to keep travelers stunned.
If you're looking for sandy beaches, look no further than Ogunquit. Although it was a tiny fishing village, to begin with, nowadays it is popular for many reasons.
Worth Mentioning In Maine:
Baxter State Park
Bar Harbor
14. Massachusetts
Known as the Bay State or Old Colony State, Massachusetts has more than what is expected to offer.
North Point Park is a place for guests who wish to take advantage of everything the state offers.
The park, which is on the Charles River, has only been operational for a short while. Still, it has already gained a lot of popularity.
Among the things that can be observed from the lofty perch within the park's grounds is the Museum of Science.
Bartholomew's Cobble, a National Natural Landmark, is unquestionably among the most picturesque locations in Massachusetts.
The Cobble's highest point, which was formed by geological turbulence, offers breathtaking vistas of the Housatonic River Valley.
Worth Mentioning In Massachusetts:
Atlantic White Cedar Swamp Trail
Freedom Trail
Cape Cod beaches
Boston
Faneuil Hall Marketplace
Museum of Fine Arts
13. Vermont
Stunning scenery, pristine forests, majestic mountains, bubbling rivers, and tranquil lakes. Vermont is by far one of the most beautiful states in the USA!
Home to 55 different protected areas, the Green Mountain State is a mecca for outdoor enthusiasts and nature lovers alike.
While Vermont may be small, it still is filled with scenic beauty, and it is hands-down one of the best places to visit in the United States.
From its snowy mountain tops to its quaint towns, its pristine forests, its scenic lakes, and its breathtaking foliage, there is so much to do and see here, no matter what time of the year you may visit!
You will find no shortage of places to visit in Vermont.
Worth Mentioning In Vermont:
Lake Champlain by Burlington
Green Mountain National Forest
The picture-perfect Woodstock
12. Wyoming
Wondering what this state has to offer?
Although there are more than 500 well-known geysers throughout Yellowstone National Park, this one is the most well-known.
The cone geyser, which can shoot water up to 180 feet up in the air, is also quite active.
This national recreation is fantastic if you enjoy natural beauty and loads of things to do. This is because it has red rocks that draw attention irrespective of the reason you're there.
Worth Mentioning In Wyoming:
Devils Tower National Monument
Yellowstone
Jackson
Hot Springs State Park
11. Washington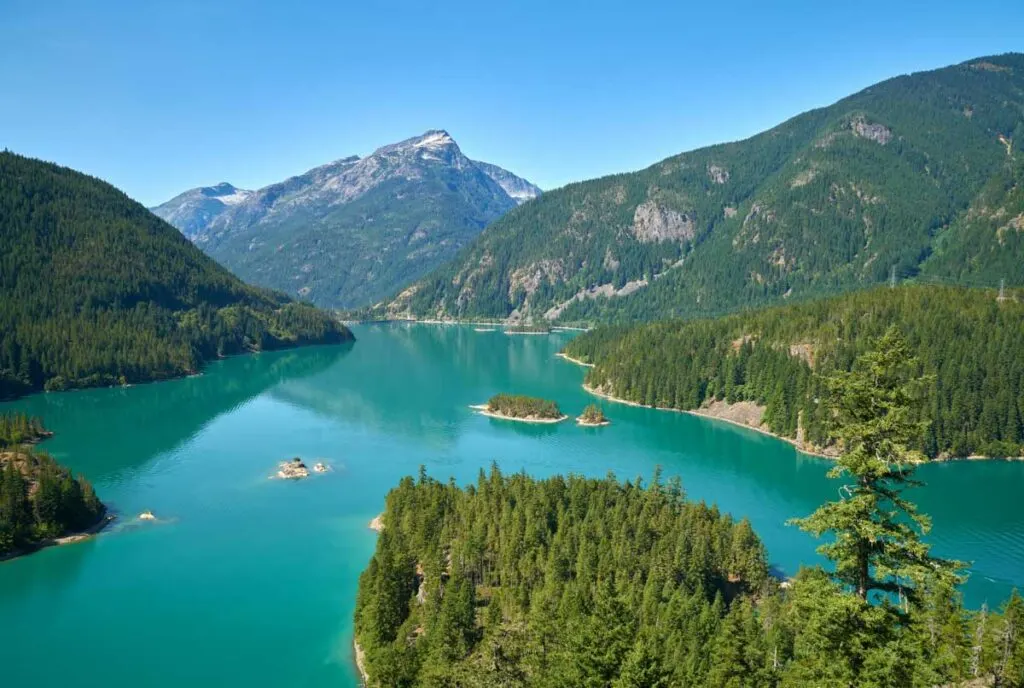 Washington is a beautiful state that has so much to offer that a lifetime would not be enough to explore it all.
North Cascades National Park is considered one of the most beautiful places on Earth, and with good reason. Two words: Goode Mountain.
Situated close to Seattle are the Olympic Mountains and even closer is Mount Rainier.
This mount makes Washington one of the most beautiful states as it holds, without a doubt, the most stunning mountain peak in the continental US.
The Evergreen state is home to roughly 63 kinds of mountain ranges, with the largest expanse of a temperate rainforest found in the US.
Worthy Mentions In Washington:
Olympic National Park
Seattle
The Scablands
Mount Rainier National Park
The Palouse Hills
10. Florida
When Florida comes to mind, what usually accompanies it is sunshine, Miami, and fishing. However, this former Spanish state is much more than that.
Clearwater beach is a Florida beach that boasts miles of white sandy beaches.
What makes this spot particularly unique is that it is separated from Clearwater city by the Intracoastal Waterway. That's definitely a sight worth seeing.
The Everglades isn't Florida's best kept treasure for no reason, as it features a unique mix of ecosystems—a true must-visit place.
These include the tropical jungles, swamps, and the largest main grove complex found in the western hemisphere.
Worth Mentioning In Florida:
9. Michigan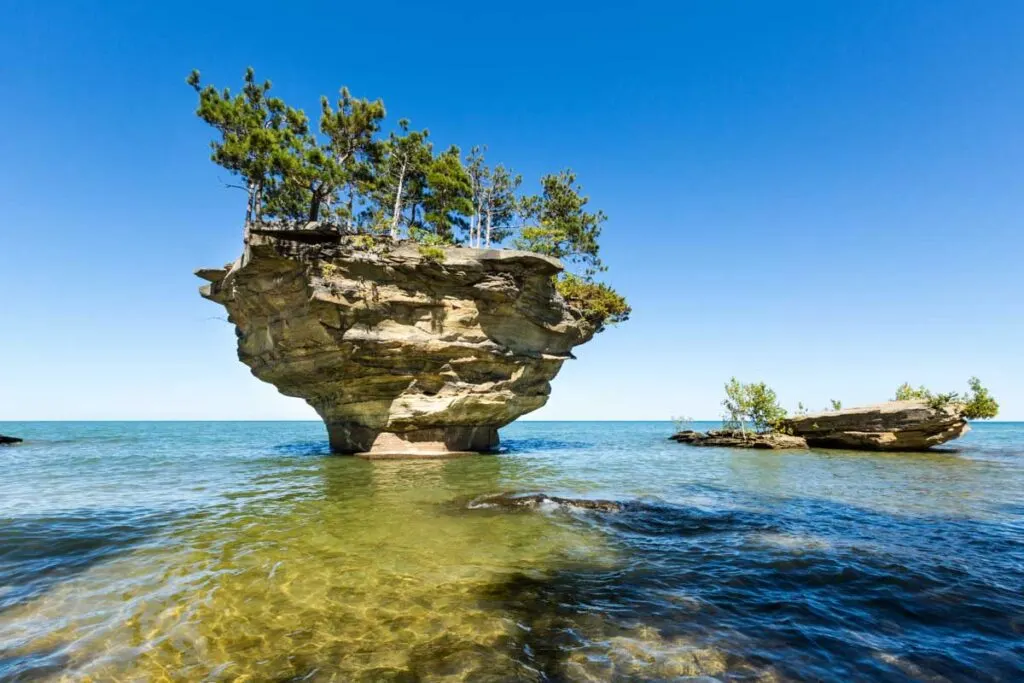 Nothing compares to the natural beauty that makes Michigan unique. Any habitat you would be interested in can be found in Michigan.
It may come as a surprise, but Michigan is one other state with more coastline than even California.
Some may say that it's because it's just surrounded by other lakes, but there is beauty in it because it's just so big that it almost makes you feel like it's the ocean.
All of this makes Michigan one of the prettiest states in the USA.
This four-hundred-island archipelago happens to be one of the least visited national parks in the lower states of America.
This is because a three-hour-long ferry is the only way to get there. However, the trip is well worth it, particularly if you venture out anywhere on the Upper Peninsula.
The scenery and wildlife you'll encounter are out of this world.
Worthy Mentions In Michigan:
The multicolored rocks national lakeshore
Mackinac Island
Lake Superior
Headlines International Dark Sky Park
8. Oregon
Oregon is one of those states whose beauty you can go on and on about.
There is every type of biome imaginable available in this state, making it one of the most beautiful states in America.
The many ecosystems in Oregon are so incredibly diverse that the different regions might as well be their own country.
The national forests in Oregon have no shortage of beautiful waterfalls and streams where you can spend the day exploring and being one with nature.
Worthy Mentions In Oregon:
The Painted Hills
Hells Canyon
Mount Hood
Multnomah Falls
Crater Lake National Park
7. Utah
Some may think Utah has nothing to offer, but they couldn't be more wrong.
It is no surprise that Utah is the 3rd state with the most national parks; the so-called Mighty 5–it has so many beautiful landscapes that it would be unwise to leave them unprotected.
Although Utah shares many similarities with Colorado and even Arizona, it has its own unique things that make it one of the most beautiful states.
Apart from the national parks, the Beehive State has 43 of the coolest state parks, making it one of the prettiest states in the USA.
Worthy Mentions In Utah:
Park City
Arches National Park
Zion National Park
Bryce Canyon National Park
Monument Valley Navajo Tribal Park
Canyonlands National Park
Capitol Reef National Park
6. Arizona
This state is chock full of natural wonders, particularly for those that like desert environments.
Geology lovers would adore this Wonderland of Rocks state. Chiricahua National Monument has a stony, arid landscape that resembles something out of a sci-fi film.
And this Southern Arizona region's geologic features are what gave it the designation as a monument due to its peculiarity.
Grand Falls is a scenic cascade system located in the Painted Desert and a must-visit in the state. It is also known as Chocolate Falls due to its appearance, which is similar to chocolate milk.
Grand Falls is the biggest waterfall in Arizona, reaching 185 feet. It is also taller than Niagara Falls.
Worth Mentioning In Arizona:
Vermilion Cliffs National Monument
Antelope Canyon
Sycamore Falls
Grand Canyon National Park
Horseshoe Bend
The Colorado River Gorge
Phoenix
Havasu Falls
Sedona
5. Alaska
This state is one of the vastest and untamed states in the USA. If you thought Alaska only had snow-capped mountains to offer, you're sorely mistaken.
This state's coastline is something to absolutely talk about. Alaska has more coastline than every other state combined.
Alaska's coast makes it one of the most beautiful states, as it ranges from the volcanic Aleutian Island to Craggy cliffs, to Glacier, lined black sand beaches, and then the Forested Fjords.
Alaska has eight national parks, each showcasing stunning landscapes, making it one of the most beautiful states in America.
This range from Kenai Fjords, the Denali, where the tallest mountain in North America resides, and Arctic Glacier Bay.
Furthermore, it has the largest national park in the nation, the Wrangle St. Elias. You can also look forward to the 156 state parks available in Alaska to explore.
Worth Mentioning In Alaska:
The glaciers
Kenai Fjords National Park
Denali National Park
Glacier Bay National Park
Northern Ferry Lights
The 10 tallest mountains in America
4. Colorado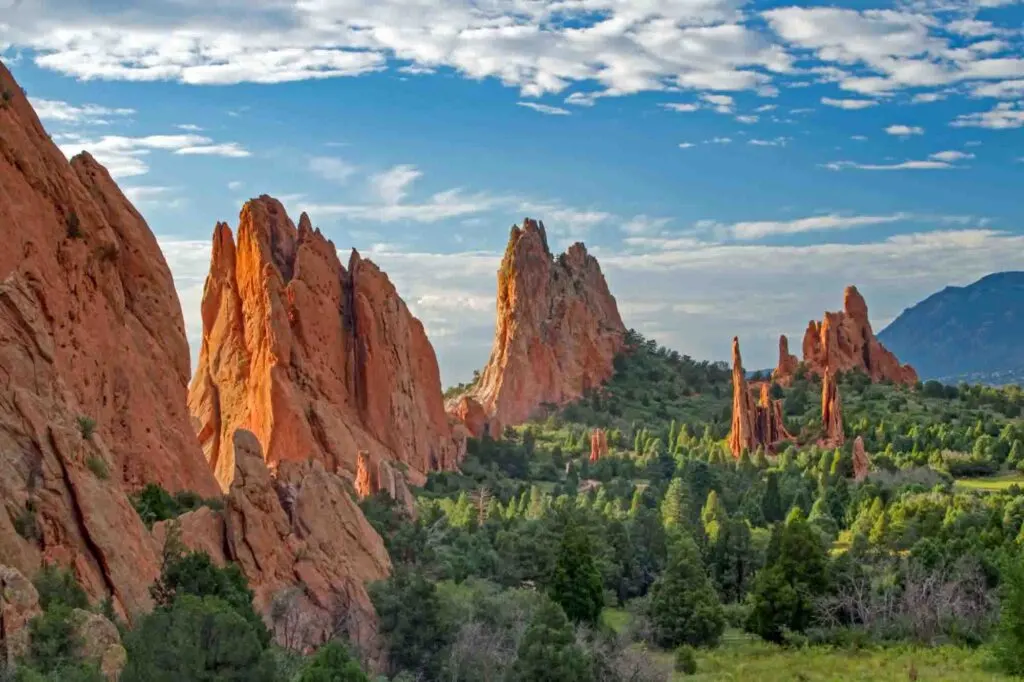 Denver may be considered overrated, but why are people vacationing in Colorado if that's the case?
A drive on the i-70 in Colorado is phenomenal. Every curve of the interstate reveals stunning views of the unparalleled Rockies.
Eagle and Colorado rivers also follow through the canyons to a landscape that makes you feel like you're on another planet.
Let's not forget the Colorado Spring, one of the best places to visit in Colorado. This place has the most stunning red rock formations in the Garden of The Gods, which is hands-down one of the most beautiful places in North America.
Worthy Mentions In Colorado:
Mesa Verde National Park
Vail and Nearby Mountain Towns
Great Sand Dunes National Park
Denver
Dinosaur National Monument
Garden of the Gods, one of the most beautiful places in Colorado
3. Montana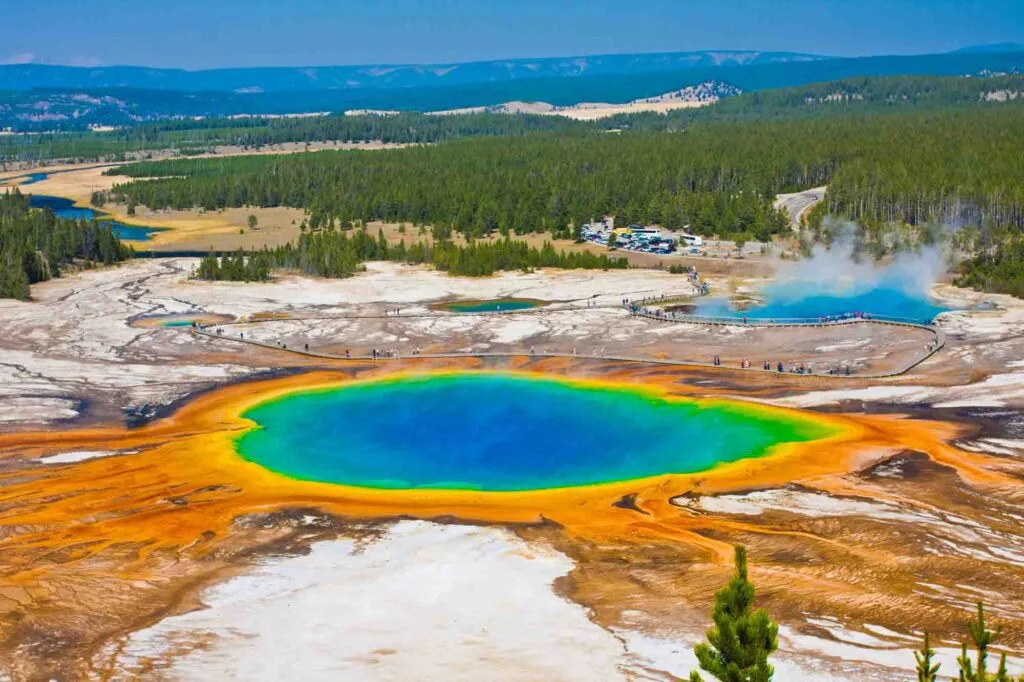 Although Montana has zero miles of coastline, it doesn't mean it isn't one of the most beautiful states.
Although Colorado is the Rocky Mountain state, Montana's Rockies give it a run for its money and remain unparalleled.
Montana has mountains that seem to tower majestically over immense, colorful valleys that dot the rivers, lakes, wildlife, etc., that run through them.
The true extent of nature's power can be seen at Yellowstone. This place is worth seeing simply because it will leave you wondering how anything like that even exists.
Although not many know Glacier National Park, it is considered the most beautiful national park in the USA.
There are 55 state parks found in Montana. These include the Lewis and Clark Caverns.
As if Montana didn't have enough to offer, there is a complete contrast in the eastern half of it which comprises Marco Sheikah State Park.
Worth Mentioning In Montana:
2. California – One Of The Prettiest States In America
California has tons to offer over and above being the most geographically diverse state in America as it houses a variety of climate zones.
California has 3,400 miles of pristine and rugged coastline, not to mention some of the most incredible beaches in the world.
These include La Jolla and Laguna, situated in the south with Carmel Moonstone.
There are also over 300 state and 9 national parks just waiting for you to explore and experience.
To mention a few, there is Yosemite, Death Valley, the Redwoods, etc. These are just a few of the places worth visiting in California.
Worthy Mentions In California:
Golden Gate Bridge in San Francisco
Yosemite National Park
Balboa Park in San Diego
Lake Tahoe
Napa Valley
Death Valley National Park
1. Hawaii – The Most Beautiful State In The US
Although Hawaii is one of the smaller states, never doubt all the beauty it has to offer because size doesn't matter.
The Aloha state makes up for its small size by being one of the most beautiful states in the US. There is absolutely no part of the Hawaiian islands that is not considered jaw-dropping.
The seven inhabited islands are incredibly different in their own way. Some popular views are the Waimea Canyon and the Napali Coast found on Kawaii—one of the best places to visit in Hawaii.
The Big Island alone is worth the visit, as it has 8 of the world's climate zones.
Worth Mentioning In Hawaii:
Almost perfect weather with 270 sunny days a year
Hawaii Volcanoes National Park
Did you enjoy this article about the most beautiful states in the US? Then share it on your social media!