If you're looking for the best places to visit in Vermont, then you're in luck because we've got you covered!
In this article, we'll explore 13 amazing, can't miss destinations in the Green Mountain State that are sure to inspire and excite you!
While Vermont may be small, it still is filled with scenic beauty, and it is hands-down one of the best places to visit in the United States.
From its snowy mountain tops to its quaint towns, its pristine forests, its scenic lakes, and its breathtaking foliage, there is so much to do and see here, no matter what time of the year you may visit!
13 Best Places to Visit in Vermont
We realize how hard it may be to narrow down your itinerary for your trip to Vermont.
That's why we've compiled below our top picks for the best places to visit in the Green Mountain State.
Burlington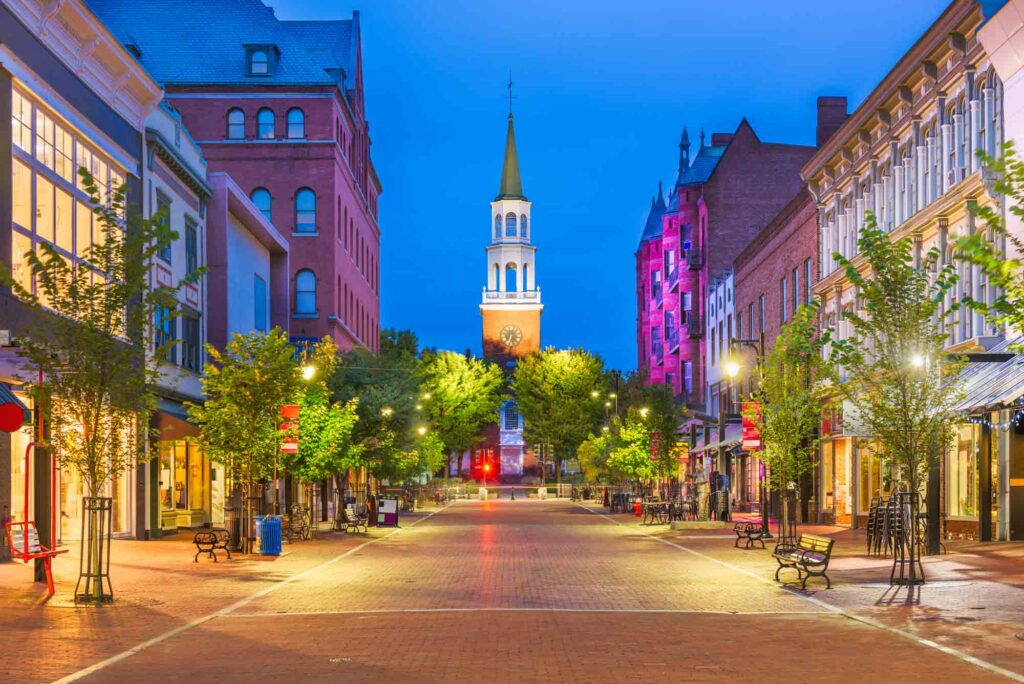 A list of Vermont attractions and top destinations wouldn't be complete if it didn't include Burlington, Vermont's biggest city.
Located right off the shores of Lake Champlain, Burlington is by far one of the best places to visit in Vermont.
Here you'll find the state's most beloved pedestrian mall, the Church Street Marketplace.
Lined with a variety of boutique shops, breweries, restaurants, nightclubs, and art galleries, this lively pedestrian center is a great place to grab a bite to eat, catch some local music, and purchase a souvenir or two.
You'll also want to make sure to set aside some time to visit the city's Waterfront Park, which offers incredible views of Lake Champlain.
You can explore the shoreline by simply wandering along the park's paths or hopping aboard a boat and venturing out into the middle of the lake.
There's even a science and nature museum, ECHO, that you can check out if you'd like to learn more about the lake and the creatures that inhabit it!
But for some real piece of local history, visit the Ethan Allen Homestead, one of the most significant Vermont attractions.
Looking for accommodation? Then check out our guide to where to stay in Burlington, VT, which covers a range of hotels and apartments.
Stowe
Situated at the base of Mount Mansfield, Stowe is considered to be one of the best places to go in Vermont if you're looking to hit the slopes.
Home to Stowe Mountain Resort, a premier ski resort that consistently ranks as one of the top resorts in New England, Stowe is a mecca for skiers and snowboarders alike.
The town isn't only for winter enthusiasts, however, as it's also known to host a variety of festivals and art shows during the warmer months.
There's even a quaint town center that you can explore, complete with boutique shops, restaurants, and art galleries.
And for those who love the musical film The Sound of Music, there's the Trapp Family Lodge.
Founded by the famous von Trapp family, the lodge consists of a restaurant, brewery, and wine cellar, in addition to its Austrian-inspired accommodations.
Read next: Cozy Cabins in Vermont
Montpelier
As the state's capital city, Montpelier is a must for any visit to Vermont. In fact, it is one of the best places to visit in the northeast, USA.
Located right on the banks of the Winooski River, this small but lively city is one of the best places to go in Vermont to learn about the political history of the Green Mountain state.
Here you'll have the opportunity to visit the Vermont State House, a gold-domed Greek Revival building that has been recognized as one of the oldest and best-preserved capitol buildings in the county.
The State House, which is free and open to the public for self-guided tours, also houses an art museum that features some of Vermont's most important artwork.
Montpelier is also known for its downtown center, which has a rich history. Here you can find several independently owned boutiques, restaurants, and bars, many of which offer locally made goods and souvenirs.
In addition to this, there are several local art galleries, music venues, and a theater that you can check out.
But any visit to Montpelier wouldn't be complete without stopping by Morse Farm Maple Sugarworks, an 8th generation family-owned maple syrup farm.
Here you can sample maple products and see displays on tapping trees and making syrup—a great place to have breakfast.
Read next: Weekend Getaways in Vermont
Woodstock
If there ever were a picture-perfect Vermont town, it would be Woodstock.
Tucked away in the woods, surrounded by farmland, this sleepy little village has it all – red barns, covered bridges, tall white church steeples, and some pretty incredible fall foliage.
In fact, Woodstock is one of the best places to visit in Vermont during the fall.
With maple trees spread throughout the town and countless hikes and walking trails to explore, you're bound to catch a glimpse or two of some breathtaking scenery.
Chances are you'll likely find the best views at the Marsh-Billings-Rockefeller National Historical Park, Vermont's one and only national park.
In addition to its beautiful landscape, the town offers the unique opportunity to experience life on a working farm.
With a variety of dairy farms, sugar maple farms, and apple orchards to choose from, you're sure to have more than one chance to get a first-hand look at what traditional Vermont farming is really like!
But before you leave, check out the award-winning Billings Farm and Museum, one of the top Vermont attractions. It presents an outdoor history museum experience on a working farm with lots of hands-on activities.
Pssst: You might want to go on a Vermont road trip and stretch your trip to the Northeast Kingdom to visit places like the majestic Lake Willoughby.
Read next: Best Fall Vacations in the US
Manchester
First settled in 1764, the historical town of Manchester is one of the best places to visit in Vermont if you happen to be a history buff.
Without a doubt, the town's biggest claim to fame is Hildene, also known as the Lincoln Family Home.
Built by Robert Todd Lincoln, President Abraham Lincoln's only surviving child, the estate served as a summer home for the Lincoln family for about 70 years. Today, it is open to the public for guided tours of the estate.
Other historical points of interest include the Manchester Historical Society, the American Museum of Fly Fishing, and Taylor Farms, a 180-year-old working dairy farm.
The town is also known for its nature preserves, including Emerald Lake State Park and the Equinox Preservation and Pond.
Here you can participate in various outdoor activities, including hiking, biking, kayaking, swimming, cross country skiing, and snowshoeing.
Grafton
Like many Vermont vacation spots, Grafton is a small town nestled amongst the trees, offering a peaceful escape for those looking to get away from it all.
Here you'll find a number of quaint bed and breakfasts, boutique shops, restaurants, and small art galleries.
There's even a local sugar shack and cheese shop offering up delicious Vermont souvenirs that you can take home with you.
Grafton also hosts a plethora of outdoor activities for those looking to explore the natural surroundings.
At Grafton Trails and Outdoor Center, you'll have the opportunity to partake in everything from hiking to biking and swimming.
There are also rentals available for those who'd like to try out snowshoeing, cross country skiing, tubing, and fat biking during the winter months.
And if you happen to visit Grafton between December and February, you can even sign up to take a horse-drawn sleigh ride!
Bennington
Located in Southern Vermont, Bennington is one of the best places to visit in Vermont if you're interested in learning more about the Revolutionary War.
Not only did the town play a significant role during the war, but it also hosts the state's most important monument from that time period, the Bennington Battle Monument.
Towering above the town at 306 feet in the air, the Bennington Monument was constructed to commemorate the Battle of Bennington.
This critical battle, which took place in 1777, helped turn the tide in favor of American troops during the Revolutionary War.
Today, the monument, which can be seen from miles away, serves as a reminder of this historical time period.
Bennington is also home to several museums, including the Dollhouse and Toy Museum, and the Robert Frost Stone House Museum, named for Vermont's famous poet.
There's also the Bennington Museum, known for its collection of primitive folk art and relics from the Revolutionary and Civil Wars.
Killington Resort
Known as the "Beast of the East," Killington Ski Resort is by far one of the top Vermont vacation spots for winter enthusiasts.
Spanning almost 2,000 miles across seven mountain peaks, the resort offers a total of 155 trails and 21 ski lifts.
This makes it the most extensive ski area on the East coast. It also happens to be home to New England's largest vertical drop at 3,050 feet.
The resort, however, doesn't just offer incredible skiing but also first-class amenities.
The Killington Grand Resort Hotel provides several types of lodging, including penthouses that can sleep up to 10 guests.
There's also a cafe, restaurant, pool, spa, and wellness center, all of which are sure to keep you entertained when you're not on the slopes.
For those who'd prefer to check out the mountain during the summer months, the resort does offer a number of outdoor activities, including golfing, mountain biking, gondola rides, as well as a ropes course.
St. Albans
Offering quaint accommodations, a historic downtown center, easy access to Lake Champlain, as well as a variety of outdoor spaces to explore, St. Albans is one of the best places to visit in Vermont for families.
Of particular interest to most visitors is Kill Kare State Park, a 17-acre park that offers various outdoor activities, including swimming, kayaking, canoeing, fishing, and picnicking.
There's even a ferry on the property that you can take out to nearby Burton Island State Park for a night of camping.
The Missisquoi Valley Rail Trail is another excellent spot to explore if you're interested in spending time outdoors.
The 26-mile trail can be biked or walked and offers some incredible views of Vermont's scenery.
In addition to this, the town of St. Albans is known for hosting a variety of community events.
One of their most famous events is the Vermont Maple Festival, a three-day event that focuses exclusively on maple syrup!
Champlain Islands
The islands of Lake Champlain offer some of the best Vermont vacation spots in the state.
With a wide variety of areas to explore, both inhabited and uninhabited, there's something to satisfy everyone's travel needs!
Some of the more popular islands include those that are home to small towns and summer communities.
South Hero, for example, is well known for its farming community, which includes vineyards and apple orchards.
Meanwhile, Alburg Island is famous for its beaches, which are some of the largest in the area.
And, of course, we can't forget about Isle La Motte, home to the world's oldest coral reef, the Chazy Reef.
For those seeking a genuine off-the-grid experience, there are several uninhabited islands that you can explore.
Two that are particularly popular are Wood Island and Burton Island. Both of these islands have been turned into state parks and offer primitive, remote camping.
Quechee Gorge
Vermont's deepest gorge, Quechee Gorge, is by far one of the best places to visit in Vermont and should be included on any itinerary to the Green Mountain State!
Formed by glaciers approximately 13,000 years ago, the gorge sits about 165 feet deep below the surface and provides a passageway for the Ottauquechee River.
You can cross the Quechee Gorge Bridge, which connects the banks along the Ottauquechee River to view the gorge from above.
The bridge, which has been identified as Vermont's oldest steel arch bridge, provides scenic views of the gorge and river below.
For those seeking a more thrilling experience, there are several rafting companies that offer white water rafting trips along the Ottauquechee River.
These excursions provide the unique opportunity to get an up-close look at the gorge's natural beauty and surrounding area.
There are also some walking trails along the gorge that you can check out. If you follow them far enough upriver, you'll come across the Mill Pond Falls, a dam and artificial waterfall that feeds into the Quechee Gorge.
Green Mountain National Forest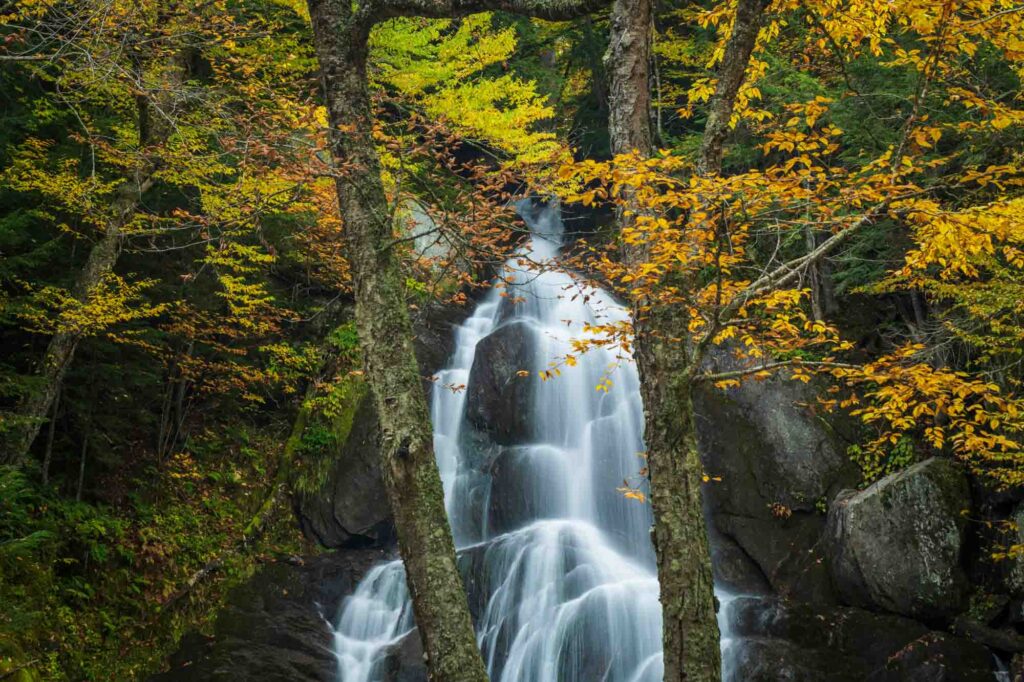 Several Vermont vacation spots promise visitors the chance to escape into nature, but few of them deliver an immersive experience quite like Green Mountain National Forest.
Spanning more than 400,000 acres, this protected area encompasses six counties spread across central and southwestern Vermont.
With countless hiking trails, ponds, lakes, and waterfalls to explore, there's plenty to do and see in this national forest, no matter what time of the year you may visit!
During the summer months, you can hit up the hiking trails and take in the beautiful views from the mountain tops.
Or grab a mountain bike and explore the pathways that meander through the forest.
For those who prefer water activities, there are several opportunities for swimming, kayaking, fishing, and boating.
And if you happen to come during winter, be sure to bring along your skis or snowshoes, as there are plenty of snowy trails to explore!
Shelburne
Shelburne may be the last destination on our list, but it is one that certainly shouldn't be overlooked.
Offering a variety of fun and educational activities, this town is one of the best places to visit in Vermont for kids and adults alike.
The Shelburne Museum, in particular, is a must-see, offering a variety of exhibits, including paintings, folk art, textiles, toys, and circus relics.
There are also 39 historic buildings on-site at the museum, as well as an old dry-docked steamboat, all of which you can explore.
Another great site that you can check out is Shelburne Farms. Situated on 1400 acres, this dairy farm offers guided and unguided tours to its guests.
As you wander the grounds of the estate, you can sample homemade cheese, visit the farm animals, and check out the historic barn.
It's also worth mentioning that Shelburne is home to the Vermont Teddy Bear Company. If you've ever wanted to design your own teddy bear, this is the place to do it!
Final Thoughts on the Best Places to Visit in Vermont
Vermont really has it all! Between its quaint cities, serene towns, pristine wilderness, and incredible scenery, there is something for everyone to enjoy!
With so much to do and see here, it raises the question – is one visit really enough? We don't think so!
Did you enjoy reading about the best places to visit in Vermont? Then be sure to share it with a friend who may be planning their own trip to the Green Mountain State!