Nevada may be famous for being home to Las Vegas, but there's actually a whole lot more to the Silver State than meets the eye.
Being one of the largest states in the United States and one of the most varied in terms of terrain, Nevada doesn't slack when it comes to its array of incredible activities and things to do.
From expansive deserts to landscapes that look from another planet to ghost towns and Old West cities, here's the ultimate list of the best places to visit in Nevada that need to be on your itinerary.
25 Places to Visit in Nevada That You Can't Miss
1. Las Vegas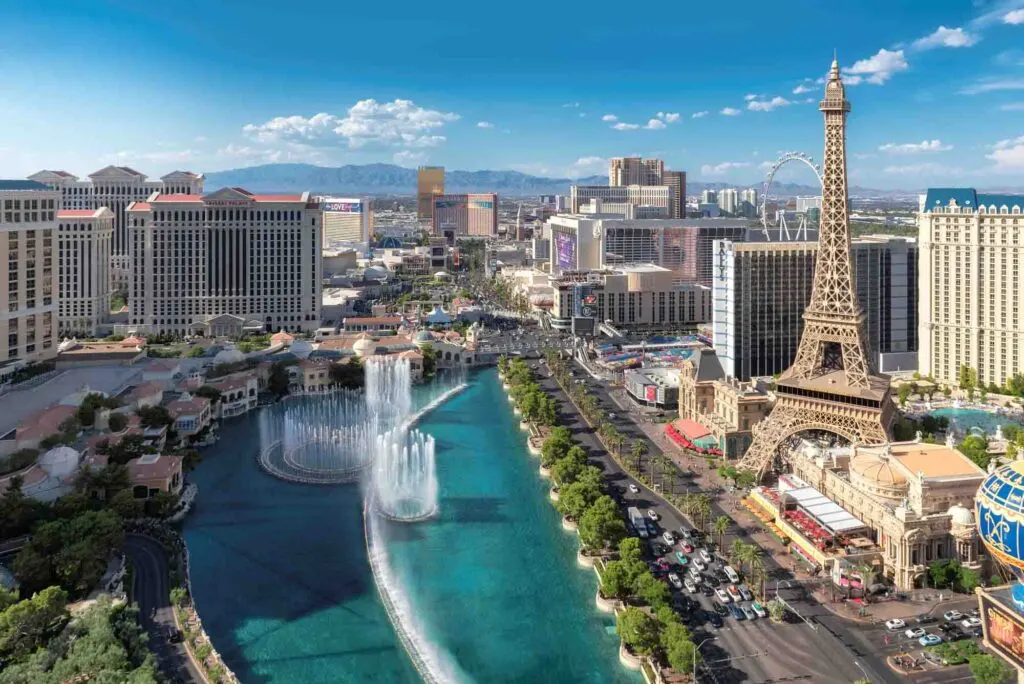 We're pretty sure Sin City needs no introduction, but we couldn't write a list of the best places to visit in Nevada without mentioning glitzy Las Vegas.
Home to the best casinos in the world, an incredible dining scene, and some of the top shows in the USA, Las Vegas is considered the Entertainment Capital of the World for all the right reasons.
Even if you're not a huge fan of the blitz and the glitz, Las Vegas is also a great place to base yourself in order to discover some of the best desert scenery Nevada has to offer, with places like Seven Magic Mountains, Lake Mead, Red Rock Canyon, and Valley of Fire being some of the best places to visit near Las Vegas by car.
Read next: Best Places to Visit in the USA
2. Carson City
Set only a few minutes away from Lake Tahoe, Carson City is the capital city of Nevada and a wonderful place to visit in order to combine culture, nature, and history.
Within the city, you'll find plenty of attractions to keep you entertained, including the Nevada State Capitol, the Brewery Arts Center, and the Kit Carson Trail, a trail that will take you a step back in time into the 1860s as you gaze at historic homes in the West Side Historic District.
Outside of Carson City, you'll find plenty of action as well, with tons of hiking trails available in order to chase waterfalls at Kings Canyon or the glorious views of Prison Hill Recreation area and Silver Saddle Ranch.
For the ultimate alpine adventure, you can also head over to Lake Tahoe, where you'll find forests to hike through and beautiful white sandy beaches where watersports reign supreme.
3. Ely
Located along Nevada's famous "Loneliest Road", Ely is a charming mountain town that combines history, art, and nature.
Originally, Ely was founded in order to provide a place for stagecoaches to stop. When Ely became an important mining region, a railway was built. Up to today, visitors from all over visit for a chance to ride the train!
Strolling through Ely's downtown is a true treat, with tons of historical buildings and local art galleries dotting the streets, all backdropped by beautiful mountain peaks.
Ely is also a gateway to many outdoor destinations, including Great Basin National Park, Ward Mountain Recreation Area, and Cave Lake State Park, all of which are located pretty close to town.
4. Reno
Commonly nicknamed the "Biggest Little City in the World", Reno is a city as charming as it can get.
Thanks to its close location to Lake Tahoe right at the base of the Sierra Nevada Mountains, Reno has no shortage of marvelous getaways in nature to enjoy.
Still, the city itself is worth exploring for a few days. Reno is home to several casings, a great nightlife, and an artsy vibe like no other.
Moreover, there are plenty of local art galleries, a great dining scene, and even a vibrant Latino neighborhood in case you want to feel as though you traveled south of the border through music, cuisine, and culture!
5. Virginia City
Brimming with Old West vibes, Virginia City is a place where you'll get to feel as though you traveled back in time to the era of cowboys and mines.
Here, you'll find streets lined by boardwalks, historical buildings that date back to the 19th century, and Western music blasting all over. Even though the town is home to only about one thousand people, it's as lively as it can get!
A few of the can't miss things to do in Virginia City include checking out antique shops, visiting a few of the many museums all over town, taking a couple of mine tours, and if you're feeling brave, you can book yourself a ghost tour and explore a few haunted hotels and cemeteries!
6. Tonopah
If you want to get a good dose of Nevada history, Tonopah is one of the best places to do just that.
This American small town will give you a pretty well-rounded introduction to the Silver State's mining history, especially by visiting Mining Park, where you'll get to tour through abandoned mines.
Moreover, there are plenty of ghost towns scattered all over that were once inhabited but were later deserted when the mines closed down.
Aside from checking out the surrounding mines and ghost towns, Tonopah itself is an absolute treat to stroll through, especially its downtown, which is filled with historic buildings and a great dining scene.
For a unique experience in Tonopah, book yourself a night at The Mizpah Hotel. This hotel is said to be haunted, with lots of stories from guests who have experienced ghostly encounters themselves.
Another cool hotel is the Clown Motel, which, as its name suggests, has a scary clown theme to it and is located close to the Old Tonopah Cemetery.
7. Rhyolite Ghost Town
Rhyolite is one of the best places to visit in Nevada in order to get a glimpse into the state's mining past.
Once a thriving mining town, today, Rhyolite is one of the most quintessential examples of a ghost town in Nevada. Here, you can walk amid ruins of buildings, forlorn wagons, and even abandoned furniture, making the town look as desolate as it can get.
There are a few attractions here, though, including the Goldwell Open-Air museum, where you'll find sculptures, statues, and even a rock labyrinth.
8. Sloan Canyon National Conservation Area
As one of the most important places to visit in Nevada for Native American culture and history, Sloan Canyon is home to over 300 rock art panels that represent the life and culture of the people who lived in this area of southern Nevada thousands of years ago.
Moreover, Sloan Canyon is also home to thousands of acres of wilderness and volcanic terrain. Here, you'll find lava flows, ash falls, and other unique geological formations.
Wildlife gazing is also a treat here, with species like Desert Kangaroo Rats, Desert Tortoises, Coyotes, Kit Foxes, Desert Bighorn Sheep, and more roaming the area.
As a note, due to Sloan Canyon's incredibly fragile terrain, no vehicles are allowed inside the park, including bicycles. Hiking is the only way to explore the park, which is a real treat to do, especially when you consider it's always pretty empty!
9. Great Basin National Park
Located on the eastern border of Nevada, Great Basin National Park is one of the most diversely rich destinations in the state when it comes to natural landscapes.
Besides, it is one of the best national parks near Las Vegas.
Here, you'll find groves of ancient bristlecone pine trees, tons of wildlife, caverns, glaciers, lakes, and streams. You can enjoy a day at Great Basin by hiking, scenic driving, exploring caves, stargazing, and so much more.
10. Cathedral Gorge State Park
Home to massive sandstone spires, gorgeous slot canyons, cave-like formations, and cathedral-shaped spires, the landscape at Cathedral Gorge will make you feel as though you're walking on an entirely different planet.
The best way to explore Cathedral Gorge's peculiar terrain is by going on a hike.
Moreover, Cathedral Gorge State Park is considered one of the best places to go in Nevada for stargazing, so if you're able to spend a night within the park, you're in for a real treat!
11. Valley of Fire State Park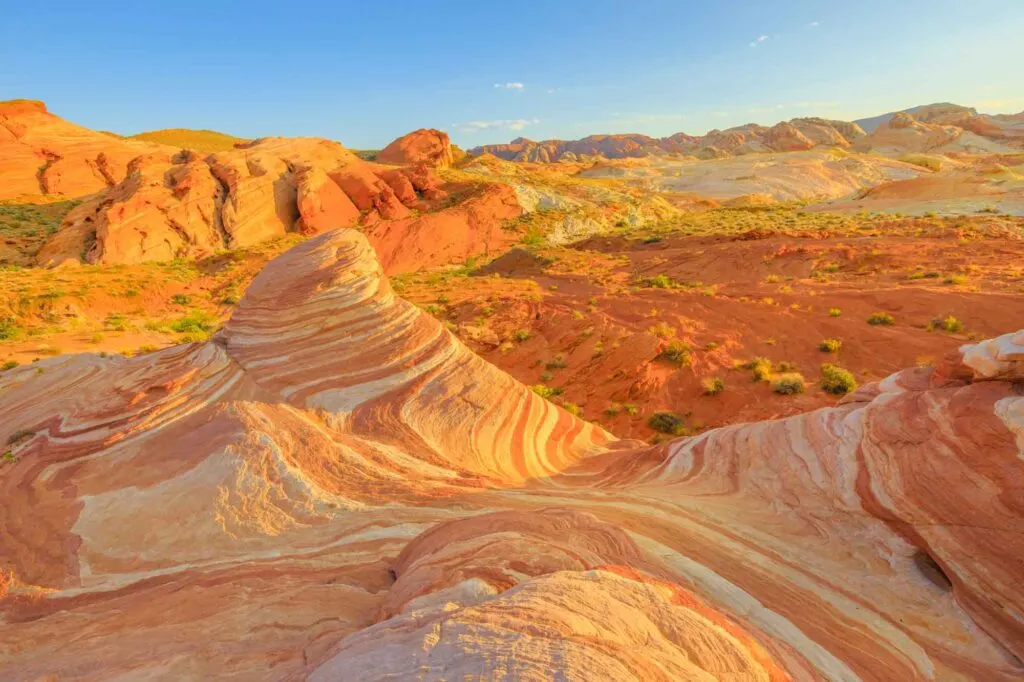 Valley of Fire got its name due to the fact that its landscape is almost entirely made up of Aztec sandstone rocks that come in shades of orange, pink, and red. When sunlight hits the rocks, it makes the entire scenery look as though it's actually on fire!
Thanks to the fact that Valley of Fire is located just an hour away from Las Vegas, it's one of the best places to visit in Nevada for those traveling to the city who also want to take the chance to explore the state's deserts.
While here, you can hike a few of the trails on offer, which range from easy strolls to challenging hikes. A few hikes we recommend include Fire Wave, Rainbow Vista, Pink Canyon, and White Domes.
Moreover, if you don't necessarily want to break a sweat, another great way to explore Valley of Fire is by driving Mouse's Tank Road, a scenic drive that will get you to see most of the highlights of the park.
12. Red Rock Canyon National Conservation Area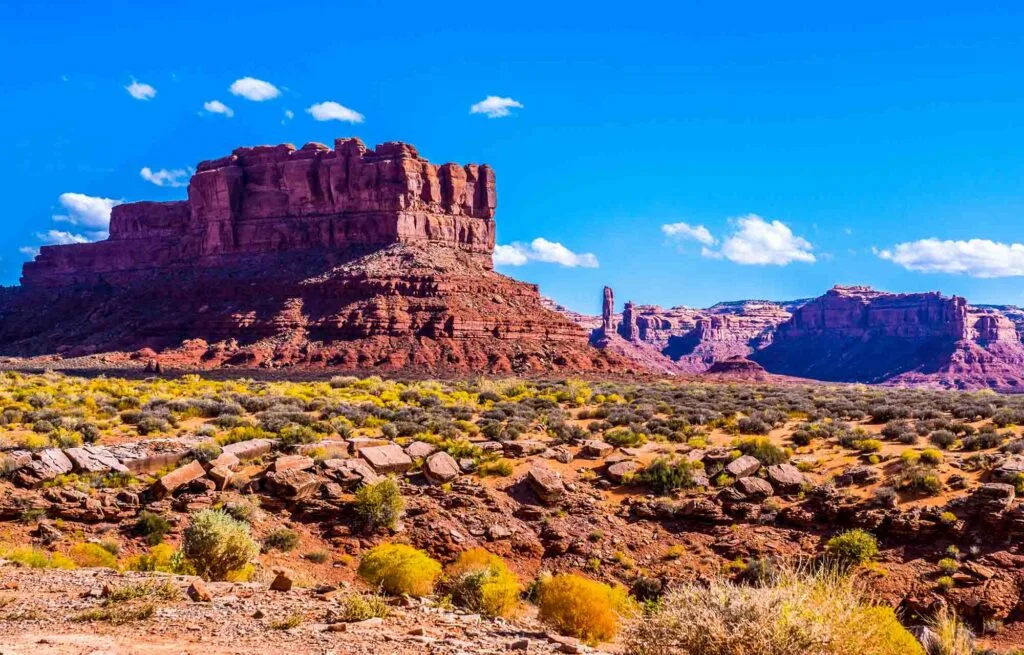 Red Rock Canyon is yet another amazing place to visit in Nevada for those traveling to Las Vegas, as it makes for a very easy day trip from The Strip.
Famed for its peculiar-looking red rock formations and striking desert terrain, Red Rock Canyon also makes for a wonderful spot for newbies to hiking in desert terrain.
Here, most of the trails are pretty short and sweet, making it a prime spot for beginners to test their skills.
Must-do hikes include Calico Tanks, Calico Hills, Lost Creek Canyon, Ice Box Canyon, and White Rock Hills. As a bonus, you can also drive the park's scenic highway, which provides plenty of viewpoints to some of the best views at Red Rock Canyon.
13. Lake Mead National Recreation Area
Lake Mead is a reservoir created by the Hoover Dam and the largest recreational area in the entire United States.
Aside from the lake itself, most of the park covers the Mojave Desert, which means opportunities to explore the desert abound here.
During your visit, you can spend the day boating, swimming, hiking, scenic driving, or simply choose to relax by the shores of Lake Mead.
Whichever activity you choose to do, fabulous desert vistas contrasted by striking blue waters are a guarantee!
14. Pyramid Lake
Pyramid Lake is one of the most beautiful desert lakes not only in Nevada, but in the entire world.
This lake is actually a remnant of Lake Lahontan, an ancient lake that once covered a huge part of Nevada during the Ice Age.
Today, Pyramid Lake is a popular go-to spot for locals and visitors to enjoy a day in, with activities like boating, swimming, birdwatching, and camping being a few of the favorites.
15. Floyd Lamb Park
If you find yourself getting a little bit tired of the bustle of Las Vegas, Floyd Lamb Park is a wonderful oasis just inside the city to escape the glitz for a while.
Located in the northwestern part of the city, this park offers serene lakes, tons of wildlife, and plenty of scenic views. Here, you can spend the day hosting a picnic or walking a few of the scenic paths available.
Moreover, the Tule Springs Ranch is also located within the park. During your visit, you'll get to see what early ranch life in Las Vegas was like as well as get the chance to see plenty of fossils from the Ice Age, ranging from mammoths to giant slots and bison.
16. Lamoille Canyon
Located in the heart of the Ruby Mountains, Lamoille Canyon is a glacier canyon that is often dubbed the "Grand Canyon of Nevada" due to its sheer size and unraveled beauty.
The ultimate way to explore the canyon and its surroundings is by driving the Lamoille Canyon Scenic Byway, a drive that begins in the town of Lamoille and makes its way through the canyon, all while giving you plenty of chances to stop the car in order to take in the beauty of the mountains, hit a hiking trail in the forest, and spot wildlife.
17. Eldorado Canyon & Gold Mine
Eldorado Canyon is home to the most famous gold mine in the state of Nevada, the Tachatticup Mine.
Even though the mine was once the source of prosperity in the town of Eldorado, it also brought in a lot of misery, including robberies and killings. It got so bad at one point that these crimes began to be considered a normal occurrence in the town.
Within Eldorado Canyon, you'll find tons of hiking trails, mountain biking routes, rock climbing routes, and scenic spots to hang out.
Plus, Eldorado has been the setting for many movies, including Breakdown, 3000 Miles to Graceland, Surviving the Apocalypse, First Platoon, and Brain Games.
Aside from exploring the canyon itself, you can also make the most out of your visit by visiting the famous mine, which is now permanently closed.
Not only will you get to go inside the mine in order to take a step back in time, but you'll also get to hear all about its history on an extremely entertaining guided tour.
18. Massacre Rim
Even though its name may sound quite grim, Massacre Rim is one of the most magical places to visit in Nevada.
The landscape in the area is enough to make visiting Massacre Rim worth it, but the true magic of the place begins once the sun goes down.
Due to the fact that Massacre Rim is one of the darkest places on Earth, it is considered one of the best areas in the world to see the stars.
The Massacre Rim Dark Sky Sanctuary is located in North Paiute territory and encompasses two volcanic plateaus tucked away amid valley floors.
The best time of the year to go stargazing here is July, especially from the middle to the end of the month when the Perseids meteor shower is visible!
19. Ruby Mountains
Often called the "Swiss Alps of America", the Ruby Mountains is a glacier-carved mountain range in the Elko region of Nevada.
Here, you'll be able to find alpine lakes, streams, lush canyons, and mountain views galore. The best way to explore the heart of the Ruby Mountains is by driving the Lamoille Canyon Scenic Byway, a 12-mile road that will treat you to gorgeous views all over.
Plus, the drive is dotted with plenty of incredible outdoor activities, ranging from hiking trails, cycling paths, backpacking trails, and wildlife sightings (keep your eyes out for roaming elk!)
20. Fly Geyser
Located in Washoe County on the edge of the Black Rock Desert, Fly Geyser is a small geothermal geyser in the Hualapai Geothermal Flats.
Due to the fact that it contains thermophilic algae, the rocks around the geyser feature bright yellow, green, and red tones, making it look almost other-worldly.
Back in 2015, Burning Man purchased Fly Geyser and the ranch. Thanks to this, people can now visit the geyser and the surrounding area, where you'll find wetlands, wildlife, and a few additional artificial geysers.
In order to see everything, you can book a guided walking tour, where you'll get to learn all about the geyser and the interesting ecosystem that surrounds it.
21. Lake Tahoe
Even though white sand beaches are probably not the first image that pops to mind when you think of the Silver State, Lake Tahoe is a wonderful place to visit in Nevada in order to feel as though you're a world away.
Lake Tahoe is one of the best places to go in Nevada in order to experience the state's alpine side.
Here, you'll find plenty of things to do depending on the time of the year your visit, ranging from beach-side fun and watersports in the summer to skiing and snowboarding in the winter and glorious hiking trails year-round.
Scenic driving is also a wonderful way to explore Lake Tahoe, with a 72-mile loop around the lake available!
22. Black Rock Desert
Famed for being the setting of Burning Man, Black Rock Desert has a ton to offer visitors year-round outside of the festival.
The park covers a whopping 800,000 acres across northwestern Nevada, which means you'll probably never run out of things to do at this unusual park.
Here, you'll be greeted with expansive desert views, hiking trails galore, rock climbing adventures, and so much more.
23. Hoover Dam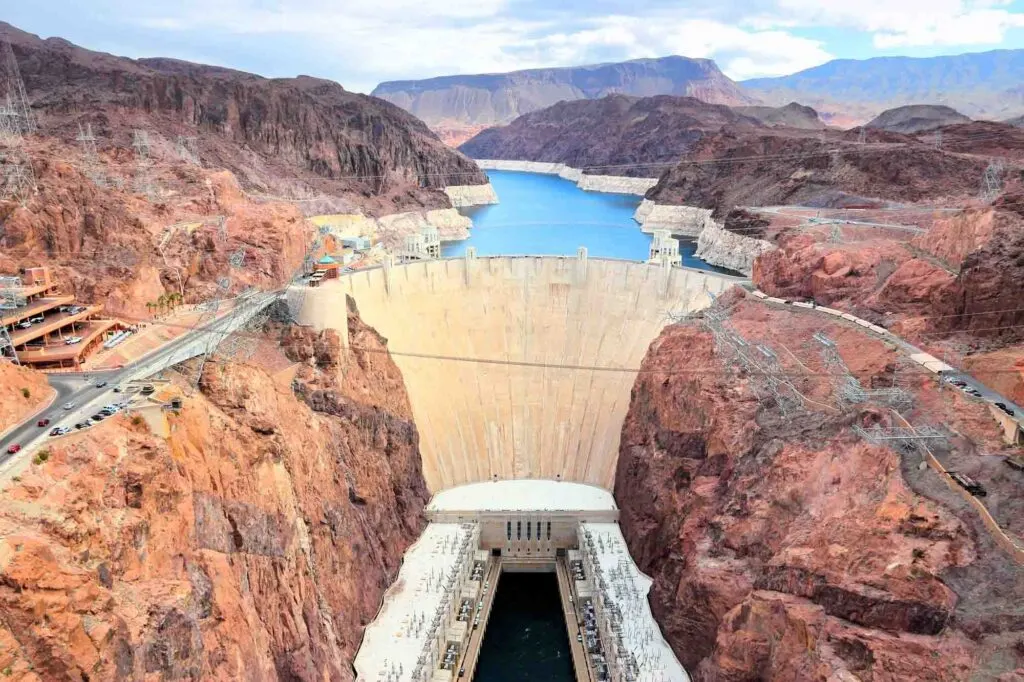 Set on the border with Arizona, Hoover Dam is a giant concrete structure built across the Black Canyon and the Colorado River during the Great Depression.
As a result of its construction, Lake Mead was formed, which is the largest water reservoir in the country and generates enough electricity for California, Nevada, and Arizona!
Aside from getting to see one of the seven engineering marvels of the world, visiting Hoover Dam also provides visitors with fascinating views of Lake Mead and the Colorado River.
Moreover, you can also take up the chance to visit nearby Lake Mead, which is one of the best recreational areas to visit in Nevada!
24. Mount Charleston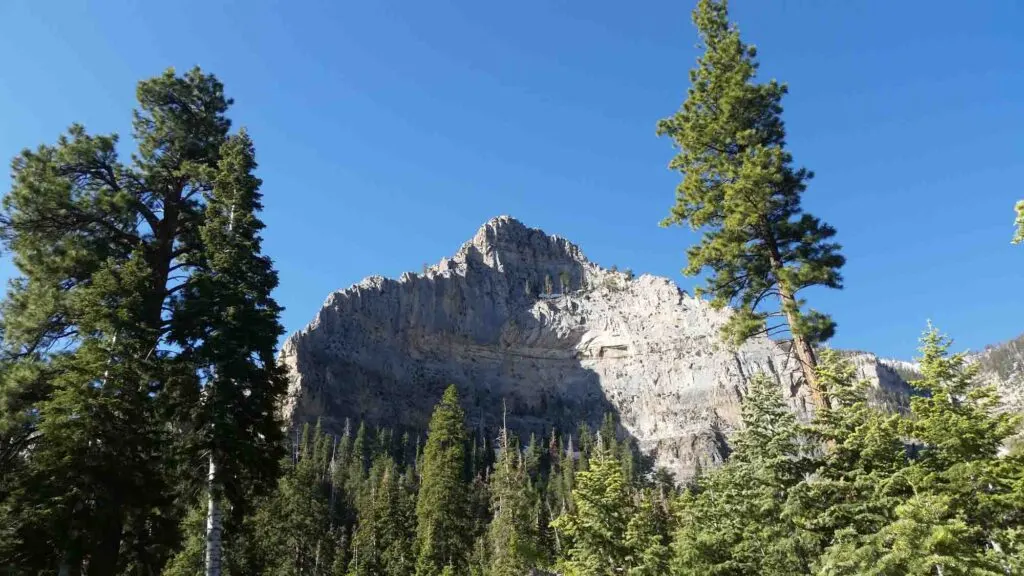 As part of the beautiful Spring Mountain Range, Mount Charleston is the fifth highest peak in the state and one of the best places to visit in Nevada in order to explore its mountainous landscape.
Summiting Mount Charleston is not exactly easy. The trail to get there involves hiking 17.2 miles out and back and braving a pretty challenging elevation gain.
Still, the hike is worth the effort not only for the views at the top but also for everything you'll get to see throughout the hike.
If you're not up for the feat, though, you can still visit Mount Charleston. There's a scenic road around the mountain that provides access to plenty of lookout points, hiking trails, and recreational areas scattered throughout the mountain.
25. Grapevine Canyon Petroglyphs
Located near Lake Mead, Grapevine Canyon is one of the best places to go in Nevada if you want to see glimpses of what life was like during the pre-historic era.
While there's not too much to see in the canyon itself, the highlight of visiting is getting to see hundreds of panels of petroglyphs etched into the rocks of the canyon.
These are estimated to have been created between 1200 and 1800 AD and mostly depict the importance of the mountains to the people who inhabited the area at this time.
Places To Go in Nevada
Have you ever been to any of these places to visit in Nevada? What was your experience like? Let us know in the comment section below!
Latest posts by William Taylor
(see all)