This Southern state has a lot of space to cover and a lot of sights to see, so we've put together the ultimate list of road trips in Texas that should be at the top of your USA bucket list.
Texas is home to pristine waterfalls, rolling hills, vibrant cities, and scenic drives that still have roadside cafes and single gas station towns to stop at along the way.
Whatever kind of landscape you enjoy most, chances are you can find it here.
And because the state is so spread out, road trips are one of the most rewarding ways to see what Texas has to offer. Whether it's a Dallas day trip or a full-blown getaway in Texas you're looking for, we've got it.
In this collection of road trips in Texas, we have itineraries for nature lovers, history buffs, and everyone in between.
If you're ready to hit the open road, keep reading to find the best itineraries and most beautiful drives for your Southern adventure.
Are you basing in a big city? Check out our list of road trips from Dallas, which includes a number of weekend trips from Dallas that will let you escape the urban action for a while and see more of Texas during your stay.
The Best Road Trips in Texas
We've all heard the saying, "Everything is bigger in Texas," but do you know just how big this state really is?
The Netherlands, Belgium, Slovenia, Switzerland, Austria, Slovakia, the Czech Republic, Macedonia, Luxembourg, and Hungary would all fit inside the Lone Star State and still have some wiggle room.
And just like in Europe, one of the best ways to explore all the diverse landscapes and attractions spread out across Texas is to hop in the car and take the slow tour.
If you don't have a car of your own, we recommend renting one for a while. There really is no better way to do it than a driving vacation in Texas!
Big Bend National Park
This national park in Texas is known as "Texas' Gift to the Nation," and just one step on these gorgeous, historical lands will have you convinced.
Five hours south from El Paso and six hours west from San Antonio, Big Bend is a bit out of the way from urban destinations in the state, but the distance only adds to its charm.
It's a nature-indulgent weekend getaway in West Texas.
Not only that, but Big Bend also has some of the best hiking trails in Texas–great excuse to stretch your legs!
Visitors can catch an intimate glimpse into the past by getting out into the rugged Texas wilderness and close to the Mexican border.
Human inhabitation of Big Bend stretches back as many as 10,000 years, and the carefully preserved archaeological sites across the park show evidence of the many Native American groups that have lived off its land.
You can even drive portions of the Comanche Trail, a frequently traversed path between the United States and Mexico. Ranches, military outposts, and old mining sites also await curious guests.
If you only have one day, take the gorgeous 30-mile Ross Maxwell Scenic Drive, which winds through a number of ranches and viewpoints before depositing you at the trailhead of Santa Elena Canyon.
There, you can enjoy an easy hike along the river and canyon floor.
If you have more time, there are a number of spectacular walks around the park, and overnight backpacking is possible with a special permit.
Road Trip from Mineral Wells to Marble Falls
Parallel to the Dallas-Austin drive, this lesser-taken route will get you up close and personal with this small town in Texas.
The journey between these two quirky destinations takes two hours along Texas' scenic US Highway 281, with lots of sights to stop at in between. It's one of the best weekend getaways in Central Texas.
In Mineral Wells, you have to check out the abandoned (and allegedly haunted) Baker Hotel, a luxury resort that once served as the spring training grounds for some of the country's top baseball teams.
The city is named for the mineral springs that run through it. Some say that this water has magical healing properties, and bottles are still on offer today if you want to sample it for yourself.
On the way south, swing by Hico for a taste of real tiny town life; it's home to fewer than 1,500 residents!
If you're traveling in the Texas heat, you can also break up the drive with a stop at Hancock Springs Park in Lampasas.
The oldest swimming pool in the state fed by pure local spring water, this spot is always cool and refreshing, but even more so after a couple of hours in the car.
Once you get to Marble Falls, there is no shortage of natural wonders to explore. The small city boasts limestone caverns, old-growth forests, and miles of famous Texas Hill Country vineyards.
While adrenaline junkies can enjoy mountain biking, hang gliding, and zip lining, the city also holds some of the best homemade pies in the state. If you've sampled Southern cooking before, you know what high praise this is.
Read next: 33 Lovely Fall Vacations in the US
Dallas Loop Road Trip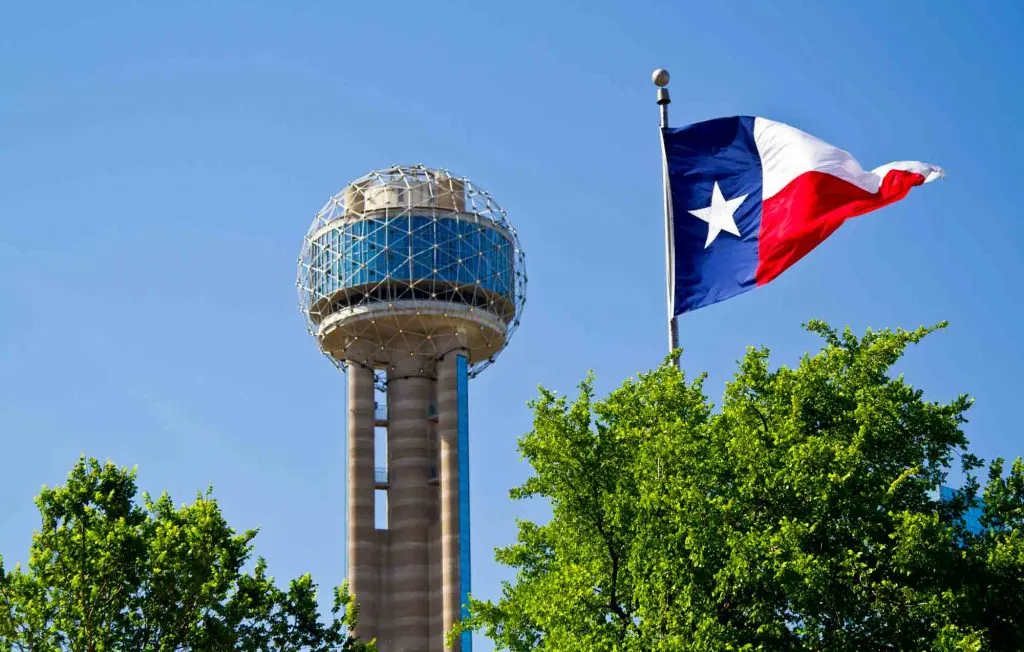 Dallas is a city that has long been a part of Texas's tourist circuit, but most visitors stick to the downtown attractions.
For those that really want to dig deeper into the area, Belt Line Road is a 92-mile loop that encompasses 15 cities and a side of Dallas that not many people–even its residents–ever see in full.
It will take you through all the coolest places to visit near Dallas.
This isn't a typical road trip in Texas, but the few that take it will get to enjoy a blend of urban and rural settings, historic neighborhoods, and decadent dining spots.
The drive takes around 2 hours, but can easily become a full Dallas day trip if you want to catch all the sights along the way.
Cedar Mountain Nature Preserve offers a short hike to stretch your legs while exploring some of Texas' native flora and fauna, then the road heads into industrial Dallas with its old railroads and remnants of the cotton industry that defined this area.
Garland, Carrollton, and Grand Prairie are packed with historical architecture and quaint shopping streets, where you can hit the farmers market or enjoy lunch at one of the many beloved restaurants that know how to do comfort food right.
Road Trip from Austin to San Antonio
Popping down to San Antonio makes for a lively weekend trip from Austin.
The 1 ½-hour, 80-mile drive between two of Texas' liveliest cities is full of rolling hills and Southern charm, sandwiched on either end by historic sights and some of the state's best cuisine.
We could spend a whole post on Austin alone, but for the highlights, make sure to hit the Texas State Capitol, where the state's government convenes, as well as the buzzy East 6th Street, home to all of Austin's best bars and restaurants.
As you head south, swing by San Marcos, where you can take a tour of the beautiful Spring Lake in a glass-bottom boat and indulge your sweet tooth with the town's trademark treat–a Manske roll at Gil's Broiler.
Next up on the list is New Braunfels. This small town has something for everyone, from a German-influenced historic district to the original Schlitterbahn Waterpark and Resort.
Once you arrive in San Antonio, make the most of your time in Texas' oldest city by strolling along the world-famous San Antonio RiverWalk.
You'll find all the best art, food, and shopping in the area in the River Walk, so be sure not to miss it.
Of course, any history buff will also have to pay a visit to the Alamo and some of the many other 18th century missions that dot the city's landscape.
In case you don't know, the Alamo is a small, legendary fortress and monument to Texan history. It houses a museum with artifacts, beautiful gardens, and more.
No road trip in Texas is complete without these stops on the itinerary!
El Paso Road Trip
If you want to feel like a cowboy trailblazing Texas for the first time (albeit by comfy, air-conditioned car rather than horseback), an El Paso road trip is a must-do.
Surrounded by low, rolling Texas mountains and desert landscapes, El Paso is a sprawling city right on the borders with Mexico and New Mexico.
Around the area, you'll find a number of state and national parks perfect for hiking.
We recommend taking the 281-mile El Paso loop throughout at least a long weekend, but you can stretch the trip up to five days or a full week if it fits into your schedule.
The first stop, located about an hour away, is Hueco Tanks State Park, a small park that features unusual granite landscapes perfect for climbing, as well as historic rock art accessible through guided tours.
From there, continue on for another 1 ½ hours to Guadalupe Mountains National Park, where you'll be welcomed by the world's largest fossil reef and the four tallest mountains in Texas.
Read next: 27 Summer Vacations in the US
Piney Woods Road Trip
This East Texas adventure is for anyone who loves forest landscapes and otherworldly lakes. Reserve a weekend and take off through sights that feel far removed from the Southern state they call home.
If you're heading out from Dallas, a 2-hour drive east will get you to Daingerfield State Park, an area that is known for its stunning autumn leaves.
Even for those who aren't visiting Texas in the fall, Daingerfield is rustic and secluded, a quiet spot to hike, fish, boat, and camp year-round.
From there, wine aficionados can drive all or part of Texas' lesser-known vineyard route.
While the Texas Hill Country is better known as the state's wine center, the Piney Woods Wine Trail has even more intimate tasting tours because there aren't nearly so many tourists (yet)!
Then, to get back to your nature fix, continue on through Jefferson to Caddo Lake State Park. If you're not so tight on time, Jefferson is well worth a one-night stay, especially since it's Texas's bed and breakfast capital.
Finally, in Caddo Lake, you'll be treated to storybook images as you boat through the only natural lake in the state, home to the world's largest bald cypress tree, and (just to keep you on your toes) a number of alligators.
All in all, this route takes only about 4 hours from Dallas, but you'll feel as though you traveled the world.
Route 66 Road Trip
Most of Route 66 runs through Missouri, Oklahoma, and New Mexico, but the Texas panhandle claims a small stretch of this historic highway that makes for a real-time traveling road trip.
Your Route 66 kicks will start in Shamrock, where the Tower Station and Café await. This restored 1935 Conoco gas station still has the pumps and original signs, but no longer services customers.
Then drive onwards to Amarillo, the only city on the route and home to the US Route 66–Sixth Street Historic District, a shopping area full of stylish antiques and down-home Southern cooking.
Amarillo also holds the strange sights of the Cadillac Ranch, a 1974 art installation that features 10 cars sticking straight out of the desert landscape.
Further down the road in Adrian, you'll find the halfway mark of Route 66, and the aptly named Midpoint Café, which serves up classic American cuisine in a 50s-style diner.
Finally, don't miss Dot's Mini-Museum and the Vega Motel as you near the New Mexico border.
The journey from Oklahoma all the way to New Mexico on the opposite side is only 178 miles long, but there are so many stops along the way that you might as well make this a weekend trip.
Road Trip from Waco to Longview
There are several ways to get between these two cities, but no route is quite as scenic as State Highway 31, where you'll be struggling not to stop every 10 minutes.
This driving vacation from Waco will take you through everything from water sports hotspots to tiny roadside towns.
Just 20 minutes outside of downtown Waco awaits a true adrenaline rush at BSR Cable Park, the waterpark that puts all others to shame.
You may have heard of their famous Royal Flush ride, an epic super slide that launches brave visitors high into the air before splashing down into a refreshing pool.
After you've dried off, head off to some small-town wonders. Corsicana is ⅓ of the way through the drive and a great place to grab some lunch before you continue on your way.
Texas' first oil boomtown, Corsicana, is notable for its Petroleum Park and Pioneer Village, two historical stops that you won't want to miss.
For anyone who needs to stretch their legs, Tyler, Texas is another excellent spot to break up a driving day. The city boasts a gorgeous rose garden and a sprawling, pine forest state park with a number of easy hikes.
When you finally make it to Longview, there are tons to do, from sipping on fine local wine to waterfall zip-lining.
Read next: 33 Winter Vacations in the US
Road Trip from West Columbia to Corpus Christi
This gorgeous, seaside drive along State Highway 35, known as the "Hug-the-Coast Highway," will have you dreaming of sunny beach days the whole way.
It's easily done on a weekend even at a slow pace. And trust us, you'll definitely want to take your time winding along quiet marshes with the occasional peek over at the Gulf of Mexico.
Your starting point, West Columbia, may at first seem to blend in with any other small Southern town, but it actually served as the capital of the Republic of Texas in 1836, if only for around three months.
Check out one or two of the museums in the area before heading onwards to Palacios, where you'll find legendary Vietnamese and Mexican restaurant/bait and tackle store/social hub, The Point.
It's the perfect spot to enjoy lunch before continuing your trek to Rockport on one of the most beautiful stretches of the entire drive.
And for anyone with extra time on their hands, the Aransas National Wildlife Refuge adds only an hour to the trip but countless incredible sights.
It's known for its population of whooping cranes, which you can observe up close on a relaxed 1.5-mile hike.
Without detours, the whole trip to Corpus Christi takes only about 3 hours, leaving you plenty of time to enjoy the sights on both sides, as well as the journey in between.
Road Trip from Georgetown to San Antonio
For those searching for a road trip in Texas that's more off the beaten path, look no further than the Georgetown to San Antonio route.
This 2-hour drive is far from the most scenic on this list, and it takes a careful eye and a carefully planned itinerary to catch the real reasons so many people love this road trip.
Tucked away out of sight of the speeding cars are 5 stunning spring-fed swimming holes. Take the drive slow and keep your swimsuit on so you don't miss any opportunity to go for a dip under the hot Texas sun.
First up is the sweeping Blue Hole Lagoon, just a short distance from the center of Georgetown. Once you've had your fun there, move on to Barton Springs 31 miles south.
Barton Springs is a beloved pool in the Austin area, fed by underground spring water so that it stays at a cool 70 degrees all year round.
From there, it's on to San Marcos Springs, but if you want to add a bit of action into the mix, the San Marcos River and Rio Vista Park are also in the area, perfect spots for tubing or stand-up paddleboarding.
Then it's back to relaxing at Comal Springs, the largest complex of freshwater springs in Texas, before ending your water adventures at San Pedro Springs, the most historical swimming hole on the trip.
Humans have occupied the land around the springs for more than 12,000 years!
That leaves you in San Antonio to enjoy the rest of your time sightseeing at Spanish missions and enjoying the lively city atmosphere.
Road Trip from Dallas to Galveston
Leave the big city for this pleasant beach town in Texas, where life is more colorful, and the air smells like salt and sea breeze.
If you have some time before you hit the road, check out our itinerary for a weekend in Dallas or even for one day in Dallas, so you make sure to hit all the city highlights, including the mind-blowing murals.
Then, soak up the shift as you sail towards the Gulf of Mexico, and the sights along the way build the anticipation even more. There is no doubt Galveston is a lovely weekend getaway from Dallas!
Since we're sure you'll be eager to get to the beach, this itinerary doesn't call for too many stops, although you'll definitely want to mark the halfway point at a beloved Texas institution, the Buc-ee's in Madisonville.
This mega gas station has more than just road trip snacks.
In addition to the dozens of varieties of homemade beef jerky you might need to munch on, you can also stock up on Texas-themed souvenirs and enjoy the cleanest roadside bathrooms in the state.
If Dallas didn't fill your big city cravings, spend a weekend in Houston, where you'll find the NASA Space Center and countless delicious dining options.
Of course, if you're short on time, you'll want to get to your destination more quickly so you can enjoy at least a day or two strolling along the boardwalk, swimming in the Gulf, and eating seafood to your heart's content.
Of all the road trips in Texas, this one is a classic that you simply can't skip.
Read next: 25 Spring Break Destinations in the US
Texas Hill Country Road Trip
Wine lovers, assemble! This route is for anyone who loves picturesque landscapes and a cool glass of red or white.
If you're looking for places to visit near Austin, the Texas Hill Country Wine Trail is easily accessible using the bigger city as your base.
Start your adventure 45 minutes outside of Austin at the Hamilton Pool (temporarily closed for repairs), a stunning natural pool that looks like it belongs south of the border, a bit like one of Mexico's gorgeous cenotes.
Once you're all tuckered out, it's time to keep heading west.
No road trip in Texas Hill Country would be complete without a stop in Fredericksburg, a German enclave that is now home to some of central Texas' trendiest boutique stores and most exquisite vineyards.
Besides, Fredericksburg TX is one of the most romantic getaways in the United States.
In fact, we've got you covered with our list of things to do in Fredericksburg, which includes everything from peach picking to country music jams (did anyone say country songs about Texas?) to bluebonnets.
It's also the perfect place for stopping at one of their excellent tasting rooms. After all, Fredericksburg is in the heart of the Texas Wine Country.
Then, aim south towards San Antonio and make your way to Landa Falls, where you'll get to participate in a time-honored Texas tradition–river-tubing.
With memories of vineyards dancing in your head and maybe a glass of that new wine by your side, drift down the Comal River and soak in the slow Southern life.
Some Other Texas Road Trips you Might Want to Consider
Tips for Your Road Trip in Texas
Texas is the second-largest state in the USA, so don't underestimate the distance involving a Texas road trip.
While the maximum speed limit in the state is 85 mph, it can quickly become the speed minimum in long stretches on the highway, so be prepared!
Be sure to tank before you head too far away and rural spots. You won't want to stress over your gas tank get too low.
Include small towns on your Texas road trip, not only big cities. There are far more spectacular things to do see and do in Texas beyond the skyscrapers.
Did you like this post about the best Texas road trips? Then share it with a friend who might like it too!
Latest posts by Katelyn van Sligtenhorst
(see all)