Looking for the best things to do in Florida? Here's your Florida bucket list!
Florida is an absolute dream when it comes to beautiful destinations filled with tons of fun.
While a beachside escapade and theme parks are usually the main reasons most travelers head to the Sunshine State, there's plenty more to do here than meets the eye if you know where to look.
If your aim is to create a pretty well-rounded itinerary filled with lots of variety, we've put together a list of some of the best things to do in Florida, guaranteed to give you a great time regardless of your interests. These ideas are all musts in any USA bucket list, by the way.
From uber remote islands to natural sinkholes that house an actual rainforest and fabulous city escapes, here's the ultimate list of 26 of the best activities and spots you absolutely need to keep on your radar when planning your trip to Florida!
26 Things to Do in Florida
1. DisneyWorld
Walt Disney World in Orlando is a must on any Florida bucket list regardless of your age. This massive attraction is made up of four amusement parks, each with its own unique theme: Magic Kingdom, Animal Kingdom, Epcot, and Hollywood Studios.
Dubbed "The Happiest Place on Earth", Disney is a magical place to visit in Florida featuring some of the most amazing rides in the world for people of all ages to enjoy.
While here, you'll get to meet Disney's beloved characters, hop on exciting rides, go on a safari, and experience being in countries from all over the world without flying on a plane.
As a tip, plan on spending enough time here (at least one day per park) to make the most out of your experience.
2. Castillo de San Marcos
If you're into history or simply want to explore Florida beyond its beautiful beaches, Castillo de San Marcos is a must in your itinerary.
Located in the historic city of St. Augustine, Castillo de San Marcos was originally built as the oldest masonry fort. The castle was constructed by the Spanish to protect themselves and their merchandise on the Pacific trade route from pirates and other enemies.
While visiting, you'll get to tour through 450 years worth of history in the oldest city in the United States, all with striking panoramic views of this beautiful seaside locale which you can fully take in from the gun deck at the top.
Afterward, you can have a picnic and relax in the fort's well-cared garden for a unique afternoon.
Read next: Best Cabins in Florida
3. Busch Gardens
Busch Gardens in Tampa is both a fantastic zoo and an exciting theme park rolled into one.
If you're into adrenaline-pumping adventures, love rollercoasters, and wouldn't exactly mind meeting tons of animals, this is definitely one of the best things to do in Florida to combine the best of all worlds (not to mention there are also plenty of topnotch restaurants here to please the foodie in you!)
Home to 16 rides, you can actually spend entire days hopping from rollercoaster to rollercoaster. Don't worry, though. If you're not too keen on hair-raising rides, there are a few slow and easy-going ones in the park too.
The other half of the park is dedicated to animals, with stunning scenery and fun interactions with wildlife on offer.
The park houses more than 200 species, which you can see roaming freely in the Serengeti Plain, which is home to zebras, giraffes, rhinos, and many more.
Moreover, you can also book a safari tour to trek across plains, hop on board the Serengeti Express Train, or get on the Skyride for a bird's eye view!
4. Weeki Wachee
Weeki Wachee might very well be the most classic attraction in Florida since its opening during the 40s.
Ever since then, tourists from all over the world have flocked there to see its unique mermaid show, which continues to be performed up to this day!
There's more to Weeki Wachee besides its quintessential mermaids, however. This Florida state park also houses the deepest freshwater cave system in the country, making it a real geological treasure.
Besides exploring the caves, you can hop on a canoe or kayak down the spring in search of wildlife, as well as swim in the crystal-clear waters of Buccaneer Bay.
5. Devil's Den
Set a few miles from Gainesville, Devil's Millhopper State Park is a fantastic spot where you'll find a 120-feet sinkhole with a miniature rainforest inside it!
As with most of Florida's waterfalls, Devil's Den was created by a series of sinkholes, which allows you to see the fall from above without having to climb to the top.
In this case, you can actually go inside the sinkhole and stand right beside the water, falling into this geological gem!
The crystal-clear water in the spring at Devil's Den is 72 degrees year-round. On cold winter mornings, you can actually see steam rising from the hole, which explains the name given by early settlers.
Today it is considered a heaven for nature lovers and one of the most exciting things to do in Florida for divers who want to explore beyond the ocean.
6. Bok Towers
If you're wondering what to do in central Florida, Bok Tower Gardens is one of the most inspiring attractions in the area.
This national historic landmark is composed of El Retiro Estate, 50 acres of beautiful gardens, and a towering carillon.
Set on rolling citrus hills in Lake Wales, this former private estate is an incredibly serene place to spend an afternoon at.
Imagine yourself touring beautiful gardens while listening to the music coming out of the Singing Tower carillon, which plays 30-minute bell concerts every day at 1:00 and 3:00!
7. Kennedy Space Center
If your dream career as a kid was becoming an astronaut, a visit to Kennedy Space Center is a must on your Florida bucket list.
Located on Merritt Island, Kennedy Space Center is the only place in the world where you can see the shuttle Atlantis from up close, touch a moon rock, meet a NASA astronaut, tour a NASA facility, and view a real Saturn V moon rocket!
Add the stunning vistas of the ocean and a few hiking trails you can find a stone's throw away from the center, and you've got yourself the perfect beach + space exploration combo!
8. Universal Studios
Universal Studios Orlando is another popular attraction that should be included on every Florida bucket list because of the incredible thrilling experiences it has to offer.
Universal Studios features three amazing theme parks where you can experience exciting rides, shows, and special effects with some of the most famous characters from movies and TV shows, including Harry Potter, Spider-Man, the Minions, Hulk, and many more!
You can also enjoy some serious entertainment, shopping, dining, and wining as you stroll along Universal Citywalk, which is an attraction of its own!
In addition, you can also ride the Hogwarts Express!
9. Manatee Springs
Manatees are Florida's favorite animals, and we could bet on the fact that one of the highest items on your Florida bucket list is getting the chance to spot a few of them!
As its name suggests, Manatee Springs is a favorite hangout spot for manatees, who love finding respite here from the ocean waters during the winter months.
If you visit any other time of the year, though, you'll still be able to see plenty more wild animals, especially if you take a walk along the park's 800-foot boardwalk that runs above the water and through a magical cypress forest.
Aside from getting to meet Florida's friendliest water mammals, there's plenty more to do at this magical state park, including hiking, swimming, biking, boating, and even scuba diving!
10. Naples Botanical Garden
Naples Botanical Garden is a 170-acre garden dedicated to showcasing tropical plants from Florida and other parts of the world, including Brazil, Asia, and the Caribbean, making it a haven for those who love all things green.
The garden also features several different habitats, including mangroves, marshes, pinewoods, and coastal scrub that harbor hundreds of animals and plant species.
Moreover, you can also admire tons of water lilies, lotus, and papyrus that thrive on the 60,000 square feet of water bodies on the grounds, a pretty special sight to behold!
11. Ginnie Springs
Ginnie Springs is, without a doubt, one of the prettiest springs in Florida and one of the best things to do in Florida for those who want to experience its pristine nature.
Located 31 miles from the town of Gainesville, Ginnie Springs boasts seven crystal-clear springs surrounded by lush nature that make it a perfect spot for an outdoorsy escape.
While here, you can choose from many different activities, including swimming, scuba diving, cave diving, hiking, and camping.
As a tip, try avoiding visiting the springs during the weekends, as they tend to get pretty crowded.
Ginnie Springs is the only spring destination in Florida where drinking is allowed because it's privately owned, which makes it a pretty popular day trip destination for locals on weekends.
12. Visit a brewery
Did you know Florida is a prime craft beer producer? So much that, in fact, it has over one hundred breweries scattered all over the state!
A visit to one of the Sunshine State's breweries will give you the chance to learn about the beer-making process while sampling freshly tapped beers only produced in the state.
From Miami to the Florida Panhandle, there are many options available, but we recommend heading to the Tampa Bay area as it boasts a hefty beer scene guaranteed to satisfy your ale and lager needs.
Make sure to visit Cigar City Brewery while here, which is the highest-rated one in the state!
13. Everglades National Park
The Everglades is the third-largest national park in the US, with a whopping 1.5 million acres of wilderness that encompass lush forests, estuaries, mangroves, and wetlands.
Located in the southern part of Florida, this stunning park is home to millions of fascinating animals, including alligators, turtles, manatees, dolphins, and many more, making it a haven if wildlife encounters are your jam.
There are many options to explore the vast area of the Everglades. A few of the ways you can explore include hiking, boating, scenic driving, snorkeling, and even night treks!
Read next: All National Parks in Florida
14. Museum of Discovery and Science (MODS)
Love science? The Sunshine State is home to the Museum of Discovery and Science, one of the most incredible science museums in the world and an absolute must on your Florida bucket list.
Located in bustling Fort Lauderdale, you could easily spend entire days exploring the museum's fascinating exhibits and never get bored.
A few absolute must-dos include checking out The Hangar, a Makerspace with an aviation theme, digging for fossils and seeing a dinosaur through augmented reality, visiting Mars, driving in the 7D Theater, and so much more!
15. Dali Museum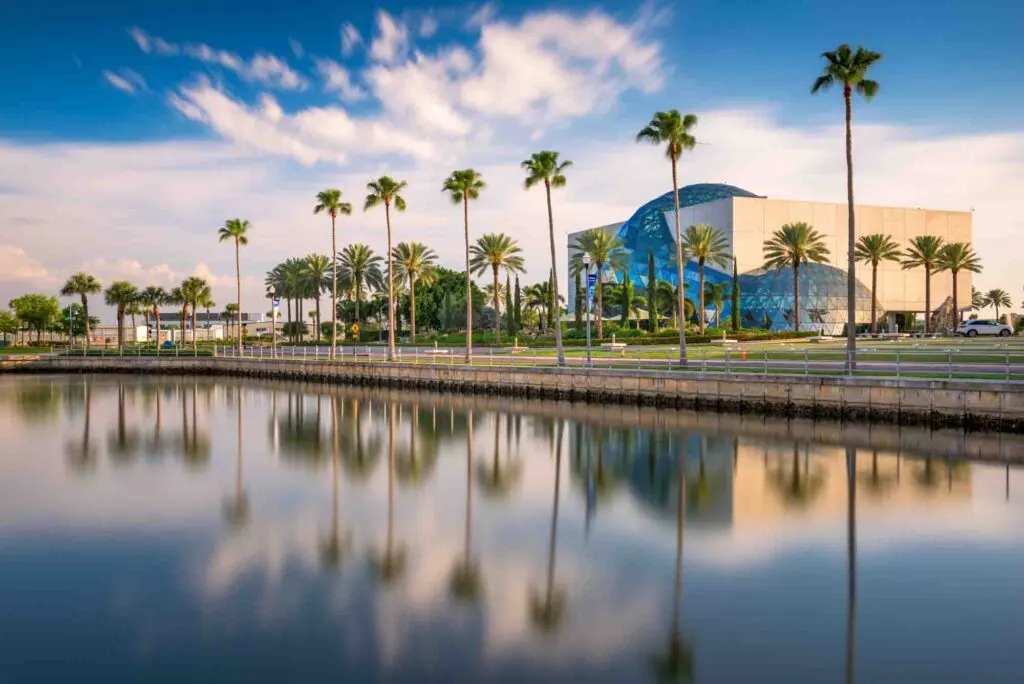 Located in the city of St. Petersburg, the Dali Museum is one of the best things to do in Florida for art aficionados because it houses the largest collection of Salvador Dali's artworks outside of Spain!
If you're wondering how this museum ended up finding its home in Florida, the story goes that two Floridians, Albert Reynold Morse, and Eleanor Morse, visited a Dali exhibition in Cleveland's Museum of Art a little before their wedding in the 40s and became fascinated by his work.
Soon after, they decided to buy their first Dali painting, which marked the beginning of a love affair with his work that resulted in a pretty healthy collection!
16. Venetian Pool
Located in Coral Gables, Venetian Pool is unlike any pool you've ever seen in your life and the largest freshwater one in the United States!
Because it was carved out of coral rock quarry back in the 1920s, this unique piece of Mediterranean architecture has become an icon of the city of Miami and one of the best things to do in Florida.
While visiting, you can tape a dip and cool off amidst palm trees, waterfalls, grottos, and cool coral reef formations, all while getting the chance to soak in the history of the place.
17. Dome Houses
Built by a retired oil producer who wanted to try his hand out at DIY back in the 80s, Dome Houses is a super quirky holiday home located on an isolated tip of Marco Island.
The house consists of several dome-shaped buildings that are being slowly pulled by the ocean, all of which are self-sustaining and self-powered.
Because of their unusual look, they've been the source of many stories and legends throughout the decades, with a few theories being that the home belongs to a secret cult, spies, and even aliens!
18. Saint Petersburg Sunken Gardens
As the oldest living museum in the city, St. Petersburg Sunken Gardens is a wonderful place to take a respite from the bustle and hustle.
This marvelous place houses over 50,000 tropical plants and flowers, all of which are displayed amid beautiful gardens, waterfalls, meandering paths, butterflies, and flamingos!
19. Clearwater Beach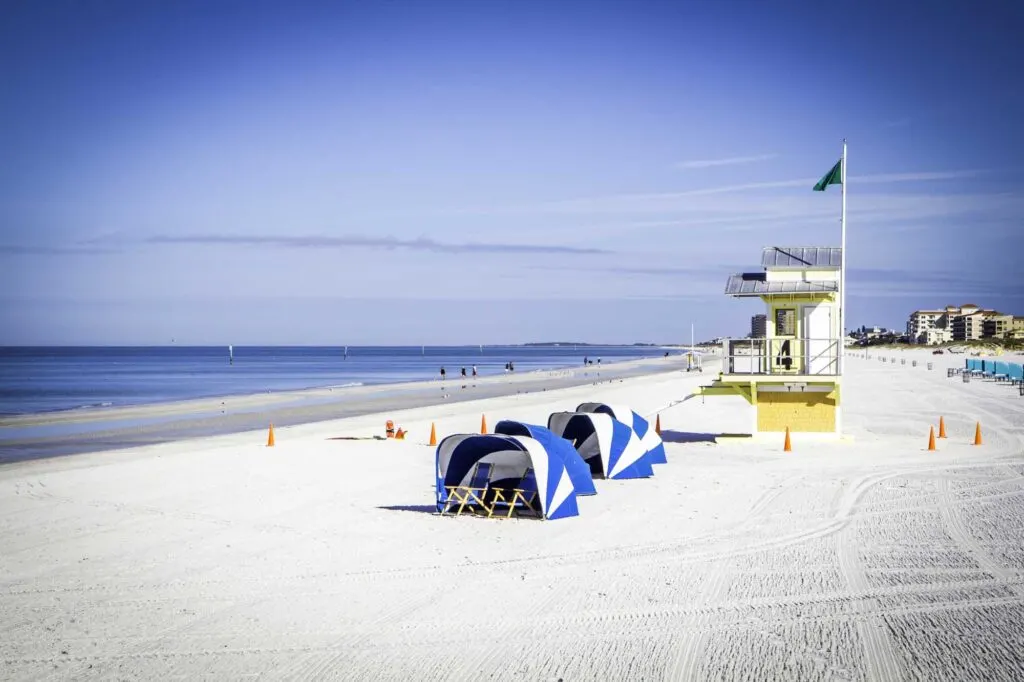 Constantly recognized as one of the best beach destinations in entire Florida, Clearwater Beach is a beautiful seaside city set on the Gulf Coast that provides a wonderful combination of soft sandy beaches, a vibrant arts community, excellent outdoor experiences, and clear waters that give the place its name.
While here, you can visit marine animals at the Clearwater Marine Aquarium, go on a dolphin-spotting adventure, walk along its beautiful pier, go beach hopping on a ferry, board a pirate cruise, and so much more!
Read next: Best Beach Towns in Florida
20. Dry Tortugas National Park
If off the beaten path destinations and excellent marine life encounters are your jam, one of the most exciting things to do in Florida is heading away from the mainland in order to visit Dry Tortugas National Park.
Located 68 miles away from Key West, this fascinating park is made up of 99% water, which pretty much means you'll get to spend most of your time here exploring under the surface.
Dry Tortugas can only be accessed by boat or seaplane, which explains why most people (even local Floridians!) don't visit or even know about the place.
While a day chilling at the southern beach at Dry Tortugas National Park is enough to make you feel as though you've found actual paradise, there's no shortage of adventures at the park, especially if you are a lover of all things outdoors.
A few can't-miss activities include snorkeling in search of exciting marine life, hiking a few of the trails spread across the seven islands inside the park's boundaries, or hopping on a boat to explore the area's turquoise-toned waters.
21. NASCAR Race
If you're into racing, watching a live Daytona 400 NASCAR race at Daytona Beach is one of the most thrilling things to do in Florida.
Daytona 400 is the iconic 500-mile NASCAR Cup Series season-opener which is held annually during the month of February.
Because NASCAR is extremely popular, make sure you acquire your tickets way in advance in order to secure a spot.
22. Wynwood Walls
No visit to Miami would be totally complete without a visit to the Wynwood neighborhood, which homes Wynwood Walls, a popular Instagram spot that proudly displays Miami's culture and diversity through vibrant street art.
Here, muralists were hired by Tony Goldman to turn the huge walls of six old warehouses into an open-air gallery in a once decaying neighborhood.
Aside from the original walls, other buildings around them have also been covered by colorful murals by artists throughout the years, which means you'll be surrounded by lively art no matter where you turn.
The best time to visit Wynwood Walls is the second Saturday of every month when the monthly Wynwood Art Walk is held.
During this time, the district goes all out and becomes a late-night street party with food trucks, entertainment and live music included!
23. Butterfly World
Located only a few miles away from Ft. Lauderdale in a town called Coconut Creek, Butterfly World is an easy day trip to take from the city and one of the best things to do in Florida for nature lovers.
Butterfly World is considered the world's largest butterfly and bird park.
It covers 3 acres that are dotted with beautiful butterfly aviaries that home over 20,000 butterflies and tropical birds, stunning botanical gardens, and a butterfly farm and research center where you can learn more about these pretty insects.
24. Southernmost Point of the Continental USA
Marking the southernmost point of the continental United States, Point Buoy is an anchored concrete buoy built so as to seem like it is sticking out of the bedrock in Key West.
As a fun fact, this post is located only 90 miles away from Cuba, so you can actually see the country from here!
25. Legoland
Located in Winter Haven, not far from Orlando, Legoland Florida Resort is a super fun theme park where you'll find tons of rides, a water park, and a fantastic botanical garden, all with Lego in mind, of course!
The park was built with 2 to 12-year-old kids in mind, which makes it one of the best things to do in Florida with kids.
Still, Legoland is actually enjoyed by people of all ages, so rest assured you'll find plenty to keep you entertained during your visit, even if you are a little older.
26. Anna Maria Island
Like many locations on Florida's Gulf Coast, Anna Maria Island has managed to preserve that nostalgic Old Florida charm thanks to the fact that it has strict regulations on construction.
This small barrier island boasts a stunning 7-mile stretch of white sand beaches, all of which are bathed by the crystalline waters of the Gulf of Mexico that make it look like absolute paradise.
Tip: If you're one to look for secluded beach spots, Anna Maria Beach is sure to please.
Located in the northern part of the island, this beach barely sees visitors, so you'll be guaranteed a quiet experience. Plus, there are no amenities here, which adds to the feeling of seclusion and privacy perfect for a picnic!
Beyond that, the incredible family-owned restaurants on the island are sure to fill up your belly. Oh, but be sure to book your vacation rental in advance to avoid missing out on the fun!
What are some other amazing destinations and places worth visiting in The Sunshine State? If you have any more suggestions on what to do in Florida, feel free to drop them in the comment section below!