Home to a total of thirty one state parks, six national forests, and some of the most stunning national parks in the United States, there are plenty of unique places to visit in Arizona that are worthy of being on everyone's USA bucket list.
If you're planning to visit Arizona and wonder what to see and what to do, you are probably feeling a bit overwhelmed with the seemingly endless list of options on offer.
In all seriousness, though, there are so many unique places in Arizona to visit that one could easily spend a few years exploring this incredible state and never have to do the same thing twice.
If you don't have that long of a break, though, we've put together a pretty thorough list of the destinations you absolutely need to consider checking out on your next visit to the Grand Canyon State!
Best Places to Visit in Arizona
1. Sedona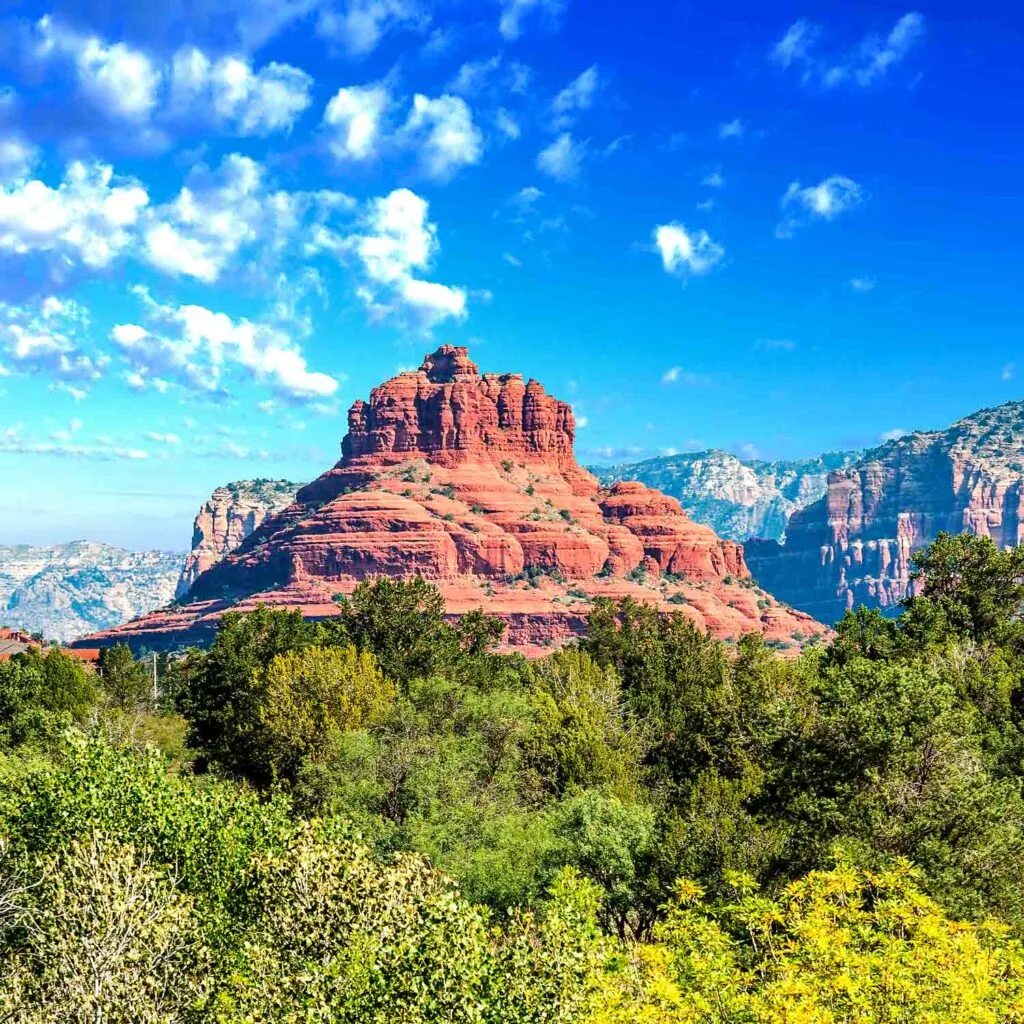 Sedona is a dreamland when it comes to striking desert scenery, thanks to the geological forces that cut deep rifts millions of years ago.
Today, this fantastic region of Arizona is an absolute must-see for those looking to experience desert magic in its full splendor.
Think desert spires that pierce the clouds, mazes of bright red rock formations, endless river canyons, and a whole lot of culture to match the experience.
During your visit, you'll get to pick from a comprehensive menu of incredible hiking trails for every level, explore the area's culture and history through its museums and cultural centers, and part take in a ton more of incredible outdoor activities that will get you closer to the desert than ever before!
2. The Wave
Straddling the border of Utah and Arizona, The Wave is one of the most outstanding hiking trails in the entire world.
What makes The Wave so unique is the fact that you'll be hiking through rock walls plastered by a rainbow of desert hues that look as though they shimmer like waves!
The Wave is one of the most challenging places to go in Arizona because the entrance is extremely restricted.
In order to be able to enter, you'll need to get a permit, which requires entering a pretty competitive lottery!
3. White Pocket
If you couldn't get a ticket to hike The Wave, White Pocket is a great alternative. White Pocket is somewhat of a hidden gem in Arizona, making it all that more special to visit.
The entire landscape in the area consists of multicolored and extra whacky-looking rock formations of Navajo sandstone, all of which come in hues of bright orange, pink, and red.
Seriously, the entire scenery is so striking here that you'll wonder if you were somehow transported into the heart of Jupiter!
4. Grand Canyon National Park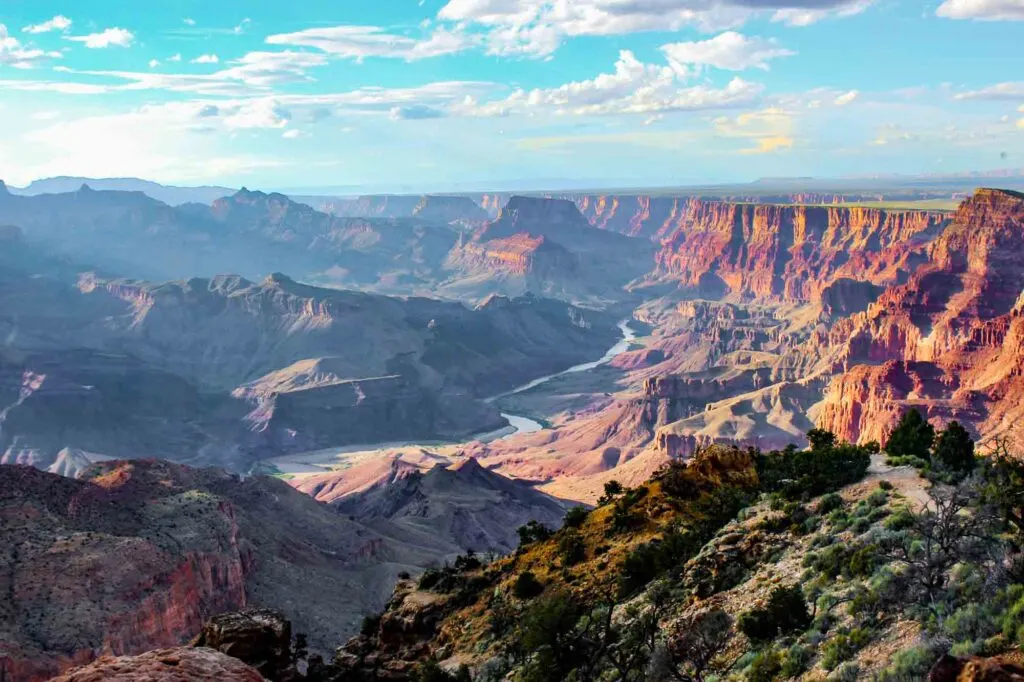 The Grand Canyon may sound a bit cliché, but the fact that it is one of the most iconic landmarks in the United States and listed as one of the 7 Natural Wonders of the World makes it one of the can't miss places to go in Arizona.
While simply getting to see the canyon's grandeur is reason enough to visit the park, you'll find plenty of more things to do here if you want to explore further afield.
Choose from different hiking and biking trails for every difficulty level in the canyon's South Rim or opt to get a bit off the beaten path and thread more challenging hikes on the North Rim, where you may get to have some of the most striking viewpoints in the park all to yourself!
5. Antelope Canyon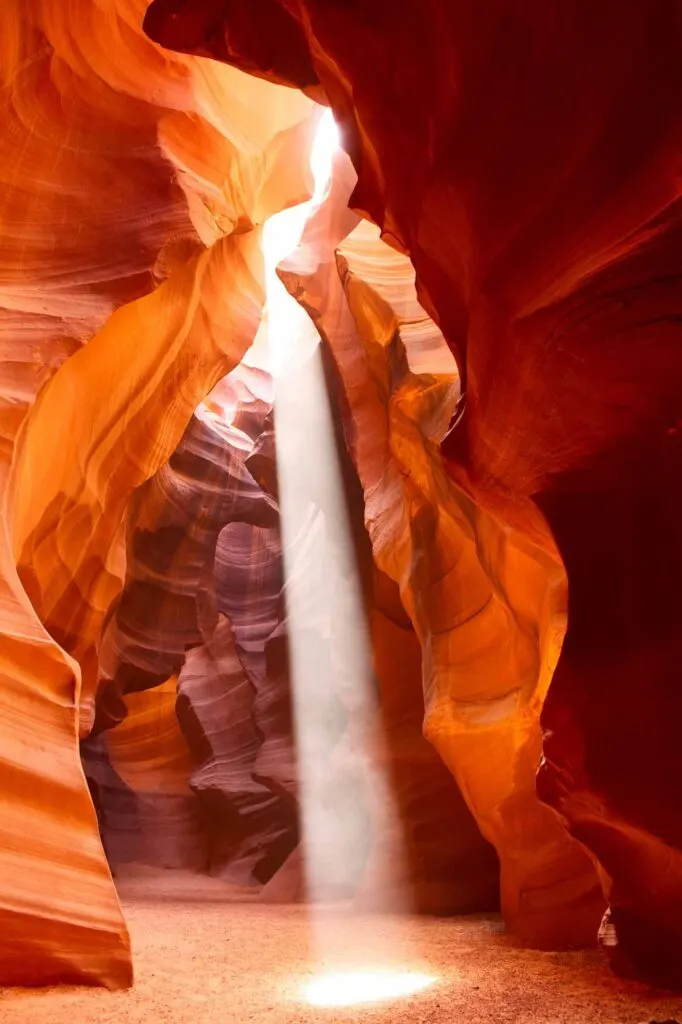 Antelope Canyon is the most photographed slot canyon in the Southwest and one of the most striking places in Arizona to visit.
What makes Antelope Canyon stand out from the crowds compared to other slot canyons in Arizona is the unique scenery its rocks create when light reflects off them as well as the gorgeous swirls of colors plastered all over the walls.
Antelope Canyon is actually divided into two sections: Lower and Upper Antelope Canyon.
The most popular one is Upper Antelope Canyon. Still, we also recommend hiking through Lower Antelope Canyon to squeeze your way through its narrow walls, which makes for a super exciting hiking experience!
Read next: Best Places to Visit in the Southwest, USA
6. Petrified Forest National Park
Few places in the world are as unique as Petrified Forest National Park, and it all boils down to the colorful scenery it creates thanks to sparkly crystallized logs brought to the area hundreds of millions of years ago!
As a geological wonder, exploring Petrified Forest will make you feel like you're walking on an entirely different planet, especially when you make it to the most colorful place in the park: The Painted Desert.
7. Saguaro National Park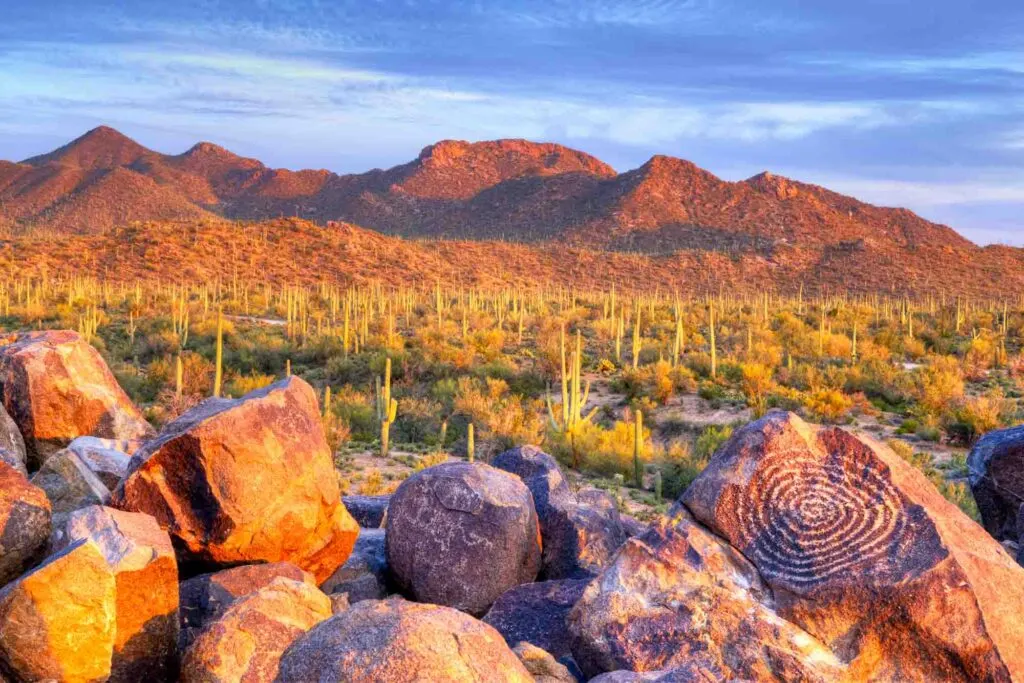 Set near Tucson, Saguaro National Park is home to giant saguaro cacti that tower over their native environment.
The so-called kings of the Sonoran desert are preserved inside the saguaro forests that stretch across the park, where some of them grow as high as 50 feet and can live for over 200 years!
Besides the broad desert, it encompasses, Saguaro National Park also features some mountainous terrain with coniferous and pine forests. It provides a super varied terrain to enjoy on a scenic drive or while hiking.
Wildlife spotting is also a treat here, with desert tortoises, deers, black bears, coyotes, Mexican spotted owls, and javelinas (to name just a few) calling Saguaro their home.
8. Monument Valley Navajo Tribal Park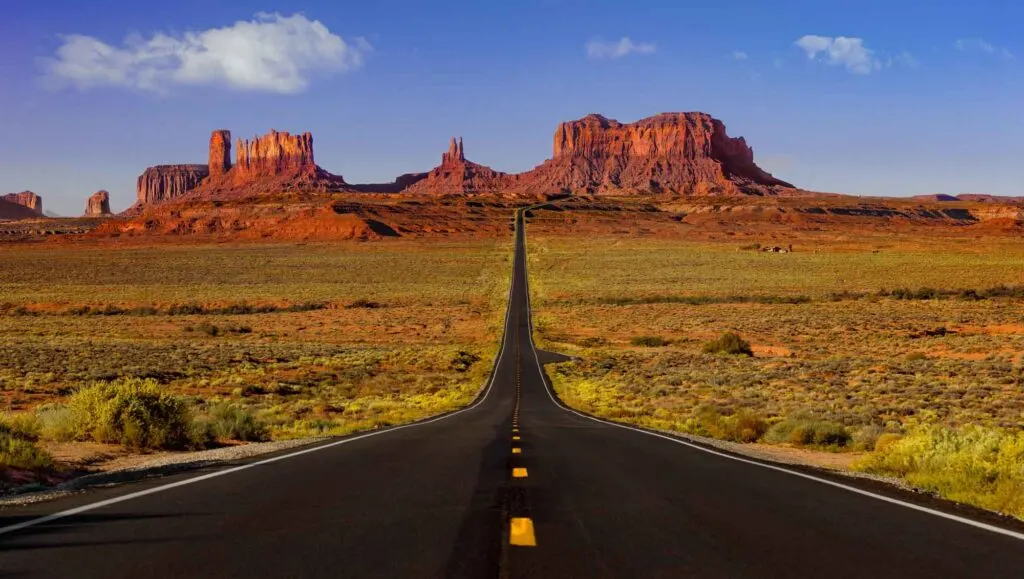 Spread across the border of Arizona and Utah, Monument Valley is known for its captivating scenery made up of humongous sandstone formations that tower over the desert floor.
The entire scene is backdropped by miles upon miles of beautiful mesas and buttes, making the landscape look so breathtakingly beautiful that you'll find yourself having to pinch your eyes to make sure it's real.
The play of the sun's rays and the clouds on the sandstone formations that tower up to 1,000 feet is nothing short of spellbinding, making Monument Valley one of the most beautiful places to visit in Arizona.
Fun fact: The movie Stagecoach (1939) and other Westerns were filmed in Monument Valley! While here, you can actually try your hand at horseback riding to feel as though you're part of an Old West movie setting.
9. Lake Powell
Nestled inside Glen Canyon, Lake Powell is part of the alluring Colorado River. Its unraveled beauty and the unique rock formations surrounding it create a super dramatic setting that is the epitome of eye candy!
Lake Powell is not only about gawking at the scenery, though. It's also an excellent spot for water skiing, wakeboarding, tubing, and fishing.
Hiking one of the easy-to-moderate trails to numerous viewing points is another favorite here, and you might even get to spot some wildlife along the way!
10. Horseshoe Bend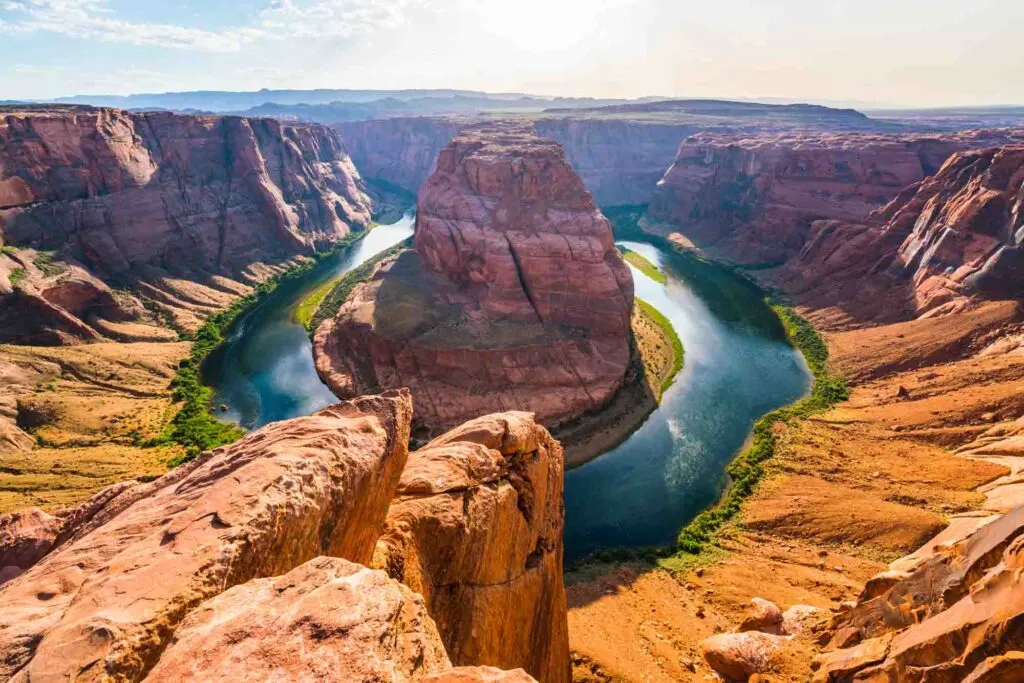 Set inside Glen Canyon, Horseshoe Bend is a perfect meander shaped like a horseshoe drawn by the Colorado River.
A short 1-mile hike from the city of Page will lead you to this unique site, or you can make a quick stop on your way to and from Grand Canyon or Monument Valley if you're doing a more extensive Southwest road trip.
The main viewpoint is why most people visit Horseshoe Bend. Still, if you'd like to explore further afield, you can also hit a few hiking trails, go rafting, or even book a helicopter tour for some seriously striking vistas!
11. Tonto National Bridge State Park
Located between Payson and Pine, Tonto Natural Bridge is said to be the world's largest natural travertine bridge.
It has a width of 150 feet and arches 183 feet above crystalline Pine Creek, which, together with the pine trees, flowing springs, and fern-coated grottos lining the narrow canyon, create a genuinely striking scenery.
You can hike to the bottom or see the natural bridge from different viewpoints spread across the park.
Make sure to take a look at David Gowan's Family Lodge. It contains furnishings, family heirlooms, a gift shop, as well as an inside look of earlier times when this Scottish prospector settled here in 1877.
12. Phoenix
The bustling capital of Arizona, the 5th largest city in America, boasts a large selection of cultural attractions, excellent shopping, outstanding cuisine, a lively nightlife, golf resorts, and an exciting array of exciting activities like hot-balloon flights, jeep drives across the desert landscape, and so much more.
Visit the Heard Museum for a deep insight into American Indian history and examine the fantastic collection at the Phoenix Museum of Art, enjoy beautiful ballet performances at the Orpheum Theater, or catch a show at the Phoenix Art Museum.
You might want to visit the Desert Botanical Garden. At this popular attraction, you can experience the vibrant tranquility of desert plants nestled amid the red rocks of the Sonoran Desert.
13. Hoover Dam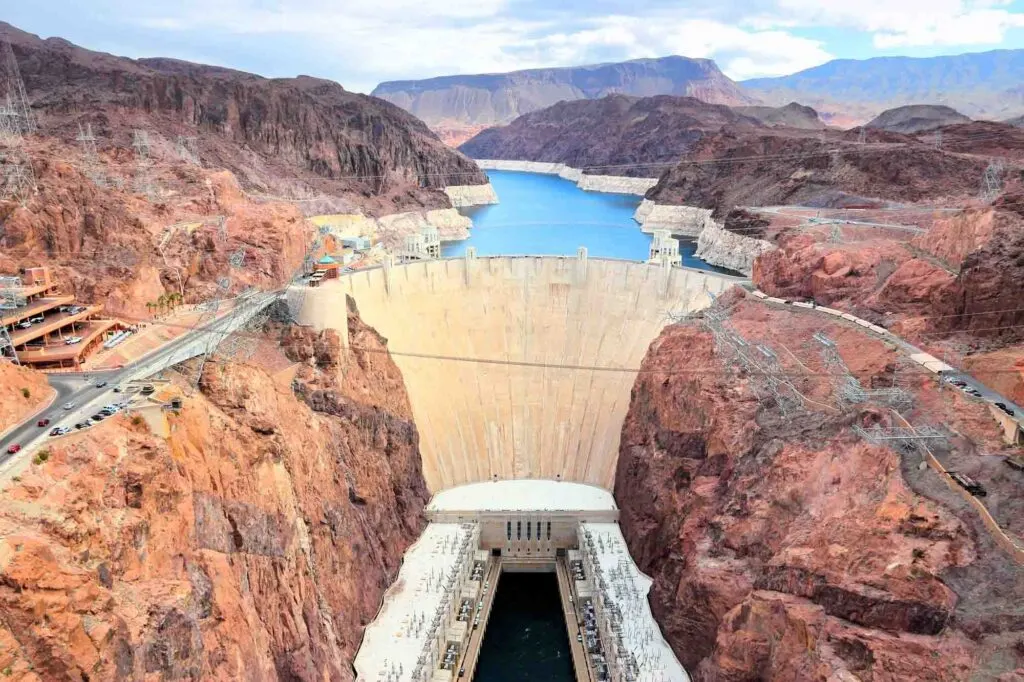 Once named Boulder Dam, Hoover Dam is a dam constructed on Black Canyon over the Colorado River.
While visiting an artificial structure may not sound super thrilling at first, the fact that it's the highest concrete arch dam in the entire country makes it a truly unique stop to make!
Standing tall at 724.6 feet high and weighing a whopping 6,600,00 tons, Hoover Dam is an engineering marvel.
Combine that with the incredible views of the nature around it, and you'll be in for a real treat!
When visiting the dam, you can take in the most striking vistas of Black Canyon from 890 feet above the Colorado River on the Hoover Dam Bypass Bridge walkway, enjoy water activities at nearby Lake Mead, or drop in on the grazing desert bighorn sheep at Hemenway Park.
For a trip back in time, visit the historic Boulder Dam Hotel, built to house construction workers commissioned to build the dam during the Great Depression.
14. Tucson
Tucson is one of the most iconic cities in Arizona, as well as a cultural hub that's considered one of the best places in Arizona to visit to get a pretty well-rounded introduction to Southwestern culture.
Thanks to its location in the heart of the Sonoran Desert, this city is sprinkled by saguaro trees that make its beautiful landscape look incredibly scenic, but it's a lot more than just that!
During your visit, you'll get to experience a modern version of the Old West by exploring a wide range of museums, historical sites, restaurants, parks, and plenty of getaways in order to experience the desert surrounding the city!
One of the must-see places is the Arizona-Sonora Desert Museum! Highly recommend it!
15. Jerome
Once a thriving mining town, Jerome was once nicknamed the "wickedest town in the West," back when miners, merchants, and madams made it their home.
Jerome managed to survive at the end of the mining era, thanks to the fact it turned into a hillside destination that welcomed visitors keen to discover the valley's fine wine, arts, and ghostly side (we'll get to that soon).
Today, Jerome is home to thriving art galleries located in historic buildings. During your visit, you'll also be able to head out on a spirit and wine-tasting adventure by visiting the various tasting rooms that dot the streets.
Every single building in this town has been repurposed – there's even a burger shop set inside what used to be a brothel!
Jerome is also said to be incredibly haunted. Violent deaths from crimes and fires back in the day have given the town its "ghost town" status.
There have been several accounts of ghastly sights inside buildings, including hospitals, hotels, and private homes!
16. Canyon De Chelly National Monument
Canyon de Chelly is located in northwest Arizona, inside the Navajo Indian Reserve.
This canyon is less known than others in the state, so it's a perfect spot if you want to get a little off the beaten past on your way or after visiting the Grand Canyon.
The main attraction at Canyon De Chelly is the famous Spider Rock, an iconic sand spire that towers over 755 feet high! What makes this destination truly unique, though, is the fact that it has been inhabited uninterruptedly for thousands of years up until this day.
During your visit, you'll get the chance to explore the ruins and rock art of the first people who lived in the region (the Anazaki and Puebloans) as well as get acquainted with the Navajos that still inhabit the place.
17. Tombstone
Located near the border with Mexico in Cochise County, Tombstone is a charming historic city founded in 1877 as one of the last frontier towns established during the mining boom.
During your visit, you'll get to step back in time in the "Town Too Tough to Die" and enjoy a memorable time getting a glimpse of the past with the many attractions Tombstone has to offer, such as museums, underground mine experiences, paranormal adventures, great southern dining, and historical tours on foot or a stagecoach!
18. Havasu Falls
Picture a landscape of striking red rocks and blue water waterfalls cascading down into bright turquoise-colored pools. That's Havasu Falls in a nutshell.
Its remarkable beauty makes it one of the most sought-after places in Arizona to visit, and getting there requires a bit of a trek.
For one, permits are hard to come by, but you may be one of the lucky few to snag one with a bit of planning in advance!
The trek to reach Havasu Falls is pretty tricky, with lots of switchbacks and a whopping elevation gain of 1,800 feet at the beginning.
The stunning views, as well as three other glorious waterfalls along the way, will give you plenty of excuses to stop and catch your breath, though!
As a tip, we recommend learning a bit about the Havasupai people before your visit.
The area in and around the falls is considered sacred, so it's important to remain respectful and understand the land you're walking on.
19. Prescott
Located halfway between Phoenix and Flagstaff. Prescott is a unique location that combines Western culture and charm.
This mountain town boasts exciting outdoor activities, community festivals, and a vast array of cultural offers that include modern art galleries and antique stores, displaying a proud touch of the city's western heritage.
You'll feel the town's friendliness as soon as you arrive here.
Moreover, Prescott is a mecca for outdoor enthusiasts, offering miles of hiking trails, horseback riding, camping, fishing, and other activities in its numerous lakes and natural attractions – Watson, Willow, Granite Basin, Goldwater, Lynx, Thumb Butte, the Granite Dells, and Granite Mountain, to name just a few!
20. Montezuma Castle National Monument
If you want to take a glimpse into the past, Montezuma Castle National Monument is one of the most enthralling places to go in Arizona to do just that.
Montezuma Castle contains some of the best-preserved and largest cliff dwellings in North America.
These dwellings are carved into a cliff that stands a whopping 1,500 feet above the floor, all of which feature rooms and multiple stories which you can look at from a distance in order to travel back in time to the times of the Sinagua people.
21. Bisbee
Bisbee is yet another historic mining town in southeastern Arizona that has maintained its authentic Western flavor.
The twist about this spot is that it transformed from a booming mining town to a community for hippies and then to a culture and arts haven in a matter of decades, resulting in a friendly, free-spirited locale.
The stand-out site in Bisbee is the Copper Queen Mine, where everything began.
You can tour the mine by descending 1,500 feet into its fantastic caverns, where retired employees will guide you while telling interesting stories.
Quirky hotels are a thing here, with themed lodging options that make for an incredible overnight visit. Pick from a school bus, a restored trailer, a boat, or a Victorian suite!
22. Winslow
While you may have only heard of Winslow in the famous Eagles song that put it on the map (Take it Easy), the town is also a famous stop on the infamous Route 66.
Although its glory days have gone by, Winslow is still worth a visit because of the local history and the Arizona nature surrounding it, including petroglyphs, great outdoor activities, and the best-preserved meteor impact site on the planet!
Plus, you can actually get to stand on the famous corner mentioned in the Eagles' song and pay tribute to the Glenn Frey statue.
23. Scottsdale
Famous for being a fabulous golf destination, Scottsdale is one of the best places to visit in Arizona if you're looking to upgrade your travel experience in the state.
Fine dining, upscale shopping, luxury spas, fine art galleries, and resorts are all staples of this desert town in the Valley of the Sun.
Plus, the area surrounding Scottsdale is dotted by splendid mountain parks, national forests, and other natural areas, complete with trails for hiking, mountain biking, and other fabulous activities for outdoors aficionados to enjoy.
24. Organ Pipe Cactus National Monument
You wouldn't expect to find a lot of life in the middle of the desert, but Organ Pipe Cactus National Monument is bound to prove how wrong you are!
Tucked away in the Sonoran Desert, Organ Pipe Cactus National Park is a 517 square mile park where you'll find the only organ pipe cacti in the entire United States!
Aside from hiking and scenic driving amidst these desert treasures, Organ Pipe also provides the opportunity to see other unique desert flora, spot wildlife, and traverse thousands of years of desert living through archeological sites.
25. Meteor Crater and Barringer Space Museum
Barringer Crater is the world's best-preserved meteor impact site. The "impact" itself is pretty impressive, especially if you're into geology and astronomy, but it's guaranteed to impress just about anyone!
Set only 37 miles from the city of Flagstaff, it stretches for more than 4,000 feet in diameter and a depth of 560 feet.
The rugged rims of this landmark tower over the Arizona plains that surround it create a truly spectacular landscape you're not bound to find anywhere else in the world.
The scenic drive through the desert to get to the crater is also an adventure in itself.
Plus, during your visit, you'll also get to take part in an immersive 4D experience, check out a discovery center, and join a few tours where you'll learn about the mighty meteorite that struck Earth some 50,000 years ago.
26. Tumacacori National Historical Park
Tumacacori National Historical Park is a concoction of cultures.
Located in the Santa Cruz River Valley, today, it sits on the exact spot where O'odham Yaqui and Apache people crossed paths with European missionaries, settlers, and soldiers (sometimes interactions were filled with conflict, while other times it was for working together!).
27. Glen Canyon Dam and Bridge
Glen Canyon Dam is the second highest concrete arch dam in the United States (second only to Hoover Dam, which is also set in Arizona!)
The highlight of visiting Glen Canyon Dam is crossing Glen Canyon Bridge, which travels right above the Colorado River and provides a jaw-dropping view of the dam and canyon.
More Places in Arizona Worth Visiting
Walnut Canyon
London Bridge in Lake Havasu City
Beaver Falls in Havasu Creek
Blue Canyon
Epic Places to Go in Arizona
We hope this list of the best places to visit in Arizona helped you plot the perfect itinerary for your time in the Grand Canyon State.
Even though we could virtually list a thousand more spots worth checking out, these, in particular, definitely stand high above the crowds when it comes to displaying Arizona's magic.
Have you ever been to any of these fantastic places to visit in Arizona? If so, we'd love to hear about your experience, so let us know all about it in the comment section below!