For all the non-Texans out there, this city may seem like a faraway land full of roaming longhorns and hardened cowboys. Still, there is a long list of romantic things to do in Dallas.
Its abundance of Southern charm makes it the perfect place to impress your sweetheart.
From its eclectic art scene to its delicious dine-in options, Dallas, Texas, is packed with fun things for couples to do.
To make your next date night a breeze, we've narrowed it down to the best thirteen options.
This diverse date list has it all–wining, dining, and of course, some of that fascinating culture that makes the South so unique.
So if you've been searching for some romantic things to do in Dallas for couples, look no further. Grab your special someone, put on those cowboy boots, and keep reading!
Are you extending your date into an overnight stay? Don't miss our extensive neighborhood guide that comes with plenty of tips on where to stay in Dallas based on what you want to experience in the city and your budget.
Alternatively, you can also check our guide Dallas VRBO!
13 Most Romantic Things to Do in Dallas
Here is your go-to guide for all the most romantic places deep in the heart of Dallas.
You might want to add the city to your USA bucket list. After all, Dallas is one of the most romantic getaways in the United States!
Get Artsy at DMA Late Nights
On the third Friday of each month, the Dallas Museum of Art keeps its doors open until 11 PM, giving you and your date hours to explore the wide-ranging collections, enjoy live musical performances, and grab some drinks at the museum bar.
Tickets are only $10, so you're sure to get a ton of bang for your buck.
Even if your Dallas visit doesn't coincide with this particular event, the DMA is always an excellent way to elevate a date night.
Their permanent collection holds over 25,000 pieces of art. They swap out their running exhibitions all the time, so you'll find artwork from all kinds of cultures and periods no matter when you go.
Roaming the halls as the clock ticks towards midnight will make you feel like you've slipped straight into a romantic movie!
Get Pampered at the Ritz-Carlton Spa
When it comes to romantic things to do in Dallas, nothing says "I love you" quite like the Ritz-Carlton spa.
Hit up Dallas' premier relaxation destination and book a couple's suite ASAP. While it may run a hefty bill, there's nothing quite like the luxury offered here.
Scrubs, massages, and relaxation lounges will take you off your tired tourist feet and make you feel royal.
Sessions can be 50, 80, or 100 minutes, and they all take place in a private room just for you and your loved one.
Like Dean's Margarita Salt Glow, their signature treatments are a nod to all things Texas.
They are sure to leave you and your partner refreshed and ready to keep exploring all Dallas has to offer.
Click here to book a romantic stay in Ritz-Carlton spa
Bite off More Than You Can Chew at Dallas' Best Steakhouse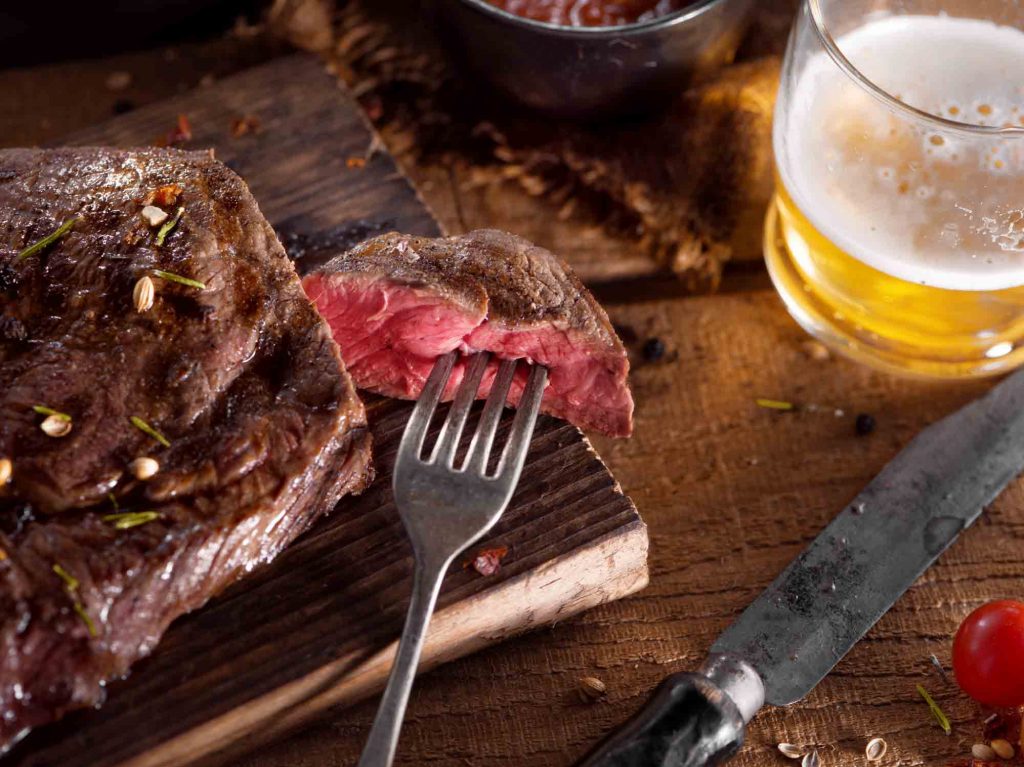 You may have heard the phrase, "Everything's bigger in Texas." Well, Town Hearth is here to back it up, serving up enormous portions and plenty of Southern swaggers.
This steak house opened in 2017 completely embodies the city it's based in–boisterous, swanky, and just about over the top–but with the flavor to back it up.
On the menu, you'll find everything from meatballs to Maine lobster (and, of course, every cut of steak imaginable).
Of course, you can't forgo those delectable Southern sides. Fries, roasted corn, and a cheesy macaroni casserole are just a few of the stand-outs.
Make sure your date comes hungry because Town Hearth takes comfort food to an extreme new level.
Alternatively, you can check out these:
Melt Your Special Someone's Heart on a Chocolate Tour
If the way to someone's heart really is through their stomach, look no further than this total culinary treat.
By venturing on this Wine and Chocolate Tour, a guide will take you around to four of the city's sweetest spots by luxury bus.
You and your date will grab an inside look at some of the best chocolate boutiques in the Dallas area.
Of course, the experience comes with samples, so make sure to show up hungry.
If chocolate isn't your thing (but then, why wouldn't it be?), you can still opt-in for one of the many other foodie tours available, like a delicious taco and margarita tour that shows off the city's famous TexMex.
Read next: 33 Incredible Fall Vacations in the US
Swing Your Partner Round and Round at Sons of Hermann Hall
On Wednesdays, this Dallas dance hall offers swing dancing lessons for any skill level. They also hold frequent live concerts and campfire acoustic jams once a week.
Beyond all the music magic, visitors will definitely appreciate the history behind the place.
Sons of Hermann Hall is the oldest freestanding wooden building in the city and the oldest bar, serving up drinks since 1911. So if you need to loosen up before hitting the dance floor, they've got you covered.
Swing dancing is the perfect upbeat activity to get in rhythm with your special someone.
Plus, the Texas charm of the hall's intimate, original architecture will have your date leaning even closer when the slow songs come on.
Pssst: Since you're in Deep Ellum, you might want to check out some of the most mind-blowing Dallas murals!
Stop and Smell the Roses at the Dallas Arboretum
Take your date for a romantic stroll through one of Dallas's most stunning outdoor attractions.
The area offers 66 acres of sprawling gardens to meander around, as well as gorgeous views of the neighboring White Rock Lake.
There are numerous cafes across the property, and you can even take your food to go and eat among the flowers.
In the summer, be on the lookout for Twilight Thursdays, when the Arboretum extends its hours until 8 PM, allowing visitors to get some relief from the heat and watch the stars come out.
The Arboretum is also home to various concerts and festivals throughout the year. If you're lucky, you just might catch one.
Even if you only have one day in Dallas, go for a stroll through the Dallas Arboretum with your significant other. This is, by far, one of the most romantic things to do in Dallas.
Read next: 27 Summer Destinations in the USA
Recreate The Notebook at White Rock Lake
Right next door to the Arboretum, you'll find White Rock Lake, a beautiful body of water that puts the best of stunning Texas sunsets on display.
You can rent a tandem canoe or kayak and row out into the evening colors with your date in tow.
The views will put all those hit romantic movies to shame, and you can take advantage of some lovely peace and quiet to get the conversation flowing.
For a more adventurous experience, try renting a stand-up paddleboard instead.
But be sure to swing back by the hotel and clean up before dinner, because you're sure to take some spills. Don't worry–it's refreshing!
Oh, and you'll find one of the most romantic cabins in Texas near White Rock Lake. You might want to book your stay there!
Soar Above the Skyline at Dallas' Only Indoor/Outdoor Observation Deck
Dallas is known for its flashy skyline, and there's no better place to take it all in than at the Reunion Tower's Geo-Deck.
This attraction takes you up 470 feet into the air and offers 360-degree views of the city below. If your date is afraid of heights, here is the perfect excuse to hold them close.
They even offer a "Love is in the Air" couples package that includes VIP elevator service and two complimentary glasses of wine if you want to really set the mood.
This is, by far, one of the most romantic things to do in Dallas. In fact, this location is apparently where most Dallas proposals go down!
GetYourGuide even has a Dallas CityPASS that includes access to the Geo-Deck and three other major attractions at a discounted rate.
The Dallas attractions are the Perot Museum of Nature and Science, The Sixth Floor Museum at Dealey Plaza, and the George W. Bush Presidential Library and Museum.
Click here to get your Dallas CityPASS
Catch a Performance at the Dallas Opera
With its sleek architecture and world-class performances, The Margot and Bill Winspear Opera House, home to the Dallas Opera, is the ultimate location for a classy date night.
The Dallas Opera has hosted multiple international and world premieres and seen many a star grace its stage since its founding in 1957.
Prepare to get all dolled up with your date, since the Winspear Opera House is known for its architectural grandeur.
This Opera House was named by one critic in Opera magazine as "America's finest."
The schedule boasts classics like Verdi's Don Carlo and Mozart's The Marriage of Figaro, both sung in the original Italian with English subtitles.
Bellissimo!
Read next: Romantic Getaways in Texas
Cuddle up at a Drive-in Movie
This one may be a little out of the way, but it's well worth the drive. It is located just 30 minutes from downtown Dallas.
Galaxy Drive-In is a classic outdoor movie theater equipped with seven different screens and a snack bar that serves up all the classics.
Show up early to grab a prime parking spot, then settle in with some popcorn, cotton candy, and maybe a funnel cake or two as the big screen comes to life.
Galaxy runs back-to-back showings for only $7 per person, so it's half the price of a theater and twice the fun!
To get extra romantic (and extra Texan), go with a pick-up truck and fill the back with pillows and blankets for super comfortable viewing.
Pssst: You could also go on a romantic road trip from Dallas! Our suggestion? Texas Wine Country!
Go for a Spin at the Galleria Ice Rink
If you're looking for an excuse to hold your special someone's hand while gliding around the rink, Dallas' Galleria mall is the perfect place for year-round ice skating.
Olympic Champion Kristi Yamaguchi is one of several stars that have graced the Galleria's ice, so you and your date will be in good company.
Throw on an extra jacket to keep out the chill, try out your tricks, or just snuggle up to your significant other and go for a slow skate while watching the shoppers.
Admission only costs $12, and skate rental is available for an additional $5.
Read next: 33 Best Things to Do in Texas
Indulge in a Picturesque Picnic at Klyde Warren Park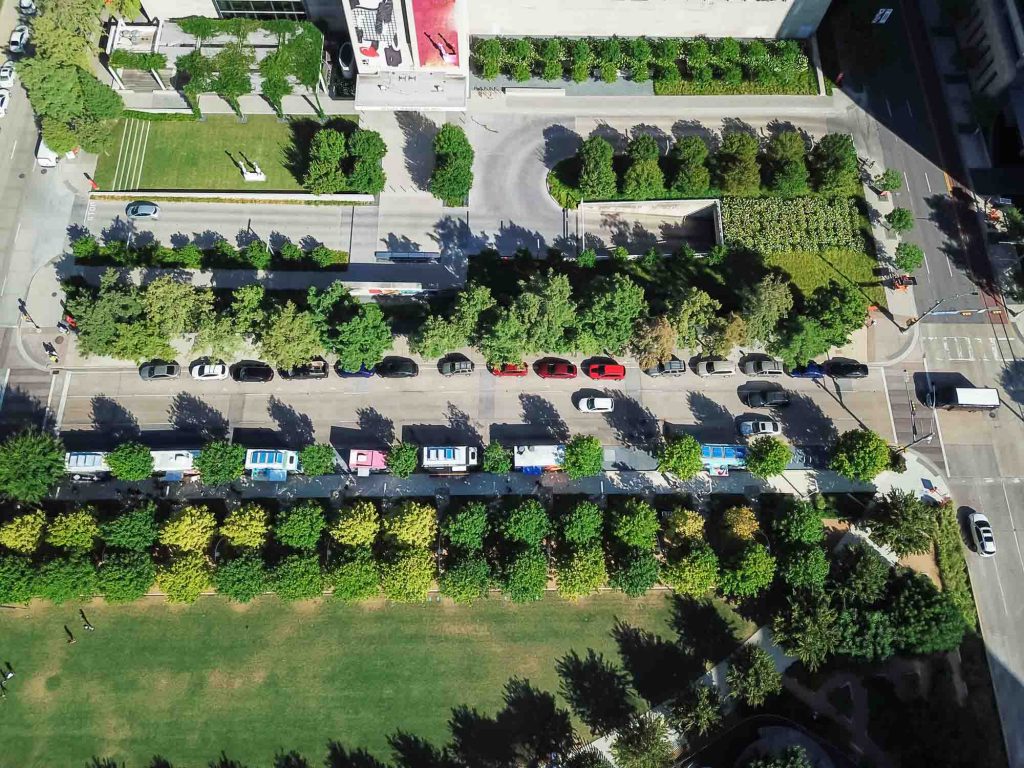 Klyde Warren is like Dallas' Central Park, just a bit smaller. At night, the main lawn is a perfect place to lay out a blanket and enjoy the ambiance of the city.
If you're feeling ambitious, pack a romantic picnic dinner to eat while watching the city lights.
For an easier option, indulge in one of the many delectable food trucks that line up in the area. They even have a running list of which ones will be available on their website to plan ahead.
The park is entirely free to enter and hosts several events throughout the year that can up the romance even more, like movie nights, dance lessons, and yoga lessons.
Klyde Warren Park is a popular choice when it comes to things to do in Dallas for couples, both locals and tourists alike!
Got a few days in the city? Then you might want to read our itinerary for a weekend in Dallas–written by a local.
Sample Local Wines at Times Ten Cellars
Texas might not be the first state that comes to mind when thinking of the American wine scene, but Dallas can certainly hold its own.
Leave the hustle and bustle of the city and escape to a different world at Times Ten Cellars.
Its cozy interior lit by candlelight and filled with the sweet smell of local wines is the perfect romantic setting.
Best of all, this darling date won't break the bank. Glasses run around $10, and bottles range from just $15 for taking home to $55 on-site.
You can also pair your Texas wine with a delicious meat and cheese platter delivered straight from a local eatery.
However, you might consider going on a weekend getaway from Dallas to taste some of the best wine in the state.
For instance, you can find several excellent wineries in Fredericksburg, a lovely German town in Texas.
Tips for Visiting Dallas
Come prepared for some hot temperatures
Much like your budding romance, Dallas seriously heats up in the summer.
If you opt for outdoor activity, make sure you come equipped with plenty of water, sunscreen, and a good hat for both you and your date.
Come by car, or rent one in town
Texas is the second-largest state in the US, and that means it is seriously spread out.
Dallas is no exception, so we recommend leaving enough time to explore the lively and history-packed downtown and the more nature-oriented activities in some of the surrounding suburbs.
Public transport won't get you everywhere you want to go, so be prepared to drive.
Click here to rent an affordable car in Dallas.
Come wearing your best walking shoes
That being said, many of downtown's best attractions are close together. Take a free day just to stroll around and see what you find!
Come hungry, leave happy.
Dallas is a foodie's dream, so get out and sample as many dishes as you can. Texans are particularly proud of their barbecue.
If you're a meat-eater, make sure to sample the brisket, pork ribs, and countless other delicacies served up across the city.
You can still dig into those delicious sides like coleslaw, mac, and cheese, and thick-cut fries galore for vegetarians.
Pssst: Considering traveling around the Lone Star State? Then take a look at these luxury cabins in Texas (with hot tubs and everything!) and consider splurging on a lovely weekend! You both deserve it!
Did you like this list of romantic things to do in Dallas? Then share it with a friend who might like it too!