Texas is a big place, and you'd be doing yourself a disservice if you only stuck to one city during your visit, so check out these road trips from Dallas that will show you the wide range of what this Southern state has to offer.
Natural wonders, scenic drives, historical hotspots, and quirky college towns are all just a hop and a skip away from Texas' third largest city.
One of the best ways to tour the United States is by car, and by basing in Dallas, you open up endless possibilities for exploration throughout the area.
We've compiled the ultimate list of drivable destinations around Dallas, with road trips ranging from a few hours to a full-blown weekend getaway.
If you're ready to get cruising, keep reading to find the best itineraries and can't-miss sightseeing spots for your Southern excursion.
Got some time in the big city before you hit the road? Check out our breakdown of a perfect weekend in Dallas, which includes tips on the best time to visit, how to get around the city, and so much more.
17 Best Road Trips from Dallas
Here is your go-to guide for the best getaways around Dallas, organized from the shortest trip to the longest.
Best Road Trips from Dallas You Can Do in a Day
1. Grapevine
Grapevine is a smaller suburb located just 20 minutes outside of Dallas.
While it doesn't necessarily jump to mind as a tourist destination, this city is packed with plenty of unique activities that make it a perfect road trip from Dallas.
Grapevine Lake is a gorgeous natural getaway from the city, perfect for boating, water skiing, windsurfing, and fishing.
If you want to stay off the water, the lake is surrounded by nine miles of meandering hiking and biking trails.
Our favorite quirky feature is the Grapevine Vintage Railroad, which takes visitors on a ride along the historic Cotton Belt Route in decked out 1920s Victorian coaches.
This city is also known for its world-class local wines, and even holds an annual GrapeFest, which encompasses four days of wine tastings, live music (lots of Texas songs), and more.
2. Fort Worth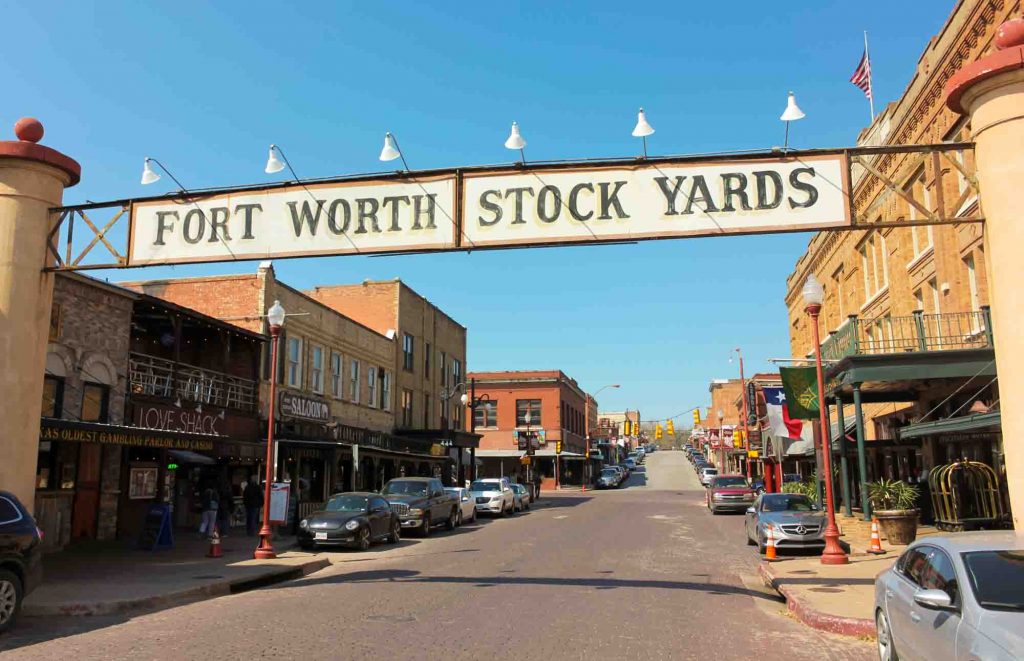 Fort Worth is Dallas' sister city, and together the two make up the United States' fourth largest metroplex. But as you head away from the elegant, urban Dallas skyline, you'll feel a shift in the air.
The city's mottos say it all. Fort Worth is "where the West begins," the "Crossroads of Cowboys and Culture."
Even though it's a short road trip from Dallas (it's a 30-minute drive), you'll quickly find yourself immersed in a world of cowboys and lively honky-tonks.
By far, the best way to spend a day in Fort Worth is at the Stockyards. Hit the Texas Cowboy Hall of Fame in the morning, then make sure you catch the 11.30 cattle drive.
For lunch, there are endless barbecue and Tex-Mex options, each more delicious than the last.
At night, you can head over to Billy Bob's for some 2-step dancing and an attempt at your record-breaking bull ride (mechanical, of course).
If you want to make a weekend of it, pair your Fort Worth plans with our one day in Dallas itinerary and experience the best of both cities.
3. Turner Falls
Because Dallas is nestled in Northern Texas, it's just a short jaunt from the natural wonders across the border in Oklahoma.
Turner Falls is the neighboring state's tallest waterfall, clocking in at 77 feet. While that's the main attraction in the area, the surrounding landscape is full of refreshing natural pools, hiking trails, and caves to explore.
You'll want to plan your driving vacation from Dallas in the morning so that you can arrive early and enjoy the park when it's a bit quieter.
As the day heats up and other visitors arrive, take a break from swimming to refuel with some of the hearty Southern cooking offered up at one of the onsite restaurants.
Turner Falls can easily be experienced in one day, but if you want to extend the fun, there are both designated campsites and cozy cabins available for overnight stays.
On your way back to Dallas, stop by WinStar World Casino and Resort, the largest casino in the United States.
A day spent surrounded by such gorgeous natural scenery will surely have you feeling lucky!
4. Dripping Springs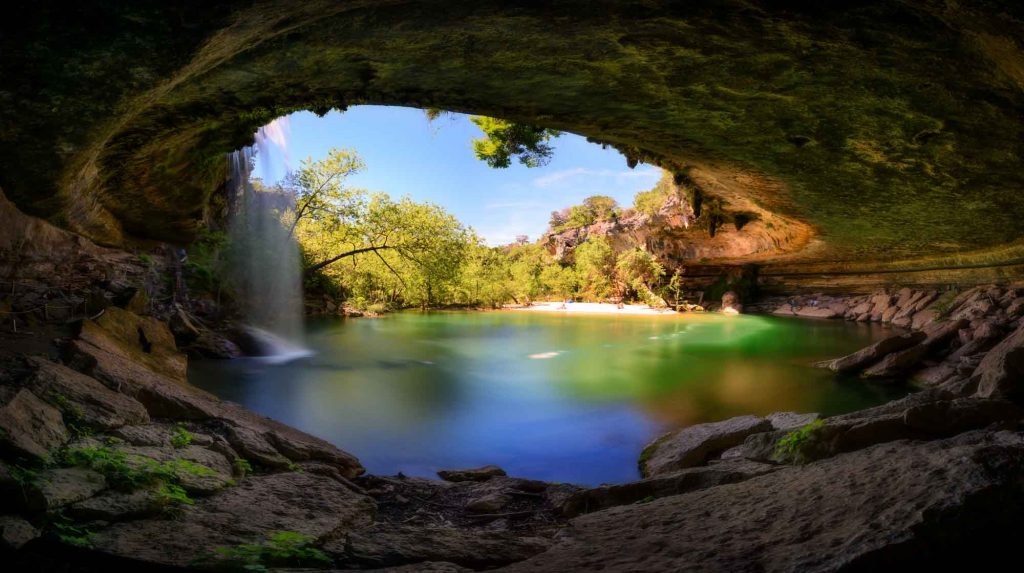 Dripping Springs' quaint name perfectly matches the mood of this tiny town in the heart of Texas Hill Country, just a short distance from Austin.
The most visited feature is the Hamilton Pool, a picturesque natural swimming hole with such gorgeous aquamarine water and lush sloping cliffs that you'll find it hard to believe you're still in Texas!
Wind down after your adventure at one of the town's many wineries or distilleries.
Austin-based brand Deep Eddy is well known for its flavored vodkas, while the Dripping Springs Wine Trail will take you on a tour through several boutique shops selling local products.
The drive from Dallas will take you about 3 ½ hours, but the area is small enough to cover it in a day trip. Alternatively, you could easily add Dripping Springs to a weekend in Austin itinerary.
5. Caddo Lake State Park
Encompassing one of Texas' only natural lakes, this state park is draped in Spanish moss and full of secluded mazes of winding waterways.
Caddo Lake is only a 2 ½-hour drive from Dallas, sitting right near Louisiana's border (which explains the gorgeous bayou landscapes).
A trip there is not complete without some exploration of the swamps, and canoes and kayaks are available to head out into more than 50 miles of paddling trails.
If you opt to stay overnight, the park boasts a set of beautiful historic cabins.
They were built during the 1930s by the Civilian Conservation Corps, a group established by President Franklin D. Roosevelt to support young men amidst the Great Depression.
In fact, Caddo Lake State Park is full of history. It's estimated that the land has been inhabited for at least 12,000 years!
Read next: State Parks near Dallas
Best Weekend Road Trips from Dallas
6. Davy Crockett National Forest
With over 160,000 acres of gorgeous forests, lakes, and recreation areas, this destination is the perfect place to escape civilization for a while and embrace your inner pioneer.
Davy Crockett National Forest is only a 3-hour drive from Downtown Dallas but feels a world away from the hustle, bustle, and towering buildings of the city.
Head out early in the morning, then stretch those tired legs on the park's 20-mile trail that meanders through some diverse habitats.
Partway through the hike, you'll find a rustic campsite where you can spend a single night among the stars before finishing your trek the next day.
If hiking isn't your thing, the National Forest also boasts 50 miles of horse trails and a 45-acre lake where visitors can fish, boat, swim, and picnic to their heart's content.
We recommend that you make a weekend of it so you can mix more physical activities with some pure relaxation in this haven of pristine Texas nature.
7. Beavers Bend
This scenic getaway 3 hours outside of Dallas has a little something for everyone.
For the active adventurer, hiking, paddle boarding, and golfing are just a few of the physical activities on offer.
You can also try out the weird and wonderful yakanoe, a combination canoe-kayak that will get you out on the water in style.
For the outdoors lover, the park's nature center has a long lineup of films and guided hikes that will get you immersed in and educated on the local habitats.
If you visit between November and February, you can even participate in an eagle watching excursion!
For the thrill-seekers, Beavers Bend throws ziplining, jet skiing, and scuba diving into the mix.
Since there are so many attractions vying for visitors' attention, it's best to spend at least a weekend exploring the park.
For overnight stays, consider renting a cabin in Hochatown. (Mind you, you can easily find a cabin with a hot tub!)
8. Colorado Bend State Park
Don't let the name confuse you. This state park is still in Texas, just a 3 ½-hour drive from Dallas.
However, the landscape feels like a different place entirely. More than 400 caves run underneath the park, and their thrilling guided tours will have you crawling through caverns and sliding into tight spots.
Feeling a little claustrophobic? Hit the open water instead, taking advantage of the 6-mile bank along the Colorado River, where visitors can swim, kayak, or fish.
Colorado Bend is also one of the state's prime mountain biking destinations, with a variety of trails to cater to any skill level.
In fact, all 35 miles of the park's trail network are open to hikers and bikers. The most popular trek will deposit you at Gorman Falls, a pristine 70-foot Texas waterfall cascading down lush green cliffs.
We recommend devoting a weekend to this road trip from Dallas, so you don't have to rush through the many natural wonders in the area.
9. Oklahoma City
Texas is such a big state, and sometimes it's easier to road trip to Oklahoma! The capital city of Texas' neighbor to the north is just a 3-hour drive from Dallas.
OKC is known for its museums, and among the most popular is the National Cowboy and Western Heritage Museum.
To get a deeper understanding of the city's history, take some time to view the Oklahoma City National Memorial and Museum, commemorating the victims of the tragic 1995 bombing.
If you want to escape the crowds for a while, make your way to the Myriad Botanical Gardens, which sprawl for 17 acres through downtown and make for a relaxing afternoon of laying on the grass browsing through the Tropical Conservatory.
Because it's a big city with lots to see, we recommend making this itinerary into a 2-day road trip from Dallas.
10. Houston
Although only a 3 ½-4-hour drive separates them, Houston is almost double the size of Dallas and comes with an entirely different feel.
The road between the two is an easy straight shot, but there are a few destinations worth visiting along the way.
If you're making the journey in spring, be sure to stopover in Ennis, just 30-40 minutes outside of Dallas. There, you can view the bluebonnets (Texas' state flower) that bloom all alongside the road.
A little over halfway into your trip, pull off the highway and enjoy a picnic next to the iconic Sam Houston statue, where Texas's first president can tower over you as you eat your lunch.
Then, once you get to Houston, attractions abound. One tourist favorite is the Space Center, which serves as the official visitor center for NASA's home of Mission Control.
Of course, this road trip from Dallas wouldn't be complete without a foray into the city's barbecue scene.
Houston is home to several local diners–some of which have been around since the 1930s–that are known for their to-die-for dishes that blend traditional Southern smoky flavors with a Cajun and Creole twist.
Make it a weekend trip to Houston so you can see everything the city has to offer!
11. Galveston
Texas may not be the first state you think of when it comes to a beach vacation, but Galveston is here to change that.
Landlocked Dallas feels far away from sun and sand, so city dwellers eagerly embark on the 4 ½-hour drive down to the Gulf of Mexico.
This island is a pleasant beach town in Texas and has a unique feel, decorated with Victorian houses and framed by a colorful boardwalk full of Southern charm.
Restaurants and beautiful murals frame the main road on one side while a 10-mile seawall stretches out on the other, beyond which are Galveston's most coveted sandy beaches.
In the evenings, head to the Galveston Island Historic Pleasure Pier for carnival rides, fried food, and gorgeous sunset views.
Because the drive is a bit lengthy, you'll want to give yourself at least 2 days on the island. After all, relaxation is what beach vacations are all about!
12. Austin
If you've planned any road trip in Texas, Austin must have made the list. This quirky city located about 3 ½ hours outside of Dallas is renowned for its food, music, and thriving arts scene.
The drive is easy to make in one go, and while there are other cities along the way, most of the best attractions are in Austin.
If you do want to stop and stretch your legs on the journey, swing by the beloved Magnolia Market in Waco, where you can shop and snack on homemade goodies before hitting the road once more.
Once you get to Austin, we recommend setting aside at least a weekend to appreciate the city entirely.
Fill your stomach at the famous Franklin Barbecue, then be sure to grab a Texas-sized dessert at Gourdough's Big Fat Donuts.
To work off all that excess, Mount Bonnell is a favorite hike for locals and tourists alike.
The walk takes you up to the area's highest lookout point, from which you can enjoy sweeping views of Lake Austin and the city beyond.
Road Trips from Dallas for a Long Weekend
13. San Antonio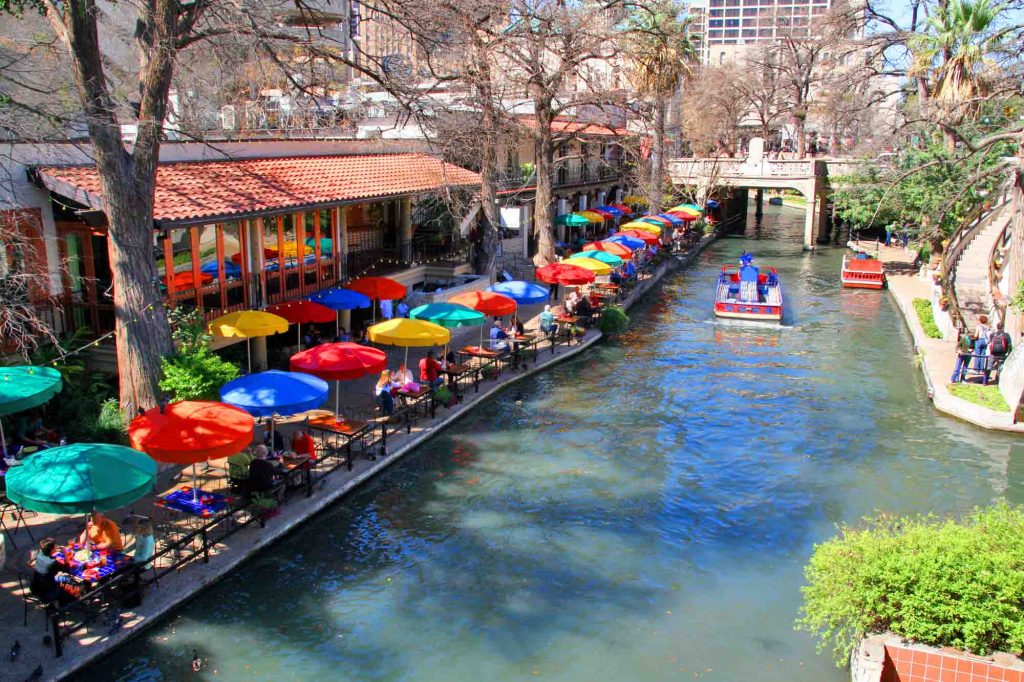 If you're looking for a complete driving vacation from Dallas, San Antonio will whisk you away to the Texas of old, as this city holds much of the state's rich colonial heritage.
But be warned–the route to the city is an adventure in and of itself. This road trip from Dallas will take you through other major Texas destinations like Waco and Austin, which deserve their dedicated trips.
However, what you can work into a shorter agenda is a stop in the tiny town of West, Texas.
This quirky Czech enclave welcomed several Eastern European immigrants in the late 1800s and remains home to some of the best kolaches in the state, which can be snapped up at Slovacek's or Gerik's Ole' Czech Bakery & Deli.
Further down the road are the largest gas station in the world and a true Texas classic.
Buc-ee's in New Braunfels is a whopping 67,000 square-foot convenience store with 80 soda fountain dispensers and tons of Southern snacks made on site, from 37 varieties of beef jerky to steaming brisket sandwiches that you absolutely have to try.
Once you finally make it to San Antonio, history buffs can spend a day wandering around the Alamo, an 18th-century Spanish mission where soldiers once fought for Texan independence.
While the Alamo is the most famous, San Antonio's streets are full of gorgeous Spanish architecture.
Cathedrals, missions, and former politicians' residences all built in the 1700s are still-standing insights into the region's past.
Beyond its historical background, San Antonio also holds many modern marvels. The River Walk, located in the heart of the city, is a tourist favorite.
Stretching for 15 miles of exclusively pedestrian streets, this cultural, dining, and shopping hotspot is a vibrant jumble of live music, good food, and nonstop fun.
We recommend dedicating at least a few days to this road trip, but you could easily spend a full week enjoying the destination and longer stops along the way.
14. Texas Wine Country
Everything is bigger in Texas, and that's certainly true of the wine industry. The state ranks fourth in the country for the number of wine-making facilities within its borders.
Of course, quantity means nothing without quality, but don't worry–they've got that covered too. Driving along the Texas Wine Trail will take you to as many as 50 different wineries, each with their style and specialties.
To dive straight into the heart of Texas Wine Country, head south from Dallas for about 4 hours until you reach Fredericksburg, an ultra-romantic getaway in the USA.
Before you arrive at your destination, you can also stop at Fall Creek Vineyard, the oldest winery in the region.
In Fredericksburg, several companies can arrange your tasting trip for you, but feel free to hop in a car and let your heart guide you to all the best drinks.
Depending on your pace, this road trip from Dallas can run anywhere from a weekend getaway to a 5-day jaunt. (Check out more weekend getaways from Dallas here.)
To top off your romantic trip to the Wine Country, you might want to stay in one of these romantic cabins in Texas–some are very secluded, offering a lot of privacy.
Alternatively, you can splurge on one of these lovely luxury cabins in Texas!
15. Palo Duro Canyon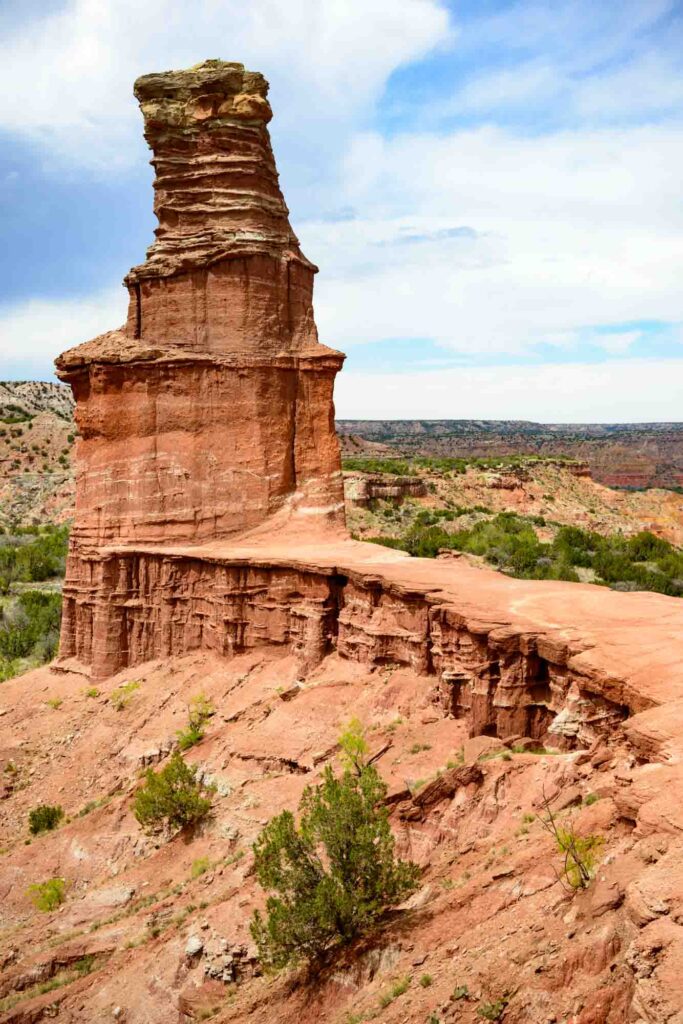 Located just outside of Amarillo, about a 6-hour drive from Dallas is Palo Duro Canyon. It's the country's second largest canyon system, trailing only the world-famous Grand Canyon in Arizona.
The state park's rugged terrain can be explored on foot, mountain bike, or horseback with over 30 miles of trails. You can even drive through the canyon's bottom, and the entire road takes just under an hour.
Furthermore, it's a great spot from which to observe Texas wildlife. Wild turkeys, coyotes, bobcats, and longhorn cattle all call the canyon home.
There are numerous campsites nestled deep in the canyon, and on clear nights, you can even see the Milky Way up above.
For that reason, it's definitely worth spending at least one night before you head back to Dallas.
Long Road Trips from Dallas for a Week or More
16. El Paso
Buckle up because this is a long one. Driving from Dallas to El Paso takes a little over 9 hours, but it's still cheaper than a flight to Mexico!
This city is deep in West Texas, sitting almost on the United States' southern border. Because of its proximity to Mexico, El Paso is packed with flavorful cuisine and plenty of cultural sights.
The can't-miss Mission Trail is a 9-mile journey through three historical missions–San Elizario, Socorro, and Ysleta–and their surrounding towns.
Along the way, you'll get to browse local art, learn about Pueblo history and tradition, and even traverse one of the oldest roads in the country.
As for the duration of this road trip, we recommend you block out at least 4 or 5 days.
The best part about driving instead of flying is that you'll get to meander through all the charming small towns that line Texas' highways.
17. Big Bend National Park
Sprawling for over 800,000 acres near the Mexican border, Big Bend is an incredible national park in Texas, and it is home to spectacular canyons, desert landscapes, and rich archaeological sites where ancient fossils and dinosaurs bones have been found.
This is one of the longest road trips from Dallas on our list, but it is definitely worth the drive. A straight shot from Dallas to Big Bend will have you on the road for around 8 hours.
However, we recommend stretching it into a week-long trip, which allows you to indulge in the small towns along the way while still leaving ample time to explore the park itself.
To break up the long drive, stopover in Midland, Texas, about 5 hours outside of Dallas. You can learn about the history of the state's oil boom or visit the childhood home of former US President George W. Bush.
From Midland, continue for another 2 ½ hours to Marfa, a tiny and adorable town known for the mysterious (and maybe supernatural!) Marfa Lights occasionally appear on the southeast horizon.
If you decide to stay overnight, you can enjoy desert glamping at El Cosmico. They have teepees, yurts, safari tents, and trailers, all with excellent views of the West Texas night sky.
In Big Bend itself, you'll want a few days to enjoy activities that range from horseback riding to birding to rafting the Rio Grande.
Wrapping up on the Best Road Trips from Dallas
As you can see, there are countless natural wonders and exciting cities all around Dallas. But with so many options to choose from, you'll definitely need to map out a route in advance.
Check out our breakdown of where to stay in Dallas for a rundown of all the coziest hotels, hostels, and VRBO in Dallas to plan your great adventure.
Wherever you end up, we know you'll absolutely love it!
Did you like this list with the best road trips from Dallas? Then share it with a friend who might like it too!