Looking for the best Airbnb in Dallas? We've got you covered with 13 unique suggestions to make your trip as memorable as possible.
You have heard that everything is bigger in Texas, right? The food, the architecture, the art, the shopping, the sports—everything!
There are many reasons why you should pack your bags and head to Dallas, specifically. For example, Dallas has an abundance of shops, a strong food game, a bustling art scene, and a skyline to die for.
Dallas also happens to be the place where the frozen margarita machine was invented. Just throwing that out there!
If Margaritas aren't reason enough for you to start packing immediately, don't worry!
We have crafted a list of 13 of the most breathtaking Airbnbs in Dallas that is going to convince you themselves.
So, make yourself comfortable, and let us show you where to stay in Dallas and why it deserves to be your next stop on the map.
Editors' Picks: The Best Airbnbs in Dallas (VRBOs too!)
Located in North Texas, Dallas has all the characteristics that people associate with Texas—big, cosmopolitan, busy, and continually growing.
It is an exciting mixture of a fascinating past and an exciting present.
To discover the real heart and soul of Dallas, explore the Arts District, enjoy the buzzing nightlife in Deep Ellum, and watch the sunset on the extremely popular and beautiful Dallas skyline.
We have selected 13 unique rentals in Dallas that will definitely bring a little extra something to your stay!
Tucked away in the heart of Little Forest Hills in Dallas, this wonderful, private getaway cabin is straight out of a fairy tale!
Winding gravel footpaths will lead you to a footbridge that you have to cross before entering this handcrafted rental.
You will feel as if you are one with nature in a place like this. There is a lot of light coming inside filtered through countless Japanese Maples and so many plants tucked into various corners in the house.
The style is a blend of Bauhaus contemporary and warm rustic elegance.
This beautiful cabin can accommodate up to 4 people but such a secluded and romantic place will be perfect for a getaway with that special someone. After all, it is one of the most extraordinary treehouse rentals in Texas!
Every detail feels modern, luxurious, and unique. This treehouse cabin has everything you might need and want for an unforgettable stay.
Just look at the pictures!
This incredible duplex's location best suits those traveling for business trips or just vacationing and would still like that home away from home type of feeling.
The duplex is placed only a couple of blocks from tasty restaurants, local grocery stores, and shopping on Lower Greenville Avenue.
Beyond that, this quaint home has many windows that provide plenty of natural light all day long and all the comfort you could wish for away from home.
Besides, the Lower Greenville neighborhood is packed with cute little cafes, shops, and more.
Located in the Main Street district, this apartment gives visitors easy access to popular tourist destinations like the Dallas Farmers Market, a 26,000 square foot hub full of incredible artisanal food and crafts offered by local vendors.
The market is a super trendy spot for locals and tourists alike, so be sure to check it out.
This apartment is also walking distance from Dallas' iconic Reunion Tower, and the Majestic Theatre, a gorgeous venue that has been showcasing live entertainment–including concerts, dance performances, comedy shows, and more–since 1921.
Don't worry if you don't want to rent a car. Public transportation options like the city light rail and bus line are just a few blocks from the apartment, making it easy to get around Dallas' different neighborhoods.
Of course, it may be hard to leave your new digs, since this historic building has its original maple floors, concrete ceilings, and exposed brick walls.
The old industrial charm has been updated with stainless steel appliances and a fully equipped kitchen. You can cook your own meals if you're on a budget.
For extra convenience and comfort, the complex also comes with free WiFi, a washer/dryer, and an on-site fitness center and pool.
This quirky loft apartment is the embodiment of Texas and Deep Ellum's atmosphere, with its unique, airy style.
There are a fully equipped kitchen and a washer, but the best thing about this place is definitely the access to restaurants and bars.
Located near some prime party streets, you won't have an early bedtime while staying here.
Punch Bowl Social, The Nines Bar, and Bottled Blonde Nightclub are all a short walk or scooter ride away, which makes getting home after a long night that much less of a hassle.
Even better, the apartment is only minutes away from Vidorra, Deep Ellum's hottest late-night dining spot. Apparently, this Mexican restaurant has the best queso and cocktails in the area. It's the perfect way to wrap up a Dallas party.
Visitors come to Deep Ellum for the art, and this apartment might as well be on display. The custom-built loft boasts concrete floors, high ceilings, and a compact but equipped stainless steel kitchen.
All the pieces decorating the walls are original, so it's like living in your own personal gallery. You can also head to the roof for beautiful views of Downtown Dallas.
Within the building, guests will also have access to a free coworking space, so this spot is especially useful for business travelers looking to network.
Even if you come just for leisure, the accessibility to the Deep Ellum arts scene makes this space a steal.
Located in the heart of the ultra-trendy warehouse district, it's just minutes away from countless bars, live music venues, art galleries, and mural-filled walking streets.
There is a light rail station just four blocks from the apartment, and Uber and Lyft rides are always easy to snag for farther trips.
Centered in one of the safest and most sought-after neighborhoods in Dallas, this stylish apartment is bright, airy, and spacious enough to accommodate families with ease.
It can sleep up to four, and a fully equipped kitchen means making meals at home for pickier eaters is a breeze.
When the parents need to get away, Uptown's many shopping and dining hotspots are just minutes away on foot.
In fact, guests have praised the area for its walkability. Any sightseeing a little farther out can quickly be done by bike. Meanwhile, for the little ones, the building comes with pool access.
Some of the surrounding neighborhoods are also among Dallas' trendiest, with the Arts District and the Design District right next door.
If you're looking for a stress-free spot from which to explore Dallas' more stylish side and its lovely green spaces with the whole crew, it doesn't get better than this.
This apartment's location is hard to beat. You'll get easy access to the Dallas Arts District, full of the city's best boutiques, world-class restaurants, and beautiful walking spaces.
Klyde Warren Park, which is perfect for a romantic evening spent dining on Dallas' most delicious food truck cuisine, is only two blocks away from the apartment.
The sprawling green space is also a lovely spot to watch the city lights after the sunsets. Bring a blanket and hang out for a while; chances are, you'll catch one of the free live music events or movie nights that the park holds regularly.
If you want to explore other parts of Dallas, a bus stop is conveniently located one block over from the apartment.
As for the space itself, visitors will enjoy a sun-soaked, fully equipped kitchen and a balcony overlooking the city.
Free parking is provided in a garage under the building, saving you the hassle of finding a spot, which can be notoriously tricky in Dallas. The complex also has a washer and dryer on-site for extra convenience.
The Farmhouse Cottage is situated in the heart of Dallas and is only 5 minutes away from Downtown.
It's a perfect little duplex that offers one bedroom, one bath, and even a washer/dryer.
If you're a fan of beautiful home decor, you will surely enjoy the glamorous farmhouse chic style interior.
This Vrbo in Dallas includes modern amenities, two smart TVs, and an outdoor patio with a fire pit! It is also great for those looking to vacation on a budget.
Location-wise, it's very close to many Dallas area hot spots, including Uptown and Lower Greenville!
This Vrbo in Dallas is well designed and clean. Not only that, but this pad has direct access to the Katy Trail and is less than 3 miles from the Dallas Center.
Besides, all are welcome at this property, and you can even bring your pets!
There is plenty of free street parking available for your and your guests. For those wanting their privacy, this vacation home in Dallas has a private patio space to take a break away from the world and plenty of amenities provided for a fun time in Dallas.
With this centrally located Dallas Vrbo, you can comfortably walk to restaurants, coffee shops, and shopping centers in the Uptown area. And, it is just a quick 5-minute drive to Downtown's lively nightlife.
Not only that, but this vacation home is perfect for groups as it allows about six to eight people to stay.
This spacious dwelling is less than 10 minutes from NorthPark Center and includes many amenities such as a resort-style pool and gym, dog park, outdoor grills, and more.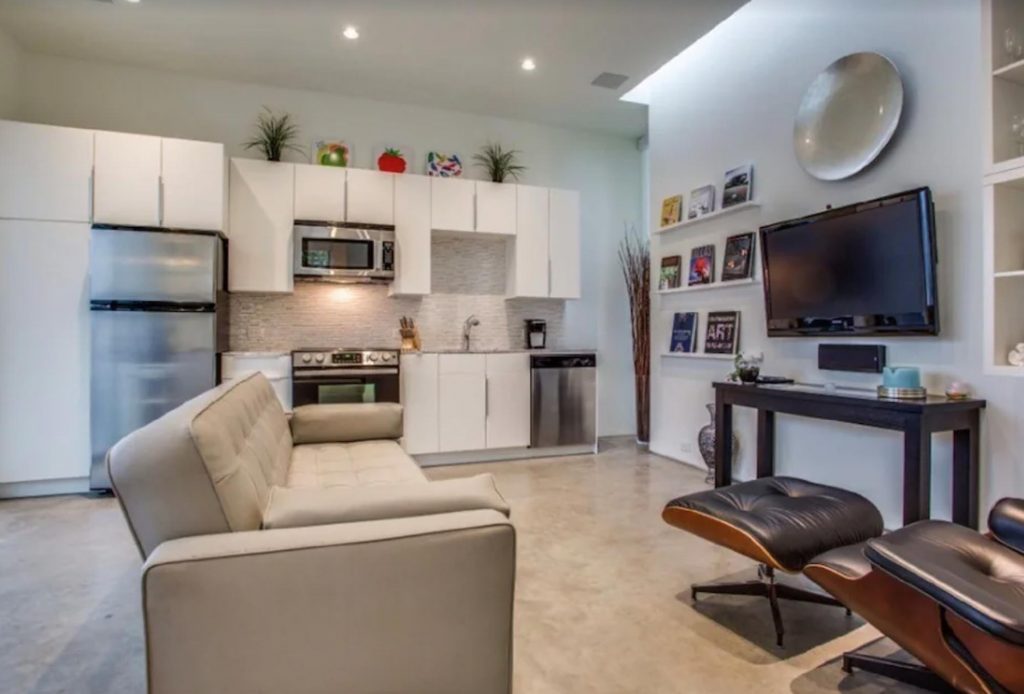 What sets this Dallas Vrbo apart from the rest is its award-winning architecture.
Though it is situated beside the main house, it has the privacy of a single-family home because there are no adjoining walls to the main house.
Besides, this modern apartment has a queen-sized bed, and because of the pull-out sofa, it can accommodate four people in total. The fully equipped kitchen and Netflix are a nice touch too.
This VRBO situated in Downtown puts everything you might want within walking distance.
It is a stunning quirky, modern, and stylish penthouse with one bedroom only, accommodating up to four people. It is the perfect place for a bachelorette party, a weekend away with friends, or a romantic getaway.
The area is exceptionally spacious with stylish and modern décor. Another bonus is the rooftop hot tub that makes it a unique stay.
However, the icing on the cake has to be the rooftop patio that provides excellent views of the Dallas skyline. Bring your closest people and enjoy one of the best views in Dallas!
This apartment is conveniently located in the heart of Dallas, which is full of charm and things to do, making it extremely easy for you to explore everything the city has to offer.
It can accommodate up to four people, and it is suitable for both business travel and weekend fun.
The beautiful clean decor is inviting, and the attention to detail will make you feel right at home—from a fully equipped kitchen to a washer and dryer.
This Dallas Airbnb also has a free valet, which is a nice touch!
Dallas Airbnb
We know it must be hard for you to choose where to stay in Dallas with so many great options. Every Airbnb on our list is unique because every traveler is different.
Think about what caught your eye the most. Was it the place with the breathtaking view of the Dallas skyline, the custom-built warehouse loft, or maybe the apartment that doubles as a spa?
No matter where you choose to stay in when visiting Dallas, we are sure you will make fantastic memories!
If this is your first time in the city, you might want to read our local itineraries: one day in Dallas and a weekend in Dallas.
However, if you plan on going on a road trip from Dallas, you might want to check out this (epic) guide!
We hope you enjoy your trip!
Did you like this post about the best Dallas Airbnbs? Then share it with someone who might like it too!