Calling all couples! With delectable dining, intimate stays, and activities made for two, these romantic getaways in Texas have all the flair you need to whisk your special someone off their feet.
In the Lone Star State, it's go big or go home. Looking to step up the romance or make a grand gesture?
We've got 19 choice cities that can help you get the job done. (But don't worry chill couples–we've included plenty of low-key items on the itinerary, too).
Texas' rich history, fascinating blend of cultures, flavor-packed cuisine, and scrapbook-worthy sights make it the perfect place to explore as a pair. So slip on your matching cowboy boots and let's get started!
Romantic Getaways in Texas
A romantic couple's getaway is just what you need to relax and reconnect, far away from the stresses of day-to-day life.
Unfortunately, tickets to typical honeymoon spots like Morocco or the Maldives can get a bit pricey.
So spare your wallet and spark the love with these romantic getaways in Texas instead!
San Antonio
As one of the best places to visit in the US, San Antonio has so many date-worthy spots that it's hard to highlight just a few, but if we had to choose favorites, these are it.
Lay out a blanket and watch a film under the stars at the Mission Marquee Plaza.
Pack your own picnic for an extra dose of romance, or snag a delicious meal at one of the on-site food trucks.
Stroll along the San Antonio River Walk and take in the vibrant vibe of the city.
For some natural beauty worth swooning over, head to the San Antonio Botanical Gardens, where you and your date can stroll among the roses and sip on mimosas at the adorable Anne Marie's Carriage House Bistro.
Whether you're spending a weekend in San Antonio or more, be sure to visit a few restaurants in town for a glass of wine and some mouthwatering (and romantic) dinner.
Read next: Where to Stay in San Antonio
Galveston
Nothing spells romance like a seaside getaway, and Galveston adds history, fun, and tons of charm to the mix.
Stroll through the Strand in Galveston's picturesque historic district, hold each other close on a sunset cruise, or just hole up in a cozy cottage by the water.
End your evening with dinner at one of Galveston's premier fine dining destinations–Vargas Cut & Catch.
Its creators have a history of award-winning restaurants and the menu boasts prime cuts, decadent desserts, and a wide selection of wines, so you really can't go wrong.
In short, Galveston is one of the most romantic getaways in the US!
Grapevine
Sometimes seen as just a suburb of the state's major tourist destinations, Grapevine can slip under the radar when it comes to romantic Texas getaways for couples.
But this city, just 30 minutes from Dallas, has lots of romance of its own to offer!
Picnic and swim at Grapevine Lake, take a self-guided tour on the Public Art Trail, or blend your own bottle to take home at Wine Fusion Winery.
For something more unique, embark on a romantic ride on the 1920s-era Grapevine Vintage Railroad or encourage some flirty competition at Corky's Gaming Bistro, which boasts ax throwing, escape rooms, and a classic arcade.
Wimberley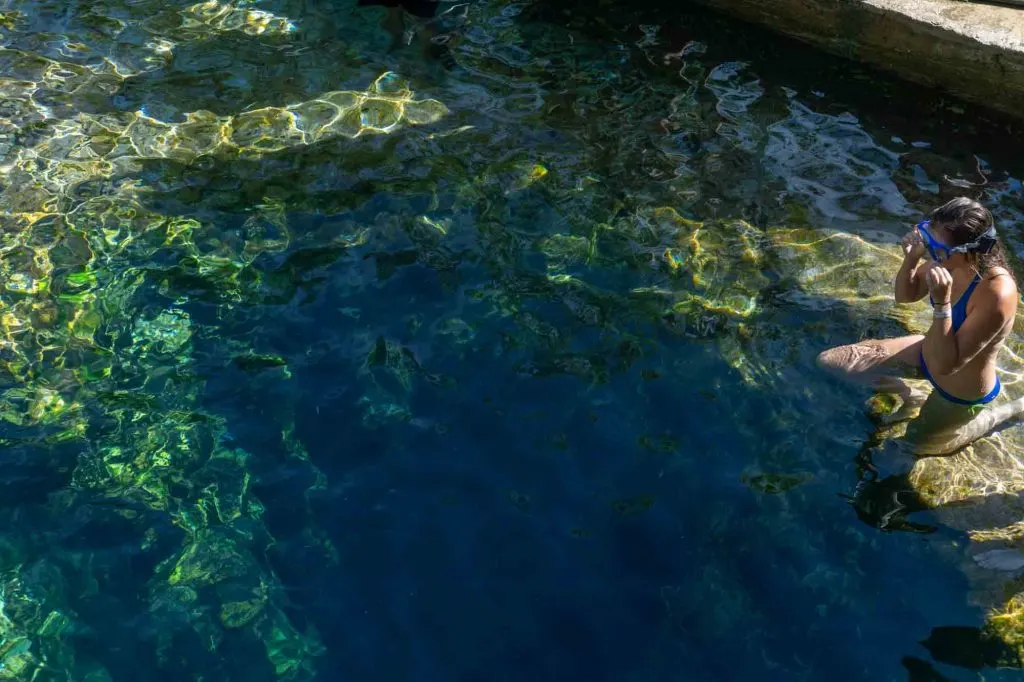 Adrenaline brings couples closer, right? In Wimberley, there's no shortage of action-packed activities for two.
Soar high above the Texas Hill Country with Wimberley Zipline Adventures, a ziplining course that includes 10 different lines stretching between 150-900 feet long and as many as 100 feet high.
Then, cool off at Jacob's Well, an otherworldly swimming hole home to the second-largest fully-submerged cave in Texas (and some top-notch cliff diving).
For dinner, don't miss the Leaning Pear, a lovely, eco-conscious restaurant whose seasonal menu is made entirely from locally sourced ingredients.
Read next: Cabins in Wimberley
Granbury
Looking for couple getaways in Texas that won't have you surrounded by huge crowds? Granbury is the way to go.
Stroll along the sandy City Beach Park, stay at a cozy B&B on the water, and shop for antiques in Historic Granbury Square.
For dinner, Christina's American Table is adorable and intimate, dishing up homemade soups, salads, and freshly baked desserts.
If you and your loved one share a fascination with history, Granbury is the perfect place to walk hand-in-hand through historic sites and museums.
Fredericksburg
This Texas small town exudes charm and coziness, making it the perfect place to cuddle up in a secluded love nest for the weekend.
Stay at one of the most romantic cabins in Fredericksburg. The Wild Ram Log Cabin was first built in 1847 and has since been given a major update, complete with a luxurious king bed, infrared dry sauna, porch swing, and private hot tub.
The property is adults-only, and couples are treated to a complimentary bottle of local wine when they arrive.
When you leave the nest and head out on the town, have some fun with peach picking, wine tasting, savoring German food, or a live concert on Main Street.
For the adventure couples, go for a climb at the Enchanted Rock State Park, one of the best state parks in Texas, and take in the views of the rolling hills.
In short, Fredericksburg should be on every couple's list of romantic weekend getaways in the Texas Hill Country, let alone the state!
Fort Worth
Just like nearby Dallas, Fort Worth is a hotspot for romance.
Of course, there are the stereotypically Southern options for a night out, like Billy Bob's (a giant honky-tonk complete with mechanical bulls and multiple bars) or getting your hands dirty at Heim Barbecue (allegedly some of the best barbecue in town).
When all else fails, Sundance Square is a classic spot to hit, with tons of choices for dinner and drinks.
They also have excellent entertainment options, like comedy clubs and small theaters.
Austin
Austin can be a surprisingly romantic spot in Texas. Known for its rowdy nightlife and thriving music scene, this is a college town through and through.
But don't be fooled–there are plenty of romantic things to do in Austin, too.
Pedal a swan boat on Lady Bird Lake, cuddle in the car at the Blue Starlite Drive-in theater, zip line in Lake Travis, or stroll along South Congress Avenue in search of vintage gems and sweet treats.
For a more indulgent weekend in Austin, visit the Lakeway Resort and Spa, overlooking Lake Travis!
There, you can truly embrace luxury with award-winning treatments, conscientious cuisine, and pristine lakefront scenery.
Houston
As Texas' biggest city, can Houston also claim the title of Texas' most romantic? They're certainly a strong contender.
Experience an enchanting lights show as evening falls at James Turrell Twilight Epiphany Skyspace, capture a picture-perfect romantic moment at Waterwall Park Houston, and enjoy a tandem bike ride through Buffalo Bayou Park.
For those that are ready to splurge, you can snag tickets to see the Grammy Award-winning Houston Symphony perform at Houston's Jess H. Jones Hall.
In conclusion, a weekend in Houston will give you plenty of opportunities to spend quality time with your significant other.
Marble Falls
Spas, vineyards, and art galleries…oh my! Why book a trip to Europe when you can head to Marble Falls instead?
This quaint countryside escape offers tons of classically romantic activities, from wine tastings at Fiesta Winery to couples' massages at Sana Vida Wellness Center.
For some hands-on fun, try a class at Art of the Meal, a family-owned and operated business that teaches lucky guests how to put together a flavorful, visually stunning meal.
Bandera
As the "Cowboy Capital of Texas," Bandera is home to sprawling ranches, lively honky-tonks, and tons of countryside to explore.
Hop on a hayride, take a scenic drive, or head off for some hiking at Lost Maples State Park.
Then, fuel up with dinner at Old Spanish Trail, a beloved local spot that has been serving up proper Southern comfort food since 1921.
Although its population is small, Bandera knows how to throw a party, and local bars are a great way to get rowdy with your special someone.
End the night with a swing dance at Arky's or live country music at the 11th Street Cowboy Bar.
Gruene
Gruene is a tiny town 40 minutes outside of San Antonio. Chances are you've never heard of it, but Guene is one of the most romantic getaways in Texas.
The town's legendary Gruene Hall, built in 1878, is the oldest continually operating dance hall in the state, and among the most famous in the entire country.
They feature live performances every night, everything from folk to blues to good old country, and most shows are free.
But before you dance the night away with your special someone, take some time to wander through the Gruene Historic District.
Shop at the old-timey general store and grab dinner at the rustic, romantic Gristmill restaurant.
Dripping Springs
If natural beauty is your thing, Dripping Springs easily makes for one of the most picturesque romantic getaways in Texas.
Of course, Hamilton Pool has to be your first stop in the Texas Hill Country.
With a 50-foot waterfall plunging into the turquoise pool below, lush vegetation all around, and the blue sky above, it's easy to feel as though you've been transported to some fascinating paradise far outside of Texas.
This natural wonder is not only gorgeous but incredibly enjoyable too!
Then, head to the sprawling orchards of ​​the Texas Hill Country Olive Company and pick up a few bottles of incredible local olive oil to take home.
Big Bend National Park
You may not think of national parks in Texas as the state's go-to date night destinations, but adventurous couples will love the enchanting landscapes, long hikes, and scenic drives that Big Bend has to offer.
Kayak through the dramatic beauty of Santa Elena Canyon, spend the nights stargazing, and greet each sunrise from the porch of a rustic mountain cabin.
Couples that prefer a bit more comfort can trade in hiking for the Ross Maxwell scenic drive, a winding route through many of Big Bend's most popular attractions, with plenty of stop-offs along the way where you can park and explore.
New Braunfels
Known for its rich history and gorgeous natural landscapes, New Braunfels is overflowing with novel ways to get romantic.
Sample a wide variety of artisan cheeses and homemade chocolates at Gourmage, then catch a show at the local ​​Circle Arts Theatre, a non-profit performance house that has been entertaining the community since 1968.
Spending a night or two? There are a number of romantic cabins in Texas, but the Bird Cabin in New Braunfels might just take the cake.
With wooden boardwalks, spiral staircases, and forest views, this is a stunningly unique spot to honeymoon.
Looking for some fun outdoor activities in the Hill Country for your romantic weekend getaway? Then Canyon Lake is your best bet. It's nearby and you two can have a lovely afternoon by the Guadalupe River.
South Padre Island
Now, let's talk about Texas getaways for couples that like to party. Big, boisterous, and oh-so-fun, South Padre Island boasts an endless array of entertainment both on and off the water.
Skip the fancy wine tasting and opt for a beer flight instead, sampling handcrafted ales by the beach with Padre Island Brewing Co.
Then, dance the night away at one of South Padre's many beach bars, like Clayton's or WannaWanna.
Wanna slow things down for a bit? Head for an evening meal at the intimate and low-lit Liam's Steak House & Oyster Bar and enjoy a sunset walk on the beach.
South Padre is hands-down one of the most perfect getaways for couples in South Texas!
Dallas
A list of romantic getaways in Texas wouldn't be complete without a mention of this ultra-chic, up-and-coming hotspot.
Dallas has become overwhelmingly trendy in the last few years, with more and more rooftop restaurants, hip hangouts, and incredible entertainment venues popping up each month.
But of all the romantic things to do in Dallas, these are a few of our favorites.
Indulge in tried and true classics like dinner at Uchi, one of the most romantic restaurants in Dallas, or afternoon tea at the Dallas Arboretum.
Or take things in a different direction and put a flirty twist on local cowboy culture with couple's line dancing lessons at Cowboys Red River.
Read next: Where to Stay in Dallas
Ennis
Ennis often goes unnoticed when it comes to romantic getaways in Texas, but that just means you'll have this gorgeous spot all to yourself.
Have an adorable throwback date at the retro Galaxy Drive-In Theatre or sample local reds and whites at the Sugar Ridge Winery.
If you visit during the spring, the Ennis Bluebonnet Trail definitely deserves a day on your itinerary.
Walk, picnic, and snap tons of couples' photos among fields of Texas' most stunning blooms.
Port Aransas
The best romantic getaways in Texas are those that involve sandy beaches and lazy days in the sun. Hello, Port Aransas!
Although it's more widely celebrated as a family destination, this seaside couples retreat in Texas has tons of fun activities for two.
If you're a more adventurous duo, take to the water with a kayak or walk hand-in-hand through one of the area's several nature preserves (keeping an eye out for alligators, of course).
For those that prefer to relax, indulge in a sunset cruise, enjoy a candlelight dinner at the ultra-romantic Lisabella's Bistro, or bite into s'mores roasted over a beautiful beach bonfire.
Texas Romantic Getaways for Couples
Bluebonnets, wine, and good weather, the Lone Star State doesn't disappoint when it comes to romantic weekend getaways in the US.
Whether it is in East Texas or Central Texas and beyond, book a stay in a romantic hotel, preferably with luxurious amenity options or full service spa, and enjoy a unique romantic weekend in Texas!
We guarantee your romantic vacation will be memorable!
Did you enjoy reading about these romantic getaways in Texas? Then share it with a dear friend who might enjoy learning about these couples getaways too!