It's no question that a weekend in Dallas is one of the best ways to see the city's art scene, live music, incredible cuisine, and hidden treasures around this sweet southern sanctuary.
Dallas is comparable to that of a six-course meal because you can get many different flavors and experiences in all of the various districts in the city. It's HUGE.
As you travel through this itinerary, you'll find exciting things to do in Dallas, the best places to stay, the quirks of Uptown, Downtown, Deep Ellum, and the Bishop Arts District and get a feel for the local atmosphere of each of them.
It truly is a unique and diverse city that has something to offer everyone, and the variety is similar to being in a town like Edinburgh; something different around every corner.
Fun Things to Do in Dallas, Texas, in a Weekend
If you're planning a weekend in Dallas, this is the perfect itinerary for first-time visitors that want to see what this city is all about.
It covers the iconic can't miss spots as well as restaurants, coffee shops, and boutiques that are favorites among the locals here.
You'll feel as though you have seen so much in only a few days, but you will still just have barely scratched the surface of this beautiful city. But hey, all the more reason to return, right?
Pssst: if all you can only stay one day in Dallas, check out this other itinerary instead.
Without further ado, welcome to Texas: here are all the best things to do in Dallas, the best places to eat, and the unmissable spots in the town.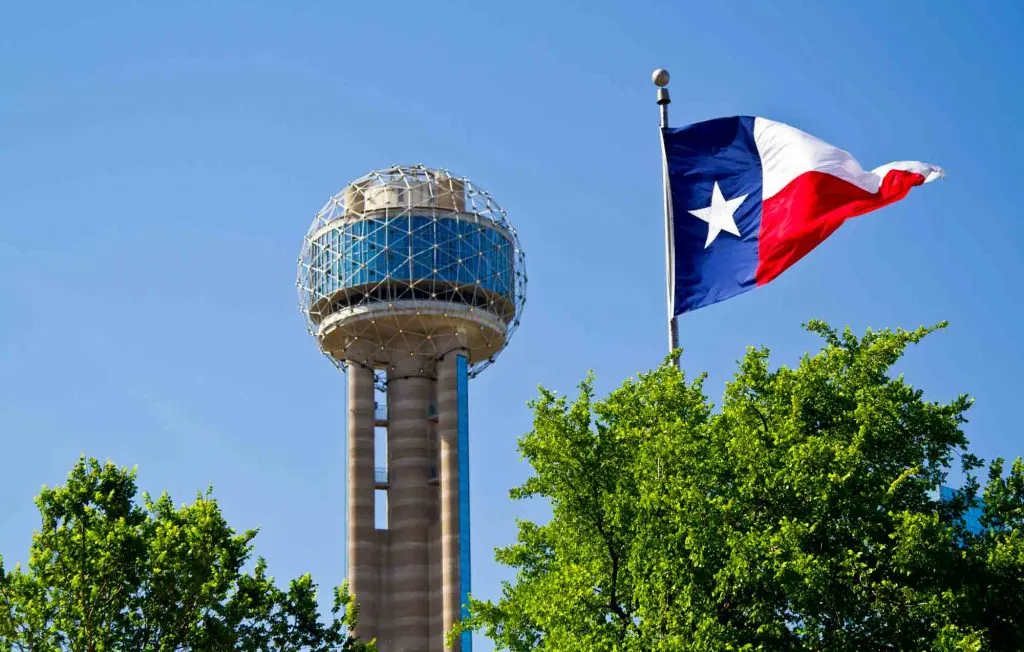 Map of Places to Visit in Dallas
You can get the interactive map below by clicking here.
Best Time to Visit Dallas
Below you'll find the best month to spend a weekend in Dallas based on your preferences and on the places you want to visit.
When choosing the date, consider the things to see in Dallas Tx that might be seasonal or even the weather – the summer sun in the city can be scorching.
The Best Weather
April and May, September and October
For The Holidays/New Year
For Fewer Crowds
September – April (Weekdays)
To See the Texas State Fair
(exact days vary year to year) end of September – October
*If you're planning on visiting Dallas during the months of the state fair, either swap out an evening or add another day to put this into your itinerary.
The Texas State Fair is the largest state fair in the United States, and it's also an event every American should add to their USA bucket list.
If you can't add a day, but you can swap, enjoy an evening here on day three. It's really awesome (and Texas-sized).
Where to Stay in Dallas for the Weekend
Dallas has a wide variety of accommodation options, and each area of the city is going to give you a different experience, but these are the three main areas that you should consider staying in.
You can read our extensive guide on where to stay in Dallas, which is divided by neighborhood and budget. Or, you could check out our top picks for VRBO in Dallas here.
If it's your first time in Dallas, stay in either Downtown or Uptown since they are centrally located.
This makes for a great base you can go back to when you venture out, and you'll always be a walk away from excellent nightlife.
Uptown Dallas will give you that classic upscale Dallas feels as it is filled with top-rated hotels, modern facilities, and new infrastructure.
Uptown is the most expensive part of the city to stay in, but if you want a great view of Downtown and want to be in the center hub of it all, base yourself here.
Downtown Dallas is the quintessential area to stay in Dallas, duh. Basing yourself here will be a little bit more pricey, but it puts you right in the middle of the city, which is great for exploring other parts since you'll be in a central location.
If you love hidden bars, the ruckus of the city, and that timeless 'downtown' city feel, base yourself here.
Deep Ellum is the artsy, hipster cousin of Uptown and Downtown and if you're into local shopping, obscure coffee shops, and a unique take on Dallas' art scene, this is the place for you.
There are tons of local boutiques and street murals to see in this area, and you can score a great stay in many of the classic lofts here that will put you in the prime spot to walk this area of town.
Uptown
Canopy by Hilton Dallas Uptown – One of the best places to stay in Dallas for families because you stay in a spacious queen room. Walk distance from lots of bars and restaurants.

See it on Booking.com
Downtown
Hyatt Regency Dallas – Comfy beds and sound-proof rooms, which is perfect because it's centrally located. Perfect for those who are willing to pay a bit more for the convenience of being in the center.

See it on Booking.com
Deep Ellum
Deep Ellum Hostel – This hostel is the best place to stay in Dallas for young people traveling on a budget. Double rooms have hip decoration and offer privacy. The hostel is also nearby good bars/restaurants and famous murals.

See it on Booking.com
48 Hours in Dallas – How to Get Around the City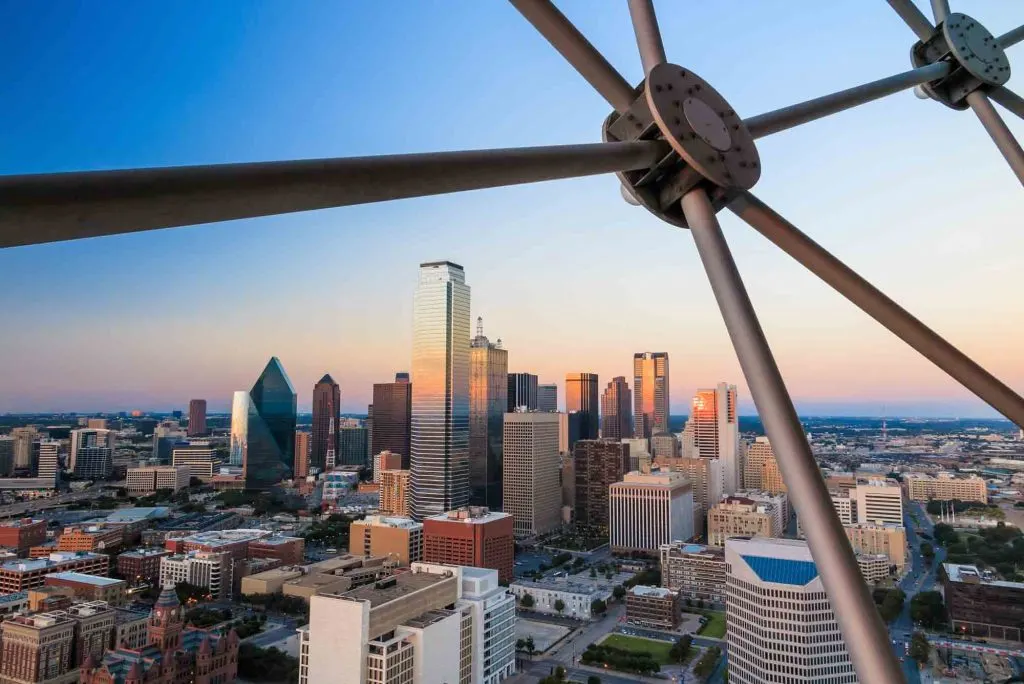 By Foot
The cheapest and easiest way to get around Dallas is on foot. Walking around is a great way to see all of the small details that make Dallas so great, but getting from neighborhood to neighborhood might be a bit of a walk.
So if you choose to walk around, you'll need to combine it with an Uber, bus ride, or rental car to get in between the larger neighborhoods.
By Bus
The bus is a great way to hop around centrally, and through the different neighborhoods in case you get tired of walking and want a little bit more convenience.
You can get a day pass for the DART Bus for $6, and that includes unlimited rides on the buses and trains until 3 am the following morning.
To get these passes, all you need to do is download the GoPass App on your phone and set up your day pass from there. Once you have it on your phone, you just need to show it to the bus driver when you board the bus.
By Uber
Honestly, don't bat an eye at a taxi because they are the most expensive way to get around the city.
You're much better off taking a Lyft or Uber since they are cheaper and more convenient for pick-up options and you're less likely to get scammed since the fare amount is pre-set.
By Car
Renting your own car is a great way to have your own peace of mind knowing that you have your own transportation, and some travelers are more comfortable that way.
If you don't want to take the bus or spend a lot of time waiting for an Uber, pick up a car with Kayak, and it'll cost you around $20/day for a compact car rental.

Click here to check deals on rental cars.
Psst: Wanna visit more Texan cities? Check out the best road trips from Dallas!
By Scooter/Bike
Like many other large cities, Dallas has introduced electric scooters and bikes that you can ride around the town on.
This is an excellent method of transport to pair with walking since these are also really cheap to rent out for the day (~$0.15/hour).
There are a couple of different companies that operate these scooters, but all you need to do is download the Uber app, and it only takes a minute to activate the scooter and be on your way.
The best part about these is that you can drop them off from place to place and find another just around the corner.
What to Do in Dallas – Your Perfect Weekend in Dallas
Spending a weekend in Dallas is easily the best way to see the city, and you can dip your toe into what all the best areas have to offer.
This Dallas itinerary is going to take you through all the hotspots of this beautiful city (and some other lowkey places): Downtown, Uptown, The Bishop Arts District, and Deep Ellum.
Get ready to get a little weird, caffeinated, and unleash your inner hipster in Dallas' incredible scenes.
Things to Do in Dallas in a Weekend
Day 1: Downtown & Uptown Dallas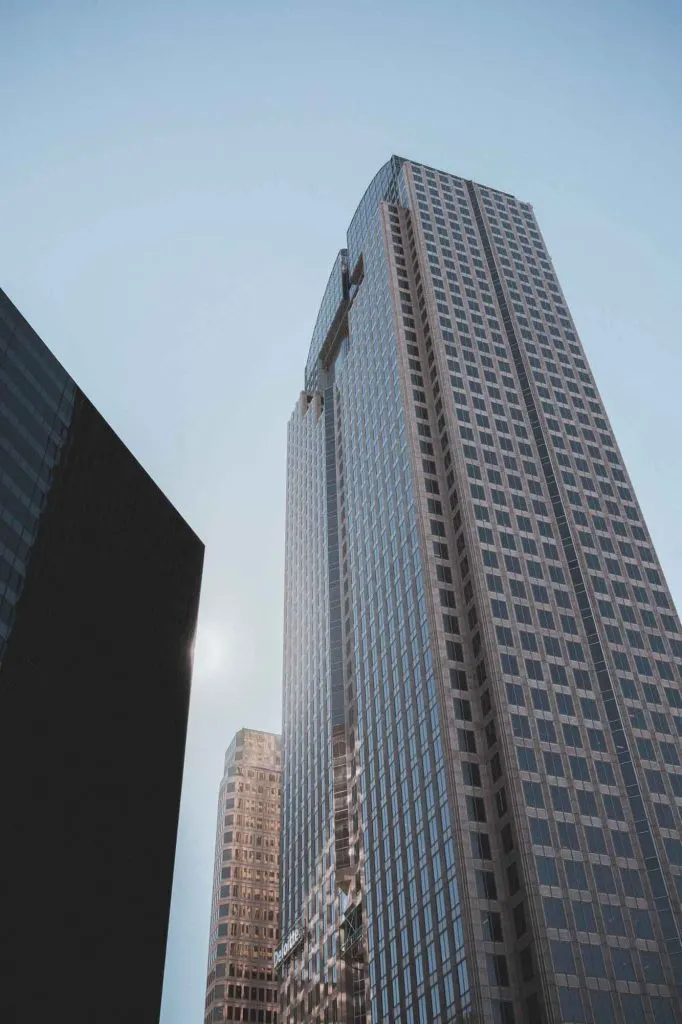 The first day of your Dallas weekend is going to give you an excellent feel for the speed and uniqueness of the city.
You'll be starting out your trip exploring the many exciting things to do in Downtown Dallas as well as Uptown, and visiting some of the best dives and sites in the city.
In the morning, you'll get your morning fuel at Full City Rooster and explore some iconic murals.
After that, you'll head over to the Dallas Farmer's Market for breakfast at Dallas' best farm-to-table restaurant, Mudhen Meat & Greens.
If it's spring or summer, explore the outdoor market and don't be hesitant to try some of the stalls; they have the best local foods in Dallas that also feature start-up eateries.
Dallas is especially lovely during this time of the year, making it an excellent spring break destination in the USA.
After the farmer's market, you're headed Downtown to see the iconic eyeball sculpture, one or many of the great museums in Dallas.
Then Dealey Plaza, The Sixth Floor Museum, The Margaret Hunt Hill Bridge, and finally finishing off your night with a lovely dinner at Uchi and cocktails at one of Dallas' best rooftop bars and views, The Gallery Rooftop Lounge.
Coffee at Full City Rooster
Your Dallas itinerary is going to start at a coffee shop adored by locals, Full City Rooster. The smell of this spot alone is enough to guide you here since the scent of the freshly roasted coffee speeds down the road.
Once you enter, you'll be greeted with a warm, simply designed space that you'll want to nestle yourself in for half a day, easily.
It's known locally for having the best cup of coffee in all of Dallas, and once you take that first sip of their single-origin coffee, you'll know why.
If the coffee alone wasn't enough to draw you in, they also have fresh pastries daily to pair with your morning brew.
It's undeniable that Mike, the owner of this place, has a deep passion for coffee and he'll even remember your name if you stop in regularly.
Once you're finished up here, be sure to buy a pound or two of their specialty coffee to take home with you to bring this warm Texas to welcome back to your hometown. This is a perfect way to begin your 2 days in Dallas.
The World Map & JFK Murals
Dallas is piled high with hundreds of incredible murals dotted around the city and to start out your mural hunting mission, we are starting with a world map mural and a JFK mural that are conveniently located right next to each other.
The easiest way to get to these is by putting the Alamo Drafthouse into your GPS, and you'll spot both murals once you arrive.
The JFK Mural is on a wall facing the main highway, and the world map mural is facing the Alamo Drafthouse.
They are two rather simple murals, but they make for some cool photos, and they help you dive into the street art scene.
Read next: Dallas street art guide (with a map!)
Breakfast at Mudhen Meat & Greens
Iconically named the best farm-to-table restaurant in all of Dallas, this is one of the best places to get a fresh breakfast in Dallas.
Mudhen Meat & Greens is located right next to the Dallas Farmers Market, so you may even get to meet the farmer who grew your food if you're around the area in the spring and summertime.
They have a variety of juices, appetizers, brunch items, lunch plates, desserts, and even some classic brunch drinks like a good old mimosa.
The enchilada stack is by far one of the best items on the menu along with their watermelon cooler that is perfect for those hot Texas summers. (Aka a real summer vacation in the US.)
Explore the Dallas Farmers Market (Seasonal)
If you happen to be visiting Dallas during the spring and summer months, you don't want to pass up the opportunity to stroll around the Dallas Farmers Market.
Dozens of vendors sell handmade goods, fresh produce, some of the world's best tomatoes, jewelry, and there are other restaurants and stalls where you can get arguably some of the best local cuisines in Dallas.
There are many places to pick up breakfast here, so if you find something that piques your interest other than Mudhen, go ahead and try out one of the excellent stalls.
The farmer's market is generally open around the end of March through the summer months.
If you do happen to stop by, don't forget to bring the essentials for plastic-free travel; reusable bags, utensils, a takeaway container, and water bottle, so you avoid using single-use plastics.
Find the Giant Eyeball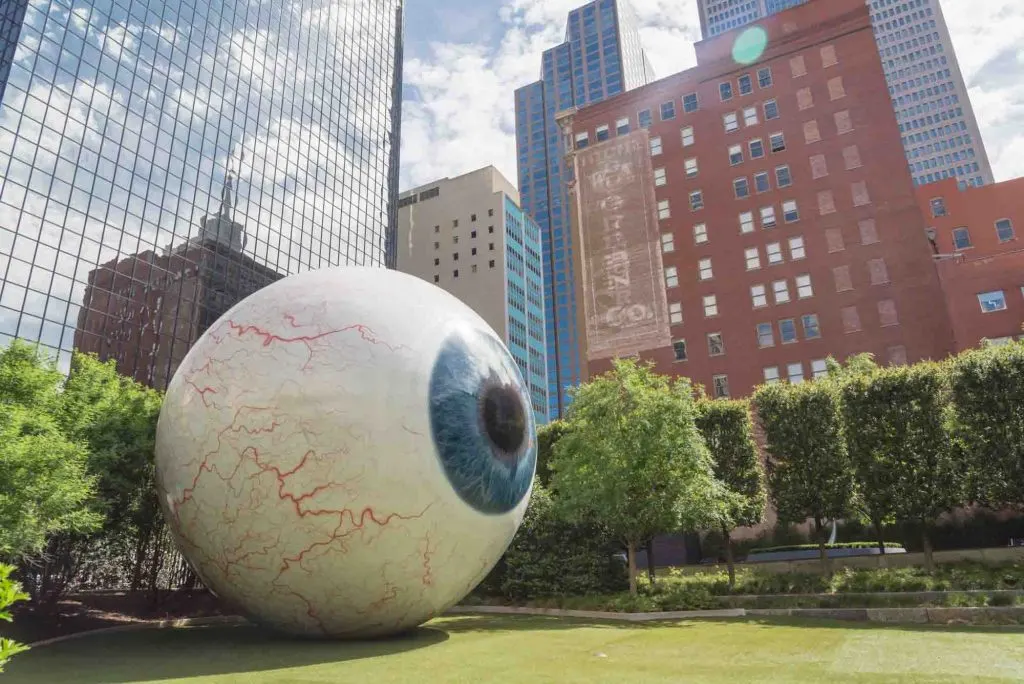 Aside from Reunion Tower, the Giant Eyeball is one of the most iconic spots in all of Dallas. It's right in the heart of Downtown, and you really can't miss it while strolling among the skyscrapers.
The eyeball is on private property, so you'll have to set aside the urge to hop the fence for a better photo, but it can be easily enjoyed around the small grass area that it is in.
This is a stop that is still pretty touristy, but it's not every day that you can walk down a bustling city and see a thirty-foot eyeball.
"Eye," as it's called, was created by artist Tony Tasset in 2007 as a part of a temporary display held in Chicago, but now it's in the heart of Dallas.
There isn't a huge background story to this eye other than the simple fact that Tony Tasset "wanted to create something awesome" and modeled it after his own blue eyes. It's safe to say that it is pretty awesome.
The Eye had had brief displays in Chicago and St. Louis before the Joule Hotel in Downtown Dallas purchased it to add to their art collection and solidify their Downtown location in 2013.
Brunch at The Henry
Spending 48 hours in Dallas would not be complete without a proper brunch, so you're headed off to The Henry for a more upscale brunch experience in Uptown.
This little spot is where vintage and modern collide into a beautifully decorated space that welcomes you as soon as you walk in.
In the morning, they have their "grab n' go" hours where you order from their barista counter, and then, once brunch hits, you're able to sit down for a more elegant dining experience.
You'll want to grab a seat here or on their upper deck patio for a beautiful view of Uptown. You can't pass up a wildflower at the coffee bar and their harvest bowl.
Also, some of the items on the menu are not entirely vegan, but they will gladly accommodate vegans and make things fresh like their breakfast potatoes and oatmeal.
The staff welcomes you with a smile, and you'll love spending your morning in this quaint little spot.
Visit One (Or Three) of the Many Great Museums In Dallas
There is no question that Dallas has many incredible museums, but everyone has their own preference of things that they enjoy, so below is a list of the best museums in Dallas that each offer something different.
You can pick one, or two, or three of these if you prefer, but make sure you make time to stop by the Meadows Museum, it's one of the most ornate, and it gives you that European vibe without actually being in Europe.
It's one of the largest collections of Spanish art outside of Spain, so make sure you pay it a visit.
As for the rest, there isn't a bad option, it is really based on your interests, so head over to whichever one suits your fancy and dive into some great art, sculptures, and history.
Visit if you like: international art, contemporary art, Africa art, sacred objects, and everything in between.
Price: FREE (yay!)
Address: 1717 N Harwood St, Dallas, TX 75201
Visit if you like: unusual and quirky art, sculpture, local artists, and art that makes you think.
Price: $10/person
Address: 2001 Flora Street Dallas, Texas 75201
Perot Museum Of Nature & Science
Visit if you like: space, animals, biology, engineering, and prehistoric animals.
Price: $13-20/person
Address: 2201 N Field St, Dallas, TX 75201
Visit if you like: Spanish culture, ornate paintings, and the Victorian-era.
Price: $12/person
Address: 5900 Bishop Blvd. Dallas, TX 75205
Visit if you like: aviation, space flight, and Apollo VII.
Price: $10/Person
Address: 6911 Lemmon Avenue, Dallas, Texas 75209
Visit if you like: history and human rights.
Price: $16/person
Address: 300 N. Houston St Dallas, Texas 75202
Dealey Plaza & The Sixth Floor Museum
For your next stop, take a trip back to 1963 to the exact location where JFK was assassinated. Most people don't realize that this happened in Dallas.
You can drive or walk right up to Dealey Plaza and see the exact coordinates on the road where the bullets were fired and where he passed away.
The Plaza is still a popular road in Dallas, so watch out for oncoming cars if you step out onto the street. From the x's marked on the road, you can look up and see the Sixth Floor Museum, where the bullets were said to be shot.
There is still some speculation as to who really assassinated JFK even among historians and government officials, but we'll leave that open-ended for you to think about as you learn about this day in history over forty years ago.
After you're done walking the Plaza, head over to the Sixth Floor Museum, (the place where Lee Harvey Oswald perched when he shot JFK), and learn more about JFK's assassination, the FBI investigation, how the world responded, and '60s culture during that time.
Get an audio tour to listen to as it guides you through the museum fluidly and gives you more in-depth information about the timeline of the events.
The most exciting spot in the museum is the recreation of the sniper's nest looking down over Dealey Plaza.
They even have an animated screen that shows you the route of the cars and the shots to put the event in perspective.
After you're done on the sixth floor, head up to the seventh floor. There is another fascinating exhibit with interviews from everyone that was involved on November 22, 1963.
Most of these people have since passed since the '60s, but their voices give that emotional touch to that day that not many people can attach to by seeing only the Plaza or the museum.
Walk the Margaret Hunt Hill Bridge
The Margaret Hunt Hill Bridge is like what the needle is to Seattle, a popular architectural point that separates the Dallas skyline from other cities in the states.
You can't actually walk on the bridge, but there is a walking area to the left of it that you can wander in and out of Dallas from.
This spot is a photo-op among many other things, but it's a sweet spot to stamp that "Welcome to Dallas" feeling.
A Lovely Dinner at Uchi
To kick off your first official night in Dallas, put on that lovely dress and tie and head over to Uchi, a contemporary Japanese dining experience that also happens to have some of the best sushi in all of Dallas.
Their fish is flown in every single day from the Toyosu Market in Japan, and they are committed to only sourcing sustainable and responsibly raised products to maintain the quality and freshness of their menu.
Uchi is a popular spot among locals, and as a fantastic food experience in Uptown, it's better to book a reservation ahead of time to guarantee you have a good table and seat when you walk in.
Further out, they have a wide variety of hot and cold tasting on their main menu, and they even have a vegetarian menu with some selections that can be made vegan.
For something more formal, go with one of their tastings under Omakase, in the menu, which means to entrust in Japanese.
Choosing this option means that you're leaving your dining experience up to the chef rather than ordering something a la carte, but if you want to go more old school and order a la carte, then the chef's choice and Vegan Biendo are both great options.
Anything you order is going to dazzle your taste buds from the quality and art put into the dishes, so don't be afraid to try something new or unusual.
Read next: Rooftop Restaurants in Dallas
Sunset at the Gallery Rooftop Lounge
After dinner drinks and an iconic view, anyone? While most people visit Reunion Tower for a classic Texas sunset, we're headed to somewhere better that also involves cocktails, yes, please.
The Gallery Rooftop Lounge is at the top of the Canvas Hotel and is one of the best rooftop bars to have a drink and enjoy a stunning view of Downtown Dallas.
Their drink menu features cocktails inspired by many great artists and figures, such as Frida Kahlo and Salvador Dali, and they even have an 'Artist of the Night' special that features a 'different drinkable art nightly.'
Enjoy sunset here, take a dip in the pool, and then head back to your hotel, get some rest, and prepare for day two.
Weekend in Dallas Itinerary Day 2: Wandering Into Deep Ellum
For day two of this itinerary, you are headed into the unique, artistic, and maybe a little bit weird side of Dallas, Deep Ellum.
This area is known for being a place for the arts, and you'll spot tens if not hundreds of murals dotted along the streets here. However, you have a couple of stops before you get to strolling these streets.
You'll be starting off your day at either White Rock Coffee or LDU Coffee, your choice. Then, you'll be headed over to see a stunning and colorful diamond mural that you won't want to miss a photo in front of.
From there, enjoy a healthful breakfast at True Food Kitchen, save yourself a cupcake at the Sprinkles Cupcake ATM, and then head up north for a beautiful morning kayak on White Rock Lake.
From White Rock Lake, head slightly south and you'll find yourself in one of the most beautiful spots in Dallas, the Arboretum. There are many stunning gardens to see here so you'll want to block off a bit of time to see it all.
After all the energy spent exploring in the morning, the best way to refuel is with coffee and tacos at Tiki Loco. Once you're finished up at lunch, head down to Deep Ellum where you'll be spending the rest of your evening.
Take your time wandering into all of the best shops in this part of town and make your way to the Museum of Memories where you can explore a brand new art exhibit and take a trip down memory lane.
Finally, enjoy a hearty dinner with drinks at the Pizza Lounge. Let's get to the best things to do in Dallas.
Coffee at White Rock Coffee or LDU Coffee
For coffee this morning, there are two options; White Rock Coffee or LDU Coffee.
White Rock Coffee is a tad bit past White Rock Lake, but it fits right along with the activities for today, and LDU Coffee is next to the Diamond Mural that you'll be visiting after you get your brews.
LDU Coffee flows better with today's route, but if you want to skip the coffee and go right to breakfast, kayak, and then get coffee at White Rock, that's a great choice as well.
They are both known for being some of the best coffee shops in Dallas, so you won't miss out by skipping one or the other; heck, you could even go to both if you really wanted to.
A Quick Stop at the Colorful Diamond Mural
Your first stop for the day is going to be at the diamond mural next to Houndstooth Coffee.
The colors on this one are very vibrant, and you can get those classic jumping photos in front of it. Plus, the mural is quite large, so you have a lot of room to work with getting a beautiful picture.
Breakfast at True Food Kitchen
Since you have indulged a little bit on some homestyle vegan eats, today we are headed to True Food Kitchen, a place where health and flavor come together to create some of the most epic healthy vegan and non-vegan food.
Their Bright Eyes juice and the vegan version of the sunrise bowl are top recommendations. But don't worry, whatever you end up choosing on the menu is going to be extremely tasty.
You can even order mimosas and sangrias for a nice pairing for breakfast/brunch.
Stop at the Sprinkles Cupcake ATM for a Sweet Treat Later on
Is it even a real trip to Dallas if you don't go to the Sprinkles Cupcake ATM? These adorable little spots are often raved about in many cities in California, but most don't know that Dallas has a sweet ATM of its own.
This spot is right next to True Food Kitchen, so after you finish up your breakfast or brunch, walk right across the street to the ATM and order your favorite flavor in a matter of minutes.
They also have a vegan red velvet cupcake that is to DIE FOR, so even if you're traveling with some dietary restrictions, they have options for everyone, including those that are gluten-free.
Kayak on White Rock Lake
Despite Dallas being known as a concrete jungle, there are many ways to get out and enjoy the nature surrounding the city, like at the stunning White Rock Lake.
There you can rent a paddleboard or a kayak, whichever you prefer, and rentals are going to start at $16.99/hour, per person.
After finding a company, reserve your equipment ahead of time so that you can guarantee you'll have some when you get there.
Also, make sure you protect your skin with some sunscreen so that you don't end up looking like a turnip after a few hours.
Around 1.5-2 hours is plenty of time to paddle around and take in the area.
Walk the Dallas Arboretum and Botanical Garden
Continuing right along with spending your morning in nature, the next stop on the list is the Dallas Arboretum.
This is an incredible place to take photos, and you can't miss the Crape Myrtle Allee archway that leads to Toad's Corner.
The Arboretum is a place you shouldn't miss on your weekend in Dallas. It looks like something out of a fairytale and the pink blooms on the trees in the summertime are absolutely stunning.
Wandering here is one of the most romantic things to do in Dallas, by the way.
The entrance prices vary with the season, but regular tickets are $15/person.
The gardens are a great place to escape the cool, blue tones of the city and walk into an explosion of beautiful colors and flowers.
The Nancy Rutchik Red Maple Rill is one of the best gardens there since it has over eighty different types of Japanese Maple Trees along a river and various walkways.
It's an incredibly peaceful and zen part of the gardens that you cannot miss.
Lunch at Tiki Loco
For lunch, take your car or Uber back down to Deep Ellum and stop in for tacos at Tiki Loco.
They have a great slogan in their place that reads, "thanks to modern chemistry, sleep is now optional," so if you need a caffeine fix after your morning on the water, the mocha with oat milk is going to be your go-to.
From the 100% plant-based menu, the two items you cannot leave Tiki Loco without trying are the Hawaiian Steak Poke Tacos and the Ryno's BBQ Pork Tacos.
To top things off, chips and salsa aren't extra and comes with your taco order. Need I say more?
Wandering & Mural Hunting in Deep Ellum
Deep Ellum is the number one spot to see the best street art in Dallas. There are murals, literally, around every corner in Deep Ellum, and they are all on the map that you can download at the top of this blog post.
The murals are quite large, so they're hard to miss. Also, you can find so many more than those ones listed, but these are some of the best Dallas murals.
If you want to go on a fun hunt, check out our post about the best murals in Dallas here that has most of the known murals in Deep Ellum.
Dinosaur TV Mural
USA Flag Wall Mural
Beauty Bar Mural
Sunburst Mural & The Traveling Man
Colorful Checkered Mural
Deep Ellum Mural
"I Wish I was Full of tacos instead of…" mural
Frida Kahlo Mural
Elephant Mural
Marilyn Monroe Mural
Believe In Yourself Mural
+ Dozens More
Visit the Museum of Memories
The most recent installation in Dallas' art scene is the brand new Museum of Memories.
Steffi Lynn Tsai, a local Dallas artist, hand painted the rooms in this exhibit that will bring you back to your childhood years and spark memories from some pretty iconic moments.
You want to purchase your tickets ahead of time and reserve your hour-long exploration in this place because it is a real work of art and makes for some fun and colorful photos.
Shop Around Deep Ellum & the Deep Ellum Outdoor Market
You can't leave the city without doing a bit of shopping in Deep Ellum.
Most of the time when you think of shopping you feel about the same old stores selling the same things with different additions to them, etc., but in Deep Ellum, you're never going to see the same thing twice.
Shopping in Deep Ellum is equivalent to a type of treasure hunt among the quirky and vintage stores lining the streets.
Some spots you don't want to miss are the Dallas Pin-Up, Deep Vellum Books, Jade & Clover, Life Of Riley, and Flea Style.
Among those, there are many great places for drinks and maybe even a new tattoo at Taboo Tattoo, Elm Street Tattoo, or Lucky's Tattoo if you're feeling spontaneous.
Every first and third Saturday of the month, Deep Ellum hosts the Deep Ellum Outdoor Market that features over sixty different local vendors, food spots, and live music that will bring you right into the heart of the local life in Dallas.
It's like a mini farmer's market, but with quirky shops and an eclectic mix of people and their passions making it one of the biggest highlights of Deep Ellum next to its nightlife.
The market is totally free to walk through, and any money you spend goes back into the local shop owners, musicians, and artists of Dallas.
Dinner at Pizza Lounge
For your final dinner in Dallas, you'll be stopping at Pizza Lounge. This place comes equipped with a menu suitable for all different types of diets and lifestyles, whether you're vegan, vegetarian, or just health conscious.
If you have the room go ahead and grab an appetizer like the garlic bits (they'll blow your mind), but you're more than likely going to get stuffed with the epic pie, you're about to have delivered to the table, so the choice is up to you.
Let the sizzle and smell of the Sofa King Vegan take you away to a savory dreamland, or you can go with the Classic Flip if you want an OG type of pizza, OR if you're particular, you can just create your own.
Weekend in Dallas Itinerary Summary
Day One
Day Two
Wrapping up on Things to Do in Dallas Texas
Dallas is a diverse and massive city that will require much more than a weekend to be fully seen, but this itinerary should give you a pretty good idea (and some inspiration too) of what to do in Dallas as well as the main attractions and also where to stay.
If you have any questions re: things to see in Dallas, drop us a comment below. We'd love to hear from you!
But if you're traveling around the Lone Star State, you might want to read a little more about these weekend getaways from Dallas, which includes Galveston, a beach town, and Fredericksburg, a lovely German town filled with excellent wineries.
Author
Hello there! My name is Aaren, and I am a passionate traveler, photographer, explorer, and (vegan) foodie.
I grew up in a small midwest town right smack dab in the middle of Missouri, but among many adventures, I call Dallas my home.
I am passionate about traveling, and my goal is to inspire others through my blog, What Do You Sea, to pave their own adventure, travel responsibly, and experience all of the raw parts of a country that surpasses the iconic spots solely.
On my website, you'll find unique and in-depth guides to iconic and hidden destinations, stunning photography, solo female travel guides, adventure & outdoor travel, and all things sustainability.
Follow Aaren's adventure on Instagram, Twitter, and Facebook.
Did you like this article about things to do in Dallas this weekend? Then pin it to Pinterest travel board!