Looking for a one day in Dallas itinerary? Got some news for you: This local's guide is ready to be used.
Dallas, Texas is known for being a cultural melting pot filled with incredible, poppin' nightlife, mouth-watering food and drink scenes.
But let's not forget about the excellent old southern hospitality that you're going to encounter while you spend the day in this beautiful city.
Dallas is an iconic city that is too large to be characterized. The city is arguably one of the most diverse places to visit in the United States, and one that every American should go to appreciate the street art, the delish cuisine, and the fascinating history.
Like most cities, Dallas is best explored with a full weekend itinerary, but you can still see and experience a ton even in Dallas in a day if that's all you have, which means that this day in Dallas is going to be jam-packed with all the best things to see, do, and most importantly, eat!
But we've also included where to stay in Dallas in each of the two main neighborhoods.
Without further ado, let's get this started. In this one day in Dallas itinerary, you'll read about the best things to see, fantastic places to eat, and unique points in the city.
Wondering what to do in Dallas, Texas in a day? Read on!
Where to Stay in Dallas for a Day
Each area of Dallas is going to give you a different experience, but Downtown and Deep Ellum are the main areas you should consider staying in, especially if you're spending only one day in Dallas as they're centrally located.
We'll describe briefly these two spots, but you can read more on our extensive guide on where to stay in Dallas, which is divided by neighborhood and budget.
Alternatively, you might want to check out the best Dallas VRBO.
Downtown Dallas is the quintessential area to stay in Dallas, duh. Basing yourself here will be a little bit more pricey, but it puts you right in the middle of the city, which is great for exploring other parts since you'll be in a central location, and again, you only have one day in Dallas.
Hyatt Regency Dallas – Perfect for couples and families because of the spacious rooms and convenient location – in front of the Reunion Tower (aka close to most places in this itinerary).
Pro tip: In the reservation, kindly ask for the highest room possible with a city view. You'll want to spend much more than a day in Dallas.

See it on Booking.com
Deep Ellum is the artsy, hipster cousin of Uptown and Downtown and if you're into local shopping, obscure coffee shops, and a unique take on Dallas' art scene, this is the place for you.
Tons of local boutiques and street murals are spread across this area, and you can score many excellent hotel/hostel deals here that will put you in the prime spot to walk this part of town.
Deep Ellum Hostel – Perfect for young travelers who prefer to stay around Dallas' nightlife, and want to save a bit with accommodation without giving up privacy – their double rooms are excellent.

See it on Booking.com
Map of Dallas in a Day
You can access this interactive map by clicking here. Feel free to use it on your mobile while exploring Dallas in a day.
Detailed Overview of Your One Day in Dallas Itinerary
Your one day in Dallas will be leisure-filled and relaxed, so take things slow, relax, and relish in the city before you wave it goodbye. Coffee is at Crooked Tree Coffee and breakfast is at the Henry.
After you're finished up, it's time for some adventure. So head to White Lake Rock to kayak and maybe visit the Arboretum nearby.
From the park, you'll head over to Dealey Plaza and the Sixth Floor Museum to learn more about the JFK assassination.
After that, visit a museum of your choice and learn more about the fantastic city that Dallas is or even about European art.
After you're done roaming in the museum, hear over to Spiral Diner for a delectable lunch at a vintage-themed shake and burger joint; you can't miss the nachos.
Scrap your plates and then head to the Margaret Hunt Hill Bridge for some unique photography spots of Dallas, and then to the Giant Eyeball.
Finish your day in Dallas wandering, shopping, and mural hunting in Deep Ellum, and hear over to Pizza Lounge for some dinner.
So here's your guide on how to spend a day in Dallas by a local.
Read next: 33 Winter Vacations in the USA
Things to Do in Dallas in One Day: Roaming The Museums in Downtown + Nature & Street Art
Coffee at Café Victoria
The first stop on the list is, quite literally, a home away from home. This cute coffee shop has a beautiful Robin's egg blue color.
The coffee is delicious and affordable, and they don't charge extra for dairy milk alternatives.
Once you enter you're welcomed with that sweet smell of morning coffee and an atmosphere that you won't find anywhere else in Dallas.
Breakfast at the Henry
After you've finished your coffee, you'll be headed to one of the cutest and most ornate places to get a quality breakfast or brunch in Dallas.
The Henry is a beautifully designed cafe/restaurant hybrid that is right in the heart of uptown, and you don't want to miss your breakfast on their rooftop patio.
If you're ambitious and want another cup of coffee, the wildflower is one of their best brews on the menu, and it pairs great with their avocado toast and breakfast potatoes.
Or if you want something on the sweeter side, the acai bowl is a classic breakfast staple dish, and it makes for a picture-perfect breakfast.
Kayak on White Rock Lake
There are fewer greater ways to spend a morning than being immersed in nature on a quiet lake.
If you're visiting Dallas during the warm summer, this is a great way to cool off from the heat and get a look at the more natural side of the giant metroplex.
You can rent kayaks and paddleboards, whichever you prefer, and you can rent them by the hour at White Rock Paddle Co.
If you'd rather explore the lake at sunset for a peaceful paddle, you can quickly move this down the day in Dallas itinerary and go before you get dinner at Pizza Lounge.
*Dallas Arboretum
Continuing right along with the nature theme of this beautiful morning in Dallas, your next stop is going to be the Dallas Arboretum.
The gardens are a great place to escape the cool, blue tones of the city and walk into an explosion of beautiful colors and flowers–which is an incredibly romantic thing to do in Dallas.
The Nancy Rutchik Red Maple Rill is one of the best gardens here since it has over eighty different types of Japanese Maple Trees along a river and various walkways.
It's an incredibly peaceful and zen part of the gardens that you cannot miss.
The Arboretum is a place you shouldn't pass up during your day in Dallas. It looks like something out of a fairytale and the pink blooms on the trees in the summertime are stunning.
The entrance prices vary with the season, but regular tickets are $15/person. It's best to book your tickets in advance since that is how you'll get the best price.
Dealey Plaza + The Sixth Floor Museum
Your next stop is arguably one of the most historic and most visited locations in all of Dallas.
Dealey Plaza is the location where President John F. Kennedy was assassinated back in the 1960s. There are two x's spray-painted on the road that commemorates where and when the bullets were fired that day.
The road is a popular highway onramp, so be careful if you plan on crossing the street to the center of the plaza.
From the plaza, you can see a walk-through memorial for the president as well as take an outside look at the Sixth Floor Museum, your next stop, and the place where Lee Harvey Oswald perched on his sniper's nest before firing down on the plaza.
There are a couple of people on the side of the plaza that has aerial photos of the square, and they can explain that day in history if you're willing to listen, or if you want to pitch a conspiracy theory to them, I am sure they will be more than happy to share their thoughts.
There is still a lot of speculation as to who REALLY assassinated the president, even among historians, so keep your eyes peeled for the finer details, and you'll come around to some fascinating facts about that day.
After you're finished up on the plaza, make your way up the street and into the Sixth Floor Museum.
The Sixth Floor Museum is dedicated to everything that happened surrounding the assassination of John F. Kennedy.
The audio tours here are incredibly in-depth, and you'll be able to learn more about the day of the killing, how it was planned, 60s culture, and how the world responded after this tragic day.
There are two points of interest in the museum that you don't want to miss, and those are the recreation of Lee Harvey Oswald's sniper nest and the 7th-floor exhibit that has interviews from everyone that was personally involved in the assassination and JFK's life.
The people in these interviews have since passed since the 60s, but it gives you that raw and emotional feeling for this day in history that you don't get looking at the other exhibits.
Stop at One of Dallas' Many Great Museums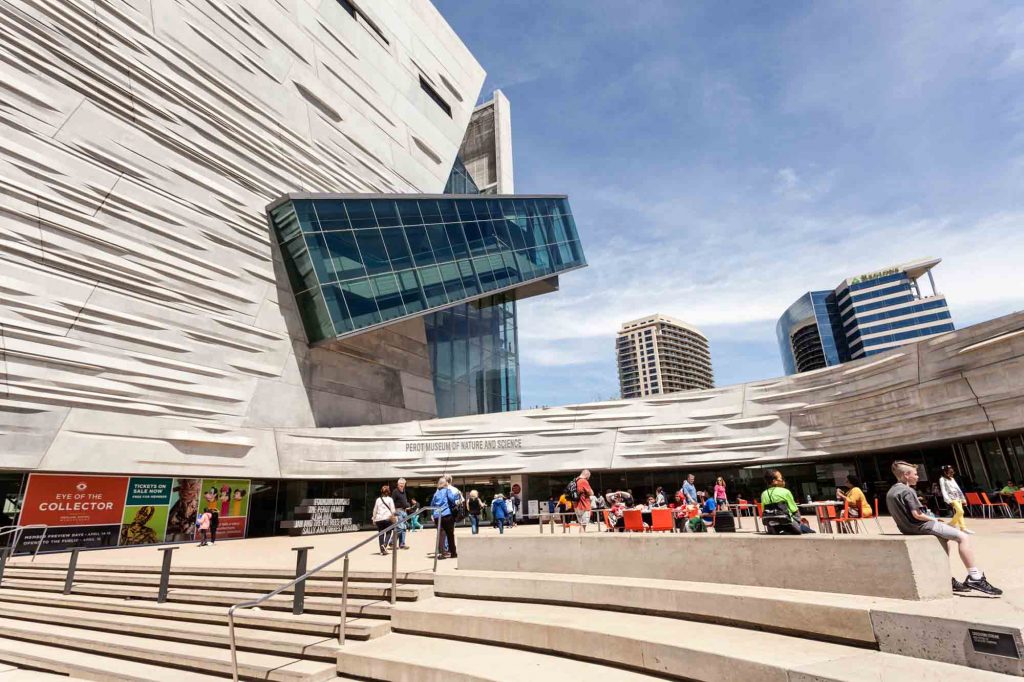 There are so many incredible museums in Dallas, and since they all have their flavor and unique twist, for this part of your day in Dallas, you get to choose what your next stop is depending on your interests.
Since you're only working with 24 hours in the city, these museums are located right on the line of uptown and downtown, making them easily accessible, so no time is wasted in transit.
If you have a little bit more time, or if you're planning on spending a weekend in Dallas, then I highly recommend visiting the Meadows Museum.
It's the most extensive collection of Spanish art outside of Spain, and they have some artworks in there from Pablo Picasso, Salvador Dalí, and other artists from the Renaissance period.
It's a great spot to go if you're dreaming of a trip to Europe and it may even spark a visit to Spain!
Visit If you enjoy: human rights and history.
Price: $16/person
Address: 300 N. Houston St Dallas, Texas 75202
Visit If you enjoy: international art, contemporary art, Africa art, sacred objects, and everything in between.
Price: FREE
Address: 1717 N Harwood St, Dallas, TX 75201
Visit If you enjoy: unusual and quirky art, sculpture, local artists, and art that makes you think.
Price: $10/person
Address: 2001 Flora Street Dallas, Texas 75201
Visit If you enjoy: space, animals, biology, engineering, and prehistoric animals.
Price: $13-20/person
Address: 2201 N Field St, Dallas, TX 75201
Lunch at Spiral Diner
After spending your morning reminiscing in the 60s, there is no better place to fill your stomach up than Spiral Diner & Bakery.
Spiral Diner is a 100% plant-based eatery, but don't let that steer you away from this place.
The outside and inside of the diner give you that back-in-time vibe with the checkered floors and classic leather booth seats and the food is next level, timeless, and tasty.
The menu is chocked full of some of the best diner eats in Dallas, especially their nachos, and you have a wide variety of full-on greasy, fried, battered, and southern style goodness on the menu. Trust me. You won't even know or believe that it's vegan.
The lumberjack is a great way to go if you happen to stop in during their breakfast hours, but if not, Hell's Half Acre Plate is destined to give you that southern BBQ that you've been craving after being in the south.
The Margaret Hunt Hill Bridge
After you're finished up at Spiral Diner, it's time to get the official Dallas welcome at the Margaret Hunt Hill Bridge.
The bridge is like the metaphorical gateway to downtown, and there is a small walking area that leads in and out of the heart of the city.
This area is one of the more iconic places to get your picture taken in Dallas, and the architecture of the bridge mixed with the Dallas skyline is an excellent opportunity for a photo-op.
Giant Eyeball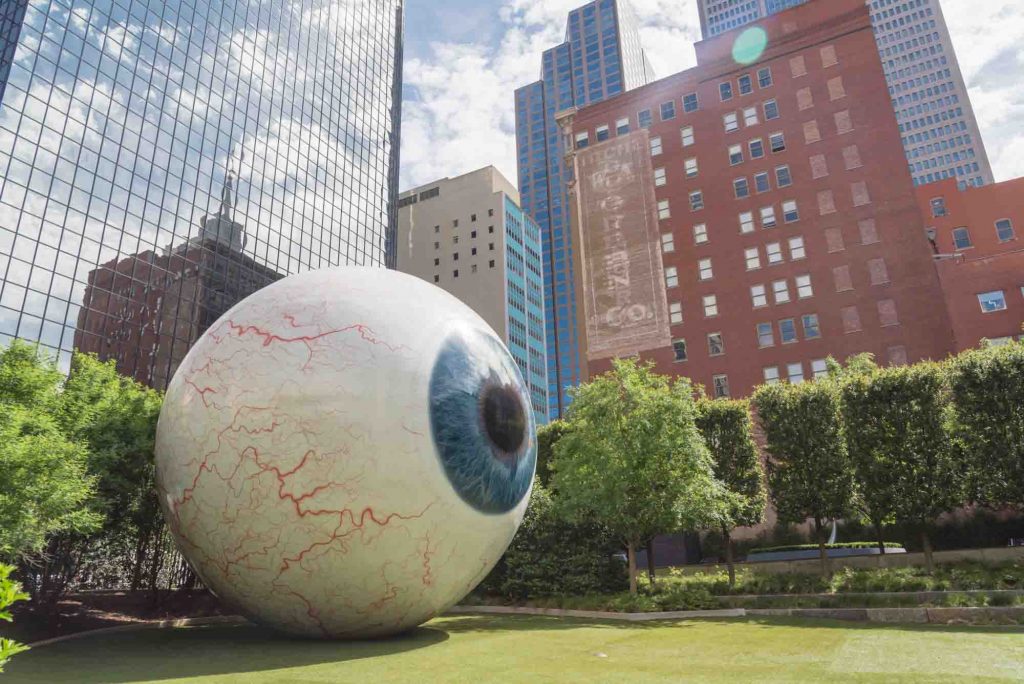 For the morning and afternoon you explored the business, luxe, and formal part of Dallas, so now it is time to spend the second half of your day on the weirder side of the city, starting with the giant eyeball sculpture in the heart of downtown.
Tony Tasset created it in 2007, modeled after his ocean blue eyes, and after being transported to other major cities, Dallas is its permanent home.
You are going to have no trouble finding this art piece since it is a thirty-foot blue eyeball. It's massive, detailed, and one of those random city features that make Dallas its unique place.
*Wandering + Shopping in Deep Ellum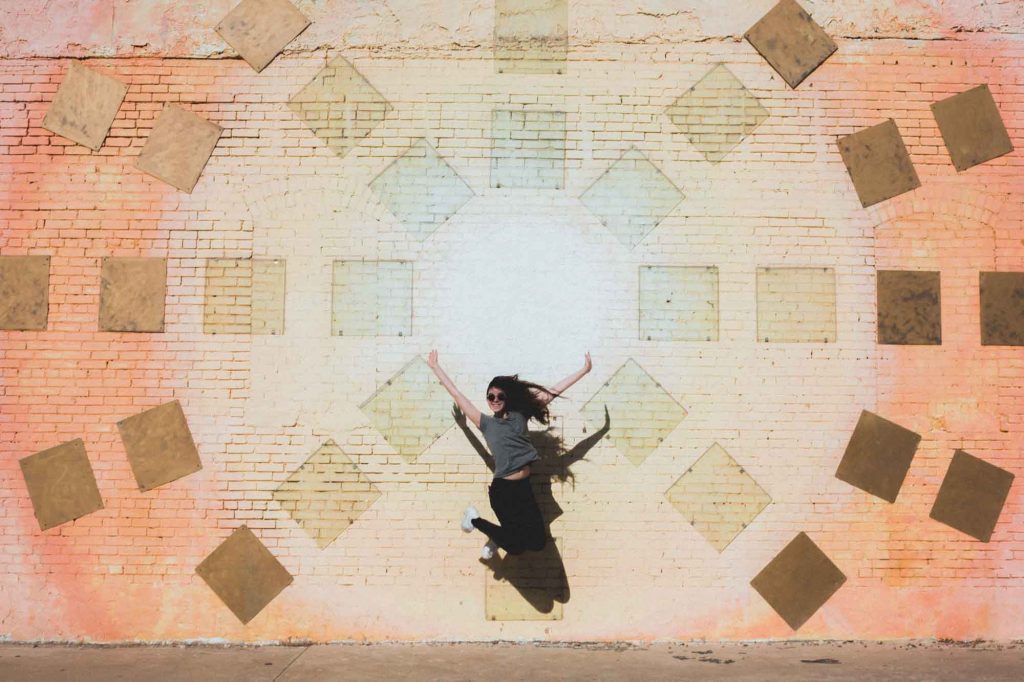 You can't leave the city without doing a bit of shopping in Deep Ellum.
Most of the time when you think of shopping you think about the same old stores selling the same things with different additions to them, etc., but in Deep Ellum, you're never going to see the same thing twice.
Shopping in Deep Ellum is equivalent to a type of treasure hunt among the quirky and vintage stores lining the streets.
Some spots you don't want to miss are the Dallas Pin-Up, Deep Vellum Books, Jade & Clover, Life Of Riley, and Flea Style.
Photograph Dallas Street Art Scene
What to do in Dallas in one day? A lot! But besides eating, roaming, and learning, you can also take cool shots (or selfies) throughout the Deep Ellum.
Deep Ellum is the number one spot to see the best street art in Dallas. There are murals, literally, around every corner in Deep Ellum, and they are all on the map that you can download at the top of this blog post.
The murals are quite large, so they're hard to miss. Also, you can find so many more than those listed, but these are some of the best Dallas murals.
If you're traveling solo, taking decent photos with the murals will be a bit challenging, but hey, nothing is impossible. This is one of the biggest solo travelers' struggles, but with a little creativity, you can manage it.
If you want to go on a fun hunt, check out our complete article + map about Dallas street art that has most of the known murals in Deep Ellum.
Dinner at Pizza Lounge
As your day in Dallas comes to a close, you will be waving farewell to the city at the one and only Pizza Lounge.
I hope your appetite is ready because the pizzas here are next level and they have the best tasting and variety of pizzas in all of Dallas.
You can quickly build your pizza, yo pie yo picks, or you can choose from many of their specialty pizzas like the wild calabrese or the sofa king, two iconic picks on the menu.
It's one of the best places to get pizza in Dallas, so make sure you come prepared to down a slice or three and make room for some dessert!
However, if you want to add a fancy flair to your dining experience, you might want to check out these rooftop restaurants in Dallas!
Up for some drinks? Then these rooftop bars are perfect for you!
Other Things to Do in Dallas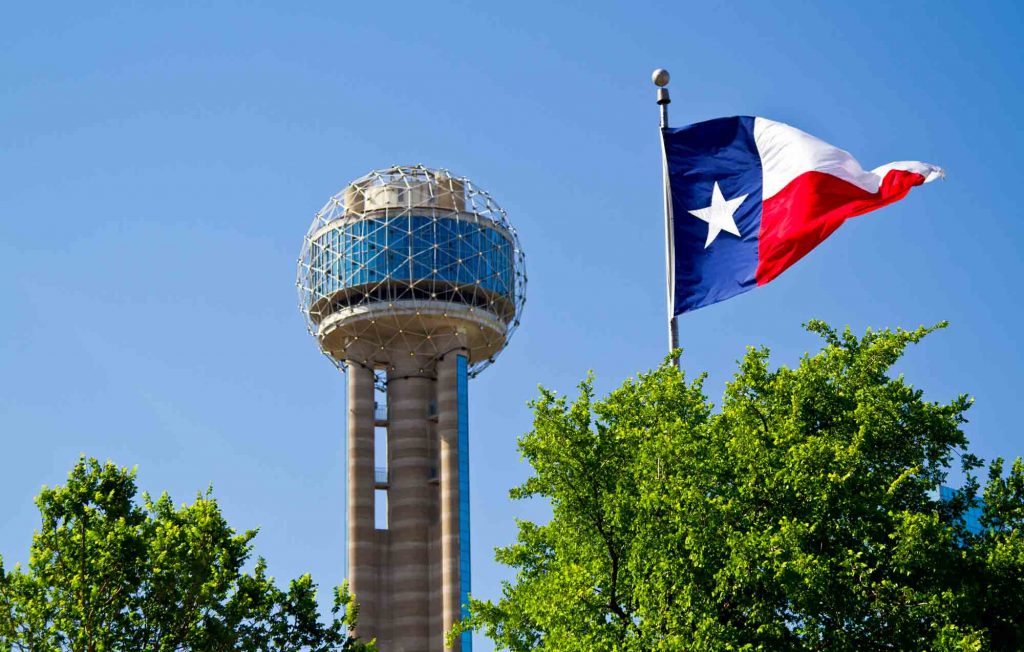 Visit the Gravesites of the Dynamic Duo, Bonnie & Clyde
If the name Clyde Barrow doesn't ring a bell, maybe the dynamic duo known as Bonnie and Clyde will… They were historic outlaws that robbed banks and committed murder around the 1930s.
Their felonies and shenanigans captured the attention all across the United States, and they made newspaper headlines for four years and committed over 100 crimes.
To put it in simple terms, they're one of the US's most iconic dynamic duos.
Clyde's gravesite is right in the area where we will be exploring today, but if you want to make the trip out to see Bonnie, it's about a fifteen-minute drive to Northwest Dallas to see her gravesite.
Snap a Pic at the Dallas Bowler Hat
What was going to be a British Furniture Store has turned into a giant bowler hat sculpture in a grassy lot.
The furniture store didn't pass the display codes of the city, and it never opened, so the hat is now perched on a gigantic coat rack as if someone came home from a long day at work.
So, of course, you need to go snap a photo with it. Only in Dallas, you see this kind of quirkiness.
Roam the Old Red Museum of Dallas
If there is one place to get to know the deep, rich history of Dallas, this is your spot. The Old Red Museum was initially a courthouse in 1892 but has since been restored to tell the story of how Dallas became the hotspot it is today.
The building alone is enough to draw you to it as it is a very ornate building among the modern buildings in Downtown Dallas.
You'll see it and stop in your tracks looking at the details and the looming gargoyle among the castle-like towers.
A day ticket is only $10/person, and you can purchase them when you arrive; no need to buy them in advance.
The notable things you don't want to miss are the handcuffs of Harvey Lee Oswald, the man who killed JFK, and Clyde Barrows gun that he used in many of his shenanigans with Bonnie.
Read next: 27 Summer Vacations in America
Roam the Bishop Arts District
The Bishop Arts District is similar to that of an old-school, small-town feel.
A lot of the shops here are locally owned, and they all open around 11 am, it does vary, so make sure you don't get there too early in the morning since you won't really be able to go inside anywhere.
There are over sixty different shops, pubs, and cafes in Bishop Arts, all with a unique twist to them. The area is also still being built up, so you'll see up and coming or brand new shop fronts opening soon around the city.
There are plenty of places to eat here as well, so if your appetite is lingering, stop into one of the many excellent international restaurants that are here: they seriously have it all, even an entire restaurant dedicated to the grilled cheese sandwich.
The Wild Detectives
What looks like a regular old house on the street is actually a small coffeehouse and bookshop with hundreds of new, international, local, and poetry books.
These books will take you to another place in time once you find a comfortable spot out back in their vintage yard or inside on one of their window cushions.
The Wild Detectives has freshly printed books, so you won't find any used or vintage ones, but you might find a new favorite by a local author.
Red Pegasus Comics
What started as a two-month pop-up shop is known as Red Pegasus Comics, one of the best comic shops in Dallas that you can live out all your childhood dreams.
They've got Spiderman, Batman, Superman, Catwoman, Manga, X-Men, and hundreds of other superheroes you may have never even heard of.
It's a great place to get lost in for a few hours and leave with something special.
DIRT
If you want a unique souvenir to bring back home, the DIRT plant shop has the most aesthetically pleasing storefront and products that match a rustic, boho succulent vibe.
They have stunning floral arrangements and handmade goods to browse through, and this is one of the most unique shops in all of the Bishop Arts.
Dude, Sweet
If you have a sweet tooth, stop into Dude, Sweet for handmade, artisan chocolate made right here in Dallas.
The owner, Katherine, is a chocolate wizard, and you must try out the holiday in Cambodia bar, truly chocolate granola, and the chocolate "salami."
Harkensback
Harkensback is a boutique that keeps sustainability in the heart of their shop with a moody, cool seventies atmospheric vibe they describe as urban noir.
They have an eclectic mix of apparel, accessories, and the cutest jewelry (especially their rings and necklaces).
Emporium Pies
Emporium Pies has great, Texas-sized slices of pie for sale. What more could you possibly want?
Stop in for a slice of their 'drunken nut' or 'lord of the pies' flavors. You'll more than likely end up buying a full-size pie or extra slice to take home with you.
Vegan Food House
Another excellent restaurant to visit in your one day in Dallas is the Vegan Food House in the Bishop Arts District.
They serve light meals, but also a mouth-watering buffalo mac n' cheese. On the lighter side of things, the blackened 'shrimp' tacos are a perfect mix of southern style shrimp but well balanced with the fresh toppings: cajun coleslaw, pico de gallo, and creole ranch.
Enjoy a Movie at the Texas Theater or live music at the Kessler Theater
One of the most historic places you could include in your Dallas itinerary is the Texas Theater.
It may not sound significant and seem like a regular old theater, but this was the place where Lee Harvey Oswald was arrested for the assassination of President John F. Kennedy.
Enjoy an old classic in this theater and browse their calendar for the up and coming shows playing.
If you're not big into movies, but you love some live music, the Kessler Theater features local bands and artists and is named the best live music venue in Dallas.
You can view up and coming performances and purchase tickets for an artist that piques your interest on their homepage.
One day in Dallas Itinerary Summary
Wrapping up on One Day in Dallas Texas
One day in Dallas is far from enough to feel the local atmosphere, but you can enjoy it at least a little bit and hopefully will come back to see the rest.
Naturally, to see Dallas in a day you need to rush often and spend little time in places you'd like to know better.
It's not a secret that there are tons of exciting things to do in Dallas, after all, the city is massive. But if you get the chance, come back for more. You'll love it.
Beyond that, if you're traveling around the USA and wanna go on a road trip from Dallas or on a relaxing weekend getaway from Dallas, you might want to read these posts!
We have also written about the best state parks near Dallas as well as the incredible national parks in Texas.
In case you have questions about spending a day in Dallas, drop us a comment below. We'd love to hear from you!
Author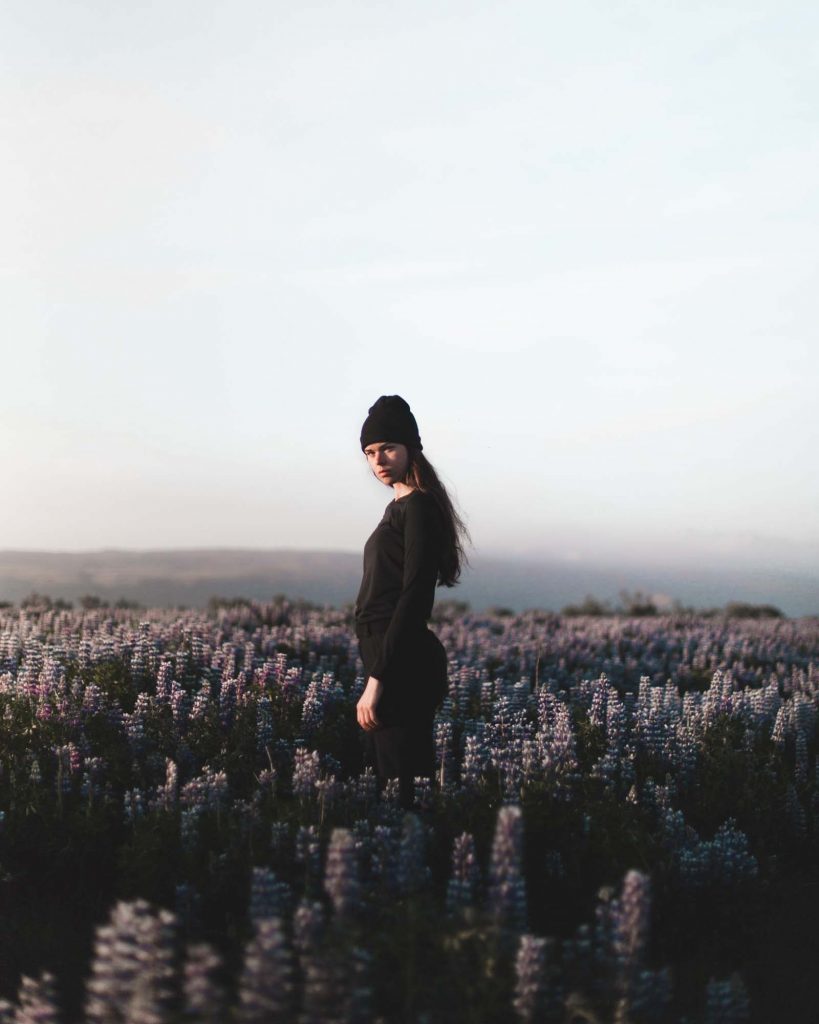 Hey, you there! Nice to meet you! I'm Aaren, born and raised in a small midwest town in Missouri, but Dallas is my second home.
I'm a travel and photography enthusiast, but above all, I'm an explorer of this world. And a foodie, of course. Vegan, please.
Besides wandering the globe, I inspire others through my stories and blog, What Do You Sea, to make their own adventures, to travel responsibly, and to experience all of the offbeat paths of unique and fantastic countries.
At What Do You Sea, you'll discover comprehensive and thorough itineraries of unique and offbeat destinations, excellent photography, solo female travel guides, outdoor travel, and all things sustainability.
Be sure to follow Aaren' journey on social media too. These are her Facebook, Twitter, Pinterest, and Instagram.
Did you like this article about things to do in Dallas in one day? Then pin it to your Pinterest travel board!