If you're headed down south but you're not sure which accommodation is best in the beautiful Big D, we've got you covered with this comprehensive list on where to stay in Dallas.
From a quirky Downtown arts district to its sleek, urban Uptown, this Texas city has no shortage of hotels, VRBOs, and hostels to fit any budget. Without some help, though, it can get a little overwhelming.
So we have suggestions for first-time visitors, families, and those who want to get down with some Dallas nightlife.
Choosing the right location in this spread-out city ensures you'll be in the best position to enjoy everything Dallas has to offer.
Keep reading to find the Dallas dwelling that will help you make the most of your vacation!
Are you looking for an itinerary that packs all of the city's unmissable sights and local hangouts into just a few days?
Check out our breakdown of a perfect weekend in Dallas, which includes tips on the best time to visit, how to get around the city, and so much more.
Best Places to Stay in Dallas
In a hurry? Then read about the best accommodation in Dallas below. However, for detailed information, you will need to scroll further in the article.
Downtown
First time visitors
Downtown is right in the middle of the action. Here you'll be surrounded by some of the city's biggest attractions, and most of them are an easy walk away.
Deep Ellum
Nightlife
The electic arts and music hub of Dallas is where you'll want to stay if you're on a budget or if you're looking for the incredible nightlife of Dallas!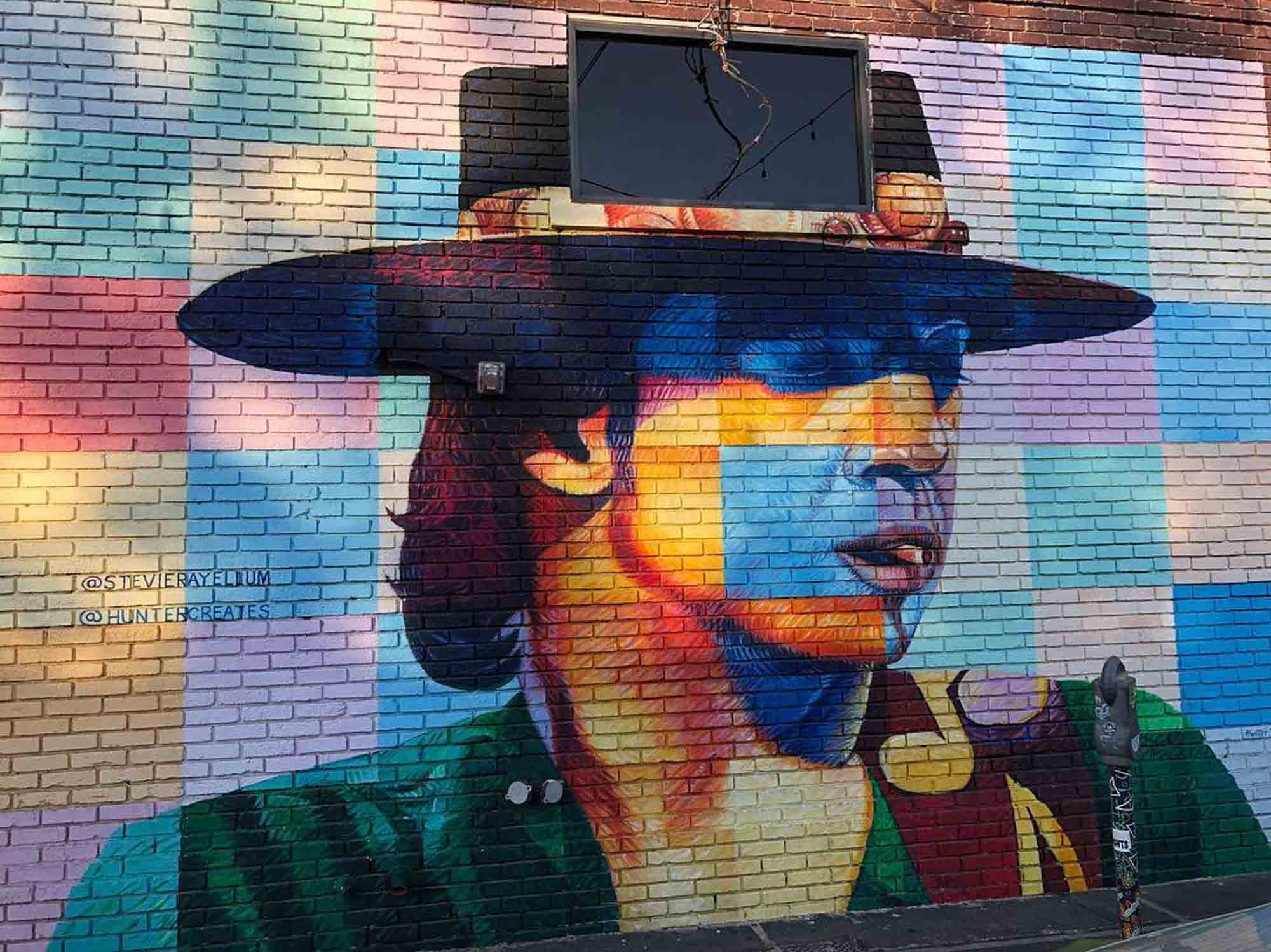 Deep Ellum
Budget
Deep Ellum is not only a lively spot, but it is also where you can find great accommodation without breaking the bank!
Uptown
Families
Want a nice balance between sightseeing and more leisurely activities? Then Uptown is perfect for you and your family! This lovely area is very safe and has enjoyable parks too!
Uptown
Couples
If you want to discover Dallas with your significant other and have a more intimate, local experience, Uptown is where you'll want to stay! Besides, Uptown is packed with incredible shopping districts!
Editors' picks: Where to Stay in Dallas
Here are our picks for the overall best hotel, Vrbos, and hostel in Dallas–
This might just be the best hotel in Dallas if you're looking to explore the city on foot. Many of the top museums, sightseeing spots, and delectable dining destinations are just around the corner.
With its range of amenities and free breakfast to boot, the Hyatt Regency is the comfortable stay you'll need after so much walking.
On afternoons when you need some rest, you can still take in the city views from your hotel's windows overlooking the stunning skyline.
Since Dallas has so much history, you might as well live in some of it!
This gorgeous apartment building has maintained much of its original style, transporting you straight back to the city's earlier days.
Public transportation stops are close by, and some attractions, like the iconic Reunion Tower and the Dallas Farmers Market, are within walking distance from this Dallas Vrbo.
With a low price tag and flawless style, this hostel will maximize your stay in Dallas without breaking the bank.
It's right in the heart of Deep Ellum, so you can enjoy the neighborhood's restaurant and bar scene until the early hours of the morning before crashing in your cozy bunk bed.
Plus, the social environment means you can meet all your bar-hopping buddies from the comfort of your new Dallas home.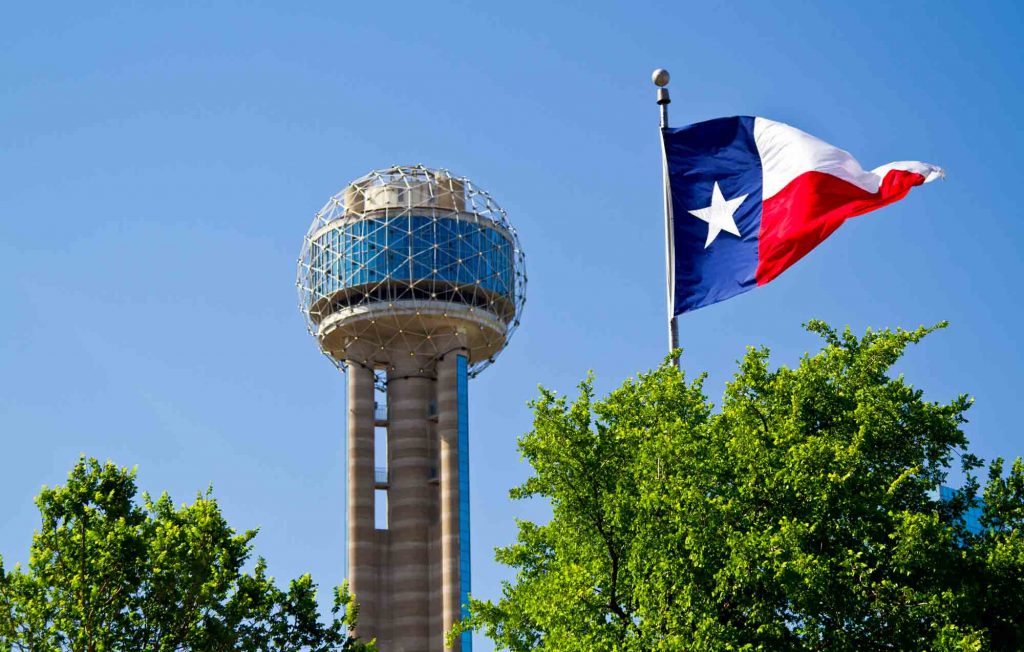 Dallas Neighborhood Guide
Here are the best neighborhoods to stay in Dallas for a fantastic trip–
Downtown
Dallas has plenty of history, and Downtown is the point of access to all the best museums, galleries, and architectural districts.
With so much culture, it's no wonder that Downtown is one of the best places to stay in Dallas.
Spend a day wandering around this area, and you'll be transported back to the building boom of the 1970s and 1980s when the city's modern skyline came to life at the hands of renowned American architects.
One tourist favorite is the West End district, which is full of gorgeous, century-old red brick buildings that have since been updated and turned into cozy cafés or boutique shops.
Deep Ellum
Known as Dallas' eclectic arts and music hub, Deep Ellum is the ideal base for any traveler looking to explore the cooler side of this big city.
The area is relatively compact, so the best way to explore is by bicycle or on foot.
That way, you won't miss the stunning graffiti and murals that decorate random walls throughout the neighborhood.
Deep Ellum is also home to some of the city's trendiest foodie destinations, offering up everything from groundbreaking Tex-Mex to delicious down-home barbecue.
Uptown
This refined, urban environment is an elevated Dallas experience, suitable for families or visitors that hope to split their time between sightseeing and more leisurely activities.
For this reason, Uptown is one of the best areas to stay in Dallas, not only for families but also for couples.
With its quaint, tree-lined streets, modern shopping districts, and sprawling parks, Uptown may be a hop away from the more attraction-packed neighborhoods. Still, it offers up a world of comfort in exchange.
You'll feel just like a real Dallas resident, and local hotspots like Bread Winners Café and Bakery will keep you well-fed in style.
Best Areas to Stay in Dallas
Here are the top hostels, Vrbo, and hotels in Dallas divided by neighborhood.
Downtown for First-Time Visitors
Since this is your first time in Dallas, you'll want to pick a place right in the middle of the action. The Hyatt Regency is surrounded by some of the city's biggest attractions.
Wondering where to stay in Dallas without a car? Here's your best bet!
The Sixth Floor Museum at Dealey Plaza and the John F. Kennedy Memorial Plaza are both right next door, and an easy 10-minute walk will get you to the Dallas City Hall.
Most Texans swear by their car to get them around, so a home base that lets you explore the city on foot is ideal for the ultimate sightseeing experience.
Because the Hyatt Regency is in the heart of the city, it's surrounded by some of the best food Dallas has to offer.
Try Dick's Last Resort, a rowdy Southern-style restaurant where the food is served up with a hearty side of sarcasm from the wait staff, for an entertaining dining experience.
If you can't get enough of deep-fried comfort dishes, hit Gator's Dallas the next night for a wide range of delicious Texas treats like crawfish nachos, Cajun combos, and of course, some fried gator bites.
Beloved Dallas institution, Ellen's, is also close by, a traditional Southern diner with all-day breakfast. What more could you ask for?
As for the hotel itself, you can look forward to spacious rooms, gorgeous views of downtown Dallas, and numerous on-site dining options.
The Hyatt Regency is highly rated for its fitness center, which is open 24 hours a day and includes an outdoor swimming pool to beat the Dallas heat!
All in all, there's no better location for seeing most of the city at your own pace.
Plus, a standard room with two queen beds and breakfast included will cost you only $185, a total steal for this neighborhood.
If you prefer Airbnbs and VRBOs over hotels, this gorgeous one-bedroom apartment is the way to go.
Located in the Main Street district, it gives visitors easy access to popular tourist destinations like the Dallas Farmers Market, a 26,000 square foot hub full of incredible artisanal food and crafts offered up by local vendors.
The market is a super trendy spot for locals and tourists alike, so be sure to check it out.
This apartment is also walking distance from Dallas' iconic Reunion Tower, and the Majestic Theatre, a gorgeous venue that has been showcasing live entertainment–including concerts, dance performances, comedy shows, and more–since 1921.
Don't worry if you don't want to rent a car. Public transportation options like the city light rail and bus line are just a few blocks from the apartment, making it easy to get around Dallas' different neighborhoods.
Of course, it may be hard to leave your new digs, since this historic building has its original maple floors, concrete ceilings, and exposed brick walls.
The old industrial charm has been updated with stainless steel appliances and a fully equipped kitchen. You can cook your own meals if you're on a budget.
For extra convenience and comfort, the complex also comes with free WiFi, a washer/dryer, and an on-site fitness center and pool.
Deep Ellum for Nightlife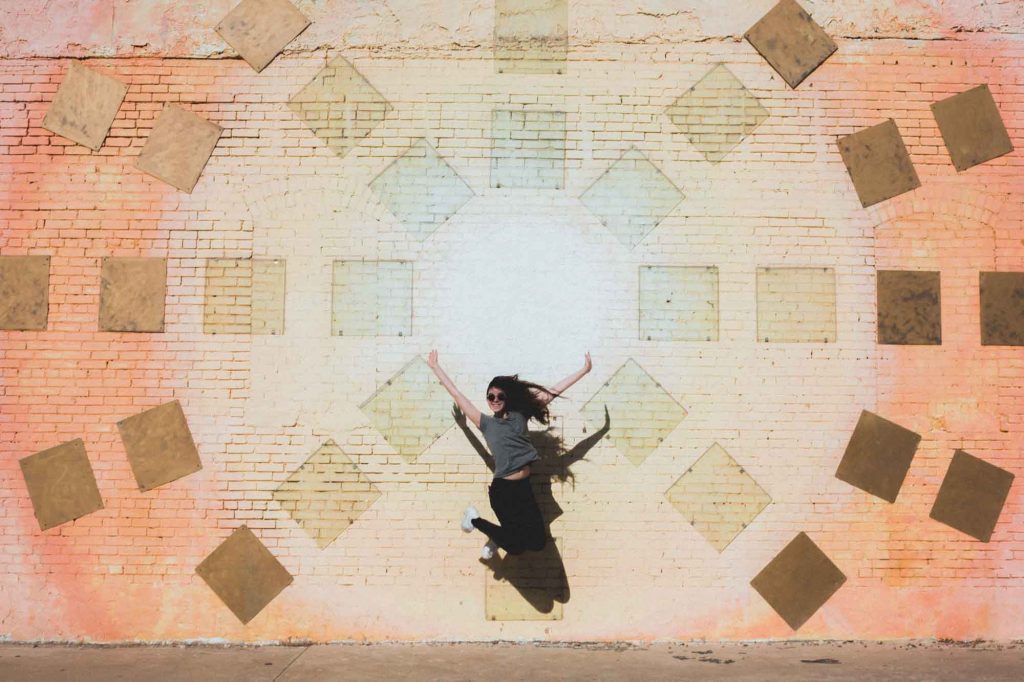 Best Hotel in Deep Ellum for Nightlife: Hotel Indigo Dallas
This hotel is definitely a Dallas experience, boasting bold, modern rooms housed within a stunning historic red brick building.
Sandwiched between two must-see neighborhoods, Downtown and Deep Ellum, the city access couldn't get more convenient at this location, and you won't have to worry about renting a car like many other Dallas visitors.
The hotel offers free shuttle service within a 3-mile radius, which will get you to a wide range of attractions from the John F. Kennedy Museum to Victory Plaza to the Dallas Museum of Art.
If you prefer public transportation, bus and train stations are within a 10-minute walk.
You can even walk to sites like the AT&T Performing Arts Center and Klyde Warren Park.
Indigo is the ideal spot if you have limited time in the city, and you can check out our one-day in Dallas itinerary to make sure you catch everything!
Typically, tourists prefer to explore local restaurants rather than eating at their hotel. Still, Indigo's on-site dining is hugely popular.
Titches Bar and Bistro serves up stellar Southern cuisine, craft cocktails, and local Texas wines.
Perhaps the best part of this hotel is its prices; you can snag a queen room for only $92 a night.
Best VRBO in Deep Ellum for Nightlife: Luxury Condo
This quirky loft apartment is the embodiment of Texas and Deep Ellum's atmosphere, with its unique, airy style.
There are a fully equipped kitchen and a washer, but the best thing about this place is definitely the access to restaurants and bars.
Located near some prime party streets, you won't have an early bedtime while staying here.
Punch Bowl Social, The Nines Bar, and Bottled Blonde Nightclub are all a short walk or scooter ride away, which makes getting home after a long night that much less of a hassle.
Even better, the apartment is only minutes away from Vidorra, Deep Ellum's hottest late-night dining spot. Apparently, this Mexican restaurant has the best queso and cocktails in the area. It's the perfect way to wrap up a Dallas party.
If you're wondering where to stay in Dallas for nightlife, without breaking the bank, you're going to love this spot!
Because when you step inside this ultra-stylish space, you'll hardly be able to believe it's a hostel.
A bunk bed, each equipped with its own light, fan, outlet, and locker, will run you only $31 a night. Plus, you can utilize a shared kitchen to make your own meals.
Of course, you may not opt for that choice, since Deep Ellum is home to some of the best of Dallas' foodie destinations.
Deep Ellum is a hipster neighborhood that holds the best of the city's quirky, up and coming art scene.
From the hostel, you can easily stroll around on foot and stumble across some of the famous Dallas murals that decorate the district's walls. Make sure to bring your camera!
Even though Deep Ellum is the center of Dallas nightlife, packed with performance halls and award-winning breweries, the hostel offers its own on-site bar and restaurant where you can start your night with craft cocktails and a delicious menu serving up almost everything for under $10.
Grab a complimentary map of the area when you arrive at the hostel, so you can not miss any of the hotspots.
Even without the map, it would be hard to do so. Dada, Trees, The Bomb Factory, and other iconic live music venues are practically right at the hostel's doorstep.
Deep Ellum on a Budget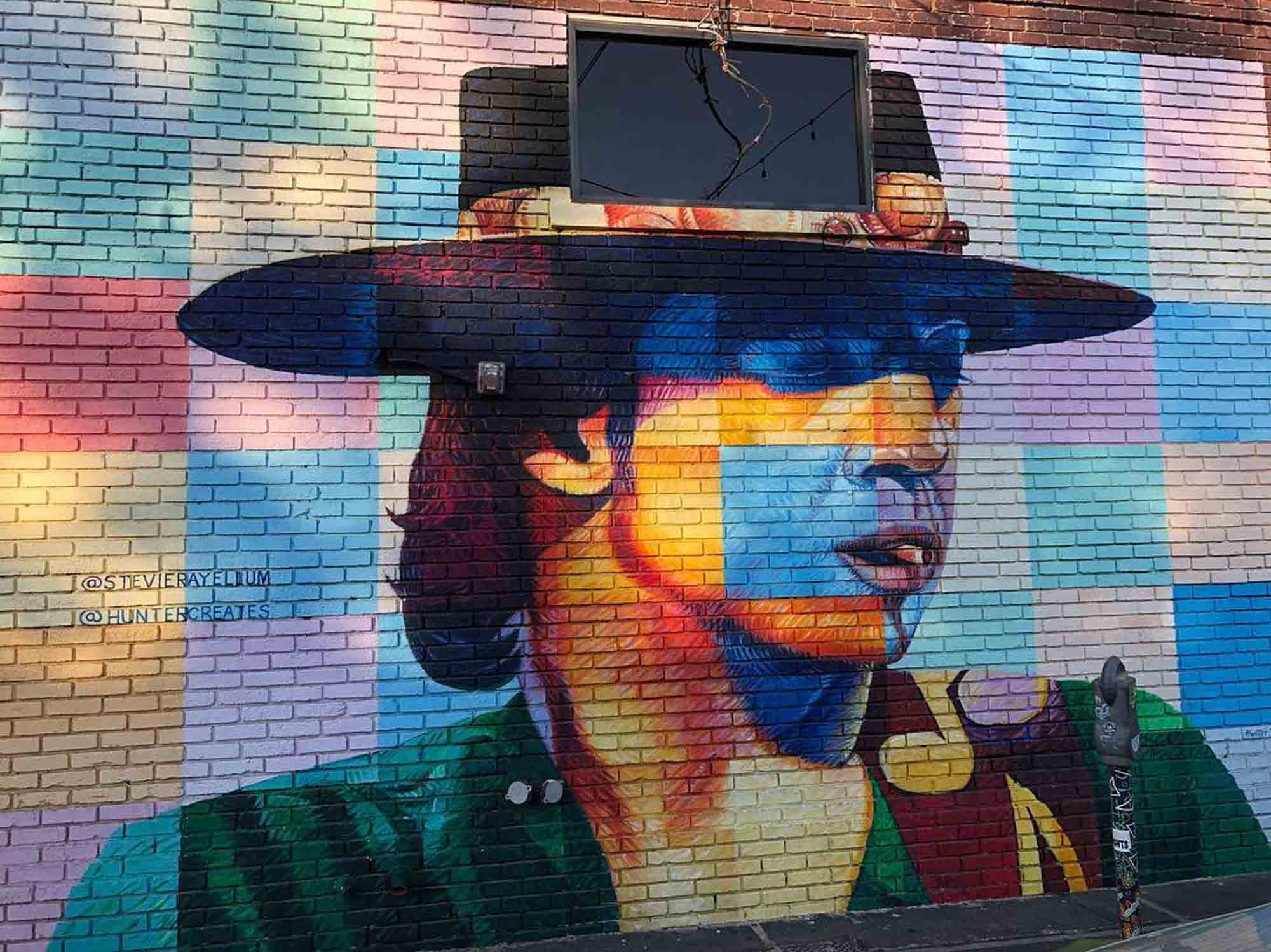 This hotel is cozy and convenient, offering up affordable rooms, a continental breakfast, and easy walking access to many tourist hotspots.
Its location between Downtown and Deep Ellum means you can get your fill of museums and history on one side, and arts and culture on the other.
Even better, shuttle service is free to destinations within 3 miles of the hotel, so you won't have to worry about getting around.
The shuttle runs to the heart of Deep Ellum, where you'll find an almost overwhelming number of lively foodie destinations and enough art and live music to satisfy even the most culture-hungry travelers.
For anyone that's looking to get work done while on the go, the Fairfield Inn & Suites are within minutes of the Kay Bailey Hutchison Convention Center as well as Dallas' Downtown Business District, home to some of the city's largest corporations.
For those in holiday mode, the hotel has an outdoor pool that practically begs you to lounge around and beat the Texas heat.
It even includes a charming patio and picnic space equipped with grills if you want to try your hand at homemade Southern barbecue.
Visitors come to Deep Ellum for the art, and this apartment might as well be on display. The custom-built loft boasts concrete floors, high ceilings, and a compact but equipped stainless steel kitchen.
All the pieces decorating the walls are original, so it's like living in your own personal gallery. You can also head to the roof for beautiful views of Downtown Dallas.
Within the building, guests will also have access to a free coworking space, so this spot is especially useful for business travelers looking to network.
Even if you come just for leisure, the accessibility to the Deep Ellum arts scene makes this space a steal.
Located in the heart of the ultra-trendy warehouse district, it's just minutes away from countless bars, live music venues, art galleries, and mural-filled walking streets.
There is a light rail station just four blocks from the apartment, and Uber and Lyft rides are always easy to snag for farther trips.
Uptown for Family
This family-friendly option is only a quarter-mile from the American Airlines Center, so it's the perfect place to stay in town for an event.
The Hyatt House feels like a home away from home, and it's thoughtfully designed for extended stays.
A king studio is only $130, which comes with plenty of space for the family. There are separate work and living areas as well as a kitchenette to make your own meals. Plus, furry friends are allowed to tag along!
The hotel also offers a fitness center, an outdoor pool, free breakfast, and a bar if parents want to sneak away once the kids are asleep.
This option is close to Dallas' historic West End district, which is full of educational opportunities and makes for a lovely do-it-yourself walking tour.
You'll get a glimpse into late 19th century Dallas, with charming red brick buildings and industrial architecture.
While you're in the area, be sure to check out the sites commemorating John F. Kennedy, or take a walk through the Dallas Holocaust Museum if you have older children.
This neighborhood also holds some of the city's best down-home cooking, so swing by a steakhouse or two and enjoy delicious dining for the whole family.
Centered in one of the safest and most sought-after neighborhoods in Dallas, this stylish apartment is bright, airy, and spacious enough to accommodate families with ease.
It can sleep up to four, and a fully equipped kitchen means making meals at home for pickier eaters is a breeze.
When the parents need to get away, Uptown's many shopping and dining hotspots are just minutes away on foot.
In fact, guests have praised the area for its walkability. Any sightseeing a little farther out can quickly be done by bike. Meanwhile, for the little ones, the building comes with pool access.
Some of the surrounding neighborhoods are also among Dallas' trendiest, with the Arts District and the Design District right next door.
If you're looking for a stress-free spot from which to explore Dallas' more stylish side and its lovely green spaces with the whole crew, it doesn't get better than this.
Uptown for Couples
Get a feel for true Texas luxury at this 5-star hotel near some of Dallas' best cultural destinations.
The Dallas Museum of Art, Crow Collection of Asian Art, and Nasher Sculpture Center are within walking distance. For music, the stunning Morton H. Meyerson Symphony Center is less than a half-mile away.
And the list goes on. One of the city's most popular attractions, the Perot Museum of Nature and Science, is also just a short jaunt away.
However, it may be a little difficult to even tear yourself away from the hotel. The building features an outdoor swimming pool, indoor and outdoor dining with a range of international dishes, and some serious pampering options.
In fact, the hotel spa made our list of most romantic things to do in Dallas!
When you get a little tired of sightseeing, they offer an array of scrubs, massages, and relaxation lounges to get you refreshed and ready to walk around again.
Like Dean's Margarita Salt Glow, their signature treatments are a nod to all things Texas, so it still counts as a tourist activity. You can even book a private room for you and your special someone to up the romance.
This apartment's location is hard to beat. You'll get easy access to the Dallas Arts District, full of the city's best boutiques, world-class restaurants, and beautiful walking spaces.
Klyde Warren Park, which is perfect for a romantic evening spent dining on Dallas' most delicious food truck cuisine, is only two blocks away from the apartment.
The sprawling green space is also a lovely spot to watch the city lights after the sunsets. Bring a blanket and hang out for a while; chances are, you'll catch one of the free live music events or movie nights that the park holds regularly.
If you want to explore other parts of Dallas, a bus stop is conveniently located one block over from the apartment.
As for the space itself, visitors will enjoy a sun-soaked, fully equipped kitchen and a balcony overlooking the city.
Free parking is provided in a garage under the building, saving you the hassle of finding a spot, which can be notoriously tricky in Dallas. The complex also has a washer and dryer on-site for extra convenience.
Wrapping up on The Best Hotels in Dallas
We know it must be hard for you to choose where to stay in Dallas with so many great options. Every hotel and VRBO on our list is unique because every traveler is different.
Think about what caught your eye the most. Was it this industrial-style VRBO, this stylish hostel, or maybe this hotel right in the heart of the city?
No matter where you choose to stay in when visiting Dallas, we are sure you will make fantastic memories!
Did you like this guide on where to stay in Dallas? Then share it with a friend who might like it too!