Are you longing for an incredibly romantic cabin in Texas? We know that when you first think about Texas, you might not associate this state with romance, roses, or candle-light dinners.
Here is where you are wrong!
We have crafted a list of 13 of the most romantic cabins in Texas for you and your loved one. These places ooze with so much charm; you will probably never want to leave.
Just take a 5-minute break from whatever you are doing. Let us guide you through our selection of the most romantic cabins in Texas for a unique lodging experience.
Editors' Picks: The Most Romantic Cabins in Texas
This is our selection of charming getaway cabins for you to stay in the next time you find yourself in Texas.
1. Unique cabin with an outdoor hot tub in Texas
This secluded cabin is located just outside of Wimberley, nestled in the woods, and is surrounded by acres of nature.
This might be the most romantic cabin rental in Texas, and you will see why!
The rustic decoration will make you feel as if you were in a romantic movie. It has a beautiful decoration, hardwood floors, exposed wood beams, a king-size bed, and an oversized walk-in shower.
You and your significant other can go for an easy hike in the nature surrounding this cabin and enjoy the sunset in a romantic walk.
Did we mention there is an outdoor shower? And while it doesn't have a private pool, this wonderful cabin has an outdoor hot tub!
In fact, this is one of the best cabins with hot tubs in Texas!
This is one of those places that will allow you to truly find yourself and create a stronger bond with your loved one, we promise!
2. Beautiful treehouse cabin in a rural area
This unique rental is straight out of a fairy-tale! It is located between New Braunfels and Canyon Lake, in the Texas Hill Country.
If you want to escape your life and feel renewed, this unique lodging is the right place for you and your significant other!
It has WiFi, a TV, a private deck, and a walk-in shower. On top of that, this Texas treehouse is attached to the large hardwood trees that run along a seasonal creek.
The treehouse cabin is accessible by a wooden boardwalk, and the loft upstairs is accessible through a narrow but charming spiral staircase.
The interior of this beautiful property is cozy and homey. There is a beautiful balcony with a sitting area that gives you a unique view of the majestic forest.
The Bird Cabin is one of the best honeymoon cabins if you ask us!
3. Romantic cabin rental in the woods
If you're looking to slow things down a bit, you'll definitely love this cabin.
It is located near Tyler, Texas, in a complex with a pond and walking trails as well as a cookhouse for all cabin guests to use.
This guest house comes with a grill and a fire pit, not to mention the 16 acres of private wooded trails for you to enjoy.
The star of the show is the indoor patio with a stunning view of those East Texas pines.
The interior is a perfect combination of vintage style with modern touches. Every detail screams "rustic elegance"!
Spend the mornings in the comfortable king-sized bed before enjoying a game of checkers on the patio. The afternoons are for exploring the trails and the three lakes nearby, where you can also fish.
It's a dreamy getaway, isn't it!
4. Getaway cabin with a boat dock
This romantic cabin near lake Granbury is all you need for a peaceful stay.
It's perfect for a romantic getaway and a relaxing overnight stay.
Take in the beauty of Lake Granbury from your suite or enjoy the deck views with your significant other.
Even more, the lake, lawn, and large patio are the perfect spots for outdoor activities such as kayaking, fishing, picnics, games, grilling, and more. Curl up by the outdoor fireplace with your partner and relax to the sound of nature.
The inside of the cabin is cute, comfortable, and just big enough for a couple. While many can see it as a downside, see it as an opportunity to create a stronger bond with your loved one.
5. Secluded cabin on a farm
If you are not scared of the idea of farm life, you will love this little romantic cabin in Waco.
This lovely place is situated right in the middle of a small farm with roaming cows, horses, donkeys, livestock guardian dogs, chickens, roosters, ducks, and goats.
What's more, you will get the chance to collect your own eggs, which makes for a once-in-a-lifetime breakfast.
Since there is a small working homestead on the property, you can also purchase fresh cow milk, cheese, and yogurt!
The interior of the tiny home is rustic, homey, and full of cute little decorations. There is a king-sized bed that has a memory foam mattress with 650 thread count Egyptian cotton sheets.
The rental has a charming, covered porch with outdoor dining and lovely string lights that add a romantic feel. Besides, the lovely covered deck is a beautiful spot for sunsets and memorable dinners.
6. Country-style cabin with two hot tubs
Located outside of Fredericksburg, this rental will make you feel like you are in your grandma's house, but in an extremely good way!
The interior is exceptionally homey and rustic. There is a king-sized bed, an indoor fireplace, a spacious porch with two rocking chairs, and a lack of Wi-Fi.
What makes this cabin a romantic treat for you and your significant other?
There is not one but two hot tubs for both of you to enjoy! One of them is a whirlpool tub for two in the bathroom, and the other is outside on the porch.
What's better than enjoying a warm bath with your loved one under the starry night sky? Nothing, right?
Besides, you can go wine tasting in one of the great wineries in town. Further out, we have a complete guide on the most romantic cabins in Fredericksburg.
7. Luxurious honeymoon cabin in Texas
If we were planning a low-cost honeymoon, we would definitely spend it in this romantic cabin near Wills Point (only 40 minutes from Dallas).
The home cabin is simply gorgeous and has incredible waterfront views — perfect for couples.
The interior is cozy with earthy tones and white, creating a rustic and welcoming decor.
Go hike around the lake, sit outside sipping your favorite wine together, or cuddle with view. Either way, this is one of the most romantic cabins you could ask for!
Each of these details is there to make your getaway an incredibly romantic experience that you won't forget!
Private, secluded, and tranquil.
8. Romantic Hill Country cottage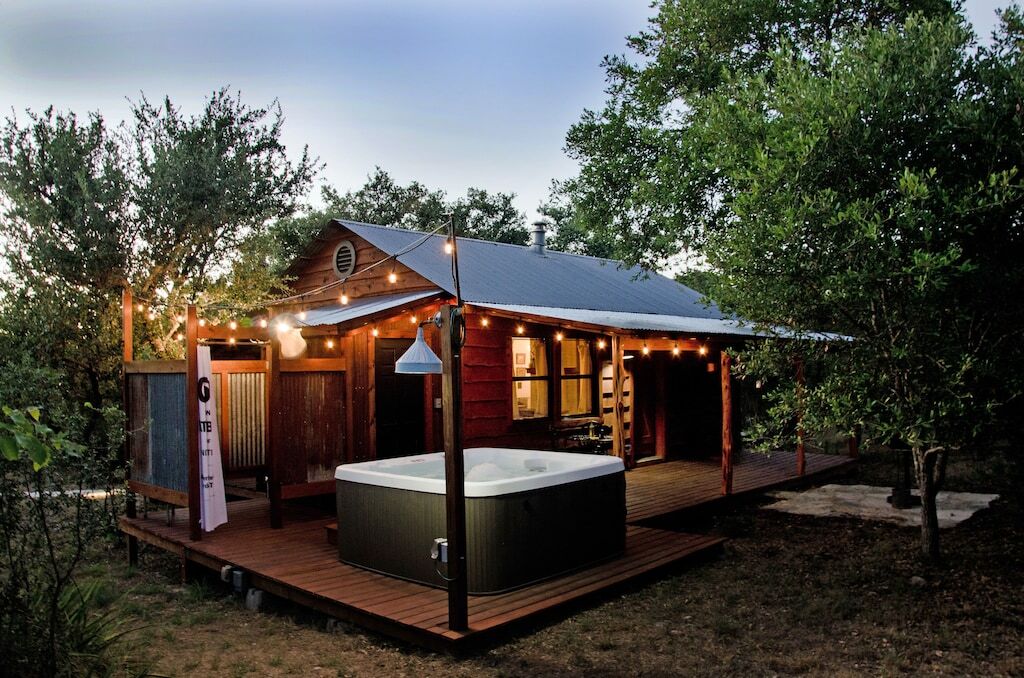 Just outside of Austin, this 1920's-decor cabin is just what you need to make a romantic getaway unique!
In the word of the owners, "This cabin was lovingly constructed, designed and curated by the owners, Jennifer and Gregory, who aimed to capture the essence of The Prohibition Era with a little twist of Steampunk. Gregory, a local craftsman, hand-built nearly every inch of the cabin including much of the furniture and all the light fixtures. From the moment you exit your car, you'll feel like you've left the hustle and bustle of your modern day existence behind. Once you step inside, you'll enter an era defined by cocktails, claw-foot tubs, flapper dresses, jazz music, pot stills and flickering lanterns."
Even though this cabin has the early 20th century's charm, it also provides modern amenities, like hot tub, cable tv, comfy mattress, BBQ, and hammock.
So if you and your significant other are looking for a secluded cabin to sip your favorite beverage while watching local wildlife from the front porch or soak in the hot tub, this romantic cabin is everything you need!
This peaceful setting is truly unique. You should see it for yourself!
9. Romantic getaway with incredible views and hot tub – Our pick: Best honeymoon home!
This beautifully designed home is located outside of Fischer, three miles north of Canyon Lake, and is ideal for any couple seeking total relaxation in the romantic Hill Country with stunning long-distance views.
Shopping and restaurants are abundant within a short distance from this property.
The professionally decorated interior of the house feels homey and cozy. The floor-to-ceiling windows allow you to take in the beautiful view, and the amenities–queen-sized bed, walk-in shower, fully equipped kitchen–are everything you need for a romantic getaway.
While the outside of the house is cute and welcoming, the cherry of the cake is the private hot tub with breathtaking views of the 100 acres ranch.
10. Romantic cabin with lake views
This remarkable place feels just like a treehouse as the romantic cabin hangs over a cliff looking down on Lake Travis.
It's truly one of the most romantic lake cabins in this list!
The unique decagon architectural design, vaulted ceilings, panoramic windows, wood floors throughout, wrap-around private deck with incredible views will steal your breath away.
The interior of this gorgeous waterfront cabin is immaculate, modern, and tasteful. It is spacious and full of light.
Cuddle up in front of the fireplace, go swimming in the pool, relax in the hot tub, or have a BBQ—the options will seem endless.
After you are relaxed, take a walk to Lakeway Marina and rent a kayak, jet skis, or a boat. Have fun, and make the most of this memorable getaway.
11. Lakefront romantic cabin rental in the woods
This romantic cabin in Texas is located by the Lake Livingston, proving you with an incredibly romantic lake view—everything you and your special someone will need for a relaxing stay.
With plenty of green area to go hiking, swimming, fishing, or simply relaxing with your favorite beverage in hands, this cabin is a great getaway for those who are bringing kids along.
The cabin has three bedrooms, two baths, a large fireplace, and a deck hot tub.
We are not surprised that the hosts think you will fall in love all over again in a place like this! This cabin offers the ideal setting for a unique lodging experience.
12. Romantic log cabin in the countryside
You will find this getaway spot nestled among oaks and elms in Wimberley.
This spacious cabin was lovingly hand-built by a local Wimberley couple in 1985 and has been recently renovated by the current owners who made sure to retain its rustic charm.
The outdoor veranda features a hot tub with a beautiful view, an outdoor dining area, and a fire pit. There is also a front porch with rocking chairs, which is the perfect place to watch the deer graze.
The inside of this cute cabin is homey and charming. The wood-burning stove will be perfect for those chilly nights.
The house has two baths, two bedrooms, and a semi-private loft bedroom, which can be reached by a staircase.
Something cool about this property is that the owners are environmentally conscious.
They offer full recycling, provide ecologically friendly dishes and laundry soap, provide recycled paper products, and provide a water filtration pitcher to eliminate the need for bottled water.
Not only that, but the landscape is filled with native low-water plants.
Another bonus is that you will be able to bring your furry friend with you for a small fee!
13. Magical secluded cabin
Last but definitely not least, we have a gorgeous cabin that will make you think this is where Tarzan and Jane live. This vacation rental is so special and unique—straight out of an enchanted forest.
Tucked away in the heart of Little Forest Hills, this timeless, private property is truly extraordinary and easily worked its way up in the list of loveliest luxury cabins in Texas!
Winding gravel footpaths will lead you to a footbridge that you have to cross before entering this handcrafted home.
The style is a blend of Bauhaus contemporary and warm rustic elegance.
There are walls wholly made out of windows that allow shimmering light filtered through countless Japanese Maples inside.
The decor is exceptionally tasteful with greenery everywhere—even hanging from the ceiling above the jetted tub in the bathroom.
You will feel both at home and in nature at the same time!
There is a front patio with a dreamy view.
The romantic cabin has a nice location – near White Rock Lake in Dallas. If you want to see more gorgeous rentals in that area, you will love this guide on the best Airbnb in Dallas.
Wrapping up on Romantic Cabins in Texas
We don't know about you, but these romantic cabins in Texas look so unique and beautiful that all we want to do is grab our bags and visit every.single.one of them right now!
Do yourself and favor and show your special someone how much they mean to you by surprising them with their dream vacation!
From tiny home to cozy cabins lake houses, we're sure you can find a unique lodging for you and your significant other.
If you want to continue your romantic trip throughout the Lone Star State (maybe with your travel trailer?), read up on the best road trips in Texas, including the Big Bend National Park, JBJ State Park in Fredericksburg, and more!
After all, it is not difficult to find the perfect place or that gorgeous waterfront cabin to create unforgettable honeymoon memories!
Did you like this list of the most romantic cabins in Texas? Then share it with a friend who might like it too!