Trying to find the cool Dallas murals is a funny way to experience the local art scene as well as the city.
The paintings are spread throughout neighborhoods, from Uptown to Downtown to Bishop Arts District and Deep Ellum.
As the coolest neighborhood in Dallas, Deep Ellum is an open gallery and a cultural melting pot with some of the best Dallas wall art.
Dallas Street Art: A Guide to the Best Dallas Murals
Dallas is not only the commercial but also the cultural hub of the region, and one of the best places to visit in the USA.
Massive, the city is home to diverse kinds of art, and many artists chose this spot to express their messages and feelings on walls.
As a way to increase tourism but also to revitalize areas, Dallas graffiti were slowly coloring more wall and are more than welcome today.
In this guide, we'll talk about 15 ridiculously pretty murals, but we'll also give you an interactive map to find many others.
Without further ado, let's get to the best Dallas murals.
Map of Dallas Murals
Click here to access an interactive map with the best graffiti Dallas proudly has. If you have any additions to this list or you something changed, please let us know, and we'll change it right away.
The Dallas murals are numbered and include the ones in this article. The remaining addresses are some cool wall art we thought you would like to see. Enjoy!
How to Get Around Dallas
Dallas is a massive city with neighborhoods that have their own personality.
But even though those neighborhoods are pretty different from each other, they all have one thing in common: striking street art.
That is to say that although Deep Ellum murals are the far majority, you'll have to drive yourself or take an Uber or bus to travel within Dallas.
We recommend that you walk around a neighborhood and combine it with an Uber to get to another area of town.
By bus
Buy a day pass for the DART Bus for $6, and that includes unlimited rides on the buses and trains until 3 AM the following morning.
To get these passes, all you need to do is download the GoPass App on your phone and set up your day pass from there. Once you have it on your phone, you just need to show it to the bus driver when you board the bus.
Going by car? Read more on parking
You will find many parking spots along the various avenues of Deep Ellum, making it not too difficult to see these murals in Dallas.
A majority of the parking spots along the avenues are metered, and during the day, every meter is free until 6 PM. However, always make sure to check the meter which will have stated the free period, or pay period!
These spots fill quickly, and unless you are there starting early in the day, finding one of these spots will be more based on the luck of someone departing when you happen to drive by.
There are also pay lots in Deep Ellum, which will have attendants. Typically these lots will cost $5. However, they fill up very quickly.
If this is your first time in the city, and you're looking for accommodation, you might want to check out our extensive guide on where to stay in Dallas as well as the best Dallas VRBO.
Dallas Murals
Street art is a way for artists of all nationalities to showcase their talent and make a statement/share an idea with the world.
Dallas graffiti scene has a bit of everything – pretty murals for Instagram shots, such as angel wings, diamond murals, cactus murals, or wall art that serve as a daily reminder to current social issues, such as the USA! Painting by Juan Castillo.
Women's History Month – Amber
This gorgeous mural was commissioned by the City of Dallas for Women's History Month in 2022 as part of the "Murals on the Move" Project. In the mural, Caggiano featured her friend Amber Tamm Canty, a farmer, horticulturist, and floral designer.
Artist: Marissa Caggiano
Address: throughout the city. Her artwork will be seen in various Dallas events. You can check out the locations on Instagram.
Eyes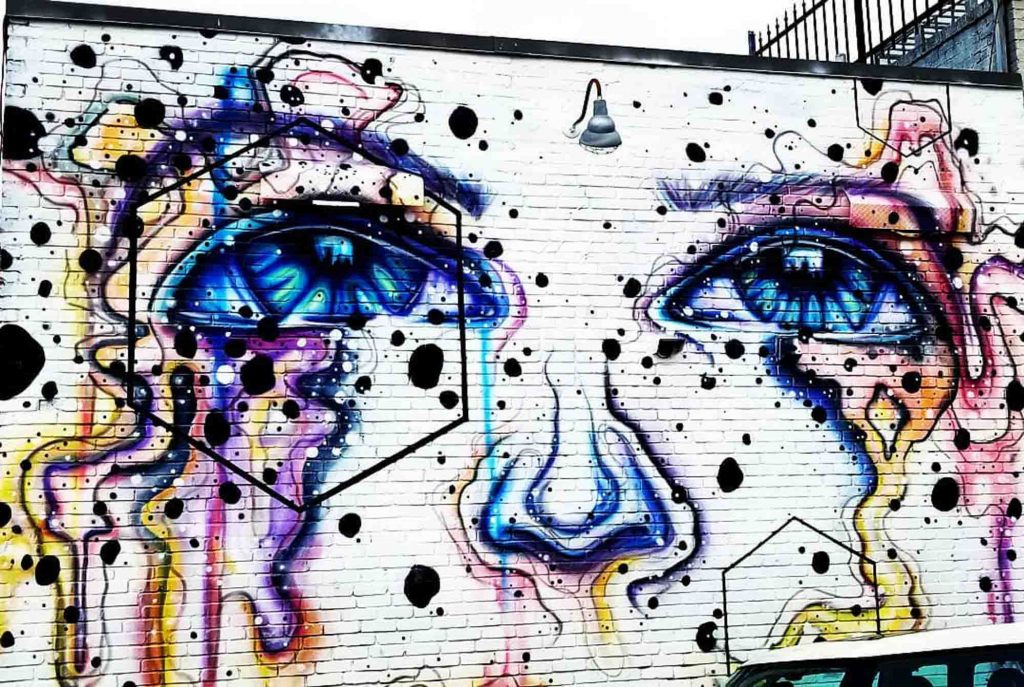 This piece of mural art has some amazing color, and is a great one to get a photo of! Find it at Ruins Bar.
Address: 2653 Commerce Street
I Love Dallas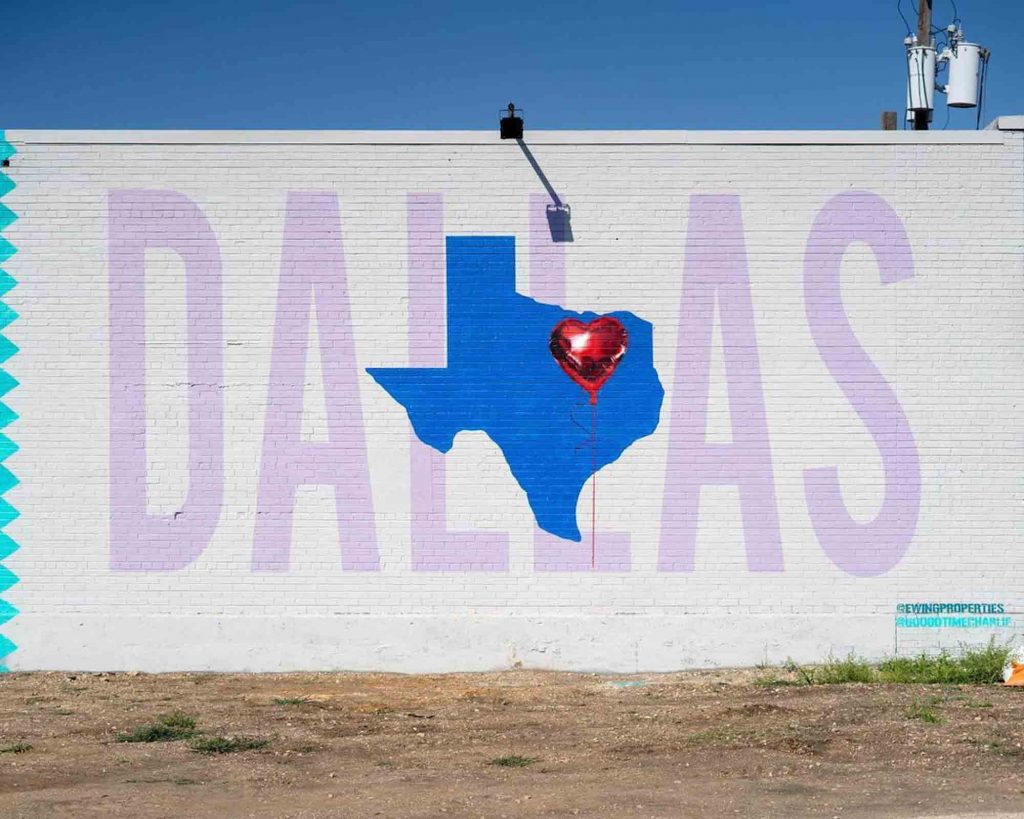 Lesli Marshall, a curator, asked Jeremy Biggers to add a final touch to Charlie's mural. Can you guess what it was? The heart! It's a lovely mural and a great Instagram spot in Dallas.
Artist: Jeremy Briggs and Charlie
Address: Howell Street and North Riverfront Boulevard
Deep Rawlins
Steve Hunter portraits Dallas native poet Rawlins Gilliland in arguably one of the most remarkable Deep Ellum murals.
Artist: Steve Hunter
Address: Long Building – 2801 Elm Street
Frida
Oh, the famous Frida Kahlo. Can there be art in a town if there is not a feature of the very famous Frida? No, right.
Artist: Michel Cruz
Address: 2810 Main Street
Believe in Yourself
From the series Dallas photography locations you'll love, the Believe in Yourself Mural is an inspirational graffiti in the heart of Deep Ellum.
As if the mural near this one wasn't inspiring enough (the American flag), this graffiti reminds us to believe in ourselves and #stepforward.
Needless to say, this mural is one of the best places to take pictures in Dallas.
Artist: Unknown
Address: 2730 Commerce Street
Read next: 27 Summer Destinations in the USA
JFK Mural Dallas
Although simple, JFK Mural in Dallas is an emblematic graffiti for those who want to dive into the street art scene.
President John F. Kennedy was shot in Dallas while riding in a motorcade in Dealey Plaza in 1963.
Funnily enough, his killer, Lee Harvey Oswald, also has a mural in Dallas, in the Bishops Art District to be more specific, which was made by Theo Ponchaveli, one of the artists of the JFK mural.
But don't think people have lost their minds and are now paying homage to the most infamous killer of Dallas. It's instead a reminder: "Forgive your enemies but never forget their names."
Pssst: Travel lovers, on the other side of the store where JFK graffiti is, you'll spot a world map painting. The graffiti is facing the Alamo Drafthouse Cinema.
Artist: Artists: Theo Ponchaveli and Josh Mittag
Address: Behind the Scott's Discount Liquor Store – 967 South Lamar Street
Deep Ellumphants – The Famous Elephant Mural in Dallas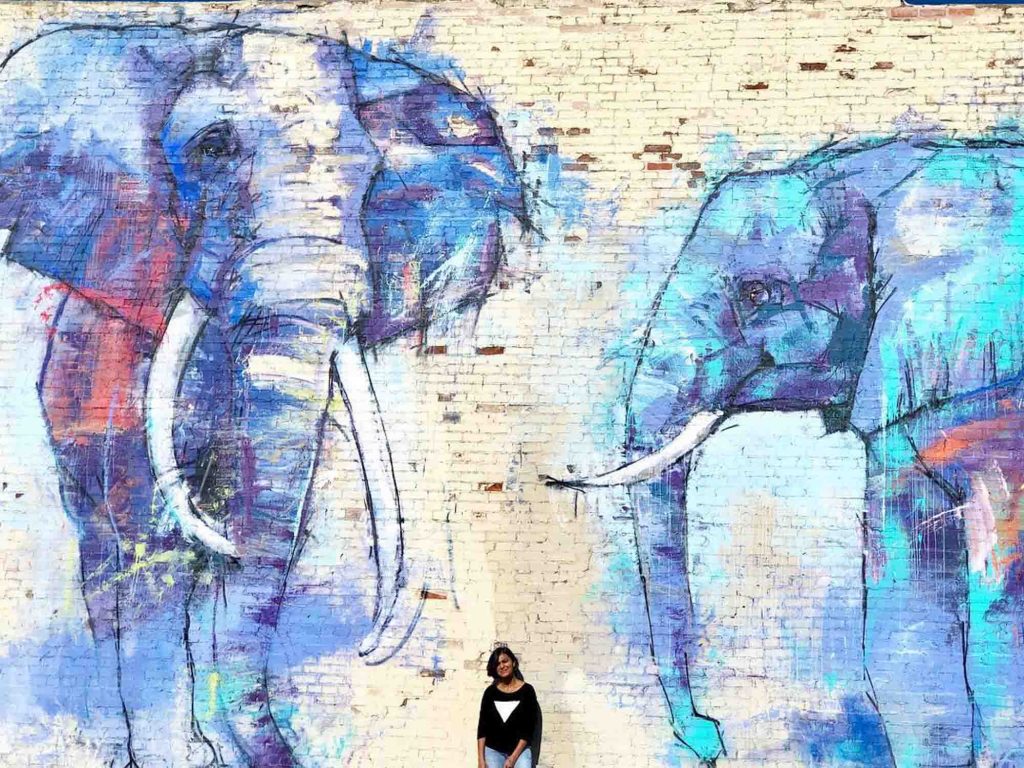 Adrian Torres painted a herd of elephants in different shades of blue on a rustic white wall, and it is now one of the coolest Deep Ellum murals.
On top of that, the elephants are one of the most famous Dallas graffiti and rightly so because the watercolor technique gives it a magical look. It's beautiful!
Since the creation of this piece, the building owner has put in a door and industrial steps about 3/4 of the way down the wall taking a bit of the beauty away. Just a bit.
Artist: Adrian Torres
Address: 3601 Main Street
Stevie Ray Ellum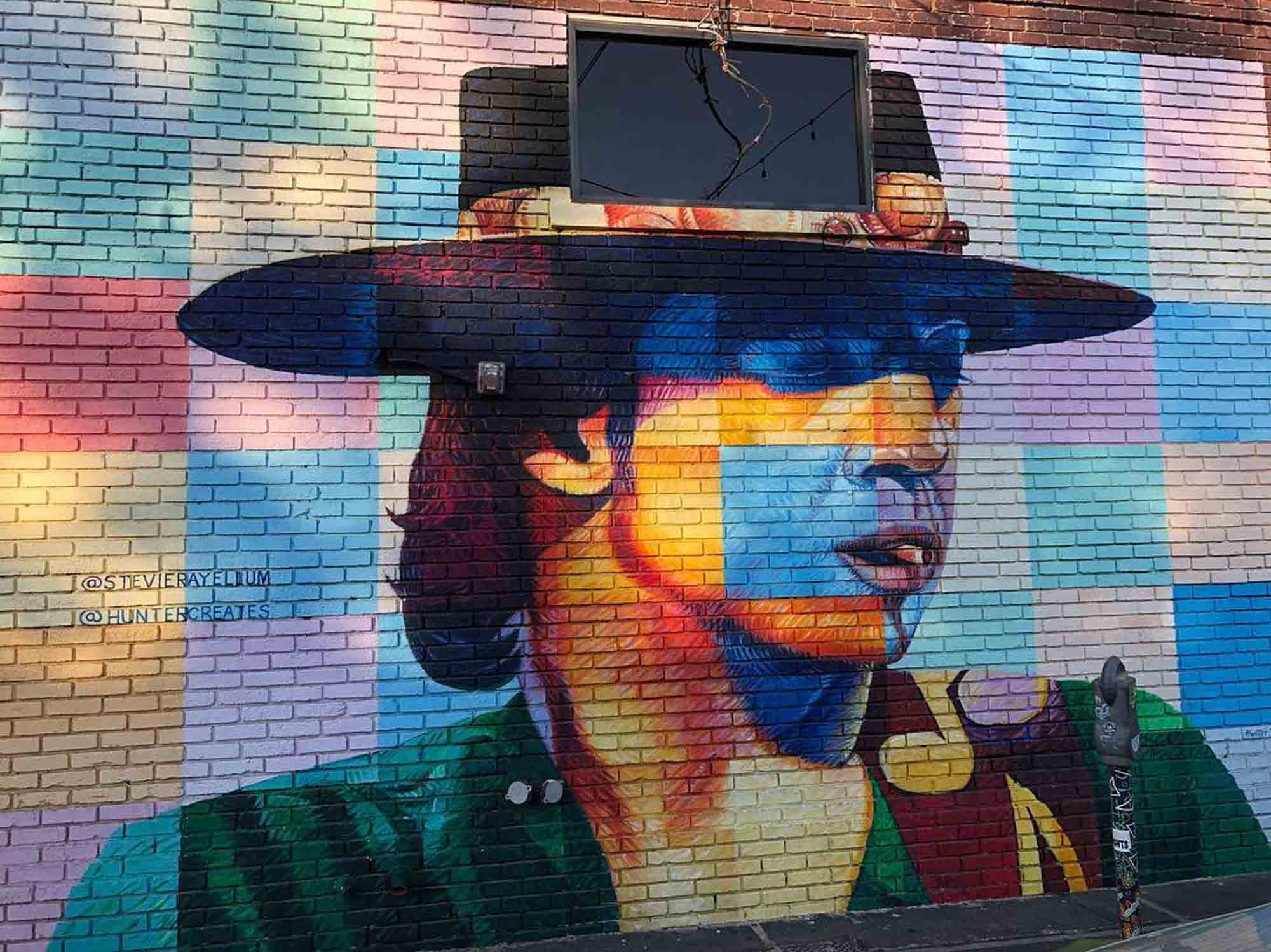 A kaleidoscope of colors depicting the legendary Dallas-born musician Stevie Ray Vaughan decorates the streets of Deep Ellum.
Even in the abstract block colors, viewers can recognize Vaughan's iconic hat.
Vaughan was a guitar legend and an influential ambassador for the blues who achieved mainstream success. His popular hits include "Pride and Joy," "The Sky is Crying" and "Crossfire."
Artist: Steve Hunter
Address: 100 North Crowdus Street
Love Equation Mural- One of the Best Places to Take Pictures in Dallas Tx
A common spot for engagement and proposal photos, but also for pictures with your family, pet, or yourself. After all, you decide how your love equation sums up.
Artists: Daniel Garcia, Mario Garcia, and Janet Aguirre
Love Equation Mural Dallas Address: 504 North Madison Avenue
Dallas Selena Mural
This fantastic mural in Oak Cliff is a gift from the artist to the local community. A community made of people who do nothing but give, said him. Isn't it incredible?
Artists: Jeremy Biggers
Love Equation Mural Dallas Address: 338 West Jefferson Blvd
Social Worship
"Social Worship" by Jeremy Biggers is a portrait of local model Allison Ponthier.
Artists: Jeremy Biggers
Address: Pryor Street
Tonatiuh Mural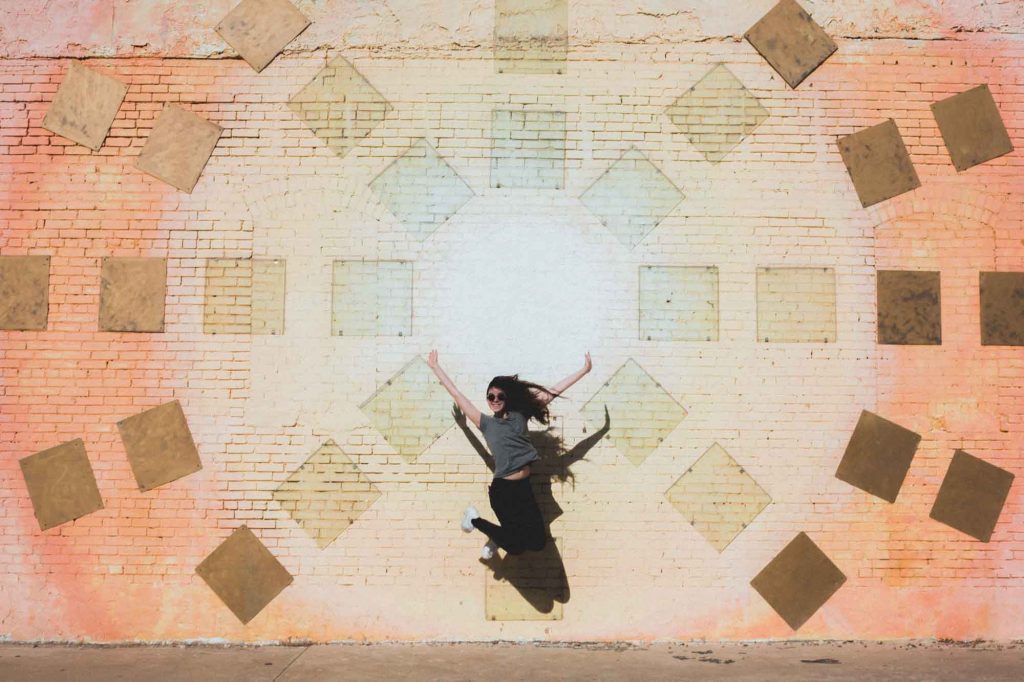 Also known as Sunburst, the Tonatiuh was created by Daniel Munoz in 2010 in Deep Ellum. Tonatiuh was the Aztec god of sun, fertility, and sacrifice, and his name means "he who goes forth shining."
Color Strands
A mysterious and quite expressive mural, Colorful Strands is part of the 42 murals project.
Mega Zee
Dallas street art wouldn't be the same without Sanah Brown's message to her daughter Zee and all young people.
In her painting, she tells young (and not so young) people to dream big and never give up regardless of what society dictates. To bring out the "mega" from within.
Mega Zee is one of our favorites Dallas murals. Not only because it's incredibly pretty, but also because this graffiti brings a beautiful message we should always keep alive in ourselves.
Woman's Face
Unlike most Dallas murals, this portrait has a pretty intense look, and it's full of emotions. It makes you wonder what she is thinking about or even where she is staring at.
This Malcolm Byers' painting is a bit hidden, but we're pretty sure you can find it with the map above.
Super Deluxe
This Uptown mural is arguably the most colorful Dallas graffiti.
It's impossible to pass by this explosion of bright colors and ignore the happiness it makes you feel because it's colorful.
We particularly love diamond murals because of their color explosion, exactly like this one.
Read next: Winter Vacation Spots in the US
Wrapping up on the Best Dallas Murals and Wall Art
Dallas is a city jam-packed with striking street art, and while many Dallas murals are in the Deep Ellum, the other neighborhoods don't fall short.
Among the lots of places to take pictures in Dallas, we hope we gave you some appealing ideas for your shots.
Did you like this article about Dallas Wall Art? Then save it to your Pinterest board!