Planning a trip to the Green Mountain State, but aren't sure what to do? Don't worry; we've got you covered with our ultimate list of things to do in Burlington, VT!
Not only is Burlington Vermont's largest city, but it's also its most exciting. Spanning from the shores of Lake Champlain to the green forests of Vermont's backcountry, this vibrant city has it all and more.
Whether you're looking for the ultimate night out, the perfect lake getaway, or the chance to escape into nature, you're sure to find it here!
Often named one of the best places to visit in the Northeast, Burlington is loved by locals and visitors alike!
Looking for accommodation? Then check out our guide to where to stay in Burlington, VT, which covers a range of hotels and apartments.
22 Fun Things to Do in Burlington, Vermont
Here's our top picks for the best things to do in Burlington, VT! Trust us when we say you don't want to miss out on these attractions!
Take a Cruise Along the Lake Champlain Waterfront
Burlington borders Lake Champlain for miles, offering visitors countless opportunities to explore the state's largest lake.
While there are several activities and experiences to be had along the shoreline, none of them are quite as fun as taking a cruise along the waterfront.
There are several tours that you can join to do this, or you can always charter your own boat.
Regardless of which you choose to do, you'll be treated to breathtaking views of Lake Champlain and the Burlington coastline.
These views are particularly stunning during the autumn months when this beautiful city is blanketed with the vibrant colors of fall.
Grab a Pint at One of Burlington's Craft Breweries
Vermont is known for its craft beer. In fact, the state has one of the highest numbers of breweries per capita in the entire country.
And, luckily for you, Burlington just so happens to be home to several of those excellent Vermont breweries.
Some of the city's most famous Burlington VT breweries include the Switchback Brewing Company, Zero Gravity Brewing, and the Magic Hat Brewing Company. And for those who prefer hard cider, there's even Citizen Cider.
Whether you're looking for IPAs, lagers, stouts, pale ales, or something in between, you're sure to find delicious craft brews in Burlington, Vermont!
Shop Til You Drop at the Church Street Marketplace
The Church Street Marketplace is, undoubtedly, one of the best attractions in Burlington, VT.
Situated in the heart of the city, this pedestrian-only street has some of the best local boutique stores, cafes, and restaurants in Burlington.
It's the perfect place to go if you're looking for a bite to eat or are in search of a souvenir to bring home with you.
The Marketplace is also known to host a variety of events throughout the year.
So, depending upon when you visit, you just may be able to partake in celebrations, such as the Festival of Fools, the Church Street Santa Parade, or the annual Jazz Festival.
Psst: Some nearby places worth visiting are the Burlington City Arts Center and City Hall Park on College Street.
Step Back in Time at the Ethan Allen Homestead Museum
Visiting the Ethan Allen Homestead Museum is one of the best things to do in Burlington, VT, especially if you are interested in learning more about Vermont's history.
Built in 1787, this homestead is the former residence of Ethan Allen, a Revolutionary War hero.
Today the house has been converted into a museum, where you can learn more about the life of Ethan Allen and the impact that the Revolutionary War had on the state of Vermont.
Guided tours of the home and gardens are provided by historians who dress up and play the part of colonists.
As a visitor, you'll even have the chance to check out a recreated Abenaki Encampment, which provides incredible insight into the lives of Native Americans at that time.
Also, don't miss a chance to go for a walk at the picture-perfect Ethan Allen Park.
Read next: Weekend Getaways in Vermont
Go for a Picnic at Oakledge Park
Located on the shores of Lake Champlain, Oakledge Park is a great place to go for an afternoon picnic.
Here you'll find several picnic tables, charcoal grills, and open grassy areas that are just waiting to be explored.
There are even a couple of large shelters that can be rented out if you're part of a larger group and would like to celebrate an occasion, such as a birthday party or reunion.
In addition to this, this lakefront park is home to two public beaches, so if you'd like to hop in the lake for a swim, be sure to bring your bathing suit along!
Learn About Vermont's History at the Shelburne Museum
As the largest history and art museum in northern New England, the Shelburne Museum is one of the top attractions in Burlington, Vermont.
Spanning a total of 45-acres, this museum is home to 25 historic buildings, including a round barn and historic General Store.
The museum also houses several historical artifacts, including an antique carousel, a 220-foot steamboat, several traditional horse-drawn carriages, and a variety of circus props, toys, dolls, decoys, and firearms.
In addition to this, the museum hosts a variety of different exhibits throughout the year, ensuring that each visit to this incredible museum is never the same.
Have a Laugh at the Vermont Comedy Club
If you're looking for a good time, look no further than the Vermont Comedy Club.
Located in the heart of Burlington, the Comedy Club provides guests with the opportunity to laugh or be laughed at – if you're willing to jump up on stage, that is!
On the weekends, the club mainly hosts comedy shows, where they bring in a variety of comedians – both locally known and nationally recognized.
Meanwhile, on weekdays, they offer several opportunities for guests to put their own comedy skills to the test by participating in open mic nights and improv classes.
The Vermont Comedy Club is also home to the Happy Place Cafe, a bright, colorful coffee shop that serves a variety of coffee, tea, sandwiches, and baked goods.
Travel Along the Burlington Bike Path
Also known as the Greenway, the Burlington Bike Path is an eight-mile-long recreational path that winds along the shores of Lake Champlain, connecting six different waterfront parks.
While this paved path was originally created for bikers, it's also open to runners and walkers.
If you'd like to try biking and need to rent equipment, several bike rentals are available along the bike path, so you should have no problem finding one.
And if there happens to be snow on the ground when you visit, you can always try fat biking – a wintertime activity that is becoming increasingly popular in Vermont.
Regardless of how you choose to travel along the path, you'll be provided with beautiful views of the lake and its surrounding area.
Sample Local Produce at the Burlington Farmer's Market
The Burlington Farmers Market has been one of the best things to do in Burlington, VT, since 1980.
Every Saturday on Pine Street, from late spring through the fall, farmers from across the state have gathered together in downtown Burlington to sell their locally made produce and products.
This tradition, which is still very much alive today, is a great way to connect with the local community and sample some of the state's best homemade delicacies and delicious food.
Whether you're looking for freshly made honey, original Vermont maple syrup, just-picked strawberries, ripe tomatoes, delectable baked goods, or freshly squeezed lemonade, you're sure to find it and more at the Farmers Market.
Take in the Views at the Waterfront Park
If you're in search of the best views of Lake Champlain, then you'll want to check out the Waterfront Park.
Located just west of downtown Burlington, this park offers incredible views of the lake.
There are several pathways you can wander along and benches set up along the shoreline. It's a great place to go if you want to watch the sunset or sunrise over the lake.
The Waterfront Park is also known to host several festivals and concerts throughout the year, including special events such as Oktoberfest and the Grand Point North Music Festival.
Jump in the Lake at North Beach Park
North Beach is not only the largest beach in Burlington, but it's also the best one to go to if you're interested in water activities.
Of course, you can always go swimming, but the beach also offers kayak, canoe, and paddleboard rentals.
In addition to this, there are food concessions, a playground, picnic tables, grills, and a restroom with showers, ensuring you have everything you need for that perfect day of fun in the sun.
For those interested in staying at the beach for an extended period of time, there is even a campground with full hookups that can accommodate RVs and tents.
Try Vermont's Famous Ben & Jerry's Ice Cream
One of Vermont's claims to fame is Ben & Jerry's Ice Cream. Founded in Burlington in 1978, this beloved ice cream has become a staple of Vermont culture.
As such, it should come as no surprise to hear that a visit to Ben & Jerry's is a must for anyone visiting the state.
There's a scoop shop located right on Church Street, offering up samples of all your favorite flavors. Or, if you're up for the drive, you can head on over to Waterbury and tour the original Ben & Jerry's Factory.
Regardless of where you decide to go, you're sure to have a deliciously great time. After all, visiting Ben & Jerry's is one of the best things to do in Burlington, VT.
Encounter Fish at the ECHO Lake Aquarium and Science Center
If you're traveling with kids and wondering what to do in Burlington, VT, the ECHO Lake Aquarium and Science Center is a great option to consider!
Located near downtown Burlington, right on the shores of Lake Champlain, ECHO is a science and nature museum that offers on-hand learning experiences.
Here you'll find a variety of activities and exhibits that explore the ecology and environmental importance of Lake Champlain.
Some of the most popular aspects of the museum, however, are the interactive exhibits and marine animals that call it home.
With various aquariums set up around the museum, kids and adults alike can learn about the fish, reptiles, and amphibians that inhabit Lake Champlain.
Besides, the eco-friendly building offers panoramic views of the Lake and Adirondack Mountains from its deck.
Discover Art from Around the World at the Fleming Museum of Art
For any art lovers out there wondering what to see in Burlington, VT, the Fleming Museum of Art is the perfect addition to your itinerary.
Located at the University of Vermont, the Fleming Museum houses a variety of artwork and important archeological artifacts from across the centuries and around the world.
With ever-changing exhibits on display, there's always something new and exciting to discover at the museum.
In addition to its exhibits, the museum is known to host a variety of educational programs and events, including lectures, symposiums, workshops, as well as cultural presentations.
Admire Burlington's Street Art
As you walk around Burlington, you'll probably spot a variety of street art on display throughout the city.
This art, which was created by local artists in collaboration with business owners and city officials, adds flair and a sense of creativity to the city.
Some of the city's most popular murals include the mountain scene painted on Cherry Street, the hummingbird displayed on St. Paul Street, and the three murals of neighborhood kids scattered around the Old North End of Burlington, Vermont.
And, of course, we can't forget about the large Rainforest mural that covers a side street off of Church Street Marketplace.
Watch a Hockey Game at the University of Vermont
The University of Vermont is the state's largest school, serving almost 15,000 students.
It's also an NCAA Division 1 school that competes in a variety of sports, including basketball, soccer, lacrosse, and track and field.
While you're free to watch any of these sports at UVM, the one that you really don't want to miss out on is ice hockey.
Having produced 18 National Hockey League players, UVM is known for its ice hockey.
As such, their games are usually intense, exciting, and most definitely worth checking out.
Just be sure to purchase your tickets in advance, as they're known to sell out quickly!
Visit the Animals at Shelburne Farms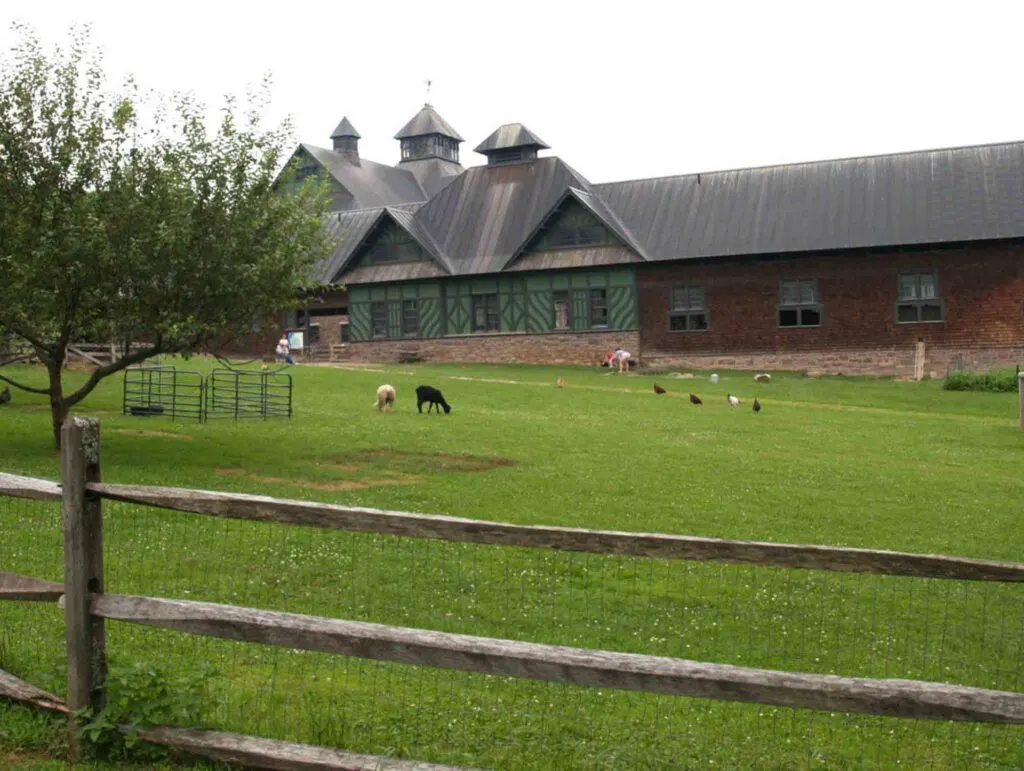 Home to cows, horses, chickens, goats, sheep, turkeys, cats, and even a rabbit, Shelburne Farms is the place to go if you love animals.
Not only will you have the chance to see these animals up close and personal, but you'll also get to learn about the roles that each of them plays on the farm.
In addition to this, guests will have the opportunity to explore the grounds of Shelburne Farms, which includes the house gardens, as well as miles of walking trails that weave throughout the property.
There's even a farm store where you can purchase freshly made products, like cheese (including goat's cheese), maple syrup, honey, and jam.
Spend a Night Out in Downtown Burlington
Burlington is the best place to experience nightlife in Vermont. And Church Street just so happens to be the ideal spot for bar hopping, dancing, and late-night fun.
There are several places that you can check out if you'd like to spend your night on the dance floor. From Club Metronome to Red Square and Rasputins, the possibilities are endless!
And for those who prefer live music, be sure to stop by Nectar's, where they have live performances every weekend!
Of course, we also can't forget about The Whiskey Room, Ri Ra's Pub, or the Church Street Tavern, all of which are popular spots for a late-night drink!
See a Show at The Flynn
Founded in 1930, The Flynn Center has been providing the best in performing arts to Vermonters for almost 100 years now.
Offering a variety of performances, including Broadway shows, live music, stand-up comedy, and dance productions, there's something for everyone to enjoy at this historic theater.
And for those interested in hopping on stage themselves, there are even several classes, camps, and workshops that you can sign up to participate in.
Whether you go to The Flynn to watch a show or join a group lesson, you're sure to have a great time.
After all, visiting The Flynn Center is one of the best things to do in Burlington, VT.
Snap a Photo with the World's Tallest Filing Cabinet on the South End
Did you know that the world's tallest filing cabinet is located in Burlington, Vermont?
Situated in the city's South End, the cabinet, which was built by a sculptor in 2002, consists of 38 cabinet drawers, all welded together.
Given how tall it is, you'd think that cabinet would stick out like a sore thumb in the midst of Burlington.
And yet, while it is easy to find, it actually fits in perfectly with the South End, which has been dubbed the art district of Burlington, VT.
In addition to its unique sculptures, you'll also find several craft shops spread throughout the South End – any of them selling a variety of handmade items, including jewelry, stained glass, and artwork.
The South End even hosts a yearly Art Hop that draws in artists from across the state and beyond!
Take a Hike Through Vermont's Forests
Just because you're in the city doesn't mean you have to miss out on the wildness and nature that Vermont is known for.
In fact, there are several hikes close to and within Burlington that provide the opportunity to escape into nature.
One of the most popular hikes, Red Rocks, is located right in the middle of South Burlington. This three mile-hike is set in a quiet forest and offers stunning views of Lake Champlain.
Another favorite worth mentioning is Rock Point, a two-mile hike that features cliffside views of the lake and mountains.
Of course, there are several hiking opportunities located outside of the city, if you're willing to travel – some prominent ones include Camel's Hump and Mount Philo.
No matter which trail you decide to visit, we highly recommend going for a hike because it is undoubtedly one of the best things to do in Burlington, VT.
Satisfy Your Sweet Tooth with Lake Champlain Chocolates
If you have a sweet tooth, then you'll definitely want to check out Lake Champlain Chocolates.
Locally made in Vermont, these chocolates feature a variety of Vermont flavors, including Maple Crunch, Evergreen Mint, and Honey Caramel.
In addition to this, you can find a wide selection of truffles, chocolate clusters, chocolate bars, and even hot chocolate.
Several stores are located throughout Burlington, including Church Street and the South End, so you should have no trouble getting your hands on these sweet treats!
Final Thoughts on What to Do in Burlington, Vermont
Are you ready to start planning your own trip to Burlington? We hope so!
It's an incredible city that is, without a doubt, one of the best places to visit in Vermont!
From its historical charm to its stunning lake views, lively nightlife, incredible shopping, and artsy community, there really is something for everyone!
Did you enjoy this article about the best things to do in Burlington, Vermont? If so, be sure to share it with a friend who might enjoy it too!
Latest posts by Charlotte Bailey
(see all)