Visiting Fort Worth, Texas, and wondering what to do? Here's a handy list of things to do in Fort Worth that you'll love!
Fort Worth may have started life as a protective citadel for neighboring Dallas, but the Texas stronghold has grown up to become a vibrant, independent city that rivals its one-time charge.
From NASCAR race to a quaint botanic garden, Fort Worth has attractions for all tastes and for the whole family.
On top of that, Fort Worth also boasts a lot of Western-style art and culture, which is very well preserved.
In short, there are so many great things to check out in and around Ft. Worth.
This guide to what to do in Fort Worth strives to give a full list of experiences by listing out regular Fort Worth attractions as well as seasonal attractions unique to the area!
So in celebration of its ascension, today we're breaking down the best things to do in Fort Worth, Texas.
32 Best Things to Do in Fort Worth, Texas
Here are our favorite things to do in Fort Worth, Texas, in no particular order because they are all incredible!
1. Experience the Old West in the Fort Worth Stockyards
Are you in the mood for a little old-timey western fun? Then head to the Stockyards, one of the most-visited Fort Worth attractions.
A 98-acre historic district, the Stockyards is a commercial commemoration of the region's cattle and cowboy roots.
Approximately 46 stores, bars, and restaurants operate in the Fort Worth Stockyards, and the area serves up hours of fun.
Want to step back in time and travel the rails like western expansion pioneers?
Grab a seat on the Grapevine Vintage Railroad, the 24-mile heritage railway that runs between the Stockyards and Grapevine, Texas.
2. Zen Out at the Water Gardens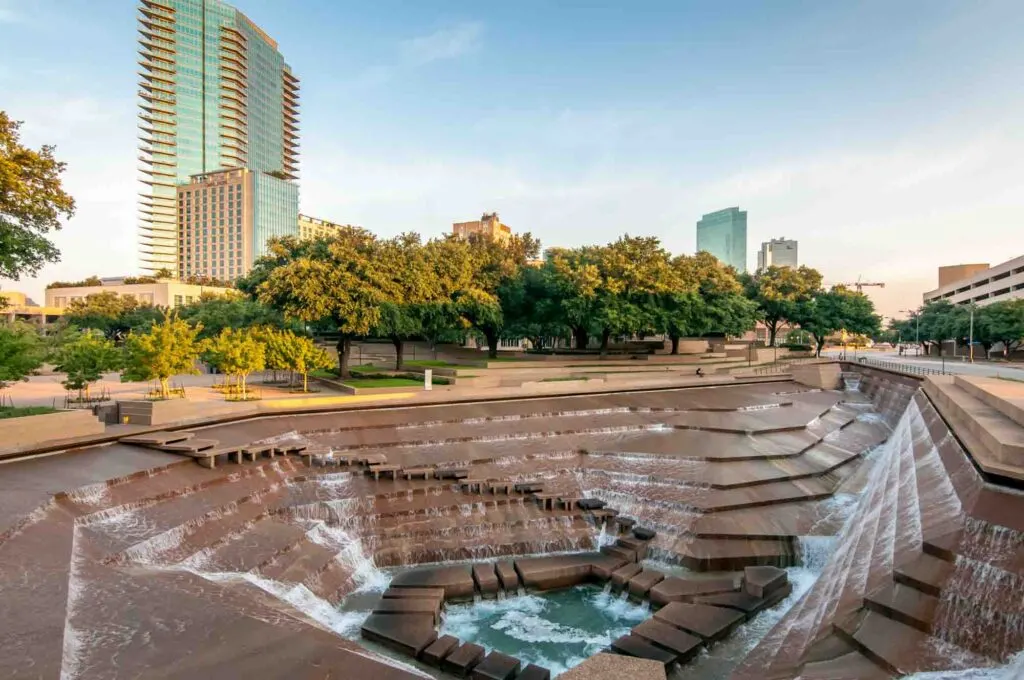 If the sight and sound of running water lulls you into a blissful state of calm, find your way to the Water Gardens, one of the most serene places to visit in Fort Worth.
The four-acre park is a "cooling oasis in the concrete jungle" and features several aquatic installations, including a meditation pool.
But the main event is the active pool, where water cascades down 38 feet of concrete steps and terraces, culminating in a small pool at the bottom.
Don't be surprised if you experience a bit of deja vu at the Water Gardens. It's been featured in a handful of television shows and films, including the 1976 sci-fi classic "Logan's Run."
If you appreciate artful public spaces, the Water Gardens is one of the best things to do in Fort Worth.
Read next: 33 Best Things to Do in Texas
3. Take a Spin on the Dance Floor at Billy Bob's
The world's largest honky-tonk, Billy Bob's, is a Fort Worth country music nightclub complete with a line-dancing floor.
Like nearly everything in Texas, Billy Bob's is jumbo-sized. The interior is a sprawling 100,000 square feet, and the facility boasts 20 acres of parking space!
The brainchild of Billy Bob is Barnett, a retired football player, and Spencer Taylor, a former car salesman, Billy Bob's first welcomed guests in 1981. Since then, it's cemented a spot in pop-culture, cinematic, and musical histories.
More than just a dancing bar, Billy Bob's has been featured in several movies and television shows, including the original "Dallas" and "Necessary Roughness."
It's also a popular place to record live country albums, of which Merle Haggard, Willie Nelson, and Tanya Tucker have all done.
4. Check Out Wild Animals at the Fort Worth Zoo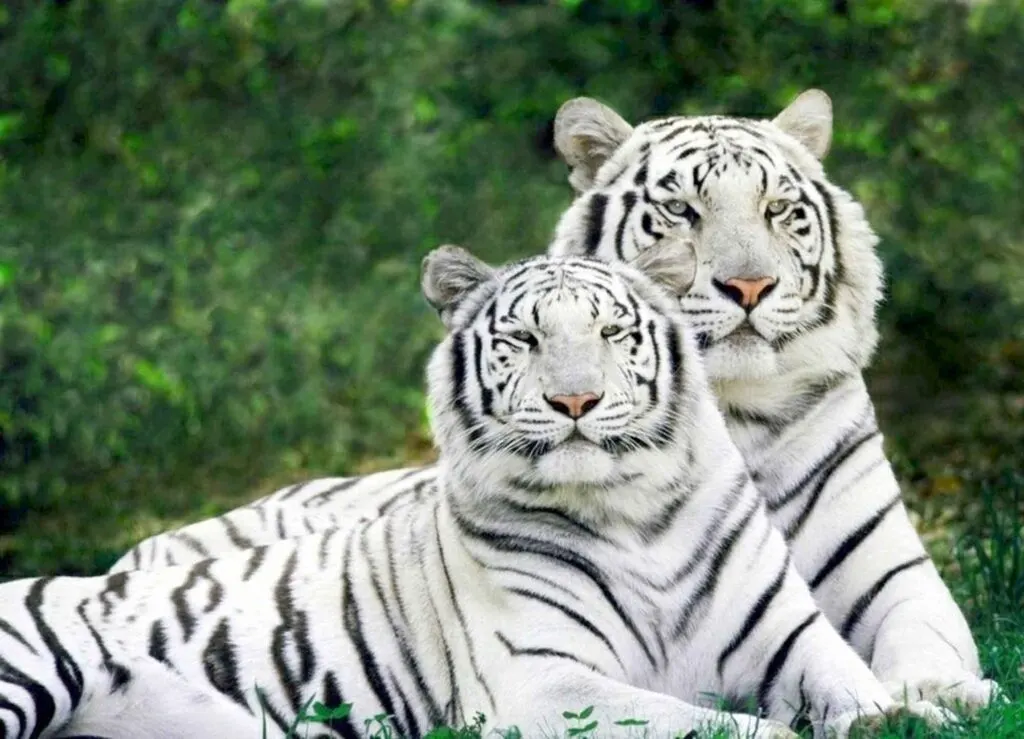 Founded in 1909, the award-winning Fort Worth Zoo is a fun day out for the whole family.
Home to about 7,000 animals, the zoo's popular exhibits include the penguin pavilion, World of Primates, Elephant Springs, Flamingo Bay, African Savanna, Australian Outback, Texas Wild, and Parrot Paradise.
The zoo also has a 30,000-square-foot herpetarium — an exhibition space for amphibians and reptiles — called The Museum of Living Art.
The Fort Worth Zoo regularly produces educational events and is very involved in the conservation of Asian freshwater turtles.
While there, be sure to get a picture with Iggy, the 40-foot iguana sculpture that greets guests.
What many visitors don't realize, though, is that Iggy doesn't belong to the zoo. Instead, he's on loan from a local oilman.
Don't forget to pack sunscreen! The Texas sun can be a formidable opponent, and many of the exhibits are outside.
5. Ride the Forest Park Miniature Railroad
A favorite of the young and young at heart, the Forest Park Miniature Railroad will get you off your feet for close to an hour as you wend your way through a pastoral path on a mini train.
It's a five-mile ride, and the route crosses over six bridges. The scenery alone earns the teeny rails a sport on our list of the best things to do in Fort Worth — and the adorable train is the cherry on top.
Forest Park is a must for kids, anyone who loves trains, and parents in search of 40 peaceful minutes.
6. Marvel at Old-West Artwork at the Amon Carter Museum
One of the more enriching activities in Fort Worth is the Amon Carter Museum of American Art, which memorializes the American West of the 19th and 20th centuries.
Located in the Cultural District, the museum first opened in 1961. The minimalist building is a stunning example of post-modern architecture, and the structure's wide-open spaces reflect the grandeur of Texas.
Most of the museum's works focus on pioneering, from exploration to settlement.
Its treasures include works by Frederic Remington, Charles M. Russell, Mary Cassatt, John Singer Sargent, Frederic Remington, Morton Livingston Schamberg, and Erwin Evans Smith.
7. Stroll Through the Fort Worth Botanic Garden
Are you in the mood to commune with Mother Nature? If so, find your way to the Botanic Garden, one of the most beautiful things to see in Fort Worth.
The 110-acre retreat established in 1934 is one of the oldest botanic gardens in Texas. It's even listed on the National Register of Historic Places.
The park is divided into several sections, with the Fuller, Rose, and Japanese Gardens being the standouts.
The 10,000-square-foot tropical conservatory is also gorgeous and worthy of a spot on our list of best things to do in Fort Worth.
8. Shop, Eat, and Dance the Night Away in Sundance Square
If you're looking to let loose and knock back a few drinks in Fort Worth, find your way to Sundance Square in the evening.
The 35-block residential and entertainment district is abuzz with restaurants, bars, and nightclubs. And yes, the square was named after the Sundance Kid. It's a great people-watching spot!
9. Consider the Old Masters at the Kimbell Art Museum
You can throw a pebble in Fort Worth and hit a museum. There are so many that it's hard to hit them all. But the Kimbell should not be skipped.
It started as the private collection of Kay and Velma Kimbell, a prominent Fort Worth businessman who lived between 1886 and 1964 and his socialite wife.
Today, it has grown into more than just a gallery. The Kimbell maintains an extensive research library and facilitates various educational programs.
Designed by Louis I. Khan, the Kimbell building regularly lands on best-of architecture lists.
It's a thoroughly modern affair, and the structure features vaulted, arched ceilings and special reflectors that spread sunlight across the showroom ceilings.
In addition to traveling exhibitions, the Kimbell Art Museum houses works by several of the Old Masters, including Caravaggio and Michelangelo, in addition to later-era greats like Miró, J.M.W. Turner, El Greco, Cézanne, and Gauguin.
The museum also features an Asian art wing featuring works by Gong Xian, Wang Zhao, and Wen Jia.
10. Catch a Game at Amon G. Carter Stadium
Calling all football fans! Texas loves little more than an afternoon of watching players throw pigskins and hanging out at a tailgate.
In Fort Worth, the place to cheer for the home team is Amon G. Carter Stadium on the campus of Texas Christian University.
Locals call the open-air field "The Carter" or "Hell's Half Acre," and it's home to the TCU Horned Frogs.
Don't forget to wear your purple and white!
11. Enjoy a Private Viewing at the Sid Richardson Museum
If you love art and history, make time for the Sid Richardson Museum in the historic Sundance Square.
A unique experience, SRM is a reservation-only museum. Inside, guests enjoy a highly curated experience as they consider the art of Charles M. Russell, Frederic Remington, and other artists of the late 19th and early 20th centuries.
12. Sip, Ride, and See on the Cowtown Cycle Party
Want to get a little exercise, soak in the Fort Worth sights, and enjoy a few beers all at once?
Believe it or not, the Cowtown Cycle Party vehicle has you covered! The BYOB, 16-person, canopied bicycle, is a great way to see the city while enjoying the fresh air.
Cowtown Cycle Party tours are two hours. Guests can book a private party or join a mixed ride.
If you choose the former, you set the schedule. Some people opt to ride the whole time; others use it as a personal taxi and drive it from place to place.
Don't worry if you're out of shape. The vehicle comes with a pedal-assist motor.
Read next: Breweries in Fort Worth
13. Sip Your Favorite Cocktail at Ático Fort Worth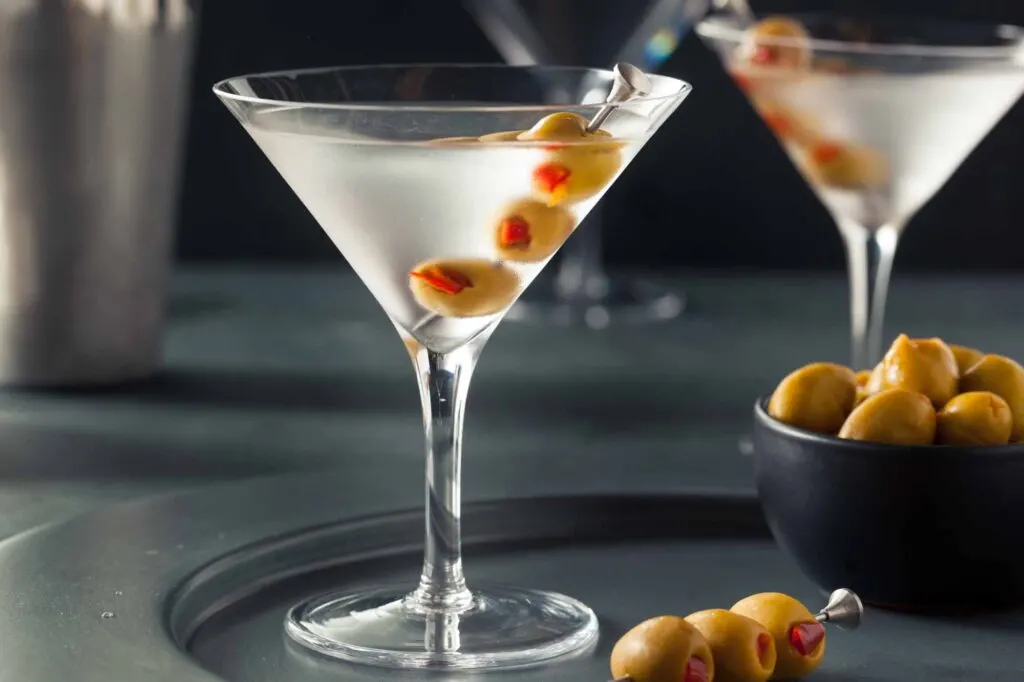 As far as life's small pleasures go, eating delicious food while sipping on cocktails in a chic atmosphere ranks high on the list.
In Fort Worth, the place to find that experience is Ático. A rooftop restaurant in the Fort Worth Historic Stockyards district, Ático serves Barcelona-inspired tapas and boasts an impressive wine list.
Guests can choose between alfresco and inside seating, and doors open at 4:40 p.m. Monday through Friday.
On the weekends, you can pull up as early as 11:30 a.m. The dress code is casually dapper, and the view is out of sight!
14. Soak in Some Culture at the Modern Art Museum
One of Fort Worth's many museums, the city's Modern Art Museum — known by locals as merely "The Modern" — is an internationally celebrated collection of artworks created between 1945 and the present.
Even though The Modern focuses on post-World War II works, it was founded in 1892 as the "Fort Worth Public Library and Art Gallery" but eventually changed its charter and location.
Today, the museum is in a compound designed by renowned architect Tadao Ando.
It took five years to perfect the plans, and the structure won an Architectural Digest award for the best-designed building in Texas. The standout feature is a reflecting pool that sits astride the main gallery.
Fort Worth's Modern Art Museum boasts 53,000 square feet of exhibition space, where works by the modern masters, including Pablo Picasso, Susan Rothenberg, Jackson Pollock, Gerhard Richter, Mark Rothko, and Andy Warhol, hang.
The Modern also has a growing collection of works by notable contemporary artists, like Kaws, Martine Gutierrez, Lorna Simpson, Takashi Murakami, Mario García Torres, Kamrooz Aram, Thomas Demand, and Wangechi Mutu.
15. Catch a Flick at the Coyote Drive-In Theater
In the mood to kick back and catch a flick? Head straight to the Coyote Drive-In Theater, a Fort Worth favorite.
Every day, rain or shine, the gates open at 6 p.m., and cars file into the field. Sprinters, small buses, 18-wheeler cabs, RV's, and campers aren't permitted because they obstruct the view.
Guests aren't allowed to bring in food and drinks, but the Coyote has a concession stand that sells snacks, beer, and wine.
Also, make sure you have a car radio or something capable of transmitting FM frequencies — because that's how the sound comes through.
16. Tour Fort Worth's Amazing Murals
Fort Worthians love a good mural, and the city is covered in them.
Spending a day exploring Cowtown's neighborhoods on foot or bike is like passing the day in an open-air museum, and it's easily one of the best things to do in Fort Worth.
Each area has its own flavor, and murals range from the cultural to the surreal.
To map out a course, check out Fort Worth's mural page.
17. Learn About Unsung Heroes at the National Multicultural Western Heritage Museum
Founded in 2001 by Jim and Gloria Austin, the National Multicultural Western Heritage Museum is a great place to learn about important pioneer figures often left out of earlier histories, including peoples from Native American, African, Hispanic, and Asian backgrounds.
Permanent exhibits tell the stories of the Buffalo Soldiers, Tuskegee Airmen, Native American tribes, and Vaqueros.
The National Multicultural Western Heritage Museum also has a Hall of Fame. Wesley Studi, James Pickens Jr., Bob Tallman, and Bass Reeves rank among the inductees.
18. Marvel at Old Aircraft at the Vintage Flying Museum
Are you fascinated by all things that fly? Or maybe you're a military buff with a yen for fighter jets.
Either way, you'll love the Vintage Flying Museum in Fort Worth. Located at the Meacham International Airport, the non-profit aviation museum has one of the best collections in the world of old aircraft.
A sampling of the planes on display include:
Aeronca Chief: single-engine, two-seater manufactured between 1945 and 1950
American Flea Ship: one of the first female-designed airplanes from the early 1930s
Cessna 120, 140, and 140A: chrome, single-engine, two-seater that went into production immediately following World War II
Stinson Reliant: stout-nosed, single-engine, four- to five-seater, high-wing monoplane that first went into production in the 1930s
Boeing B-29 Superfortress: four-engine, propeller-driven, heavy bomber that flew between the 1940s and 1960s
Consolidated B-24 Liberator: heavy bomber that primarily engaged in anti-submarine warfare in the 1940s
19. Stimulate Your Brain at the Museum of Science and History
Since 1945, the Museum of Science and History has been educating Fort Worth's residents and guests.
More than just a look-don't-touch gallery, the 166,000-square-foot facility has the Noble Planetarium, which is included in the cost of every ticket, and the 90-seat Omni Theater, the largest IMAX dome west of the Mississippi River.
Permanent exhibits at the Fort Worth Museum of Science and History include:
Fort Worth Children's Museum: a museum within a museum for kids under 8
DinoLabs & DinoDig: replica dig site complete with dinosaur skeletons where children can play
Cattle Raisers Museum: another museum within a museum that celebrates the history of Texas ranching
Energy Blast: an exhibit that explores alternative energy sources
Innovation Studios: flexible learning spaces with five studios called "Inventor," "Doodler," "Designer," "Imaginer," and "Explorer."
If you need to fuel up while at the museum, head to the Star's Cafe, the on-site restaurant.
20. Shop Till You Drop at Cross-Eyed Moose Antique
One of the most famous stores in the Fort Worth Stockyards, Cross-Eyed Moose Antique, is one of those places where you can get lost for hours.
The retail mecca is packed from wall to wall with one-of-a-kind western furniture, trinkets, and accessories, making it one of the best things to do in Fort Worth.
Whether you want a cowboy hat or an antique antler chandelier, you'll find it at the Cross-Eyed Moose.
21. Step into the Past at the Log Cabin Village
Living history museums allow us to step back in time, and the Log Cabin Village in Fort Worth transports visitors back to the state's pioneer era between 1840 and 1890.
Founded by the Tarrant County Historical Society and operated by the City of Fort Worth, the village first opened in 1966.
Actors and volunteers portray 19th-century villagers and put on mini presentations for guests wandering through the grounds dotted with log structures prevalent during the western expansion.
Exhibits include a one-room schoolhouse, an herb garden, several log homes, a water-powered gristmill, and a blacksmith shop.
Everyone who loves history — or costume period dramas — should make time for the Log Cabin Village, one of the best things to do in Fort Worth, Texas.
22. Catch a Performance at the Bass Performance Hall
Constructed in 1998, Bass Hall is Fort Worth's grand performing arts venue.
Commissioned by notable philanthropist Nancy Lee Bass and her husband Perry Richardson Bass, the limestone building is a work of art in and of itself.
Outside, two 48-foot angels sculpted by Marton Varo greet guests; inside, an 80-foot dome painted by Stuart and Scott Gentling wows them.
The venue seats 2,056 people and maintains a full schedule of symphony, opera, ballet, musical, and stage performances.
The Fort Worth Symphony Orchestra, Fort Worth Opera, and Texas Ballet Theater all call the venue home.
It's also a popular spot for live album recordings. Lindsey Buckingham of Fleetwood Mac fame recorded his acclaimed LP "Live at the Bass Performance Hall" at the space in 2007.
23. Catch a NASCAR Event at the Texas Motor Speedway
Drivers, start your engines! Watching a race at the Texas Motor Speedway is almost a requirement when you're in Fort Worth.
Because heck, NASCAR is nearly a religion 'round these parts! The speedway's quad-oval NASCAR track is 1.44 miles long, but the facility is a whopping 1,500 acres, complete with camping grounds.
TMS holds events throughout the year, and the average ticket is around $80. Purchase seats ahead of time because events do sell out.
24. Commune With Mother Nature at the Fort Worth Nature Center & Refuge
As one of the largest municipally-owned nature preserves in the United States, the Fort Worth Nature Center & Refuge is a sprawling 3,621-acre expanse of prairies, forests, and wetlands.
It sits between Lake Worth and Lakeside and includes 20 miles of hiking trails.
The Fort Worth Nature Center & Refuge also runs the Hardwicke Interpretive Center, an educational organization that tracks and studies local weather patterns, plants, animals, and fossils.
The center maintains a butterfly garden and observes a group of bison that live on a 210-acre range on the reserve.
In our book, a wild bison herd should land on every list of what to see in Fort Worth!
25. Touch Fish at the SeaQuest Fort Worth
After you're done seeing the terrestrial animals at the Fort Worth Zoo, head over to SeaQuest to look at underwater wildlife.
SeaQuest has touch tanks and other interactive exhibits that are usually a big hit with the wee ones. But don't worry, adults, there's stuff for you too — including fish pedicures.
In addition to fish, SeaQuest also has sloths and tortoises.
26. See How Money Is Made at the Bureau of Engraving and Printing
Did you know that over half of the country's money is produced in Fort Worth?
So if you want to see how the greenbacks are made, head to the U.S. Department of the Treasury's Bureau of Engraving and Printing — commonly known as the BEP.
The Bureau of Engraving and Printing landed on our list of the best things to do in Fort Worth because watching money get made is a unique experience.
Visitors can walk through two floors of interactive exhibits and purchase sheets of uncut currency at the Moneyfactory Gift Shop.
27. Relax at Trinity Park
Next to the Fort Worth Zoo is the 252-acre Trinity Park.
A place for nature lovers and people who want to spend the day soaking in some fresh air, Trinity Park has over 100 miles of riverside hiking and biking paths, in addition to a duck pond and several playgrounds.
There's even a miniature train ride that's been chugging along since 1959. Whether you rent a bike for the day or chill out on a grassy expanse sipping wine and nibbling on cheese, a day at Trinity Park is sure to be a relaxing one.
28. Celebrate Western Women at the National Cowgirl Museum
Women were an essential part of western expansion, and the National Cowgirl Museum puts them front and center.
Established in 1975, the museum has several permanent exhibits and a rotating one.
The organization also maintains a research library and Hall of Fame with over 200 inductees, including Annie Oakley and Sandra Day O'Connor.
A must for fans of Americana, the National Cowgirl Museum has a rare photography collection and over 30,000 square feet of exhibit space.
Popular displays include "Into the Arena" — which tells the history of rodeo women — and "Kinship With the Land," where visitors can explore historic ranching gear, like split skirts, pistols, Victorian riding habits, and sidesaddles.
"Claiming the Spotlight" is another popular exhibit that tracks the evolution of cowgirls in the media.
29. Cool Off at Burger's Lake
Since the late 1920s, people have been flocking to Burger's Lake in Fort Worth.
The 30-acre park features a one-acre, spring-fed, chlorinated swimming lake that's open daily from 9 a.m. to 7 p.m. from Memorial Day to Labor Day.
Visitors splash around in the water — with and without floats — and take turns using the six diving boards, 20-foot slide, and 25-foot trapeze.
In addition to the lake, the complex has two sandy beaches for sunbathing, grassy areas covered by shade trees, over 300 picnic tables, dozens of charcoal grills, and a handful of concession stands. However, guests are not allowed to bring alcohol or anything glass.
The water is chilly, but on a hot Texas day, it hits the spot!
Burger's Lake is about 25-feet deep in spots, so parents should always be on alert. Plus, certified lifeguards also keep watch over the waters.
30. Learn About the Airline Business at the C.R. Smith Museum
Located on the American Airlines Flight Academy campus, exactly halfway between Fort Worth and Dallas, sits the American Airlines C.R. Smith Museum.
For nearly 30 years, the C.R. Smith has preserved the history of American Airlines and commercial aviation as a whole, and its exhibits explore what it takes to run an international airline.
The main attraction is a fully restored DC-3, a plane from the 1930s often described as the first comfortable commercial aircraft.
There's also a large-format theater that plays fascinating documentaries about the history of commercial flight.
If you're into planes, the C.R. Smith Museum qualifies as one of the best things to do in Fort Worth.
31. Visit the Texas Civil War Museum
The Texas Civil War Museum is in a suburb of Fort Worth. With three large galleries, it's the largest Civil War museum in the West.
Currently, it features military paraphernalia, flags, and a Victorian dress collection.
In keeping with the theme, the gift shop is split down the middle with Union items on one side and Confederate souvenirs on the other.
People thinking about visiting the museum should be aware that it presents the war as a "sectional crisis" over states' rights and not slavery.
32. Hike the Trinity Trails
Rounding up our list of the best things to do in Fort Worth is the Trinity Trails. Part of Trinity Park, it's a great spot to go hiking. There are places to sit and eat along the path, and the atmosphere is rejuvenating.
Water lovers should put aside an afternoon for the Paddlings Trails, a 6-mile-long aquatic trek.
Kayaks and canoes are available to rent and come with a certified guide. Experienced hikers also enjoy the Canyon Ridge Trail, a challenging 3.25 miles of limestone and sandstone outcroppings.
We hope you found our list of what to do in Fort Worth, Texas, helpful. If the city sounds right up your alley, why not strap on some spurs and book tickets for Cowtown, USA — where a whole lot of western fun awaits!
Latest posts by John Oakley
(see all)