The painted churches of Texas are beautiful, historic, and culturally significant. If you're among the faithful or merely an art lover, they're not to be missed.
Living relics of the 19th and early 20th centuries, the painted churches of Texas dot the central Hill Country.
Modeled after the ancient gothic cathedrals of Europe, they were built and adorned by immigrants who wanted to transport a bit of their old life to the New World.
Visiting the painted churches, most of which are Roman Catholic, is the closest you'll get in the United States to touring the sanctuaries of Germany, Austria, and the Czech Republic.
Each building is adorned with intricate patterns, swooping cherubs, blooming flora, and immaculately maintained trompe l'oeil images.
Their beauty conveys an endearing earnestness that stands as a testament to the early settlers' hopes, dreams, and unwavering faith.
Rev. Alan Oakes, producer of the 2001 PBS documentary titled "The Painted Churches of Texas," once explained:
"These were poor immigrants trying to mimic the grand churches of their homelands. They used a hodgepodge of architectural styles and used paint to simulate rich materials like marble and precious metals."
So if you're a faithful pilgrim, an architectural hobbyist, or a fresco art enthusiast, add Texas painted churches to your USA bucket list.
What Are the Painted Churches of Schulenburg?
In the 1800s and early 1900s, Eastern European and German immigrants flocked to the central hills of Texas.
With them came their traditions and town names. Today, communities like Praha, Schulenburg, Dubina, Serbin, and Fredericksburg remain rooted in Teutonic and Slavic culture, and their preserved painted churches are shining examples of the customs, values, and artistic sensibilities of the original settlers.
Today, about 20 painted churches are still standing, and many are located in or around Schulenburg, which is why people sometimes call them the Schulenburg painted churches.
But Schulenburg isn't the only town with these sacred gems, and below, we've highlighted our six favorites, located in Serbin, High Hill, Ammannsville, Dubina, Fredericksburg, and Praha.
Texas Painted Churches
Here are our favorite painted churches of Texas in no particular order.
1. St. Paul's Lutheran, Serbin
Built in 1870, under the direction of Rev. John Kilian, St. Paul's Lutheran in Serbin is the only non-Catholic painted church in Texas on our list.
Originally the worship house of Wendish immigrants who left Hamburg, Germany, in search of tillable land, St. Paul's features gold-accented cerulean ceilings and columns decorated with intricate floral patterns and faux-marble finishes.
For the first 36 years of its existence, St. Paul's remained a demure, wood church.
But in 1906, the community decided to spruce things up and painted the church by themselves, without the help of a professional artist.
St. Paul's Lutheran also holds the distinction of having the tallest pulpit in Texas, standing a commanding 20 feet off the ground!
The church also has two stories of pews. In the olden days, men would fill the top seats while women and children occupied the bottom floor.
St. Paul's Lutheran Church in Serbin Address
1572 CR 211
Giddings, Texas 78942
St. Paul's Lutheran Service Time
St. Paul's Lutheran holds Sunday services at 8:30 AM. Communion is given on the first and third Sundays of every month.
2. St. John the Baptist Church, Ammannsville
Known as the "pink church," St. John the Baptist in Ammannsville, a tiny ghost town, is a vision in dusty rose.
Gold stenciled patterns sit atop a light pink base, with ivy and angel depictions scattered throughout the sanctuary.
The church's green flooring and loads of painted statutes add to the wow factor. Fred Donecker and Sons, who advertised as "fresco painters," are responsible for the original murals.
An enduring homage to the early settlers, the church's stained glass windows tell the story of the area's Czech roots and history.
Today's building was erected in 1918 and the third to sit on the plot. A fierce hurricane destroyed the first church in 1909, and the second (built by Leo M.J. Dielmann, again) burned in a fire eight years later.
St. John the Baptist in Ammannsville Address
7745 Mensik Road
Schulenburg, Texas 78956-5724
St. John the Baptist in Ammannsville Mass Times
In odd months, this Texas painted church holds mass on Saturdays at 5:00 PM. In even months, mass is on Sundays at 9:30 AM.
Throughout the year, this beautiful church also opens for a Friday evening Mass that starts at 5:00 PM.
3. Saints Cyril and Methodius Church, Dubina
In the mid-1800s, a group of families from the northeastern part of Moravia landed in the central Texas hills, and after happening upon a grove of oak trees, they decided to call the area home and named it Dubin.
After the Civil War, in 1877, these same families set out to build a church, Saints Cyril and Methodius.
Poignantly, they topped their house of worship with an iron cross made by a freed slave named Tom Lee.
But the 1909 hurricane that ravaged central Texas took down Saints Cyril and Methodius. Undeterred, the Dubinites commissioned another church in 1912 and were able to salvage Mr. Lee's cross.
A testament to the gothic cathedrals of their homeland, Saints Cyril and Methodius features sky-blue ceilings and domes set off with gold stars, floral stencils, and angels on high.
Statutes wreath the altar, and a mural of Christ in the Garden of Gethsemane holds a place of prominence.
With more windows than any of the other painted churches of Texas, Saints Cyril and Methodius is a bright and cheery sanctuary that uplifts the soul. (It is arguably the most elaborate church of all painted churches of Texas.)
In the 1950s, the local diocese ruled that the vibrant interior was too distracting and whitewashed the artwork.
But in the 1980s, when other area churches were recognized for their painted interiors, Saints Cyril and Methodius restored the original art.
Saints Cyril and Methodius in Dubina Address
4148 FM 1383
Dubina, Texas
Saints Cyril and Methodius in Dubina Mass Times
Saints Cyril and Methodius Catholic Church holds mass on Saturdays at 4:00 PM. and Sundays at 10:15 AM.
4. St. Mary's Church of the Assumption, Praha
Built in 1895, St. Mary's Church of the Assumption in Praha, Texas, is the oldest of the region's painted churches.
Artist Gottfried Flury completed the original artwork, and in 1901, the church's pastor, Father Netardus, a hobbyist painter and musician, added embellishments.
In the mid-1900s, another artist named Gene A. Mikulik added gold leaf to parts of the sanctuary and created the church's signature mural of the Virgin Mary called "Our Lady of Victory."
The blue-green arched ceiling of St. Mary's Church of Assumption is a Garden of Eden replica filled with Texas flowers, and the building's polished floors serve as a mirror for its grand chandelier and stained glass windows.
But the star of the church is the white altar gilded in 24 karat gold.
Behind the hand-carved altar is a serene mural of three angels dressed in pink, blue, and yellow, floating around a cross. Painted cornices and wooden beams enhance the majestic effect.
According to local lore, the congregation had difficulty finding someone to climb the 130-foot steeple to secure the cross.
To entice candidates, they offered a keg of beer to the person who completed the feat. One man took the offer, and when he reached the top, busted out a handstand!
St. Mary's Church of the Assumption in Praha Address
821 FM 1295
Flatonia, Texas
St. Mary's Church of the Assumption in Praha Mass Times
This Texas painted church holds seven regular masses a week. On the weekends, services are held on Saturdays at 5:00 PM. and Sundays at 9:00 AM.
On Mondays, Tuesdays, Thursdays, and Fridays, there's a mass at 8:30 AM., plus an extra service at 6:30 PM on Fridays. Additionally, on the first Wednesday of each month, there's a 7:00 PM mass.
5. St. Mary's Church, Fredericksburg
Consecrated in 1908, the sandstone St. Mary's Church in Fredericksburg was built by one of the wealthier immigrant communities of the early 20th century — and it shows!
The congregation spared no expense, and the building boasts corner towers, buttresses, exquisite stained glass windows, domed ceilings, and intricate moldings.
George Kilgen & Son built a custom pipe organ for the space in the early 1900s, and though it's been electrified, the instrument continues to fill the sanctuary with gorgeous hymns today.
When visiting, seek out the stained glass window depicting two children receiving their first communion from guardian angels.
The boy is James and the girl Erma, two immigrant children connected to the church who passed away at a young age — as many did back then.
Another notable feature is a mural of the 12 apostles that spans the length of the center aisle. But the artist took liberty by swapping out Judas for Matthias.
Also, Fredericksburg is a lovely German town with a rich history and enjoyable Downtown, in case you need a place to have some refreshments.
On May 8, 1846, this small town in Texas was founded by German immigrants under the Society for the Protection of German Immigrants in Texas.
St. Mary's Church in Fredericksburg Address
306 West San Antonio St.
Fredericksburg, Texas
St. Mary's Church in Fredericksburg Mass Times
St. Mary's Church in Fredericksburg has a complicated mass schedule. On the first Saturday of every month, it holds masses on Saturdays at 8:00 AM and 5:30 PM.
Every Sunday, there are three masses in a row at 7:30 AM, 9:00 AM, and 11:30 AM. On Mondays, mass is at 7:30 AM; on Tuesdays, it's at 7:00 PM; and on Thursdays, congregants enjoy service at 8:00 AM.
Then, on the first Friday of every month, there are two masses at 7:30 AM and 7:00 PM.
6. St. Mary's Church, High Hill
Its full name is Nativity of Mary, Blessed Virgin Catholic Church, but it's commonly known as the "Queen of the Painted Churches."
Listed on the National Register of Historic Places, St. Mary's Church in High Hill was built in 1906 by the German-Czech immigrants who settled the town and designed by Leo Dielmann.
In 1912, Ferdinand Stockert and Hermann Kern, two sought-after decorative artists of the time, painted this Gothic revival church.
Instead of doing their work directly on the ceilings and walls, they used canvases later affixed to the building.
From the outside, it looks like an unassuming red-brick church. But inside, it's a vibrant kaleidoscope.
Considered one of the most beautiful churches in Texas, the sanctuary features a pastel blue cupola with gold accents, and the columns are painted to resemble marble.
A striking Lamb of God painting sits behind the altar, 18 stained-glass windows fill the church with dazzling light, and a reproduction of Michelangelo's Pietà sculpture graces the sanctuary.
Stockert and Kern also used paint to create the illusion of gothic groin vaults and joints.
St. Mary's in High Hill also has historical significance in that it was the birthplace of the Catholic State League.
These days, Saint Mary's is known for its blow-out picnic held every Sunday of Labor Day Weekend.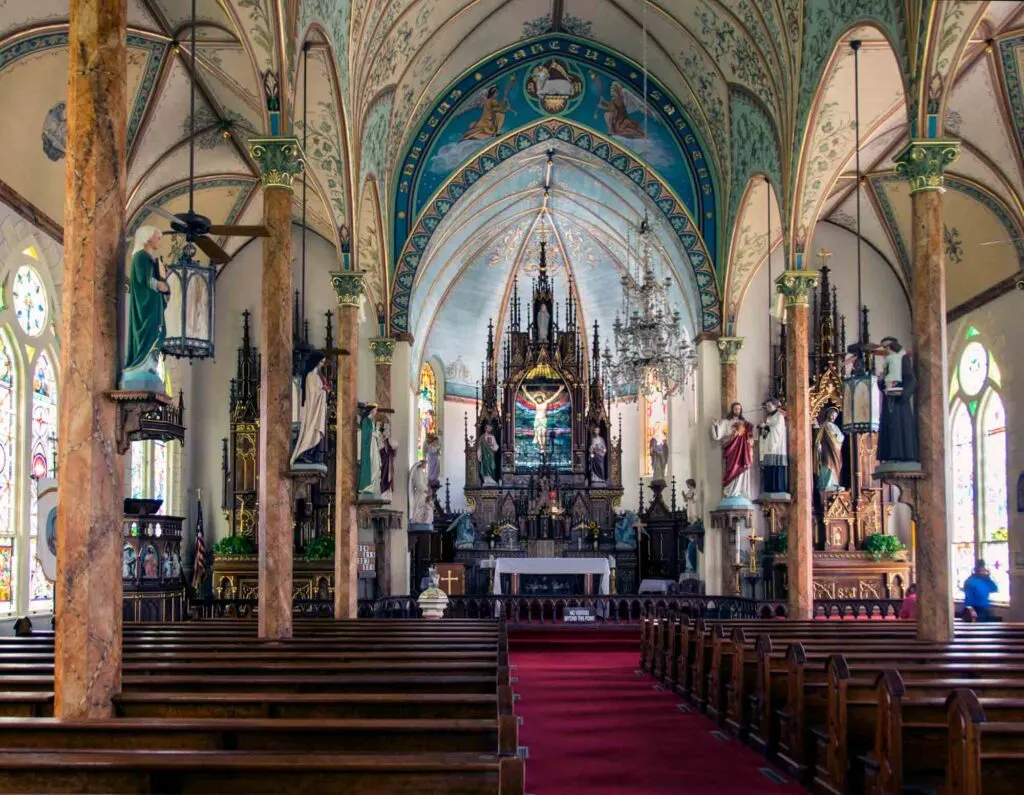 St. Mary's Catholic Church in High Hill Address
2833 FM 2672
Schulenburg, Texas
St. Mary's Catholic Church in High Hill Mass Times
St. Mary's holds mass twice a week: 6:30 PM on Saturdays and 7:00 AM on Wednesdays.
Painted Churches of Texas Map
To help you organize your self-guided tour or road trip of these Hill Country churches, we made this interactive map that you can use on your mobile.
It's a 100% free map of the painted churches of TX! Feel free to share it.
Wrapping Up on the Painted Churches of Texas
The painted Texas churches are cherished historic buildings that memorialize the ingenuity and faith of the early settlers — and visiting them is a treat.
Although you can explore most of the churches on your own, access to the altars is limited.
Moreover, some congregations gate the sanctuary when services are not in session. As such, we recommend joining a tour to learn more about each building's unique details. Besides, tours give you up-close access.
Did you enjoy reading about the Texas painted churches? Then share this article with a friend who might enjoy it too!
Latest posts by John Oakley
(see all)