Traveling to Vermont in search of the best craft beer? Then pay close attention because we've got you covered with our ultimate list of Vermont breweries.
As the state with the highest number of breweries per capita, Vermont doesn't fool around when it comes to craft beer.
Home to 74 breweries and counting, the Green Mountain State is an incredible destination for those in search of flavorful, creative, and tasteful flavors.
From trendy breweries in Burlington to quaint farm side taprooms, mountaintop tastings, and European-inspired brew houses, Vermont truly has something for everyone.
17 Best Vermont Breweries
Here's our list of the best breweries in Vermont! If you have time, we highly recommend visiting as many of them as you can.
Alternatively, you could also plan your trip to coincide with Vermont's annual Brewers Festival.
Held every year at the end of July, this festival showcases many of the Vermont breweries on our list and is, undoubtedly, one of the best things to do when summering in Vermont!
14th Star Brewery
Founded under the motto, "brewed with a mission," 14th Star Brewery was dreamed up on the battlefields of Afghanistan by two Vermont veterans.
They developed their business plan while deployed and put their dreams into action upon returning home, opening up their brewery in downtown St. Albans in 2012.
They are most known for their core brews, which are available year-round, and feature a mix of hoppy IPAs, dark stouts, and light ales.
You can also expect to find a few seasonal and limited-edition brews that offer creative flavors, such as Raspberry Weiss and Honey Kolsch.
It's also worth noting that a portion of the brewery's proceeds are donated to local organizations, including those that support veterans and their families.
Address: 133 N Main St #7, St Albans City, VT 05478
1st Republic Brewing Company
Located just outside Burlington, in Essex Junction, 1st Republic Brewing Company offers some of the finest craft beer in Vermont.
Veteran-owned and operated, the company has received awards for being one of the best small businesses in the state.
Here you'll find a wide variety of brews, including IPAs, pale ales, porters, pilsners, and lagers.
They also offer an extensive selection of creative flavors, such as caramel and coffee-flavored porters, mango IPAs, and raspberry sour beer.
The brewery is even known for hosting a variety of community events, including karaoke, open mic nights, movie showings, as well as live music, and food truck gatherings.
Address: 39 River Rd #6, Essex Junction, VT 05452
Beer Naked Brewery
Situated on top of Hogback Mountain in Marlboro, Beer Naked Brewery is considered by many to be one of the most scenic breweries in Vermont.
Offering sweeping views of the Vermont countryside, this brewery serves up a variety of local craft beers, ciders, and wines.
Popular brews here include the Maple Brown Ale, Lucid Dreams IPA, and Sour Cherry beer.
Of course, we also can't forget about their wood-fired pizza.
Served via the attached Pizzapalooza restaurant, the pizza here is just as good as their beer!
If you're lucky, you can even time your visit to line up with one of their many community events, which include live music, yoga classes, and more.
Address: 7678 VT-9 Unit 5, Marlboro, VT 05363
Bent Hill Brewery
There aren't many VT breweries that cater solely to vegetarians, but Bent Hill Brewery is one of them!
Located on a farm in Braintree, this unique brewery offers an entirely meatless menu that utilizes locally grown produce right from its very own property.
Here you'll find a variety of popular bites, including white bean burgers, flatbread pizzas, falafel salads, and apple crisp.
Of course, their craft beer is also worth trying!
Again, produced using farm-grown produce and well-drawn water, the brews here are creative and flavorful.
From double IPAs to red ales, barrel-aged goses, and scotch ales, there are a variety of flavors to choose from.
They even offer a small selection of local wines, including honey-flavored chardonnay and berry-soured merlot.
Address: 1972 Bent Hill Rd, Braintree, VT 05060
Black Flannel Brewing Co.
With a focus on promoting true craft rooted in tradition, Black Flannel Brewing Co. is one of the only Vermont breweries to offer educational sessions about beer.
From workshops on how to properly taste-test beer to presentations on the history of brewing and discussions about the brewing process, patrons of this brewery have the opportunity to do so much more than simply drink beer.
That being said, you shouldn't skip out on the opportunity to sample their craft brews.
Offering a variety of flavors, you'll find everything from IPAs to stouts, pale ales, pilsners, porters, and lagers here.
This Essex brewery also offers a variety of signature cocktails, wines, ciders, distilled spirits, and pub fares, including burgers, fries, and fish and chips.
Address: 21 Essex Way # 201, Essex Junction, VT 05452
Bobcat Café and Brewery
Situated in the heart of Bristol, Bobcat Café and Brewery is a quaint, welcoming establishment that offers handcrafted brews and comfort food.
Here you'll find a collection of house-made craft beers, such as IPAs, pale ales, and pilsners, as well as a variety of signature cocktails.
The food here features classic American fare with a few contemporary twists thrown in. Popular dishes include the Bobcat Burger, Chicken Tacos, Farm Salad, Clam Chowder, and Chicken Wings.
Address: 5 Main St, Bristol, VT 05443
Zero Gravity Brewery
Zero Gravity Brewing is, undoubtedly, one of the most popular and well-known VT breweries.
Located in the heart of the state's biggest city by Lake Champlain, this famous brewery tops many lists as one of the best things to do in Burlington.
Founded in 2004, the brewery originally resided inside the city's American Flatbread restaurant but has since grown and expanded into its own space in Burlington's South End.
Today, the brewery offers a variety of flavorful brews, including pilsners, pale ales, lagers, and IPAs.
Some of the most popular craft beers include the Green State Lager and Conehead IPA – both of which are known for offering a unique Vermont flair.
Address: 716 Pine St, Burlington, VT 05401
Burlington Beer Company
Another favorite among visitors to Burlington is the Burlington Beer Company.
Offering upwards of 75 different types of beer each year, this establishment is, without a doubt, one of the most diverse Vermont breweries.
Here you'll find everything from IPAs, to double and triple IPAs, porters, lagers, brown ales, pale ales, stouts, double stouts, and barrel-aged stouts, among many others.
The brewery is also known for its extensive food menu, which offers a variety of bar snacks, appetizers, salads, sandwiches, entrees, sides, and desserts.
Some of the most popular dishes on their menu include poutine, chicken wings, hamburgers, and pretzel bites.
Address: 180 Flynn Ave, Burlington, VT 05401
Hill Farmstead Brewery
Hill Farmstead Brewery has played a significant role in promoting and drawing attention to craft beer in Vermont.
Named the best brewery in the world several years in a row, the establishment has certainly helped put Vermont on the map and on the minds of beer connoisseurs across the globe.
Known for its farmhouse, barrel-aged beers, the brewery offers a wide variety of IPAs, double IPAs, porters, stouts, sours, and more.
You can sample all of these delicious beers at their cozy, rustic taproom in Greensboro or in many restaurants across Vermont.
In fact, most of Burlington's most popular restaurants offer a selection of Hill Farmstead beer on tap.
Address: 403 Hill Rd, Greensboro Bend, VT 05842
Otter Creek Brewing
While many Vermont breweries aim to promote sustainable practices, few have taken as many steps to "go green" as that of Otter Creek Brewing.
Located in Middlebury, Otter Creek prides itself on operating as sustainably as it can.
This has led to several partnerships with local farmers that provide the opportunity to turn brewery waste into fertilizer and feed for local dairy cows.
With such intentional practices in mind, it should come as no surprise to hear that the brewery is as careful with its brews as it is with its operations.
What is produced as a result of this is a collection of finely crafted beers featuring a variety of flavors, including IPAs, pale ales, and sours.
Address: 793 Exchange St, Middlebury, VT 05753
Lost Nation Brewing
Located in Northern Vermont in the small town of Morrisville, Lost Nation Brewing is a popular local brewhouse that offers lesser-known European-style lagers and ales.
Here you'll find unique beer offerings such as the Dobre Dobre, a Czech-style amber lager, Petit Ardennes, a Belgian-style session ale, and the Vermont Pilsner, a Franconian-style pilsner.
In addition to this, the brewery has a rotating menu of locally-sourced food options that include a variety of burgers, chicken wings, sandwiches, and salads.
Guests to the brewery have the option to sit inside the taproom or in the outdoor Biergarten, which is open seasonally during the summer months.
Address: 87 Creamery Rd, Morrisville, VT 05661
Brocklebank Craft Brewing
Operating with only one-and-a-half barrels, Brocklebank Craft Brewing is a nano craft brewery known for its IPAs, stouts, pilsners, and fruit beers.
Its small size allows it to be adaptive, leading to regular experimentations with new flavors and concoctions.
As a result of this, the menu is constantly changing, so you never really know what you'll find when you visit – but that's what makes each trip to this brewery fun, exciting, and unique.
In addition to its creative brews, the brewhouse plays an active role within the communities of Chelsea and Tunbridge.
In fact, the owners help to organize the annual Vermont Nanobrewery Festival, which is held each year at the Tunbridge Fairgrounds. It's a great event to check out if you're in search of smaller, lesser-known Vermont brews.
Address: 357 Dickerman Hill Rd, Chelsea, VT 05038
Foley Brothers Brewing
Tucked away inside a vintage barn near the Green Mountain National Forest, you'll find Foley Brothers Brewing.
Owned and operated by the Foley brothers, this brewery began first as a winery and expanded to include a brewhouse in 2012.
Today, the brewery offers a mix of both wine and beer, although it is mainly known for its craft brews.
Here you'll find a wide variety of options, including everything from IPAs to double IPAs, porters, stouts, and a selection of specialty brews.
In the years since opening, this brewery has become a popular hang-out spot among locals and visitors alike.
Address: 79 Stone Mill Dam Rd, Brandon, VT 05733
Fiddlehead Brewing Company
Situated on the outskirts of Burlington in Shelburne, Fiddlehead Brewing Company is a long-time staple in the Vermont beer scene.
Founded in 2011, the brewery is a favorite among locals, who come for the brewery's beer and stay for the nearby pizza.
While the brewery doesn't offer pizza itself, it does have a partnership with its next-door neighbor, Folino's Restaurant.
This means that you can bounce between the two, ordering excellent beer and snacking on pizza until your heart's content!
As you do so, make sure to save some room to sample the Fiddlehead IPA – it's, without a doubt, their most popular brew!
Address: 6305 Shelburne Rd, Shelburne, VT 05482
The Alchemist
As one of the only Vermont breweries to utilize solar power, The Alchemist is a leader in sustainability in Vermont's beer scene.
The brewery also happens to be one of the most popular and well-known brew houses across New England.
Located in the ski town of Stowe, the Alchemist has drawn in beer lovers from across the county, enticing them with brews such as Heady Topper, an American double IPA, and Focal Banger, a single IPA.
In addition to this, the brewery is known for offering in-depth guided tours that provide an up-close and personal look at the brewing process.
Address: 100 Cottage Club Rd, Stowe, VT 05672
Dirt Church Brewing Co.
Located in the heart of Vermont's Northeast Kingdom, Dirt Church Brewing Co is a newly opened brewery that offers craft beer, private events, and organized mountain bike outings.
Founded in August of 2021, this brewhouse serves up a variety of brews, including IPAs, double IPAs, porters, and infused ales.
When you're not drinking beer here, you can hop on your bike and join them for their monthly group gravel ride.
Held the first Sunday of every month, this outing involves miles of Vermont terrain followed by celebratory beer – of course!
And we can't forget about the on-site chapel. Dating back to 1876, this small church is available to rent for private and community events.
Address: 1771 VT-114, East Haven, VT 05837
River Roost Brewery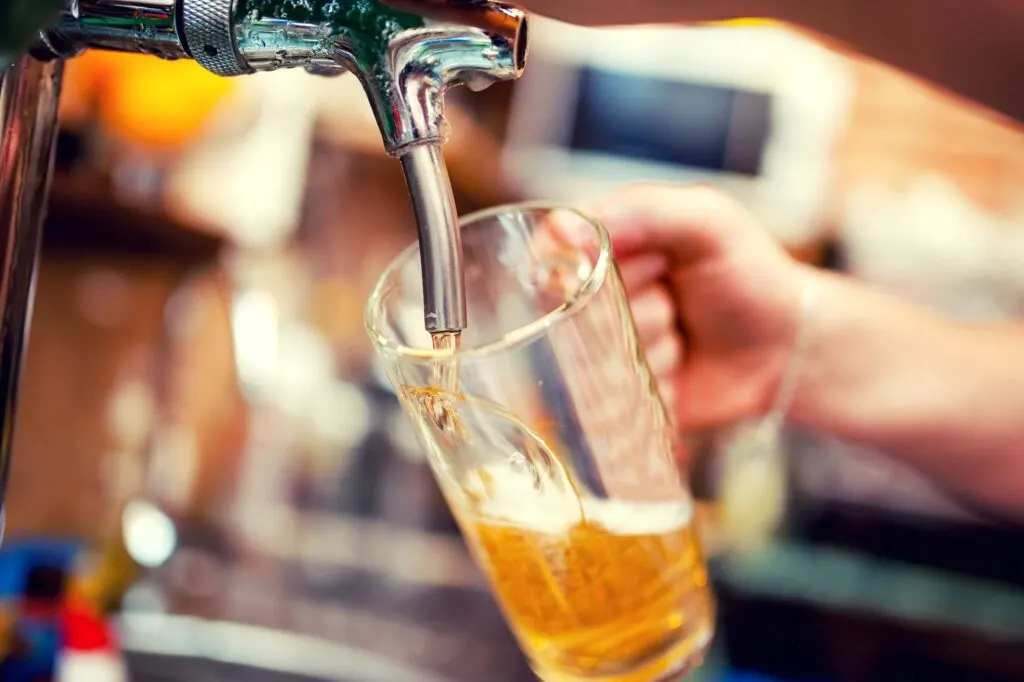 Known for its flavorful IPAs, River Roost Brewery is a popular local brewhouse located in Hartford, Vermont.
Here you'll find several typical beers on tap, such as pilsner, lagers, and double IPAs, as well as more creative infused offerings of ales and stouts.
Some of the brewery's most popular beers include the Mo'rilla and Mas Verde, both of which are IPAs, as well as Glimpse, a strong double IPA.
Address: 230 S Main St, Hartford, VT 05001
Final Thoughts on Breweries in Vermont
Vermont breweries are diverse, they're unique, and they're certainly worth visiting!
No matter which ones you end up adding to your itinerary, we're sure you'll have an unforgettable and delightfully flavorful time!
Did you enjoy reading about these popular breweries in Vermont? If so, be sure to share this article with a friend who might enjoy it too!