Warning: Reading this article might result in turquoise waters, palm trees, and an enjoyable day on one of the best beaches in Florida for couples.
Whether you're planning a romantic getaway or just want to relax with your significant other on a beautiful beach, this article has miles and miles of beaches, from Key West to the panhandle, that you will love.
The Sunshine State boasts over 8,500 miles of coastline, but which are the best beaches in Florida for couples? We've outlined our favorites below.
Best Beaches in Florida for Couples
Curry Hammock State Park
Camping enthusiasts searching for romantic beaches in Florida should check out Curry Hammock State Park.
Located in Marathon, it's the longest stretch of undeveloped land between Big Pine Key and Key Largo.
The area is an essential sanctuary for migrating bird species and hosts record numbers of peregrine falcons annually. It's also got acres of mangrove forests and sea-grass beds.
In addition to wildlife viewing, visitors enjoy paddling when the weather is calm and kite-boarding on blustery days.
Fishing and camping are also allowed. Book a kayak tour for two, enjoy a romantic picnic under the shady palms or hike around the area's nature trails. You can bring your pooch!
Don't forget to pack your snorkeling gear — because the underwater sites are just as gorgeous as the sunsets.
The park and beach are open daily from 8 a.m. to sunset and cost $5.50 per couple. Amenities include restrooms, showers, and RV hookups.
Clam Pass Park
Located in Naples, Clam Pass Park is one of the best beaches in Florida for couples. A three-quarter-mile raised boardwalk lined with lush trees ushers visitors out to a white-sand beach ringed by an emerald-colored forest.
The beach park consists of over 35 acres of coastal habitat, and guests can sign up for guided nature walks.
Afterward, top off your day with a romantic meal at the restaurant. Indoor and outdoor seatings are available, and it's a great place to watch the sun retreat.
Clam Pass is open from 8:00 AM to sunset. It has over 150 parking spaces, restrooms, and a snack bar for when you're feeling peckish but don't want to sit down for a full meal.
The parking fee is $10, but sorry paw-parents, dogs and other pets aren't allowed.
Beach wheelchairs are available upon request. However, supplies are limited, so you may want to call in advance.
Read next: Best Places to Visit in the USA
Sunset Key Island
Conceived as a military outpost called Tank Island, today, Sunset Key is one of the best beaches in Florida for couples looking to relax on golden sands under grass umbrellas while sipping cocktails.
The 27-acre getaway 500 yards away from Key West is wonderfully secluded and only accessible by a water ferry that leaves from Margaritaville Marina.
Cars are prohibited on the island, and you won't find any shops or grocery stores either — only manicured beaches, spas, cottages, and a restaurant.
Sand-side food-and-beverage service is available, but be aware that the whole island is a private beach.
Only hotels and resort guests are permitted. Unfortunately, you can't just hop over in the morning and leave in the evening.
Captiva Beach
Off the coast of southwestern Florida, just north of Sanibel Island, sits Captiva.
Once a favorite vacation spot of Teddy Roosevelt, Captiva has maintained its "old Florida" vibe, and it's a super spot for a romantic getaway.
The quaint island on the Gulf of Mexico doesn't have street lights, and people favor trolly carts and bicycles to get around.
Several resorts wreath the island, and there's a famous lighthouse at the northern tip of the beach.
Other highlights on the island include Darling National Wildlife Refuge, Bowman's Beach, Bailey-Matthews National Shell Museum.
Also, check out the Bubble Room, which has been around since the 1970s. A quasi-museum and eatery, its walls are jam-packed with old toys from the 1930s and 1940s.
Many people credit the Bubble Room for originating the pastel color palette that's become so popular in southern Florida today.
Be aware that there's only one way to drive onto the island, the Sanibel Causeway. It's a toll road that costs between $6 and $9.
Captiva Fun Fact: Pepperidge Farm created a cookie after the island called "Captiva."
Palm Beach
Palm Beach, the immaculate east-coast playground favored by the wealthy, is one of the best beaches in Florida for couples.
You cannot throw a shell without hitting a romantic restaurant, the hotels offer top-tier service, and the beach is gorgeous!
Plus, Palm Beach bears the distinction of having more holes of golf within its borders than anywhere else in the world!
If shopping is one of your love languages, make sure to clear a day to wend your way in and out of the boutiques and galleries on Worth Avenue.
Then see how the other half lives by hopping on a boat tour that offers a peep at some of the area's impressive real estate.
If you and your honey appreciate the arts, stroll through the Society of the Four Arts — Palm Beach's renowned cultural center.
South Beach
Some people like their romance wrapped in quiet rectitude — and others prefer the pulse of places like South Beach!
Located on Miami Beach (one of the best beaches in South Florida) — a barrier island between the Atlantic Ocean and Biscayne Bay — South Beach is one of the most famous stretches of sand on the planet.
As its name suggests, South Beach is the southernmost 2.5 miles of Miami Beach. The world-famous, art-deco hot spot is a web of restaurants, clubs, bars, hotels, resorts, and spas.
For people who love good food, throbbing nightlife, and high-class shopping, all within walking distance, there are fewer places better than South Beach.
For something different, hop over to Little Havana for a change of pace.
North Beach at Fort De Soto
North Beach at Fort De Soto is the ideal option for couples with pups who enjoy an active lifestyle and appreciate historical sites.
Weighing in at over 1,000 acres and nestled between the Gulf of Mexico and Tampa Bay, North Beach at Fort De Soto is part of a state park.
Interestingly, the U.S. military has used the area since the 1800s, but they didn't build the fort until the 1960s.
Visitors can swim, snorkel, fish, kayak among the dolphins, and enjoy a nature walk on the park's seven-mile trail. If you want to escape the sun for a bit, head to the Quartermaster Museum. It's small but fascinating.
Shelling is outstanding in the area, and sand dollars are a dime a dozen at the right time of year. If you're the type of couple that loves to pitch a tent and spend the night under the stars, secure one of the park's waterfront campgrounds.
But perhaps the best thing about the area is that dogs can play off-leash at the beach! There's even a paw playground with hoses to wash your pup's feet after a day of frolicking.
Honeymoon Island Beach
Are you looking for honeymoon beaches in Florida? Well, then why not check out Honeymoon Island!?
A barrier island off the coast of Palm Harbor, Honeymoon Island State Park boasts a 385-acre green area, three beaches, and over two miles of hiking trails.
A picturesque locale, the island's Main Beach is deep, wide, and postcard-perfect with white-grain sand and aquamarine waters.
A popular place, several parking lots service the beach, and there's a great concession stand and cafe for when tummies start to growl.
Dog Beach is the southernmost, and pups on leashes up to six feet long are welcome. It faces Hurricane Pass, a good place for fishing but dangerous for swimming.
The eponymous Honeymoon Island Beach is the northernmost stretch of sand on the island.
And though it has a few more rocks and seashells than the others, it's a lot more secluded and less trafficked than Main and Dog Beaches, plus the scenery grows increasingly impressive the further you go.
When you're done lounging by the water, rent bikes and ride around the Pinellas Trail. If paddling isn't your thing, consider fishing or taking a kayak tour.
Be aware that you're not allowed to bring your boozy beverage, but Honeymoon Cafe serves beer and wine.
Lovers Key
There's a reason many people tie the knot at Lovers Key State Park and Beach.
The location has it all, including 2 miles of undeveloped beach and beautiful boardwalks that wind their way through mangrove forests and nature trails.
Moreover, biking, shelling, paddling, fishing, boating, birding, and beach walking are all on tap.
If you're interested in the natural habitat, make time for the Discovery Center.
Located at the park, the state-of-the-art building is an architectural marvel that houses exhibits highlighting the region's wild and marine life, an interactive map of the protected lands, and a historical timeline of the area.
Want a different view? Spend some time relaxing in one of the rocking chairs on the center's observation deck!
Read next: Summer Vacations in the US
Key Biscayne
South Beach is an excellent Miami-area spot for those who love to be in the thick of things.
KeyBank Biscayne is an alternative Florida beach for couples that appreciate a slightly less hectic scene.
The small island off Miami has just as many boutiques and top-rated restaurants as its more famous cousin; it's just not as crowded.
In addition to a downtown shopping corridor, Key Biscayne boasts nature preserves and Crandon, a perfectly manicured public park.
It's so lovely you'll feel like you're at a country club — and may even see a peacock strutting around! Plus, the park maintains a public golf course and tennis courts. Who says you can't live the high life on a budget!?
And yes, the pristine beaches on Key Biscayne are gorgeous, with their golden sands and crystalline waters. Furthermore, Key Biscayne snorkeling is extra good.
Carve out time to visit the historic lighthouse at the southern tip of Bill Baggs Cape State Park and climb to the top for spectacular views.
In Key Biscayne, the vibe is chill, and the views are incredible, making it one of the most underrated couple beaches in Florida.
However, understand that it's more modern than, say, Anna Maria Island. Highrises line Key Biscayne's shores, and it gets crowded during peak vacation season.
Beer Can Island
Florida used to be home to two Beer Can Islands. One is in Tampa, and the other is in Sarasota.
Recently, however, the 9-acre party island in Tampa changed its name to Pine Key.
So now, only one Beer Can Island remains, and it's a unique spot that usually doesn't land on lists outlining the best beaches in Florida for couples because it's not well known.
Beer Can Island doesn't feel like your average Florida beach. Old tree trunks ring the sand, creating a super cool landscape for taking pictures.
Bring a hammock because the trees are sturdy enough to set up shop!
Fernandina Beach
The northernmost city on Florida's Atlantic coast, Fernandina Beach sits on the northeast corner of Amelia Island.
The area has a strong vacation vibe, complete with a quaint downtown with old-fashion signs and buildings. Mature trees line the streets, and beautiful public art is the cherry on top of this idyllic locale.
Many people consider Fernandina Beach one of the best beach towns in Florida.
In addition to white sandy beaches, Fernandina is home to a handful of historic places — making it an excellent choice for couples who enjoy a bit of sightseeing.
Fun Fact: The beloved 1988 film "The New Adventures of Pippi Longstocking" was filmed in Fernandina Beach.
St. Petersburg Beach
TripAdvisor named St. Pete Beach the #1 beach in the United States in 2021.
Now known as the new Miami, St. Petersburg rivals its east-coast cousin in terms of museums, galleries, and nightclubs. In fact, the area now boasts 10 Michelin-starred restaurants!
Your wish is the command of many area resorts. If you want to lounge around all day while sipping on beachside cocktails, it's possible.
If watersports are your thing, that's also available. Or maybe you want to spend the day in town boutique hopping. That's on tap, too!
While in town, check out the Sunday beach market and pick up a piece of one-of-a-kind jewelry for your honey!
Vero Beach
Known as the "Hamptons of the South," Vero Beach is part of Florida's Atlantic Treasure Coast.
It's also one of the best beaches in Florida for couples who aren't necessarily interested in rubbing elbows with twenty-something revelers.
To state it another way, Vero Beach is a super place for people who enjoy a slower, quieter, more refined beach vacation experience.
World-class golfing and fishing are at your fingertips, in addition to a host of museums. The shopping on Main Street rivals Beverly Hills, and the McKee Botanical Garden ranks among the country's best.
Pelican Island National Wildlife Refuge is a must-see for nature lovers, and shooting enthusiasts always enjoy the Vero Beach Clay Shooting club.
Gasparilla Island
If you love to fish and are looking for the best beaches in Florida for couples, then search no further than Gasparilla Island.
Known as an "angler's paradise," the waters around the Gulf Coast island are teeming with tarpon and other prized fish.
Swimming, wildlife viewing, snorkeling, hiking, and scuba diving are also popular area activities, and the shelling is particularly great during the winter months.
Want to bring your dog along? No problem, Gasparilla Island is very pet-friendly, and four-legged family members are allowed in many places, including the state park.
Check out the Port Boca Grande Lighthouse and its mini-museum.
Take a boat to Little Gasparilla Island for a romantic walk, where there are no roads or cars, just a gorgeous secluded beach where dolphins, manatees, and sea turtles often put on a show.
St. George Island
The 22-mile St. George Island sits on the Florida panhandle — aka the "Forgotten Coast." A throwback to Florida of yesteryear, St. George is free of highrises but oozing with chill.
Beach-front dining options are scattered down the coast, in addition to art galleries and other types of shops.
St. George Island is a lot less crowded than options in the south, and many people swear it's a lot more charming.
Swimming, fishing, and paddling are available, and lots of people rent scooters to putter around the island. Moreover, it's one of the few pet-friendly beaches in the state.
St. George only has two hotels, though, so book early.
Caladesi Island State Park
Right next to Honeymoon Island sits Caladesi Island. The two used to be one, but a hurricane split them in 1921.
An alternative to Clearwater Beach, which is very crowded, Caladesi Island is pristine and somewhat secluded. The only way on and off the island is by private boat, ferry, or on foot.
Caladesi is home to the Bayside Mangrove Forest, the historic Scharrer Homestead, and a well-appointed state park with floating camping docks, each with 30-amp electric service ports and water hookups.
But they go fast, so make your reservations sooner rather than later.
If you plan to take your own boat over, expect to pay a moorage fee. It's usually under $10.
Santa Rosa Beach
About 30 miles east of the Alabama border sits the 40-mile barrier island of Santa Rosa Beach — which is actually a trio of smaller but gorgeous beaches: Pensacola, Navarre, and Okaloosa.
Santa Rosa is a romantic place for relaxing and enjoying the Emerald Coast views. Fill your days with long walks on the area piers or lounge on the sugar sand while reading a good book.
In the evening, head to the Fort Pickens part of town for a delicious meal and live music.
Pro Tip: Don't plan your trip to Santa Rosa during hurricane season because it's prone to tropical cyclones.
Dry Tortugas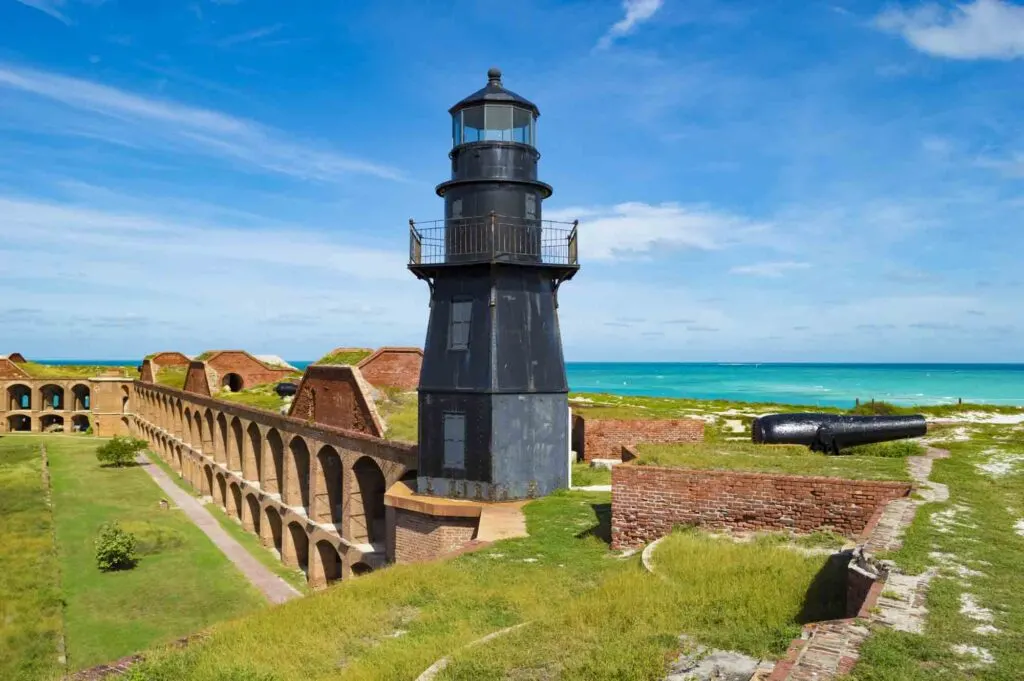 And last — but certainly not least — on our list is the remote Dry Tortugas, one of the best national parks in Florida.
Located 70 miles from Key West, it takes about two hours by boat to arrive — but the long ride is worth every second. Seaplane flights to the island are also available.
The 100-square-mile island houses Fort Jefferson, one of the largest 19th-century forts in the United States, and incredible coral reefs surround the land.
Hundreds of shipwrecks also lurk below, making it a super spot for snorkeling and scuba diving.
Dry Tortugas doesn't have shops, galleries, or even restaurants. But it does boast fantastic campgrounds, and it's an ideal beach for couples who enjoy spending time with Mother Nature.
It costs $15 per person, but your pass is good for seven consecutive days.
Florida Beaches for Couples
We hope you enjoyed our list of the best romantic beaches in Florida for couples. Good luck planning the perfect romantic getaway!
Latest posts by Victoria Green
(see all)