The West Coast national parks in the US are some of the most beautiful places anyone can visit.
If you need to reconnect with your soul, escape the confinement of the city, or require a space to fill you with wonder, choose any of the following West Coast national parks.
This article will give the reader valuable insight into the best West Coast national parks to visit, what to expect, and when to go.
Sit back and relax as you work through the natural wonders found on the West Coast of the US.
With beautiful rock formations, pristine lakes and rivers, and gorgeous waterfalls filled with an abundance of wildlife, trees, and flowers, the following West Coast national parks cater to all nature lovers.
Pssst: if you're visiting 3 or more national parks in a 12-month period, you might want to check out the America the Beautiful Pass. This national park pass can save you some serious money in entry fees. Here's our America the Beautiful Pass review.
27 Best Western and West Coast National Parks (Plus Map!)
Whether you're planning your next weekend getaway or a US road trip, here are the best West Coast parks divided by region for organization purposes. Rest assured, these are among the best places to visit in America.
Note: this article is about the wonderful West Coast national parks only, so if you want to learn more about the other magnificent US national parks, check out these articles about East Coast national parks.
Best National Parks on the West Coast
1. Death Valley National Park; California and Nevada
Death Valley National Park is the hottest, most arid, and lowest of all the West Coast national parks and is renowned for being the lowest point in America in the form of a large salt pan called Badwater Basin (282 ft under sea level.)
Fans of Star Wars will be aware that "Tatooine" from the movies "A New Hope" and "Return of the Jedi" is Death Valley.
Titus Canyon is where visitors can enjoy multicolored rocks and a ghost town.
Darwin Falls is a remarkable sight to behold in the middle of the Mojave Desert, while the winding pine trails up Telescope Peak result in breathtaking views of the valley below.
Needless to say but Death Valley is one of the best places to visit in California and an easy day trip from Las Vegas!
Hiking and backpacking are popular ways to explore the arid surroundings, with Natural Bridge, Golden Canyon, and the Ubehebe Crater Rim Hike standing out.
The famous Zabriskie and Dantes Valley Viewpoints are the spots that give you the panoramic views of Mesquite Sand Dunes (watch out for the rattlesnakes) and the spiky salt mounds of Devil's Golf Course.
The best time to visit the strikingly arid Death Valley National park is springtime, when the wildflowers turn Death Valley into a colorful paradise.
2. Lassen Volcanic National Park, California
Lassen Volcanic National Park, situated in northern California (one of the most beautiful US states), is known for its wildflower meadows, volcanoes, and pristine mountain lakes.
Lassen Peak Volcano is the largest plug dome volcano in the world and offers the best view from its summit.
Molton rock found beneath Lassen Peak heats water from snow and rain, forming mud pots, boiling pools, and fumaroles (volcanic gas and steam vents) at Bumpass Hell and Sulphur Works.
Popular hikes in the area include Devil's Kitchen and Terminal Geyser.
The best time to visit is from June to October, while the safest months are August to September. All of the access roads are closed from December to May.
3. Joshua Tree National Park, California
Joshua Tree National Park is in southern California. This park is characterized by unique rock formations, gigantic boulders, an abundance of cacti, and, most famously, its endemic twisted and bristled Joshua Trees.
This West Coast national park is an essential cog in the Mojave Desert ecosystem, providing a habitat for many mammals, birds, lizards, and insects.
It's a monzogranite climbing heaven with many rock climbers, highliners, and boulderers flocking here to test their skills against the slabs, cracks, and steep climbing terrain.
Skull Rock, Heart Rock, and Arch Rock are the formations that stand out in Joshua Tree, with a Barker Dam hike taking to Cholla Cactus Garden.
The panoramic Key Views look out over the impressive Coachella Valley, where hiking trails bob and weave through Hidden Valley's boulders.
Indian Cove and Black Rock Canyon camping is a unique experience in this American desert.
Birdwatchers are spoilt for choice when taking their binoculars into Cottonwood Spring.
The best time to visit Joshua Tree is mid-August when the Perseid Meteor Shower puts on a show for the stargazing community.
Also, Joshua Tree is just a stone's throw away from San Diego and LA!
4. Olympic National Park, Washington
Olympic National Park is, without a doubt, the most diverse of all the West Coast national parks, and it turns out it is a short trip from Seattle.
Visitors can expect several different ecosystems in this million-acres vastly varied landscape, from glacier mountain ranges, ancient rain forests, large lowland lakes, and over 70 miles of wilderness coastline.
Climbers enjoy the challenge of Mt. Olympus, Mt. Deception, and Mt. Constance, all of which has summits close to 8,000 ft.
Hiking through the diverse ecosystem is a popular way to explore the park; hikes that stand out are Sol Duc Falls (1.6 miles of trail) and the more challenging Klahhane Ridge Trail (6.8 miles) leading to Lake Angeles.
Bird lovers enjoy the large concentrations of birds found at Kalaloch Beach. Tree lovers appreciate the iconic Hall of Mosses loop trail and the longer Hoh River Trail to enjoy this temperate forest fully.
The best time to visit Olympic National Park is recommended during the summer, but you can expect many visitors. September is a good alternative as you get to witness the fall colors.
Read next: Where to Stay in Seattle
5. Pinnacles National Park, California
Pinnacles National Park might not be as famous as other West Coast national parks due to being the newest (designated in 2013) and relatively small (26,685 acres).
However, you can experience exciting caves, stunning rock formations formed millions of years ago, and a chance to spot the elusive California Condor.
All of that is just two hours south of San Francisco, one of the most beautiful cities in the US.
You could even combine this visit with a Big Sur road trip. Big Sur is a scenic drive in California that can be as short or as long as your want (check out more West Coast road trips here).
Anyway, with only 30 miles of hiking trails, visitors explore this park in a day or two.
The moderate Condor Gulch Trail is an easy way to view the valley, with the High Peak trails taking you around gigantic rock formations, which the park is known for.
Bear Gulch Cave is open to exploring for ten months of the year so as not to disturb Townsend's big-eared bats, who rest in the caves during winter.
If you don't get to see the endangered California Condor, hopefully, you get a sight of the turkey vultures, golden eagles, hawks, and kangaroo bats.
The best time to visit the fairly new Pinnacles National Park is when the temperatures are mild, typically in spring and fall, with wildflowers blooming between March and May.
Read next: Best Road Trips in California
6. Redwood National Park, California
Redwood National Park is a group of national and state parks that encompass protected forests, vast grasslands, oak woodlands, and beaches known as Redwood National and State Parks (RNSP.)
Here you will find some of the oldest and tallest trees in the world.
Popular itineraries at this national park include a picnic at Gold Bluffs Beach and a hike through Fern Canyon and its plant-covered walls.
Lady Bird Johnson Grove is a cluster of giant redwoods that visitors explore via a short 1.5-mile loop. Longer hikes include the Boy Scout Tree Trail and the Stout Memorial Trail.
The best time to visit is decidedly from May to September. However, the park has decent weather throughout the year due to its mild coastal climate.
7. Mount Rainier National Park, Washington
Mount Rainier National Park is a West Coast national park full of ancient forests, wildflower meadows, abundant wildlife, and the world's largest glacier cave system.
Mount Rainier is the cherry on the cake, a 14,410 ft icy volcano father to 5 major rivers.
Visitors flock here to observe nature showing off, and popular ways to do this are from Sunrise Point (6400 ft.) and Paradise Overlook (5,400 ft.) Hiking is another way to take in the beauty of the area properly.
A typical hike can take you from a pine forest to a rushing river, to the top of a rushing waterfall, before leaving you on a blooming wildflower prairie.
The best hikes include Tipsoo and Reflection Lake Trails; the snow-capped peaks hike the Skyline Trail and the photo-friendly Fremont Fire Lookout Trail.
The best time to visit Mount Renier National Park is from July to early August while hiking conditions are optimum from April through September.
8. Yosemite National Park, California
Yosemite National Park has 1,200 sq miles of grand meadows, deep valleys, massive immemorial sequoias, and world-famous waterfalls.
It's one of the best West Coast national parks to visit if you're a fan of waterfalls, with the 2,425 ft. Yosemite Falls is the main attraction.
The park is well-known for its spectacular rock formations, which include Half Dome, Glazier Rock, Sentinel Rock, and The Three Brothers.
The view from Glazier Point is the best way to observe the beauty of Yosemite Valley.
The Mariposa Grove of Giant Sequoias features more than 500 mature sequoias, and it's highly recommended that you spend some quality time among these giants.
Mountain climbers enjoy the challenge of the 3,000 ft. El Capitan also offers stunning views.
The best time to visit is, without question, when spring arrives. The waterfalls will be at their roaring best when the winter snow starts to melt, and the moderate temperature makes for a comfortable exploration of the vast wilderness.
9. Sequoia National Park, California
Sequoia National Park is situated right next to Kings Canyon National Park and is a beautiful area of massive mountains, deep canyons, rocky foothills, and the largest trees found in the world.
The biggest tree on the planet, a sequoia called General Sherman Lee, can be found in the iconic Giant Forest.
A tour through the very popular (book in advance) marble cavern called Crystal Cave is a visitor favorite, as are the many hikes that Sequoia National Park has to offer.
For one of the best views, visitors make their way up to Moro Rock (350 concrete steps) to see the San Joaquin Valley and the Great Western Divide in all its glory.
Beetle Rock is perfect for a picnic, and sunset is best enjoyed on Sunset Rock. Kayaking in the Kaweah River is also a unique way to explore the pristine beauty of this national park.
The best time to visit the beautiful Sequoia National Park is summer, when the groves are cooler than the surrounding foothills. Fall and spring are popular months to share your experience with fewer visitors.
10. Kings Canyon National Park, California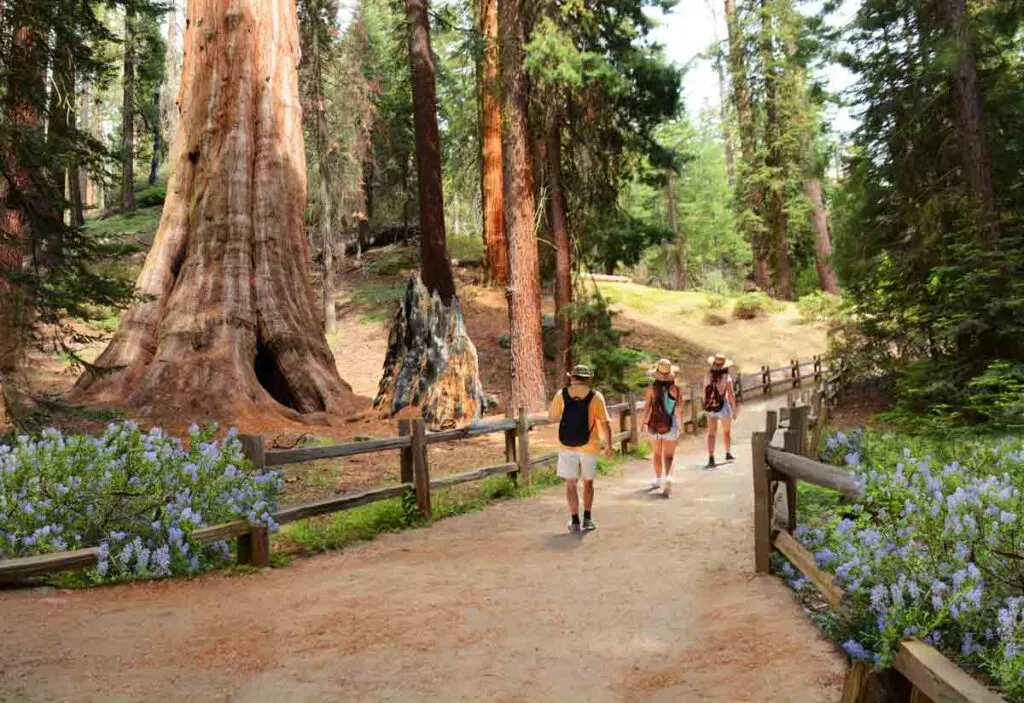 Kings Canyon National Park is found in the Sierra Nevada mountains in California.
It's famous for its giant sequoia trees, massive granite canyon walls, and a wide variety of animal life, including black bears, mountain lions, lynx, mule deer, and rattlesnakes.
The main attraction is a massive sequoia called General Grant, the second largest tree in the world, which President Eisenhower proclaimed a National Shrine in 1956. It's fondly referred to as the nation's Christmas tree.
Kings Canyon has canyons deeper than the Grand Canyon. For the most spectacular 360° view of Redwood Canyon, the Sierra mountains, and Buck Rock Fire Tower, visitors make their way to Beuna Vista Peak.
Hiking the Zumwalt Meadow Trail shows you the majestic Kings River on the way to Roaring River Falls.
The best time to visit Kings National Park is between mid-September and October, as the weather is good, with warm days but cool nights and fewer crowds.
Read next: 25 Best Warm Winter Vacations in the US
11. Crater Lake National Park, Oregon
Crater Lake National Park is found in the Cascade Mountains and is known for its lake nestled in a caldera of erupted volcano Mount Mazuma.
Crater Lake is nearly 2,000 ft. deep and is recognized as the deepest lake in the US and the most beautiful due to its deep blue hue and water clarity.
Visitors love exploring Wizard Island (cinder cones near the edge of the lake) and partaking in The Rim Drive, where you get the best views of the lake and the volcanic formations.
One of the most popular trails, Sun Notch, gives you a clear view of Phantom Ship, while Cloudcap Overlook is best for sunsets.
The best time to visit Crater Lake National Park is surely from July to the end of September, when all the trails, roads, and facilities are open.
12. Channel Islands National Park, California
Channel Islands National Park might be the most challenging national park to visit of all the national parks on the West Coast, as it's not situated on the land.
This national park is five beautifully preserved islands on the coast of Santa Barbara. A car won't get you here; you can only reach these special islands by boat or plane.
Isolation from the mainland USA has led to the infestation of unique plant and animal life, like the fantastic island fox and island scrub jay.
It offers the ocean lover various activities like snorkeling, kayaking, diving, and swimming. Hiking the islands is an unforgettable experience.
Santa Cruz is the largest island of the Channel Islands (three times as big as Manhattan), offers the best views from Diablo Peak (2,450 ft.), and is home to the massive sea cave called the Painted Cave.
Santa Rosa Island has one of the most pristine beaches in Water Canyon Beach.
Anacapa Island is renowned for its excellent watersport conditions found at Landing Cove.
Kayaking to Arch Rock or Cathedral Cove will provide excellent wildlife viewing and numerous sea caves.
Santa Rosa Island is known for its rare Torrey pines, and San Miquel Island for Bennett Point (where thousands of seals like to get together.)
The best time to visit Channel Islands National Park is during the fall, as water temperatures reach 70°F and visibility is at its best.
Fall is ideal for diving, snorkeling, swimming, and kayaking. Whale watching ends at the beginning of fall. Keep this in mind if you want to observe blue and humpback whales.
13. North Cascades National Park, Washington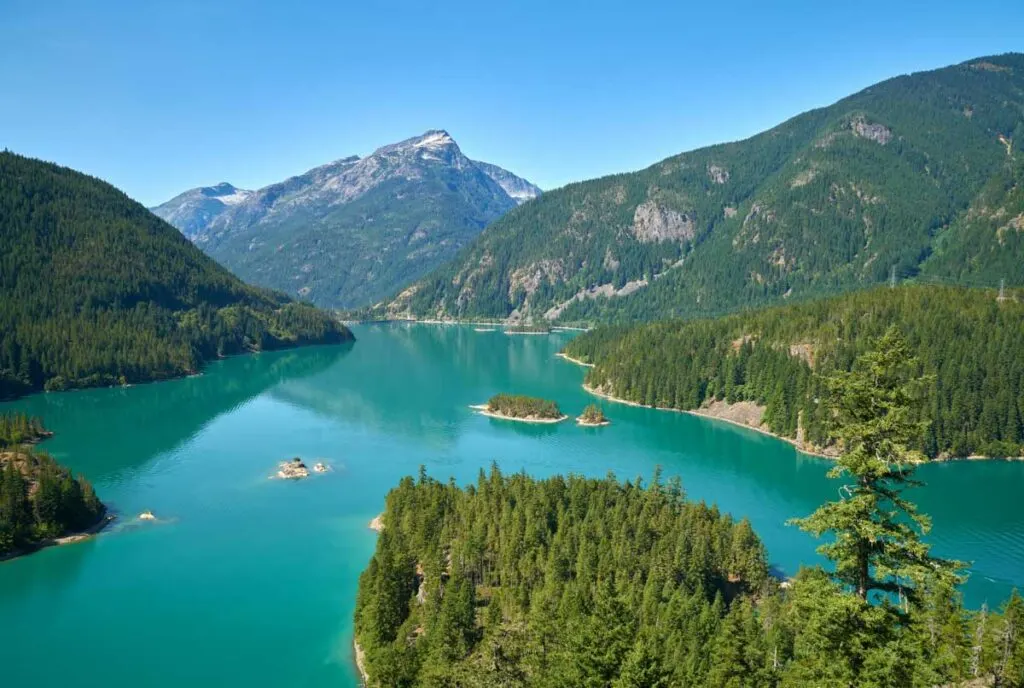 North Cascades National Park is a lesser-known national park on the West Coast.
Its rugged beauty includes deep forested valleys, conifer-brushed mountains, beautiful waterfalls, and over 300 glaciers.
Colonial Creek Campground is a popular base where visitors explore this gorgeous park.
Hiking trails that lead from the campground include the scenic Thunder Creek and Thunder Knob, while other incredible hikes include Desolation Peak and Cascade Pass.
Anglers flock to Skagit River to try and catch salmon, cutthroat trout, steelhead, freshwater trout, and char.
Boating and kayaking on Ross Lake, surrounded by a mountainous wilderness, is unique. North Cascades National Park is a beautiful place in the US waiting to be explored.
The best time to visit weatherwise is from mid-June to late September when the paths are dry and clean.
14. Denali National Park, Alaska
Denali National Park provides reserves to six million acres of Taiga wilderness, snow-touched mountains, and alpine forests.
The tallest peak in North America is Denali, at 20,310 feet, which can be found here in this tranquil, scenic landscape.
Reaching Denali National Park is simple by car, train, or private bus service, though it is also possible to hike in.
There are few trails in Denali, allowing animals to roam without restrictions, and you can see amazing wildlife in stunning scenery.
Possible sightings include moose, caribou, Dall sheep, bears, wolves, and many small mammal species and birds.
Best National Parks in Western US – Arizona and New Mexico
15. Grand Canyon National Park, Arizona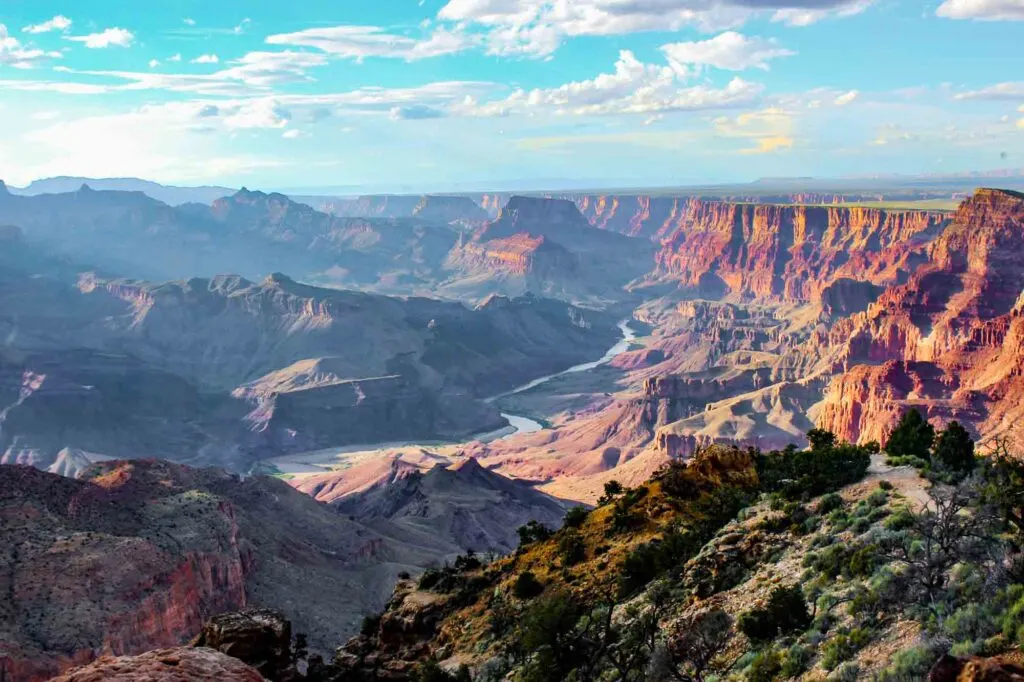 Grand Canyon National Park, one of the best places to visit in Arizona, is the most popular of any of the West Coast national parks, and rightfully so because it is a majestically formed red rock work of art. A true US landmark.
The Desert View drive includes six canyon viewpoints and is the best way to take in the magnificence of the geological wonder.
Visitors interested in the canyon's history should trek The Trail Of Time (a geologically designed timeline), and first-time hikers are encouraged to use the Corridor Trails when exploring the canyon for the first time. Lipan Point is a popular spot to view both sunrise and sunset.
Mather and Yaki Point presents photographers with the best vantage points to capture their experience of the iconic canyon.
There's a remote village situated inside the canyon called the Havasupai Indian Reservation, where many visitors go to greet the 200+ residents.
The best time to visit the iconic Grand Canyon National Park is from April through June, when the average rainfall is minimal.
16. White Sands National Park, New Mexico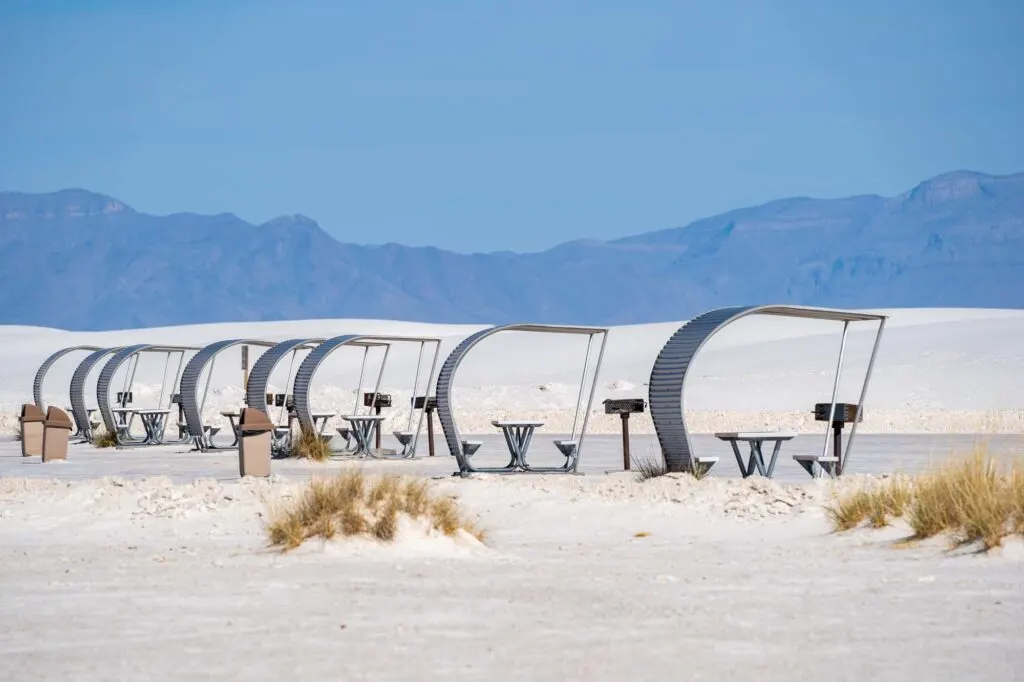 Tucked away inside the Tularosa Basin, White Sand National Park is a 275-mile wonderland of glorious wave-like dunes of gypsum sand, making it the largest gypsum dune field on the entire planet!
Aside from the striking views of the seas of white sandy dunes that make up the park, White Sands National Park is also a mecca for desert-inspired activities.
During your visit, be sure to go for a walk on the Interlude Boardwalk, where you'll learn all about flora and fauna of the region–one of the best things to do in the southwest.
Rent a sled and brave the park's enormous dunes or book a spot at the Sunset Stroll for some serious fun.
This ranger-guided walk gives visitors the unique opportunity to learn about the park's fascinating geology.
17. Saguaro National Park, Arizona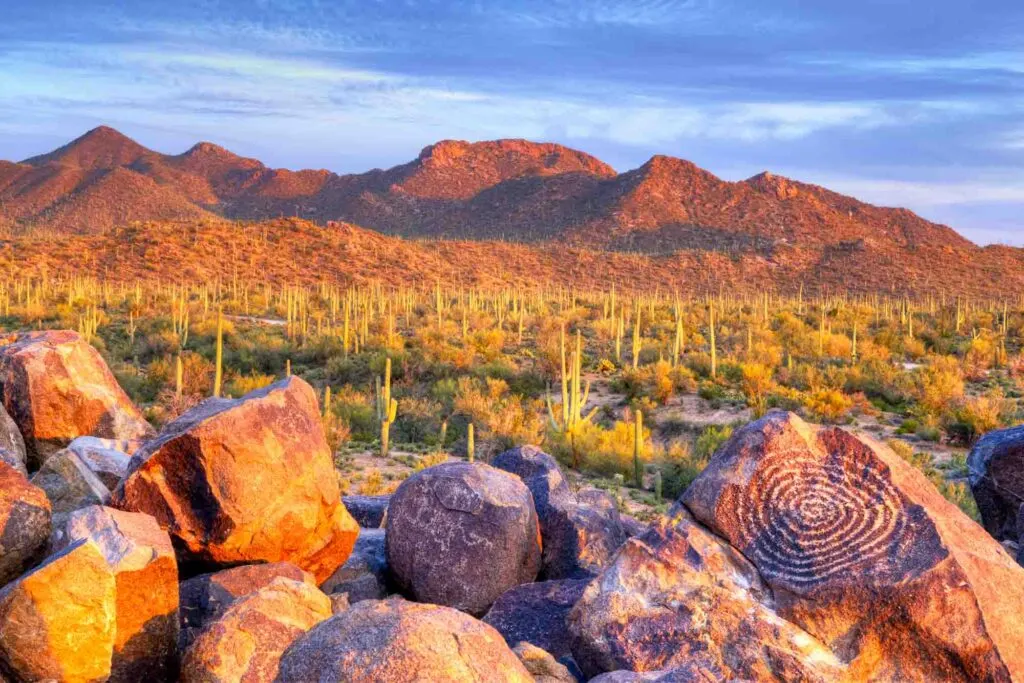 Set an hour away from Tucson in Arizona, Saguaro National Park still remains a hidden gem when it comes to the best places to visit in Southwest USA.
Saguaro is tucked away in the heart of the Sonoran Desert and provides a beautiful opportunity to experience a true desert wonderland in North America.
While here, you'll get the chance to hike or drive amid the country's largest cacti and saguaro trees, some of which can grow up to 60 feet in height!
Read next: 10-Day American Southwest Road Trip
18. Petrified Forest National Park, Arizona
Petrified Forest National Park, established in the northeastern part of Arizona, is different from other West Coast national parks as it contains fossils of fallen trees from about 225 million years ago.
The world's biggest concentration of petrified wood can be found here, along some of the most colorful badlands and a portion of the Painted Desert.
Rainbow Forest is a petrified wood lover's dream, and Newspaper Rock is famous for its petroglyphs.
Visitors also flock to see the ruins of Puerco Pueblo village. Hiking is a popular mode of transport, and popular sites to trek to include Billings Gap (along the steep rim of Blue Mesa), Devil's Playground, and Onyx Bridge.
The fossil clam beds found at the Red Basin are also very popular.
The best time to visit is when wildflowers bloom, from March to October.
Pssst: Petrified Forest is relatively close to Grand Canyon, so you might want to combine them in an Arizona road trip!
Best Western US National Parks – Utah and Colorado
19. Zion National Park, Utah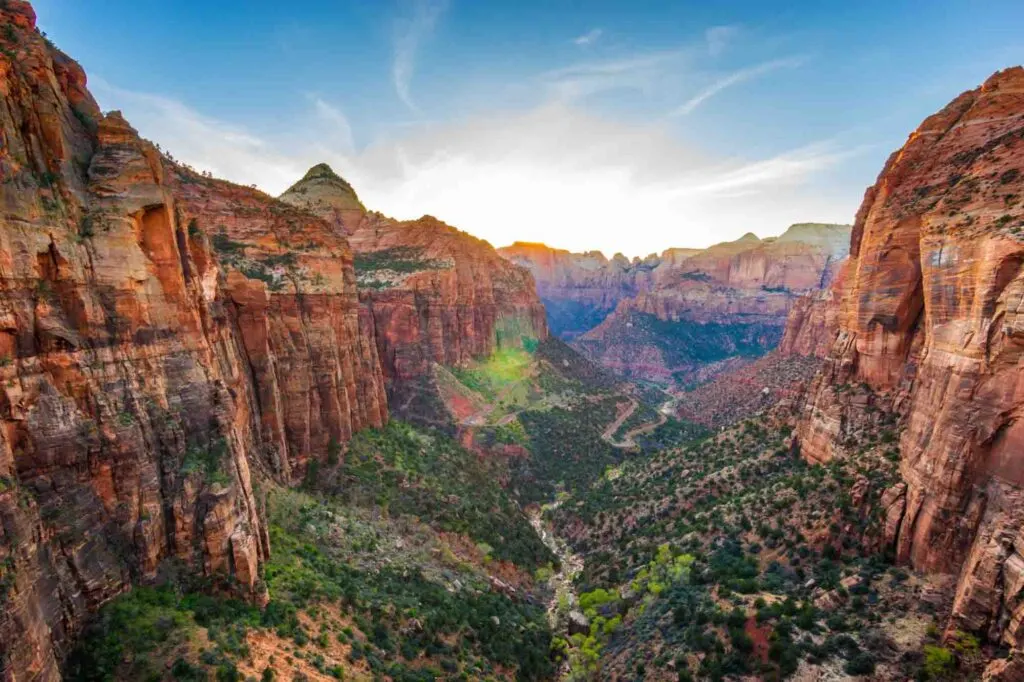 Zion National Park is one of the most abundantly trekked West Coast parks due to its breathtaking colorful sandstone cliffs, world-famous slot canyons, diverse plant and animal life, which includes 291 bird species, and world-class hiking opportunities.
In fact, it's the second-most visited national park in America!
The Narrows, the narrowest part of Zion Canyon, has walls up to a thousand feet high, and this popular hike includes wading up the Virgin River.
The trek up to Angels Landing is an incredible experience and provides visitors with breathtaking views of the park.
Hiking and overnight camping are extremely popular, and the most popular hikes are the East Rim Wilderness Trails, the Southwestern Desert Wilderness Trails, and the Kolob Canyons Trails.
A visit to Emerald Pools shows you waterfalls and a hanging garden. Less experienced hikers who want to see the Great Arch should do Overlook Trail (a short 1-mile hike.)
The best time to visit is assuredly in the fall months (October and November), as you want to avoid the 500,000+ visitors that make their way to the park during the summer months.
Pssst: Zion is one of the best national parks near Las Vegas, but you can also combine it with other parks and venture on a Utah Mighty 5 road trip.
20. Rocky Mountain National Park, Colorado
Rocky Mountain National Park is a place of unparalleled beauty. At over 265,000 acres, you can find peace in nature on its 300 miles or more of hiking trails.
Trail Ridge Road is also available for leisurely rides on the "highway to the sky" with an elevation gain of 11,500 feet!
This incredible place in Colorado is home to 150 alpine and sub-alpine lakes and 60 mountain peaks above 12,000 feet.
The highest peak, Longs Peak, stands 14,259 feet tall. There is also abundant wildlife, like elk, moose, and bighorn sheep.
You can easily go on a day trip from Denver if you're short on time. Alternatively, you could head out on a Colorado road trip and visit a few other parks and towns in the state.
Read next: 19 Best Things To Do In Denver, Colorado
21. Capitol Reef National Park, Utah
Capitol Reef National Park is located in the south-central desert of Utah, known for its colorful canyons, buttes, monoliths, and ridges.
It's rumored that Butch Cassidy spent time in the area, and a moderate 3.4-mile hike takes you to Cassidy Arch, where Butch did some hiding out back in the day.
This West Coast national park is famous for its Waterpocket Fold, a monoclinal fold that spans over 100 miles, named after the numerous small "pockets," potholes, and tanks that hold snowmelt and water.
The geological structure is best observed by the iconic Scenic Drive, a 7.9-mile drive through the park.
More experienced hikers love to explore slot canyons with their narrow secret spaces.
Three famous slot canyons are worth exploring: Buro Wash, Cottonwood Wash, and Sheet Gulch.
Cathedral Valley is where you will find a row of monoliths called the Cathedrals.
22. Mesa Verde National Park, Colorado
If you're keen to get more personal with Colorado's complex native history, Mesa Verde National Park provides a beautiful opportunity to do just that.
Once the home to Ancestral Puebloans, Mesa Verde National Park features massive cliff dwellings, including the impressive Cliff Palace.
Even though nobody knows exactly why or how this ancient society tumbled, walking amid the ruins of the place they once called home paints a pretty good image of how they used to live.
As one of the Seven Wonders of the Ancient World, Mesa Verde is a UNESCO World Heritage Site.
23. Arches National Park, Utah
Arches National Park boasts the world's largest concentration of sandstone arches, including the Delicate Arch and around 2000 others.
In fact, Delicate Arch is such an attraction that it features on Utah license plates. These attractions make Arches one of the best West Coast national parks.
Many of the top arches can be seen from the road at Arches National Park, but there are a variety of splendid hiking trails to provide access to arches not visible from your car.
24. Bryce Canyon National Park, Utah
Bryce Canyon National Park, situated in southwestern Utah, is best known for being the world's largest constellation of red rock hoodoos.
Horseshoe-shaped Bryce Amphitheater is a vast depression covered with these red hoodoos and is considered the main attraction.
Popular vantage points to view the majestical beauty of this national park include Bryce Point, Sunrise Point, Sunset Point, and the inspirational Inspiration Point.
Natural Bridge is a famous natural arch that produces a beautiful panorama of the green Ponderosa Forest, a sight to behold for any nature lover.
As with most national parks on the West Coast, hiking is a popular activity, and the trail that stands out is the Under the Rim Trail, which connects with the famously challenging Hayduke Trail.
The Swamp Canyon trail is for birdwatchers, and Fairyland Canyon allows visitors to see the hoodoos at eye level.
The best time to visit Bryce National Canyon is from May to September if you want the best weather conditions and October through November if you want to skip the summer crowds.
Best Western US National Parks – Idaho, Montana, and Wyoming
25. Grand Teton National Park, Wyoming
Grand Teton National Park is arguably one of the West Coast national parks with the most inspiring story of people fighting to protect and preserve the area.
It's a scenically beautiful national park with glacial lakes, towering peaks, staircase valleys, apex predators, and pristine wilderness.
The towering mountain range that is the Tetons is something to behold, especially when they are snow-capped.
Sunsets at Snake River Outlook are a magical experience, and Lower Schwabacher Landing is the best spot for captivating photographs of mirror images of the Teton mountains in the water.
Hiking through this beautiful part of the world is recommended, with the Taggart Lake Loop, Death Canyon, and Cascade Canyon Trail the popular options.
Rafting down Snake River is a unique way to take in the beauty of this national park, and you will be surprised by the abundance of brown and black bears, wolves, bison, deer, elk, and moose on display.
The best time to visit the pristine Grand Teton National Park is fall and spring, as the crowds are less than in the summer.
26. Glacier National Park, Montana
Glacier National Park calls the Rocky Mountains in Montana home and is a 1,583 sq. mile region with majestic mountain peaks, waterfalls, alpine meadows, alpine glaciers, and a wide variety of animal life.
Not any of the West Coast national parks can claim to be the "Crown of the Continent," as this is reserved for the pristine Glacier National Park.
Hiking in Glacier is hands down one of the best things to do here. It offers visitors over 700 miles of routes, including destinations such as Avalanche Lake (glacial blue lake) to the challenging but scenically gorgeous cliffside Highline Trail.
A drive up the mountain peaks on the Going-to-the-Sun Road is a must, offering visitors incredible views of the valley and the wildlife.
The best time to visit Glazier National Park is from late June to mid-September, when the days are warm and sunny, ensuring that all outdoor activities are doable.
The Going-to-the-Sun Road is fully operational and accessible during these months.
27. Yellowstone National Park; Idaho, Montana, and Wyoming
In 1872, the first national park in the United States was formed, and thus the legend of Yellowstone National Park was born.
Yellowstone is incomparable because it contains around half of the world's active geysers. It's also huge, encompassing around 2.2 million acres.
It is also host to the Yellowstone Supervolcano, which has uniquely shaped the land around it, creating geysers, hot springs, mud pots, lakes, and canyons.
If you'd like to explore this natural wonderland, 900 miles of hiking trails are available to do just that!
One of the many sights not to miss along these hiking trails is the Grand Prismatic Hot Spring, which is gorgeous but would be deadly to swim in.
Over 10,000 geothermal features, including the Old Faithful Geyser, are spread across the park, so it is possible to avoid crowds.
West Coast Parks Map
Here's an interactive and free map of all the national parks in the west mentioned in this article. You can open it on your smartphone or desktop. Click here to open the map.
Did you like this article about the best West Coast parks? Then share it on your social media!
27 Best West Coast National Parks
Death Valley National Park; California and Nevada
Lassen Volcanic National Park, California
Joshua Tree National Park, California
Olympic National Park, Washington
Pinnacles National Park, California
Redwood National Park, California
Mount Rainier National Park, Washington
Yosemite National Park, California
Sequoia National Park, California
Kings Canyon National Park, California
Crater Lake National Park, Oregon
Channel Islands National Park, California
North Cascades National Park, Washington
Denali National Park, Alaska
Grand Canyon National Park, Arizona
White Sands National Park, New Mexico
Saguaro National Park, Arizona
Petrified Forest National Park, Arizona
Zion National Park, Utah
Rocky Mountain National Park, Colorado
Capitol Reef National Park, Utah
Mesa Verde National Park, Colorado
Arches National Park, Utah
Bryce Canyon National Park, Utah
Grand Teton National Park, Wyoming
Glacier National Park, Montana
Yellowstone National Park; Idaho, Montana, and Wyoming