As temperatures start to drop and we move into the winter months, many of you might be dreaming of packing your bags and heading off on a warm winter vacation in the US.
We don't blame you! The shorter days and colder weather can affect us mentally and emotionally, so it's always a great idea to plan a warm winter getaway in the US to recharge ourselves!
We've gathered together a list of the best warm winter vacations in the US and what each of these locations has to offer us.
Whether you're just looking for some inspiration or you're already in the planning stages, this list can help you pick the right warm place to fight off those winter blues.
25 Warm Winter Vacation in the US
Here are 25 of the best places that are warm in December, January, and February. Enjoy!
1. San Diego, California
Even during its coldest months, San Diego still has an average temperature that reaches the mid-60s. Not to mention it seldom rains and more often than not, the sun is shining.
Not only can you escape the bitter cold during the winter, but you can also avoid the summer crowds by visiting in the winter.
Plus, there are some unique activities in San Diego. You can take a whale watching tour to catch the giants as they migrate from Alaska to Mexico for mating season.
Another popular San Diego winter tradition is skating by the sea at an outdoor skating rink at the beach. The skating rink is set up from November to January at the Hotel Del.
Where to Stay in San Diego
Check accommodation in San Diego
2. Key West, Florida
If there is one destination that is almost guaranteed to be a warm vacation spot in the winter, it's Key West.
Imagine spending the winter holidays soaking up the sun on a beach with turquoise waters.
On Key West, you can make that dream a reality. Water activities galore await you with options such as paddle boarding, jet skiing, or boating. You can even dive under the water and enjoy snorkeling or scuba diving.
Besides, you can always go for a stroll on Duval Street, the heart of downtown, where you will find lots of attractions, including museums, and live music.
On top of the usual activities that are still available during the winter thanks to Key West's year-round sunny weather, you can visit one of the best New Years' parties in the country.
The island has not one but four different options to ring in the new year as the clock strikes midnight.
There's no denying Key West is one of the best warm places to visit in December!
Where to Stay in Key West
Check accommodation in Key West
3. San Juan, Puerto Rico
This Caribbean island offers the same sunny weather as our last two destinations plus they really know how to celebrate the holidays.
While here on the mainland we celebrate Christmas for a day or two, in San Juan, Puerto Rico they celebrate for weeks.
Starting right after Thanksgiving, they combine traditions from Spain and Africa and continue celebrating until halfway through January.
The extra-long Christmas celebrations make it our favorite warm place to visit in January.
After 45 days of Christmas, people of San Juan don't rest for long before getting the party started up again.
Typically in late February or early March, the Puerto Rican Ponce Carnival begins.
With a long history dating back more than 250 years, their Carnival now centers around brightly colored costumes and dance music.
Where to Stay in Puerto Rico
Check accommodation in Puerto Rico
Read next: Best Places to Visit During Christmas
4. Miami, Florida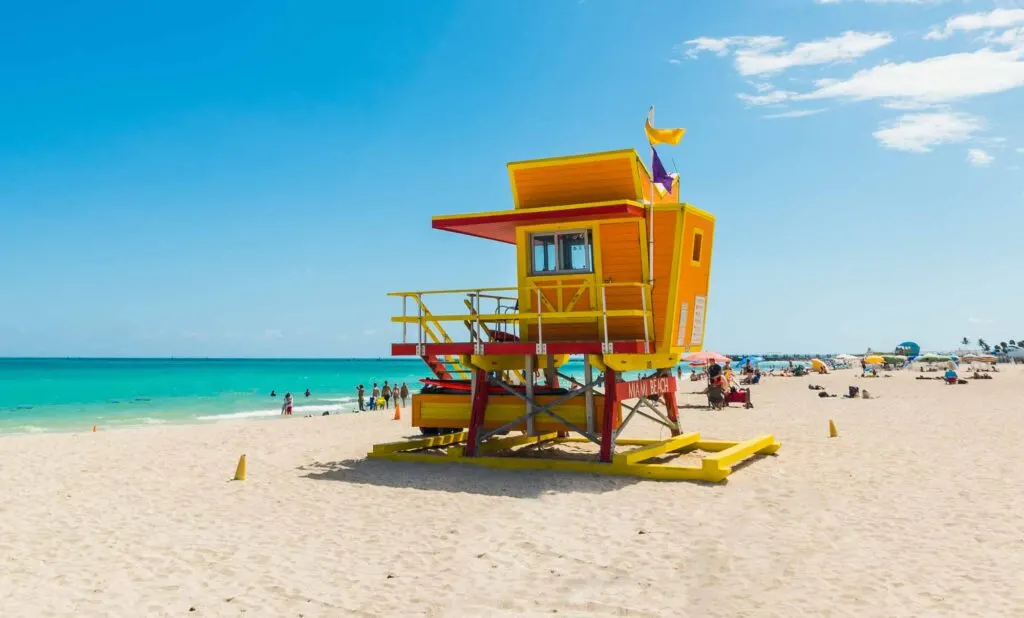 Miami has been a popular tourist destination in the US for ages, and with good reason.
It's rich in culture, the arts, food, beaches (Miami Beach, anyone?), and, of course, parties.
While it is definitely a great spot to visit in the summer, the winters in Miami can be a great escape from the colder cities.
The winter has the driest months in Miami, meaning you'll be less likely to get rained on, plus daily highs still reach the mid to upper 70s.
Thanks to the beautiful weather, there are many festivals that take place in Miami during the winter.
The Winter Party Festival is a week-long dance party for the LGBTQ community and allies. There is also Wigwood, a festival with "three days of nonstop queerness."
Other festivals held in the winter include the South Beach Wine and Food Festival, Ultra Music Festival, and the Miami Comedy Festival. There is a party for everyone in Miami!
Where to Stay in Miami
5. Palm Springs, California
Another one of the best warm winter vacations in the US, the temperatures in Palm Springs in the wintertime are near perfection.
No matter what your plans are for your Palm Springs vacation, the desert winter months are sunny and warm during the day without melting your face off.
Nature lovers will rejoice thanks to the ideal weather for hiking and all things outdoors.
Nearby there is Joshua Tree National Park made famous by its rocky, desert views and the park's namesake, the Joshua trees. You could also head to Lake Cahuilla or Palm Canyon.
If you're looking for something a bit more relaxing, there is no shortage of quaint, vintage motels with darling pools to lounge by.
Where to Stay in Palm Springs
Check accommodation in Palm Springs
6. Santa Monica, California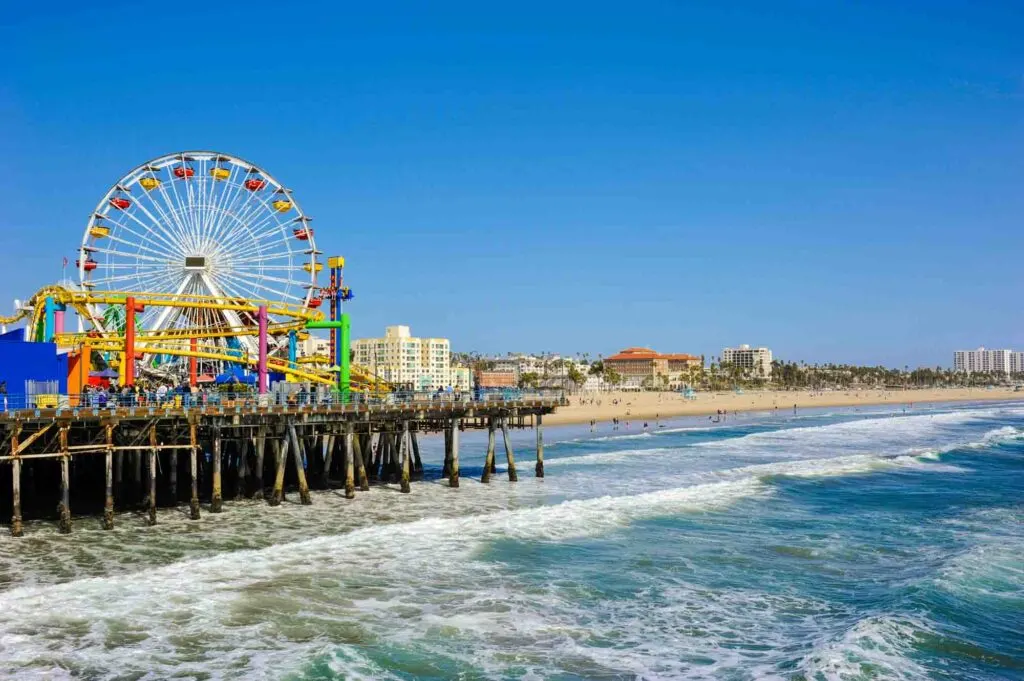 California was blessed in the weather department, and Santa Monica also has a much milder winter than so many other cities in the US.
While the winter months do tend to be a bit rainier in Santa Monica, you're still likely to catch the sun while you visit.
You'll likely be able to get lower pricing on hotels and avoid the tourist crowds since it's not high season.
Santa Monica also has a huge ice skating rink not too far from the beach where you can skate from November to January.
You will definitely want to swing by the world-famous Santa Monica pier, which luckily stays open later during the winter holidays.
During December, the Pacific Park's Pacific Wheel lights up with holiday-themed emojis, spreading the Christmas cheer.
Where to Stay in Santa Monica
Check accommodation in Santa Monica
Read next: Best Winter Vacations in the US
7. San Antonio, Texas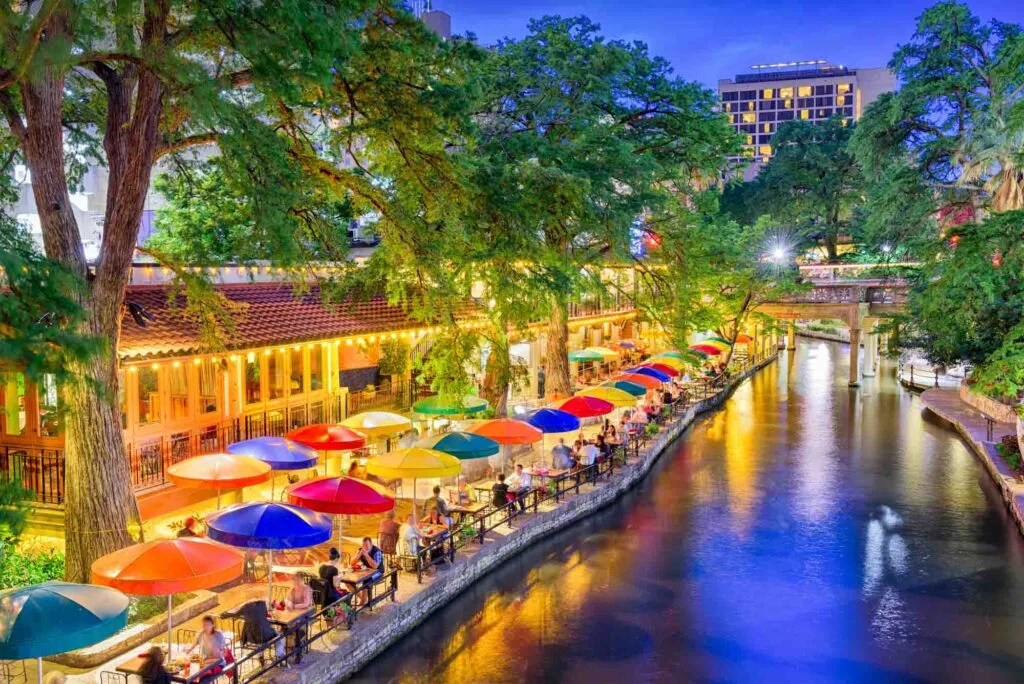 Few things are more magical than taking a stroll down San Antonio's River Walk, but it gets even more special during the holidays.
Each year, the River Walk is adorned with thousands of glittering lights that reflect off the river.
Visiting the Holiday Lights is totally free, and while you're there you can grab dinner and drinks at one of the many restaurants along the way. We recommend trying some tex-mex!
While you're in town, you can also check out Six Flags Fiesta Texas. They put on the Holiday in the Park from November until January.
They adore the park with holiday decorations, put on special holiday shows, and offer merry eats and treats to celebrate our favorite time of year.
Oh, and while in the region, be sure to go on a day trip to some the Texas small towns. There is a lot to see and experience in the Texas Hill Country.
Where to Stay in San Antonio
Check accommodation in San Antonio
8. Oahu, Hawaii
Who wouldn't want to spend the winter in Hawaii? Oahu is no well-kept secret, so by visiting in the winter you'll be able to avoid the crowds.
That makes it the ultimate warm winter vacation in the US. With fewer tourists, you'll have fewer people crowding the gorgeous beaches and other tourist destinations than you would in the summer months.
Plus, the weather is still perfect with daytime temperatures reaching the high 70s and few days of rain.
Any Oahu activities that are popular in the summer are perfect for the winter months as well.
You can always include these activities to your Oahu itinerary: hit the beach, go hiking, try scuba diving, go surfing, or visit Pearl Harbor.
The winter also brings the famous Pipeline surf waves to the North Shore. If you're a skilled surfer, you can hang ten with the locals, and the rest of us can watch them in action from the shore.
Where to Stay in Oahu
9. Joshua Tree National Park
We touched on Joshua Tree National Park when talking about visiting Palm Springs, so these two are perfect to combine into one road trip through Southern California!
Visit the well-known mid-century architecture in Palm Springs and then head to the merging of two deserts for a unique nature experience.
The park gets its name from the Joshua tree, a bizarre-looking tree that grows in the area.
Joshua Tree State Park is where the Mojave and Colorado desert meet. Here you'll find unbeatable desert sunsets, wide-open starry nights, and deep cultural history.
Thanks to its popularity, there are many yearly visitors. By visiting in the winter, you'll share the area with fewer tourists.
Where to Stay in Joshua Tree
Check accommodation in Joshua Tree
10. Charleston, South Carolina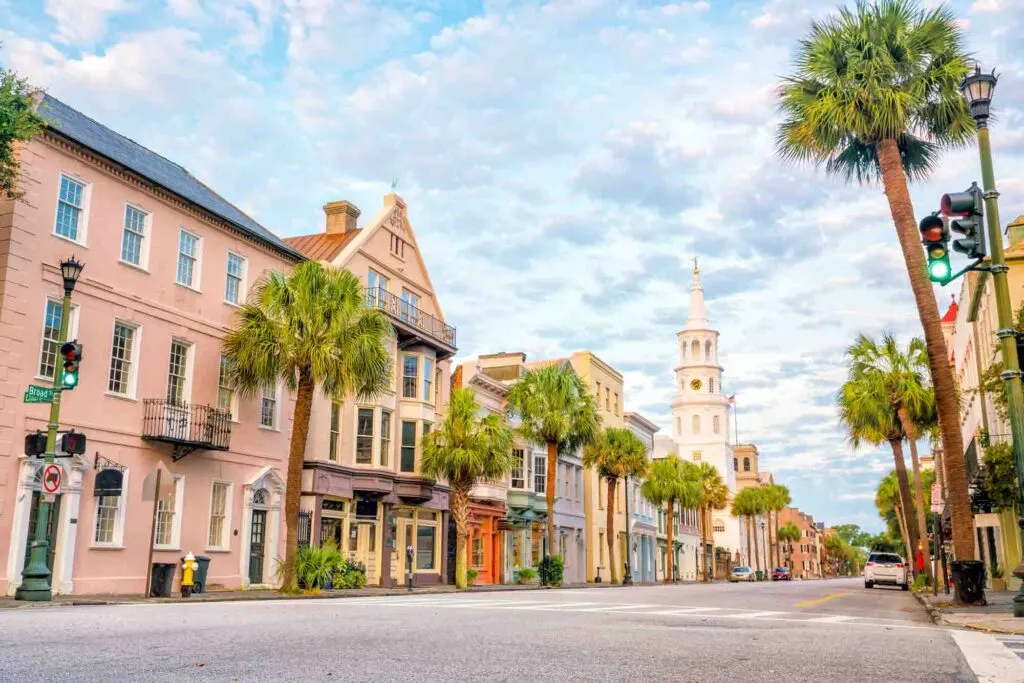 Charleston has put itself on the radar for those who like to travel around the states.
Its quirky cobblestone streets and picturesque harbor attract visitors from all over. There is so much history in the area which is evident in the architecture throughout the city.
While Charleston is a bit chillier than our other warm winter vacations in the US, you'll love visiting in the winter because it is prime oyster season.
You can visit one of the oyster roasts held throughout the city to sample the local delicacy, which is also why Charleston is one of the best places to visit in the south, USA.
There are also quite a few special holiday events making Christmas in Charleston even more special, such as the Festival of Lights or the holiday markets.
Where to Stay in Charleston
Check accommodation in Charleston
11. Kauai, Hawaii
Similar to Oahu, Kauai has perfect weather pretty much year-round! That makes Kauai one of the nicest warm winter vacations in the US.
Like Oahu, the winter brings larger waves, sometimes reaching up to 20 feet! Surfing, or surf watching, is one of the top winter activities in Kauai.
Thanks to the warm weather, you can do all the other traditional Hawaii activities while you're visiting as well.
Whale watching is at its peak from December through March as mothers birth and raise their calves.
You can also hit some gorgeous beaches, go snorkeling, scuba diving, or take a scenic flight through Napali Coast and Waimea Canyon.
Where to Stay in Kauai
12. New Orleans, Louisiana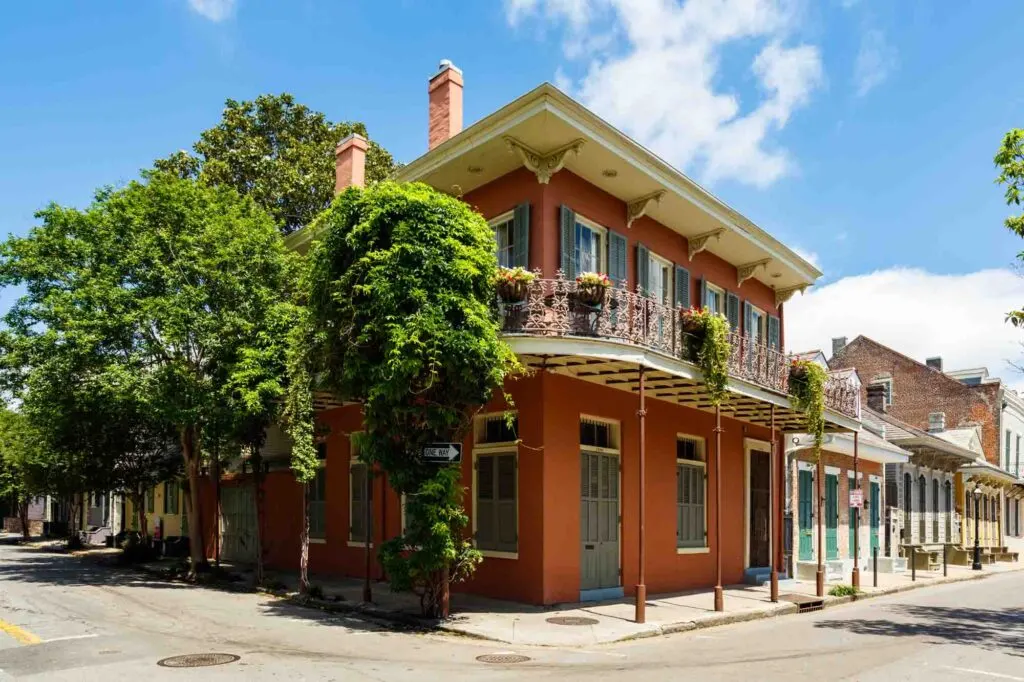 We're heading back down to the south to visit one of the most charming historical cities in the country, New Orleans.
With unique culture from Spanish, French, and African-American influences, New Orleans is a perfect destination to combine warm weather with culture.
The Cajun culture, traditions, and cuisine still reign supreme in the area, as made even more evident by the epic Mardi Gras celebration held here every winter.
Depending on the year, the festival is held at the end of February or early March, making it one of the best warm places to visit in February. There are many parades run by krewes with their own history and themes.
Mardi Gras is celebrated with music, costumes, and parades that run through the city leading up to Fat Tuesday.
Everyone needs to experience a New Orleans Mardi Gras at least once in their lives! This is one of the most fun warm winter vacations in the US.
Where to Stay in New Orleans
Check accommodation in New Orleans
13. Big Island, Hawaii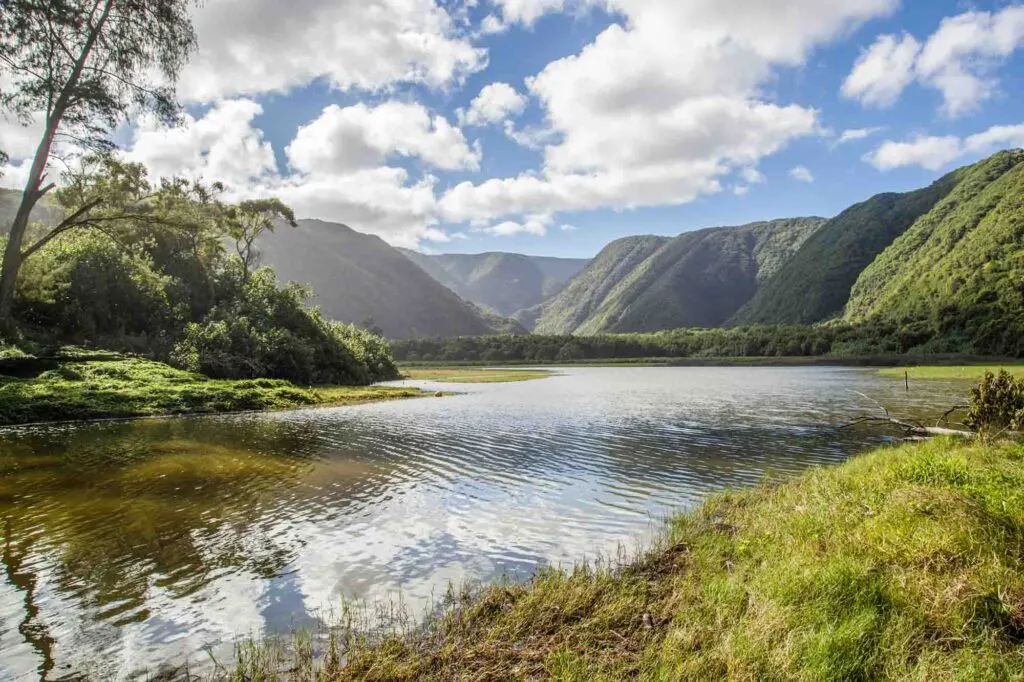 The Big Island, Hawaii, is another popular spot where mainlanders like to escape to during the colder winter months.
With temperatures still in the 70s and 80s coupled with the whale-watching season, Americans book it to Hawaii in the winter.
The winter months are also known for bringing epic surfing to the Hawaiian islands.
Although the Big Island is one of the top warm winter vacations in the US, you can actually experience all four seasons in one day!
The summits of Mauna Kea and Mauna Loa are so high up that they occasionally experience blizzards, while temperatures at sea level remain comfortable.
Also, you could do a fun road trip around the island and visit some state and national parks along the way.
Alternatively, you could do some outdoor experiences in this warm destination, like hiking, snorkeling, scuba diving, horseback riding, or sailing.
Where to Stay in Big Island
Check accommodation in Big Island
14. Savannah, Georgia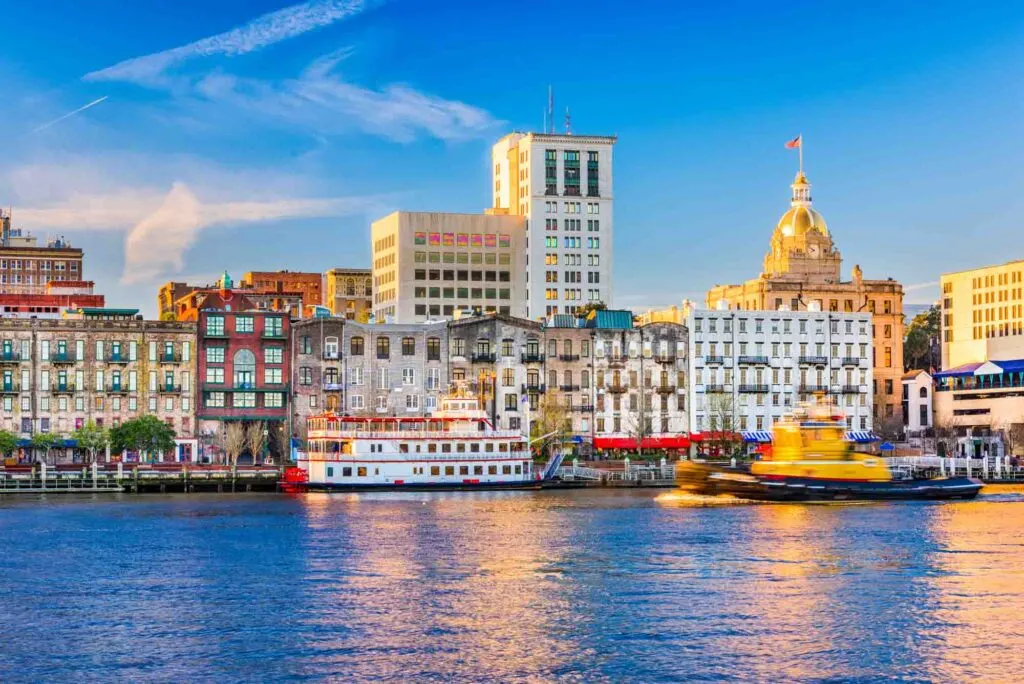 Another adorable, southern city on our list packed full of history and charm, Savannah is known for its history, architecture, and coast.
During the winter days, the temperature hovers around the lower 60s, making it perfect to don some winter fashions without being unbearably cold while your stroll down River Street.
Savannah is host to an array of festivals in the winter that will make your vacation more exciting.
Depending on your interests, you can play your trip around Telluride Mountain Film Festival, the Stopover Music Festival, the Christmas Festival, or the Savannah Veg Fest.
Where to Stay in Savannah
Check accommodation in Savannah
15. Maui, Hawaii
Hawaii continues to make our list because the entire chain of volcanic islands is home to the perfect weather year long.
Maui is no exception, and it's easily one of the most breathtaking islands there is!
You might be competing with all the other tourists who have left the cold winter behind in search of the perfect warm winter vacations in the US, but you will definitely be rewarded.
Whale watching on Maui during the winter months is some of the best whale watching in the states.
The whales love to put on a show, and it's common to see them breaching and tail slapping.
Instead of lighting up a Christmas tree, you can attend the annual lighting of the Banyan tree.
There are also many other Christmas activities and events taking place on the island in December and throughout January.
Where to Stay in Maui
16. Phoenix, Arizona
Phoenix is home to some absolutely brutal summers, so winter is when this area really shines!
Temperatures hover around 60 degrees which is a much-needed relief for locals from the harsh summers and visitors from the colder states.
The temperatures and gorgeous landscapes from the desert area make it the perfect time and place to get some hiking in.
If you decide you do want some snow action after all, you're only a short drive away from the Arizona Snowbowl, where you can hit the ski slopes for an afternoon and then return to Phoenix.
Where to Stay in Phoenix
Check accommodation in Phoenix
17. Albuquerque, New Mexico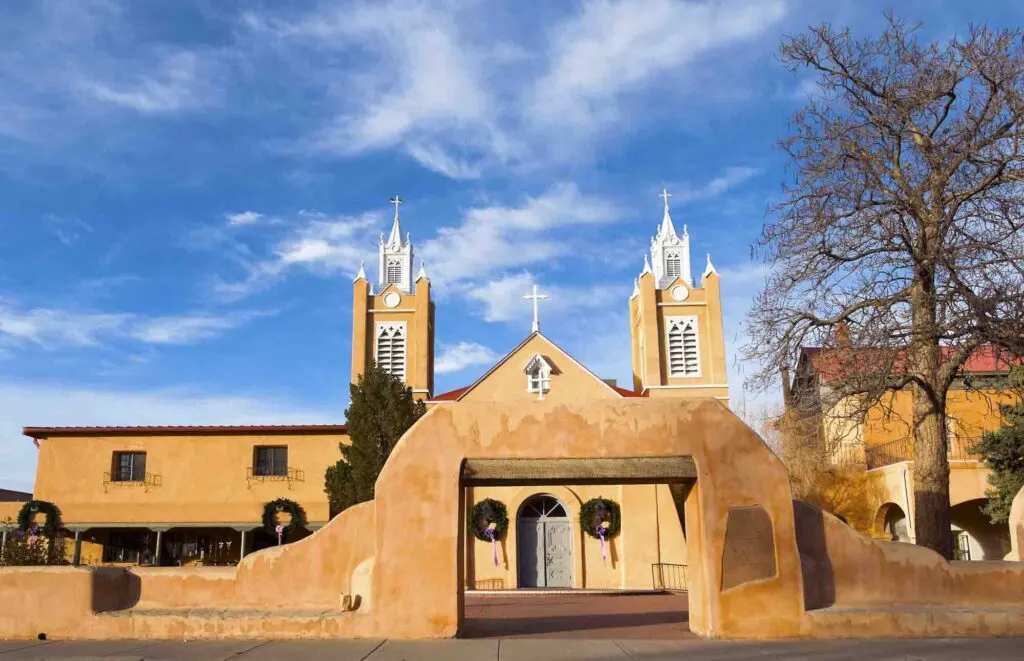 If you're looking for a getaway that actually feels like winter, but isn't too cold, Albuquerque is the perfect spot for you.
With daytime highs in the 40s, you'll definitely want to pack some layers for the cooler weather.
The days will likely be nice and sunny still, with clear blue skies, making it the perfect spot for outdoor winter activities.
Grab your snowboard or skis and hit the slopes at Sandia Peak. Snowshoeing is another popular winter activity that the whole family can pick up in an afternoon.
There are plenty of holiday events in the city as well like the River of Lights and Twinkle Light Parade, making it a fabulous warm place to visit in December.
Where to Stay in Albuquerque
Check accommodation in Albuquerque
18. Las Vegas, Nevada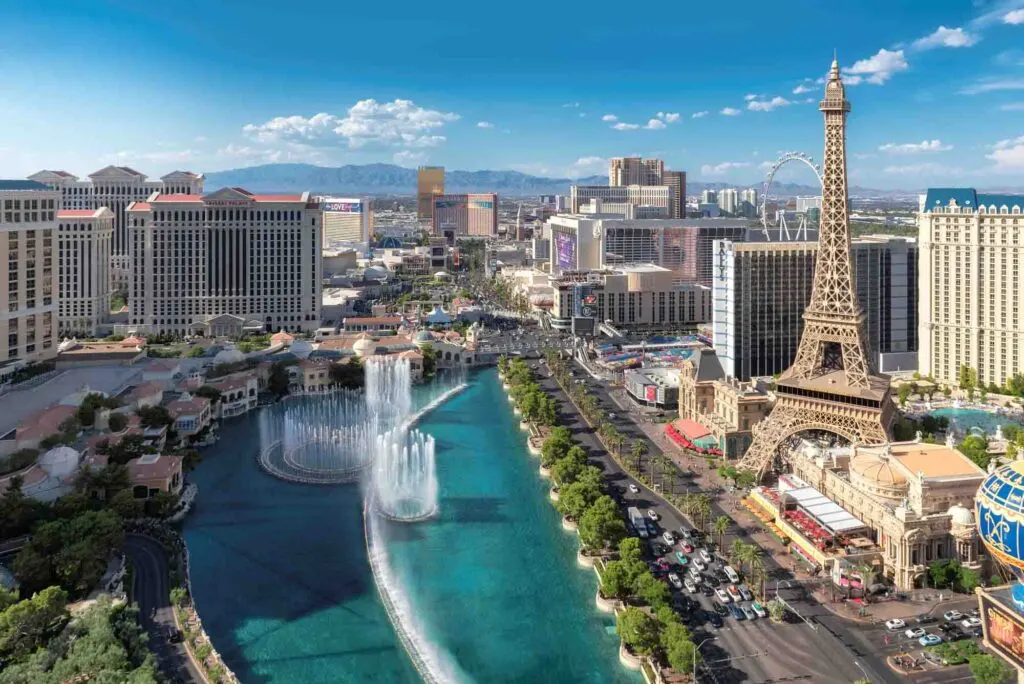 Las Vegas is another US city that can get unbearably hot during the summer months, meaning the wintertime offers cooler temperatures perfect for taking advantage of outdoor activities.
The area around Las Vegas has some world-class hiking with unique scenery.
Las Vegas is known for its entertainment and big flashing lights, and during the holidays you can expect even more!
With over-the-top Christmas decorations and festive holiday music, Las Vegas delivers a Vegas-sized Christmas spirit, making it one of our favorite warm places to visit in December.
Where to Stay in Las Vegas
Check accommodation in Las Vegas
19. Los Angeles, California
Another California city that is lucky enough to experience mild, comfortable temperatures year-round, LA has highs in the 60s and 70s throughout the winter.
The warm, sunny days are perfect for hiking up into the hills and looking back for gorgeous views of the city.
Despite the warmer weather, the LA locals do what they can to bring the holiday and wintertime energy to their city.
Between fake snow at Elysian Park, Santa-themed bar crawls, Interactive Nutcracker productions, there is no shortage of holiday vibes here.
LA is one of the best warm winter vacations in the US for those who want to skip to the cold but still enjoy the holiday season.
Where to Stay in Los Angeles
Check accommodation in Los Angeles
20. South Padre Island, Texas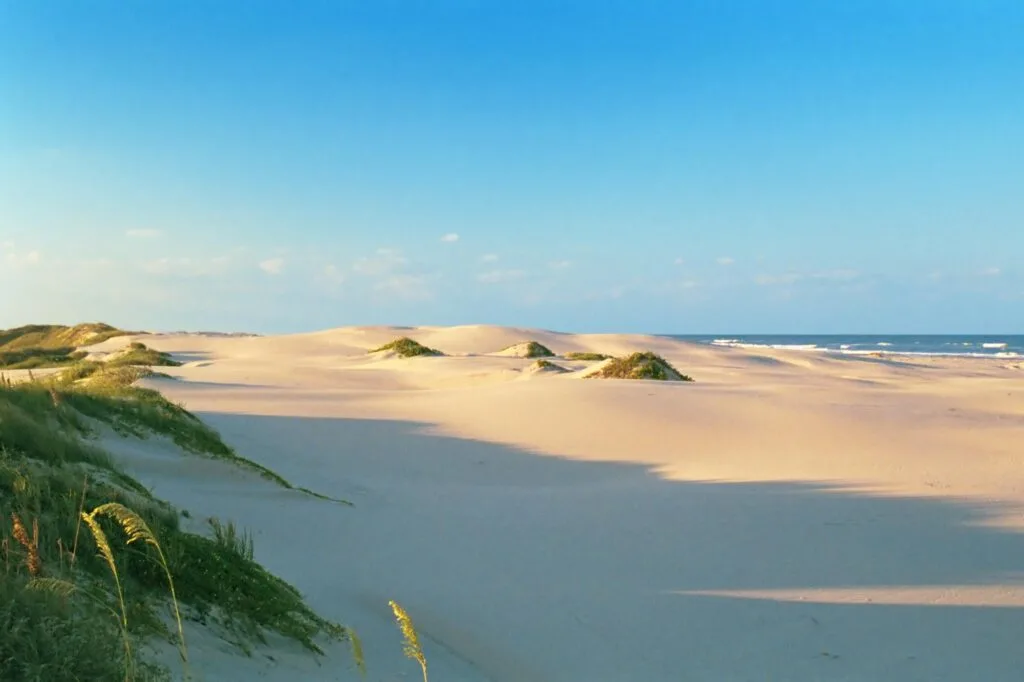 South Padre Island is an amazing beach town that is still a pretty well-kept secret for those outside of Texas.
Most people don't realize that Texas has a huge stretch of white sand beaches similar to those of Mexico further south.
With very few rainy days and winter temperatures in the low 70s and upper 60s, South Padre Island is the perfect warm winter getaway right here in the US.
By the end of February, students begin to flock to the island for Spring Break excitement.
Considering it's only a few miles away from Mexico, it's the warm winter vacation in the US if you want to double up and visit Mexico as well.
Where to Stay in South Padre Island
Check accommodation in South Padre Island
21. Jackson, Mississippi
Jackson is another charming southern town with tons of history and landmarks.
The city is filled with fun, educational indoor activities that are perfect for the whole family no matter what the weather looks like outside.
The Children's Museum has hands-on, interactive exhibits that are designed to get kids interested and learning about science, technology, and the arts.
The Mississippi Museum of Natural Science has exhibits about the natural landscapes of the state plus an aquarium with hundreds of species.
Other interesting activities include the Old Capitol Museum and the Russell C. David Planetarium.
Where to Stay in Jackson
Check accommodation in Jackson
22. Mobile, Alabama
Similar to Jackson, Mobile has a large collection of indoor activities to keep the whole family occupied on your winter visit.
There are unique museums like the GulfQuest National Maritime Museum of the Gulf of Mexico, the Gulf Coast Exploreum Science Center, and the Mobile Museum of Art.
Not to mention, you can try some of Alabama's world-famous BBQ to warm up your belly.
Besides, you can go on a day trip to Orange Beach, a small town in Alabama's Gulf Coast known as a water sports hub.
Where to Stay in Mobile
23. Atlanta, Georgia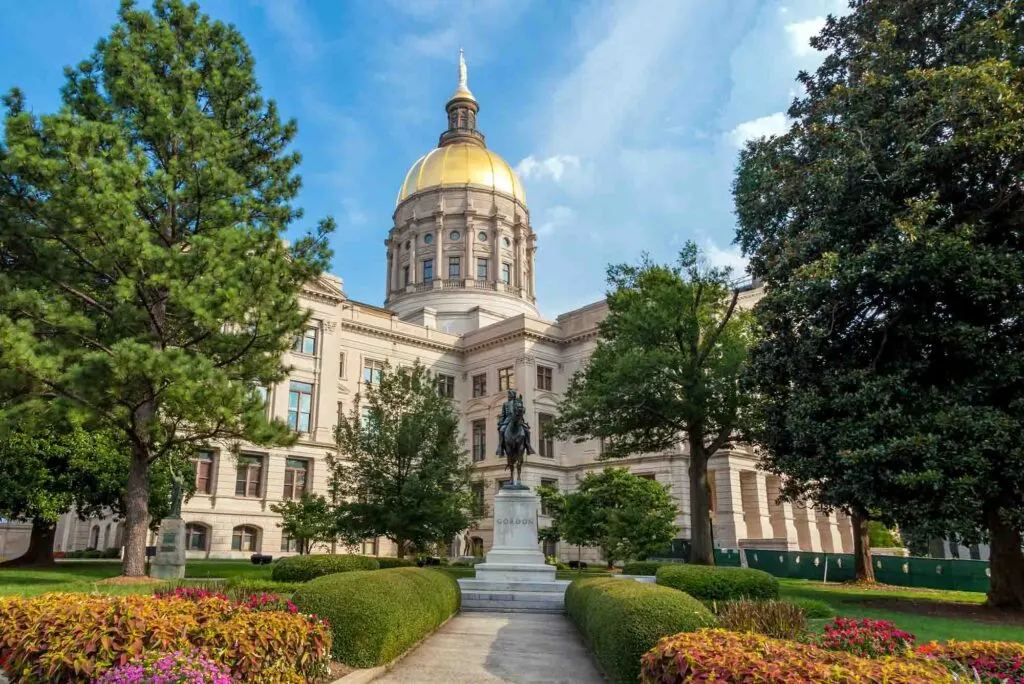 Atlanta is another southern city with mild winters that know how's to do it big for the winter holidays, making it one of our favorite warm winter vacations in the US!
With magical Christmas light displays at the Atlanta Botanical Gardens, Life University, and Village Green Circle it's super easy to get into the spirit of the holidays in Atlanta.
Where to Stay in Atlanta
Check accommodation in Atlanta
24. Orlando, Florida
What better way to spend the winter than popping into Disney World in Orlando?
This is our favorite warm place to visit in January thanks to their epic New Year's Eve celebrations.
Ring in the New Year with all your favorite Disney characters as the parks stay open late and the fun lasts late into the night.
The high temperatures in Orlando stay in the mid-70s throughout the winter, so you won't have to worry about being too cold, or too hot, as you explore the parks.
Where to Stay in Orlando
Check accommodation in Orlando
25. Honeymoon Island State Park
Here are more pristine beaches that are found right here on the mainland!
The breathtaking white sand beach is easily accessible via a causeway that will take you to the island. It's known for being home to a lot of wildlife and stunning scenery.
Most days in the wintertime are nice and sunny with highs in the lower 70s, making it a nice warm winter vacation in the US.
If you're looking for easy access to a beautiful beach with blue waters, Honeymoon Island is the best warm place to visit in December.
Besides, you can explore the region which has some incredibles beaches, like Clearwater Beach.
Where to Stay near Honeymoon Island State Park
Check accommodation near Honeymoon Island State Park
Final Thoughts on Warm Places to Visit in the Winter
These are perfect destinations to fight off the winter blues while enjoying warm temperatures by sandy beaches and palm trees.
Whether you're taking off to a tropical island or a warm winter destination in mainland, you're bound to find an incredible winter escape.
Escape the cold weather and head over to one of these warm destinations. You won't regret it.
Latest posts by Roaming the USA
(see all)