Southwest USA is somewhat of a love affair for even the most seasoned travelers.
Not only is it one of the best destinations on the entire planet to experience some serious desert magic, but its enormous size also means there's space for plenty more adventures guaranteed to please even the fuzziest of visitors.
If you're planning to visit the southwest for the first time and find yourself wondering what to see and what to do in this vast region of the USA, chances are you're feeling a bit overwhelmed with options.
With so many incredible places to visit in the southwest, how do you even start narrowing down what you want to see and do?
Here's our trick: Try jamming as many of the highlights in the area as possible while you start plotting your return (seriously, southwest USA is addictive, and you'll definitely crave to be back there as soon as you get back home!)
From the multicolored landscapes of Petrified Forest National Park to the bustling cities of Texas and the unparalleled scenery you'll find at Saguaro National Park, the list of unique places to visit in the southwest USA is pretty much endless, but here are the stops you absolutely need to make on your visit.
22 Best Places to Visit in the Southwest USA
1. White Sands National Park, New Mexico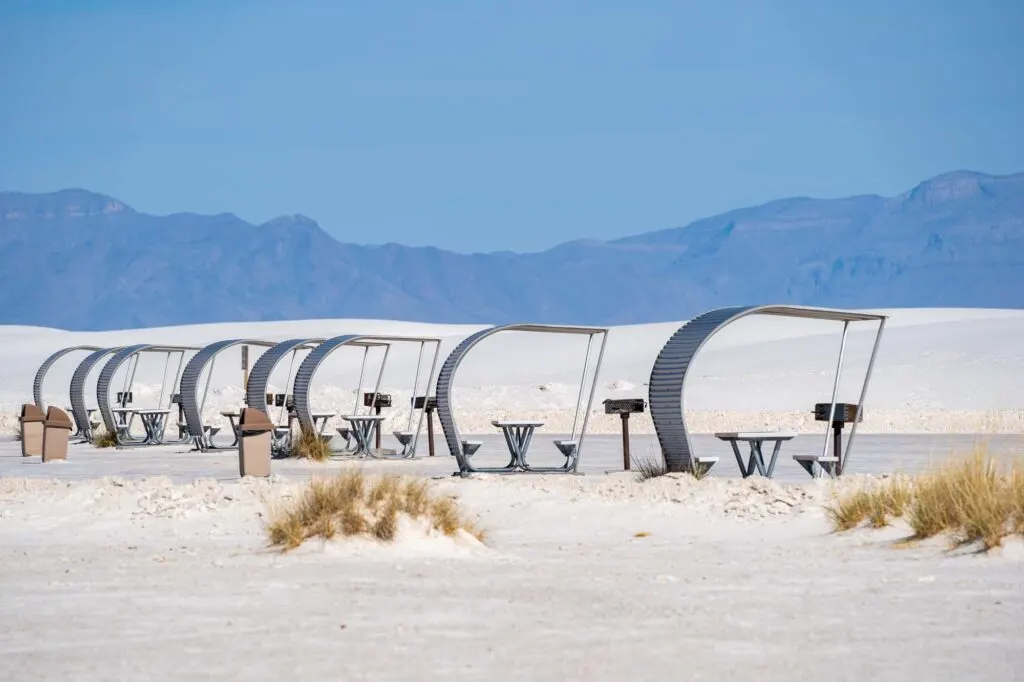 Tucked away inside the Tularosa Basin, White Sand National Park is a 275-mile wonderland of glorious wave-like dunes of gypsum sand, making it the largest gypsum dune field on the entire planet!
Aside from the striking views of the seas of white sandy dunes that make up the park, White Sands National Park is also a mecca for desert-inspired activities.
During your visit, be sure to go for a walk on the Interlude Boardwalk, where you'll learn all about the flora and fauna of the region–one of the best things to do in the southwest.
Rent a sled and brave the park's enormous dunes or book yourself a spot at the Sunset Stroll for some serious fun. This ranger-guided walk provides visitors with the unique opportunity to learn all about the park's fascinating geology.
2. South Padre Island, Texas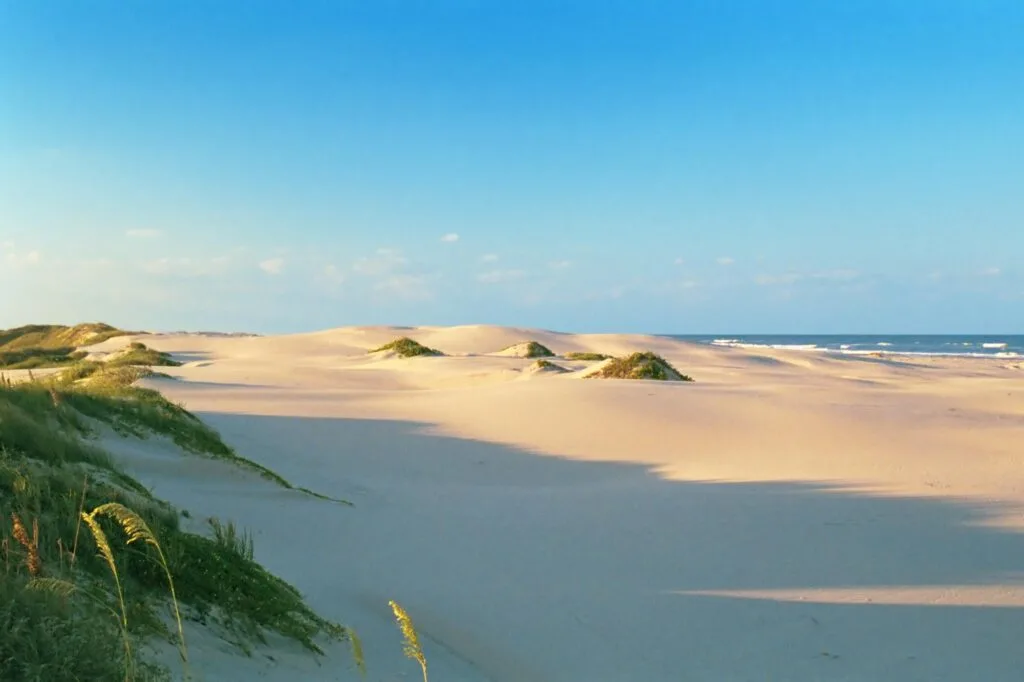 This may sound a bit hard to believe, but Texas is actually home to the largest undeveloped barrier island in the entire world and the only tropical island in Southwest USA, making it a pretty one-of-a-kind destination to visit.
Encompassing over 130,000 acres, South Padre Island National Seashore divides the Gulf of Mexico from the Laguna Madre.
Its immense size means it has enough space to home different sceneries, which range from seas of dunes to pristine grasslands.
Aside from its striking beauty, South Padre Island offers a vast array of activities for visitors to enjoy, including camping, four-wheeler cruises over the island, turtle release missions, dolphin spotting, exploring the Laguna Madre, birding (over half of North American migratory birds make a stop at the island!), and even taking a sandcastle building workshop!
3. Monument Valley, Arizona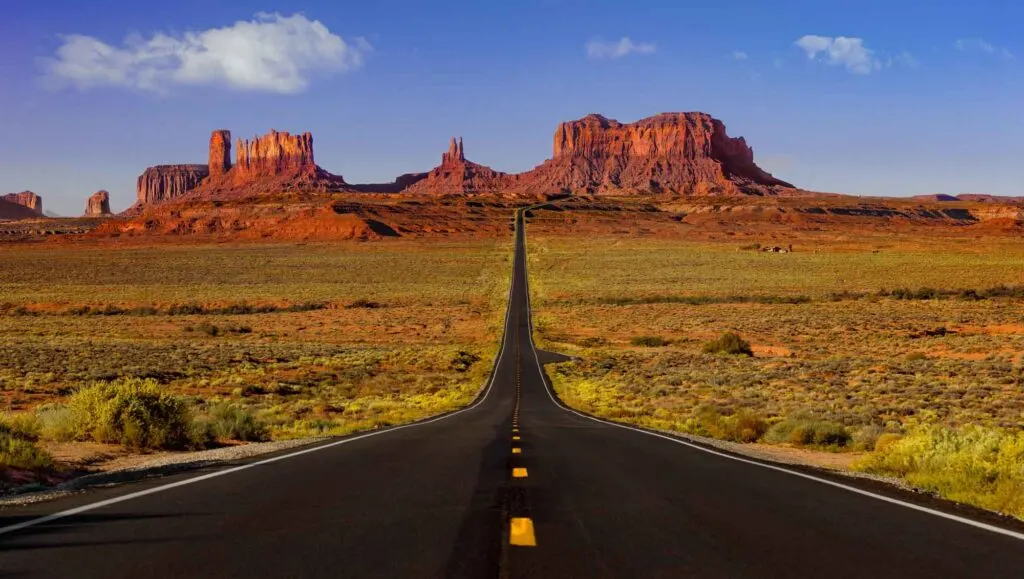 Known for its awe-inspiring red sandstone buttes and hiking trails that feel more like labyrinths, Monument Valley is one of the most iconic landmarks in America.
Simply put, Monument Valley is a can't miss stop on any Southwest USA itinerary, especially if you've always wondered what it'd feel like to be cast on a Western movie, as the entire area brims with Old West and Native American history!
Tip: If you want to get that cowboy feel, Monument Valley is a perfect spot for some serious horseback riding, no matter your level of experience.
4. Saguaro National Park, Arizona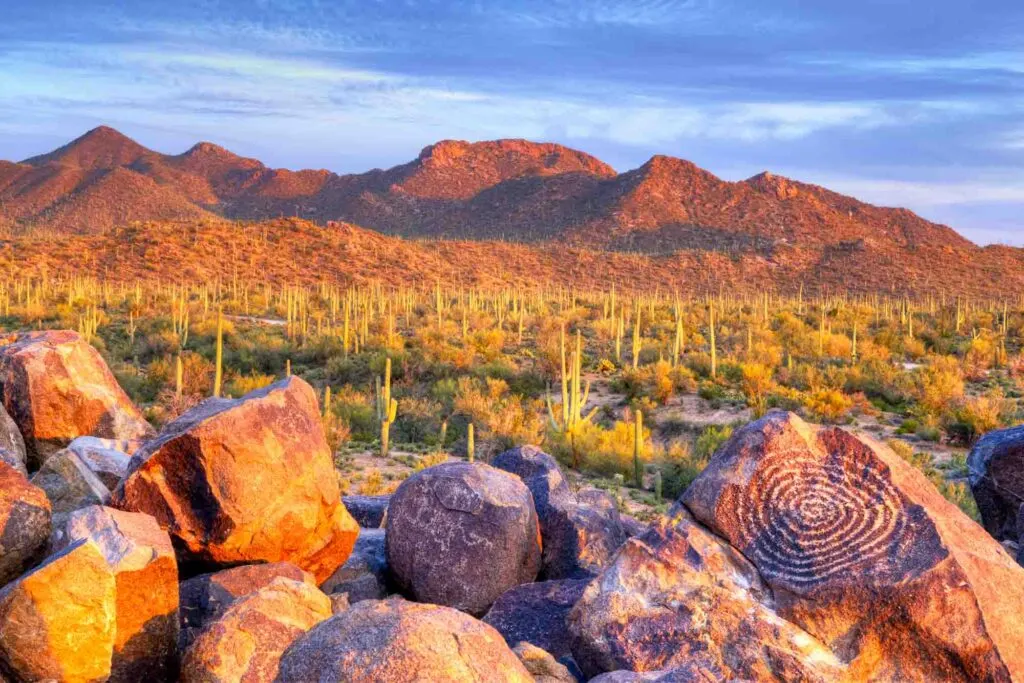 Set just an hour away from Tucson in Arizona, Saguaro National Park still remains somewhat of a hidden gem when it comes to the best places to visit in Southwest USA.
Saguaro is tucked away in the heart of the Sonoran Desert and provides a wonderful opportunity to experience a true desert wonderland in North America.
While here, you'll get the chance to hike or drive amid the country's largest cacti and saguaro trees, some of which can grow up to 60 feet in height!
5. Havasu Falls, Arizona
Picture a landscape of striking red rocks and blue water waterfalls cascading down into bright turquoise-colored pools. That's Havasu Falls in a nutshell.
Its remarkable beauty makes it one of the most sought-after places to visit in Southwest USA, and getting there requires a bit of a trek.
For one, permits are hard to come by, but with a bit of planning in advance, you may be one of the lucky few to snag one!
The trek to reach Havasu Falls is pretty tricky, with lots of switchbacks and a whopping elevation gain of 1,800 feet at the beginning.
The views, as well as three other glorious waterfalls along the way, will give you plenty of excuses to stop and catch your breath, though!
As a tip, we recommend learning a bit about the Havasupai people before your visit. The area in and around the falls is considered sacred, so it's important to remain respectful and understand the land you're walking on.
6. Antelope Canyon, Arizona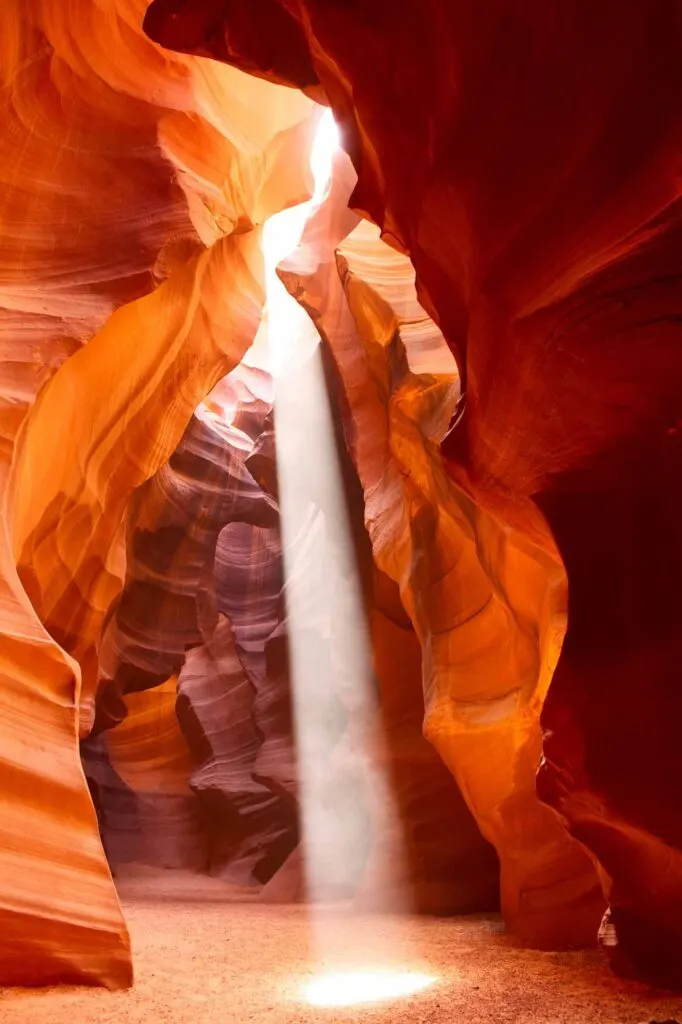 Southwest USA may be home to many incredible slot canyons, but none of them quite compare to the unparalleled beauty of Antelope Canyon.
Millions of years ago, floods gushed into the sandstone in the desert. Slowly but surely, Antelope Canyon's unique beauty was formed.
What makes this slot canyon stand high above the crowds is the fact that its walls are covered by swirls of desert colors that light up and come to life when sunlight hits them.
During your visit, you'll get to follow a trail amid the canyon's walls, a truly unique experience that lasts around two hours, considering you'll be making tons of stops along the way to gawk at its beauty!
If you have time, you can also check out the nearby (and much lesser-frequented) Lower Antelope Canyon.
This canyon is just as beautiful as its more popular sister, but hiking through it is a bit more challenging because it's more narrow.
Pssst: If you're planning your American southwest road trip, you might want to stretch it a bit and include Utah's Mighty 5 if you have more time! Zion National Park, Bryce Canyon National Park, Capitol Reef National Park, Arches National Park, and Canyonlands National Park are all must-visits for an outdoor enthusiast!
7. Taos Pueblo, New Mexico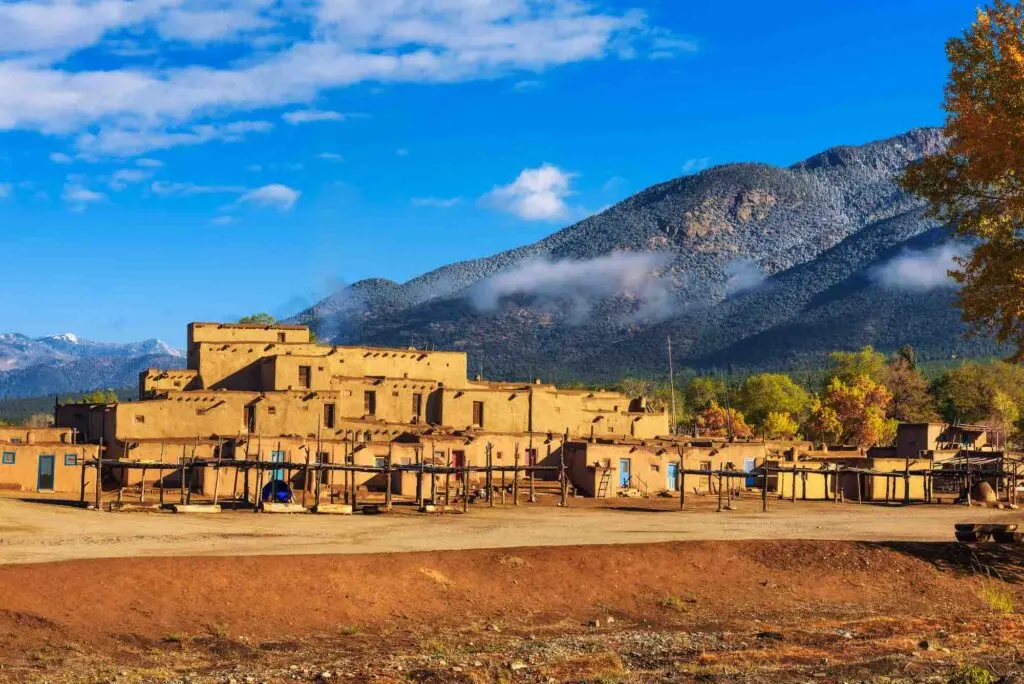 Taos Pueblo boasts the oldest continuously inhabited dwellings in the country, all of which are adobe structures that have stood the test of time for over a thousand years!
Today, Taos Pueblo is considered a National Historic Landmark and a UNESCO World Heritage Site, thanks to its beauty and historical significance.
Only about 150 people call this pueblo their home, but they welcome visitors from all over the world keen to take in its striking architecture and the village's unparalleled sights and arts.
8. Grand Canyon, Arizona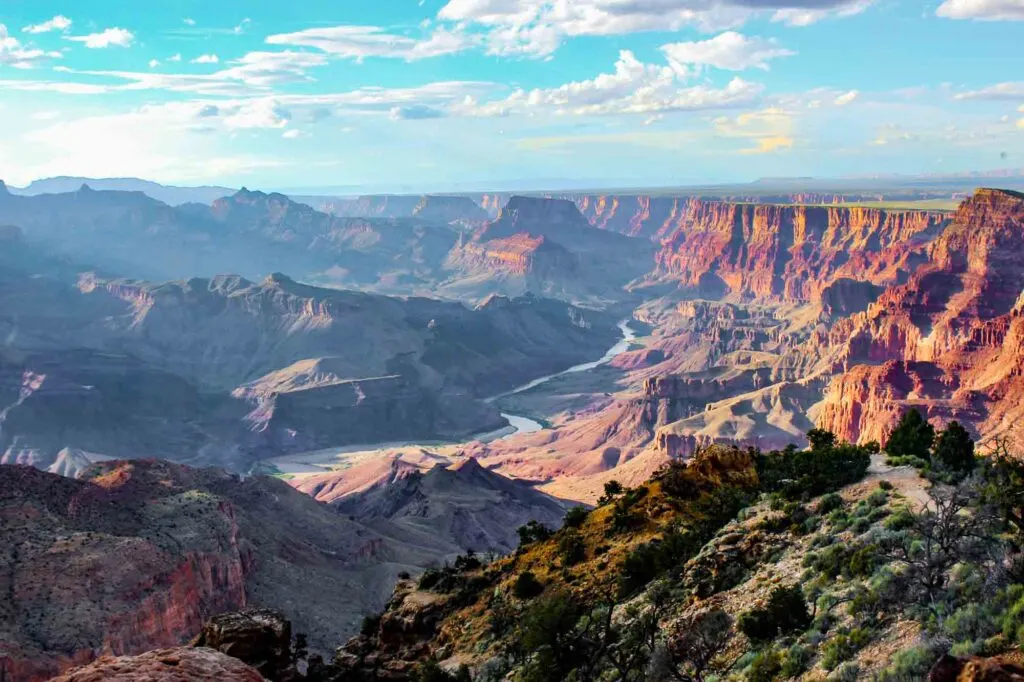 As one of the most iconic landmarks in the country, Grand Canyon is one of those non-negotiable places to visit in Southwest USA.
Even though you've probably seen it countless times in movies and photographs, no experience compares to glimpsing at the canyon with your own eyes, especially when the late afternoon sun makes it glow.
This massive canyon was carved out over the centuries by the Colorado River, and its immense size means there are plenty of ways to explore it.
Most visitors head to the South Rim, where easy-to-access lookout points along the canyon's rim.
If you're up for more challenging hikes and unparalleled views, head to the North Rim section instead, which provides highly unique viewpoints and more challenging hikes you can enjoy in absolute solitude.
9. Carlsbad Caverns National Park, New Mexico
Set in the heart of Guadalupe Mountain, Carlsbad Caverns National Park is a fascinating underground world made up of 119 fascinating caves you can explore at your own pace.
The show cave is the Carlsbad Cavern, which is undoubtedly the most impressive of them all.
Here, you'll find the "Big Room," which stretches over a thousand meters in length and features all sorts of stunning rock formations, including exquisite displays of stalactites dripping from the ceiling and stalagmites protruding from the ground.
You can explore the park's subterranean trails by hiking through its countless chambers. Make sure to take your time in order to fully appreciate all the cave formations and interesting geological futures you'll encounter.
Above the ground, you'll also find plenty of opportunities to explore the desert landscape surrounding the caverns!
10. Horseshoe Bend, Arizona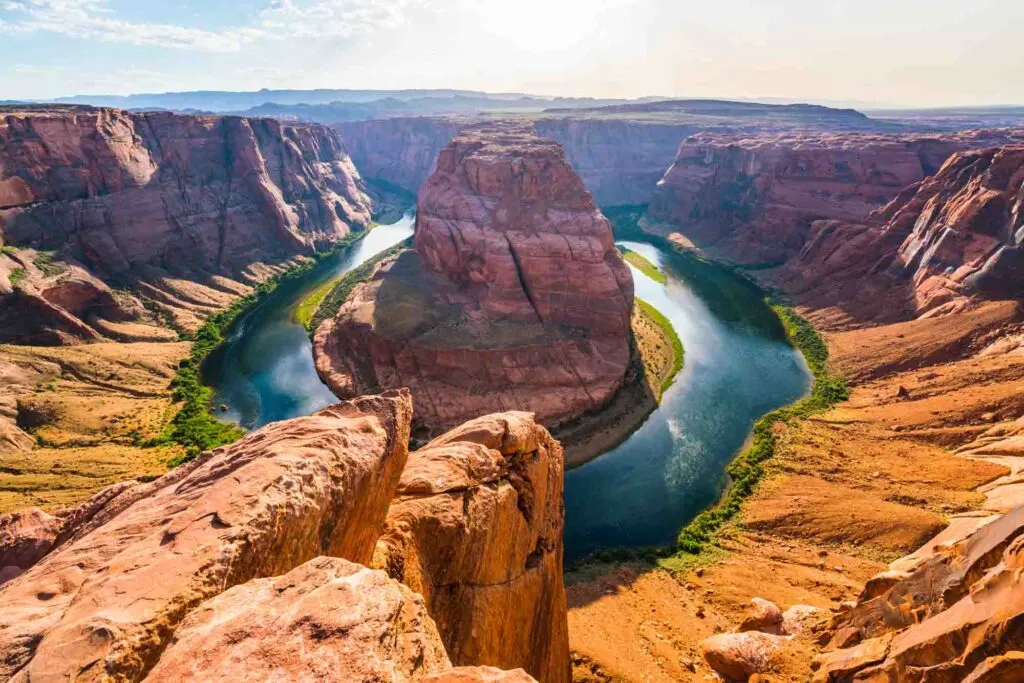 As one of Instagram's favorite spots, Horseshoe Bend is probably one of the most iconic places to visit in Southwest USA for all the right reasons – the vistas from here are as dramatic as they can get!
Its name comes from the fact that the sky-high Navajo sandstone cliffs that make it are shaped like a perfect horseshoe.
From the main overlook, you'll see unbeatable views of the Colorado River below and panoramic vistas of the desert around!
11. Space Center Houston, Texas
It's not exactly a secret that space exploration is a staple of the city of Houston (we mean, the first word to ever be spoken on the Moon was "Houston," so there's that!).
NASA's Space Center Houston is home to a ton of displays and attractions perfect to let the inner astronaut in you free.
A few of the permanent attractions guaranteed to leave you awe-struck are the SpaceX Falcon 9 Rocket, a NASA Tram Tour that will allow you to get glimpses at Johnson Space Center, and extensive artifact collections.
Read next: Weekend in Houston
12. Bandelier National Monument, New Mexico
Once the home to Ancestral Puebloans before they moved into new lands in the Rio Grande Valley, Bandelier National Monument is considered a sacred ground meant to preserve the homes of the Pueblo people in the area.
Not only is this one of the best national parks to visit in order to learn more about this ancient civilization, but it's also a mecca for alluring views of striking canyons and desert mesas.
As you make your way through the park's sacred grounds, you'll get to take a step back in time to over 11,000 years worth of history via ancient petroglyphs and dwellings perched on rock cliffs.
13. Dallas, Texas
Dallas is one of the most exciting Southwest cities and a must on any itinerary.
Home to beautiful parks, tons of historical museums, a pulsing nightlife, an art scene like no other, incredible breweries, and an unequaled love for sports, you'll have a pretty time getting bored here.
The best way to explore the heart and soul of Dallas is to pick a few neighborhoods to explore according to your interests (it's home to more than a dozen of them!).
A few of the ones you might want to start with are the Arts District for excellent museums and venues or Deep Ellum if nightlife is your jam!
Read next: Weekend in Dallas
14. Santa Fe, New Mexico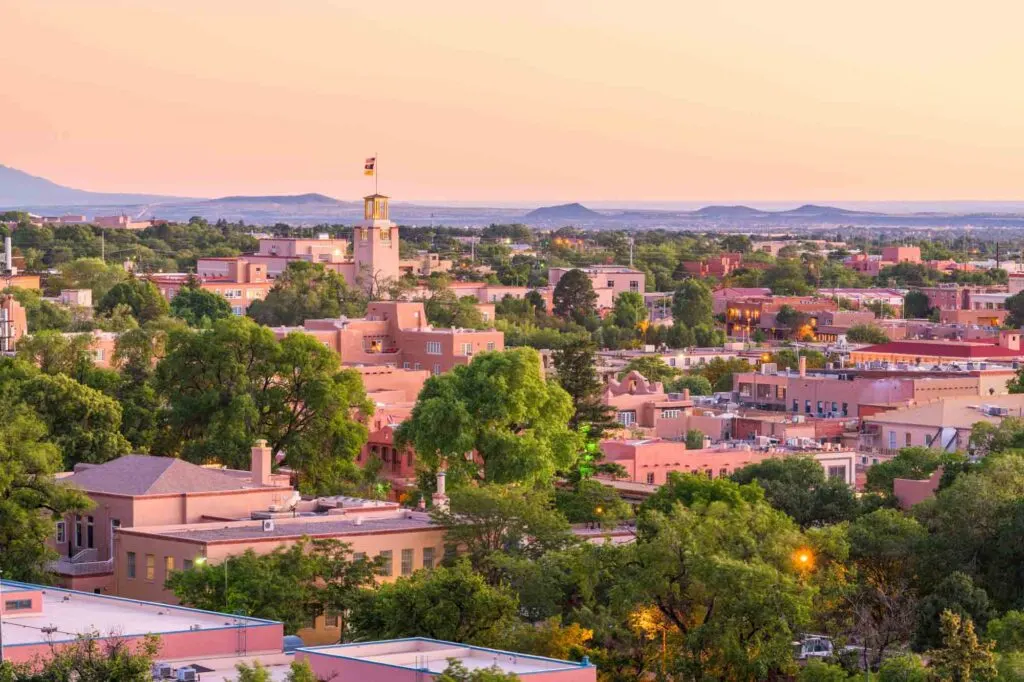 Even though Santa Fe is the capital of New Mexico, it's actually one of the smallest Southwest cities with just under 100,000 residents!
Santa Fe is a mecca for artsy vibes and quintessential Pueblo architecture, making it one of the best places to visit in Southwest USA to dive fully into New Mexico's bustling arts scene as well as its ancestral roots.
A stroll through Canyon Road is guaranteed to delight your senses, with over a hundred art galleries proudly displaying pieces suitable for all tastes, ranging from contemporary to modern and Native American.
You'll also find tons of vintage shops, small museums, eateries, coffee shops filled with character, and lots of independent boutiques you're guaranteed not to leave empty-handed from.
15. Oklahoma City, Oklahoma
A big city with a small-town vibe, Oklahoma City may not be the first destination that pops to mind when you picture a city escape, but we highly believe it's an absolute must on any Southwest itinerary.
Home to world-class breweries, tons of museums, a bustling arts scene, and street art like nowhere else, there's plenty to do here to keep you entertained for hours on end.
Moreover, Oklahoma City is a bit of an urban outdoor oasis, with lots of botanical gardens and outdoor adventures you can try your hand at (you can actually go whitewater rafting right in its downtown!).
You'll find museums aplenty for all things culture, including some dedicated to space exploration, a railway museum, and even an entire one dedicated to cowboys!
16. Norman, Oklahoma
Norman is Oklahoma's third-largest city, but it still offers that small town Southwest charm and college town vibe to make you feel right at home.
This quaint city is home to a superb foodie scene, natural getaways, world-class museums, and a nightlife that can very well rival that of bigger cities in the country.
During your visit, you can pretty much take your pick as to what to do depending on your interests.
If nature is your jam, head to the nearby Lake Thunderbird State Park for some serious outdoor time.
If you're more of a history buff, you'll find museums here, including the Sam Noble Oklahoma Museum of Natural History, where you can see towering dinosaur fossils.
For art, make sure you visit the Fred Jones Jr. Museum of Art, where you'll find original pieces by Moner, Van Gogh, and Renoir!
17. Canyon de Chelly, Arizona
Located in northeastern Arizona, Canyon de Chelly's landscape is as dramatic it gets.
The national monument is more like a maze of three narrow canyons which have homed the Navajo people and other indigenous civilizations for thousands of years.
Today, Canyon de Chelly's striking red-hued landscape is reason enough to visit this monument, but it is so insanely unique that descendants of the Navajo still live on-site.
All three canyons contain almost a thousand archaeological sites, all of which are considered sacred, so make sure you learn about the culture that calls Canyon de Chelly its home in order to remain respectful!
18. Texas Hill Country
As one of the most beautiful places to visit in Southwest USA, Texas Hill Country is a mix of soulful lifestyle, quaint historic towns, gently rolling hills, incredible natural wonders, and a world-class wine scene.
One of the top natural attractions in the area is Enchanted Rock State Natural Area (one of the best state parks in Texas), where you'll find a pink-shaded mountain that also happens to be the second-largest granite dome in the country.
Aside from that, Texas Hill Country is home to some of the best state parks in the Southwest, including McKinney Falls State Park, Colorado Bend State Park, and Guadalupe River State Park to name just a few!
Culturally wise, you can spend your days exploring small Southwest towns in the region.
This can look like learning about the German heritage of Fredericksburg by strolling its streets and touring its breweries, seeing half-timbered houses at Castroville, staying at an incredible dude ranch at Bandera, or exploring the eye candy that is the town of Wimberley.
During the springtime, Texas Hill Country gets carpeted by bluebonnets (the state's official flower), so make sure you plan a few scenic drives and road trips around the area of some seriously exquisite views!
19. Shiprock Pinnacle, New Mexico
Shiprock Pinnacle is one of New Mexico's most iconic landmarks. Located in the middle of what feels like nowhere, this rock formation soars high at 7,178 feet above sea level amid three volcanic ridges.
To the Navajo, this place is known as "Tsé Bit' A'l" (Rock With Wings). It's considered an extremely sacred site, so climbing the rock isn't allowed, but you can reach the base easily by booking a guided tour.
Shiprock Pinnacle is visible at even 50 miles away in almost every direction, so even if you don't get to the base, you'll definitely be able to see it from different angles easily.
20. Petrified Forest National Park, Arizona
Way back in time (like, over 200 million years ago), heavy floods in the region brought trees to the area this striking national park stands on.
As time went by, volcanic eruptions blanketed the dead trees with ash. Over the centuries, the logs were petrified, buried into the ground, and later on re-exposed over the floor.
Today, these logs spark with colors, making the scene look like a glitzy rainbow!
There's a whole lot to do at Petrified Forest National Park. One of the can't miss sights is Crystal Forest, where you'll find mammoth quantities of multicolored logs.
Moreover, make sure you check out the striking vistas of the Painted Desert, hike the otherwordly-looking badlands of the Blue Mesa Trail, and walk down the Giant Logs Trail, where you'll get to see some of the largest petrified logs in the entire park!
21. Guadalupe Mountains National Park, Texas
Towering mountains may not be the first thing that pops to mind when you picture Southwest USA, making this park all that more interesting of a visit!
As one of the best national parks in Texas, Guadalupe Mountains National Park is home to four of the state's highest peaks and desert adventures like nowhere else in the region.
Hiking is the prime thing to do at Guadalupe Mountains State Park.
There are tons of miles worth of trails available, all of which will give you the chance to get close and personal with the mountains as well as experience the wilderness that surrounds them, which ranges from woodland canyons to lush springs.
If you're up for a challenge, you can also hike Guadalupe Peak.
At 8,751 feet above sea level, the trek is no easy feat, but getting to conquer the tallest mountain in Texas is definitely one for the books!
22. Palo Duro Canyon State Park, Texas
Commonly dubbed the "Grand Canyon of Texas", Palo Duro is the second-largest canyon in the United States and one of the best places to visit in Southwest USA for outstanding region views.
Aside from its alluring beauty and immense size, what makes Palo Duro so unique are the multicolored sandstone formations that make it.
The park features 15,000 acres of hiking and biking trails and other fun activities, like zip-lining across the canyon!
Overnighting here is also an experience like no other.
Several campsites and glamping spots are available in the park, but if you plan ahead, you may even be able to snag one of the park's cozy cabins set right on the canyon's rim!
Wrapping Up on Southwest Destinations
Have you ever been to any of these places to visit in Southwest USA? We'd love to hear about your time there, so let us know all about it in the comment section below!
Latest posts by Roaming the USA
(see all)