Looking for the best things to do in Asheville? Here's a fun list of Asheville attractions.
Asheville, North Carolina, is one of the largest cities in Western North Carolina and the 12th most populous city in the state, situated at the confluence of the French Broad and Swannanoa rivers.
If you're planning a trip to Asheville, North Carolina, there's little doubt you'll want to bring the whole family along.
Asheville is famous for its four seasons, but everyone would say the choices are between summer and winter to visit the many attractions in and around Asheville.
From drinking beer at one of the 30+ Asheville breweries to hiking several beautiful trails, there are countless things to do in Asheville, and this article will show you that exactly.
Wondering what to do in Asheville, NC? Read on!
26 Best Things To Do in Asheville, North Carolina
Here are the best things to do in Asheville in no particular order.
1. Hike The Blue Ridge Parkway
Every year, millions of people visit the Blue Ridge Parkway. As a result, people can expect to see the Parkway's diverse and significant natural resource base.
Hike to Mount Mitchell State Park to have incredible views of the mountains.
Still, the Blue Ridge Parkway, which runs through the southern and central Appalachians, provides an excellent view of the region's flora and fauna.
It is famous throughout the world for its biodiversity. Furthermore, the Parkway traverses a diverse range of habitats along the Appalachian Mountains, some of which are extremely rare.
As a result, visitors get treated to an unparalleled variety of climates, vegetation, wildlife, and geological features.
2. Relax at The Incredible Omni Grove Park Inn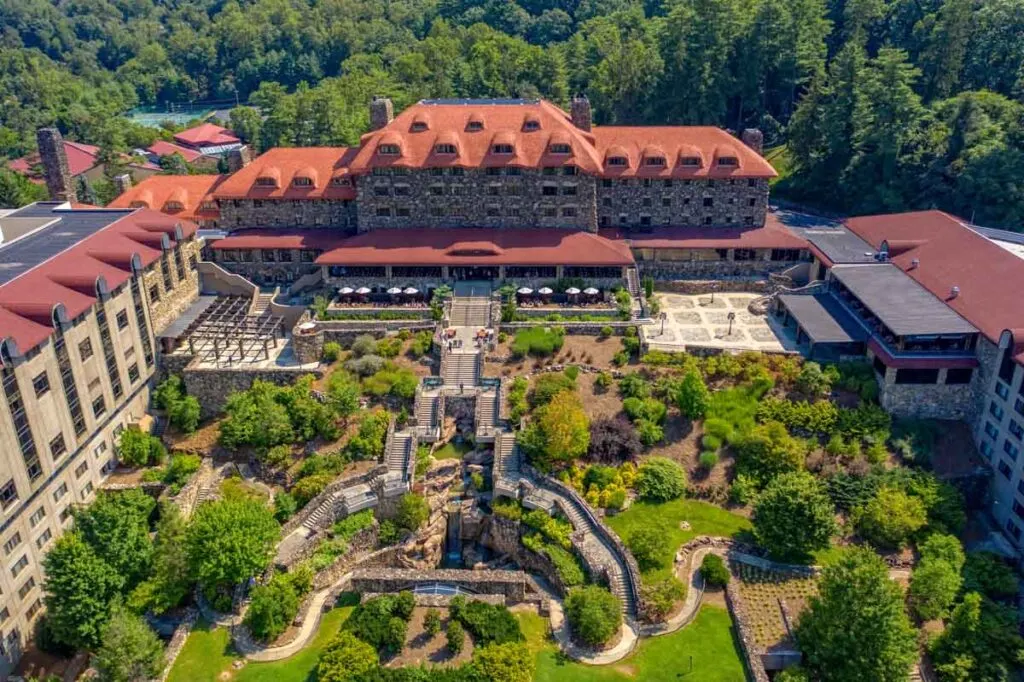 If you're looking for a place to relax in town, Omni Grove Park Inn Spa is the place to be.
This property is incredibly famous across the country, and rightly so, because it provides everything you need to turn on vacation mode.
It offers steam rooms, multiple swimming pools, waterfalls, fantastic lounges by fireplaces, and much more.
If you're still looking for a place to stay in Asheville, consider this hotel built into the side of the mountains. You won't regret it.
3. Experience The Pisgah National Forest
The Pisgah National Forest has mile-high peaks, cascading waterfalls, and densely forested slopes, and it is a great day trip from Asheville, NC.
The Pisgah National Forest spans over 500,000 acres and is mostly a hardwood forest with whitewater rivers, waterfalls, swimming holes, and hiking trails spanning hundreds of miles.
North Carolina's national forests provide a wide range of outdoor recreation opportunities.
From the mountains to the sea, these national forests offer a variety of exciting adventures.
However, remember that all outdoor recreational activities, including those at recreation sites, in the Croatan, Pisgah, Nantahala, and Uwharrie national forests have inherent risks due to the natural setting in which they occur.
4. Slide Down Sliding Rock
Every summer, thousands of children and adults slide down Sliding Rock at a famous mountain waterfall in the Pisgah National Forest.
People patiently line up and wait their turn, riding the chilly water (50-60 degrees) down the 60-foot sloping boulders one by one.
When staff members are on duty, the cost of entering the recreation area is around $4 per person (cash or credit card). Children under three can join for free.
Still, it is free to visit during hours without staff, but restrooms are closed. We recommend that you don't slide in the rain or during thunderstorms.
5. Move Through The Looking Glass
The Looking Glass Rock Trail has an elevation of 1,700 feet in just over three miles (6.5 miles round-trip).
The numerous switchbacks along the way contribute to a long and moderately complex climb. However, a strong hiker can reach the top in 1.5 hours and return in one hour.
When you reach the top, the view is worth the long climb and effort. The trail is well-marked in yellow and easy to follow.
After roughly two miles, you will reach a flat rock area that the local rescue squad uses as a helicopter landing pad for injured rock climbers. That is an excellent place to rest.
A trail to the left of the helipad leads to some panoramic views from Lower Looking Glass Cliffs.
Read next: 25 Best Weekend Getaways In The USA
6. Hold On Tight While Ziplining In Asheville
Asheville has millions of acres of forest in every direction.
In recent years, outdoor enthusiasts have taken advantage of this natural resource by adding ziplining to the slate of local outdoor adventures.
Some ziplines offer different levels of challenge, whether you go north, south, or west.
You can choose from a wide variety of zip-line canopy tours in the Asheville area and the Blue Ridge Mountains.
No experience is needed. Some ziplines offer different levels of challenge, from tree-based courses to courses fit for little ones.
Guides will provide all the necessary instruction and assistance. So come on down and take in the sites of Asheville using a different perspective – soaring hundreds of feet above the ground.
7. Go Skiing – One Of The Best Things To Do in Asheville
Asheville, North Carolina, is a year-round outdoor magnet.
In the winter, you've not only got significant hiking and biking trails in the lower altitudes but also some of the best skiing and snowboarding anywhere in the Southeast ready at hand.
While winters are generally pleasant in the city of Asheville, you can enjoy many attractions at the nearby ski resorts in western North Carolina.
Using the high heights and steep terrain of the Blue Ridge Mountains and complementing natural snowfall with state-of-the-art snowmaking, the region's ski resorts provide a prolonged season of downhill action, whether you're an eager rookie or a seasoned professional.
Needless to say but skiing in the area is one of the best things to do in Asheville, NC.
8. Enjoy The Winter At The Wolf Ski Resort
The Wolf is your nearest ski resort to Asheville for family-friendly winter activities situated in the shadow of Big Bald Mountain and has a peak elevation of 4,700 feet.
They provide 15 illuminated courses with different lift tips, 54 acres of skiable terrain, and 100% snowmaking capability to prolong the winter season.
Once you find balance, enjoy four easy trails for practice and exploration before learning to ski or snowboard with their knowledgeable and personable Snow Sports School instructors.
Do you yearn for a little extra excitement? The Wolf boasts some of the Southeast's most challenging terrain.
First, try one of the two black diamond runs to see how you do. Take in the views while taking advantage of the greatest on-mountain pricing.
Next, please spend some time snow-playing at the lift-assisted snow tubing area.
9. Relax While River Tubing Near Asheville
The ideal way to unwind on a hot summer day is to float down a tranquil mountain river on a tube.
The best location for river tubing is Deep Creek in the Great Smoky Mountains National Park (the most visited national park), which is close to Bryson City.
As you travel from downtown Bryson City out of Deep Creek Road, you can hire a tube from several establishments.
Next, you'll need to hike a trail to various put-in locations to start your drift down the creek.
You can participate in one of the several white river rafting programs available in the French Broad River region if you are more daring.
10. Make Your Way Down The French Broad River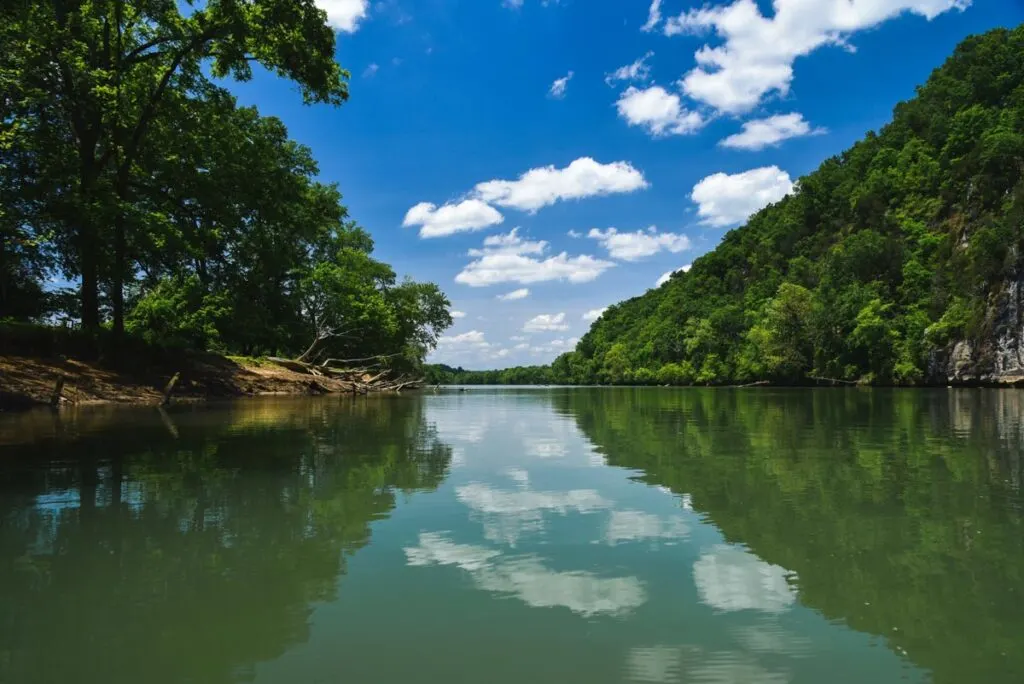 French Broad River is the best place in town to rent tubes and get about on the mountain.
To get to their other location, a few miles north of downtown, you can take a leisurely canoe trip on the river from their River Arts District location.
Ensure water and sunscreen, as the hike lasts for three hours.
If you're interested in tubing down the river, verify the current water levels by contacting the river's management.
Then, head to Lazy Otter Outfitters, south of Asheville, for a four-mile river float. The Asheville, North Carolina area's French Broad River is a must-do for any severe rafter.
It's scenic and awe-inspiringly beautiful through the French Broad Gorge, or Section 9.
From Barnard River Park, where the stream enters Pisgah National Forest, the rafting trip takes you through 4 miles of intermediate-level, class II, and III rapids.
There are numerous opportunities to jump off the raft or rocks and cool down in the river.
11. Float Down Green River
The Green River is a slow-moving river created by released water from dams and flows through the mountains in North Carolina, south of Asheville.
Although it receives water from several sources, the Green River gets most of its water from coming together with Big Hungry Creek.
As a result, the Green River contributes to the flow of water that eventually ends up in the Broad River.
The Green River's gentle rapids can be seen near Saluda in the Green River Gorge.
Wilderness Cove Tubing is open every day from Memorial Day to Labor Day. Rent one of the floats for a one to six miles adventure.
With a guide, the Green River near Asheville is a beautiful place to paddleboard or kayak. Arriving at the boat launch, you'll find that kayaks are already in the water, ready to go.
12. Visit The River Arts District – One Of The Best Things To Do in Asheville
You can find numerous art galleries, restaurants, and stunning views of the city's public artwork in the River Arts District, which is against the stunning backdrop of the Blue Ridge Mountain.
In addition, the River Arts District holds an event called Second Saturday on the second Saturday of every month.
This event features gallery walks with demonstrations, seminars, live music, wine tastings, excellent food, and more.
In addition, several blocks are devoted to honoring the regional craftspeople and a thriving sense of community.
A color designates each hub (red, green, blue, purple, or orange), which also appears on building exteriors, pole banners along the road, and maps and brochures for each location.
It is well suited to the free and adventurous lifestyle of Western North Carolina. Begin by getting to know warm, talented artists who enjoy showing you how they create their one-of-a-kind works.
After learning the background of the artwork, you can then take the ideal souvenir home and start or grow your art collection with items from various price ranges.
Needless to say but visiting River Arts District is one of the best things to do in Asheville, NC.
13. Photograph the Basilica of Saint Lawrence
Visiting this beautiful basilica is hands-down one of the best things to do in Asheville, NC, because of its gorgeous stained glass windows, statues, and marble altar.
Even if you're not religious, you'll be in awe of this fantastic place. It has the largest freestanding elliptical dome in America.
On top of that, the Spanish renaissance revival design makes this church stand out. You will have many photo opportunities here.
14. See RAD Green Hub (Riverside Drive)
One of Asheville's oldest structures is Asheville Cotton Mills Studios.
Over 300 people were employed at the Cotton Mill complex, erected in 1887 and produced flannel and denim before closing its doors in 1953.
Unfortunately, except for the Asheville Cotton Mill Studios building in the south wing, most of the two-story brick complex was destroyed by fire in 1995.
With eight studio spaces flooded with natural light, it is currently one of the busiest studios in the neighborhood. It is every artist's dream.
You may discover photographers, tailors, tattooists, painters, and printers inside Cotton Mill.
15. Eat At The White Duck Taco Shop, Hatchery Studios
The White Duck Taco Shop, a vibrant, sunny location that serves fish tacos to brag about, is high on the list of food lovers visiting Asheville.
The thriving Hatchery Studios, once the Earle-Chesterfield Mill Company Hatchery, houses one of their facilities.
In addition, RAD artisans who make jewelry, pottery, paintings, and other things are housed in The Hatchery.
When planning your trip, please include some activities in Asheville at the River Arts District; your first priority must be visiting the NC Glass Center.
Various workshops, glassblowing, flame-working seminars, and magnificent works on display in the gallery are available, but you may also try your hand at glassblowing.
16. Visit Wedge Studios
Wedge Studios is among the most well-known and well-liked attractions in the River Arts District.
Four levels of professional working artist studios, a brewery, a restaurant, a hair salon, and a wine bar are housed in this historic structure.
It was initially built in 1898, and at one point, it held the record for the biggest leather tannery in the USA. Kids will adore all the ideas scrawled all over the walls.
17. Browse The Purple District (Depot Street)
The River Arts District got off to a great start with the thriving Pink Dog Creative, which is built in a former factory and warehouse.
Thirty artists, a gallery, and Fresh West Pizza are all there. The vibrant and complex designs on the Ukrainian pysanky eggs by artist Andrea Kulish were our choice for this structure.
Christie Calaycay might even sell you a lovely piece of handcrafted jewelry.
18. View Artists At Orange Art District (River Arts Pl)
For more than 30 years, Curve Studios has operated in RAD, built by Standard Oil Company of New Jersey in 1916 as a warehouse to supply their chain of retail gas stations.
It was transformed into a studio space in 1989 after Patti Torno bought the structures.
Artists produce ceramic sculpture, valuable ceramics, jewelry, apparel, fine art photography, and chair caning instruction, among other things.
19. Take Pictures At The Blue Hub
Blue Foundry St boasts wild graffiti-covered walls in the River Arts District on almost every building, giving the area a unique urban atmosphere.
You get the impression that you've just stepped onto a studio where street artists used the walls as their canvas.
If street art is your thing, this is the best place you should visit in Asheville to take pictures with friends and family. It's North Carolina's best kept secret.
20. Play At The Pinball Museum – One Of The Best Things To Do in Asheville
You can see, touch, play, dine, and drink at the Asheville Pinball Museum.
More than 75 classic pinball machines, video games, and various pinball memorabilia are available for guests to test out at the Asheville Pinball Museum.
Additionally, guests can purchase an unlimited pinball session with a selection of over 30 machines. Sixty-five players can play the 70 games that are offered at once.
No reservations are accepted; it's always first come, first served. The museum provides snacks, drinks, and beer to make the experience more enjoyable and keep you fueled for all that gaming, just like pinball and video game arcades used to.
The front of an arcade is dedicated to pinball, while the back contains various video game systems, including multiple classic games on each machine.
Several classic pinball machines from the 1930s, including Gottlieb's Humpty Dumpty, the first pinball game with flippers, are on "show only" in the center aisle.
The original pinball machines, such as the 1933 Steeplechase game, a board with pins nailed into it through which players sent various colored marbles, may be seen on the walls and in the toilets.
21. Taste The Brewery's Craft Beer
With more breweries per capita than any other American city, it's clear why Asheville earned the moniker "Beer City, USA" in 2009.
The city has grown to include more than 30 breweries, and the water from the Pisgah National Forest's mountains makes it perfect for brewing beer.
Asheville offers a dizzying array of beers, from hoppy IPAs to dark stouts.
The city's breweries keep the beer flowing like the Pisgah national forest mountain river served at all times of the day, making Ashville an excellent destination for people who love beer.
Although pubs and places where alcohol gets sold are not usually for kids, visiting a family-friendly brewery is one of the best things to do in Asheville.
Here are some of our favorite breweries in Asheville (we did not visit all the breweries in town yet):
Highland Brewing Company
DSSOLVR
Burial Beer Co.
New Belgium Brewing Company
Cellarest Beer Project
Rye Not
Archetype Brewing
Bhramari Brewing Co.
Wicked Weed
Zillicoah Beer Co.
Archetype Brewing
22. See The North Carolina Arboretum, Asheville
The North Carolina Arboretum includes acres of landscaped gardens and well-maintained walkways that are home to some of the most exquisite and botanically diverse species in the area.
The 434-acre campus in Pisgah National Forest is the best location in Asheville for a sensory-rich stroll or hike while appreciating and learning about the natural beauties.
It is situated at the start of the Blue Ridge Parkway in south Asheville and is where many events get held throughout the year.
Check out local guides to the Arboretum's Spring Flower Shows and Fall Events first. After that, enjoy the stunning Winter Lights extravaganza during the holiday season.
Lastly, enjoy a drink and a stroll through the gardens of the NC Arboretum after dark to live music (5:30-8 PM).
Food is exclusively available by preorder and is accessible alongside nonalcoholic and alcoholic beverages.
During your visit, don't miss the beautiful sculpture of a monarch butterfly in the forest behind the theater.
23. Don't Miss the Biltmore Village – One Of The Best Things To Do in Asheville
Biltmore Village is a charming, leafy enclave created to house employees of George Vanderbilt's sprawling Biltmore Estate, which includes an art-filled 1895 mansion and a winery offering tastings and tours.
The Cathedral of All Souls is a Romanesque Revival landmark, while stuccoed cottages contain jewelry stores, galleries, and upscale boutiques.
Farm-to-table restaurants, cafes, and craft breweries dot the area.
Needless to say but visiting Biltmore Village is one of the best things to do in Asheville, NC.
24. Strole Through The Heritage Garden
A water spring and a chimney in the Heritage Garden evoke the feel of an old homestead. This garden has a wide range of specimens for medicinal herbs and handicrafts.
Designed to seem like a traditional quilt, the Quilt Garden includes a stone overlook. The garden pool at Blue Ridge Court is a significant element of the Grand Garden Promenade.
Landscape plants suitable for the Southern Appalachian region grow in this half-acre forest garden, showcasing creative ways to use stone in the park.
The Holly Garden displays a wide range of holly species that thrive in this climate. The Stream Garden is mainly made up of local species.
The plants in this garden get based on those found along a mountain stream in western North Carolina.
The National Native Azalea Repository got formed to preserve and safeguard azaleas, which have 16 species out of the 17 native to the United States.
See it blooming in full force each April. Observe the magnificent and fascinating bonsai collection in the garden's unique outdoor setting (usually May-October).
The Baker Center's greenhouse hosts a tropical bonsai exhibit throughout the cooler months. Hiking and biking options abound, from modest strolls to easy-to-moderate mountain bike routes.
25. Walk Through Smoky Mountains National Park
West of North Carolina and in the eastern part of Tennessee, the Great Smoky Mountains National Park occupies 520,000 acres (800 square miles) and is considered a national landmark.
The blue mist that appears to encircle the Smoky Mountains' peaks and valleys is well-known. The entrance fee to the Great Smoky Mountains National Park is free.
The park's most important areas of interest are found on or close to paved roads accessible by car.
However, please be aware that some parts of the park, including Cataloochee Valley, may require traveling on gravel or dirt roads.
As long as they have a leash on, dogs are permitted in picnic spots and near roadways. However, pets and dogs are not allowed on any trail in a National Park.
26. Experience the Biltmore Estate – One Of The Best Things To Do in Asheville
Since its completion in 1895, the 8,000-acre Biltmore Estate and the surrounding hills have been a famous tourist destination.
Try the Village Hotel if you prefer a less formal environment than the Inn, a four-star establishment.
Since its inception, the family's primary goal has been self-sufficiency. Over the years, their autonomy came via a combination of ingenuity and resourcefulness, and listening to guests.
When visiting the best attractions in and around the Biltmore Estate, you will feel rejuvenated and excited about life. They offer various activities based on four categories.
Outdoor activities:
Hiking around the 8000-acre forest
1-hour guided trail ride on horseback
2-hour introductory sporting clay shooting lesson
30 min carriage ride
2-hour bike rental
1.5-hour Falconry
2-hour Self-guided kayak trip
Food and wine:
Attendees must be 21 to participate in special wine events
There are seven formal and casual dining alternative restaurants
Family fun:
Shopping
Farm visits
Self-guided visit to the Biltmore House
Gardens:
Self-guided visit to the gardens
After you have visited, enjoyed, seen, and experienced the best things in and around Ashville, we mentioned here there are still seven other museums you will have to visit to get a firm grasp on the history and culture of Asheville, NC:
Asheville Museum of Science
Thomas Wolfe Memorial
Black Mountain College Museum & Arts Center
Estes-Winn Antique Car Museum
Riverside Cemetery
Asheville Pinball Museum
Asheville Art Museum
More Things To Do In Asheville, NC
Depending on how much time you have in the area, here are a few more things to do in Asheville you should consider doing:
Check out the drum circles in Pritchard Park
See wildflowers at Craggy Gardens
Do some people watching in Pack Square Park
Hike at Chimney Rock State Park, 25 miles from Downtown
Check out one of the most famous bonsai collections in America at Bonsai Exhibition Garden
Like this article about things to do in Asheville? Then share it on your social media!
26 Best Things To Do in Asheville, North Carolina
Hike The Blue Ridge Parkway
Relax at The Incredible Omni Grove Park Inn
Experience The Pisgah National Forest
Slide Down Sliding Rock
Move Through The Looking Glass
Hold On Tight While Ziplining In Asheville
Go Skiing in Asheville NC
Enjoy The Winter At The Wolf Ski Resort
Relax While River Tubing Near Asheville
Float Down Green River
Make Your Way Down The French Broad River
Visit The River Arts District
Photograph the Basilica of Saint Lawrence
See RAD Green Hub (Riverside Drive)
Eat At TheWhite Duck Taco Shop, Hatchery Studios
Visit Wedge Studios
Browse The Purple District (Depot Street)
View Artists At Orange Art District (River Arts Pl)
Take Pictures At The Blue Hub
Play At The Pinball Museum In Asheville
Taste The Brewery's Craft Beer
See The North Carolina Arboretum, Asheville
Don't Miss the Biltmore Village
Strole Through The Heritage Garden
Walking Through Smoky Mountains National Park
Experience the Biltmore Estate