Planning on visiting epic places in Texas? You're in luck–here's a fantastic list of the best places to visit in Texas that are so good you can't afford to miss!
For anyone out there who is claiming Texas is only good for BBQ and country music, we have another thing coming: the best places to visit in Texas are below and there's so much more to the state than it gets credit for!
It's no secret that Texas is massive, and with that land comes a wide range of cities to explore, natural beauty to observe, and amazing food to eat.
We can't wait to share with you some of the best places to visit in Texas and illustrate just how versatile this state really is!
Hands-Down, The 28 Best Places to Visit in Texas
Here are the must-see Texas attractions or cities and towns in the Lone Star State that you can't miss divided by type of destination.
If you fall in love with more than one place, know that you can always go on a Texas road trip.
Best Cities to Visit in Texas
1. Dallas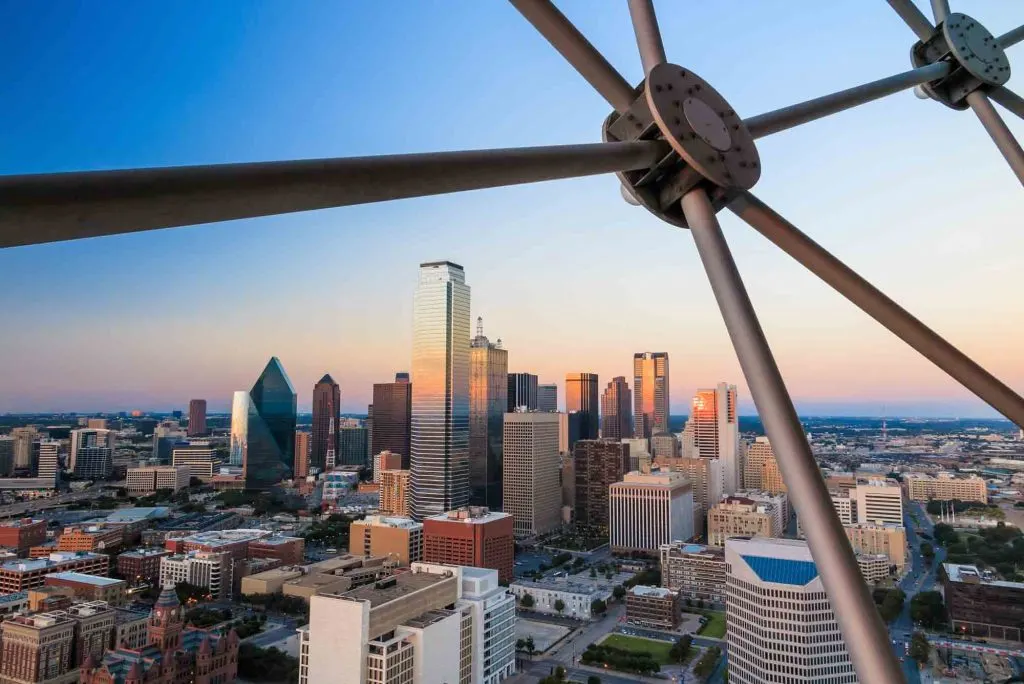 Dallas is an iconic city in Texas that has seen an explosion of growth, and, with that, a sophisticated art scene has popped up, it has become a hub for great food, and it now draws large swaths of excited visitors.
If you're looking for a quintessential Texas city experience, this is the place to go.
Not only can you enjoy a boatload of Margaritas on Margarita Mile, but you can also find the giant eyeball sculpture, enjoy the farmer's market, the Sixth Floor Museum, or visit one of the many amazing museums in the city.
The city also has a number of incredible rooftop bars and restaurants that are worth the visit. Heck, even the Airbnbs are incredible!
If you plan your weekend in Dallas later in the year, more precisely during the fall, be sure to check out the Texas State Fair; it makes Dallas one of the best places to visit in Texas!
2. Fort Worth
Downtown Fort Worth is one of the cleanest and safest downtown areas in the US. Not only that, but it is filled with shops, restaurants, and live music halls.
Billy Bob's, the largest honky tonk in the world calls Fort Worth home and is a great spot for dancing, drinking, watching bull riding, or attending a concert.
You can also spend a day admiring the 7,000 animals at the Fort Worth Zoo or checking out the Modern Art Museum of Fort Worth.
For a truly unique experience, stop by the Fort Worth Stockyards where cattle drives are held twice daily and open to visitors.
3. San Antonio
San Antonio is often called the "cultural center" of Texas because of the history there, the gourmet food scene, and a number of impressive museums across the city.
Of course, you can't miss the San Antonio River Walk, which takes you on a delightful stroll through the middle of all the action while making you feel like you've entered a river oasis.
Besides, the San Antonio Riverwalk restaurants are excellent! You won't want to miss them.
Make sure you stop at the Alamo, which played an integral role in the Texas Revolution and was the first Spanish mission in the city.
San Antonio is a great Texas vacation spot if you don't want to have to give up good food, culture, history, or fun!
Read next: Weekend in San Antonio
4. Waco
Positioned smack-dab in between Dallas and Austin, Waco, TX will welcome you with open arms as if you have been there a million times.
The area is incredibly homey and looks like it came out of a magazine. In fact, at the Magnolia Market, which is part of the Magnolia Silos, that décor really did come from a magazine.
On a quarterly basis, Magnolia Market gets a complete makeover to match the theme in the Magnolia Journal. This is a great spot for getting home décor inspiration or picking up a few statement pieces for your living room!
Oh, and we can't forget to mention that Waco is the home of Dr. Pepper and has created a Dr. Pepper Museum for all to enjoy!
Read next: 28 Texas Facts That You Need to Know
5. Austin
Austin, Texas, is often at the top of everyone's list when deciding the best places to go in Texas, and for good reason!
In fact, it's one of the most beloved cities in the US for its stellar food scene, lively art all over the city, and most of all, it's a favorite for music lovers.
Whether you're spending a week or a weekend in Austin, you can actually go on a live music crawl; it's like a bar crawl, but better.
If food and drinks are more your thing, find a food tour to join in on or book a brewery tour to learn about the craft beer world in Austin!
For outdoor lovers, Lady Bird Lake offers countless opportunities to get close to nature and enjoy the good weather without leaving the city.
Did we convince you? So be sure to book your Airbnb in Austin ahead of time.
6. Houston
No matter what you're looking for, Houston has it! The sports lovers in your group can watch a professional basketball, baseball, or football game during your weekend in Houston.
A very unique and popular activity to Houston is a visit to the Space Center Houston, home to Johnson Space Center where NASA trains astronauts and manages the International Space Station.
Parts of the facility are open to the public so you can get a glimpse into all things "space" – talk about otherworldly!
7. Galveston
For a relaxing beach vacation filled with basking in the sun and swimming in warm waters, Galveston is one of the best places to go in Texas.
Take advantage of the glorious weather with a dolphin or whale-watching tour or get the whole family tickets to Schlitterbahn, a massive waterpark in the city.
Alternatively, you could visit the Moody Gardens, an amusement park with an educational nature center and massive glass pyramids.
But for the entertainment galore, head over to the Galveston Island Historic Pleasure Pier with rides for all ages.
Once you're tired out from adventuring, spend a day strolling around The Strand, an avenue of converted 19th-century warehouses that now have shops and restaurants.
Since Galveston is a coastal city, be sure to eat some fresh seafood while you're there.
Read next: Texas Sayings and Quotes
8. El Paso
With over 300 days of sunshine a year, you can't go wrong with planning a trip to El Paso.
To make use of those sunny days, plan a day hike at Franklin Mountains State Park; the views will take your breath away if the hikes don't (though they probably will).
For the visitors that want mountain views without the work of hiking, there's a lovely scenic drive that runs along the Franklin Mountains.
Hunt for dinosaur footprints, learn about local history, or ride a horse through a winery; you can't go wrong when stacking your El Paso itinerary with activities!
9. Corpus Christi
There aren't many places in the United States where you can get a warm hug from the ocean, but Corpus Christi is one of them.
Since it's right on the coast of the Gulf of Mexico, the sandy beaches are kissed by tropical waters that are warm enough to swim in all day!
If you can't get enough of the warm water, plan a boating or fishing excursion! There's also the Texas State Aquarium in Corpus Christi so you and your family can enjoy the marine life up close!
To take your relaxation up a notch before you head home, book a day at one of the day spa's in town.
Read next: Best Places to Visit in the Southwest, USA
10. Amarillo
On your way to Amarillo, be sure to stop for photos at Cadillac Ranch, a 1964 art installation that features multiple Cadillacs buried nose-first in the ground.
Admire the art spray-painted onto these cars by previous visitors or add your own if you're feeling creative!
Once you arrive in Amarillo, you have to stop at Palo Duro Canyon, the second-largest canyon in the US.
For the adrenaline junkies out there, you can zipline over the canyon or do an off-road tour in a Humvee.
We can't forget the epic Amarillo food challenge at The Big Texan which features a 72 oz. steak and a number of sides!
11. New Braunfels
Offering a different setting with German influence, New Braunfels is one of the most underrated Texas vacation spots.
Not only can you see some of the perfectly preserved historical buildings that now house popular attractions like the Gruene General Store and Gruene Antique Company, but you can also see a show at Gruene Hall, which was built in 1878 and is the oldest dance hall in Texas!
You can't miss the town's iconic water tower which is a popular place for pictures. Lastly, we highly recommend a day tubing on the river if you have time.
12. Conroe
Since it's already the fastest-growing city in the Lone Star State, be sure to plan a trip to Conroe before it becomes one of the busiest vacation spots in Texas!
It's a charming city that has everything you could want, especially if you're an outdoor enthusiast.
It sites on Lake Conroe, a 22,000-acre Texas lake that nestles right up next to a national forest containing 96 miles of trail to explore.
It's a great spot for birdwatching or picnicking; you really can't go wrong with a weekend in Conroe, TX!
13. Johnson City
Everyone knows that the best places to visit in Texas are the ones with Exotic Resort Zoos!
Okay, there may not be many of those, but Johnson City has one that offers guided and drive-through safari tours featuring emu, wallaby, camels, and more!
For more natural wonders, Pedernales Falls State Park is a must-stop!
It has horizontal cascading water over rocks in the river that creates a sight you won't soon forget.
You can even camp near the falls for some extra adventure! If you're traveling with little ones, stop at the Science Mill, an interactive museum that is packed with kid-friendly activities.
Best Small Towns to Visit in Texas
14. Fredericksburg
For the perfect "bite-sized" city to visit in Texas Hill Country, plan a weekend in Fredericksburg!
The downtown area is quaint and has strong German Heritage Sites that you can visit. Also, Fredericksburg has some of the most charming German restaurants and shops on this side of the Mississippi!
If you like vino, you'll love Fredericksburg. It's a spot known for its wineries, and you can even take a wine tour to go from winery to winery, so your fun isn't limited by driving.
To sweat out all the toxins from your winery day, be sure to bring some hiking gear and enjoy a hike in Enchanted Rock State Natural Area.
Read next: Romantic Cabins in Fredericksburg
15. Wimberley
With its popularly skyrocketing as much as it is, we wouldn't be surprised if the locals try to keep Wimberly a secret.
Its main attractions are the turquoise blue/green swimming holes that are 100% natural. A day spent splashing around under massive Cypress Trees sounds like perfection.
You can also climb to the top of Mount Baldy for panoramic views of the area; this is a great spot to take pictures!
If you're looking for more of a thrill, try the Wimberley Zipline or play a round of golf at the Quicksand Golf Course.
So be sure to book a cozy cabin in advance to enjoy this incredible place in Texas!
16. Terlingua
You can use Terlingua as your home base for a visit to Big Bend National Park, or just spend a few days enjoying the interesting vibes this small town in Texas has to offer.
Enjoy live music blaring from the Starlight Theatre almost nightly or take a guided rafting tour down the Rio Grande.
If you love unique places to stay, the collection of accommodations in Terlingua will have you grinning from ear to ear. Take your pick of a tipi, a bubble, a vintage airstream trailer, and more.
Wherever you decide to rest your head, Terlingua will welcome you in and charm you with its friendly goofball energy.
17. Jefferson
If you're looking to be transported back in time, Jefferson, TX will be one of your favorite Texas vacation spots.
Centered around the Big Cypress Bayou, this town is chock-full of antebellum mansions and haunted places.
If a haunted tour sounds up your alley, don't miss the Jefferson Ghost Walk. For something a little less haunted, spend your time at fishing Caddo Lake State Park or Lake O' the Pines for a whimsical bayou getaway.
Riverboat rides are also a major Texas attraction in Jefferson and our favorite way to see the town is by horse-drawn carriage.
18. Luckenbach
Since the town motto is "Everybody is Somebody in Luckenbach," you're sure to feel appreciated in this Texas town with strong western influence.
Its claim to fame is being a Guinness World Record Holder for the most number of guitar players playing at once for more than five minutes – 1,868!
It's a rustic spot with a saloon and a dance hall that you just can't pass up. The town comes alive on the weekends with musicians, dancers, and admirers coming together to share some fun!
Since it's just 13 miles from Fredericksburg, TX, we recommend making this a day trip from there.
19. Rockport
For a beach town that's a little quieter than Corpus Christi, Rockport is the spot. This sleepy town on the coast of Texas will leave you feeling rested and rejuvenated.
During your visit, enjoy some of the unique art offerings they have, such as the Rockport Center for the Arts or the South Austin Street Galleries.
For something extra odd, check out the Big Blue Crab, a 25-foot-by-27-foot fiberglass sculpture of a crab.
This is a very pedestrian-friendly stop for when you're wanting to park the car all weekend and get some steps in while you peruse.
20. South Padre Island
If you plan to stay stateside but want it to feel like a tropical island getaway in Texas, then South Padre Island is one of the best places to visit in Texas for just that!
Pick your favorite accommodation (there are many to choose from!) and set up for a few days in the sand and sun without needing to get on a plane.
This is an ideal spot for windsurfing and kiteboarding, and its shallow waters make it ideal for beginners, too!
Fill your days with sportfishing, dolphin watching, or sunset horseback riding. Whatever you choose to do, you'll completely forget that you're in Texas!
Oh, and if you want to experience the undeveloped side of the world's longest barrier island, head north to Padre Island National Seashore, which is an incredible place for birdwatching.
Best National Parks and State Parks in Texas
21. Big Bend National Park
Since Big Bend National Park has the least amount of light pollution of any national park in the lower 48, it's one of the best places in the US to enjoy starry nights.
You can practice astrophotography or simply take in the beauty of this natural wonder, but nighttime at Big Bend is something else.
During the day, enjoy one of the many Texas hikes across the 801,000 acres of land, including the Santa Elena Canyon and Lost Mine Trail, or spend some time near the river with a kayak or canoe.
Though this land is difficult to thrive in for the long term, which is why it's such an escape from civilization, this national park in Texas is a great spot to visit for a few days!
22. Guadalupe Mountains National Park
For a true getaway, make the trek to Guadalupe Mountains National Park. There are no roads in the park, so it's filled with adventure-seekers who want to enjoy epic scenery and explore the natural beauty.
It's a fantastic place for hikers and backpackers but also welcomes animal lovers.
Most of the animals in the park are nocturnal, but if you're lucky you could see mountain lions, wild boars, elk, and over 300 species of birds.
While you wouldn't expect fall foliage to impress in Texas, plan your trip here in the fall for some of the most amazing reds, oranges, and yellows you have ever seen.
23. Palo Duro Canyon State Park
It's not called the "Grand Canyon of Texas" for no reason; Palo Duro Canyon State Park is one of the best places to visit in Texas if you love the Grand Canyon or the outdoors.
There is a rock formation that looks like a lighthouse and it's one of the most popular hikes in the park.
To get the best look at the canyon, book a horseback tour or jeep tour to cover the most ground during your visit.
You'll be blown away by this gem in Texas, and even maybe a little sad it doesn't get the airtime that the Grand Canyon does.
24. Enchanted Rock State Natural Area
One of the best places to visit in Texas if you just have a day is Enchanted Rock.
There are about 10 miles of hiking trails to explore and hikes that range in difficulty, so you're sure to find one you love.
It's also a great spot for rock climbing! You might notice these amazing athletes carrying in their gear or scaling up a rock formation, or maybe you're here to join them.
There are places to camp nearby which we highly recommend because this is another great stargazing location in TX.
25. Colorado Bend State Park
One of the best places to visit in Texas for a multitude of outdoor activities is the Colorado Bend State Park.
The park offers cave tours, hiking trails, and even backpacking routes.
If none of those activities are your speed, perhaps you'll be impressed by the mountain biking trails that are known for being some of the best in the state!
For water lovers, Colorado Bend State Park offers a number of spots to swim, fish, and kayak. The water is fairly slow-moving so it's a great spot to cool off in the river!
Other Incredible Places in Texas You Shouldn't Miss
26. Hamilton Pool
Just a quick 45-minute jaunt from Austin, Hamilton Pool in Dripping Springs is a blue-green cove that is sure to be your new favorite oasis.
This natural spring was formed when a grotto collapsed and left behind a swimming hole and jaw-dropping rock formations.
There's a waterfall that fills the pool from the top and an underground river that flows into it as well.
Admire the fish and turtles that call this swimming hole home or enjoy a hike in the lush surroundings of the cove. You can't go wrong with a trip to Hamilton Pool.
27. Cadillac Ranch
If you're traveling along Route-66, you'll run into one of the most impressive collective pieces of artwork ever.
There are 10 Cadillacs buried in the sand that are open for artists to paint and repaint.
The display is always changing, and you can even add your own masterpiece to one of them if you want!
It's magnificent to appreciate the art from others who have passed through before while leaving a legacy of your own.
28. Natural Bridge Caverns
One of the best caves in the world is right here in Texas! Book a guided tour to view the caverns' best spots or take the hidden passages tour to see just how many tunnels and paths there are that connect to one another.
Brave visitors can take the rugged tour of the caves where you'll be outfitted in gear so you can get a little muddy!
Above the caverns, you can test your balance on a ropes course, try your hand at gem and fossil mining, or get lost in a massive maze!
Wrapping Up on The Best Texas Vacation Spots
With a list like this, your main problem is going to be choosing where to go on your vacation in Texas!
Lucky for you, Texas will welcome you back time and time again to enjoy its fresh air, fun energy, and welcoming people. Yeehaw!
Did you enjoy this list with the best Texas vacation spots? Then share it with a dear friend who might enjoy it too!
Latest posts by John Oakley
(see all)