Landlocked, city-dwelling Texans have been flocking to this coastal hotspot for decades, and you're about to get let in on the secret because this list is all about breaking down the best things to do in Galveston, TX.
From stunning beaches to fascinating museums, flourishing wildlife, to adrenaline-pumping amusement park rides, Galveston has it all.
Whether you're a nature lover, adventure seeker, history buff, or somewhere in between, you'll find lots to love in this beach town in Texas.
Although it has gotten a bit sleepier since then, in the 1800s, Galveston served as the national capital of the Republic of Texas and later became a major American port city.
The combination of such rich history and its equally abundant natural scenery makes Galveston a total show-stopper.
21 Fun Things to Do in Galveston, TX
Wander alongside picturesque pastel stilt houses, swim in the waves, and win big at an oceanside carnival. It's all part of the perfect beach vacation.
Keep reading to plan yours!
1. Get Your Sunny, Sandy Fix at Stewart Beach
So many fun things to do in Galveston, TX…so little time. That's why we're kicking things off with a slightly obvious but totally unmissable recommendation–the beach!
Galveston has a long stretch of coastline, but our favorite spot to access all the sun, surf, and sand you could desire is none other than Stewart Beach, which also is one of the best beaches near Houston.
This popular Texas beach is a family-friendly hotspot that boasts all the amenities–volleyball courts, a playground, concessions, umbrella, and chair rentals. They even have lifeguards on duty for extra safety.
2. Sample Galveston's Finest Candy in the Strand Historic District
Many think Galveston's main attraction is its beaches, but the seaside city's heart and soul are in its incredible historic downtown.
With dining, shopping, and entertainment galore, the Strand has got all the bases covered.
The streets are lined with buildings often more than a century old and now serving as art galleries, antique shops, and restaurants.
Our insider tip–Stop by LaKing's Confectionery for a peek into the past, and snag a sundae, float, or shake from its very own (and still working!) 1920's soda fountain.
Read next: 33 Best Things to Do in Texas
3. Admire Victorian-Era Luxury at the 1892 Bishop's Palace
Looking as though it were plopped straight from a fairytale into the city's Historic District, Bishop's Palace is among the most fascinating things to see in Galveston and one of the prettiest castles in Texas.
The architecturally stunning stone mansion was built in the late 1800s, complete with four floors, opulent interiors, and even a tiny chapel.
Today, it is recognized as one of the 100 most important buildings in America, a shining example of Victorian architecture at its finest.
4. Make a Splash at the World's Best Waterpark
Schlitterbahn Galveston Island Waterpark takes watery fun to a whole new level.
Spanning 26 acres and more than 33 attractions (including the World's Tallest Water Coaster), this award-winning waterpark is something you have to see to believe.
Schlitterbahn has both indoor and outdoor sections, where you can experience everything from adrenaline-pumping thrill rides to a 3-in-1 not-so-lazy river that carries guests through alternating stretches of whitewater rapids, calmer waters, and speedy currents that wrap around the entire park.
5. Walk Through the Rainforest at Moody Gardens
Moody Gardens' famous glass pyramids contain the wonders of the world, ready to be explored by travelers of all ages.
In one, you can wander the rainforests of Asia, Africa, and the Americas. In another, you can get hands-on with interactive art, science, and nature exhibits.
Although those alone can occupy hours, the Moody Gardens also boasts 3D and 4D theaters as well as Galveston's only white-sand beach.
6. Peek Into the Life of a Powerful Texas Family at the Moody Mansion
The Moody empire–which was initially based on cotton production and grew to encompass banking, ranching, newspaper publishing, and more–is certainly one for the history books.
With their riches, they developed a stunning estate, the Moody Mansion, that dates back to 1895, now restored to its full splendor with original furnishings, classic cars, and a staggering 31 rooms.
Guests can wander through 20 of those rooms on a self-guided tour that digs deeper into fascinating family and local history.
7. Fly in a Historic American Aircraft at the Lone Star Flight Museum
Although this one strays a bit outside Galveston, it's well worth the extra drive! Just 40 minutes away, headed in the direction of Houston, you'll find a museum like no other.
The Lone Star Flight Museum is packed with aircraft from all eras, but these can still take to the skies, unlike other collections.
Once you look through their impressive array of planes, you can hop in one yourself! In case you aren't a fan of heights, they also offer flight simulators (for a similar experience, with a little less adrenaline).
Read next: Best Road Trips in Texas
8. Bike Along the Seawall Blvd
Sure, Galveston can be enjoyed from the window of your car, but the best way to explore the island is on two wheels rather than four.
And what better place to cruise along than the iconic Seawall Boulevard?
The terrain is flat, the views of Galveston Beach are lovely, and the sea breeze will keep you cool even during those Texas summer days.
Make sure to keep an eye out for the many informational and historical markers along the way.
There are plenty of bike shops that offer well-priced rentals if you aren't traveling with one of your own.
9. Attend Mass at St. Mary Basilica
Little do many travelers know, the mother church of the Catholic Church in Texas is tucked away in sleepy, seaside Galveston Island.
St. Mary Cathedral Basilica dates back to 1847, making it among the oldest churches on the island.
Strangely enough, this cathedral was one of only a few buildings that escaped the storms of the 1900 hurricane with only minor damage.
Stop by for a Sunday mass as you admire the historic architecture that's just par for the course in this gorgeous part of town.
10. Admire the Architecture of Sacred Heart Church
Only the fourth church to be built on the island, this proud white building is certainly a Galveston landmark.
Sacred Heart was first built in 1884 and renovated shortly after the infamous 1900 hurricane, drawing on an eclectic mix of Moorish, Byzantine, Gothic, and Romanesque architectural styles.
Its magnificent octagonal towers and arched entryways are reason enough to visit, but you can also stop by to watch a mass.
11. Catch a Show at the Grand 1894 Opera House
If you're wondering what to do in Galveston for that arts and culture fix, look no further than the Grand 1894 Opera House, which still functions today as a not-for-profit performing arts theatre.
Known as "The Official Opera House of Texas," this historic venue regularly puts on world-class concerts, plays, and other performances.
But its intricate interiors and sweeping stage will transport you to another time, even before the show begins.
12. Escape the Beach Crowds at the East End Lagoon Nature Preserve
Hiking, birding, camping…oh my! Galveston's gorgeous, pristine East End Lagoon is a go-to spot for soaking in the barrier island's diversity of rich ecosystems.
Hundreds of unique native bird species, incredible wildflowers, and swarms of colorful butterflies await.
Sunrise is particularly stunning here (and it's also when the birds are most active), so make sure to swing by if you're an early riser.
13. Experience a Paranormal Encounter at Galveston's Most Haunted Hotel
With more than 100 years of history, it's no wonder the beachfront Hotel Galvez has a few spirits wandering its halls.
The most infamous is the Ghost Bride of Room 501. The young fiance of a sailor, she used to climb atop the hotel's roof and await the return of her husband-to-be.
But their story ended in tragedy, and still, today, guests claim to see strange lights in places she used to frequent, as well as slamming doors and TVs that turn on and off on their own.
Embark on a ghost tour and dinner if you dare.
14. Get Crafty at the Children's Museum
Traveling with little ones? For the ultimate family-friendly vacation, one of the best things to do in Galveston, TX, is an excursion to the Children's Museum.
There, you'll find room after room of hands-on, interactive exhibits, from a kids' clinic for some doctor dress-up to a building zone complete with a giant Lego wall.
The museum is designed with kids ages 2-10 in mind, although adults will have plenty of fun too!
15. Step Inside a WWII Submarine at Seawolf Park
Seawolf Park, named for a US Navy submarine that sank in 1944, honors and remembers the men who engaged in underwater heroics during World War II.
Although the USS Seawolf itself was never recovered, other pieces of history are waiting to be discovered.
The park houses another WWII submarine, one of only three destroyer escorts in the world, and the remains of the largest concrete ship ever constructed, a WWI tanker called S.S. Selma.
16. Explore Texas History at the Bryan Museum
Fascinated by tall tales of Texas and the open frontiers of the Wild Wild West? If so, then the Bryan Museum is a must-see while visiting Galveston, Texas.
According to the museum's website, the house has "one of the world's largest collections of historical artifacts, documents, and artwork relating to Texas and the American West."
Rare books, antique firearms, Native American arrowheads, and a Spanish mission bell are just a few of the treasures you can find within its halls.
17. Soar Out Over the Ocean at Galveston Island Historic Pleasure Pier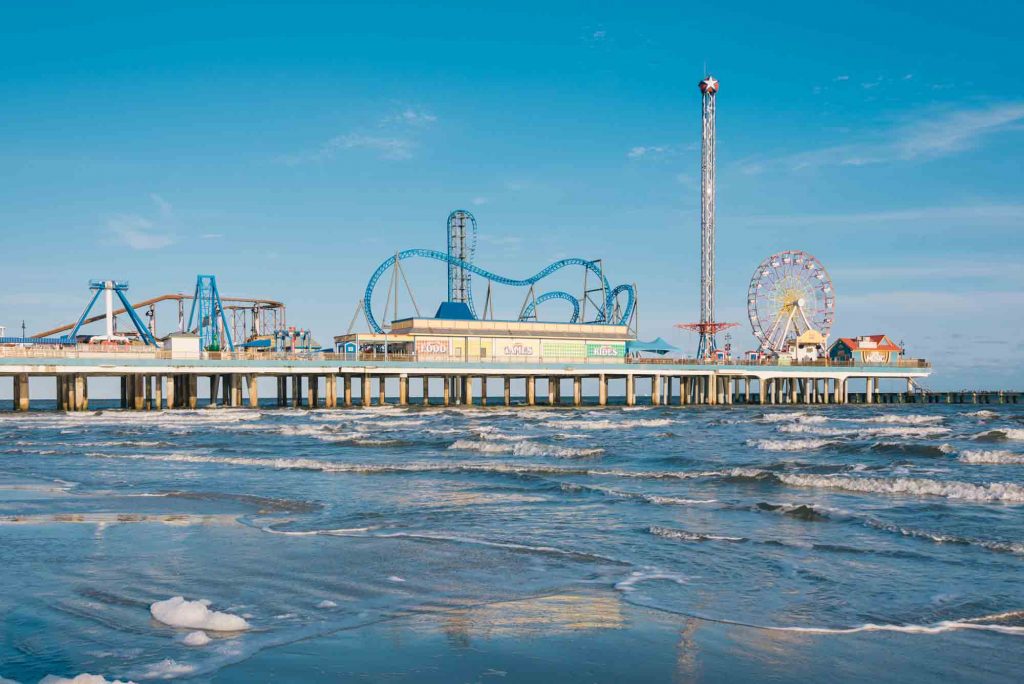 One of the classics of any beach vacation (not to mention one of the most incredible things to do in Galveston, TX) is a stop at their iconic seaside boardwalk.
The aptly named Pleasure Pier is packed with midway games, rollercoasters, and all the carnival staples.
Their fan-favorite attraction, the Texas Star Flyer, will have you swooping out over the Gulf of Mexico, with panoramic views of the beautiful beaches and Downtown Galveston below.
18. Go Behind the Scenes of the Texas Oil Industry at the Ocean Star Offshore Drilling Rig Museum
Galveston's neighboring city, Houston, is known as the Energy Capital of the World.
And although digging deeper into the offshore oil and gas industry may not sound like your typical vacation itinerary, it's actually one of the most unique things to do in Galveston, TX.
The museum is set inside a retired drilling rig that worked in the Gulf of Mexico for almost two decades.
Now, the 3-story structure can be explored via self-guided, interactive tours that give you a hands-on experience of what it's like to live and work on an oil rig.
19. Step Aboard One of the World's Oldest Sailing Ships at the Texas Seaport Museum
Built in Scotland in 1877 and then rescued from a scrapyard in Greece, the tall ship Elissa holds centuries of stories within her stately iron frame.
She is one of only three ships of her kind still actively able to sail, and while not away at sea, she also functions as a state-of-the-art floating museum.
Wander the decks and peek into a piece of living Texas history, all while learning more about Galveston's 200-year reign as a major port city.
You can even search for the names of your ancestors to see if they arrived on the same shores decades ago, as its steady stream of immigrants earned Galveston the title of the "Ellis Island of the West."
20. Spot Some Wildlife at Galveston Island State Park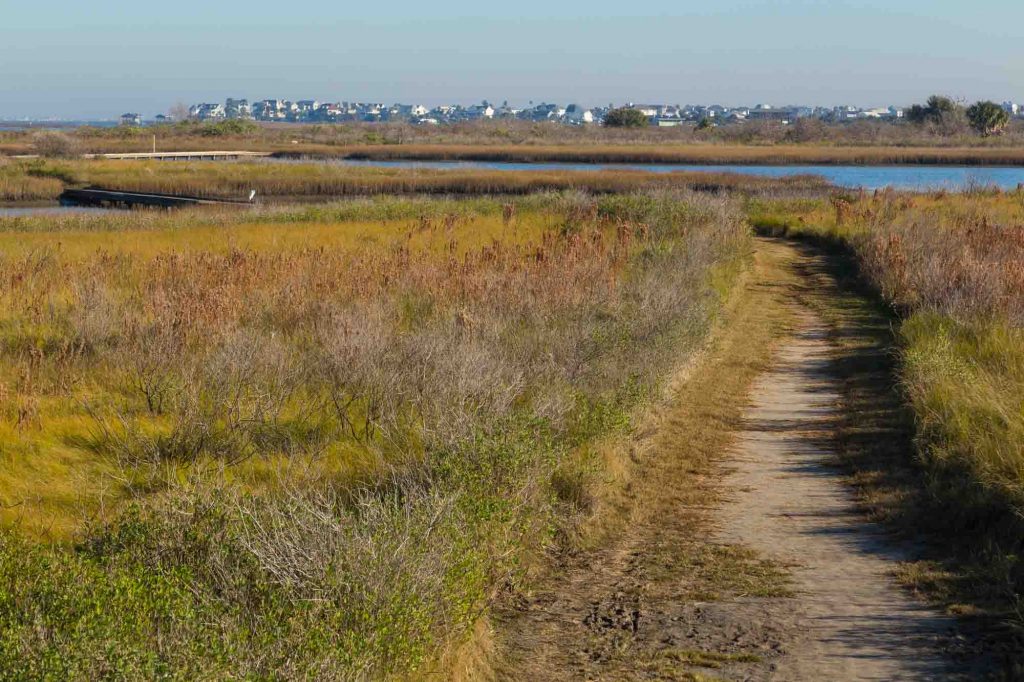 This sprawling 2000-acre state park is a haven for all kinds of creatures–winged, webbed, and otherwise. (Also, it turns out, this is one of the best state parks near Houston!)
Best known for its avian inhabitants, the area is part of the Great Texas Birding Trail.
Magnificent big birds like ibis, herons, and egrets nest within the park and barn owls can be spotted if you stick around until sunset.
As for other wildlife, alligators, raccoons, and armadillos are all commonly sighted.
You can hike or bike throughout the Galveston Island State Park's various habitats, but the most popular way to see it is from the water, with three different paddling trails ranging in length from 2.6 to 4.8 miles.
21. Ride the Rails at the Galveston Railroad Museum
All aboard! Explore Galveston's historic Downtown from the window of an open-air caboose on the Harborside Express.
This is just one of the many attractions at the Galveston Railroad Museum, which travels deep into the history of Texas transportation.
Visitors can view a wide range of vintage train cars, from mail carriers to luxury dining suites to massive locomotives dating back to the 1800s. Full steam ahead!
Wrapping up on the best things to do on Galveston Island
From the Moody Gardens to Pier 21, many popular attractions make Galveston, Texas, a unique place to visit.
The wide variety of shops and soft sand beaches combined with the breathtaking views are exactly what you need to have an incredible vacation or getaway in Texas.
Did you enjoy this article about Galveston, Texas? Then share it with a friend who might enjoy it too!