Wandering through enchanting forests and steep canyons, and alongside tranquil lakes and sprawling seascapes, these are the best hikes in Texas for a reason.
We're breaking down all the need-to-know information for each of these Texas hiking trails, like their difficulty levels, how to get there, what wildlife to keep an eye out for, and so much more.
Texas has such a rich diversity of landscapes that you could plan years' worth of hiking trips and still not cover all the most beautiful ground in the state.
16 Best Hikes in Texas
Luckily, this comprehensive guide to 16 stunning trails will cut the fluff and help you hone in on the best of the best when it comes to places to hike in Texas. Keep reading to plan your next outdoor adventure!
Best Easy Hikes in Texas
Santa Elena Canyon Trail
Lush vegetation, towering limestone cliffs, and the impressive Rio Grande make this one of the best hikes in Texas. It's short and sweet, so hikers of all skill levels can enjoy the incredible scenery.
Big Bend National Park is known for its difficult treks, but the Santa Elena Canyon Trail is certainly on the easier side.
The out-and-back route takes just about an hour, although you may want to pack a lunch and stay a while.
Bring water shoes or be prepared to go barefoot for a brief creek crossing. Following heavy rains, the trail is often closed due to rising water levels; check the weather before you go!
Twin Falls and Sculpture Falls via Barton Creek Greenbelt
While many of the best hikes in Texas reside in far-flung corners of the state, others are delightfully convenient, like this out-and-back route near Austin.
The creek dries up during part of the year, but if you visit during the wetter months, bring a bathing suit! You can cool off in a few swimming holes and waterfalls along the route.
Still, don't hesitate to visit in any season; the fall foliage, in particular, is spectacular.
The trail itself is quite simple, excellent for both walking and running, and dogs can use it if they're kept on a leash.
Galveston Island State Park Trail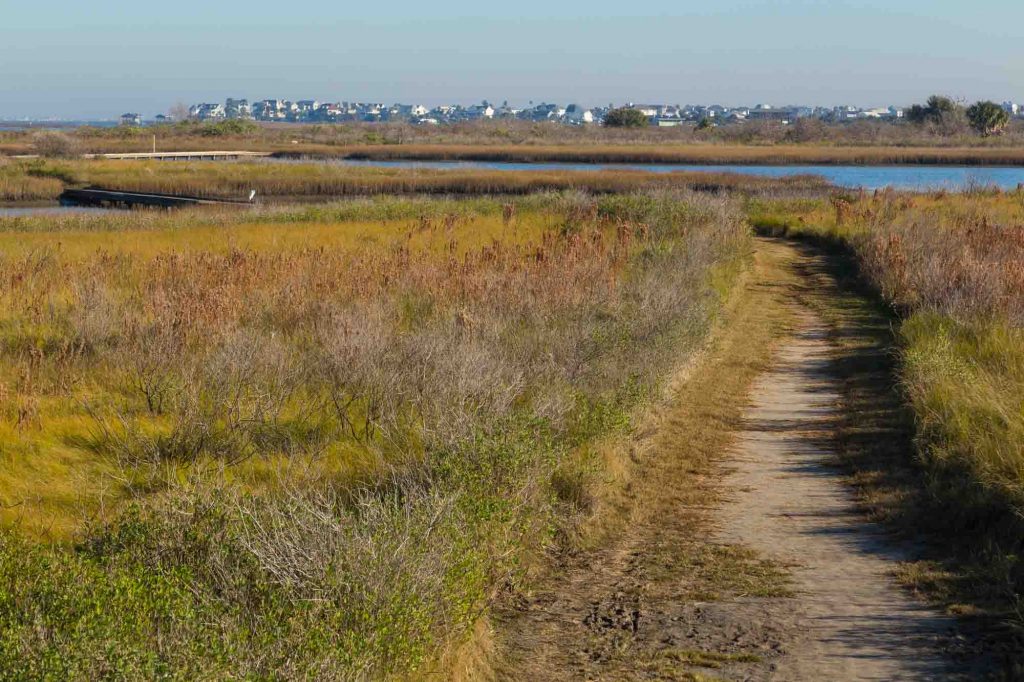 There isn't much to be found when it comes to hiking in Houston, but head just an hour outside of the urban jungle, and you'll strike gold with this wandering seaside trek.
The Galveston Island State Park Trail is not only excellent for hiking, but also wildlife sightings and bird watching.
Keep an eye out for gators and snakes, as well as herons, egrets, terns, and other shorebirds.
Check the weather conditions before you go, as some sections of the trail are prone to flooding and may be underwater.
Lady Bird Lake Trail
Hoping to do some hiking in Austin? Look no further than the tried and true Lady Bird Lake Trail, an easy urban loop perfect for walking, jogging, and biking. Plus, the skyline views are unbeatable!
It's a family-friendly spot populated by locals and visitors alike, so it can get a bit crowded at times.
There are benches and water fountains along the route where you can rest and refresh.
With a brisk breeze coming off the lake, this route is good all year round, and dogs are welcome as long as they're kept on a leash.
Seminole Canyon via Rio Grande Trail
Despite its status as an easy, family-friendly trail, this hike certainly doesn't skimp on the views.
Dramatic canyon walls, the powerful Rio Grande, and a view of the US-Mexico border keep things interesting from start to finish.
But keep an eye out for the little things too! Deer, rabbits, and skunks are common and you can even spot fossils embedded in the rock.
Hiking in Texas can get brutal in the summer heat, and much of this route is without shade, so be sure to bring water and sunscreen.
San Marcos River, Mesquite Flats, and Ottine Swamp
Equidistant from Austin and San Antonio, this loop in Palmetto State Park boasts peaceful forests, wildflower fields, and excellent bird watching.
It's one of the most unique Texas hiking trails, complete with educational postings throughout that detail the area's history, flora, and fauna.
So what sets it apart? A fan-shaped plant known as the dwarf palmetto, which transports you straight out of Texas and transforms the landscape into a prehistoric jungle.
The trail is super accessible, made up of either wooden boardwalks or wide dirt paths, so it's perfect for bike rides, trail running, and family hikes.
Best Moderate Hiking Trails in Texas
Lighthouse Trail
Explore the rugged, craggy beauty of Palo Duro State Park on this moderate out-and-back trail.
The majority of the hike is pretty easygoing, but you will face a short scramble at the end to reach the rock formation the trail is named for. The views from the top are jaw-dropping, and you can see for miles.
The route is best used from September-May. Whenever you visit, head out early to avoid the worst of the Texas heat, and bring plenty of water, sunscreen, and light layers.
Gorman Falls Trail
Hiking trails in Texas don't often feature waterfalls, so this spot is a must-visit.
Located within Colorado Bend State Park, Gorman Falls features rocky terrain, gorgeous greenery, and of course a great way to cool off after your hike.
You can hike or mountain bike, and dogs are welcome as long as they're kept on a leash.
If you want to visit on a weekend, make sure to book an entrance ticket in advance; the park often fills up and they close once they reach capacity.
Mount Ol' Baldy Trail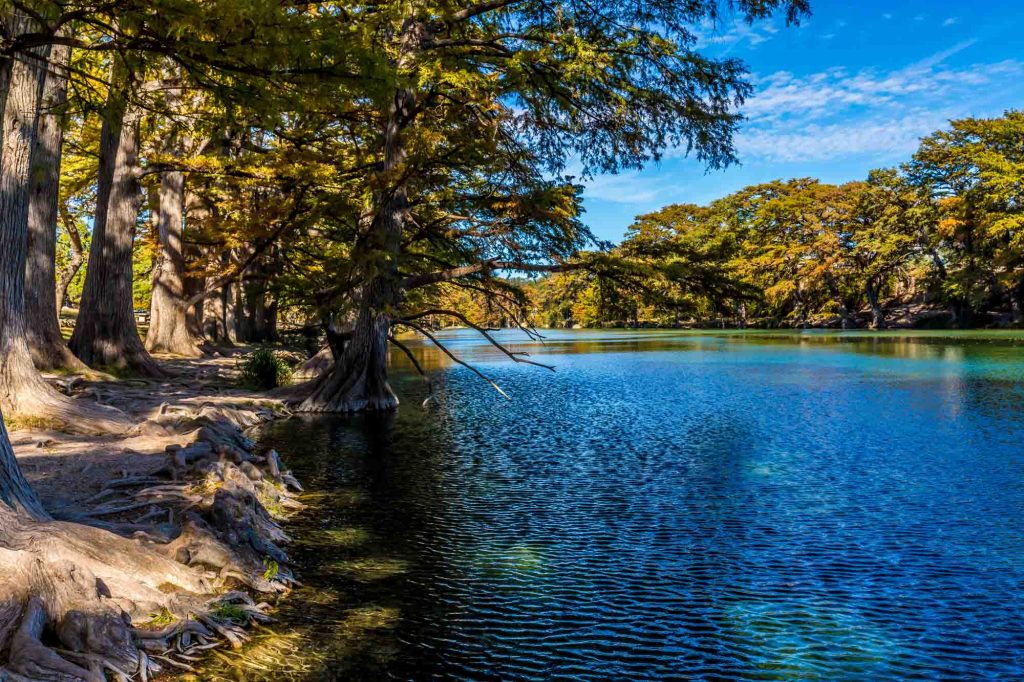 Need a break from the bustle of downtown and want to explore hiking in San Antonio?
Head an hour outside the city center and climb your way to some of the best panoramic views in Central Texas.
The Mount Ol' Baldy Trail is a quick (but not so easy) out-and-back trail accessible all year round.
It's a steep and rocky trek that pays off with sweeping views of rolling hills, lush wildflowers, and the Frio River below.
The trail is generally well-marked but it's easy to get lost in a few places, so always stay aware and consider downloading a map prior to your hike.
Eagle Mountain Lake Park Trail
Grab all your most outdoorsy friends and family and head straight for Eagle Mountain Lake Park, just 30 minutes outside of Fort Worth.
This trail is pristine and well-marked, wide enough for hikers to walk side by side.
There's an excellent balance of sun and shade, as well as a variety of terrains and some decent ups and downs. Commonly sighted wildlife includes deer, cardinals, bobcats, and lizards.
Perhaps the best part is the tranquil lapping of the lake and the cool breeze coming off the water. For the best weather, aim to hit the trail anytime between March-December.
Enchanted Rock Summit Trail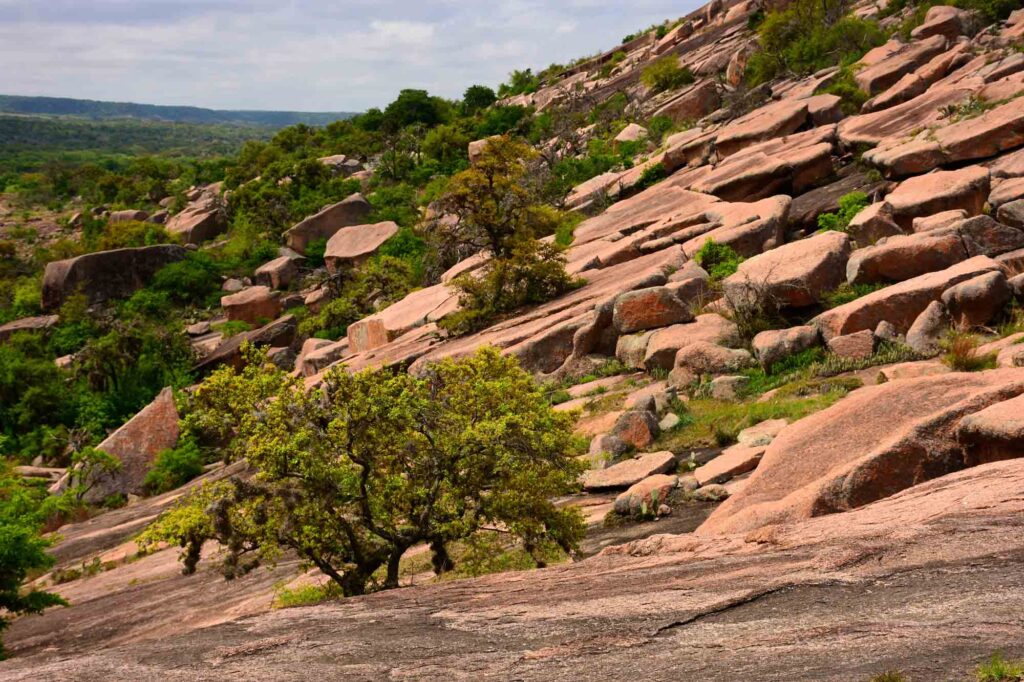 With magical sunrises, beautiful blooms, and lovely views all the way up (and especially at the top), the Enchanted Rock Summit Trail takes you to the peak of one of Texas' most iconic spots.
It's quite a workout, but the climb passes pretty quickly. Keep in mind that you'll be out in the sun most of the time, so try to start early. As a bonus, you'll also bypass the worst of the crowds.
Since this is one of the best hikes in Texas, weekends and holidays get quite busy. You can buy passes online up to 30 days before your visit in order to reserve a spot.
Caprock Canyons Trailway
Calling all long-distance hikers! This is one of the best hikes in Texas for those that want to spend multiple days on the trail.
Located 2 hours from Amarillo, Caprock Canyons boasts stark desert landscapes and an abundance of wildlife, including deer, hogs, coyotes, and tons of gorgeous wildflowers in the spring.
Much of the route used to be a rail line, so you'll have the chance to cross a number of old railroad bridges and learn more about the area's history, courtesy of the informational signs posted at several points along the trail.
Other than occasional primitive outhouses and a few towns where you can stop to refill your water, this point-to-point hike lends itself to plenty of peace and quiet.
Cross Timbers Trail
With a blend of more challenging elevation changes and easygoing, strollable stretches, the Cross Timbers Trail makes for an enjoyable weekend adventure.
There aren't a ton of options for longer North Texas hikes, so this one draws considerable traffic. It's best used March-December, as some trails are washed out or overgrown during other seasons.
Because it's a point-to-point trail, you can hike shorter sections, tackle the whole thing, or break it up into a multi-day outing and camp overnight.
Those that are afraid of creepy crawlies should keep in mind that hikers report quite a few bugs and spiderwebs along the trail.
However, you can bring some comforting backup in the form of your furry companions; the trail is dog-friendly as long as they're kept on a leash while other visitors are around.
Best Challenging Hikes in Texas
South Rim Trail Loop
If you're craving one of those longer Texas hikes, the South Rim Trail Loop in Big Bend National Park goes the distance.
It's one of the most challenging routes in the park, with varied terrain, lots of switchbacks, and significant elevation gain.
However, the payoff is big. Along the way, you'll enjoy enchanting landscapes, panoramic vistas, and the chance to spot native wildlife like white-tailed deer, lizards, and even black bears.
One of the best viewpoints along the way, noted as "South Rim" in Google Maps, is easy to miss, so make sure to fork right at that point. Although it adds an extra 0.25 miles to your hike, it's well worth it.
Altogether, the loop takes 6-7 hours to complete. Bring lots of water, as the springs along the trail dry up during the warmer months.
Guadalupe Peak
Stark mountains, vast deserts, and high-altitude pine forests are all in store on this strenuous but stunning hike through Guadalupe Mountains National Park.
The out-and-back route takes roughly 6-8 hours to complete, wandering through a range of ecosystems and topping out at the highest point in Texas, 8,749 feet above sea level.
Its steep inclines and rocky terrain will challenge even experienced hikers, but the landscapes along the way provide a welcome distraction.
You'll want to get an early start or visit during the cooler season, as it gets quite hot.
Emory Peak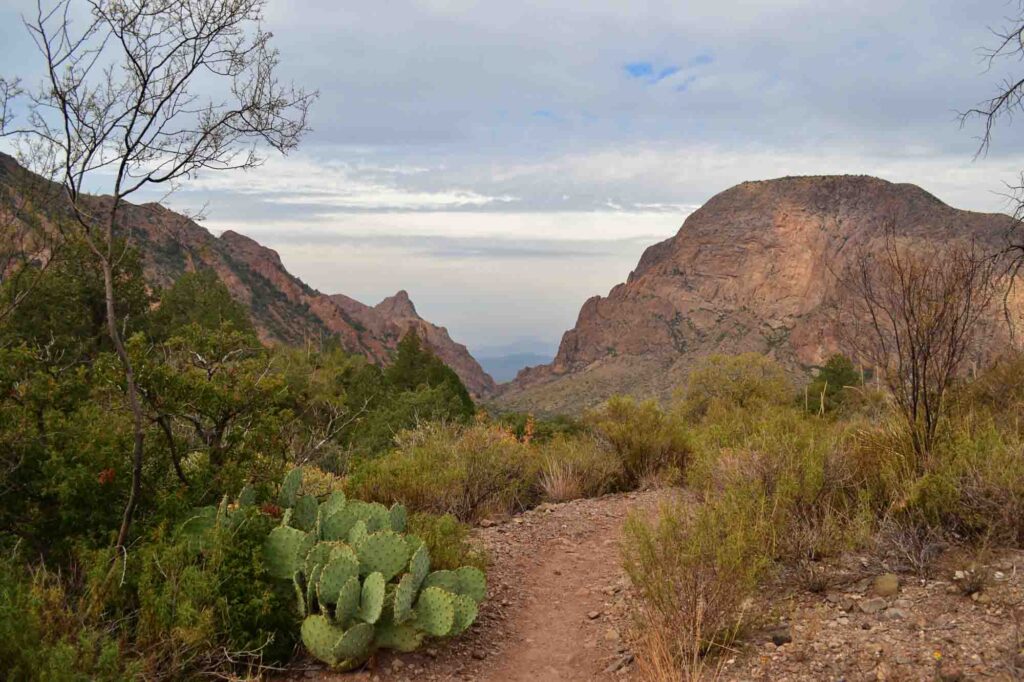 This out-and-back route is located in the beautiful Big Bend National Park, which guarantees dramatic vistas, rugged terrain, and some of the best hikes in Texas.
Although it's a challenging trek with a rocky scramble to reach the peak, the 360-degree views at the end are a reward worth sweating it out for.
In fact, this trail takes you to the highest point in the park, a whopping 7,832 feet that feels like Everest in this largely flat state.
The entire round-trip journey takes roughly 5-6 hours, but factor in extra time if you'd like to pause for longer breaks or enjoy a well-deserved rest at the peak.
Make sure to bring plenty of sunscreen and water, and keep an eye out for rattlesnakes, which have occasionally been spotted along the trail.
Map Best Texas Hikes
Here's the map marking the trailhead of all hikes mentioned above.
Click here to access it and feel free to use it on your mobile for personal reasons. We hope it is helpful!