Located on the coast of Texas, Rockport is a city filled with rich history, tasty cuisines, and tons of outdoor landmarks. There are tons of fun things to do in Rockport, TX, so if you're planning a trip to Texas Gulf Coast, you're in luck.
This article goes over exactly what to do in Rockport, from fun outdoor activities like chilling at Rockport Beach to some of the best spots to grab a drink in the city.
Once you're done reading, you'll know exactly where and what is worth visiting and doing during your next visit to Rockport.
Whether you plan on stopping here during a Texas road trip or spending a bit longer here, you'll truly love it.
While Texas itself is filled with great cities, there's truly no other city like Rockport, one of the best beach towns in Texas. Continue reading to find out what makes this such a great place to visit!
13 Fun Things to Do in Rockport TX
Here are the best things to do in Rockport, Texas, in no particular order. Enjoy!
1. Chill and Relax at Rockport Beach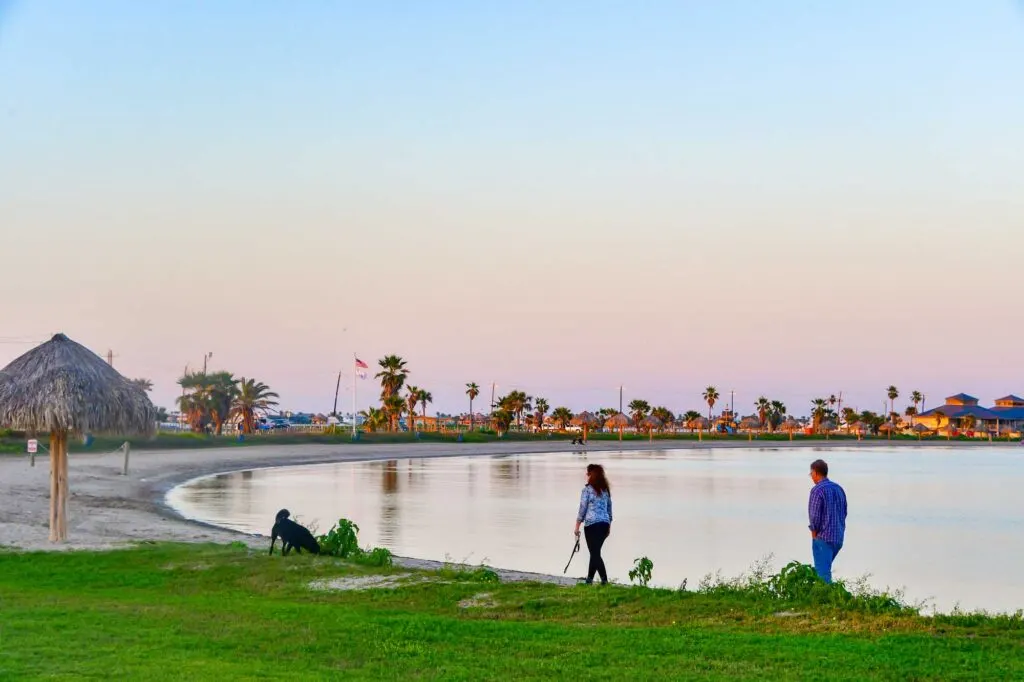 First and foremost, you absolutely can't miss out on Rockport Beach in Aransas Bay.
This is the first Blue Wave Beach in Texas, which means that it has earned a seal for being clean, sustainable, and for its environmental and human protection!
The beach is approximately one mile long and is filled with things to do. As one of the best Rockport beaches, you can go swimming, relax in the sand, spot hermit crabs, or even play some beach sports with your friends and family.
Rockport Beach also has cabanas, so you can really rest and get a great nap in the sun without burning up. This Texas beach has its own facilities for changing and bathrooms, which are well maintained and kept up.
If you have a boat or want to go on a boat ride, you can also do that at Rockport Beach.
There are boat ramps, so you can easily get your boat in and out of the water. To top it off, Rockport is one of the best beaches near San Antonio, only a 2.30-hour drive away.
2. Experience the Beauty of Rockport's Historic Downtown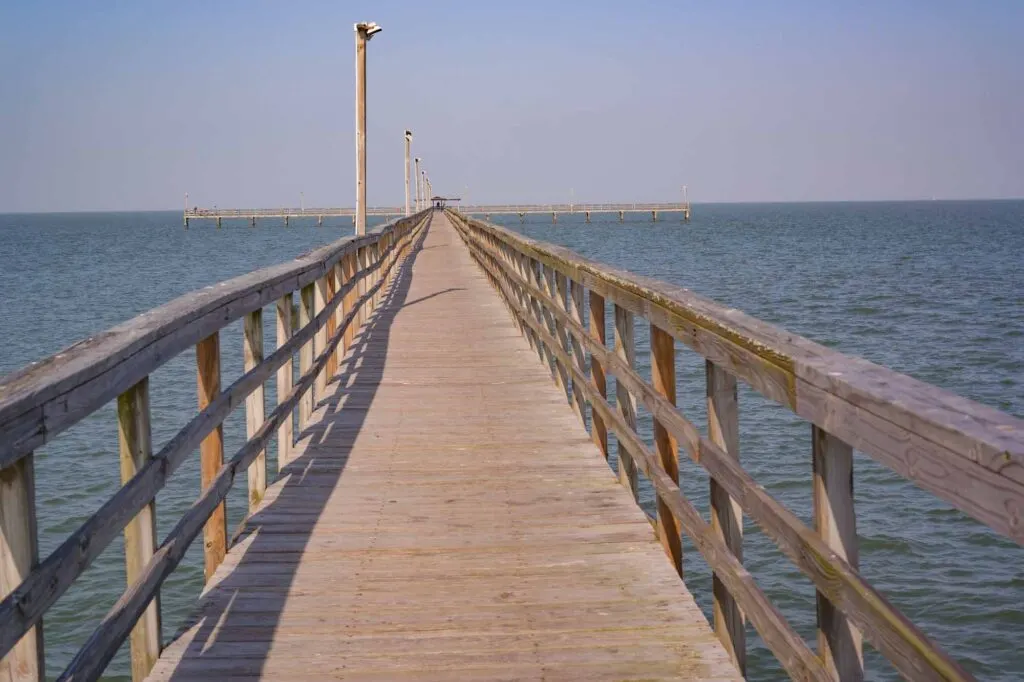 Arguably, one of the best things to do in Rockport, TX, is going to Historic Downtown and wander around and explore.
There's so much to see here, from fun local shops to some of the best seafood restaurants in all of Rockport.
Some great shops to stop by here include Magnolia's Two, Goin' Coastal Outfitters, and Coast & Cottage.
Many of these shops are run by locals, so perusing these shops and buying something from them is a great way to support local businesses when visiting Rockport.
It's best to visit this area without much of a plan. Consider just spending an afternoon and seeing what types of shops and hidden gems you stumble upon while exploring. Who knows what you might find while just wandering around!
Read next: 33 Best Things to Do in Texas
3. Go Birdwatching in Rockport and the Surrounding Areas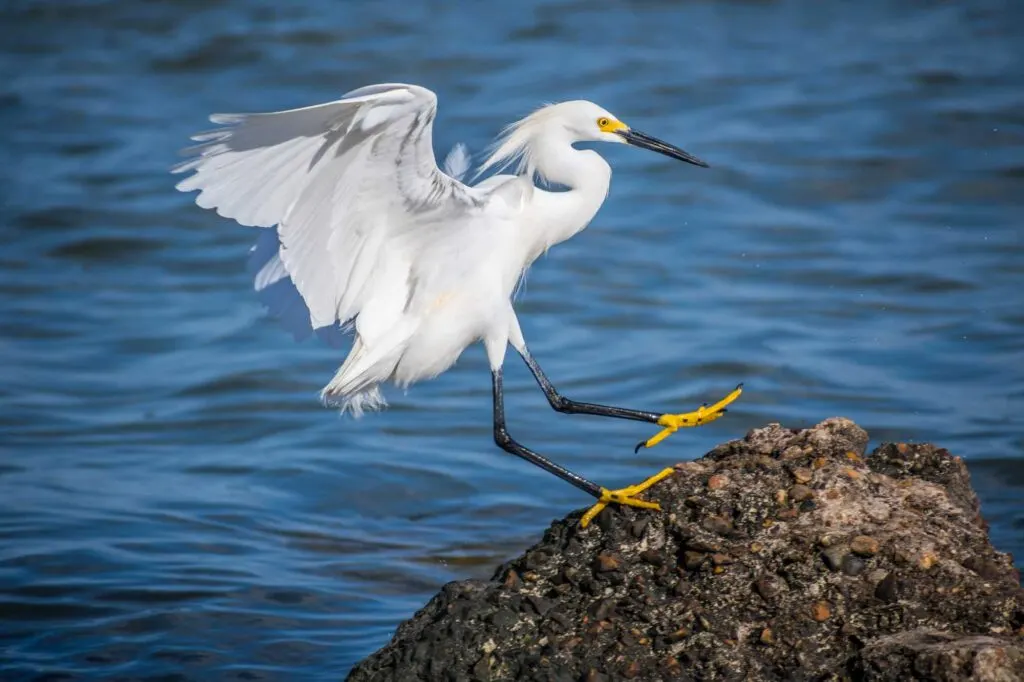 Next, another of the best things to do in Rockport, TX, is birdwatching. Believe it or not, there are actually quite a few places within Rockport, Texas that you can go birdwatching, including some tours.
Joining a tour is an excellent way to go birdwatching in the city. Although it's great to have someone local to help educate you on the birds, you can easily go on your own too.
Some great places to try to find birds and go birdwatching include Memorial Park, Rockport Rookery, or the Connie Hagar Cottage Sanctuary. At the sanctuary, it's also common to see butterflies and other insects!
4. Adventure Through Aransas National Wildlife Refuge
The Aransas Wildlife Refuge is an absolute must-see on this list of fun things to do in Rockport, TX.
It covers more than 100,000 acres right along San Antonio Bay, and you could easily spend an entire day exploring here. Try to plan your time wisely, or you will easily lose track of time.
You can spot wildlife, go fishing, or even hike in one of the nature trails throughout the refuge.
Pretty much any type of outdoor adventure is possible here, and there are also some great landmarks throughout the refuge worth seeing if you have the time.
If you love birdwatching, there are also around 400 different birds that you can find throughout the park. Don't forget to bring your camera, because you'll want to photograph so many significant parts of this refuge silently.
Read next: 16 Epic National Parks in Texas
5. Visit Fulton Mansion State Historic Site
This historic mansion that opened in the late 1800s is one of the most historic spots; visiting it is one of the best things to do in Rockport, TX.
It's built in the Second Empire style of architecture and is considered to be one of the top architectural buildings in the area.
The mansion was originally owned by Colonel George Ware Fulton and Harriet Gillette Smith, who spent a few years getting it built.
This affluent family made the majority of their money in the cattle business by moving cattle around the United States.
Today, visitors are allowed to explore the mansion and learn more about its history. When you go inside, you truly feel like you're stepping back in time.
Be sure to take the time to check out the fantastic garden, which is one of the house's most beautiful areas.
6. Trek Through Goose Island State Park
For a great day outside filled with adventure and fun, go to Goose Island, which turns out, is one of the best state parks near Houston, too.
Covering a couple of hundred acres, this state park is just a short drive away from Downtown Rockport. It's genuinely one of the area's best day trips.
Throughout the park, there are tons of activities to keep you entertained. You can go hiking on one of the park's many trails, go boating or fishing, or even go out and look for diverse bird species or other wildlife.
It's recommended that you don't go swimming even though there are a few lakes.
Another great thing to do here is spending the night and go camping. There are traditional campsites where you can pitch a tent and get a great experience with nature.
Most of the campsites are right under oak trees and have access to water and restrooms.
7. Marvel at the Big Tree
Inside Goose Island State Park is The Big Tree, one of the more unique places to visit near Rockport! This giant oak tree is centuries of years old, but nobody knows exactly how old it is for sure.
It's an oak tree that even won the award of State Champion Coastal Live Oak in 1969. It's one landmark that people come far and wide to see, so be sure to bring your camera and snap a photo of yourself next to it.
Watch for the lovely pink roseate spoonbills and whooping cranes!
Most people do try to visit it in the afternoons, so if you want to see it with less of a crowd, consider coming right when the state park opens.
This is normally around 8 AM, but hours may differ depending on the time of year you're visiting.
8. Discover Rockport Cultural Arts District
Even if you're not a fan of art, visiting Rockport Cultural Arts District is an absolute must.
This area of Rockport really focuses on art and educating visitors about art. Through art, they also promote tourism to the Rockport area in general.
The Rockport Cultural Arts District hosts tons of events throughout the year that are open to the public.
Some of their events have included the Aransas County Sesquicentennial Celebration, Rockport Film Festival, Rockport Art Festival, and more.
Be sure to check their online schedule to see what events they might be hosting during your visit to Rockport.
Lots of shops in this area are also worth visiting. Some of the great shops here are Anita Diebel Studio, Coast Modern, and Elisa Baker Art. There are so many independent art galleries in this area!
9. Meet Locals and Look at Local Art at Rockport Center for the Arts
Rockport Center for the Arts is one of the more underrated places to visit in the city, but that makes it even more worth stopping by. RCA has free admission and is closed Mondays.
They closely follow the mission of giving art activities to the community through exhibits, theatrical performances, lectures, and more.
When you visit, be sure to stop by their sculpture garden. It's filled with unique statues that are made by local artists. The meaning of each sculpture is up for your interpretation!
Throughout the years, they host many different events and exhibitions. It's worth stopping by the center to see what's going on during your visit. Who knows what sort of event you may be able to take part in!
10. Step Inside Schoenstatt Shrine & Stella Maris Chapel
Schoenstatt Shrine is a Catholic church and shrine worth visiting in Rockport.
The shrine is inspired by the same exact one in Germany and is therefore considered a daughter shrine. There are a few hundred of these exact ones around the world!
Stella Maris Chapel is another Catholic church worth stopping by and stepping inside.
It looks pretty unassuming on the outside, but that's the beauty of it. It's not as big and flashy as some other churches, but it's tranquil and peaceful as a church should be.
11. Learn at the Texas Maritime Museum
One of the best museums in Rockport is the Texas Maritime Museum. It's dedicated to educating the public on everything having to do with the ocean's history near Rockport and is great fun for all ages.
There are tons of artifacts, exhibits, and more than tell visitors all about Texas maritime history, from oil drilling to pirates throughout the museum. Also, this is the perfect place to visit to learn more about the Gulf Coast.
Because the museum isn't massive, you most likely won't need more than an hour or so here, making it a great activity to fit into your Rockport itinerary.
Pssst: Drive south past Aransas Pass to Corpus Christi and watch the sea world at Texas Aquarium. This aquarium in Texas is an incredible wildlife conservation center on the Gulf Coast, and it's home to a lot of marine life.
12. Sip Some Coffee at the Best Hot Spots
You'll surely be on the hunt for great coffee during your trip to Rockport to wake you up in the morning. You're in luck! Rockport has a few great coffee shops worth checking out.
First is Main Street Coffee House, which is most well known for its fun and welcoming atmosphere. They serve every type of coffee you could think of and also have a tea menu.
Another great coffee shop is Quirky Birds Coffee Bar, which has a super fun bird logo and outdoor seating areas.
If you're wondering where to get great beer in Rockport, you're also in luck. One of the best pubs in Rockport is the Full Speed Ahead Craft Beer House which serves many local beers.
It's also a perfect spot for meeting up with friends and relaxing!
13. Eat at Rockport's Top-Rated Restaurants
When visiting Rockport, you'll want to stop by some of the city's top-rated restaurants. Arguably the best place to eat here is Paradise Key Dockside Bar and Grill—they serve truly delicious food.
Seafood is one of the best things to eat in Rockport, and you can get it here! They also serve American favorites like burgers and sandwiches.
For a welcoming meal in a fun, family-friendly atmosphere, consider going to Our Family Kitchen.
This restaurant mainly serves American dishes but has a really relaxed atmosphere. Plus, everything you order tastes just like your favorite home-cooked meal. What's not to love?
Wrapping Up on What to Do in Rockport, Texas
Now you know all of the best things to do in Rockport, TX. Honestly, no matter what type of traveler you are, you're bound to find something fun to do during your visit to Rockport.
It's also located in a location that makes it great for day trips, like Goose Island State Park.
Have you been to Rockport, TX? If not, which of these things to do would you add to your Rockport itinerary? Let us know in the comments!
Enjoyed the read? Share it with a dear friend who might enjoy it too! We appreciate it!