From pristine state parks and a 22,000-acre lake to cultural hotspots like its downtown architecture (dating all the way back to the early 1900s!), there is an endlessly fascinating array of things to do in Conroe, TX.
And it just so happens that we're breaking down the best of the best of them! Keep scrolling to see our picks for 22 must-do activities in Conroe, plus all the details you need to know, like opening hours and prices.
This East Texas city just north of Houston refuses to be overshadowed by its bigger urban neighbor.
While Houston may have skyscrapers and its Space Center, Conroe brings a blend of natural and historical wonders that's pretty hard to beat.
22 Fun Things to Do in Conroe, TX
There are enough things to do in Conroe, TX, that any kind of traveler will stay entertained, whether you prefer to spend hours wandering through fascinating museum exhibits or getting outdoors to get your adrenaline pumping.
Here are our favorites!
1. Go for a Dip at Lake Conroe Park
Texans love their lake life, and what better way to escape the summer heat than a retreat to the refreshing waters of Conroe's coolest water feature?
Splash around in the park's swimming areas, set up lunch at a barbeque pit, or get into a pick-up game of beach volleyball.
If you're visiting Conroe during the colder months, don't worry! Lakes in Texas rarely freeze over, and you can still enjoy the surrounding nature or stop by for a sunset on the water.
The Lake Conroe Park is open Tuesday-Sunday from 9 AM until dusk. Entry costs $5 per person for the day.
2. Visit the Home of the Lone Star Flag at the Heritage Museum of Montgomery County
Dig deeper into Texas history with exhibits focused on the local lumber and oil industries, historic homes, and even a log cabin and old-timey general store where the little ones can try on period costumes.
You can also step inside a replica of the office where Conroe resident and the first Secretary of State of the Republic of Texas, Dr. C. B. Stewart, designed the state flag still flown today.
The Heritage Museum of Montgomery County is open Wednesday-Saturday from 9:00 AM-4:00 PM.
There are no tickets required, although a suggested donation at the door of $1 for adults and $0.50 for children is appreciated.
Read next: 33 Best Things to Do in Texas
3. Pick Your Own Fruit at the Oldest Blueberry Farm in Texas
Grab your basket and hit the fields!
Just 25 minutes from downtown Conroe, Moorhead's Blueberry Farm boasts 20 acres of fresh blueberries, complete with around two dozen varieties to choose from.
The blueberry farm is chemical and pesticide-free, and it has been family-owned and operated since it got its start in 1977, so these are some berries you can feel good about.
The blueberry season generally runs from the last weekend in May until mid-July, although it depends on the year's weather.
They have 20 varieties of blueberry to choose from, and you can buy them for $3.50 per pound, payable by cash or check only.
4. Learn About Conroe's History
Conroe Downtown was mainly built during the town's oil boom years, from the 1920s and 30s. However, many of the brick buildings have been renovated to house plenty of galleries, shops, cafés, and restaurants.
Take some time to discover all this beauty on foot. Park your car, prepare your camera, and enjoy one of the most charming parts of Conroe, Texas.
5. Take to the Skies in a Vintage WWII Bomber
Although it's one of the more expensive things to do in Conroe, TX, this is a once-in-a-lifetime experience that, safe to say, you won't forget anytime soon.
Lucky guests can hop aboard a B-17 Flying Fortress and feel the thrill of cruising through the air in a real heavy bomber from World War II, fully restored to wartime configuration.
Grab a seat in the center of the aircraft or, at an extra cost, opt for the adrenaline rush of the Navigator's or Bombardier's Seat.
6. Explore a Log Cabin at Fernland Historical Park
The past can be hard to imagine when you're stuck reading plaques and watching black-and-white films, but Fernland takes a hands-on approach to history.
Home to some of the oldest structures in Texas, this educational park allows for an up-close look into life in the region before and after the Civil War.
Wander through log cabins and homes from the 1800s, then step outside to enjoy the gorgeous manicured gardens and a turtle pond.
The park is open Tuesday-Saturday from 9 AM-3 PM and Sundays from 12-4 PM.
7. Have a Homemade Beer at the Southern Star Brewing Company
Need a cold beer after a hard day of sightseeing? Luckily, Conroe has some of the best brews in the state.
At the Southern Star Brewery, you can sip on one of the many award-winning, in-house craft beers or pile your plate high with delicious food truck fare.
They even offer free brewery tours at 2 PM and 4 PM every Saturday.
And the fun doesn't stop there! The property features an outdoor Biergarten with a live music stage and a disc golf course for warmer weather activities.
8. Catch a Show at Crighton Theater
Built in 1934 and since restored to its former glory (and then some) with state-of-the-art sound and lighting systems, the Crighton Theater has been a centerpiece of Conroe's downtown for almost a century.
Based in a historic building, they feature classic plays and musicals like School of Rock, Grease, and Steel Magnolias, as well as live concerts.
Check their website before you go for any upcoming shows!
9. Hike a section of the 128-mile Lone Star Hiking Trail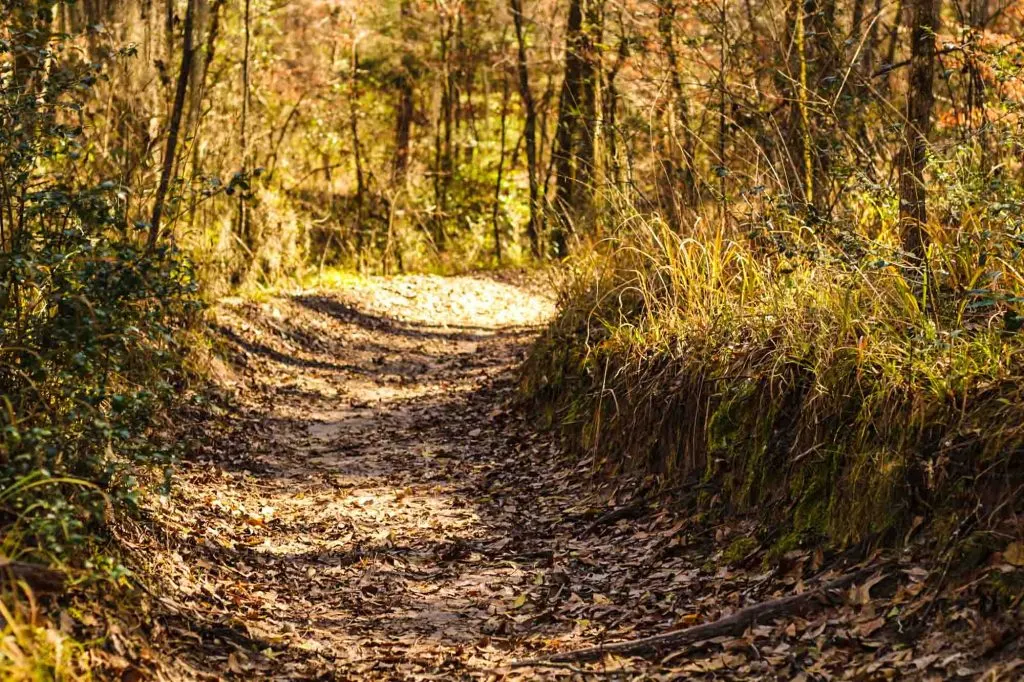 Just 20 minutes from the comforts of downtown Conroe, you can plunge into some of the most pristine wilderness Texas has to offer at Sam Houston National Forest.
Evidence suggests that humans have occupied the region for as many as 12,000 years, from hunter-gatherer societies to early European settlers.
Today, hikers will be greeted by thick woodlands, colorful wildflower fields, and, if they're lucky, a sighting of endangered species like the red-cockaded woodpecker or bald eagle.
Although a trek along the entire Lone Star Hiking Trail, a national recreation trail, probably won't fit into most itineraries, a shorter loop makes a great addition to any list of things to do in Conroe, TX.
So plan a trip to Sam Houston National Forest. You won't regret it.
10. Kayak Down the Woodlands Waterway
The aptly named community of The Woodlands, just 10 minutes from central Conroe, is full of gorgeous green spaces, giant malls, and an artificial waterway that winds its way through all the major attractions.
Rent a kayak and enjoy the views! Paddle to Woodlands Lake for even more outdoor adventures or stop off at one of the waterfront restaurants.
You can also snag a stand-up paddleboard or an adorable swan boat to get around the waterway in style.
11. Shop for Vintage Treasures in Historic Downtown Conroe
Mimi's on Main and Conroe Central Market are antique heaven. Both stores are overflowing with treasures big and small from the early 1900s until now.
Shop their vast array of clothing, jewelry, arts and crafts, furniture, home decor, and more. Mimi's even offers complimentary cookies and coffees to keep you fueled as you browse.
While exploring Conroe's cozy downtown, you can also stop by several art galleries, historic buildings, and restaurants.
12. Indulge in a Dinner Cruise on Lake Conroe
Feeling fancy? We've got you covered. While Lake Conroe is a spot for swimming, water sports, and fishing during the day, it can host quite a classy party as the sun goes down.
Set sail on a restored historic boat and enjoy dinner, drinks, and dancing, all with spectacular 360-degree views of the lake.
Texas sunsets and starry night skies are known to be some of the best in the country, and there's no better place to view them than out on Lake Conroe.
13. Get Your Instagram Shots on an Art Bench Self-Guided Tour
One of the quirkier things to do in Conroe, TX, involves a self-guided tour of 13 painted benches throughout downtown. As an added bonus, this activity is totally free!
As they say, it's "Art you can sit on. History you can reflect on."
Some of the highlights include the "Boogie Bench," celebrating the city's local music history, and the "Tribute to Dr. Charles Stewart, Designer of the Texas Flag."
You can find a map marking each of the benches on the city of Conroe's website.
14. Stop and Smell the Sunflowers at P-6 Farms
Every fall and spring, this sprawling farm 30 minutes from downtown Conroe fills with sunny blooms.
Wander through acres of giant Texas sunflowers and even select one or two to take home with you!
Other fall festivities include a corn maze, pick-your-own pumpkin patch, hayrides, and tons of different games and attractions.
During the spring and summer, enjoy blackberry picking and sample fresh veggies at their Blooms & Berries Fest.
Ticket prices vary throughout the year, so check their website for the latest information.
15. Listen to Live Music With the Locals at Pacific Yard House
Located in the heart of downtown Conroe in a building that dates back to 1907, Pacific Yard House is a go-to destination for dinner and drinks.
They offer both indoor and outdoor dining, an extensive bar with more than 30 beers on tap, and live music every week…not to mention the totally Texan interiors (think brick walls and deer antler chandeliers).
The menu is packed with Southern comfort food like barbecue, burgers, and crawfish, so you can enjoy a hearty meal and then dance the night away to lively jams from local bands.
16. Make a Splash at Big Rivers Waterpark & Adventures
Wondering what to do in Conroe if you're traveling with the whole family?
Big Rivers Waterpark is the perfect place to spend an afternoon or even the whole day with enough attractions to keep both older and younger visitors entertained.
Not only do they feature tons of splashy fun in the form of water slides, wave pools, and lazy rivers…they also have climbing walls, ziplines, obstacle courses, and so much more.
Whatever activities you go for, over 40 acres of adrenaline await!
17. Enjoy Your Morning Meal at Conroe's Best Breakfast Spot
Breakfast is the most important meal of the day, and there's no better place to kick off your morning than at The Toasted Yolk, one of Conroe's most beloved restaurants.
Their star dish is a new take on an old classic. Called "Arnold's," these updated eggs benedicts feature all kinds of fun variations and yummy ingredients.
Try the Southern Fried Arnold with chicken tenders and gravy or the Alaskan Arnold, which adds salmon to the mix.
If you're looking for more traditional menu items, The Toasted Yolk also serves up some mean biscuits and gravy, as well as favorites like pancakes, waffles, and omelets.
18. Get Some Fresh Air at W. Goodrich Jones State Forest
W.G. Jones State Forest is one of the most extensive working urban forests in the United States, which means it's a site for dozens of important research and education initiatives.
Of course, there are still plenty of classic outdoor activities to enjoy as well, like hiking, biking, and picnicking.
The trails are free to use and run through lovely Central Texas scenery like towering woodlands, quiet creeks, little hidden bridges, and several small lakes.
Keep an eye out for local wildlife such as deer, pigs, and the endangered red-cockaded woodpecker.
19. Get a Delicious Piece of the Town at the Montgomery County Fair
Montgomery County Fair is a great way to kick off spring and is obviously one of the best things to do in Conroe. Besides, it's a great way to support local farmers, ranchers from across the county
Welcoming over 50,000 people every year, the fair has everything from carnival games to concerts and BBQ cook-offs.
Beyond that, you'll love the traditional auctions, which are of not only livestock but also items like quilts, furniture, horticulture, and baked goods—all as part of a youth scholarship fundraiser.
So come support a good cause and take home a delicious piece of Conroe!
20. Learn About Texas History at the Lone Star Monument & Historical Flag Park
History buff or not, this is one of the classic things to see in Conroe and definitely deserves a spot on your itinerary.
Dive deeper into Texas' complex history as a Spanish colony, Mexican territory, independent nation, US state, and more with this outdoor museum and city park spanning 3.5 acres.
Some of the highlights include a display of 13 different flags that have flown over Texas, as well as various statues and educational exhibits.
21. Party on the Water at Papa's on the Lake
There are two ways to pull up to Papa's–by car or by boat. If you choose the latter, you'll be rewarded with a true Texas lake experience.
Papa's on the Lake goes all out with the entertainment, featuring an adults-only pool, outdoor sand volleyball courts, pool tables, TVs tuned to the latest sports games, and more.
But things get even rowdier on the water. Visit on the weekend to see live local bands and people partying aboard their boats at the restaurant's dock.
22. Picnic in one of Conroe's Parks
Conroe is home to nothing less than 26 parks and plazas! These green areas are excellent Lake Conroe attractions for anyone who wants to spend time outdoors.
If you're traveling with your family, know that Candy Cane Park has not only a playground but also a picnic area and off-leash dog park.
Besides, the park is also home to the Heritage Museum of Montgomery County, as well as tennis and basketball courts for you and your family to play a few games together.
Undeniably, one of the best things to do in Conroe, Texas, is visiting one of their many parks like this skate park seen from an aerial point of view.
Wrapping Up on Conroe, Texas
Whether you're going on a chilled-out weekend getaway in Texas or a road trip around the state and Conroe is a stop along the way, we're sure you'll have a lovely experience in this small town.
Did you enjoy this list of things to do in Conroe, Texas? Then share it with a friend who might like it too!