Whether you're looking for family vacations in Texas or just want some kid-friendly activities near you, rest assured there are many things to do in Dallas with kids.
This city is known for family adventures, and it's a diverse place with many fun kid-friendly activities, educational centers, zoos, theaters, gardens, museums, aquariums, and other fantastic things your kids will love.
Whether the little ones are into fine arts, history, music, or fun outdoor activities, rest assured that a great time awaits your kids in Dallas.
23 Fun Things to Do in Dallas with Kids
Traveling to Dallas with your children and wondering how to keep them entertained? Here is a checklist of some of the places and fun things to do with kids in Dallas.
Pssst: If you want to take the kids on a little vacation, you might want to check out these all-inclusive resorts in Texas for the whole family!
1. Dallas World Aquarium
One of the biggest children's attractions in Dallas is its aquarium. Dallas World Aquarium has exhibits of different animals, including fish, mammals, and birds.
Your experience will begin by taking a tour of the rainforest, where you will find a public display of animals like crocodiles, turtles, manatees, three-toed sloths, toucans, and freshwater fish.
From here, you can walk through the saltwater aquarium, where you will find a 22,000 walk-through gallon tunnel displaying sea animals like sharks, crabs, and sea dragons in close views—the little ones will love it!
Hands down, the best way to experience this Aquarium with kids is to spend time with the interactive exhibits and features.
2. State Fair of Texas
If you are in Texas in October, then one of the things to do in Dallas with kids is coming to the biggest event in the city, the State Fair of Texas!
This kid-friendly event has always taken place since 1886 and features a lot of activities and entertainment for the entire family.
You can enjoy a charming ride in the 1914 carousel, take in stunning views of Dallas from the 212-foot tall Ferris wheel, and take a picture with the 55-foot-tall cowboy known as Big Tex.
This event also features a lot of food to try out and many local goods like jewelry, art, and clothing you can explore or shop for.
3. NRH2O Family Waterpark
NRH2O has been bringing thrills to the Dallas-Fort Worth area for nearly three decades, and they're only getting better with time.
Brave visitors of this water park near Fort Worth have to try the Sidewinder, a towering body slide that releases you from a trap door into an exhilarating 60-foot freefall that ends in a big splash.
Also, NRH2O boasts the world's largest uphill water coaster, making it one of the best water parks in Texas!
Another crowd favorite is the Viper, which brings together 2 to 3 people in 1 float and sends them on a high-banking, heart-pounding drop into a 20-foot MEGAtube.
For a more relaxing approach, NRH2O also contains a winding lazy river and even its own white sand beach.
NRH2O is, without a doubt, one of the best things to do in Dallas with kids if you want the little ones to have a blast!
4. Six Flags Over Texas
Six Flags Over Texas is the best theme park in Texas and a great place for kids to be when you're in Dallas.
This 212-acre wonderland features many family-friendly attractions and rides, including fantastic roller coasters, merry-go-rounds, and go-karts.
Kids will have a thrilling experience trying out all the rides the park offers.
5. White Rock Lake Park
There is something so stunning and unforgettable about coming close to the 1,015-acre White Rock Lake Park with so much green space.
In addition to watching different fishes like crappies and catfish in their natural habitat, your kids can also enjoy activities like bird watching, hiking, kayaking, and canoeing.
You and the kids can also stroll through the natural scenery, smell the flowers, and catch sight of red foxes or minks.
A visit to White Rock Lake is a perfect opportunity to let the little ones connect with nature.
6. Perot Museum of Nature and Science
Got kids interested in nature and science? Perot Museum of Nature and Science is the best place to bring them.
This world-class museum has 11 exhibits that explore different scientific fields, including dinosaurs, natural history, earth, sports, and energy systems.
Kids will enjoy seeing the skeleton of an Alamosaurus, watching the earthquake simulator, and viewing the gallery of gems & minerals.
There is also a large theatre, an outdoor play area, a sleepover area, and a courtyard where kids can enjoy kiddie edutainment and play for as long as they want.
One of the best things we recommend you do while at this museum is take the external glass escalator up to the top to enjoy great views of downtown Dallas.
7. Klyde Warren Park
Klyde Warren Park is considered one of the best kid-friendly attractions in Dallas.
This linear park acts as a gathering space and has everything from state-of-the-art play equipment to a butterfly garden and areas designated for kids to play games.
The children's park area features playgrounds, interactive fountains, an amphitheater, and a storytelling tree where kids can spend the entire day.
The Western region of the park offers games like ping pong and putt-putt. The Dallas Morning News Reading & Games Room has books, magazines, and board games to keep you busy.
Klyde Warren Park also hosts year-round family events, film screenings, outdoor concerts, and musical performances.
Kids will also love the treehouse, the Imagination playground, the splashing river, the botanical garden, and the food trucks where they can munch on delicious snacks. Your kids will never be bored in this park!
8. Dallas Arboretum
Dallas Arboretum and Botanical Gardens is an excellent activity for kids and adults alike, inviting them to 66 acres of beautiful gardens, wildflowers, and stunning vegetation.
The park also has different areas, including the Children's Adventure Garden, with over 150 activities for kids.
Some of the things children will enjoy include storytelling, arts and crafts, and 12 Days of Christmas displays during the holidays.
This arboretum also offers fun family programs all year round, like the Family Overnight Adventure, where you can take a night hike and sleepover at the Exploration Center.
9. Dallas Children's Theater
One of the most entertaining kids' activities in Dallas is at Dallas Children's Theatre in East Dallas.
This theatre features a lot of fun productions of literary works, stories, histories, and biographies aimed at entertaining and educating kids.
Surely, this is one of the best ways to educate and entertain kids in Dallas.
10. iFly Indoor Skydiving
Take your kids to experience the rush of flying at the iFly Indoor Skydiving. You and the kids can learn how to fly from your assigned instructor and then try what you've learned.
iFly will give you a sensation of flying, and thanks to the simulators and state-of-the-art tunnels, you get the same adrenaline rush experience during skydiving.
This flying experience is safe for kids of all ages and people of all skill levels.
11. Frontiers of Flight Museum
Dallas is home to many unique museums, and one of the amazing ones you don't want to miss is the Frontiers of Flight Museum.
This museum showcases the history of aviation through 30 aircraft, five missiles, and about 35,000 artifacts, including the Boeing 737 and Bell helicopter.
Your little pilots and astronauts will enjoy exploring all the hands-on exhibits and programs offered by the museum.
Frontiers of Flight Museum also offers guided tours and programs for the whole family.
12. Medieval Times Dallas
This popular Dallas attraction is a perfect place for the whole family to hang out.
One of the best things about coming here is the four-course meal treat featuring delicious food like roasted chicken, garlic bread, and a castle dessert.
There is also an interesting show that showcases Medieval Times weaponry through six knights that compete in games like a javelin and catching rings on their horsebacks.
You can also take the kids to the Hall of Arms section, showcasing the Medieval artifacts, and the gift shop, where you can find delightful souvenirs to take home.
Experiencing the Medieval Times is definitely one of the best things to do in Dallas with kids!
13. Ripley's Believe It or Not
One of the out-of-the-box things to do in Dallas with kids is coming to Ripley's Believe It or Not.
This adventure park is full of limitless fun, including odd exhibits, a vampire-slaying kit, a spinning vortex tunnel, and other eye-popping attractions.
Kids can also try out the enchanted mirror maze, the laser race, and the 7D moving theater. It's a weird museum, but it's worth coming with kids.
14. Trinity Forest Adventure Park
Looking for exhilarating and adrenaline-pumping kids activities in Dallas? You should add Trinity Forest Adventure Park to the list of things to do in Dallas with kids.
This adventure park features obstacle courses where kids and their parents can swing, climb, and scramble.
Trinity Forest Adventure Park features different obstacle courses, including 20 zip lines, eight aerial obstacle courses, and 70 elements like cargo nets and wobble bridges.
15. National Videogame Museum
The National Videogame Museum is dedicated to showcasing the history of the video game industry to kids and adults.
Built by three longtime video gamers, this museum is in the Frisco Discovery Center and features collections of exciting video game memorabilia.
Visitors can play games from the past, and there are many options, including the largest Pong game, 80's gaming arcades, and gaming stations.
Needless to say, a visit to the National Videogame Museum is surely one of the best things to do in Dallas with kids.
16. Dallas Zoo
One of the best things to do in Dallas with kids is meet the animals at the zoo. Dallas Zoo offers one of the best zoological experiences, with over 2,000 animals representing over 400 species.
This Zoo also features interesting exhibits like the Giants of Savanna, where you will find elephants mixed with other species like giraffes and zebras.
Some of the highlights at Dallas Zoo are the Simmons Hippo Outpost on a 12,000-gallon pool, the Koala Walkabout, where you can view the only koalas in the state, and the Zach's Birds Landing Aviary displaying over 24 bird species.
Kids can also experience the Lacerte Family Children's Zoo, where they can pet farm animals, feed birds, and enjoy hands-on activities made for children.
For more kiddo fun, there is a mini train, a merry-go-round, and a nature-inspired swap shop where kids can exchange items.
17. AT&T Stadium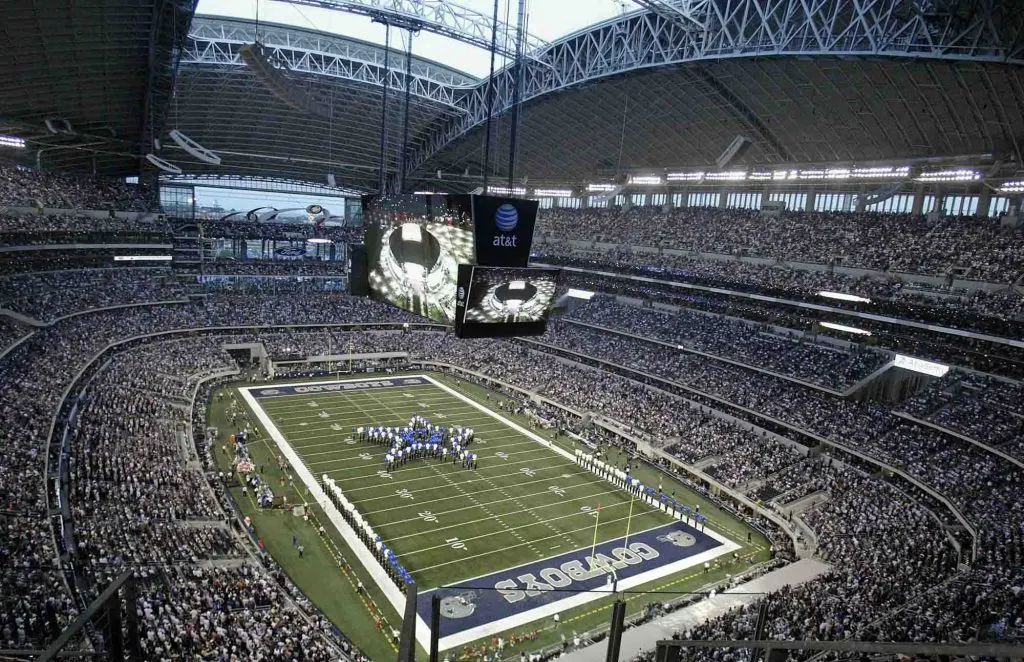 If you are in Dallas during the football season, you can watch the National Football Team, the Dallas Cowboys, play an exciting game at the AT&T stadium.
You and the kids can also take a tour of the Dallas Cowboys stadium, where you can see exclusive areas in the stadium and the art housed by the stadium.
A trip to the AT&T Stadium is a particularly fun activity for kids who love sports.
18. Galleria Dallas Ice Rink & XD Ride
Looking for a fun weekend getaway with your kids in Dallas? Dallas Galleria should be on your list!
This fun park in North Dallas offers tons of activities like ice skating and XD riding. Skaters can rent equipment at the hall and have fun on the ice rink at the center of the mega mall.
If you don't know how to skate, you can hone your skills by registering for sessions and practices at the ice skating center.
For those who are not into skating, you can head to the XD ride, a virtual reality theme park featuring roller coasters and a 7D interactive video game simulation.
You and the players will be stripped into a motion seat to compete for the high score while feeling motion and sound effects that immerse you completely into the game.
19. African American Museum of Dallas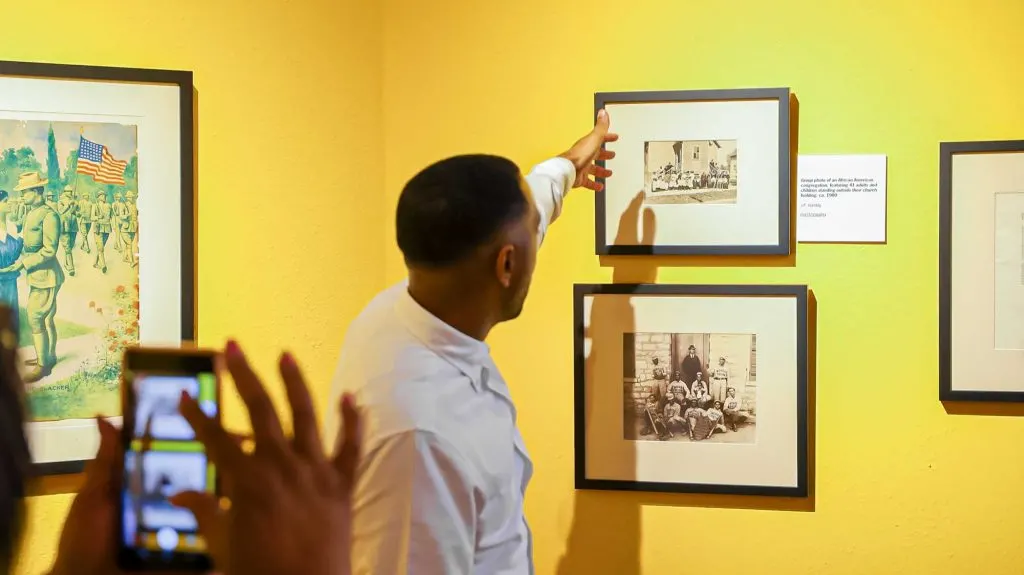 This museum is one of the best things to do in Dallas with kids with a love for history.
The African American Museum of Dallas provides exclusive documentation of the life and arts of African-Americans.
You will get a glimpse into the arts, music, entertainment, culture, and accomplishments of great African-American artists.
Some exciting exhibits here include the Green Book, where kids get to sit on the driver's seat of a 1940s Buick Super replica; the Step Africa offering an interactive dancing experience; and the Visual Arts featuring various displays of arts for art-inclined kids.
20. Dallas Summer Musicals
You can take your kids to check out the Dallas Summer Musical, where they will enjoy live performances and kid-friendly plays.
Some shows that play here include Frozen, Mean Girls, and other classic favorites.
21. Adventure Landing
Kiddos will love Adventure Landing, where they get access to more than a dozen exciting rides and attractions like bumper boats, laser tag, batting cages, and go-karts.
Adventure Landing is definitely an excellent place to take the kiddos in Dallas.
This place is so fun, chances are you will probably have more fun than the kiddos!
22. Epic Waters Indoor Waterpark
I know we recommended another water park above, but this Epic Waters will prove to be one of the best indoor things to do in Dallas with kids, especially if the weather isn't good.
This large waterpark covers 80,000 square feet and features eleven different waterslides, a surf simulator, and a 10,000-square-foot wave pool.
In addition, there is a kids' play area, an arcade, and a cafe where you can have some food while the kids continue to splash on the slides.
You will also find the United States' tallest indoor Aqualoop, a Texas-sized lazy river, and an outdoor wave pool.
23. Dallas Heritage Village
Dallas Heritage Village features collections of furnishings, buildings, and interactive vintage fun to show what's like in North Texas during the 19th and 20th centuries.
Some of the things you'll see here include a log cabin, an old general store, a schoolhouse, a plantation house, a century-old doctor's office, and a quaint farmstead.
Kids can learn a little history and play pretend at the historical buildings.
More Fun Things to Do in Dallas with Kids
Check out the murals in Deep Ellum
Let the little ones have a wonderful time at Urban Air Trampoline Park, a wonderful amusement park with countless things to do for kids
Build everything and more at LEGOLAND Discovery Center
If your kids are a bit older, it is a nice idea to visit the Dallas Museum of Art and play fun games with them, like painting or object scavenger hunt
Check out all kid-friendly activities in Fair Park, including a butterfly house and a public garden overflowing with beautiful flora
Did you enjoy this article about things to do in Dallas with kids? Then share it with fellow parents who might also find it useful!