Looking for the best beach towns in Texas? We've put together this list with the best 8 coastal cities for a perfect Texas beach getaway!
White sand, seafood restaurants, wildlife spots, and salty breeze, these beach towns in Texas are everything you need for a perfect beach vacation.
While the Lone Star State might not be your go-to beach destination, we're here to prove you can find fantastic places to sit back, relax, and get personal with the southern hospitality–all of that by the sea!
Whether you're planning a warm winter vacation, a Texas road trip, or a water-centric summer trip, these coastal towns are incredible and should absolutely be on your USA bucket list.
Let's get to them!
Best Texas Beach Towns You Won't Want to Miss
The Texas gulf coast is packed with excellent beach towns and perfect spots for a seafood-soaked trip. Here are the best Texas beach towns in no particular order.
1. Galveston
No list of the best beach cities in Texas will ever be complete without Galveston. This island city has a unique feel, decorated with Victorian houses and framed by a colorful boardwalk full of Southern charm.
Restaurants and beautiful murals frame the main road on one side while a 10-mile seawall stretches out on the other, beyond which are Galveston Island's most coveted sandy beaches.
Looking to connect with nature? Head over to the Galveston Island State Park, a 2,000-acre park filled with campgrounds, hiking trails, swimming spots.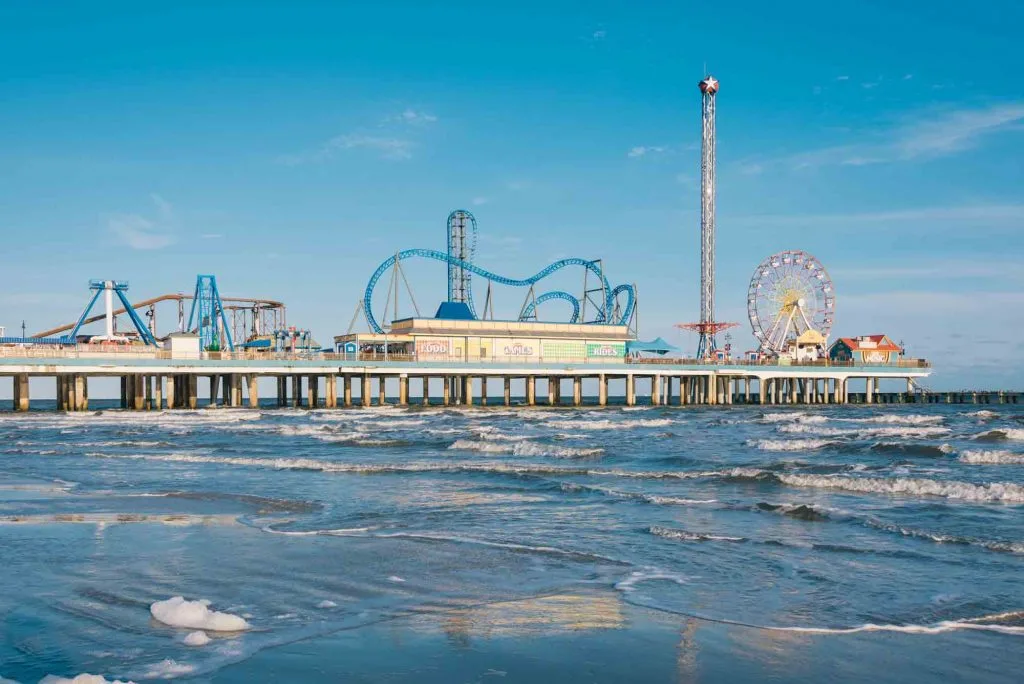 In the evenings, head to the Galveston Island Historic Pleasure Pier for carnival rides, fried food, and gorgeous sunset views.
If you're visiting Galveston on a weekend getaway from Dallas or anywhere in North Texas, you'll want to give yourself a long weekend on the island because the drive is a bit lengthy. After all, relaxation is what beach vacations are all about!
Best beaches in Galveston:
East Beach – festivals, live concerts, pet-friendly, and excellent amenities.
Surfside Jetty County Park – beachfront playground, picnic areas, and lots of bird watching opportunities.
Seawall Urban Park – beachfront restaurants and lots of tourist attractions.
Stewart Beach – award-winning beach and perfect for families.
Palm Beach – a gorgeous beach in a residential community. Local feel.
2. Padre Island
Padre Island is the longest barrier island along the coast of Texas. The island is divided into North Padre Island and South Padre Island, and they are entirely different from each other.
North Padre Island isn't your typical beach vacation packed with lots of beachy souvenir shops and resorts, but a place with miles and miles of peaceful beachfront wilderness.
You can watch the baby sea turtles being released at North Padre Island as Texas has one of the most endangered sea turtle species on earth! Beyond that, you can go surfing, windsurfing, shipwrecks spotting, and more–the options are endless!
Mind you, admission to the Padre Island National Seashore is required.
Best beaches in North Padre Island:
Malaquite Beach – Lovely beach with changing facilities, outdoor shower, and covered picnic areas.
Whitecap Beach – Scenic beach in Texas with sizable waves.
Little Shell Beach – Calm beach with smaller shells.
Big Shell Beach – Great for seashell picking and photo ops, not for sunbathing.
On the other hand, South Padre Island is one of the trendiest Texas beaches. As a popular spring break destination in March and a relaxing oasis the rest of the year, South Padre Island is one of the best beaches the Lone Star State has to offer.
Surrounded by the Laguna Madre and Gulf of Mexico, South Padre is the perfect place to ride a bike and feel the ocean's breeze.
If you would like to complete your beach packing list in the town, there are more than enough shops along Padre Boulevard–you can even find souvenirs for your family!
As for things to do, while surfing, snorkeling, and birding are some of the best activities on the island, indulging in seafood is a must-do.
Pier 19 on the Laguna Madre serves a scrumptious blackened shrimp omelet–excellent breakfast to start your day with the right foot!
And Dirty Al's have mouth-watering fried shrimps you simply can't afford to miss. For reference, Dirty Al's was voted for "Best Restaurants" in South Texas.
Beyond that, South Padre is the world's sandcastle capital–always good to know!
Best beaches in South Padre Island:
Barracuda Cove Beach – secluded and almost empty year-round.
Beach Access – warm water and family-friendly.
Dolphin Cove Beach – excellent to soak up the sun.
3. Rockport
Rockport makes a fun road trip in Texas as it is only 3 hours drive from Houston and Austin.
Although Rockport was hit hard during Hurricane Harvey, this lovely beach town in Texas has bounced back and shows that it is here to stay.
The town has such unique shops and excellent restaurants that will make you consider staying for good!
To add a little culture to your beach trip, head over to the Texas Maritime Museum, which explores the Gulf Coast history, including oil drilling and pirates.
As far as sustainability is concerned, Rockport Beach is Texas' first one-mile long Blue Wave Beach, meaning it is clean, managed responsibly, and focuses on protecting human health and the environment. Isn't it amazing?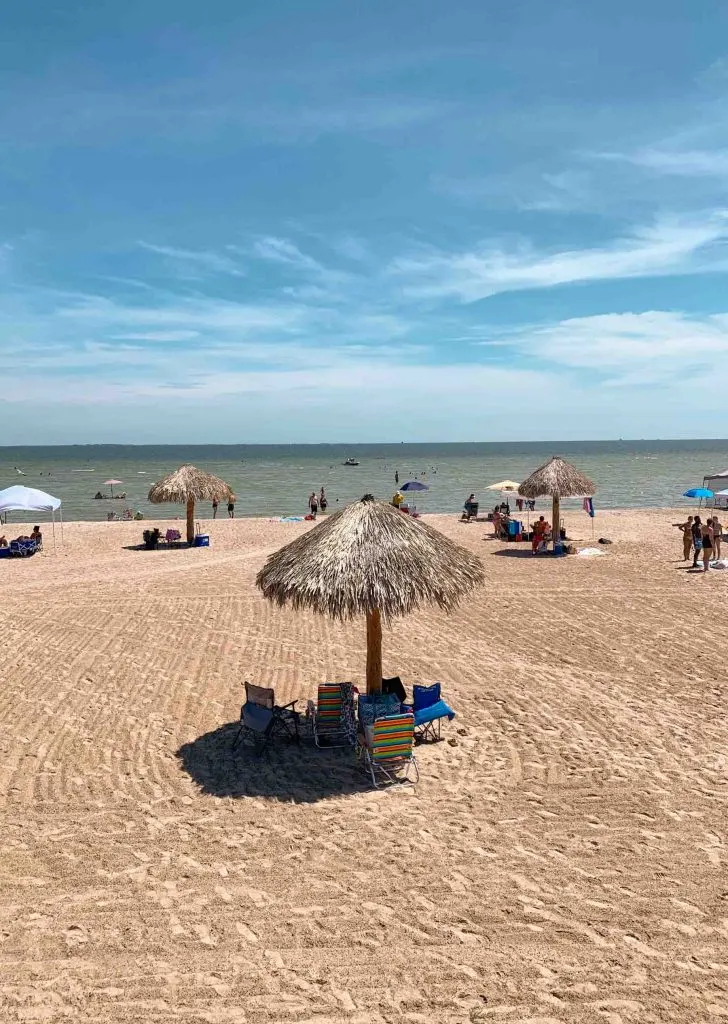 The beach is accessible to people with decreased mobility, but it also has public restroom facilities, picnic areas, and many swimming areas. The only downside is that no pets are allowed on Rockport Beach.
Rockport also has a few BBQ grill spots for beachgoers who want to have a Texas-style beach vacation.
4. Port Aransas
This beach town on Mustang Island is one of Texas' most popular beach destinations. From incredible outdoor adventures to cultural activities, this spot on the gulf coast is a must-visit!
Besides, Mustang Island's beaches are incredibly unique, and you can get the most of the Texas coast here!
Like parasailing, kayaking, or windsurfing? Then this Texan town is right up your alley! You can try these sports all year-round or, if you prefer something a tad less adventurous, rent a bike and cruise the town to soak up the Port A vibes.
Not only that, but Port Aransas Beach is ranked one of the top 10 family beaches in the USA! Take your children to discover new bird species or go dolphin watching–they'll love it!
Best beaches in Port Aransas:
Port Aransas Beach – warm and clear water with some free parking between pier 52 and 58. Also, campfires turn a fun night of beach camping into an unforgettable experience for the kiddos, and at Port Aransas Beach, permits are for 3 x 3 feet campfires.
IB Magee Beach Park – one of the most popular and beautiful beaches in Port A. It has many campsites and amenities for beachgoers.
Horace Caldwell Pier – Excellent for surfing, fishing, watching the sunset.
5. Bolivar Peninsula
Bolivar Peninsula is a 27-mile stretch between the Galveston Bay and the Gulf of Mexico with some small communities, such as Crystal Beach and Port Bolivar.
Because it's a short drive from the Space City, only 1h30, it makes a perfect weekend getaway from Houston!
Besides, here you can find clean beaches, soft sand, and a lot of fun!
Despite the lack of eateries and beach facilities, Crystal Beach is a pleasant place offering all the basic things one could expect from a beach, such as a relaxing atmosphere, beautiful views, seagulls, dolphins, clean sand, and warm water.
6. Freeport
Freeport is a small town in Texas just 62 miles from Houston. It has some of the best fishing opportunities in Texas, two marinas, the Brazos River, and excellent beaches.
Not only that, but this coastal area has a local historical museum, bird observatories, wetlands trail, and a national marine sanctuary, which is a premier diving destination.
Want to add some cultural activities to your beach vacation? Then visit the Freeport Historical Museum and learn more about their maritime collection–also great for kids!
Best beaches in Freeport:
Bryan Beach – This spot is near this little beach town and offers 3 miles of natural beach ideal for camping, birding, fishing, and soaking the summer vibes!
Surfside Beach – Miles of golden sand teeming with seashells and marine life. Perfect beach for people who love watersports.
7. Port Arthur
This thriving port town has an alluring combination of Texas coastal charm and Cajun flair.
It is an idyllic location that offers lots of fresh seafood, breezy coastal walks, and natural beaches.
Want to venture out in adrenaline-pumping activities? You'll be well served here! Port Arthur provides a setting for dozens of outdoor adventures, including sailing, windsurfing, and kayaking.
Best beach in Port Arthur:
Sea Rim State Park – it's 5 miles of natural beach where visitors can camp right on the waterfront.
8. Corpus Christi
This lovely beach town in Texas is becoming more popular every year because of its beautiful coastal setting.
It has not only miles of pristine beaches, but it also has important conservation areas as well as rich flora and fauna.
Looking for some cultural activities? Corpus Christi has a lot to offer in that matter!
From Texas Surf Museum to SS Science Museum to the Art Center, this coastal city is jam-packed with activities to keep you busy for a week!
Best beaches in Corpus Christi:
JP Luby Beach – It's the hotspot for teens and young adults for surfing, kiteboarding, and skimboarding.
North Beach – A small stretch of land with views of the USS Lexington and many waterfront restaurants.
McGee Beach – Situated near the heart of downtown, McGee Beach is one of the most convenient stretches of sand in the area.
Newport Pass Beach – Newport Pass Beach is a picturesque hideaway with surfboarders and windsurfers dotting the horizon and children splashing on the shoreline amongst sandcastles and sand crabs.
Beach towns in Texas FAQ
What cities in Texas have a beach?
Galveston, Bolivar Peninsula, Freeport, Rockport, Port Aransas, Padre Island, Corpus Christi, Kemah, Port Arthur, and Port Lavaca.
What is the prettiest beach in Texas?
It's difficult to pinpoint the all-time prettiest beach in Texas, but the four prettiest ones, in our opinion, are Malaquite Beach in Corpus Christi, South Beach in South Padre Island, Rockport Beach in Rockport, and East Beach in Galveston.
Where is the cleanest beach in Texas?
Rockport Beach is the cleanest beach in Texas as Rockport is Texas' first one-mile long Blue Wave Beach, meaning it is clean, managed responsibly, and focuses on protecting human health and the environment.
Did you like this article about the best beach towns in Texas? Then share it with a friend who might like it too!