Believe it or not, but there are so many castles in Texas. Yes, that's right; you don't even have to travel to Europe to be swept away by a beautiful castle for your trip!
Throughout this article, you'll learn all about every Texas castle that's worth visiting.
Plus, this list has been carefully vetted, so you can rest assured that they genuinely are places worth visiting on your next Texas vacation.
Known for its incredible barbecue and live music, many people overlook Texas for its architecture.
By visiting the castles in Texas on this list, you'll be exploring a part of the state that's lesser-known and all the more enjoyable.
16 Best Castles in Texas
Here are our favorite castles in Texas in no particular order because they are all excellent.
1. Romantic Castle Overlooking Lake Travis
First up is the Romantic Castle overlooking Lake Travis. This castle is an accommodation that you can stay in located in Texas's Comanche Canyon Ranch.
Not only is it great for a weekend away, but it's also perfect for a Texas beach vacation.
This 800 square foot castle has a bedroom, living room, dining area, full bathroom, kitchen, and overlooks the water. What more could you possibly want? Plus, it's a short drive from downtown Austin.
Click here to check availability
2. Falkenstein Castle
Falkenstein Castle is a fantastic castle in Texas that's located in Burnet, Texas Hill Country.
It's right in the Texas Hill Country, so everywhere you look from the castle, your breath will truly be taken away.
The castle itself is actually styled after Neuschwanstein Castle in Bavaria after Terry Young and Kim Young traveled to Europe and visited it for themselves in the 1990s.
The Castle Falkenstein is available to be booked for weddings, special events, and even overnight stays.
That's right; if you're visiting Texas for a vacation, you can rent one of the rooms in this fairytale castle to spend the night.
Just make sure you book in advance to see if the place is being rented out for any other purpose.
Don't have time or the money to rent out Falkenstein Castle? Don't worry; they also occasionally offer tours so that you can still have the opportunity to see inside.
3. Old Red Museum
Old Red Museum is a unique Texas castle. Located in Dallas, this is one of the castles in Texas that serves an entirely different purpose than just being a castle.
The museum is an old courthouse built in the 1890s that has since become a museum showcasing artifacts to the public.
Some of the exhibits at the museum are permanent, while others rotate throughout the year, which is fun.
So no matter what time you visit, this castle in Texas will be slightly different than the last time you saw it.
Even if you don't go inside, the outside of this building is breathtaking.
Read next: 28 Facts About Texas That You Need to Know
4. Bishop's Place
Next up is Bishop's Castle, another of the beautiful castles in Texas located in Galveston, so this is a must-visit on any Texas beach vacation to Galveston.
The 19,000-square-feet castle was built in the 1890s for local lawyer Walter Gresham and his wife, Josephine Gresham. It's built in the Victorian style and was built to serve as a family home.
They helped hundreds of people survive during the 1900 hurricane by letting them stay in their Texas castle.
The best way to visit Bishop's Place now is to go on a tour of the property. The tours are affordable at $15 and under per person for a ticket and occur Wednesday through Monday.
The tour will bring you all through the castle, including the basement and the attic!
While Bishop's Place isn't exactly a Medieval-style castle, it's worth the visit!
Read next: Incredible Luxury Cabins in Texas
5. Newman's Castle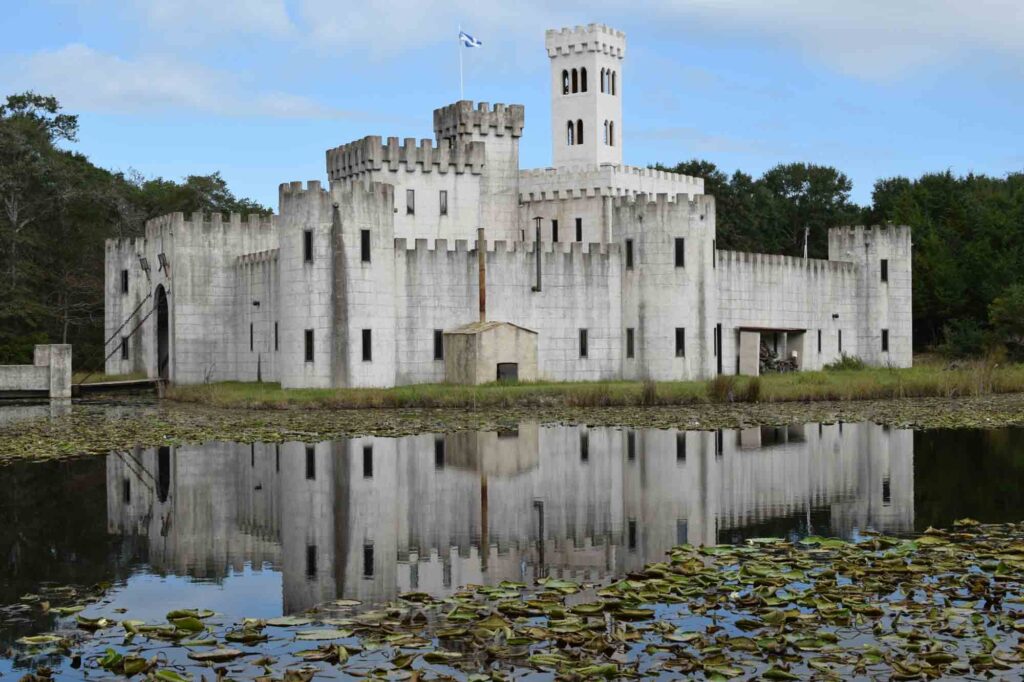 Newman's Castle is a fun castle to visit in Texas! It's right near Bellville and even features a moat, which will bring you back in time.
Plus, there's a drawbridge that works, turrets, a vast courtyard, and more.
This massive Texas castle was opened in 2006 by Mike Newman, a Texas local. The building's design is that of a medieval castle!
The castle is open six days a week and is also one of the castles in Texas you can rent.
Tours are available, but you should call ahead of time to reserve your spot because tours are done based on the number of people involved.
Plus, tours start right from Newman's Bakery, which is open all day, beginning at 4:00 AM.
Before heading off on your castle adventure, don't forget to fill up with some delicious baked goods and maybe a coffee or tea!
6. Pemberton Castle
For a fancy historic castle, look no further than Pemberton Castle in Austin, Texas!
This Texas castle also goes by the name "Fisher-Gideon House." It was first built in the 1890s but officially became a castle in the 1920s even though it was used as a sales office.
The castle is now a historic landmark that people travel from all over to see.
From the fantastic stonework in the architecture to the moss that grows over it, Pemberton Castle is genuinely one landmark on this list that you won't want to miss out on.
7. Wise County Courthouse
Wise County Courthouse is another public building that looks an awful lot like an actual castle in Texas!
Located in Wise County, this courthouse will genuinely take your breath away from the outside, with its large clock tower and incredible colors.
Tours are available of the Wise County Courthouse, which is why it's a Texas castle you can't miss out on.
You can go on a tour through the Decatur Main Street program, so be sure to reach out to them to tour this place that's on the National Register.
8. 1892 Victoria County Courthouse
Hands down, the 1892 Victoria County Courthouse is another of the great castles in Texas!
It is located in Victoria and serves as one of the county's government offices. While it was built a long time ago, it was also restored in 2001, so it's still in pretty great shape.
The courthouse was built by none other than J. Riely Gordon, an exceptionally well-known architect in Texas.
If you look closely, you'll even see that the courthouse is made out of Texas granite, making it an authentic piece of Texas architecture.
9. Chateau Cocomar
Chateau Cocomar is one of the castles in Texas that's located in Houston! It is massive and is inspired by French architecture, so you'll feel like you're in Europe when you visit! It covers just shy of 40,000 square feet.
This is one of the more recently built castles, having been built in 2005.
The home now serves as an event venue and is popularly rented out for weddings and other fun events in the Houston area. Just imagine having a wedding at a castle!
Unfortunately, tours are not currently available of Chateau Cocomar due to it mainly being an event venue, but it's worth even driving by if you have the option to.
10. Denton County Courthouse
Denton County Courthouse is located in none other than Denton, Texas! This place truly does look like a castle from the outside, just like all the other courthouses on this list.
It has a huge clock tower in the middle with beautiful architectural details.
This courthouse was built in the 1890s and will genuinely take your breath away upon visiting.
People are welcome to come and visit the inside since it's open to the public. There are also guided tours upon request, in addition to exhibits filled with Denton artifacts.
11. Mission Concepcion
Mission Concepcion is one of the oldest castles to visit in all of Texas! It was built in the 1730s, making it a historic landmark.
It's a Catholic church located in San Antonio built in the Spanish Colonial style of architecture.
No visit to San Antonio is complete without visiting Mission Concepcion because it's the oldest church in all of the United States that hasn't been restored!
By stepping inside, you can take a look at true history all around you, including beautiful paintings that will take you back in time.
Be sure to take the time to walk around the outside of the castle church because it is beautiful.
It serves as a fantastic backdrop for some great photos, too, if you're looking for historical background.
12. San José Mission
The San José Mission is another historic castle-like figure in Texas that's a church!
It was built a few hundred years ago and is part of a national park in Texas today. This is a more classic rendition of a castle, having been made out of stones.
Admission to San José Mission is free, so there's no excuse not to visit. You'll be able to walk around and check out the fantastic arches and breathtaking architecture.
The church was built in the 1790s, so it's another of the more historic castles in Texas.
13. Parsons Castle
One of the most beautiful castles in the entire state of Texas is Parsons Castle!
Located in Clifton, the castle primarily serves as a popular wedding venue in the area.
People travel far and wide to see this breathtaking castle, mainly because it overlooks the water. It truly feels like a fairytale when you visit.
In addition to being a popular place for events, you can stay overnight at the castle too.
The castle has room for around fifty guests, including access to the home on-site and the nearby motel that it also owns. However,r events here can hold up to 1,000 people or more.
Even if you aren't able to go to Parsons Castle for an event, you should take the time to stop by and snap a photo of it from the outside. It will be a castle that will stick with you for years to come.
14. Texas Pythian Home
The Texas Pythian Home is another more traditional-looking castle. This one is located in Weatherford and opened in the early 1900s to serve as a home for orphans and widows who were part of the Knights of Pythias.
Throughout the years, though, the home went through a lot. It served as an administration building for a time and even a high school.
Unfortunately, the house is not open to the public to visit, as children do stay at the Texas Pythian Home.
However, similar to Parsons Castle, it's still worth stopping by to see it from the outside if you have the time and are in the Weatherford area.
15. 290 Wine Castle
The 290 Wine Castle is most likely the castle that you've been waiting for on this list.
It's located in Johnson City, Texas, and as you may have guessed by the name, it's at a winery! So, you can visit a castle and drink wine like royalty while visiting.
The castle looks like a traditional French castle or even a Viking castle that you'd expect to see while visiting Ireland.
When visiting, be sure to stop by the tasting room to sit out on the patio and try some of their delicious wine.
Be sure to check their website to see their online event schedule. They host a wide variety of events throughout the year for guests, including a super fun haunted dungeon experience that's usually held in October.
What better way to get spooked than at a castle that will make you feel like you're in another country?
16. Elisabet Ney Museum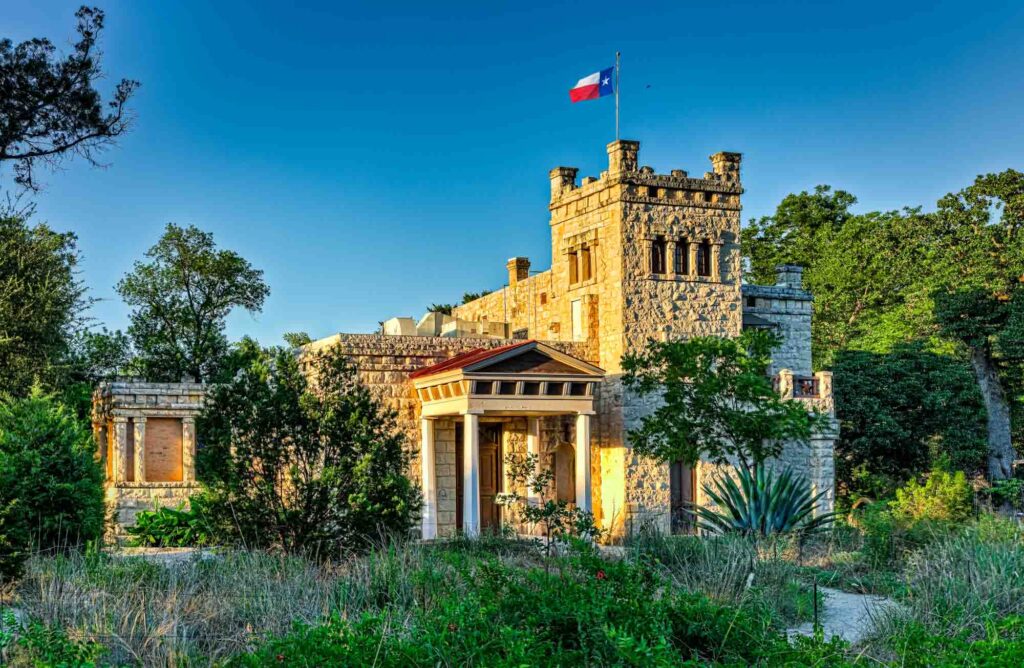 Last but not least is the Elisabet Ney Museum! This castle is located in Austin, Texas, and was also built in the 1890s.
Also known as Formosa, the castle was purchased by German sculptor Elisabet Ney in 1892 and converted into an art studio.
At Formosa, Ney created sculptures of some of the most famous men in Texas, including Sam Houston and Stephen F. Austin.
In the museum, you can check out permanent exhibits of all of her amazing work, in addition to some that rotate throughout the year.
The castle museum is also situated on three acres of land, making the area incredibly gorgeous.
More Castles in Texas worth checking out:
Trube Castle: It's a Victorian-style castle owned by a Danish immigrant, Trube Castle is one of the 200 historical markers in Galveston, but it's currently closed. Still, you can see it from the outside!


Castle Avalon: A gorgeous wedding venue and space for special occasions, Castle Avalon is only 10 minutes from New Braunfels.


Austin County Jail Castle: This elegant castle in Bellevue is made of red brick and is open for visitors on Saturdays.


Smythwick Castle & Lodge: It's an incredible wedding venue that you can actually stay in!
Wrapping Up on Texas Castles
Now you know all of the very best castles to visit while visiting Texas!
There truly are so many, and you can stay at some while you can rent out others.
Which castle on this list would you most want to visit during your next trip to Texas? Leave a comment below! We'd love to hear from you!
Did you enjoy reading about these Texas castles? Then share it with your friends!